Hi everyone! I hope you're all having a great week! If you're in the U.S., Happy Thanksgiving! I'm definitely in holiday mode, are you?? I know this may seem early to some of you but I've started getting my craft on for Christmas and today I want to share 3 easy DIY Christmas decor projects using spray paint.  It's an inexpensive way to add color and personality to so many projects.
1. Wooden bead garland
This one was one of those happy accidents that I love so much.  Believe it or not, someone actually gave me a giant bin of wooden beads. At first I thought there's no way I'll ever use these so I donated them. A short time later I was looking on Pinterest and saw these cute napkin rings made of small beads and thought, darn it, I could have made napkin rings and then it hit me, duh, Christmas garland. I went to the thrift store where I left them and paid $1 to get them back. 🙂
Here's what some of them looked like before.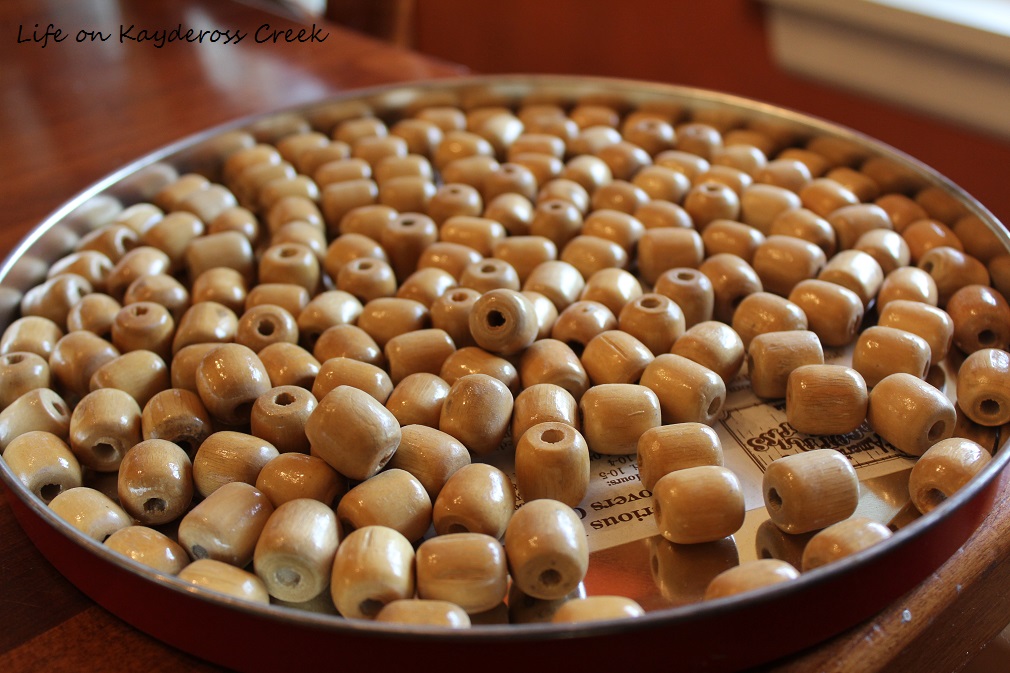 I wanted to do one white strand, one gold and one red so I broke out the spray paint.  I already had the gold and white from other projects but picked up the red for about $4.  I spread the beads out on cardboard and once the first layer was dry, I flipped them over to do the other end.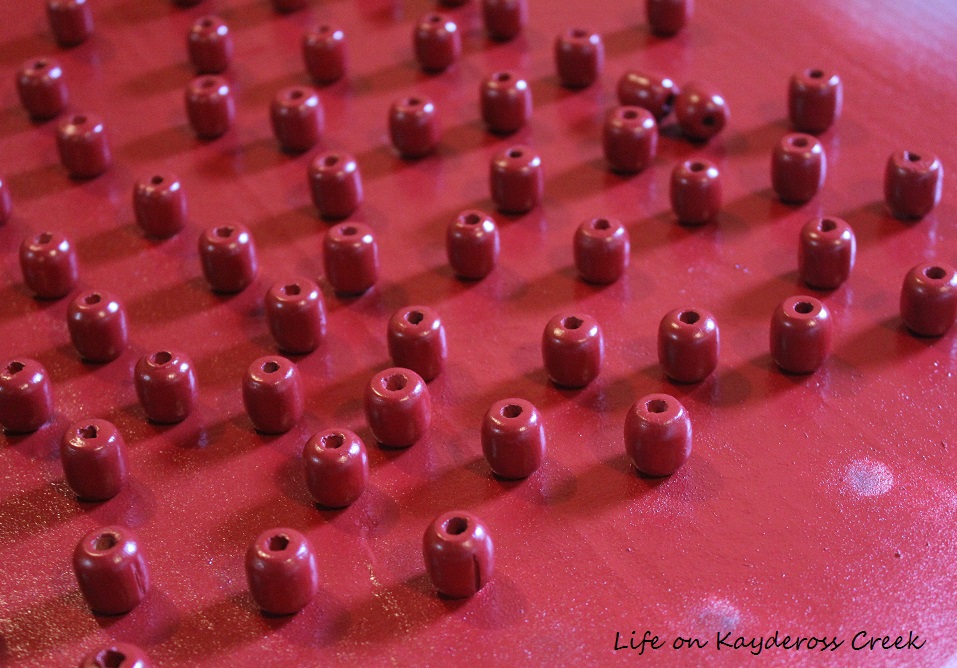 Once they were thoroughly dry, I strung them on twine, which I also had on hand.  You will easily have enough spray paint to do at least a few strands or two strands and another project. Super easy, inexpensive Christmas decor.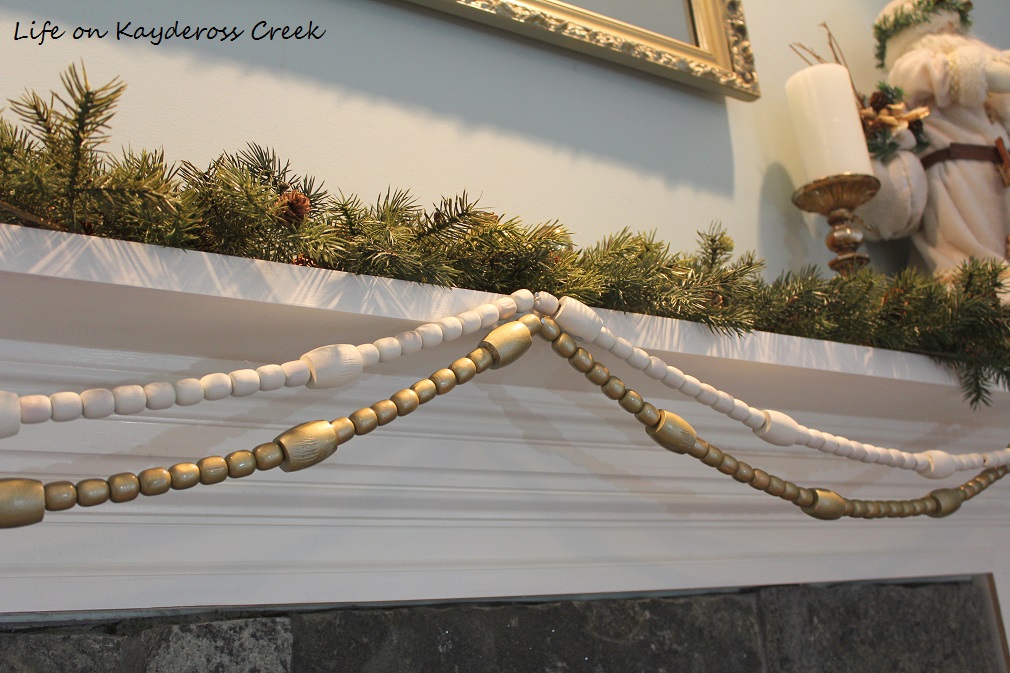 If you like the look but would rather skip the DIY, you can pick a similar strand up at Target by Joanna Gaines' line Hand and Hearth .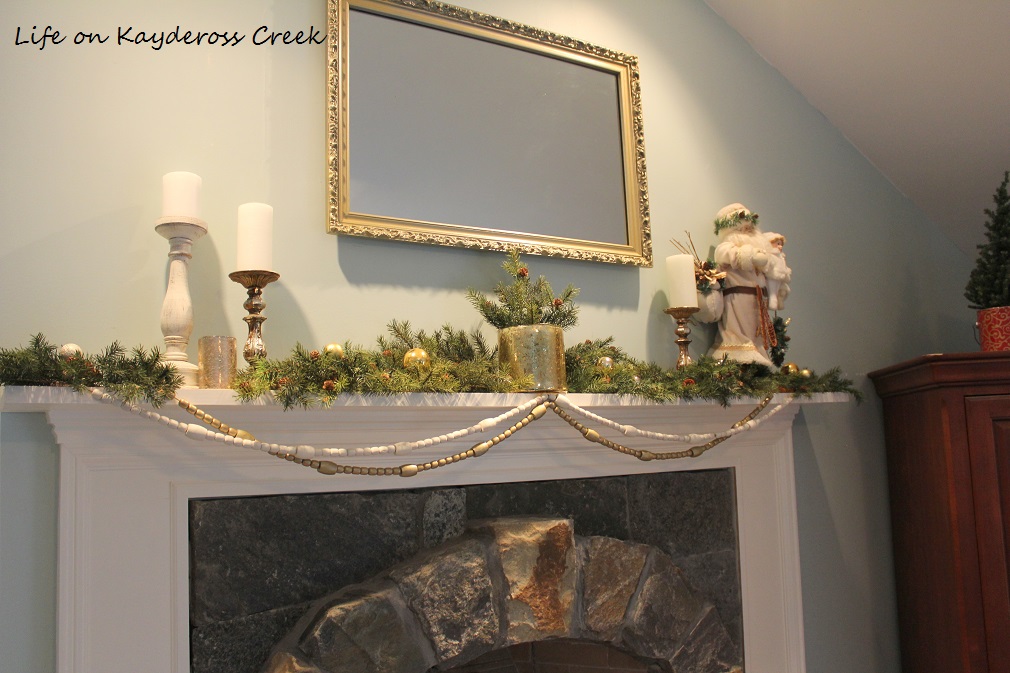 2. Ornaments made from thrift store cookie cutters
So this one is kinda classic but with a twist. I had a few of these metal cookie cutters on hand and also picked up a few at a thrift store for $1.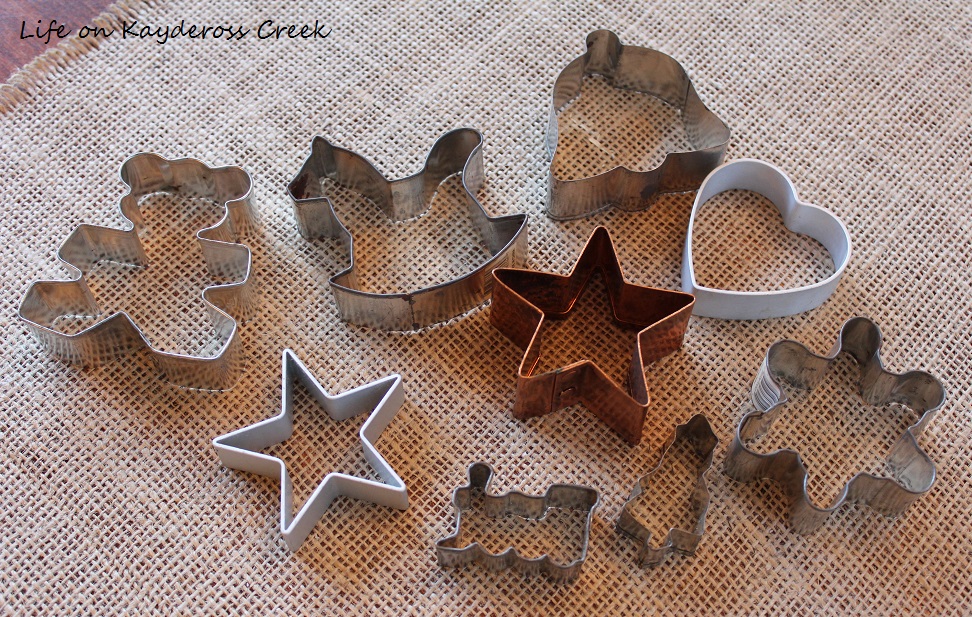 I wanted these to have an antique rusty kind of look so I started with a coat of Oil Rubbed Bronze spray paint. That gave them a nice dark base. The next step and the secret to the aged look is this…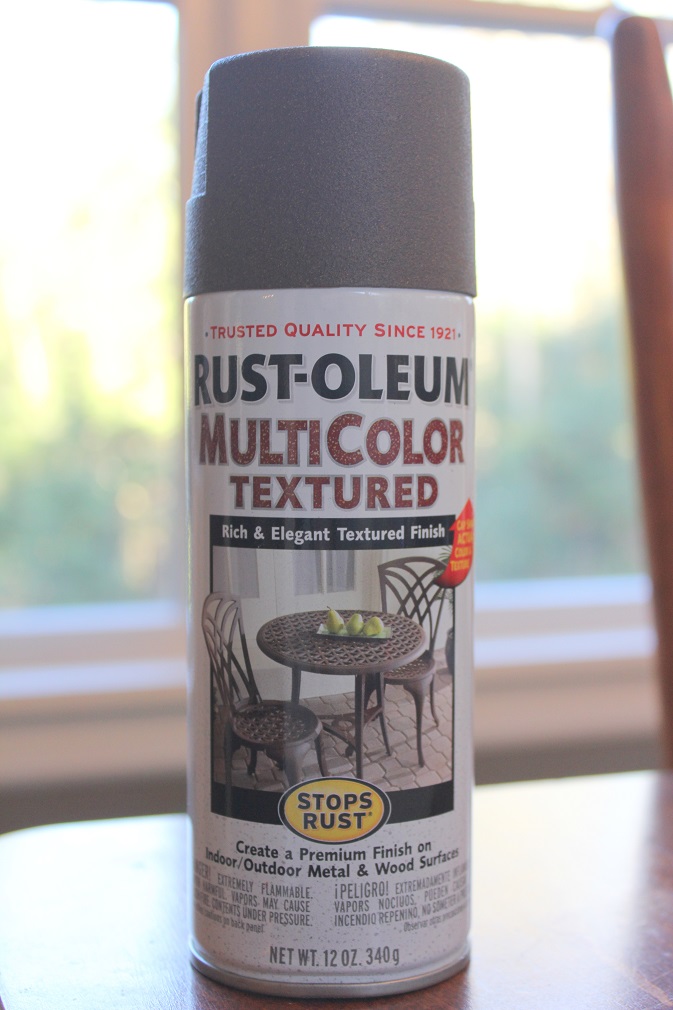 It's a brown texture that kind of looks like rust. I had this on hand already but, for the life of me, I can't remember which project I used it for.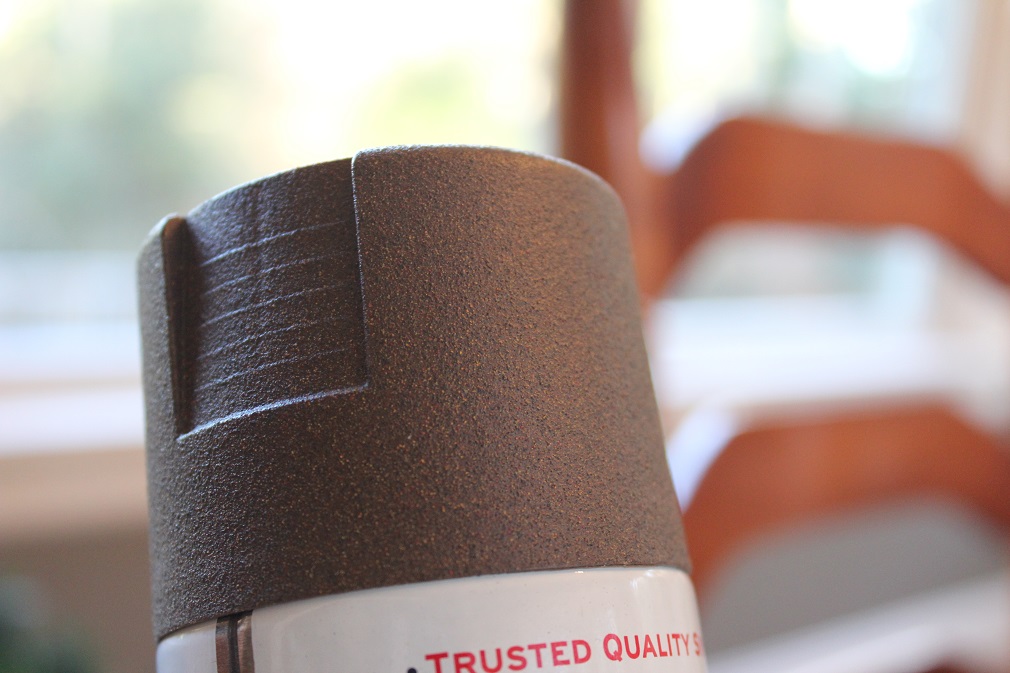 I gave each one a couple quick sprays of this over the Oil Rubbed Bronze.  After they dried, I tied a ribbon on each to hang it on the tree and they turned out super cute! I already had the ribbon on hand for gift wrapping which is nice because it all ties together.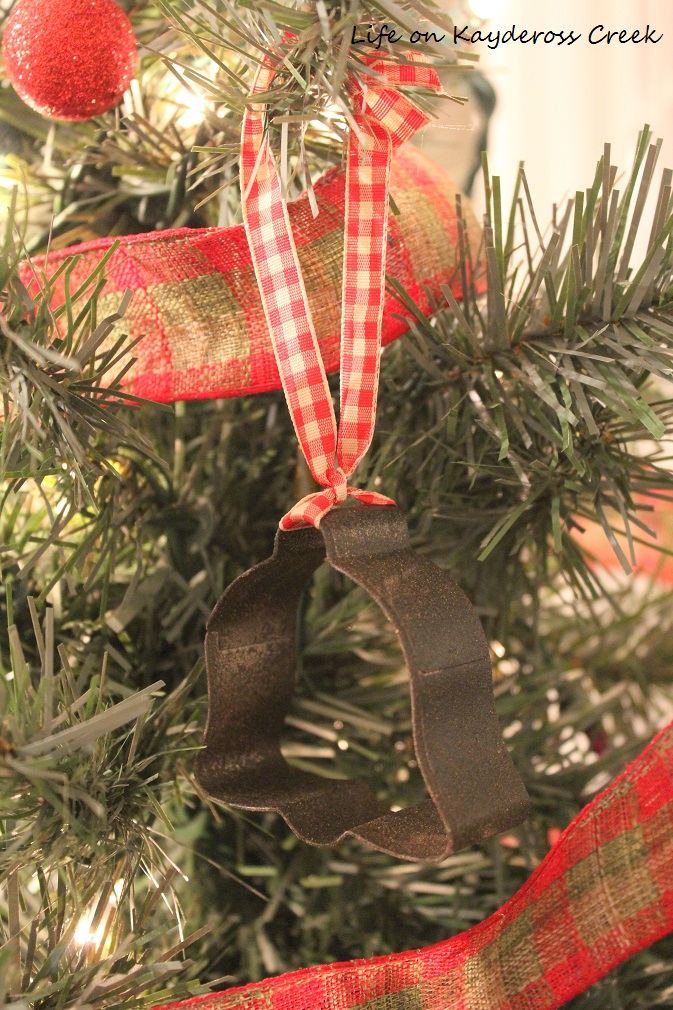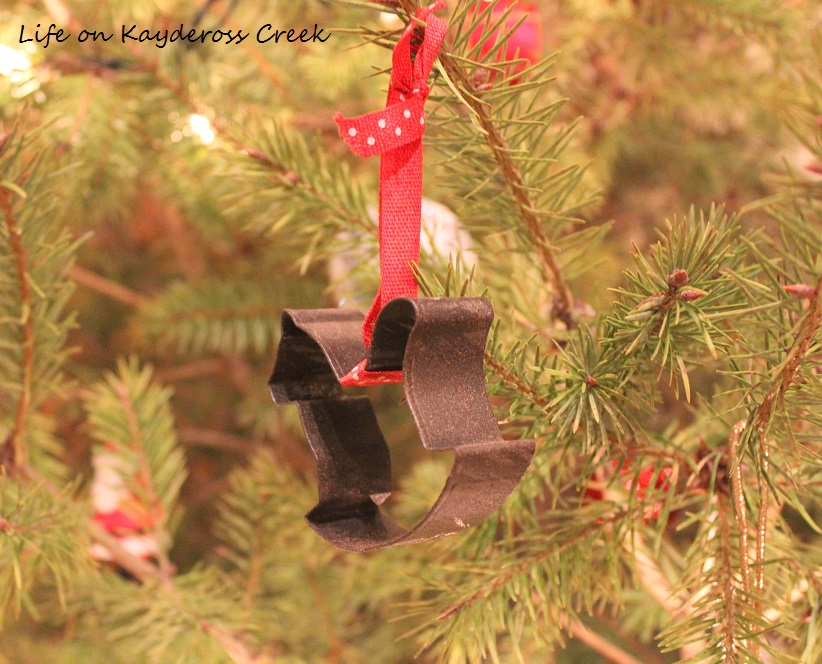 Cute, rusty farmhouse goodness. 🙂
3. Birch Lane knock off Christmas canisters
I love these tins from Birch Lane…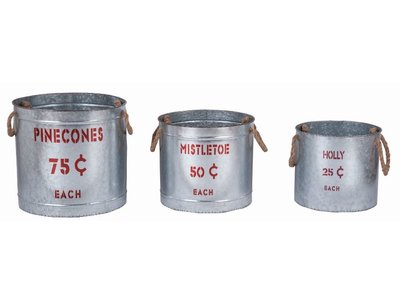 Or these from Joss & Main…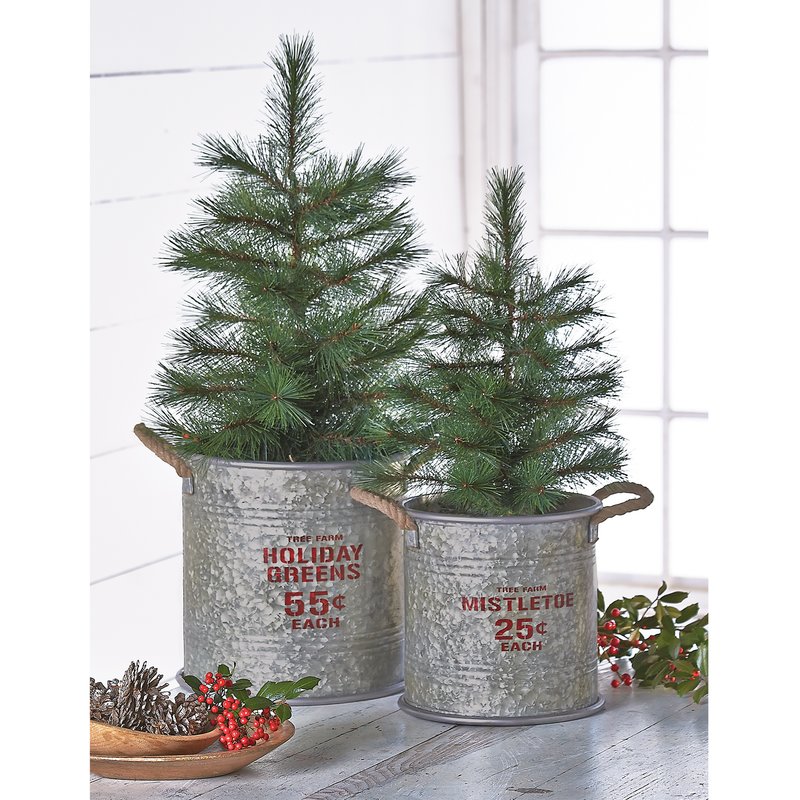 So Christmas-y and festive but unfortunately, they are $59.99 and $70. I made my own for less than $3 each with a couple of thrift store tins and some spray paint.
Here's what they looked like when I got them.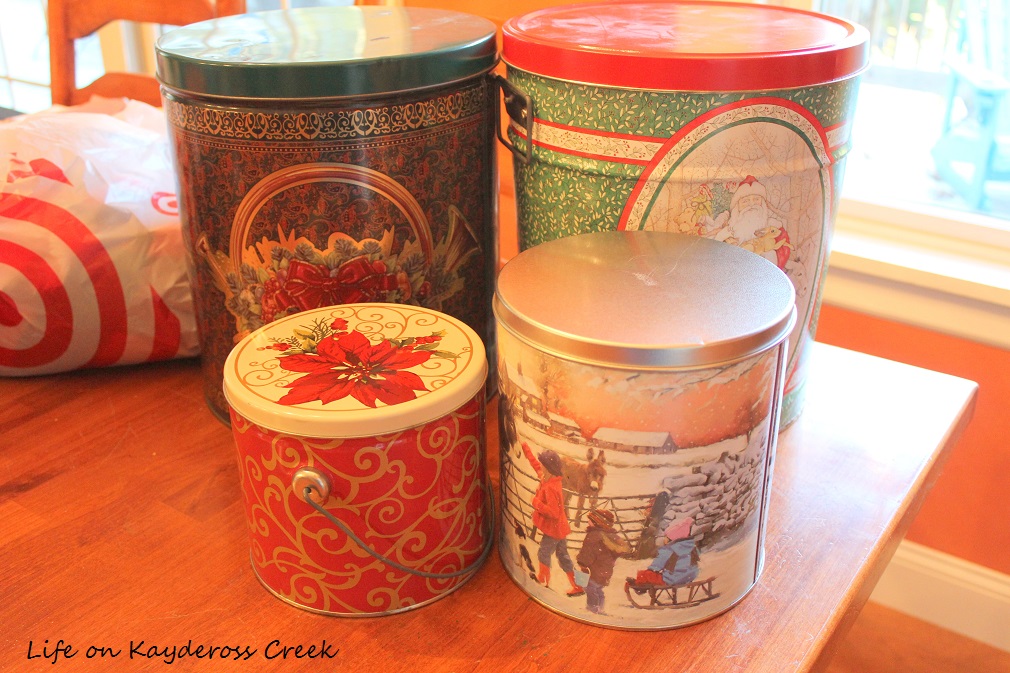 I know, they are Christmas-y already.  They just aren't my thing. I did leave the gold and red swirly one as is and used it in my bedroom which you'll see soon. 🙂
I started by giving my thrift store tins a coat of metal spray paint. I used it in a similar project to make a farmhouse canister set.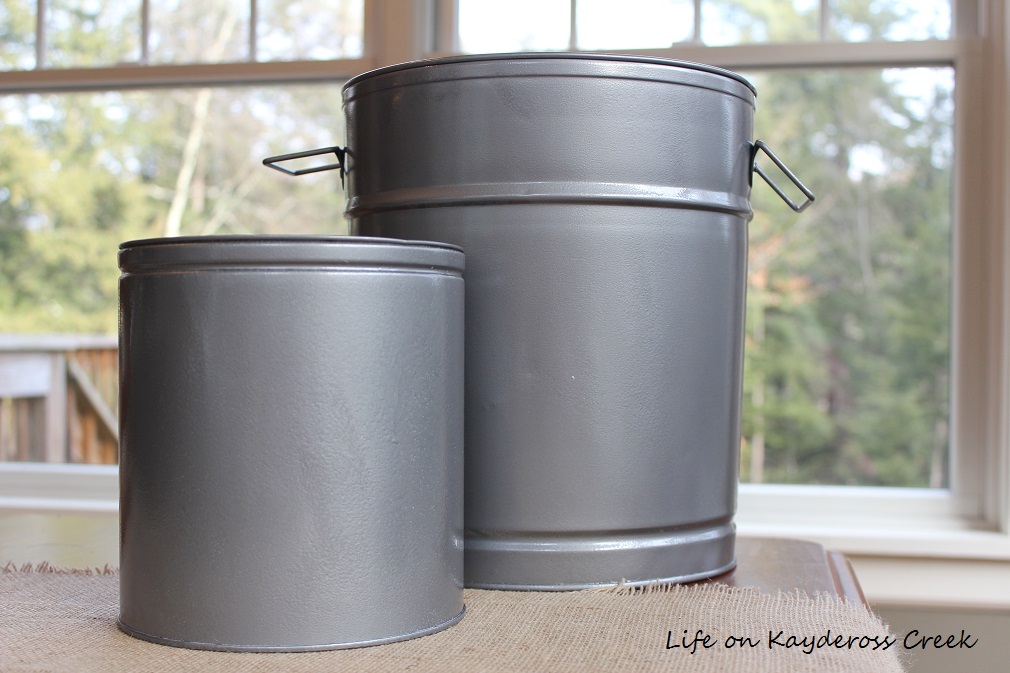 Once they were dry I used basic stencils and craft paint for the letters.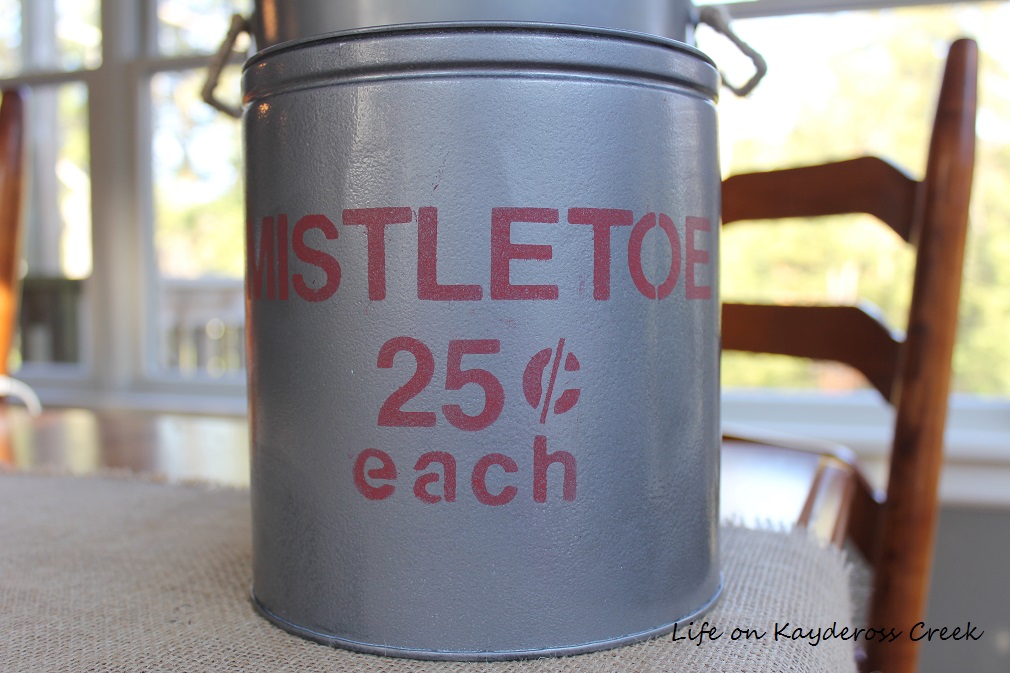 To make them appear more antiqued and worn, I used a stencil brush and black craft paint in  a random pattern on some of the edges and around the letters.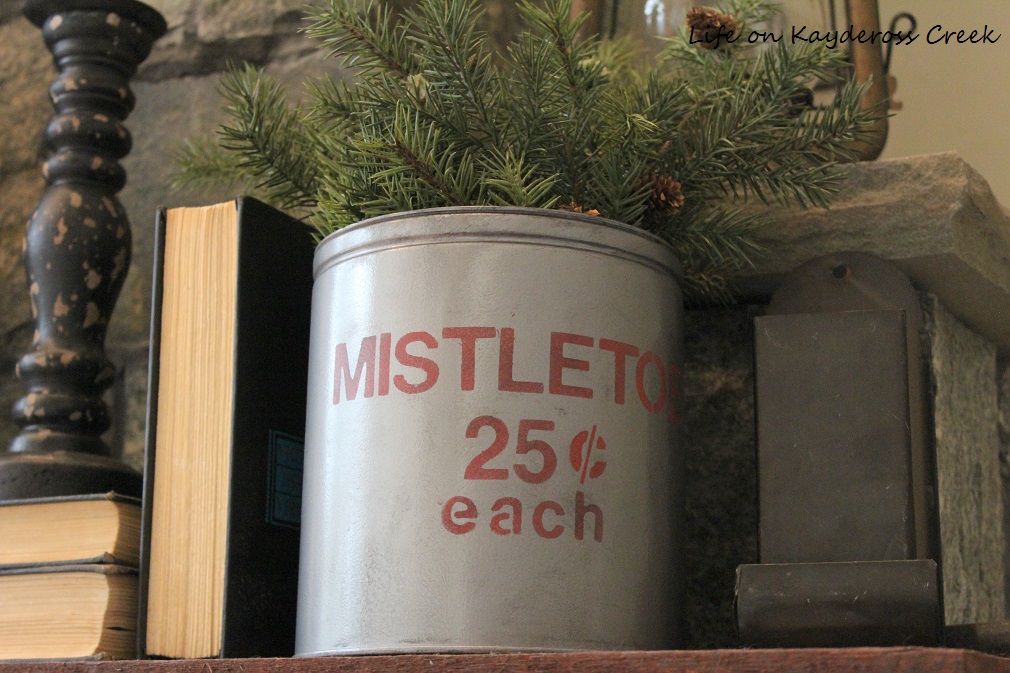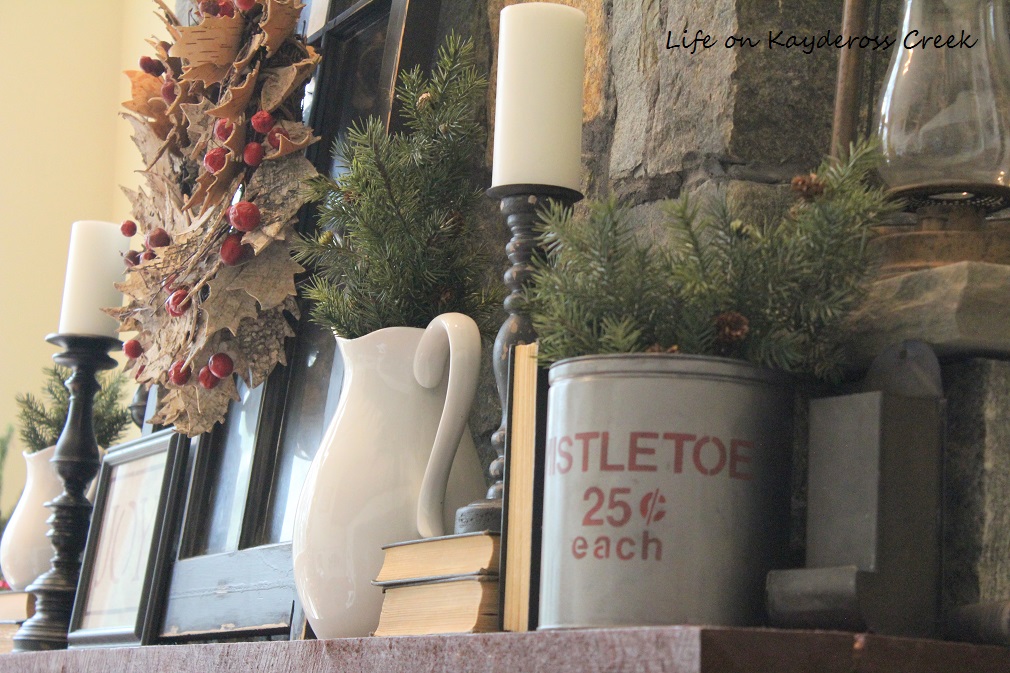 I also wrapped the handles on the large one with thicker twine to mimic the rope on the original one. I used a hot glue gun to attach it and tied it on the ends.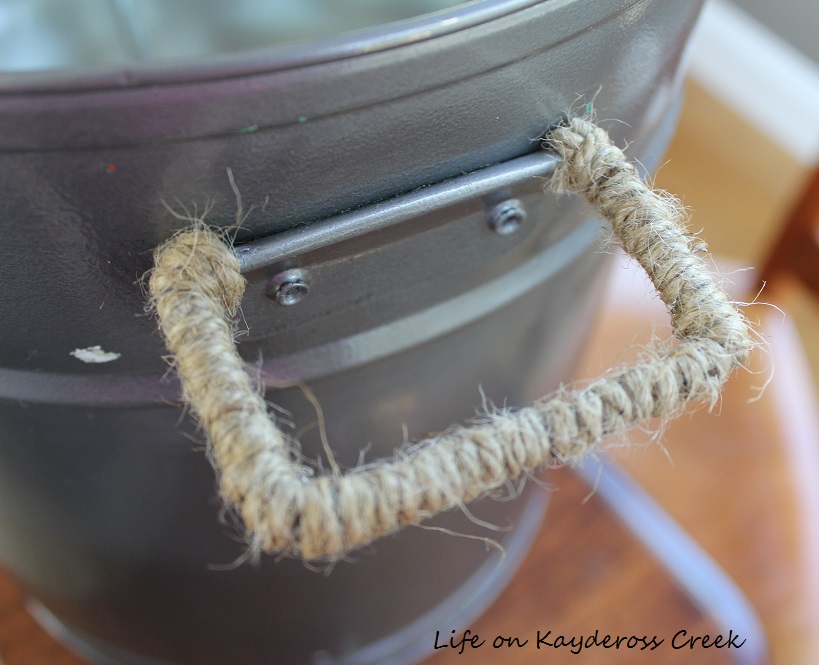 I filled each with faux greens and there you go. You could even go a step further and wrap some pretty ribbon around it. Or, you could use the word "Kindling" and put small pieces of wood in one near your fireplace. Easy DIY Christmas decor!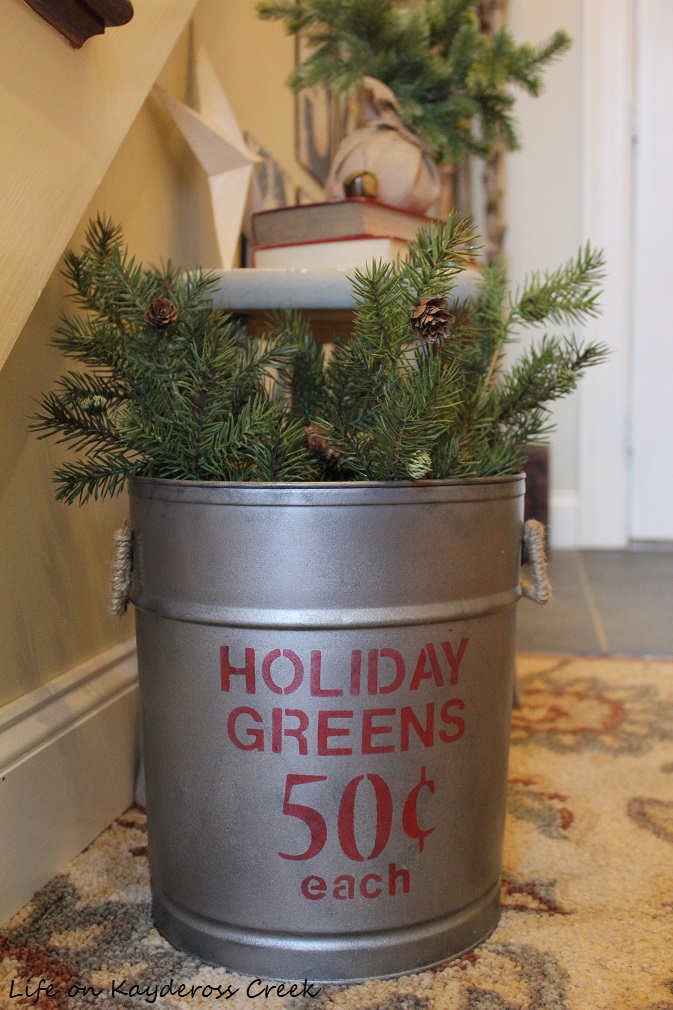 Pin it for later!
I love doing small projects like these because they are inexpensive and add so much character to your space. How do you put that special touch on your Christmas decor to make it your own? Do you have special projects that you're working on?
Happy DIY'ing!
Col
You may also like: