I have been noticing creative wall collages all over Pinterest and in magazines these days. It is such a great way to take pieces you already have, in my case some cool garage sale finds, and add a ton of personality to your room. The trick is to either mix it up completely or keep it simple and uniform like with one color frame. I picked up several inexpensive frames and pictures at garage sales and flea markets as well as a few at Target. Sometimes it takes awhile to accumulate the right pieces. That's why I never turn down a good deal on a frame!
The best way to unify a look it to paint the pieces one color. I just lay them all out on cardboard and spray paint away.
I LOVE an eclectic look so this is what I put together for the Master Bedroom….(full reveal coming soon!) I realy like mixing the colors and textures. I never was a mix gold and silver girl but it's growing on me.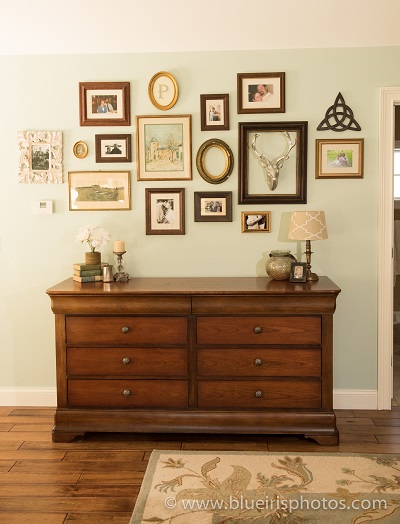 The lamp was also a great deal I got it at a thrift store. It was a bright, brassy gold so I lightly spray painted it Flat Chestnut. I also painted the dull $1 gold frame nex to it the same color. The shade is from Target.
If you prefer something more uniform, here is one I did in our upstairs hallway…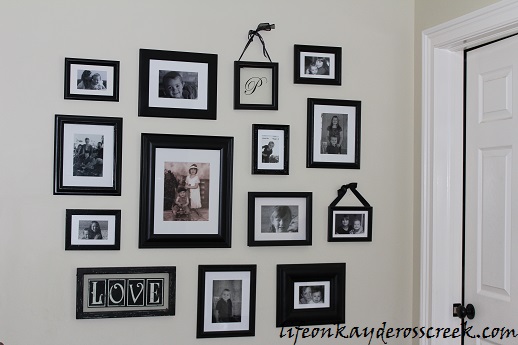 Looking back, I think I would have put them closer together. It would give it a little bit more polished look.
Adding mattes to the frames will also give it a more cohesive look. Be CREATIVE! Use different size frames and lots of textures and mix in art work, initials and signs. I always lay everything out on the floor to create the layout and then take a picture to remember what I did. I start with the larger pieces first and fill in the holes with the other pieces until I get a balanced look I like.
So the moral is NEVER turn down a good deal on a frame or piece of art you love. Even if you don't have a place for it now, you might some day!
I would to see what what you have created with your favorite pieces!
Happy DIY'ing!
Col