Hey everyone! Today I'm sharing my antique trunk makeover and what a makeover it is! I found this trunk at the Salvation Army for $20. It's incredibly solid but, as you can see, in really rough shape. I hesitated for a minute on whether or not to get it…LOL, no I didn't. Who doesn't need more storage, am I right?? Plus, I love a challenge.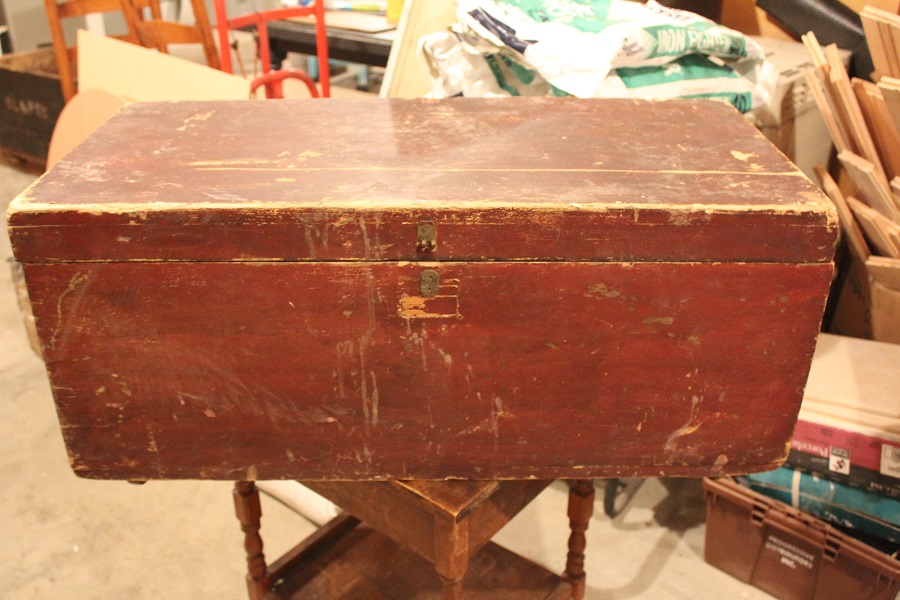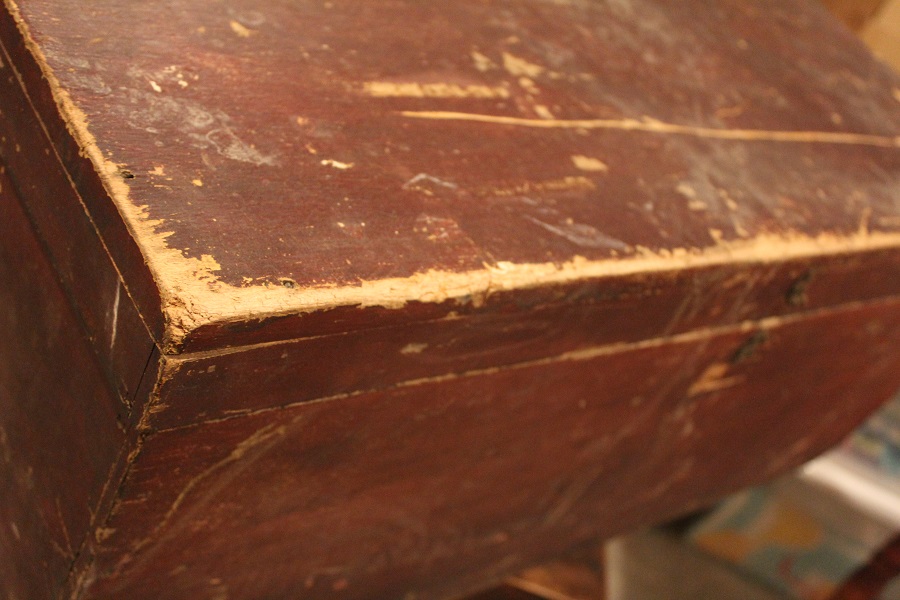 Look how thick these sides are. I'm sure originally it had a nice cedar smell but now it kinda smells like moth balls.  That newspaper inside is from 1974. 🙂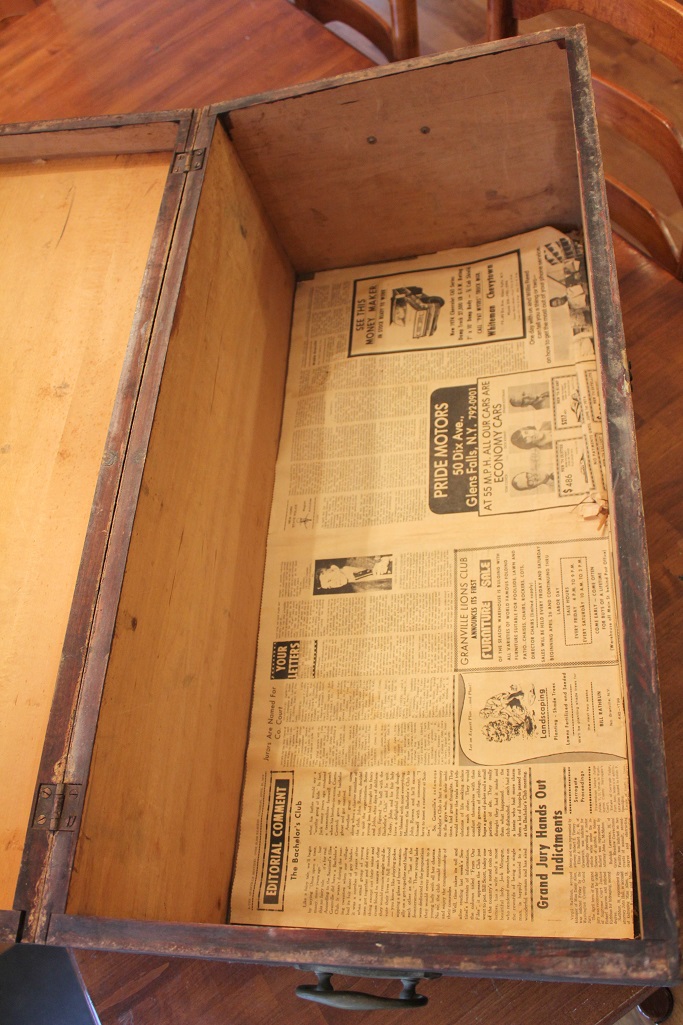 This post contains affiliate links for your convenience. See my full disclosure here.
Here's what I used for this makeover:
Baking soda to get the smell out
Water/Vinegar mix to get the smell out
Chalk Paint (homemade)
Bun feet
Shelf liner (from the Dollar Store)
Craft Paint
Stencil brush
First things first, it needed a really good cleaning. I wiped the whole thing down, inside and out with half bleach and half water. Unfortunately, that didn't get rid of the smell totally. I threw in the baking soda and let that sit for a few hours in the sun.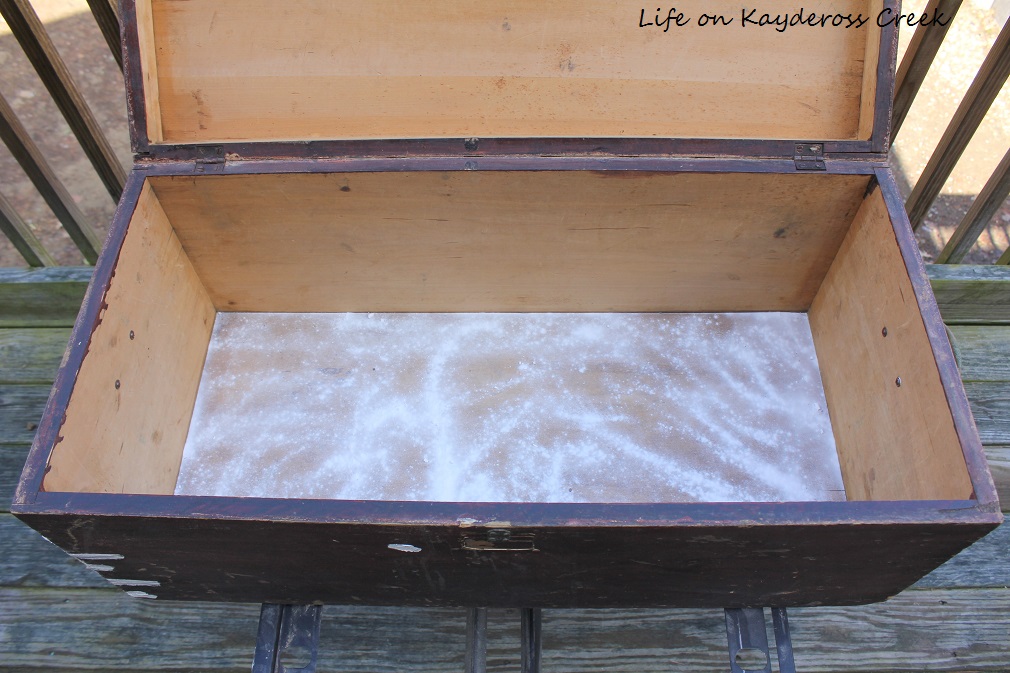 That worked pretty well but after I cleaned out the baking soda I gave it a good spray of half water and half vinegar. That did the trick.
The outside of the trunk had a lot of wholes and divots in it. I filled them in with a lot of spackle. I used a putty knife to smooth it out. It took a few coats with sanding in between each to get it smooth.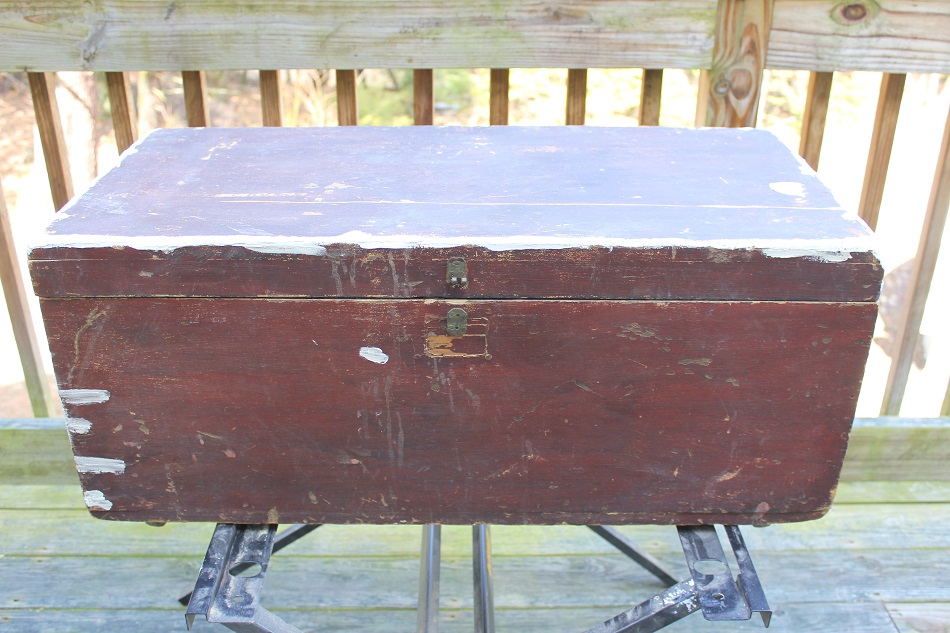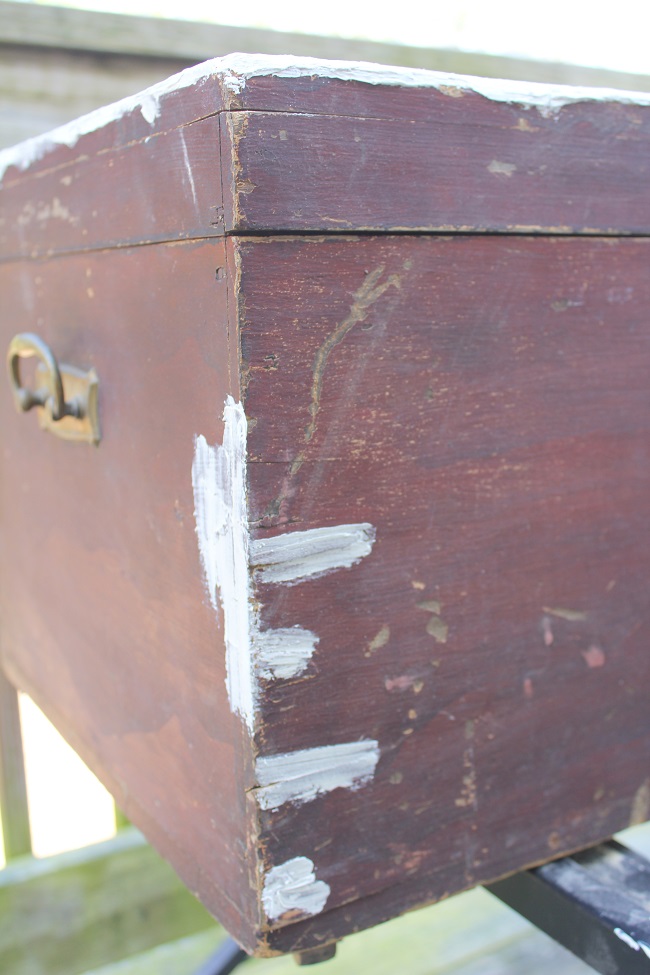 Once I had it all sanded and wiped down, it was on to paint. I used homemade chalk paint with plaster of Paris mixed with Creamy White paint. It took three coats to really cover.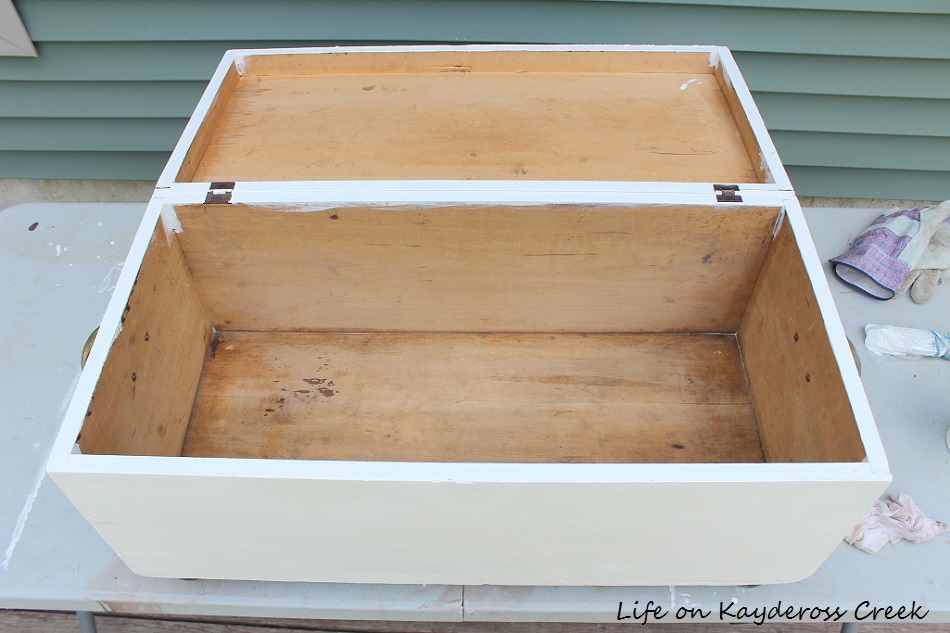 I really wanted to line the inside but didn't want to spend a ton of money so I picked up this shelf liner at the dollar store. I love the color! It's so clean and happy :).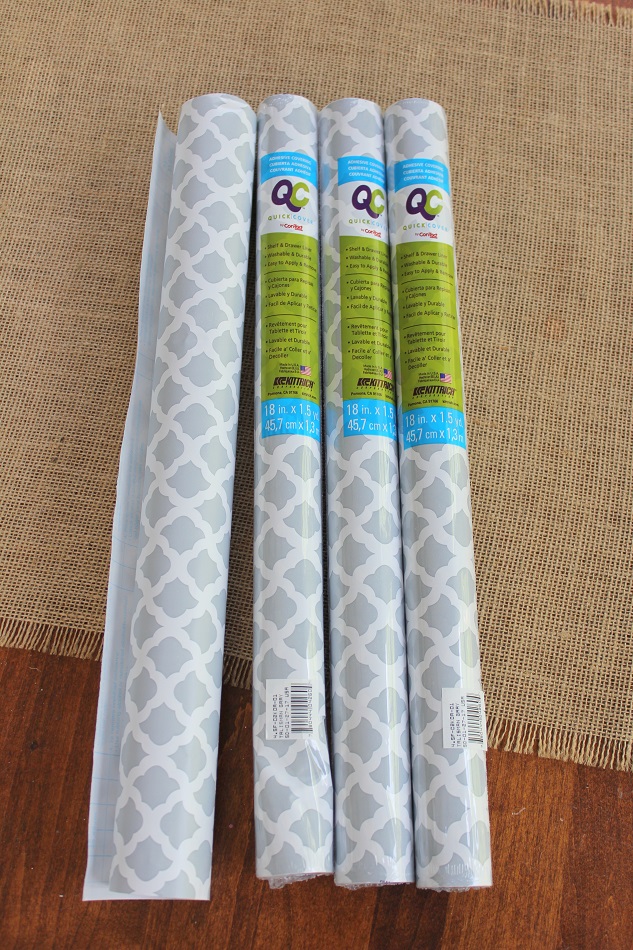 Blogger error here. I didn't take any pic's of installing this. I basically opened up the roll and cut it to length with scissors and then placed it inside. I lined it up, bent it along the side I was working on, creased it nd was able to use an X-acto knife to cut along the edge. I removed the handles on the ends to get it smooth on the inside.  Then we added bun feet to give it a bit of height.
Here's how it came out. I'm using it in my Master Bedroom Closet for addition linen storage. We recently did a whole closet makeover which you can see here.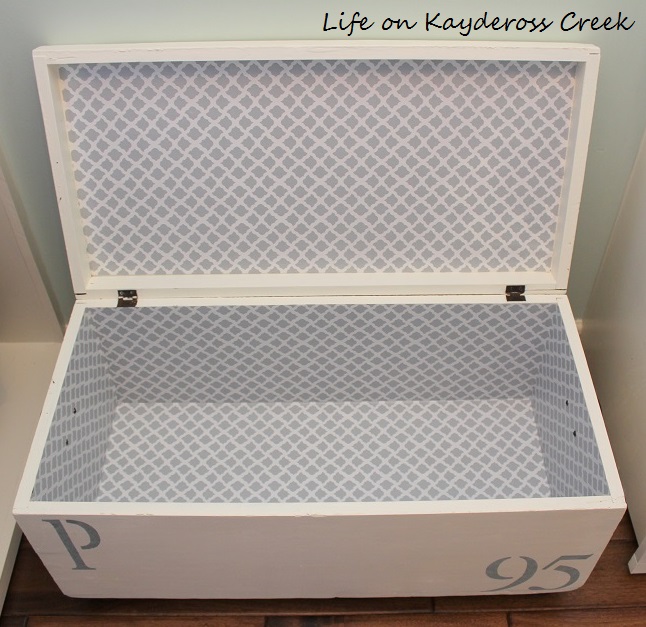 I added a stencil to the outside with our initial and a number that has a special meaning.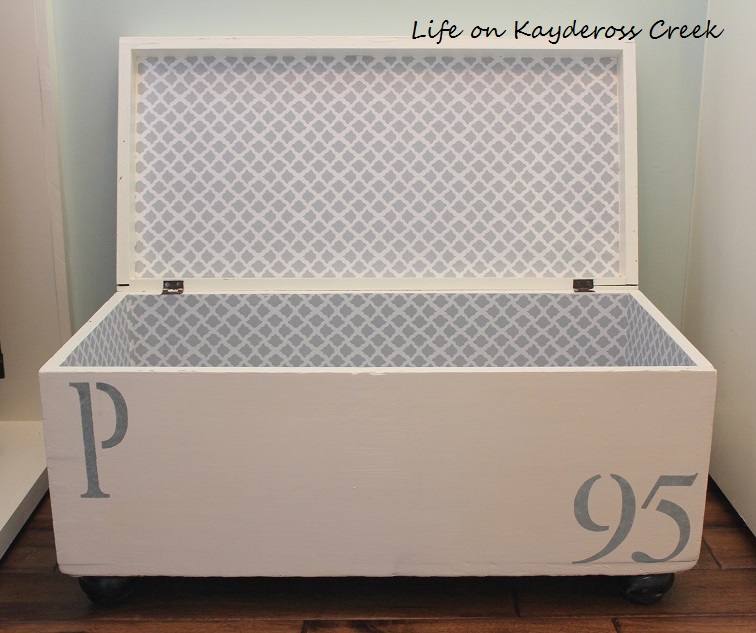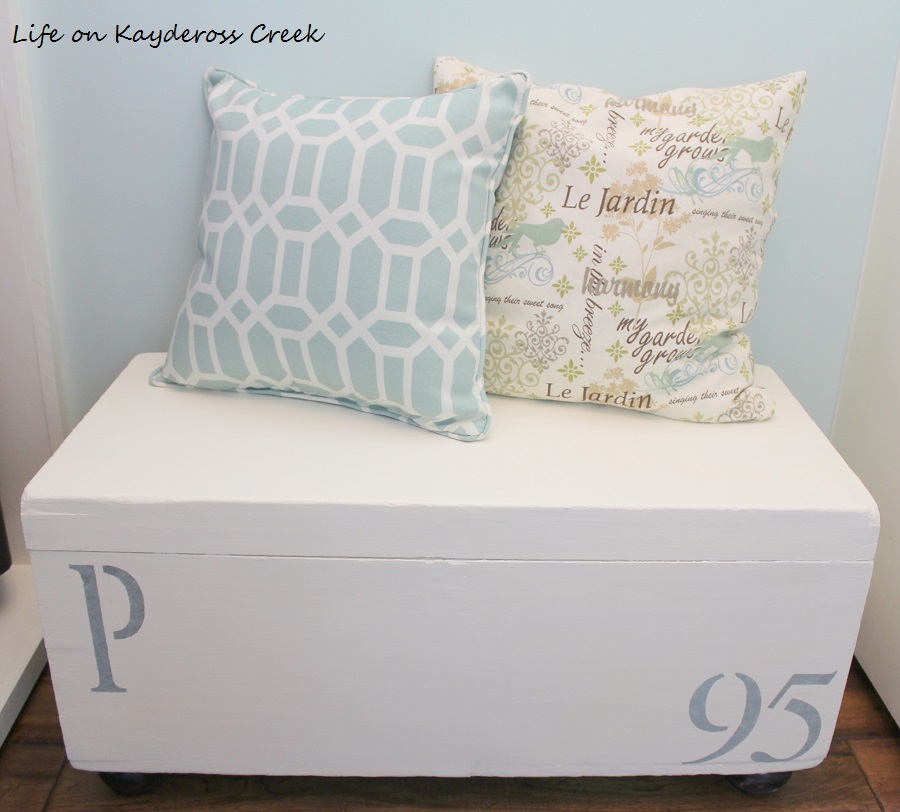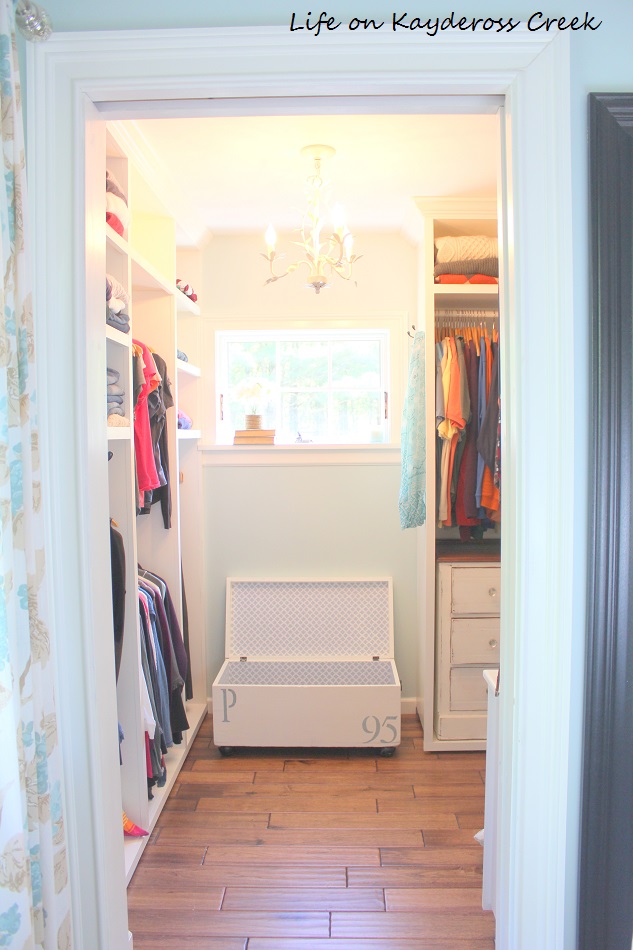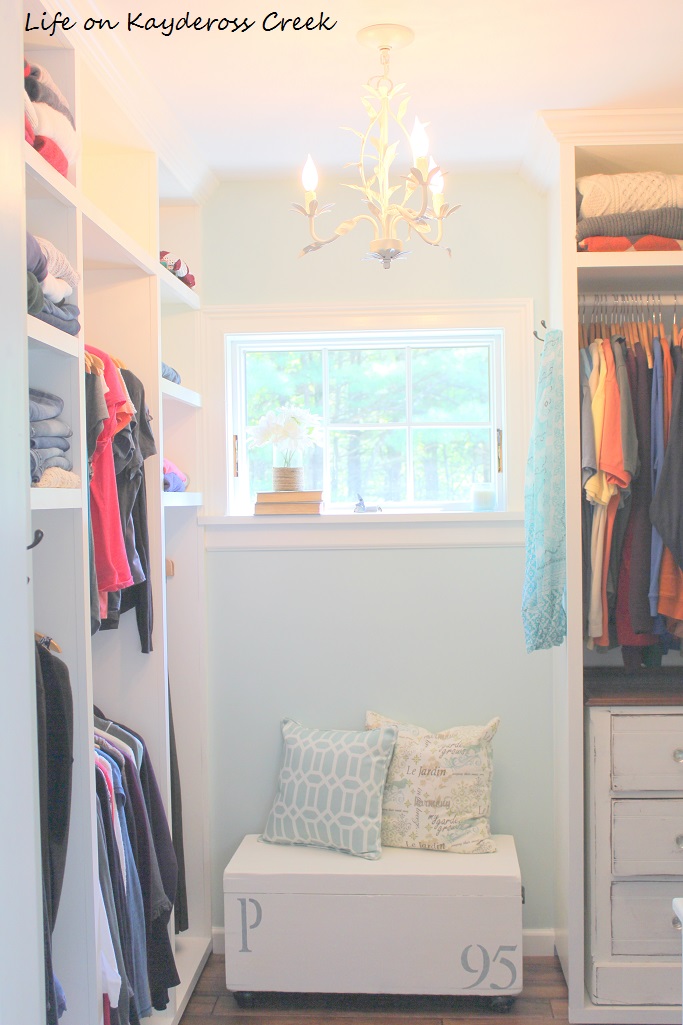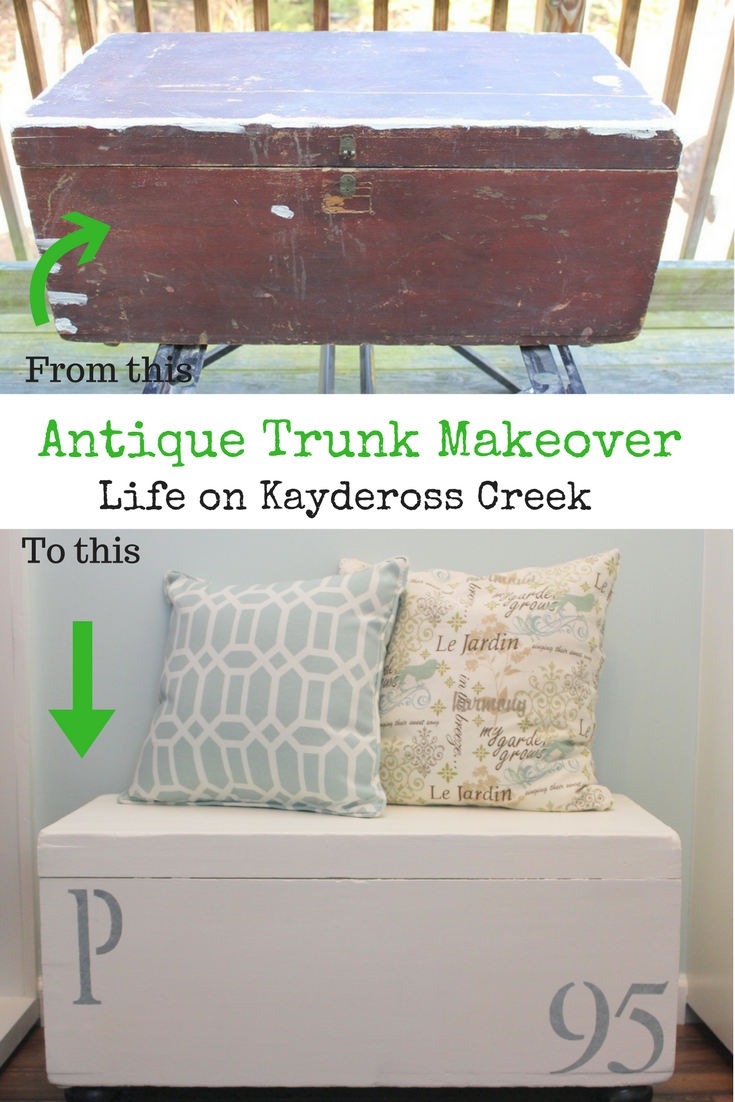 I love a good furniture makeover. You can see our Painted Antique Hutch here and our rustic coffee table makeover here.
So this antique trunk makeover was quite the transformation. There's nothing a good coat of paint can't fix (or three). Have you seen something in your thrift shop/garage sale travels and thought it was too much work and bought it anyway?  Have you taken on that crazy project? I'd love to hear about it.
Happy DIY'ing!
Col