Hi Friends! Is anyone else as excited about decorating for Christmas as I am??  I have to admit I actually started going through my Christmas stash the weekend before Thanksgiving and I've even shared some new Christmas decor projects already. I may add  a few things here and there but I pretty much use the same decor pieces every year. I try to update the look by how I use things or where I place certain pieces. This year I decided to get a little crazy and put a Christmas tree in our master bedroom so today is all about the tree! I'm so excited to share my tree with you below and so are these other lovely bloggers! Talk about inspiration!
Welcome To Our First Annual Christmas Tree Decor Blog Hop!!
We have 40 talented bloggers joining up to share their decorated Christmas Trees with you! So grab a cup of your favorite beverage, settle in and get comfortable because you are going to love the beautiful Christmas Tree Decor shared today!
Let's Meet The Hosts!
You all know I love a bargain. 🙂
I didn't want to spend a fortune on a tree just for our room but I was lucky enough to find this faux tree at my favorite thrift store for $20! I hadn't taken it out of the box before I bought it, I just hoped for the best and was so pleasantly surprised to find such a beautiful tree inside. It had lights and pine cones 🙂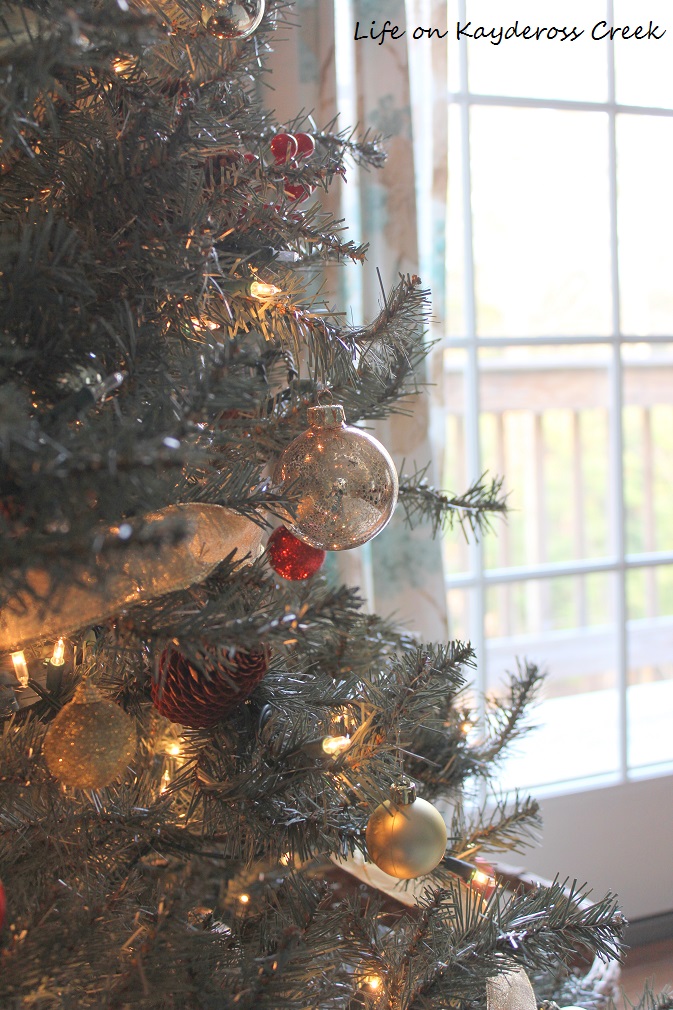 I went a little out of my comfort zone with this one. I love a more casual farmhouse look but with this I used only gold, red and white ornaments. On the real tree we have in our great room (which I'll share this week) we use every ornament we have ever collected or that one of us has made. There's no rhyme or reason for placement, we all just place them where they feel like they should go. It's truly a family activity and we have fun with it.
I actually took my time with this tree. I found that layering helps with the balance and depth. Since the lights were already on, I started with the ribbon. Then I started with the larger white, almost silver balls farther back in the branches. They look so pretty when they reflect the light.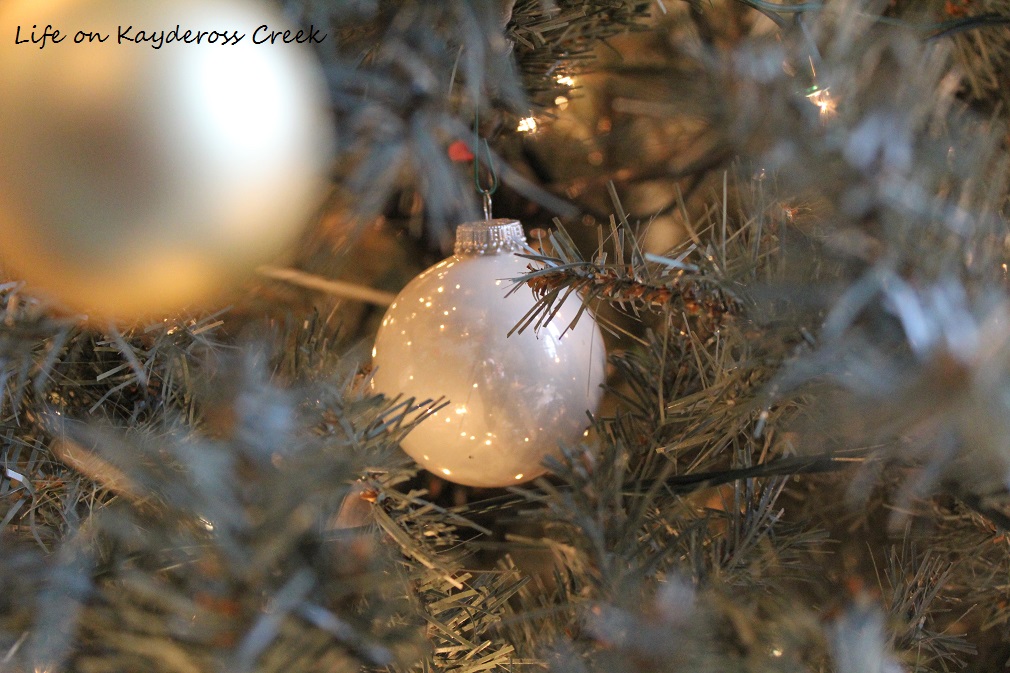 Then I worked my way out with the smaller ones, layering the red and gold.  All of these ornaments either came from a thrift store, garage sale or were purchased on clearance after the season.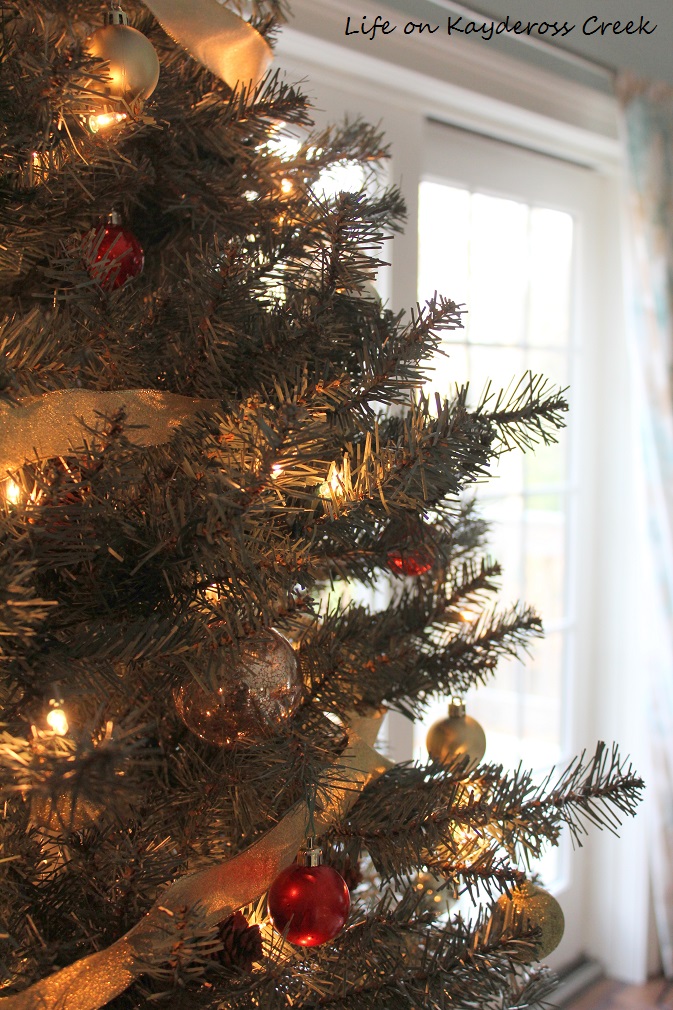 To tie it all together, I used a simple red tree skirt and some of the paper and packages I used last year which you can see here.  I love the way the red and gold shine but I also love the simplicity of the brown paper.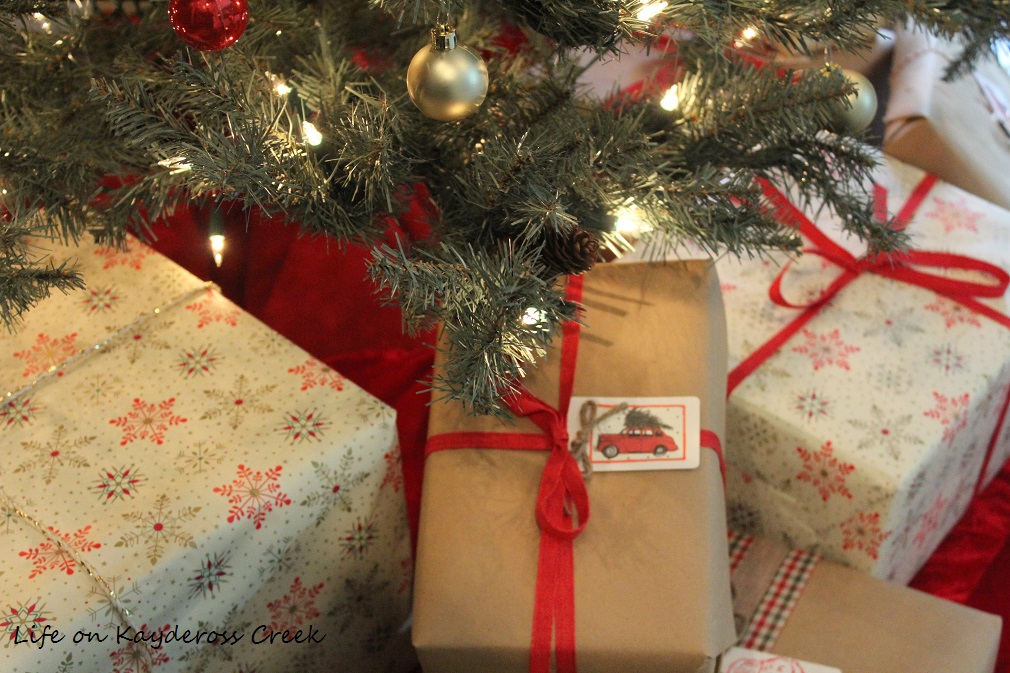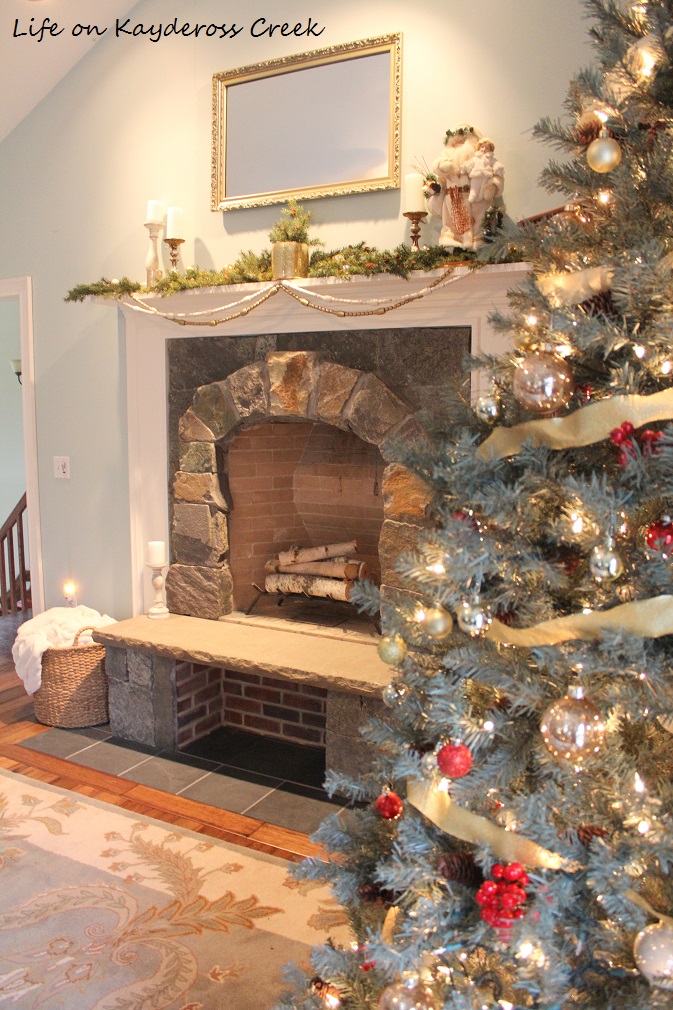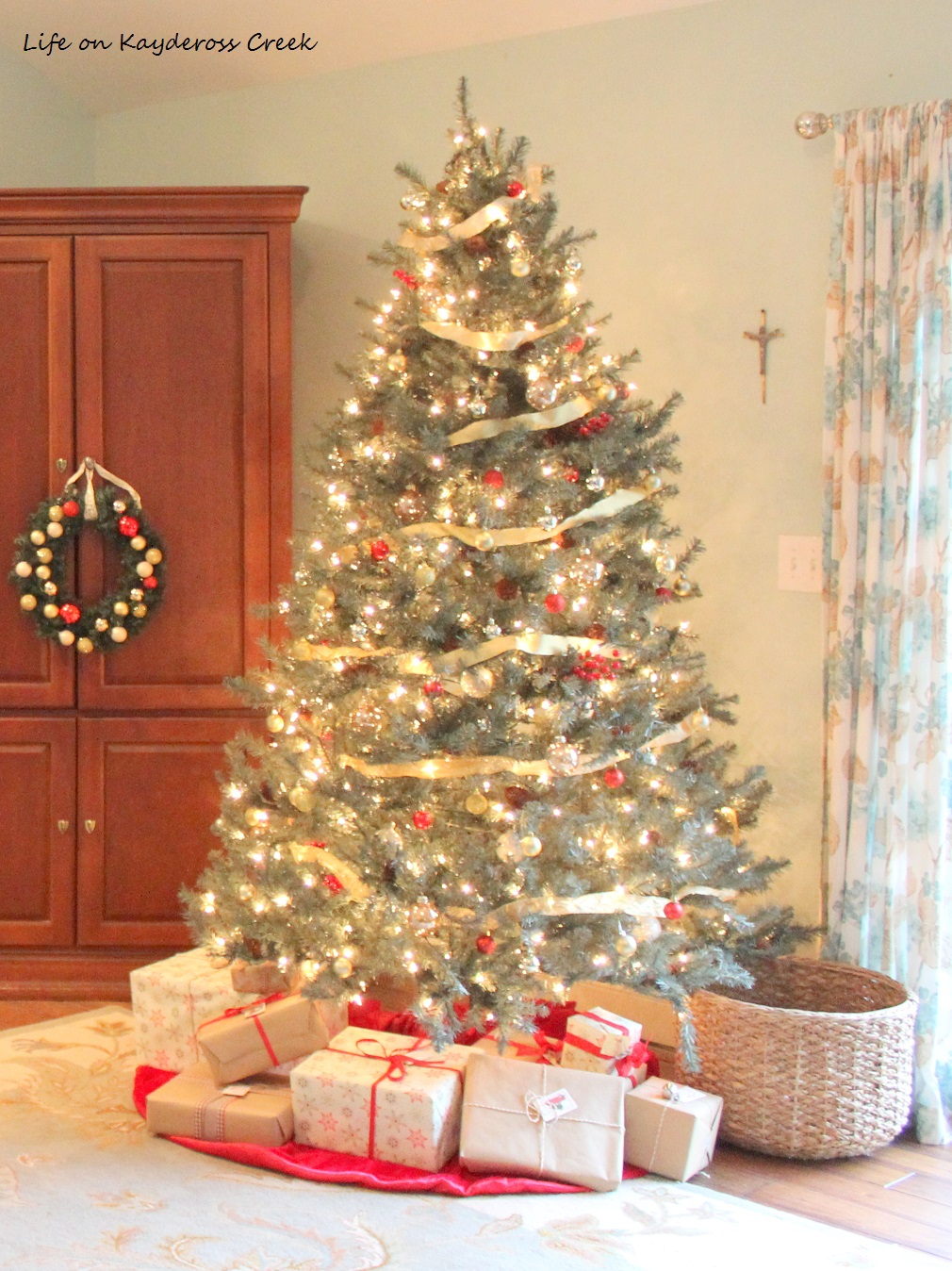 I added a few more touches of red with some berries placed here and there and that was it. I know some people like the look of just the neutral white and gold but I love red at Christmas.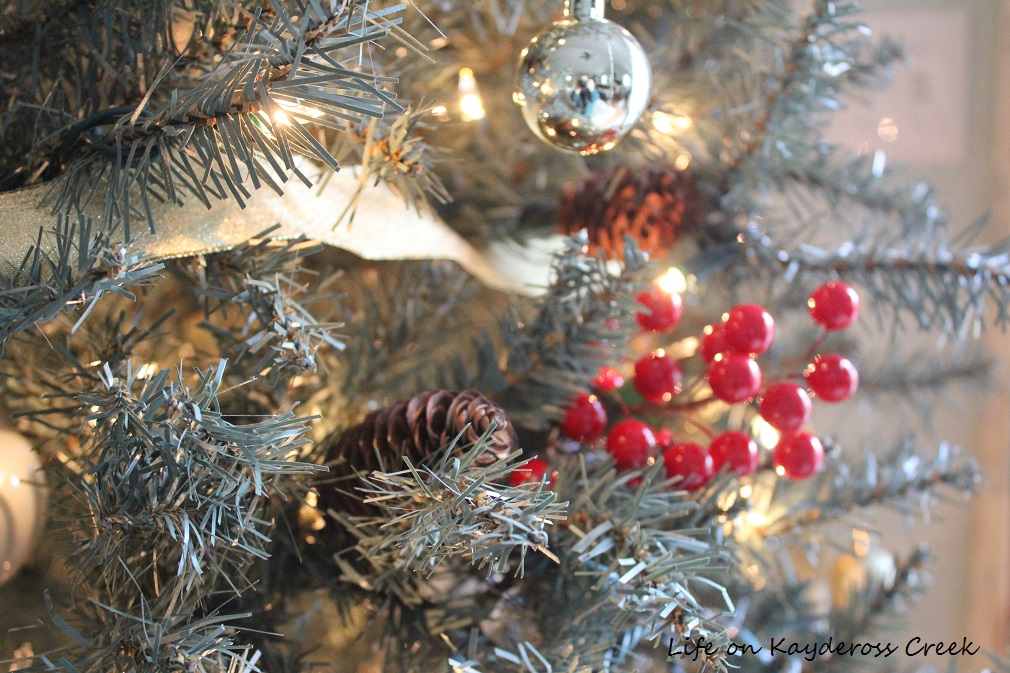 The one thing I forgot about was a tree topper. I guess that's something I'll have to add for next year because I will definitely do this again. I love having a different, more formal feel to this Christmas tree. Do you have more than one tree in your home? I would love to see it. 🙂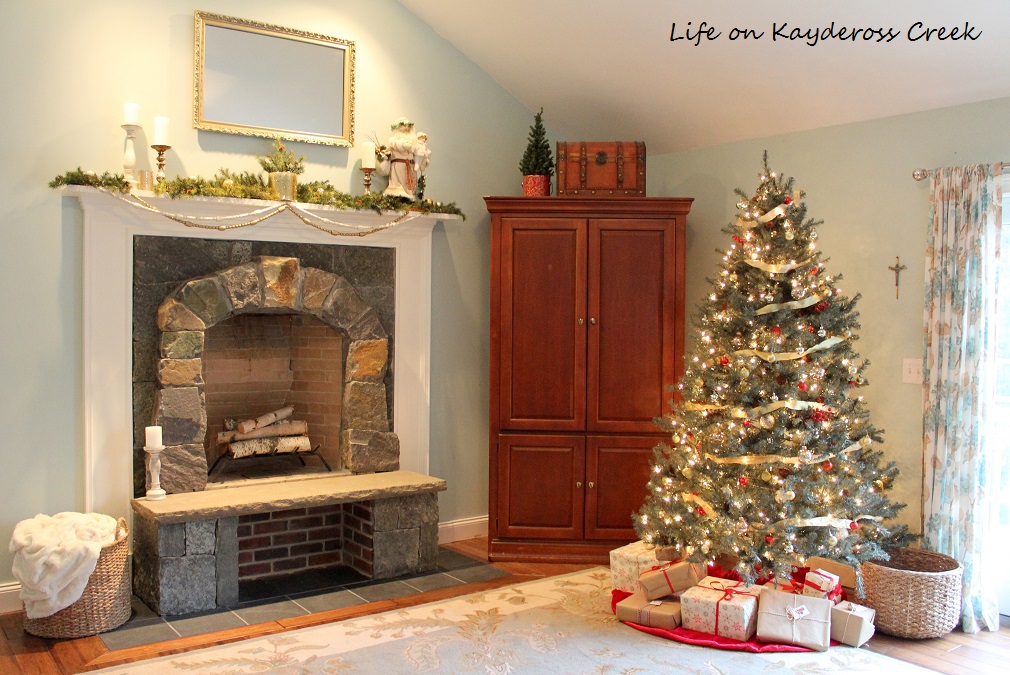 Happy Decorating!
Col
Now let's check out the rest of the beautiful Christmas Trees!
You may also like: