Hey everyone! Is Fall as busy for you as it has been around here so far? We've been working on some projects around the house not to mention soccer, Scouts and other family stuff so I'm a bit late getting this out. I'm so excited to finally share our Rustic Farmhouse Fall Home Tour with you.  So much to do so little time so today we are starting in our family room and entryway. Welcome…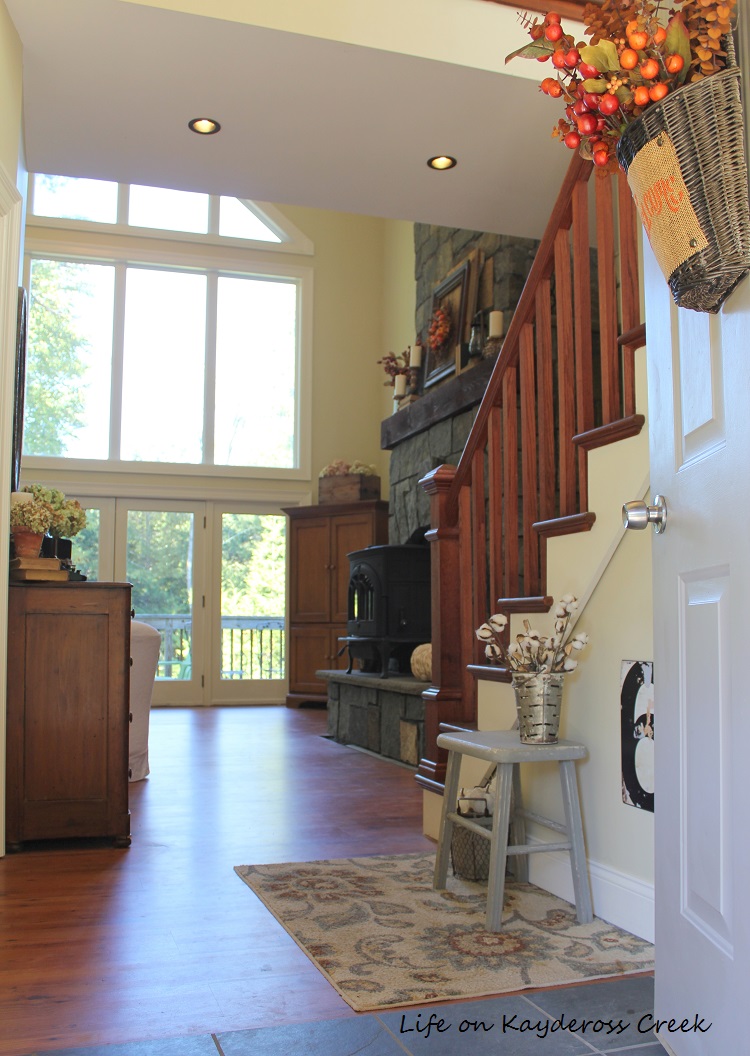 I kept the entry pretty simple. The cute little stool was a project last spring. It's just the right size for the space.
I used some classic Fall elements mixed in with some white pumpkins, hydrangea stems and cotton branches.  I really like to mix it up with textures because it warms up a space. The basket on the door was a project for summer. I just replaced the flowers and painted the Welcome with orange.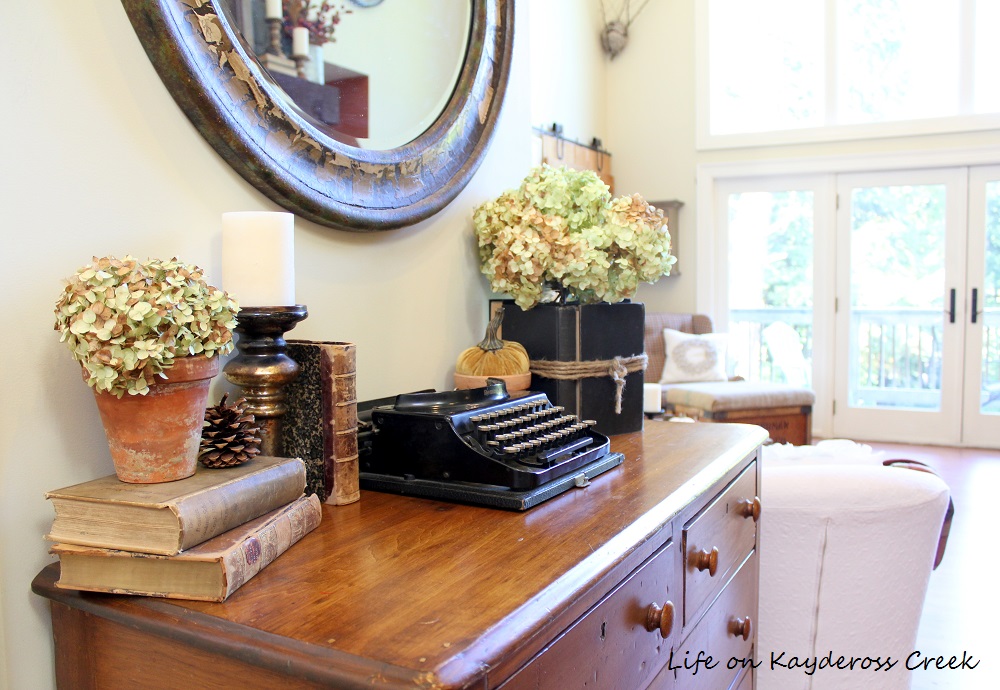 I picked up this old typewriter at a town wide garage sale last weekend. It's amazing what you can find when you aren't even looking for it.  🙂 Score! I love the black accents mixed in with the browns and white.  By the way, I can't wait to show you the other stuff we got – new project coming soon.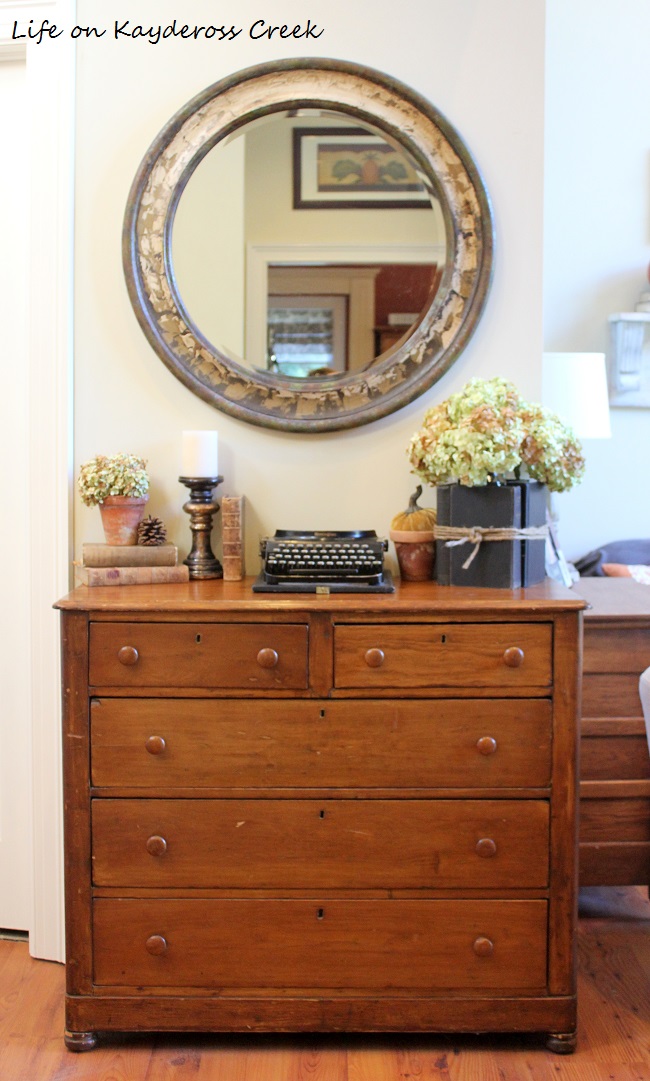 It's an eclectic farmhouse mix…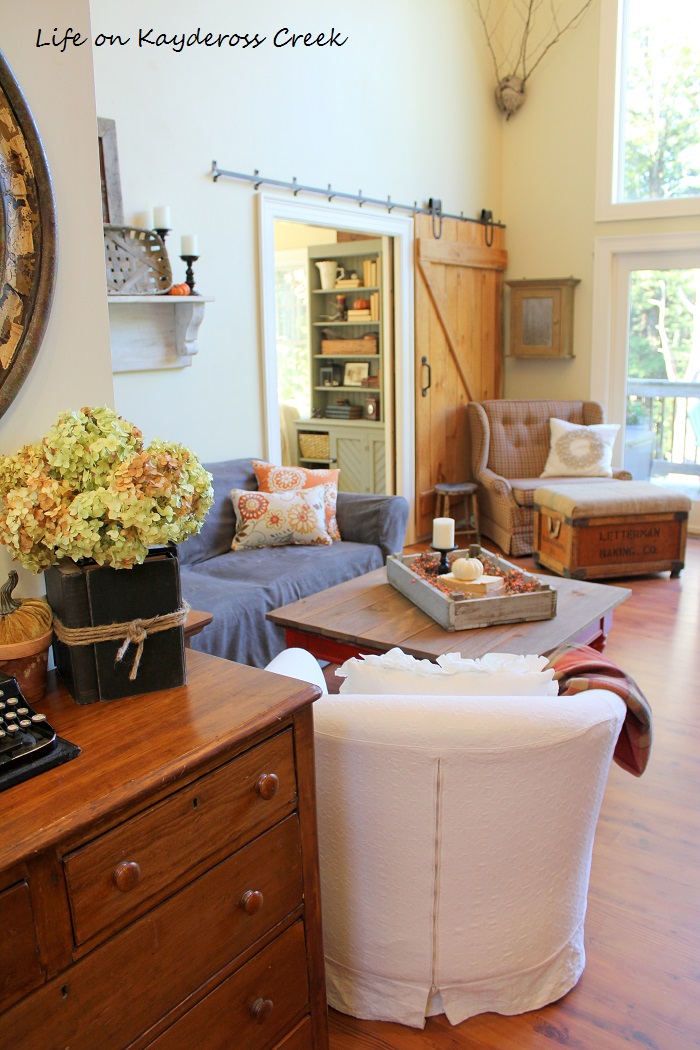 You can see the ottoman made out of an old crate here.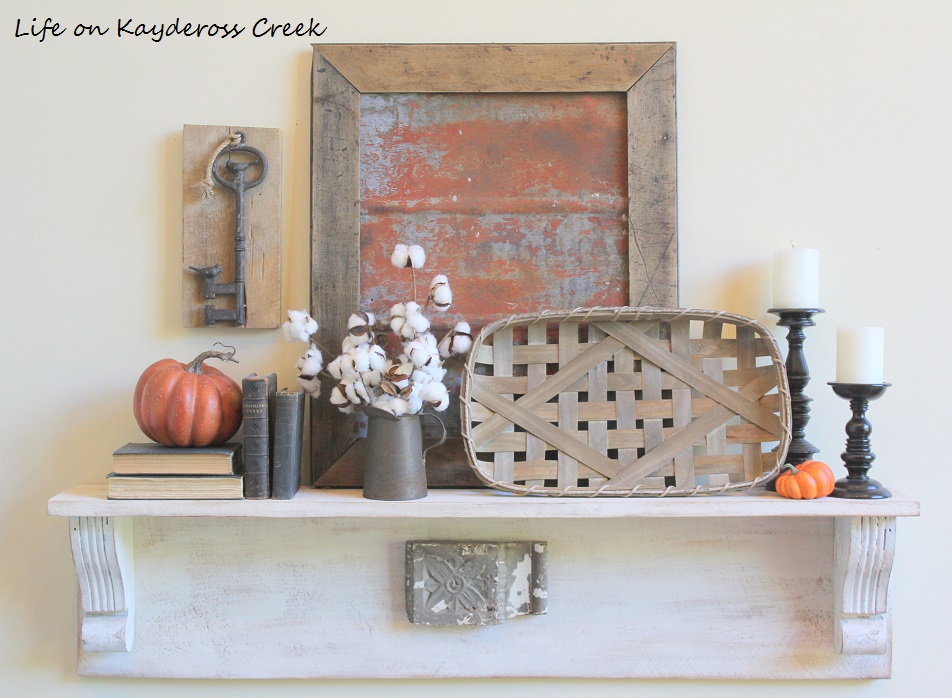 I love the contrast of the orange and blue in the metal with the white of the cotton. The Fixer Upper style wall decor was one of my favorite projects.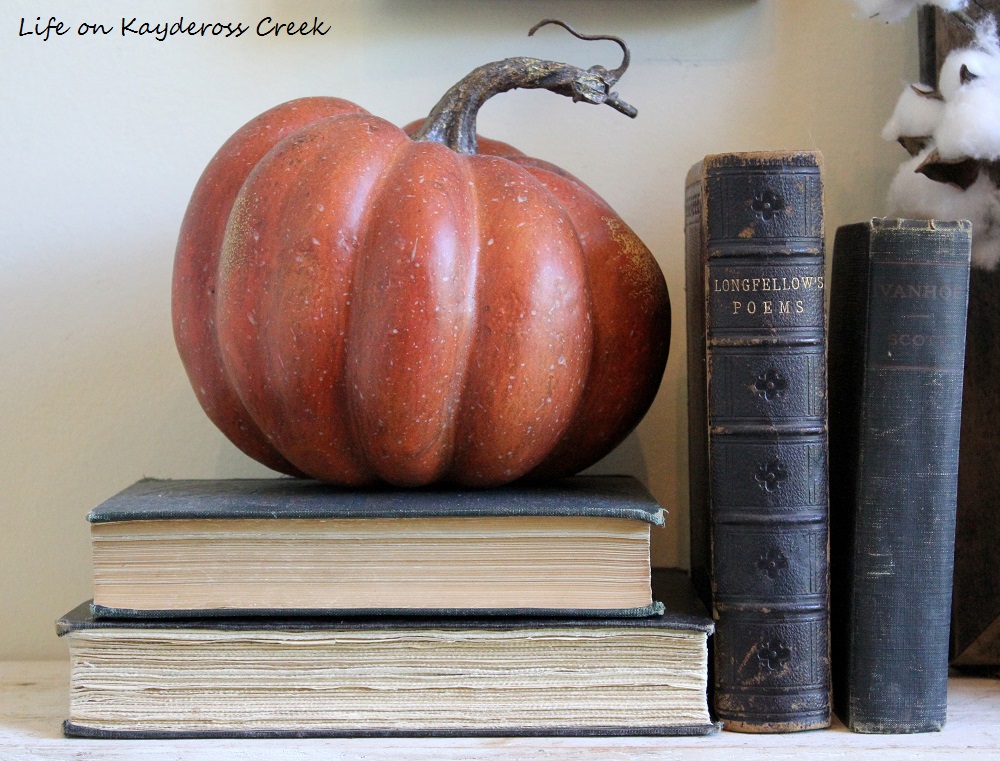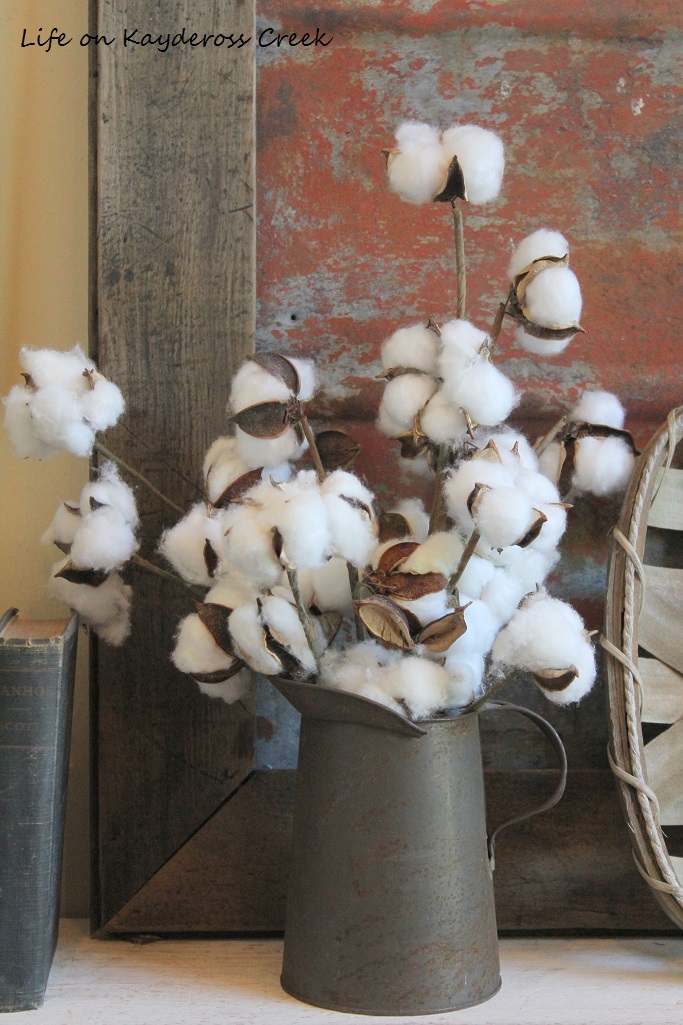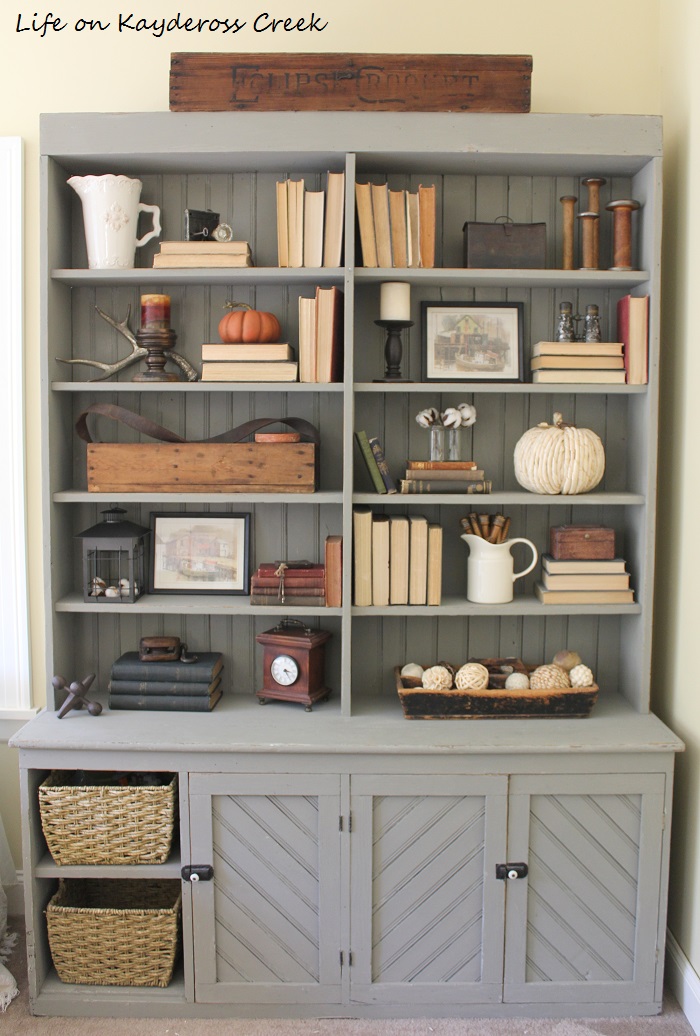 I wanted to stick with neutrals and hints of orange on this hutch. I love the way it pops off of the light gray.  I love mixing classic pieces with things that add character like the binoculars, antique door handle and tool box with the leather strap.
You wouldn't believe what this piece looked like when I got it. You can see that project here.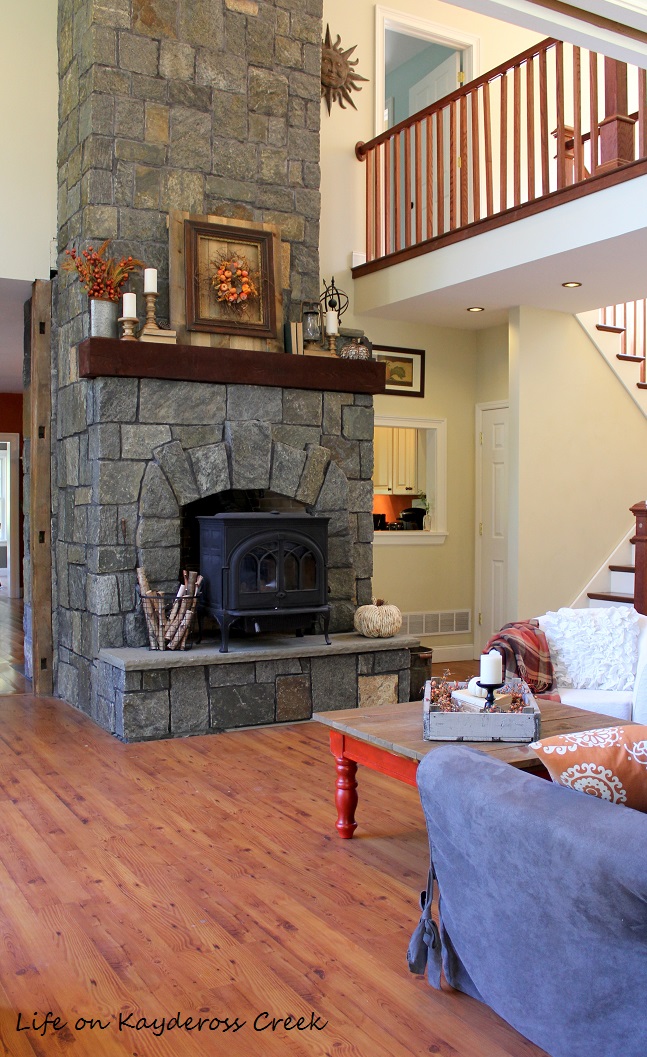 I like to get double duty out of my decor when I can (more bang for your buck 🙂  The  brown frame on the mantel is hanging on a wooden backdrop which is actually the back of the mini barn door we made. I used it for summer and just flipped it around for fall.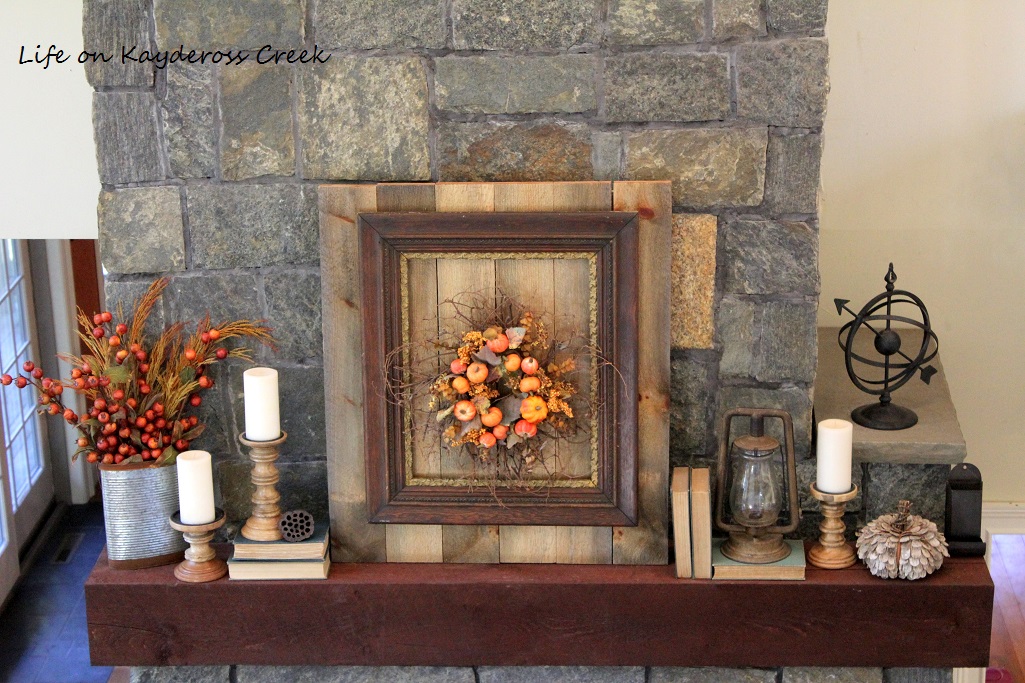 I also like to use versatile pieces wherever possible like the wooden candlestick holders and metal corrugated vase.  They're so pretty mixed in with seasonal pieces in similar neutral colors and it's a great way to stretch your "bucks" as my son says.  Lots of textures and old mixed with new make  the space eclectic and inviting.
I hope you enjoyed this part of the Rustic Farmhouse Fall Home Tour. I'll share our front porch and deck on Monday and the Kitchen, Dining Room and Mudroom after that. I hope you'll stop back again soon.
Are you a classic fall decor lover or do you like modern neutral tones? Whichever you prefer, enjoy every minute and…
Happy DIY'ing!
Col