When I'm decorating a space I always start with an inspiration piece and that includes my Christmas decor. Something that is a "jumping off point" as one of my favorite designers, Sarah Richardon from HGTV says. Tt could be a paint color, colors pulled out of a rug or piece of art or fabric. This year, while searching for Christmas ideas and inspiration, I happened to see this black mirror in the Ballard Designs catalog and thought hmmm, black. Then I remembered I had this red and black shirt pillow (a pillow made from a button down shirt) that I made last year and it all came together. I'll carry the rustic theme through from my fall decor and it will be a rustic, woodland, Red, White and Black Christmas!
Here's how it all started, the black mirror from Ballard…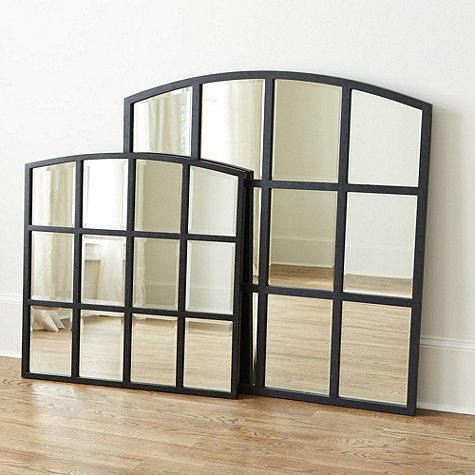 So pretty but too expensive. I have a window frame that I'll paint black and I'll be able to get the same look for literally no money because I already have the paint too.
The second piece, the shirt pillow…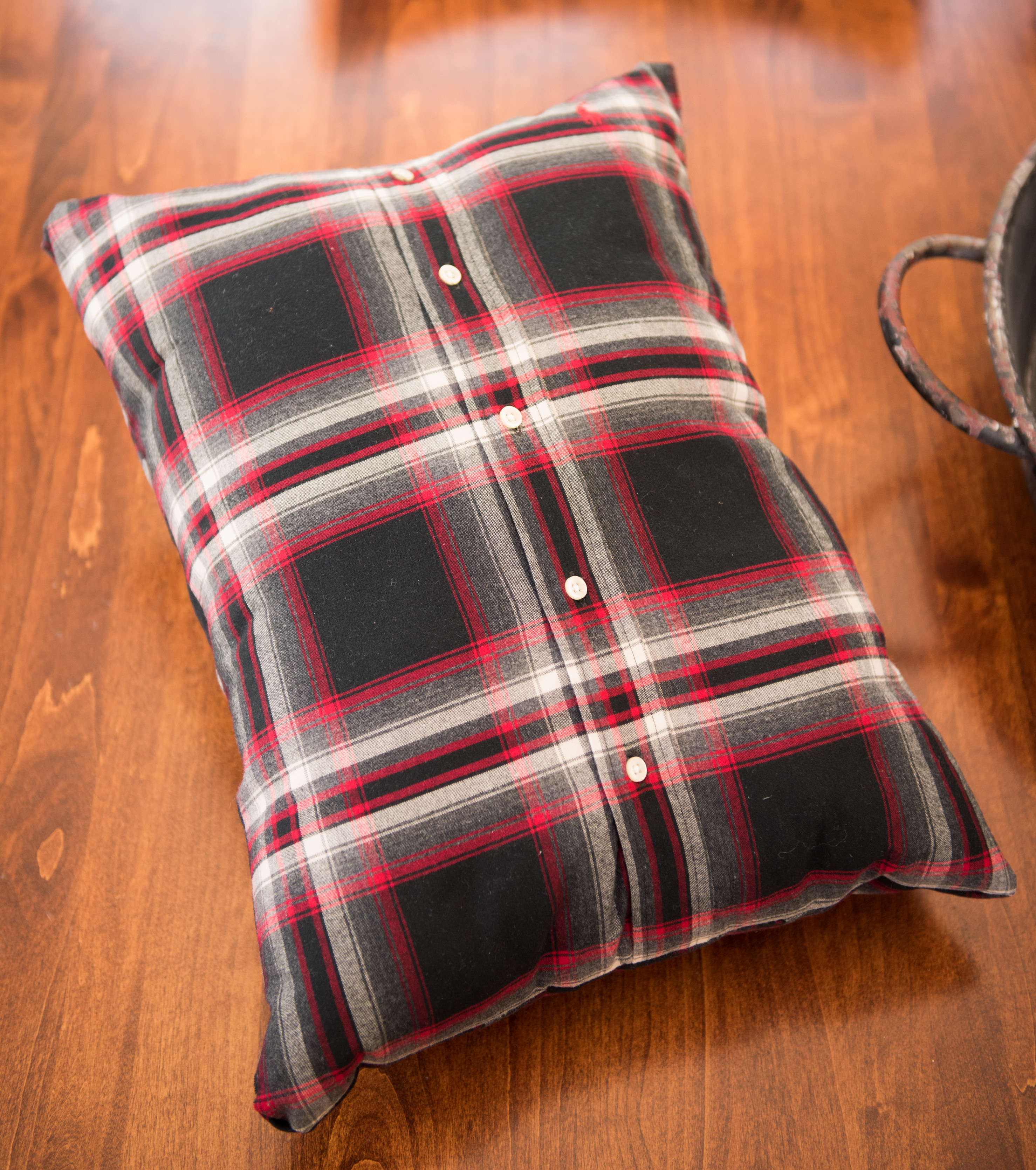 I made this pillow using a man's shirt I picked up at the Salvation Army for like $7. I forgot to take pictures of that one (blogger fail) but here's how I made one this summer using a $4 women's shirt…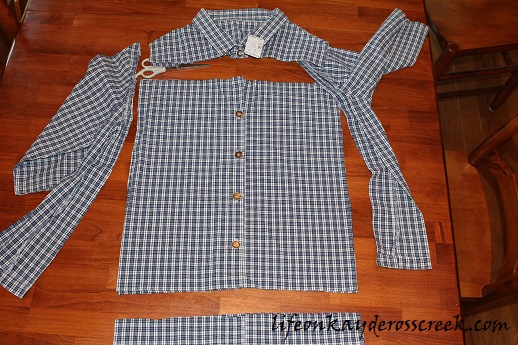 These are so simple and you don't even have to sew it. After I cut out the square, I turned it inside out and used fabric glue on the edges on 3 and a half sides, leaving just enough room on one side open to stuff it. I turned it back right side out and stuffed it with stuffing and then glued the remainder. I didn't even have to do anything to the buttons. So easy and so cute right?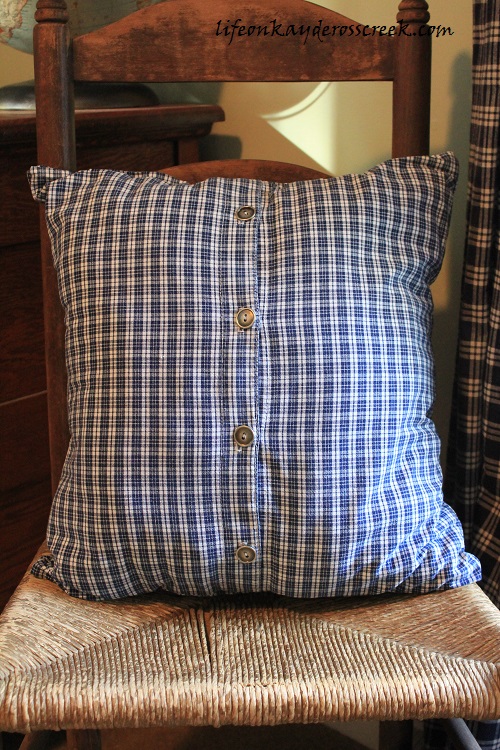 Anyhoo, back to Christmas…In keeping with the rustic black, red and white theme, I picked up the North Pole pillow and the plaid HOME pillow at Marshall's. I started pulling all of my Christmas decor from last year and realized I also had quite a bit of black and red already. I happened to get this red bowl/tray last year which was a thrift store find for just $2 and I printed the deer silhouette off Google images last year as well and put it in a rustic wood frame. The birch candle holder was from target.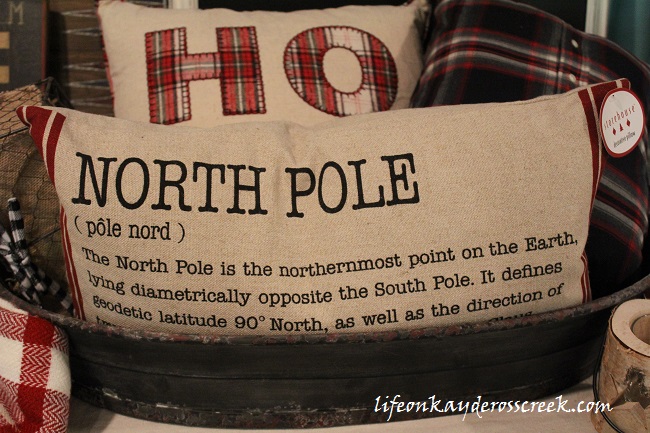 The black and red metal chippy tray is one of my favorite pieces. I got it from antiquefarmhouse.com The other big project was a large chalkboard with a whitewashed frame. I picked this frame up at a thrift store for just $5. I removed the picture and used chalkpaint to paint the glass. It will be a great backdrop for an upcoming birch bark wreath project. (both posts coming soon)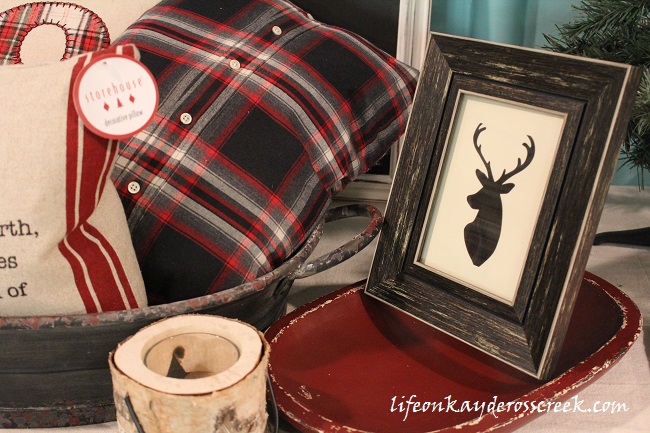 So I'll bring in lots of wooden pieces and accessories, lots of pillows as well as some some silver accessories for a little Holiday bling. I will have the Full Christmas tour and lots more Christmas decor projects coming soon!
It's all coming together!! I can already picture Christmas morning and I'm so excited! Here's to finding your inspiration!
Happy DIY'ing!
Col