This farmhouse boy's bedroom is the biggest transformation in our home! When I decided to re-do my son's room I clearly needed a "jumping off" point or a place to start. I had planned on keeping the paint color the same as well as the furniture, but needed a direction to go in with all new bedding and accessories. Then I saw these quilts on line and fell in LOVE with them! They are so classic boy, they had great colors to work with and they are so reasonable!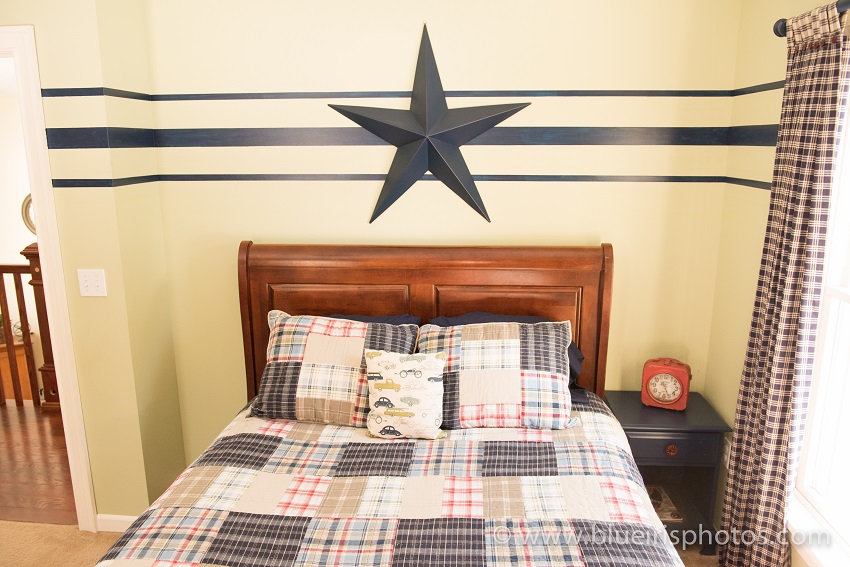 When my son was 3 he was obsessed with SpongeBob. I am not a fan of decorating a child's room in anything to "theme-y" so I had picked up these inexpensive stickers thinking that the would be easy to remove when he got over it, which they were. The comforter was a gift and we kept it after we changed the room to use for sleepovers and it can always be used with a duvet cover.
Before… Yes, it's sad, but it's also so very temporary!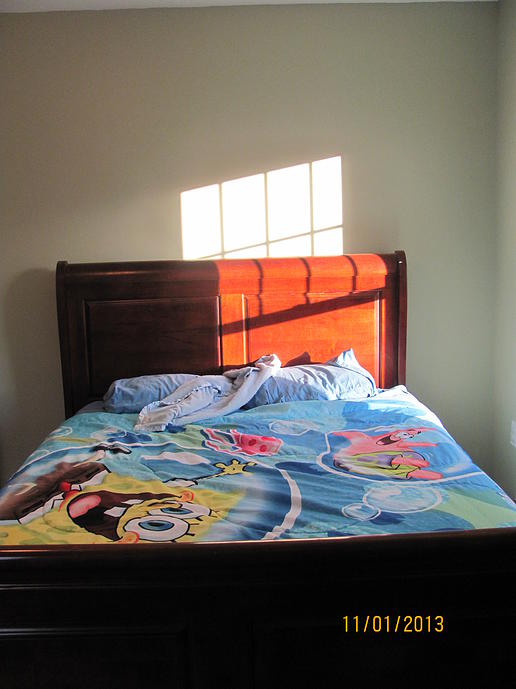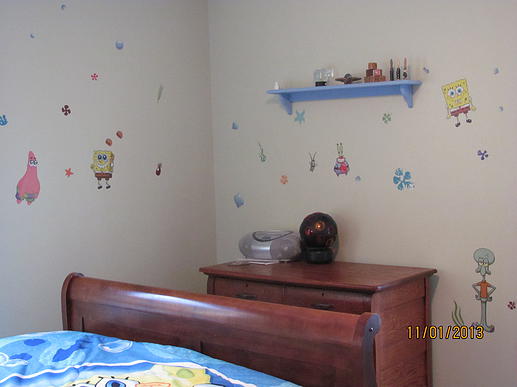 Once I found my "inspiration piece", this adorable plaid country quilt by Nautica, the rest was easy.  It's perfect because it has a touch of the sage green in the walls along with navy and red.  I pulled the navy out and started by painting stripes on the walls for some visual interest. It was one of those things that I saw in my head long before I decided which colors to use.
I used a level and painters tape and it took some trial and error with the spacing but it was well worth it. I found that if I drew the line with the level and then put the tape on along the pencil line, it worked really well. To get it even around the windows, I simply measured down from the ceiling. Honestly some of it is just "eyeballing it" too. I did have to touch up with a tiny paint brush in some spots at the end.
This shelf below I had from my first apartment years ago. It has been several colors, most recently green in my daughters room. It cleaned up nicely and looks great in navy.
Fortunely, I had used these curtains in our old house in our living room and they were a perfect match. I have to admit I had forgotten about them in a box in the basement until I went looking for something else one day. What a nice surprise! You can find similar curtains here.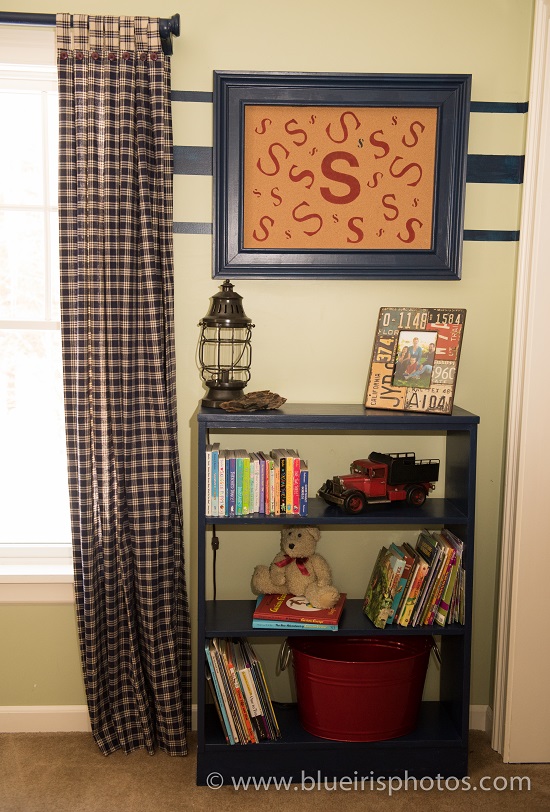 Some of the accessories, like the super cute red clock, I found at Hobby Lobby. You can get a similar one here. Many of the pieces I made myself but, unfortunately, I didn't take before pictures of most of them. The bulletin board was originally just a plain one with a thin piece of wood trim around the edge. To make it more personal my husband used some leftover window trim from our house to make a frame and I stenciled on different size S's. The picture frame, which was the inspiration for the travel theme, came from Hobby Lobby and the red bin on the bottom I picked up at the Salvation Army for $4. The cute lantern lamp is from Lowes but you can get a similar one here.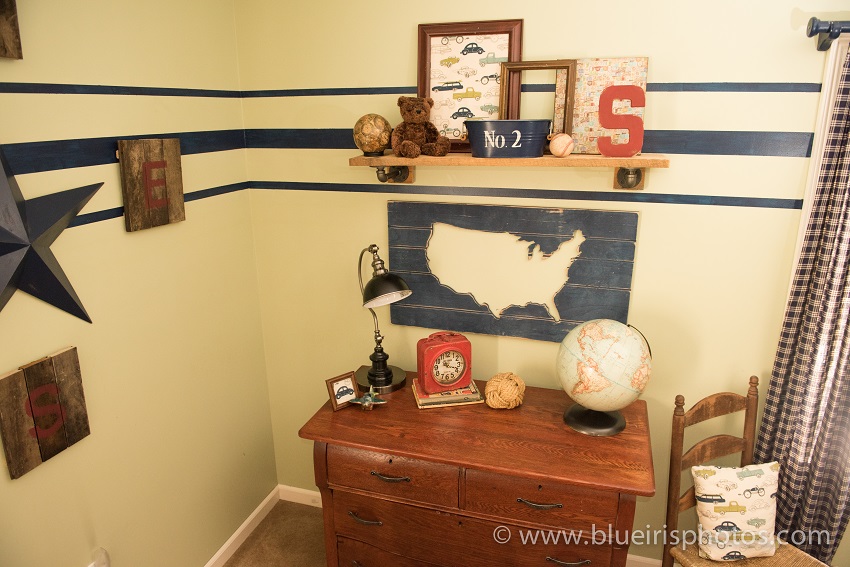 I also made the N,S,W,E signs on the side wall. They are just pieces of old tongue and groove flooring that came out of my Father's old shop. Great color and digs/marks from wear and tear. The stars I have had for years and painted them navy as well. You can get one here. The dresser is an antique and so is the chair.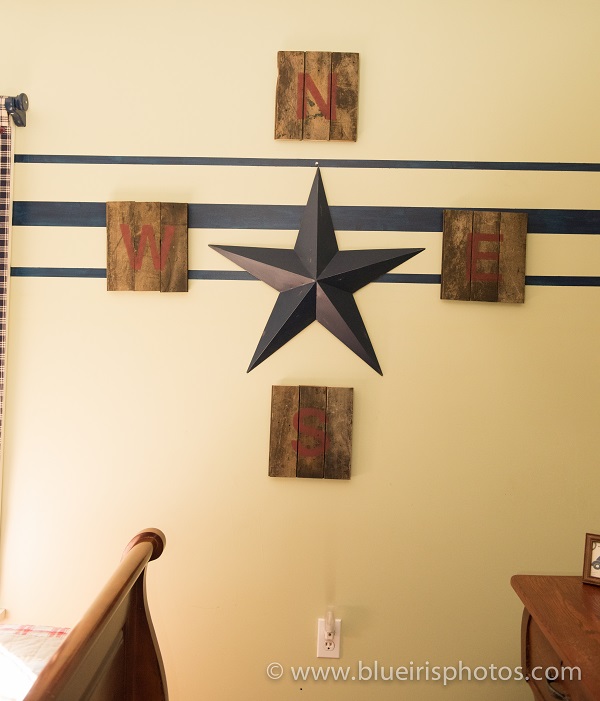 The travel theme continues with the cut out map and car fabric , both from Hobby Lobby, and the globe which my Mother-in-law gave us. The base was a weird gray blue color so I spray painted it Oil Rubbed Bronze. I framed some cute car and truck frabric in a $1 frame and used the rest to make the pillow on the chair. No sew here, I used fabric glue!
The red S was a brown paper mache piece that cost about $1.5 which I painted red and distressed with some antique ink. I also painted and stenciled the No. 2 bin and my husband and I made the shelf out of plumbing pipe and reclaimed lumber. I would love to do the closet like that someday.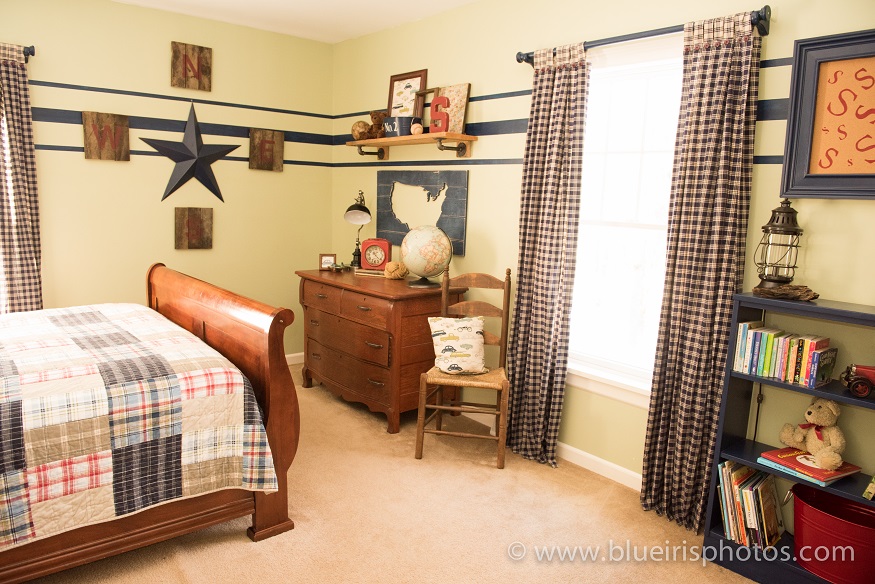 So here is the result…I LOVE IT!! I like that it is a mix of old and new and I was able to create some of the decor myself.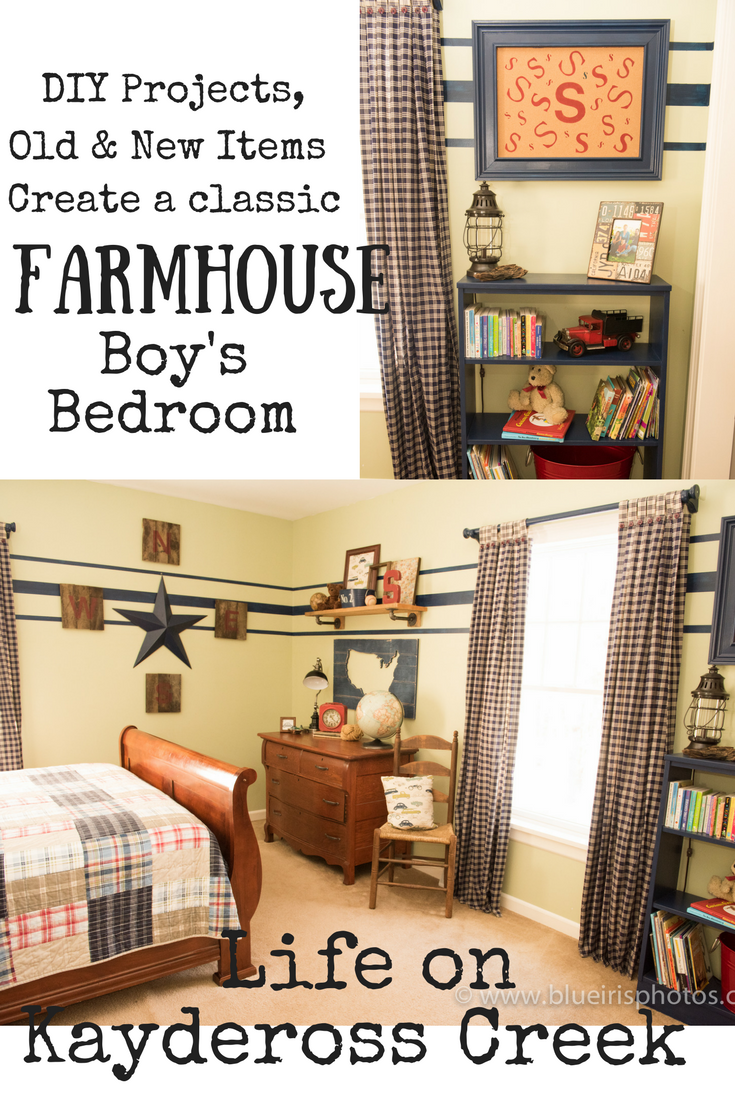 The nice part is it will grow with him as his tastes change. Someday we'll take down the teddy bears and put up his sports stuff but for now he is still my little boy!
Happy DIY'ing!
Col
Linking to these great parties: Inspiration Monday Between Naps On The Porch  The Dedicated House Merry Monday Inspire Me Monday Create Link and Inspire Motivation Monday Inspire Me Tuesday The Scoop  Tuesdays At Our Home From Dream To Reality Totally Terrific Tuesday  DYI BY DESIGN Fluster Creative Muster