I don't know about you, but in our house, the kids are so excited about Santa coming that it's all about the countdown to Christmas now! I'm so glad you're here today because I'm sharing my latest project to help the kids keep track of exactly how many  more sleeps they have until Santa makes his magical visit. It's also one of my favorite kind of projects, the budget friendly, trash to treasure kind, and it's also part of a Holiday version of a trash to treasure blog hop with some other lovely bloggers sharing their projects as well.
My project started when I picked up this little gem at a thrift store over the summer for the unbelievable price of only $1. Lucky for me, I think they were just inundated with stuff and were trying to get rid of it. It's not something that I would use "as is" but I liked the chalkboard part and shape and thought I could use it in a some way so I tucked it away for a future project.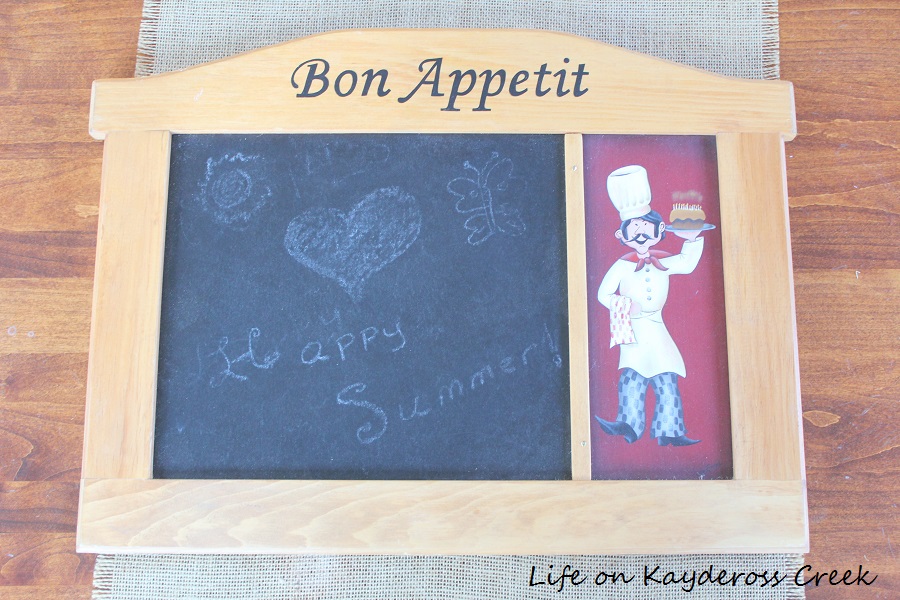 This post contains affiliate links for your convenience. See my full disclosure here.
Fast forward to November and the perfect project came up – creating our Countdown to Christmas board. Here's how I did it.
What you'll need:
Old chalkboard of some kind – needs to have a boarder/frame large enough to stencil the words on it.
Paint brush
Foam paint brush
Stencil brush
Craft paint
Painters tape
Cotton rag
Scrapbook paper
Chalk
Palm sander or sand paper
I started by giving it a really good sanding with the palm sander to remove the letters at the top and the shiny layer on the wood. Then I painted it with creamy white chalk paint made with plaster of Paris. I used almost a dry brush technique (not a lot of paint on the brush) because I wanted it to be a bit muted and rustic.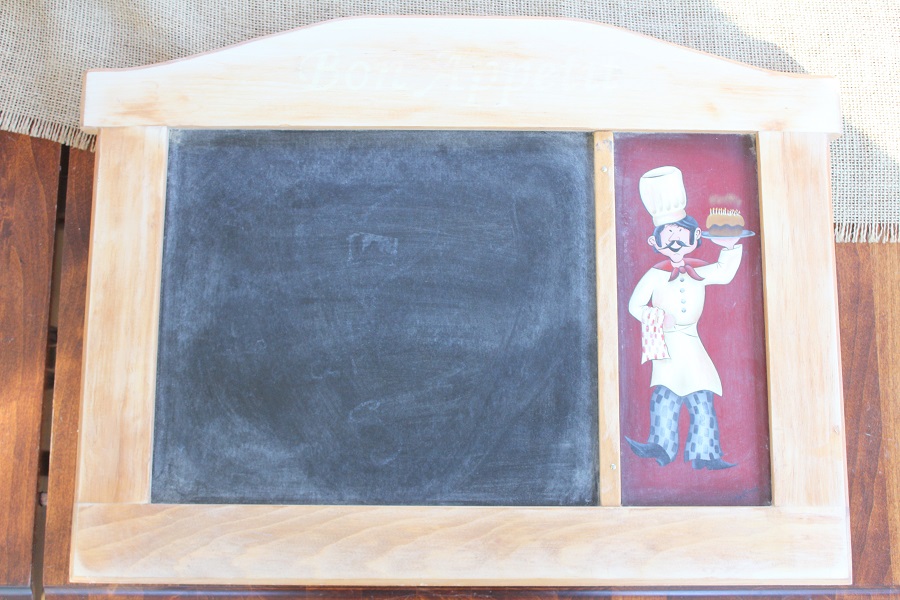 The chalkboard was in decent shape but the person who had it before used some kind of industrial strength chalk and I couldn't get it off completely so I gave it another coat of chalkboard paint using a foam brush. The foam brush leaves a more smooth finish than a regular brush. Luckily, the back came off and it was SO much easier to do this than I thought.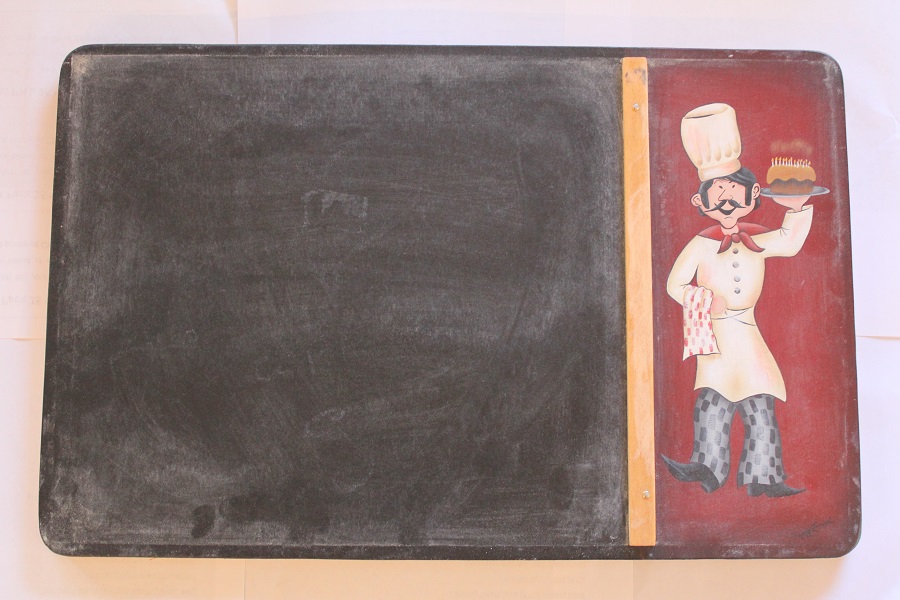 When the chalkboard paint was dry it seemed like it was missing something so I decided to paint a stripe around the edge. I used painters tape to make lines around the sides to add some interest to the center and give it some color.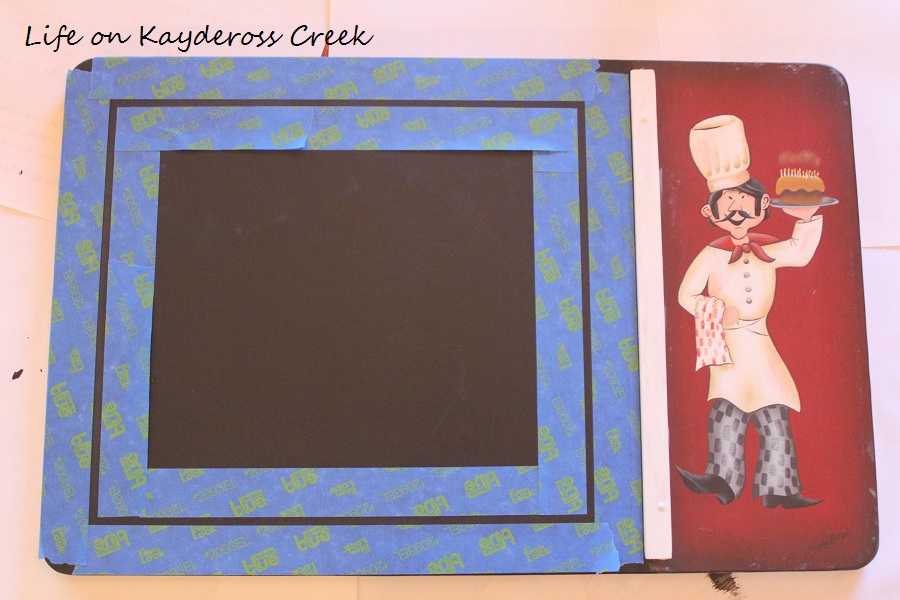 I also wanted to cover up the little "chef" on the end so I used a piece of scrapbook paper that would match the red of the lines and eventually the color I would use for the wording. I placed the paper on the board and gently bent it around the edges so I would know where to cut it. I cut out the shape and used spray adhesive to adhere it.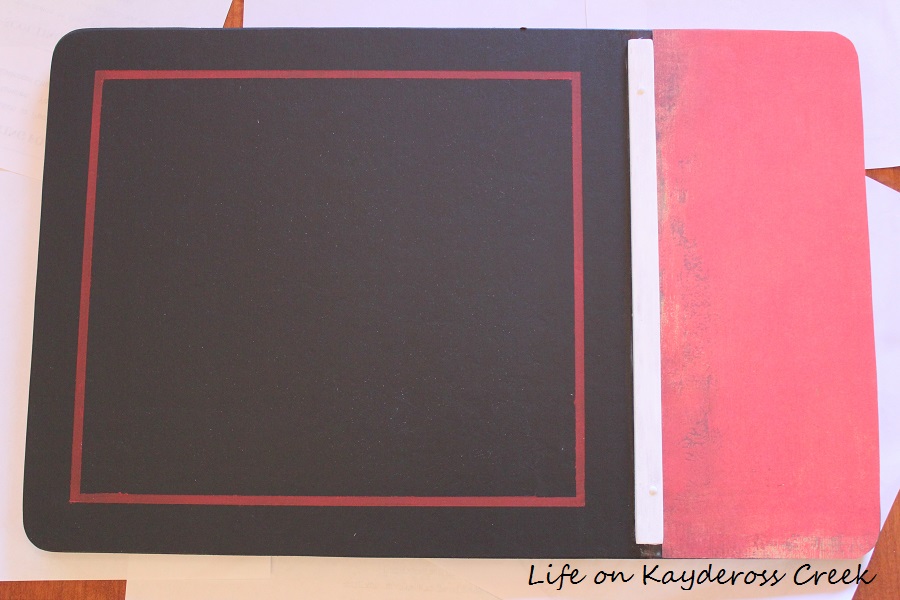 So far, so good.  Now on to the countdown part. I used a stencil to add the "Days til Christmas" on the top. To keep it straight I used a ruler to make a faint pencil line evenly across the bottom. I highly recommend this so you don't get half way through and realize the entire thing is slanted. Not that it happened to me,  just sayin'. It's a good thing the paint didn't dry very fast. 🙂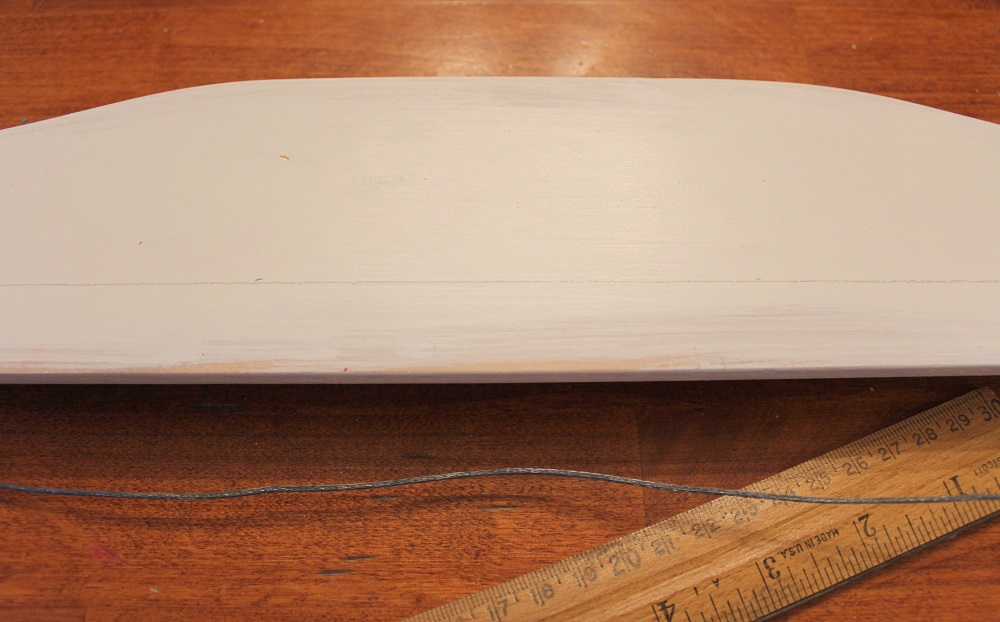 So I stenciled the "Days til Christmas" on and forgot to take the picture as I was doing it, sorry.  Anyhoo,  it seemed too clean and new when I put it all back together. Since I really wanted to this piece to have an antique feel, I used the palm sander around the entire piece to let some of the raw wood show through and then applied Distress ink with a clean cotton rag over the entire thing to get a warn,  antique-y feel.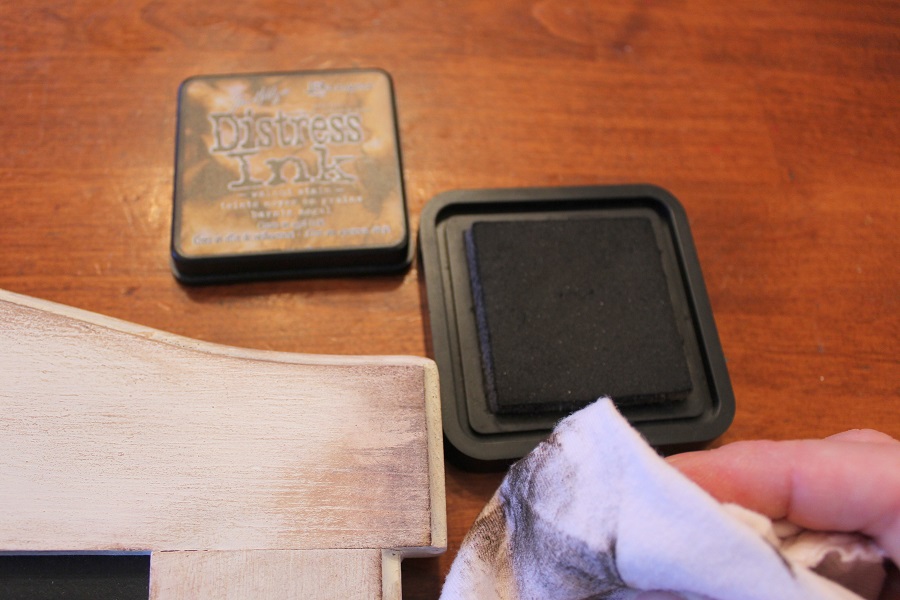 You need chalk if you are going to record the number of days so I tied a piece of chalk to the back with twine and for a bit more embellishment added the wooden stars to the end in front of the scrapbook paper.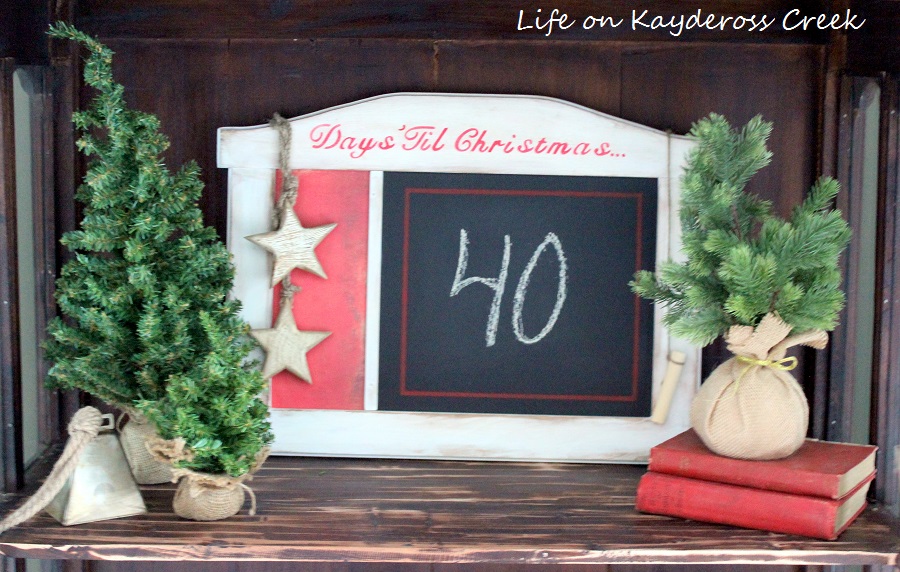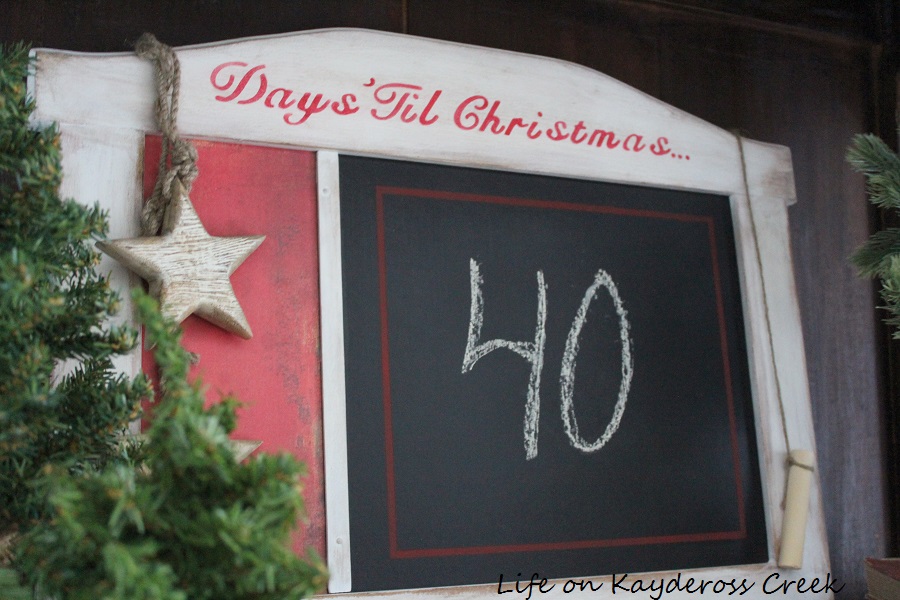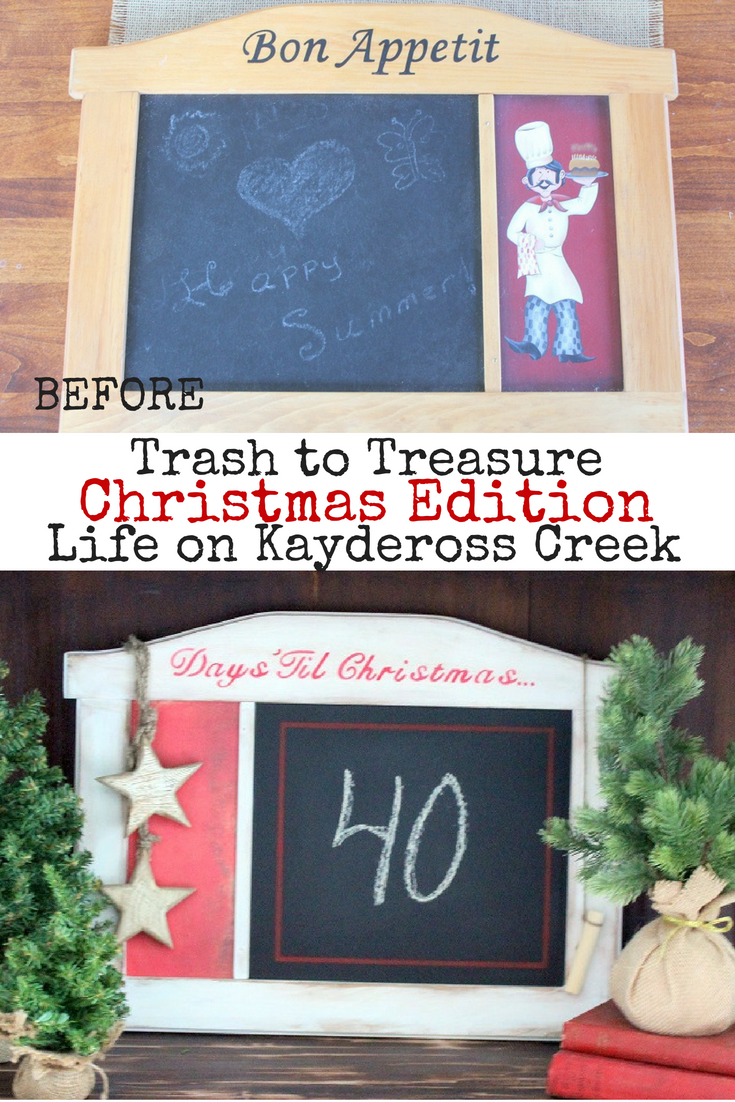 So that's it. Super cute and fairly easy to do and definitely budget friendly! Please check out the other lovely bloggers to get some inspiration for other Christmas trash to treasure projects below.
Thanks again for stopping by. How do you countdown to Christmas?
Happy DIY'ing!
Col
You may also like: