Hi everyone! This is a short post today but one that I really wanted to share with you because who doesn't need a giant chalkboard? So every summer I go to a garage sale just a few miles from my house where the owner sells the most amazing things for practically nothing. He would get most of the stuff for free or help clean out homes for people who just didn't want the stuff anymore and for the longest time he would give the money to charity! The very nice man has a sale once a month or so and I fly over there as soon as I see the signs posted! I've picked up candlestick holders, dishes, tons of stuff as well as a few pieces of great furniture for as little as a few bucks!
He knows me so well now that he will put stuff aside for me that he thinks I will like. 🙂 So I was rumaging through his garage one time and saw this lonely end of a crib. I love the curvy shape and the scrolly detail. Once I saw the raised edges that looked kind of like a frame, I immediately thought chalk board. The best part?? It was $10!!!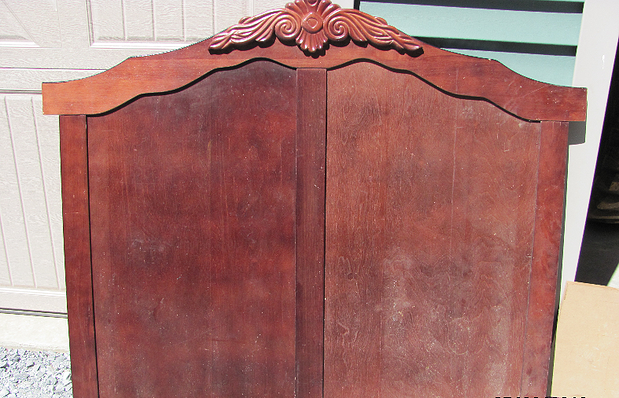 It was perfectly flat and the wooden detail at the top was so pretty. I thought if I painted it with white chalk paint and sanded it down it would really bring out the detail in the pattern.
So after a really good cleaning and sanding, I painted the outside edges with the creamy white chalk paint. I sanded down the edges here and there to get a more distressed look and then painted the middle area with chalkboard paint. First I brused the edges and then used a roller to do the inside area. For the final coat, I always use a sponge brush to get an even coat with no streaks or lines.
I ended up going over the sanded areas with antiquing ink 'cause you know I like it to look worn. So here is the finished product. Still deciding where it's permanent home will be but for now it's in the office. I love how it turned out!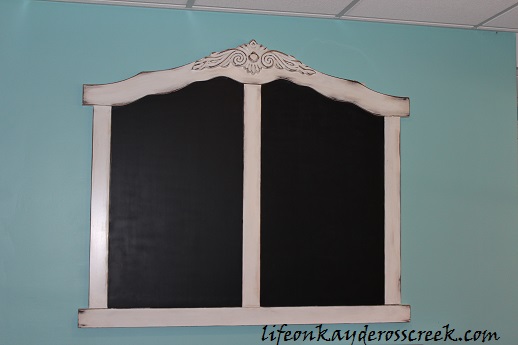 This giant chalkboard is actually one of my favorite projects yet. It's amazing what you can find at garage sales or thrift stores if you keep your eyes out and you have an open mind.
Who knows what I'll find next time! Can't wait to find out!
Happy DIY'ing and happy hunting!
Col