Happy Spring everyone!  So with Spring practically here and Easter right around the corner I've been working on a bunch of projects & getting our house ready to celebrate the season. I've been so  inspired with the beautiful weather we're having that I have a ton of things to share with all of you in the coming weeks. To get started, I'm joining a great group of ladies in a continuation of our Dose of DIY blog hop to share my Polka Dot Spring Wreath. If you're new here, (WELCOME!) we did a fun Christmas home tour in December and one another project for Valentine's Day.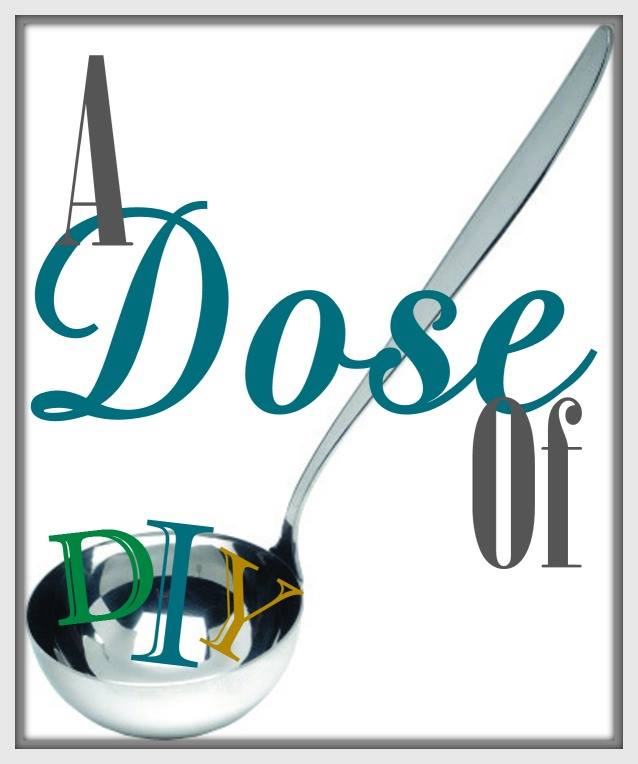 Now it's time to share some fun Spring projects using what else but EASTER EGGS? Mine is all about adding some fun with polka dots. Please check out all of the lovely ladies in the hop and their craftiness by clicking the links at the end of the post.
So those of you that know me know I usually stick to pretty classic, neutral, country decor.  For this project, though, I decided to go a bit outside my comfort zone. I happened to see the cutest burlap in my travels down the clearance aisle at Walmart one day and knew exactly what I would do with it.  It was perfect for Spring!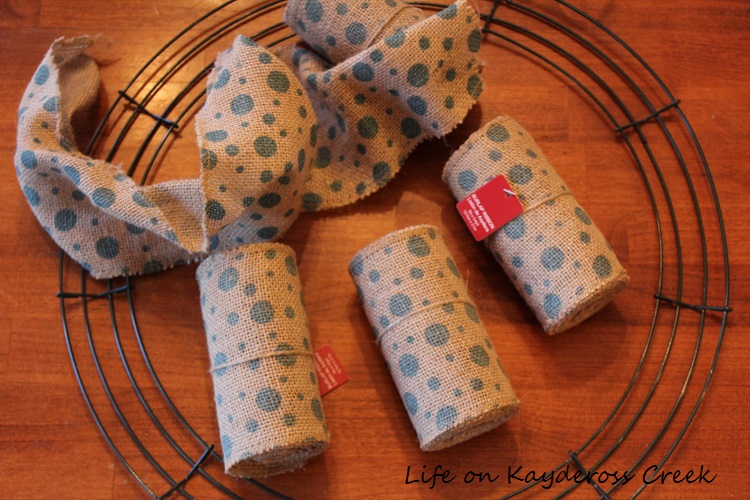 I love it because the color that was used for the polka dots is such a pretty, muted blue.  It's colorful but still neutral in it's own way.
So I'm not going to give you a tutorial on making a burlap wreath because there are already a ton out there. You'll find all kinds of ways to make them on Pinterest and video tutorials on youtube. I prefer the wrap and twist method myself using either pipe cleaners or floral wire, weaving it back and forth between the wire and scrunching it up as you go.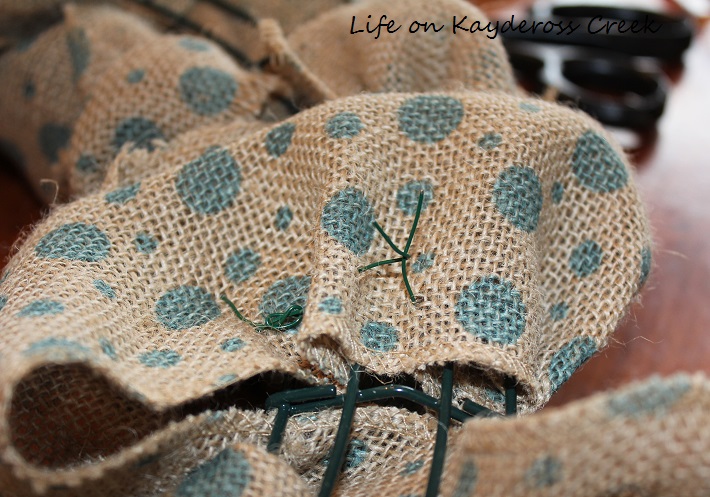 Once the wreath was completed I wanted to add some Easter cuteness to it. I picked up these brown paper mache eggs and using craft paints, mixed up a blue as close as I could get to the dots on the burlap.  I added the brown speckles by tapping a paint brush with some brown paint over the eggs.
Unfortunately, I made a huge blogger error and did not photograph that. Crap on a cracker!
Anyhoo, I used a hot glue gun to attached them to the wreath along with some others in the blue & green color family. I also added these cute picks…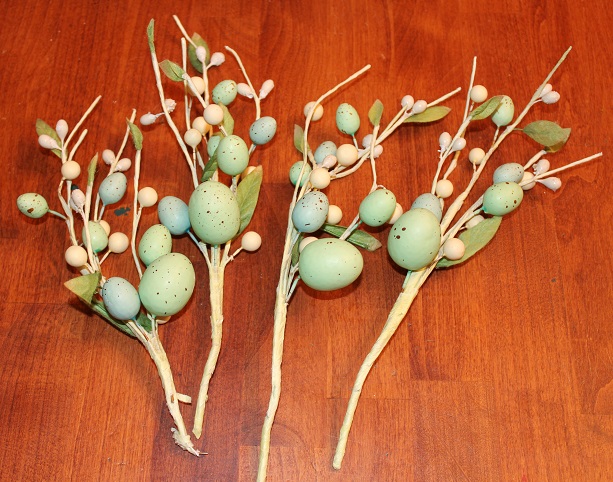 Then I used the same blue from the eggs to paint the initial of our last name which I tied on using twine. Here's how it all turned out….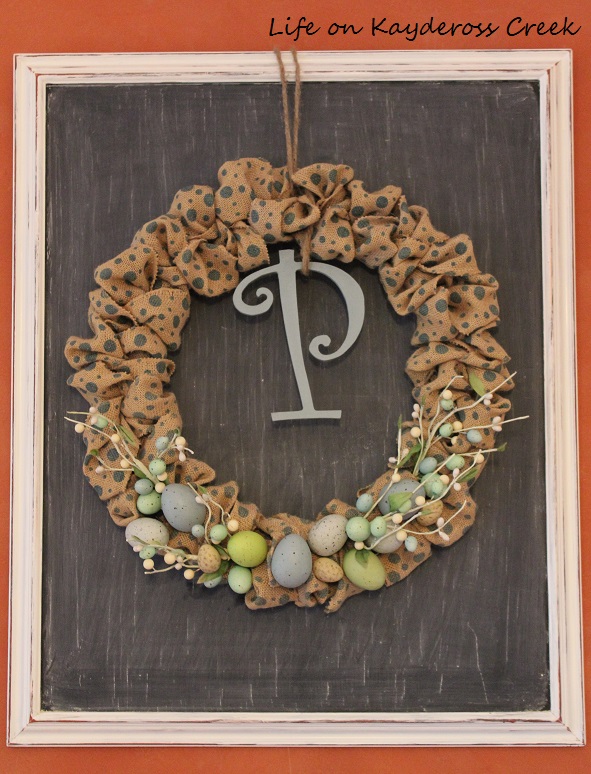 Super cute! Colorful but still neutral makes me HAPPY!  It will go on the front door eventually but for now it's in the kitchen. Since I used the green eggs too, It goes great in the kitchen with the other green's I pulled in. That's coming up in the full Easter tour coming soon. 🙂
OK, a little sneak peak…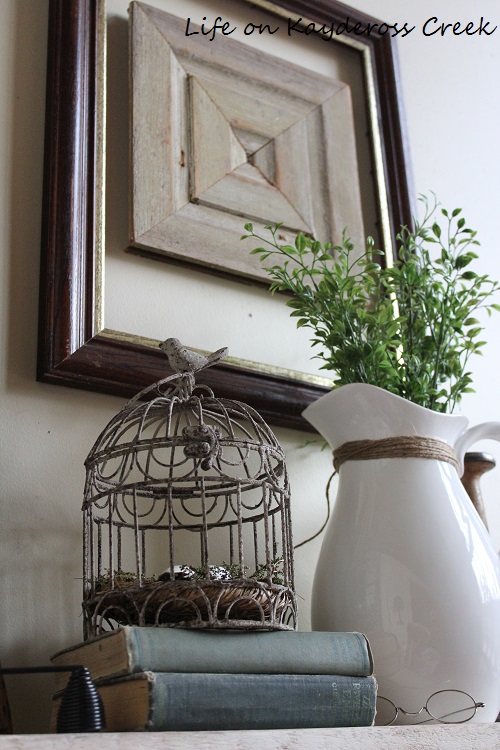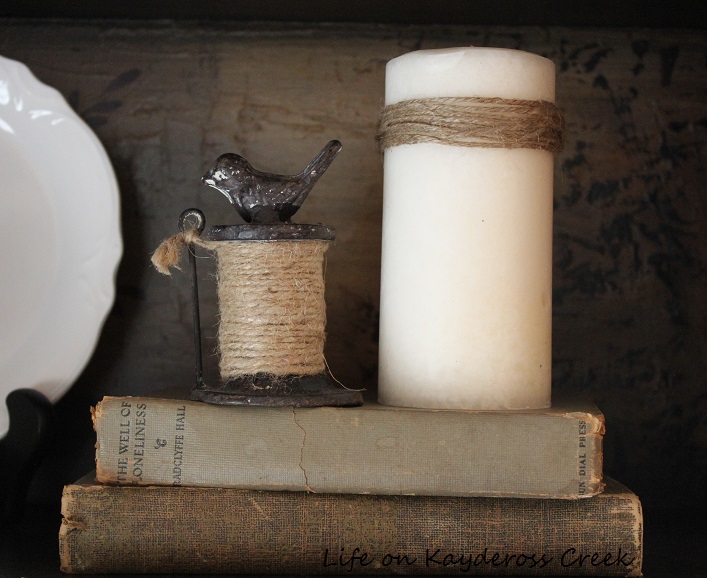 One more thing, since Easter wouldn't be Easter without the eggs, I wanted to share some other eggs with you today, too. Not sure you all know this but we have chickens. I absolutely love my girls! They're quirky and funny and they come when I whistle. 🙂  The also give us the most beautiful, delicious eggs!
Here are a few of them…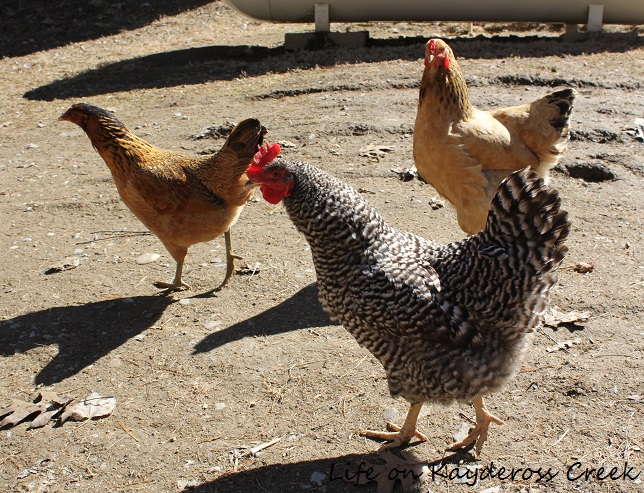 Here's the big man. So pretty, right?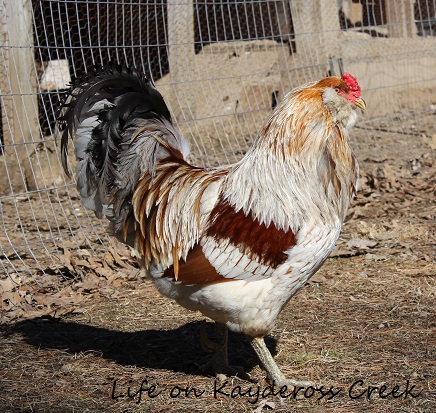 My kids' friends' get the biggest kick out of fact that we have chickens but they think the blue, green and tan eggs are even cooler. My friend Vickie said she had a asked a couple of toddlers who saw the eggs what color chickens do you think lay those eggs? She got some pretty funny answers.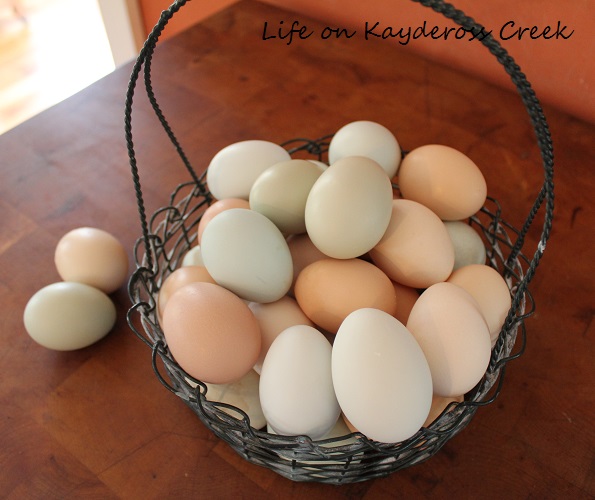 So now that Easter season is upon us, do you have any projects planned to decorate or celebrate the season, If I had to guess, I'd say it involved eggs too. I'd love to hear about it!
Also, check out the other lovely ladies and their projects:
One More Time Events – Egg Succulent Spring Centerpiece
Creative Ramblings – String Easter Egg Garland
Sew A Fine Seam – Easter Egg Decor
Happy DIY'ing!