Fall is my absolute favorite time of the year! I love the crisp cool mornings, the beautiful color of the trees in the Northeast and pumpkin spice anything. Break out the boots and sweaters!! I can't wait to break out the fall decor!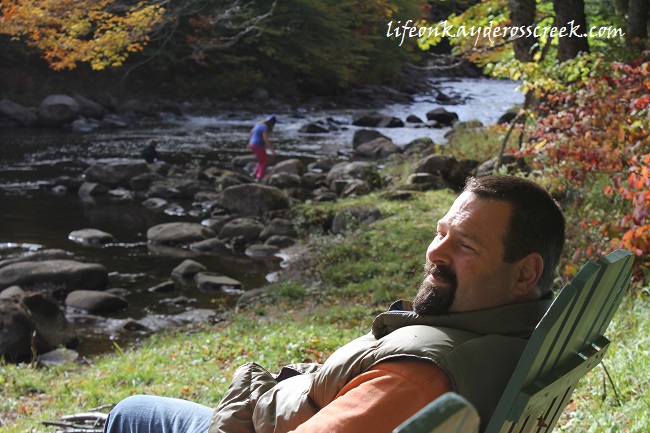 This isn't our creek. It's actually the Cedar River in Indian Lake, NY up in the Adirondack Mountains. The leaves turn much earlier up there, about 1.5 hours north of where we live, and in the blink of an eye they are gone. This was such a beautiful day.
Hanging out by the water, the kids having a ball. ATV rides, hikes through the beautiful woods, camp fire at night. It doesn't get any better!
Spending the entire weekend up there in the outdoors with the family really inspired me to get busy decorating. The fall has been so busy with Birthdays, sports and other kid activities that I haven't gotten to it yet. But now I am ready. When I decorate for any holiday, I usually keep it centered around a few key pieces that I carry over from year to year. This year I did the same but bought a few new things.
I also usually like to do some DIY projects of course. This year I chose 3 really simple projects that I would love to share with you. They are inexpensive and not terribly time consuming. These are the projects and a sneak peak at the fall house tour coming soon. This post contains affiliate links. See my disclosure policy here.
#1. Rustic chalkboard. What you'll need: 
This one can be used for any season.  I have seen slabs like this painted as pumpkins too, which is really cute. We are fortunate that we have wood to use for projects like this (and some others I will share soon in upcoming posts) around our house. We heat our house primarily with the wood stove so my hubby is great with a chainsaw!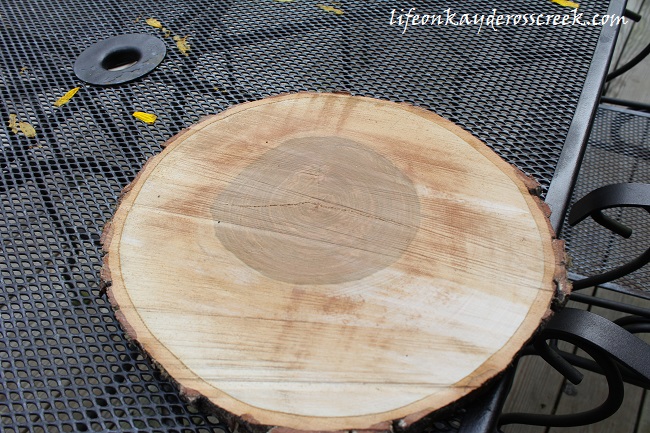 This is how it started out. It was a bit rough so I used the palm sander on it to smooth it out. When it was really smooth, clean and dry, I painted on the chalkboard paint in a circle almost to the edge of the bark.  I used a 1″ angled brush which really helped form the circle. Then I drilled holes evenly on the top to string the twine so I cold hang it.
So there it is. So easy and I can use it for any season…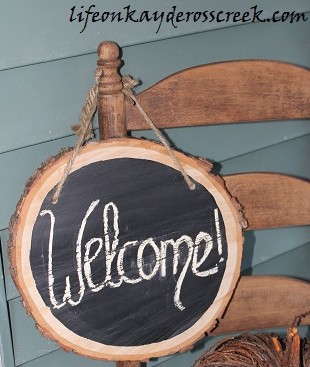 #2. Faux mercury glass pumpkin. What you'll need: 
Glass vessel
 Cotton cloth
This DIY Fall decor project is one I had planned for awhile ever since I picked up this glass pumpkin at a thrift store over the summer for fifty cents. I had used the Krylon Looking Glass spray before and this piece was perfect for it.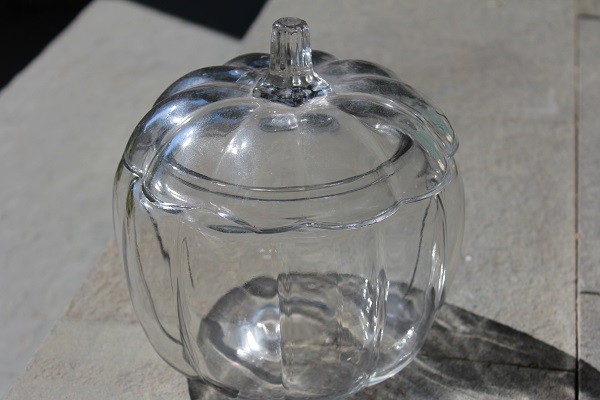 You'll be spraying the paint on the inside but it's important to give the piece a good cleaning inside and out. I'm not going to go into the whole process for getting the mercury glass look because there are a bunch of tutorials you can find on Youtube. Here is a really easy one to follow…
So I followed the process, sprayed the inside, dabbed with the cloth and this is the final product…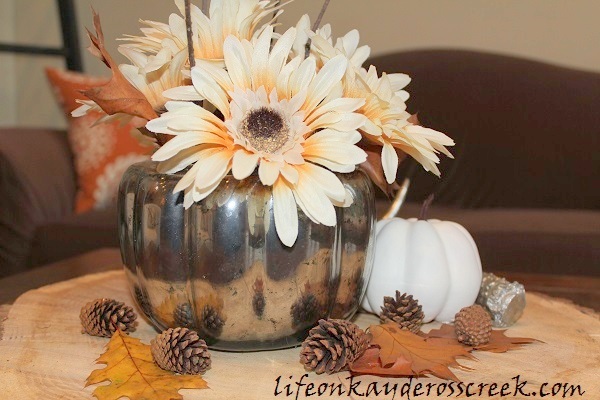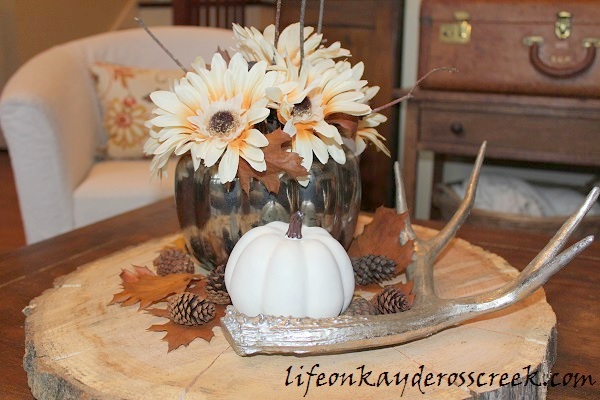 So cute and easy. I love a little bit of bling that it adds.  If this type of project is not up your ally but you really like the look, you can find something similar here.
#3. Painted Paper Mache' Pumpkins. What you'll need: 
I love the look of real pumpkins but hate spending the money. I know, I know but we are spoiled because we grow them in the garden every year but for some reason, this year they didn't do well and we only got a few. I figured if I had to buy pumpkins at least a few of them could be DIY projects that I could use for fall decor each year so I picked up these cute pumpkins at Michael's.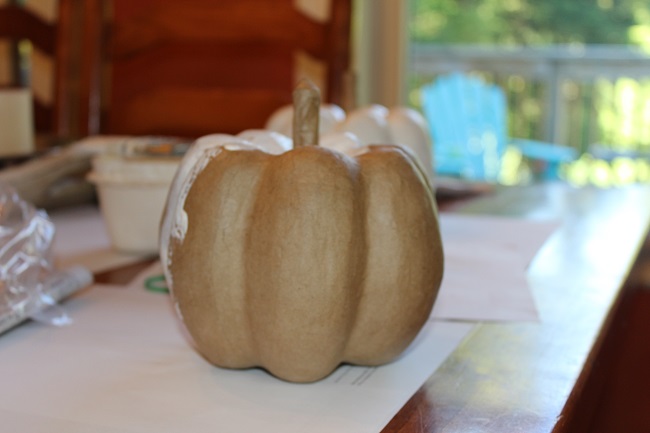 They needed quite a few coats of paint. I used chalk paint to get a softer, more matte look. I went with white this time instead of orange because I was leaning toward a neutral theme.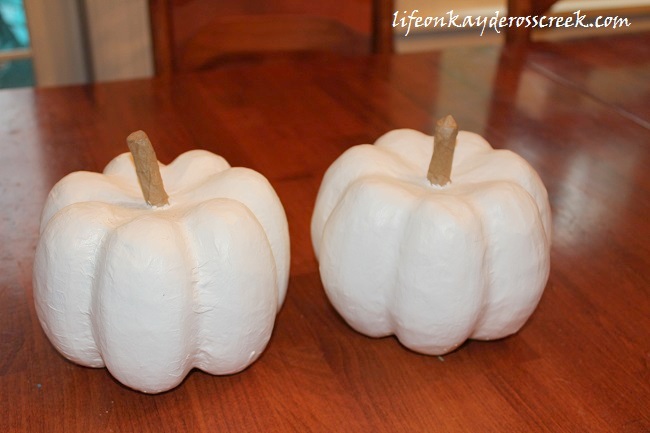 For the stems, I decided to wrap them in twine and then glued the pinecones on with the hot glue gun. The neutral colors work perfect in the tablescape in the dining room…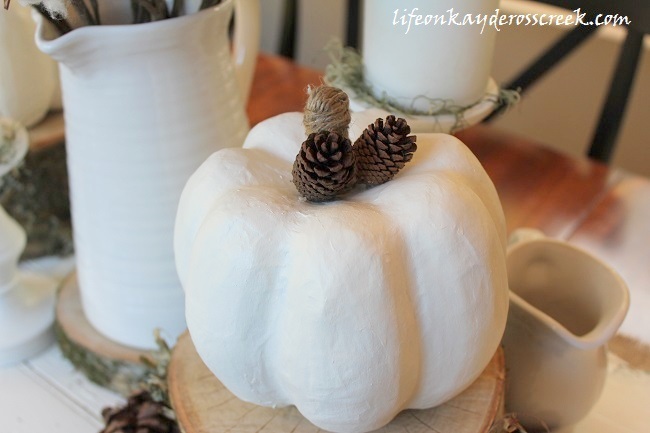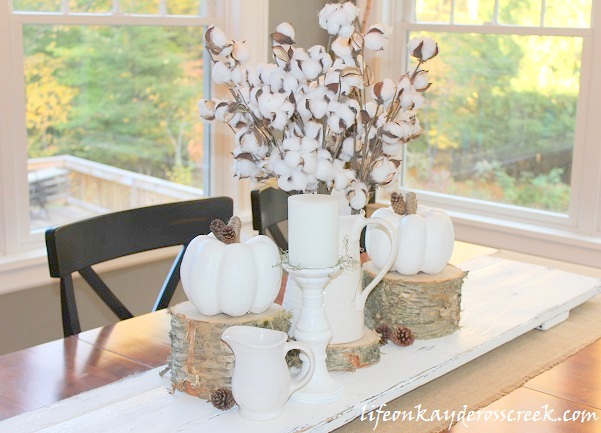 Three simple, quick fall decor projects that didn't break the bank. Stay tuned for the full Fall House Tour coming soon!! What's your next project? Does it involve pumpkins? 🙂
Happy DIY'ing!
Col