Last week I shared my Farmhouse Christmas Home Tour  to kick off the season with a lovely group of ladies as part of a Christmas blog hop. Today I'm sharing part 2 of my Christmas Home Tour, the Christmas kitchen, dining room and mudroom.  Truth be told, it's a lot of work to put one of these bad boys together and was just too much to do all at once.
So since I love the red and black accents mixed with the greens, I carried over the same Adirondack, rustic touches mixed with lots of vintage, farmhouse pieces and DIY projects.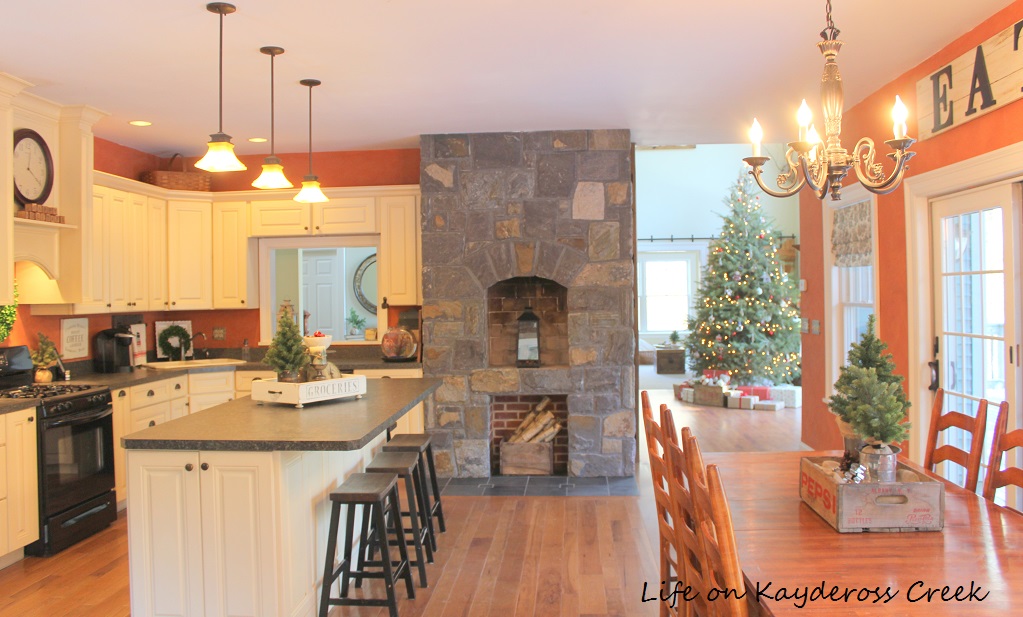 This post contains affiliate links. See my full disclosure here.
Ok so first thing first, it never looks like this or stays like this anyway. You know it. I know it. I mean we live here right??  In a few hours the counter will be covered with back backs, school papers, snack wrappers etc. so you know I feel your pain. In the mean time, let's just enjoy the calm, shall we??  If you were here, we could sit and have coffee or whatever you like to sip 🙂
So, on with the tour. The white tray on the island above, which comes in handy for every season, was a DIY project a few months ago. You can see that here. The recipe below is from an old Better Homes and Gardens Cookbook. You know the one with the red and white checkered cover. It's my favorite go-to when I actually feel like cooking. I simply printed it out on card stock and rubbed  it with some antiquing ink and a cotton rag. Free and easy.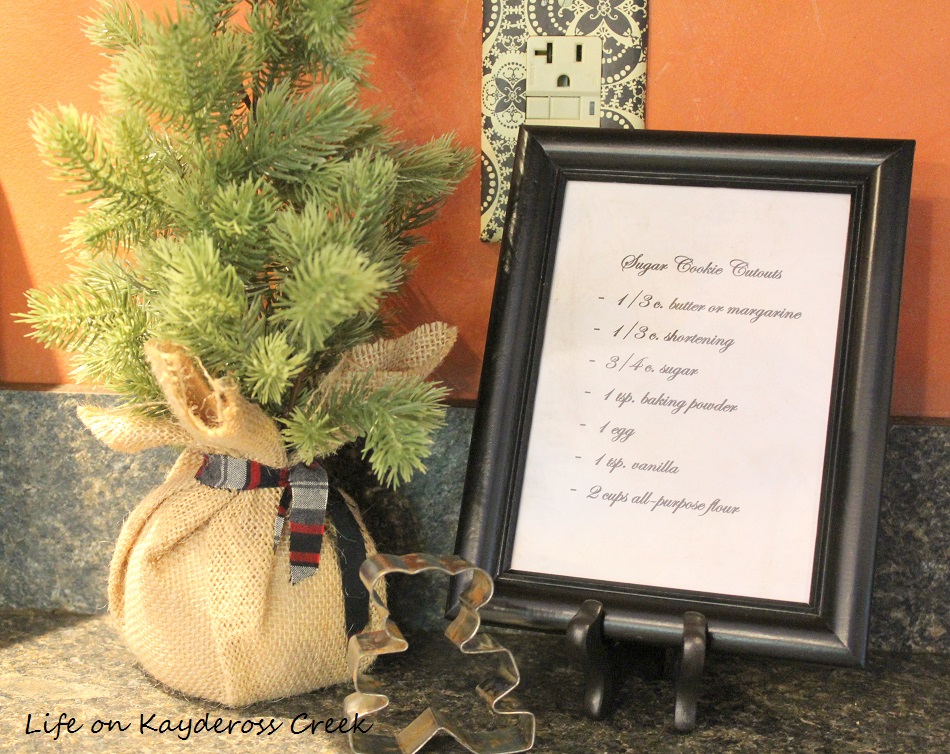 Trees, trees, everywhere!  I love my mini trees and I love them even more in cute little tins like this one…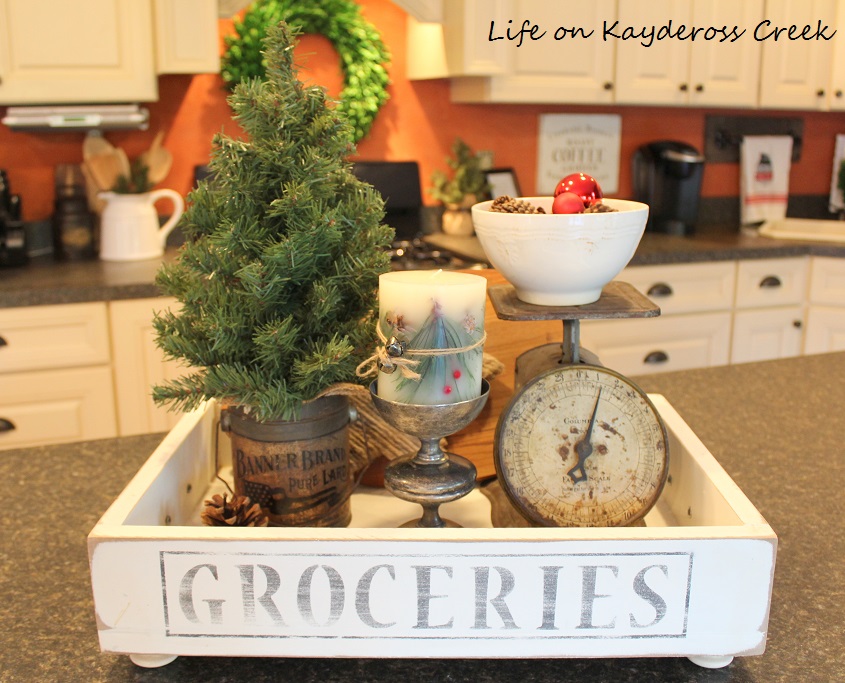 The pieces in the tray were either found at my go to antique store in my town, thrift store or at Brimfield. I added the bells to the candle just because they're cute.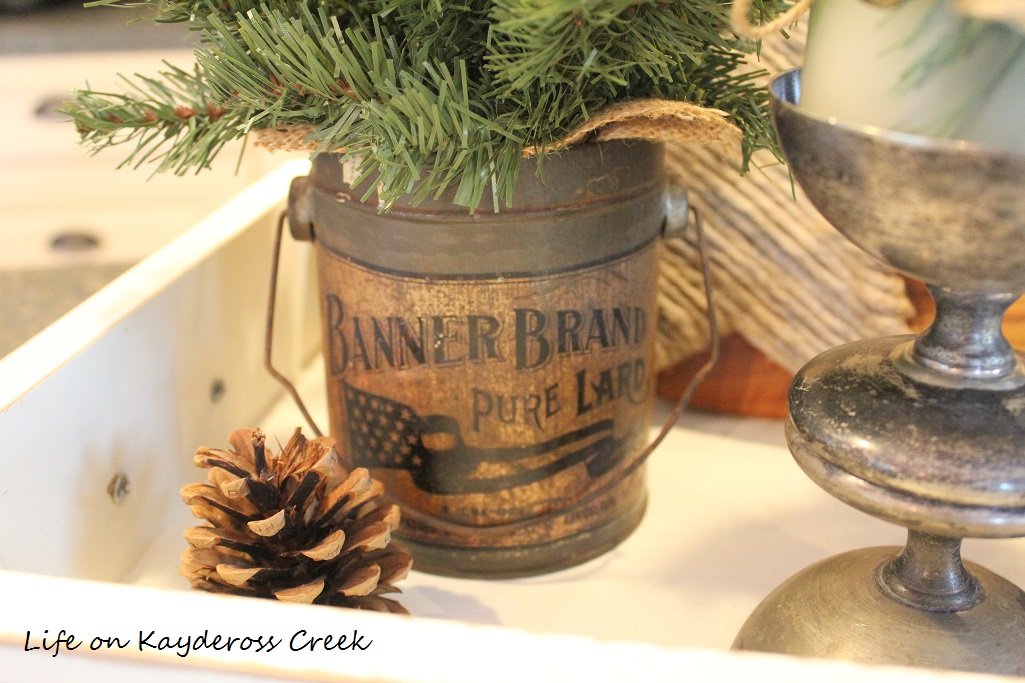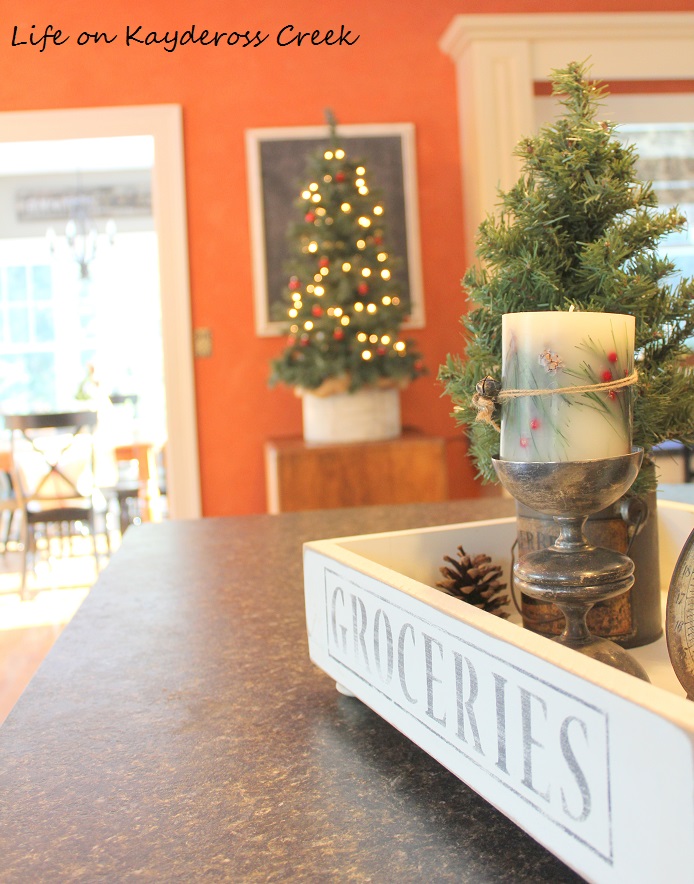 I love the pops of red everywhere!  To me, red is just warm and feels like Christmas.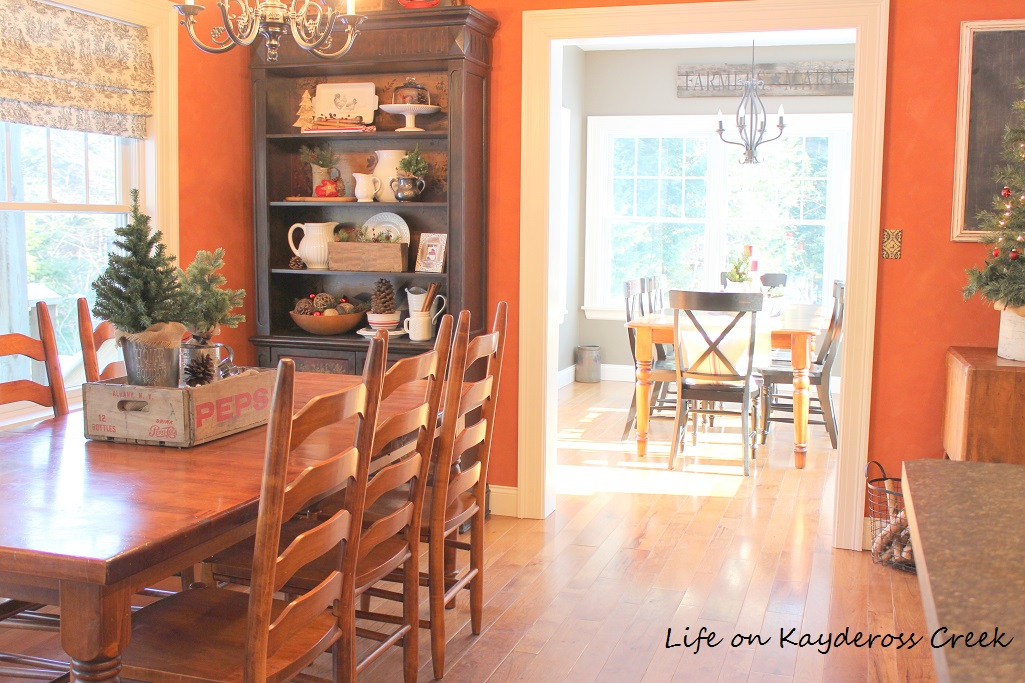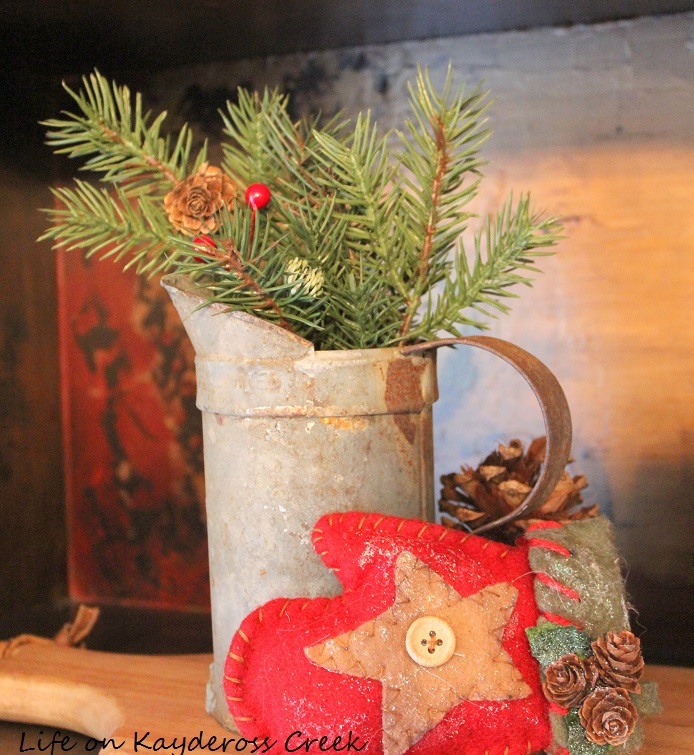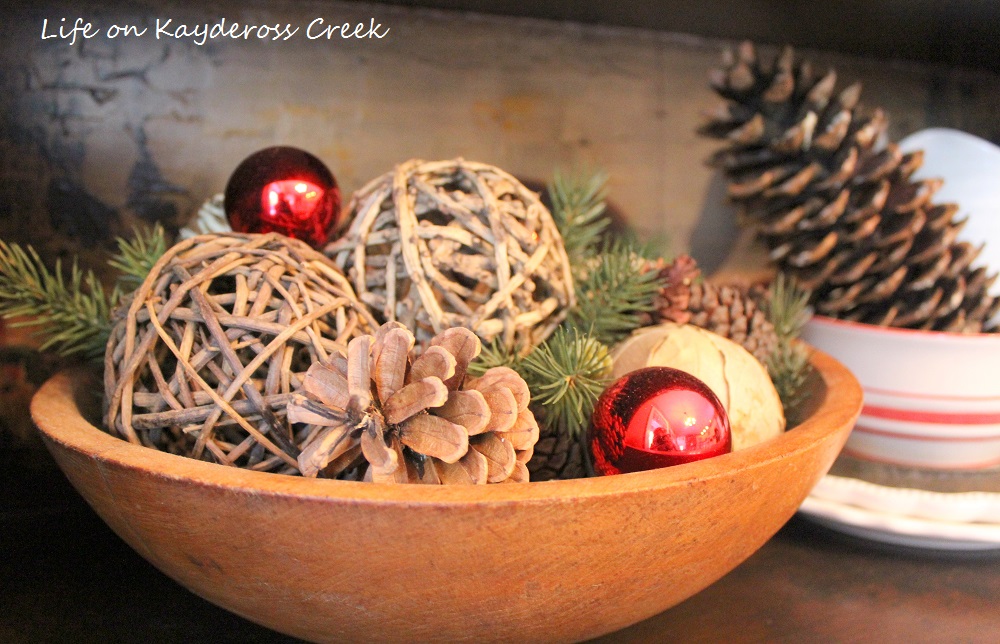 Our dining room is all windows (no curtains needed here in the woods) so the only thing to decorate really is the table. I kept it simple this year with my favorite tray from American Farmhouse and, of course, reds and greens. The colors just pop off of the gray walls and the white snow outside. The cute little pillows are from Target.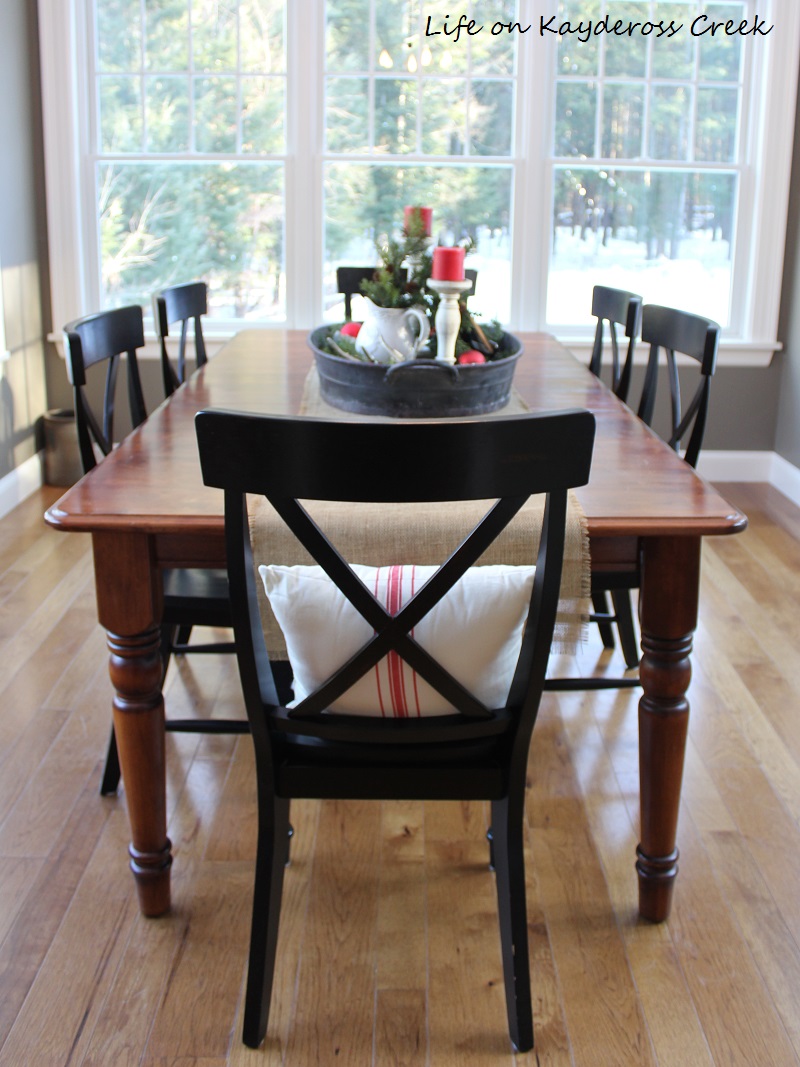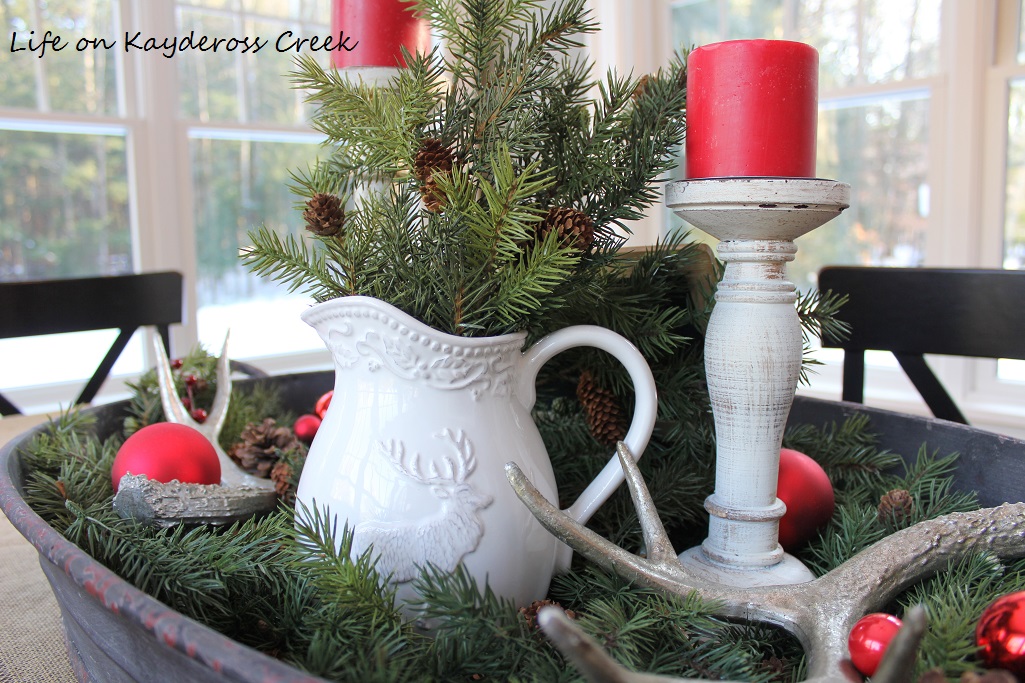 The pitcher in the tray is from HomeGoods,  the candlestick holders are from Michaels and the antlers are from Target.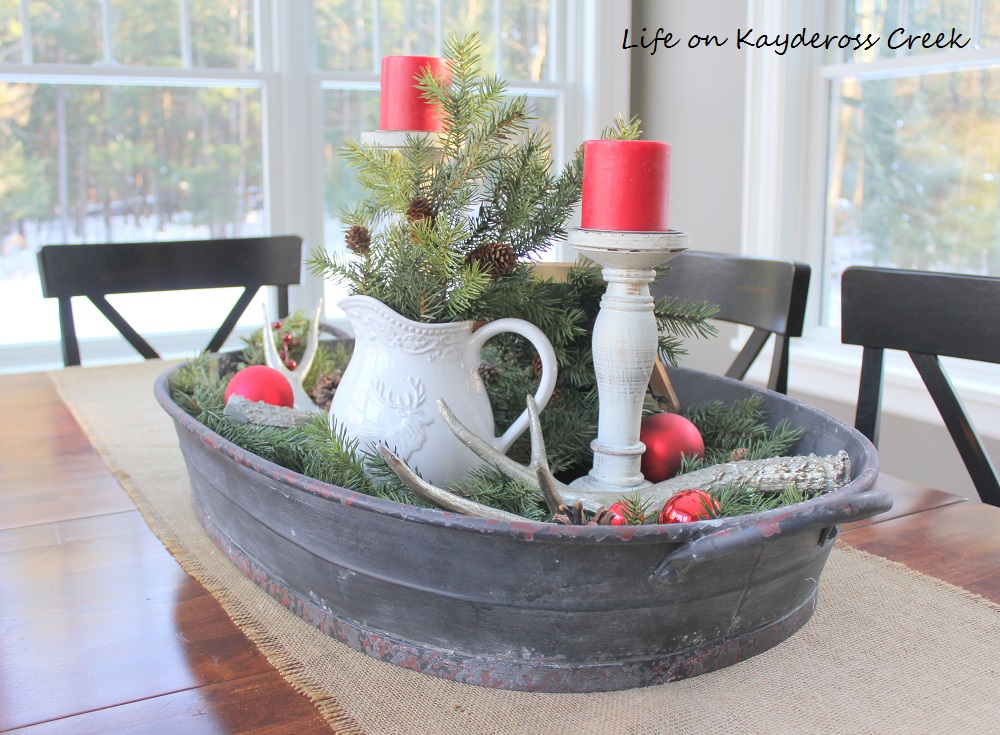 Last year my cute little tree was in the dining room but I switched things up this year and put it in the kitchen. The butcher block that it sits on is one of my oldest and very favorite pieces.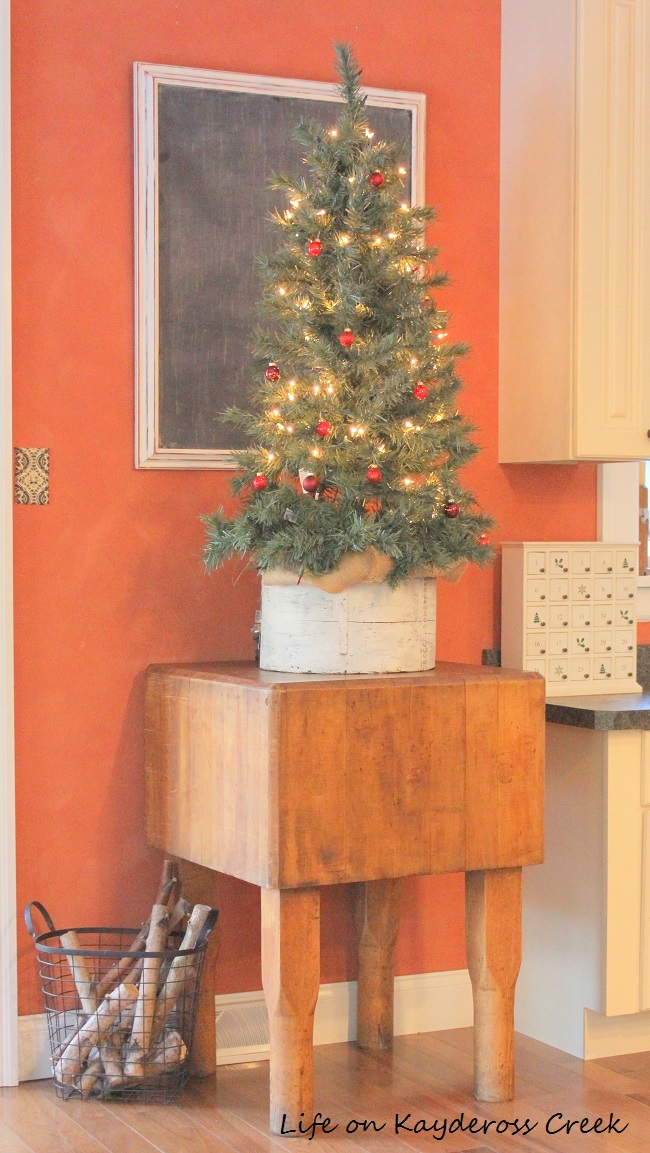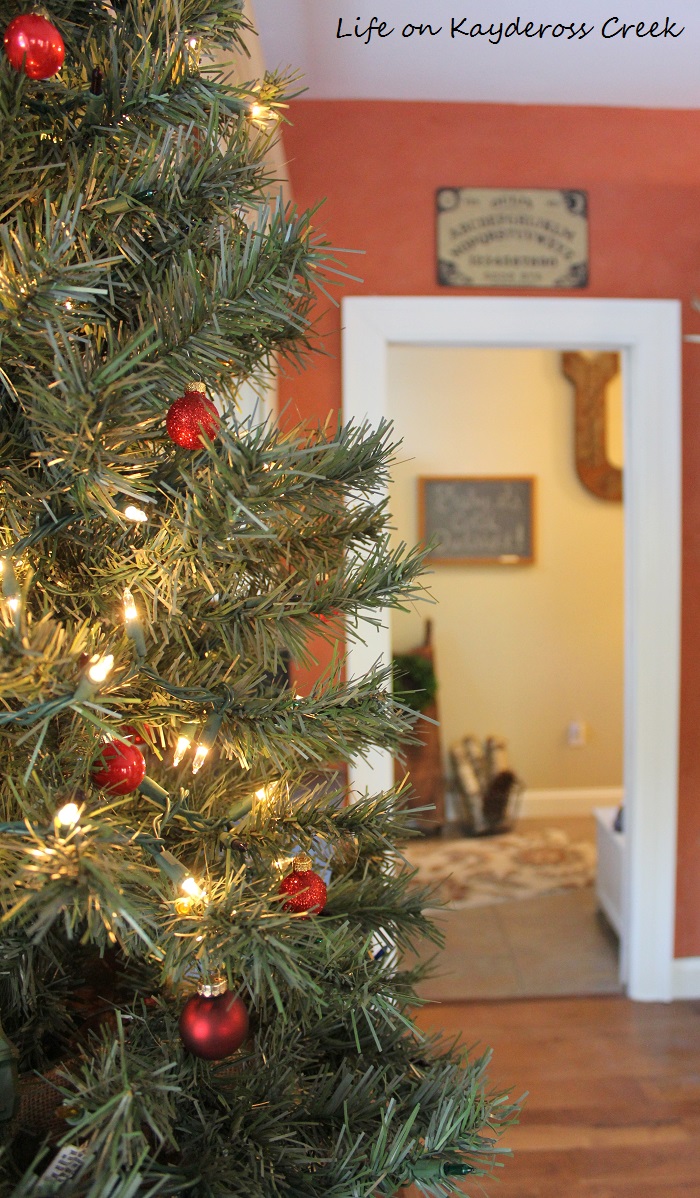 We just recently finished the mudroom and you can see that here. I love it all decked out for Christmas!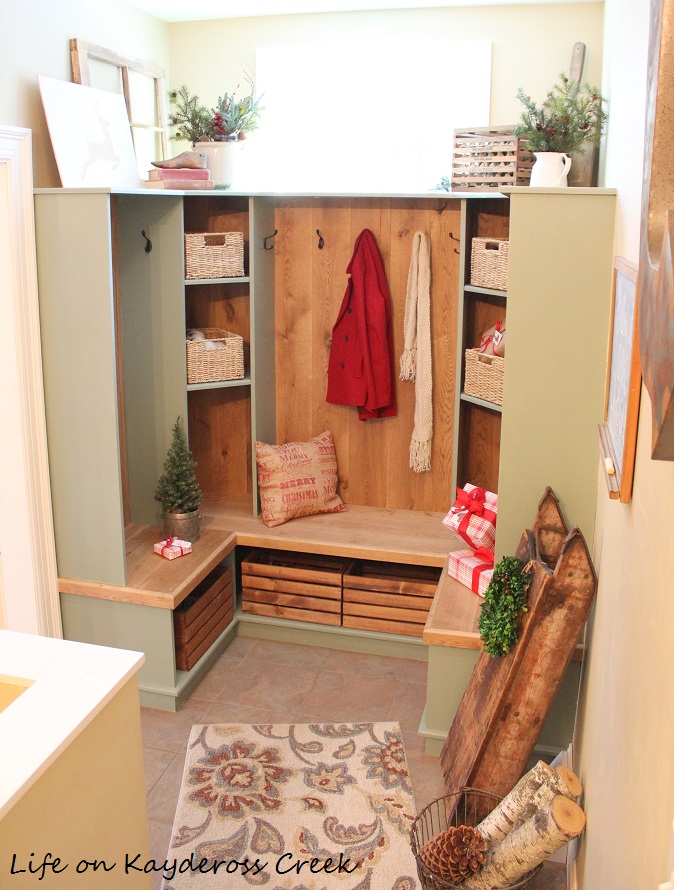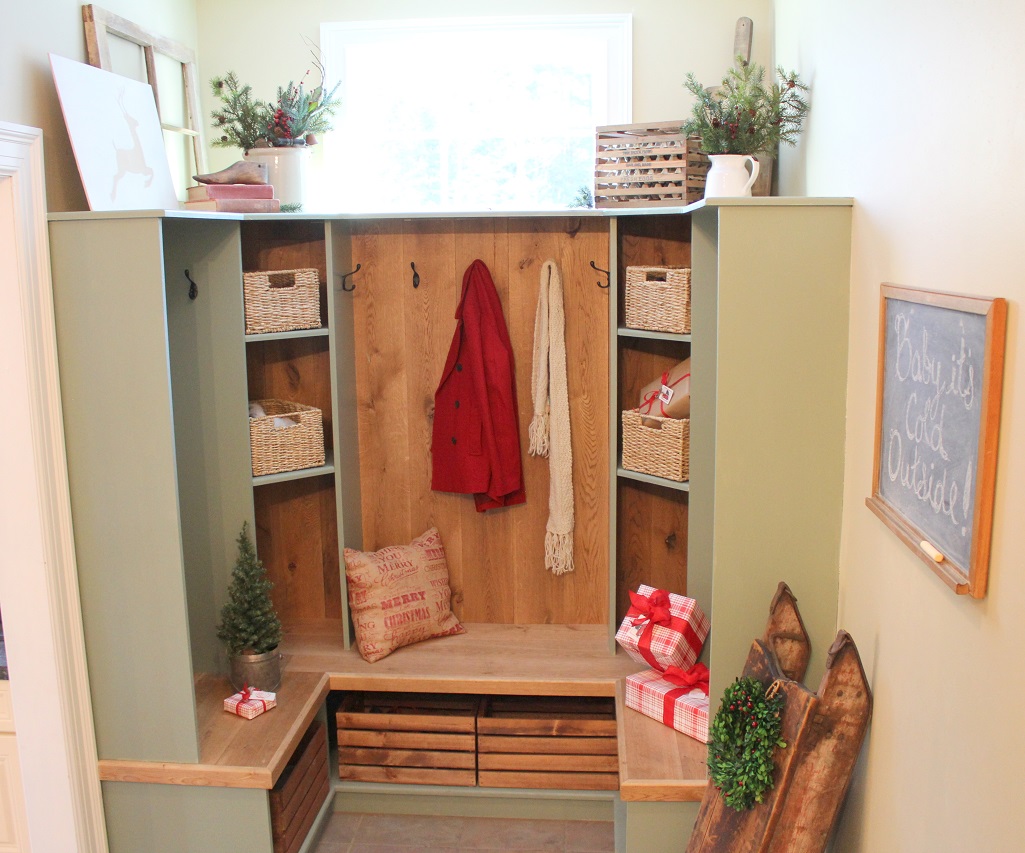 We picked this sled up in Brimfield last year. It weighs a ton and Poor hubby had to carry it like a mile back to the car. He's a trooper 🙂 I can't wait to go again in the Spring to see what unique things we can find!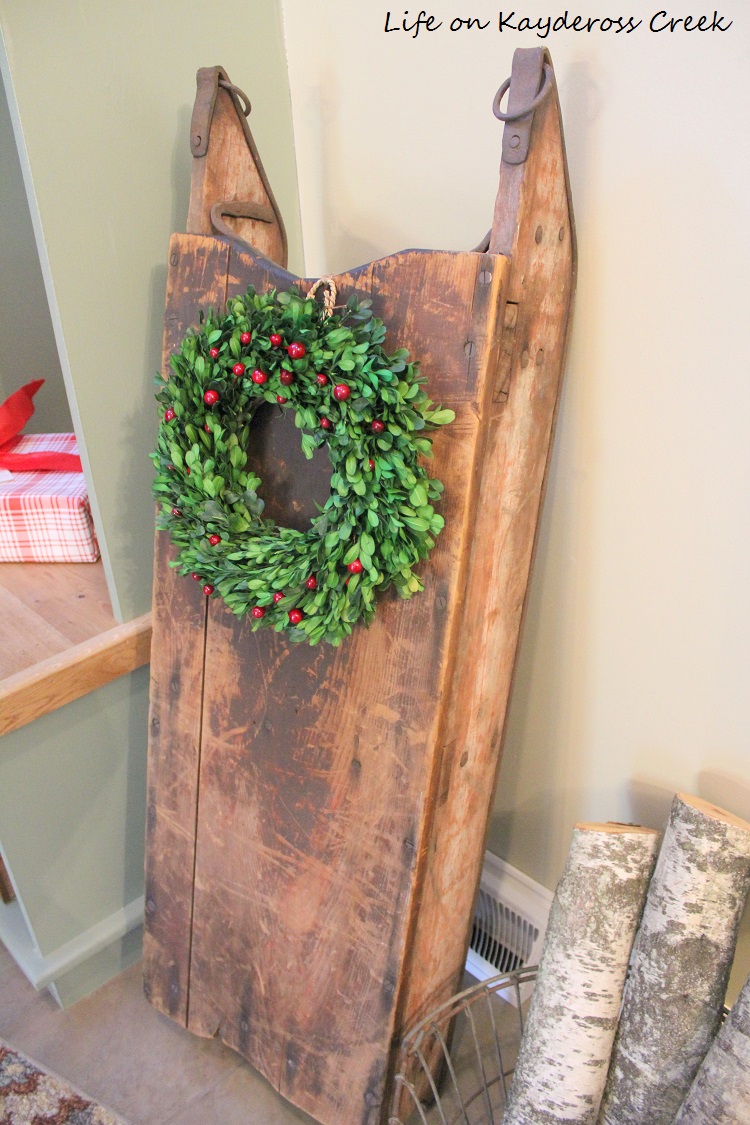 I use the Pepsi tray below to corral different things throughout the year. The antique measuring cup that the little tree sits in I picked up at an antique store and the other tin is from Michaels.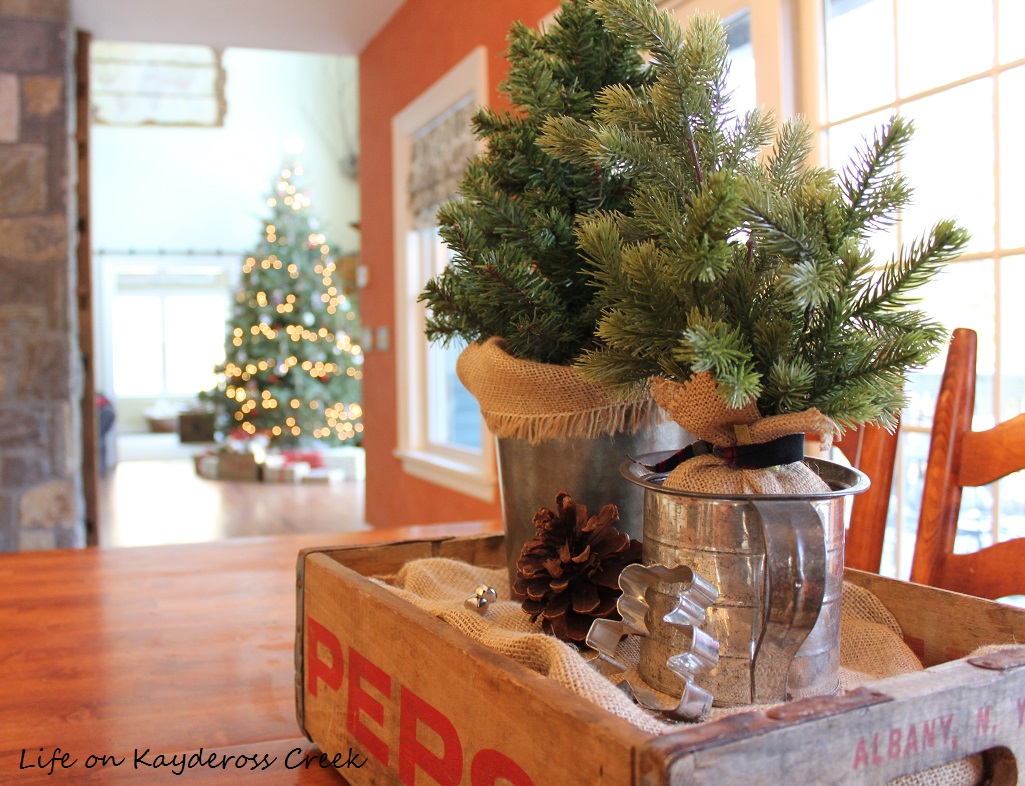 So some simple farmhouse and vintage finds mixed with red and green accents make for a cozy Christmas Kitchen space. Only a few more weeks until the big day to enjoy it all and probably only few hours left for me to enjoy the clean kitchen. Time to grab a cup of coffee and stare at the pretty lights in peace for awhile before I can't see the counter again. Wishing you a wonderful, peaceful Christmas!!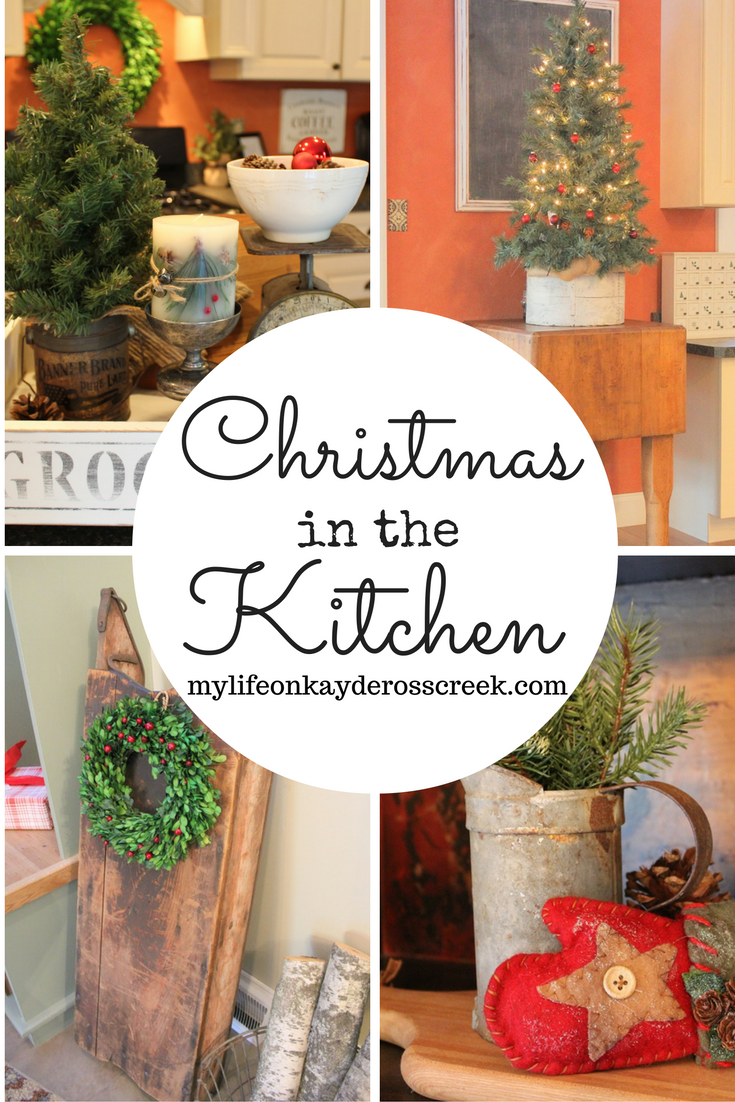 And as always, Happy DIY'ing!
Col
You may also like: