Hey everyone! So it's Monday and the start of another busy work week. This weekend we took a much needed break and spent some time at our camp in the Adirondacks.  This means I didn't get to work on any projects but instead had some time to relax which gave me time to……. think up a few new projects! Maybe if I could avoid starting new ones I'd finish the old one's? Do you do that ?? What can I say, I get side tracked… Squirrel!  Luckily, I didn't get sidetracked while working on this Farmhouse coat rack because it was an such an easy project and didn't take long at all.
I've made a few coat racks before. (chalkboard coat rack, LOVE coat rack) It's just that they are so easy and there are sooooo many options and materials to use.  This one started with a piece of wood I picked up years ago at an antique show. I'm pretty sure it was the back of an old dresser at one point. The scroll-y detail is just so pretty.  Someone had attempted to make a coat rack out of it already but the dowels, which were too far apart anyway, had fallen out and had left holes in the wood.

I didn't want to put the hooks in the same location as the dowels had been so I had to fill in the original holes with Spackling Paste.  It took a few layers.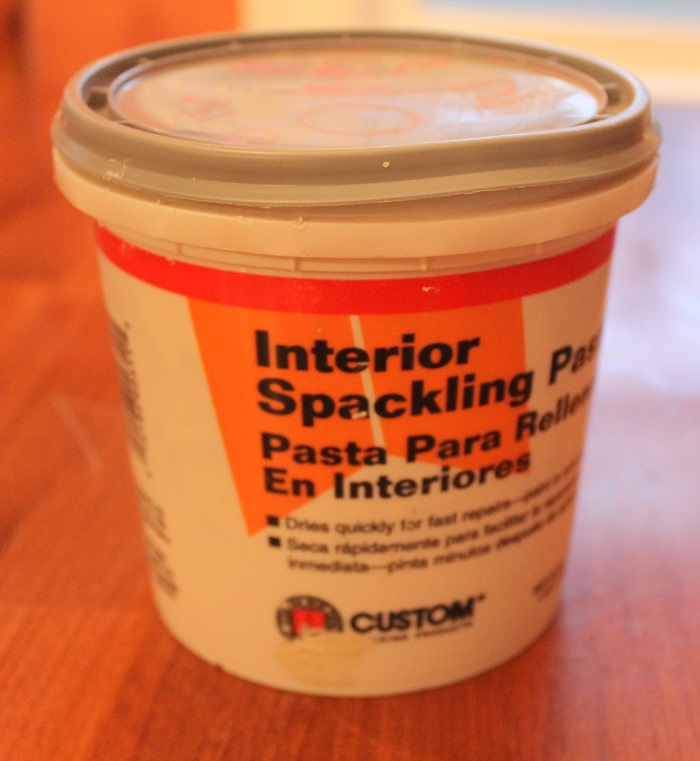 I really would have preferred to keep it the original wood color but opted to paint it creamy white. Even if I had put wood putty in the holes instead of spackle, it never would have stained properly.

For the hooks I used the cutest little drawer knobs which I found at Hobby Lobby. They have the best hooks and knobs and for a great price when they are on sale for %50 off. I fell in love with the color and patina of these little birds and bought four of them not knowing exactly what to do with them until this project came up.  If you don't have a Hobby Lobby near you, you can get something similar on Amazon. (affiliate link for your convenience, see my disclosure here)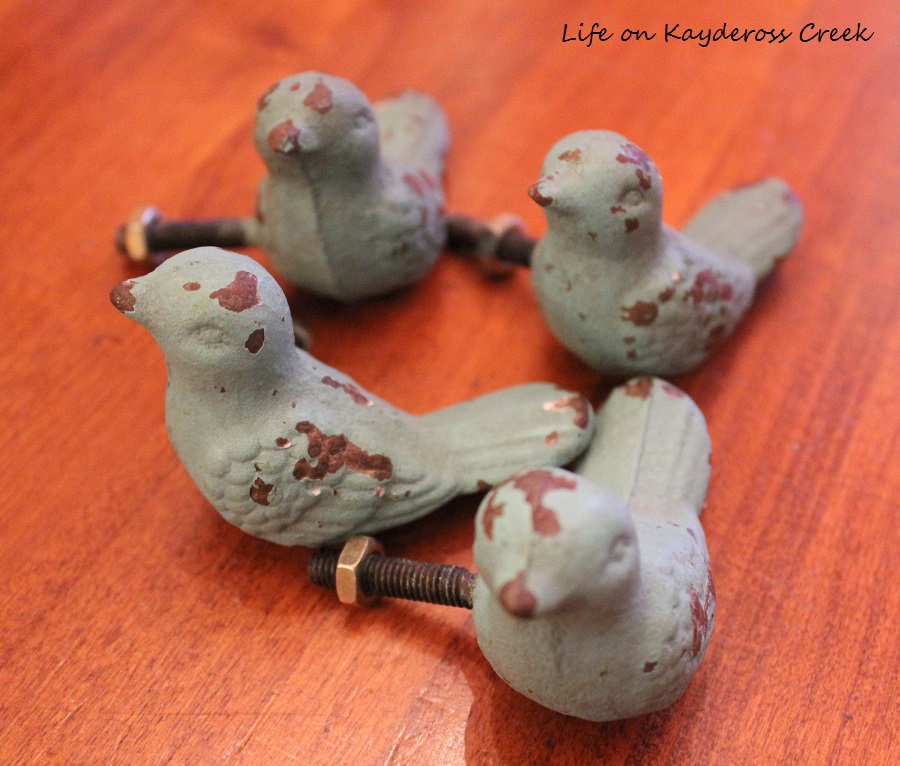 We spaced out the pulls on the board and Hubby worked his magic to attach them for me. The screws were a bit longer than the width of the piece of wood but it worked out better as they stick out further and there is more room to hang things on.  I used a 120 grit sand paper to some of the edges and front to give it more of a worn look kind of like the birds.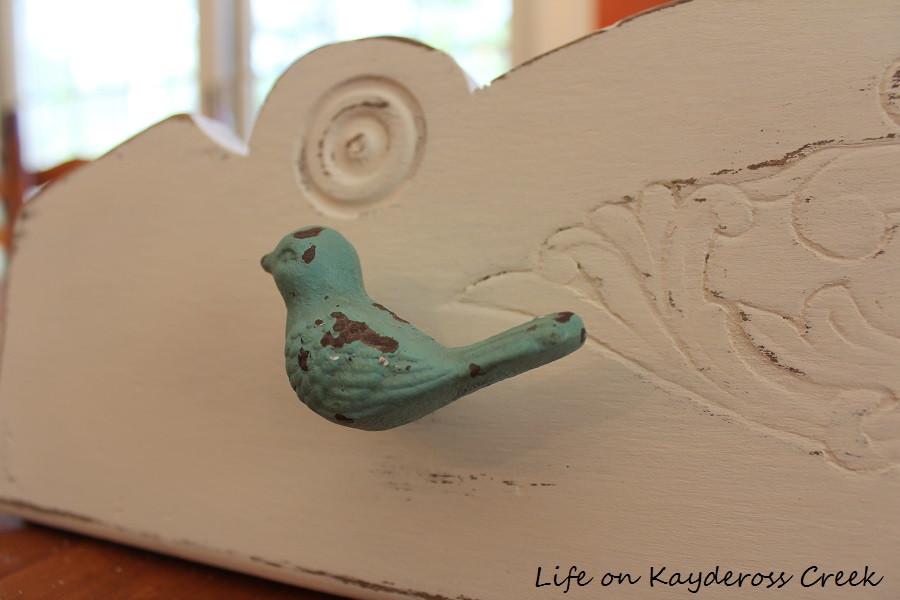 I'm not sure what I am going to do with it yet but I think it turned out super cute.  Maybe my daughters room??  I hope you have a great week and if you have some projects on your to-do list to finish, well…
Happy DIY'ing!!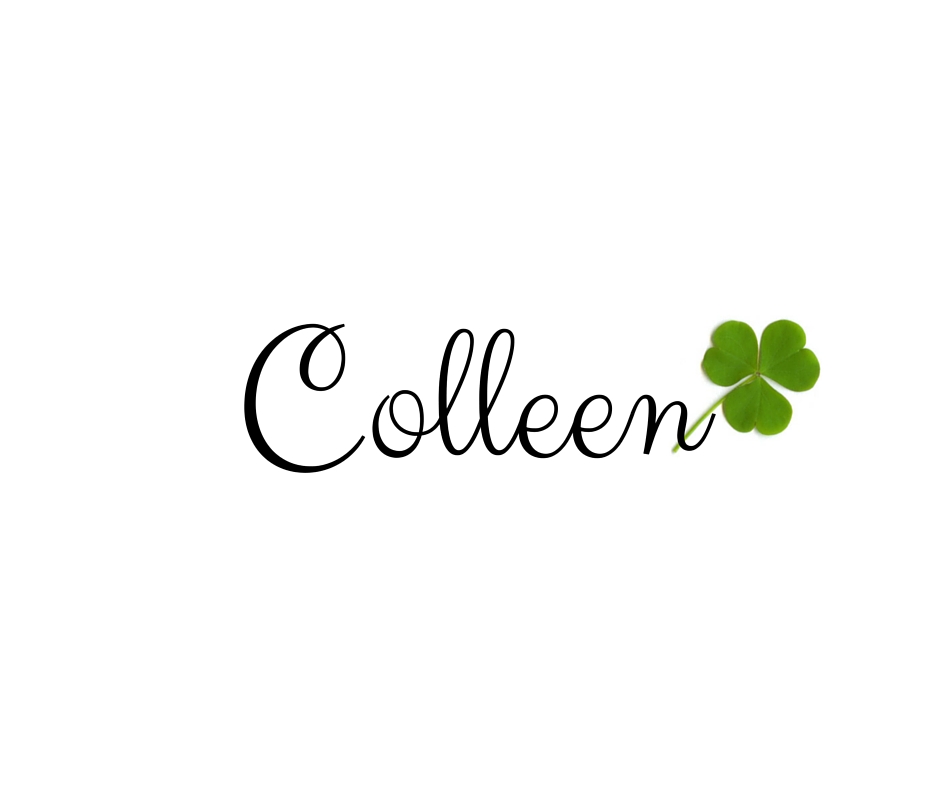 Linking to these great parties: Inspiration Monday Between Naps On The Porch  The Dedicated House Merry Monday Inspire Me Monday  Create Link and Inspire Motivation Monday Inspire Me Tuesday The Scoop Brag About It  Tuesdays At Our Home From Dream To Reality  Totally Terrific Tuesday
DYI BY DESIGN Fluster Creative Muster  The Idea Box Craft Frenzy Friday