Today I'm sharing our Antique Map Project. Awhile back I saw the coolest idea for an antique looking map on Pinterest. It was pre-blog so I apologize that I can not give credit to the original site I saw it on. It was so cute and I think she had put it in her sons room. I knew I wanted to try to do it and knew exactly where I would put it once it was done.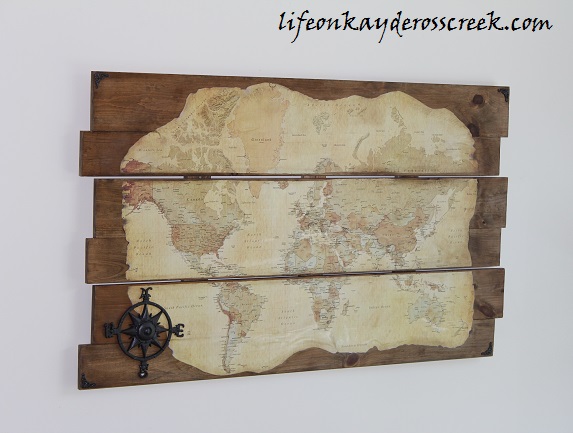 We started by looking for just the right map. We wanted it to look old from the start but we could age it a bit if we had to. We picked this one up on ebay for just $13. It was square when we got it but I cut around the edges and then burned them to make it more antiquey – yeah, that's a word. By the way, a little tip here, if you are going to do something like this and the map has a shiny coating, burn it outside somewhere. This one gave off a really stinky smell when it was burning.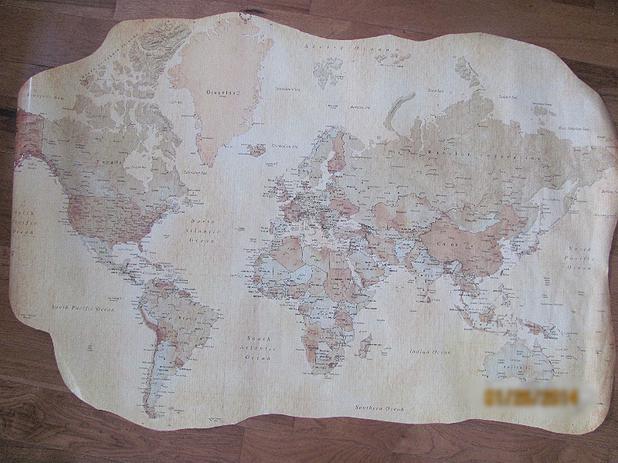 So after the map was ready, we worked on the wood frame. We bought 6 pieces of pine in varying widths and stained them a lighter walnut color. We decided to stagger them just a bit and used flat pieces of pine to connect them but left just a bit of space between the groups of 2 boards to give it some interest.
Once the boards were all fastened together, I Iayed the map on top of it on the floor. Since there were openings in between the sections of boards I was able to drag an exacto knife down and cut the map in three pieces which were aligned with the three sections of boards. I had to go back and burn the edges of the newly cut map.
In order to adhere the map to the boards, I used modge podge underneath and on top of the map. I am not sure that I would do that again as it was messy and didn't stick well at first. I think next time, I would use spray adhesive. Once it was dry, I went back and went over the edges with some antiquing stain. I also rubbed some of the inside areas of the map with sandpaper and some stain as well.
The corner pieces are from Michaels in the scrapbooking section. We just glued them on. The sun dial we also picked up on ebay for $10. That had to be screwed on because of it's weight.
The whole things wasn't difficult but it was time consuming. I really like the way it turned out…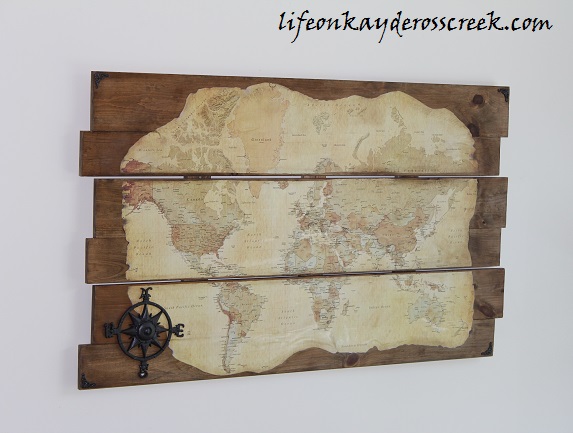 So sometimes you just need to invest the time in something to get what you want. Then again, I guess you could say that about a lot of things in life 🙂
Happy DIY'ing!
Col