Hey everyone, I have one of those flash back projects to share with you today. I have a thing for antique wooden boxes and crates in all shapes and sizes. They are wonderful for storage and I just love the texture and color of the wood and the character they add to a space. I saw this beautiful piece in an antique store and fell in love with so I asked my husband for it for my birthday. What can I say, some girls like jewelry, I like old wooden crates and stuff. (Or tools, I got a paint sprayer for Christmas and was elated! This gem became a new ottoman…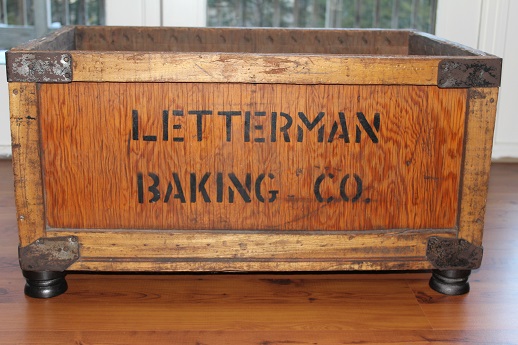 The minute I saw this crate I knew I wanted to make an ottoman out of it. Hubby cut a piece of plywood for me slightly bigger than the size of the opening for the top. I measured a piece of 3″ foam for the seat and used spray adhesive to adhere it to the board. I used an old electric knife (yes, the same type you use to carve a turkey) to cut the edges off so it wouldn't be so square. You can probably pick one of these up at the salvation army for a few bucks. It makes a bit of a mess but does the job.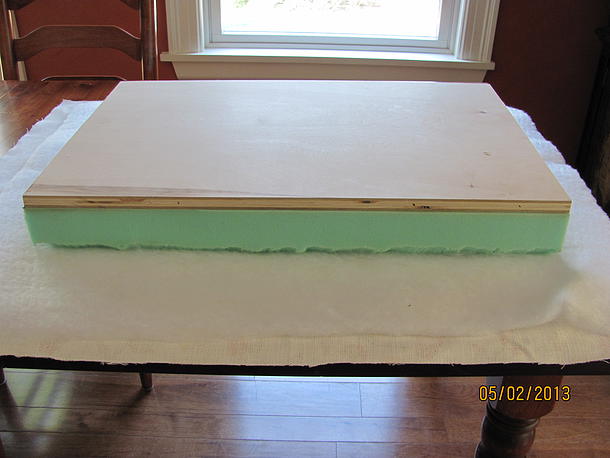 I wrapped the new top in batting to make it a little softer, measured out the fabric and cut 6″ extra around all 4 sides sides. I used heavy duty staples to attach the fabric to the wood.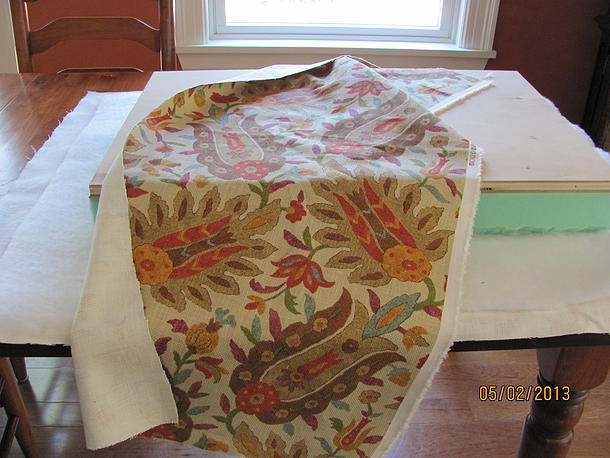 I picked up little feet similar to these at Home depot for about $3 each and spray painted them Oil Rubbed Bronze. They give it just a little more height.
We also added piano hinges to open the top. And here is the final product…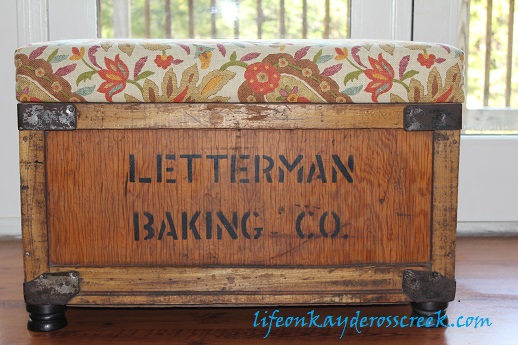 I love how it turned out! It's great storage and extra seating when we have game night!
Happy DIY'ing!
Col
Linking to these parties… Inspiration Monday  Project Inspired Link Party  Between Naps On The Porch The Dedicated House  Merry Monday
Dwellings The Heart Of Your Home  Motivation Monday  Create Link and Inspire  Tutorials & Tips Linky Party  Inspire Me Tuesday  The Scoop
Brag About It Tweak It Tuesday / From Dream To Reality Totally Terrific Tuesday  Be Inspired Link Party  Dream Create Inspire Two Uses Tuesday
Wow Us Wendesdays DYI BY DESIGN   Fluster Creative Muster  Work It Wednesday Creative Ways  Share Your Style Moonlight & Mason Jars
Whimsy Wednesday The Creative Exchange Making Broken Beautiful  Craft Frenzy Friday Friday Feature Linky Party Your Inspired Design