Hey everyone! I'm going to really confuse you today and share the second Make it Mine Monday with you which is an easy DIY wall art project. But Col, it's Thursday you say. Yes, that's why it's confusing. 🙂
Anyway, onto the project! My very sweet husband will occasionally pick things up for me that he thinks I can use for a project or transform in some way. We call this Making It Mine. He is an enabler really. What I mean is, luckily he is very supportive of my DIY habit.
One of the things he picked up this weekend was this very cool metal tree…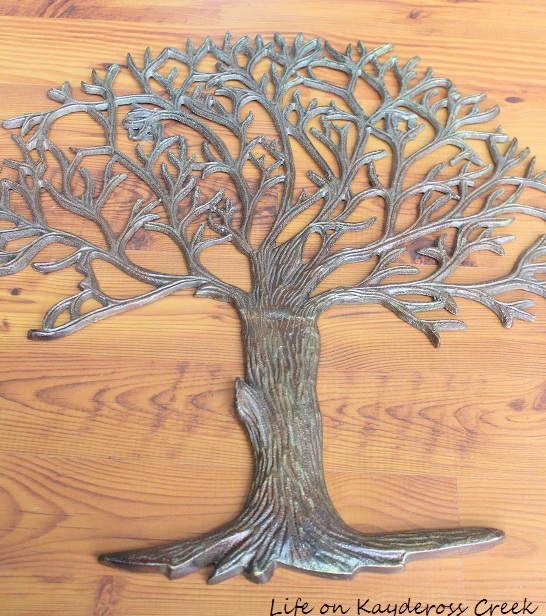 Cool right??  I really like it because it's not something you see everyday. I wasn't too crazy about the bronze-y tone but that's easily changed.  I decided to spray paint it Oil Rubbed Bronze. Not completely, but enough to cover most of the bronze so that just a bit of the original color would show through.
I didn't want to hang it on the wall by itself but wanted it to make more of a statement and let the detail in the branches really show. (kind of like the last Make It Mine Monday which actually was on Monday) Here is what we used for the background this time…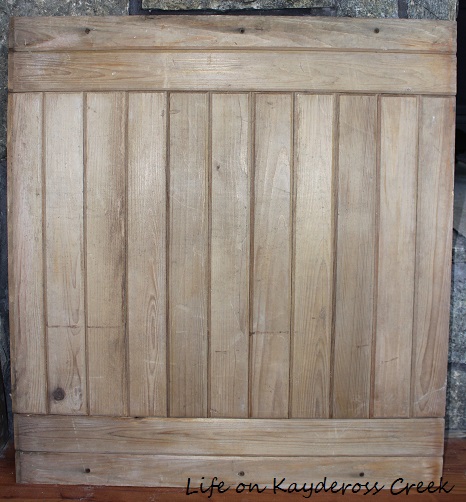 I know this is crazy but this came off the side of a hot tub surround exactly how it is. My friends were going to throw it away but I asked for it just in case. That was like 7 years ago and it's been sitting in my garage ever since. A few coats of chalk paint later and we have this…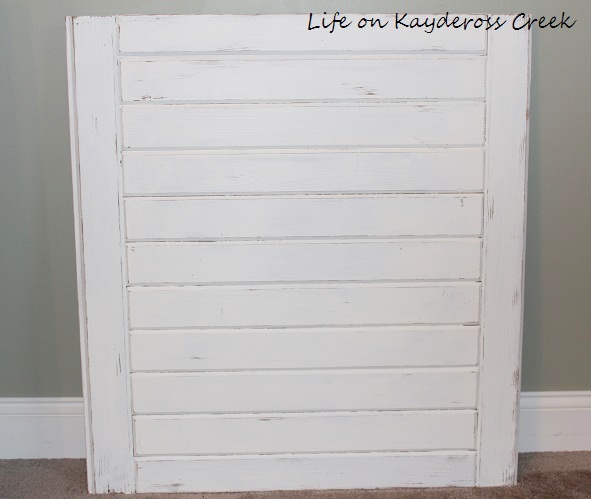 We ended up taking off the top and bottom pieces to make it a square. I sanded down the edges here and there to make it a bit more worn and then used some antique wax to make it a bit darker.  I could have also used pallet wood or MDF but this was free and already assembled. How cool is that??  Here it is all done…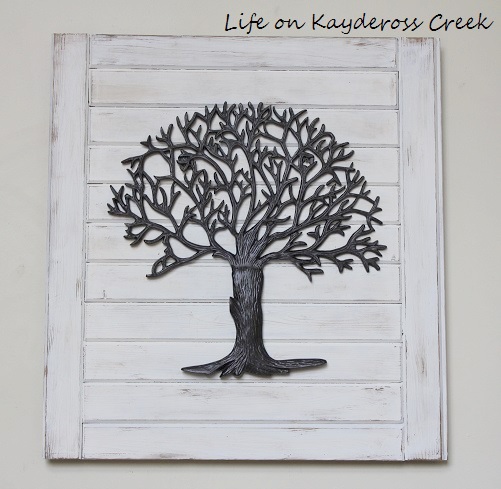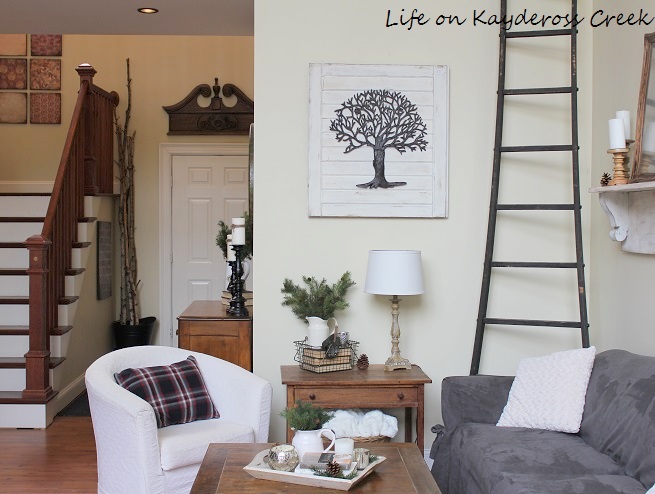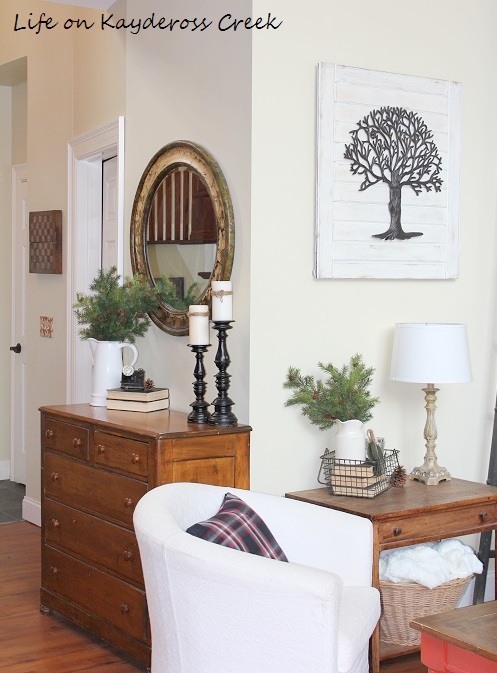 I love the way this DIY Wall Art project looks in our family room and it will work in all seasons.  So the next time you see something you think is so cool but not quite you, put your own spin on it and make it yours.
Do you have a project that you're working on? Something that you are transforming? I'd love to hear about it!
Happy DIY'ing!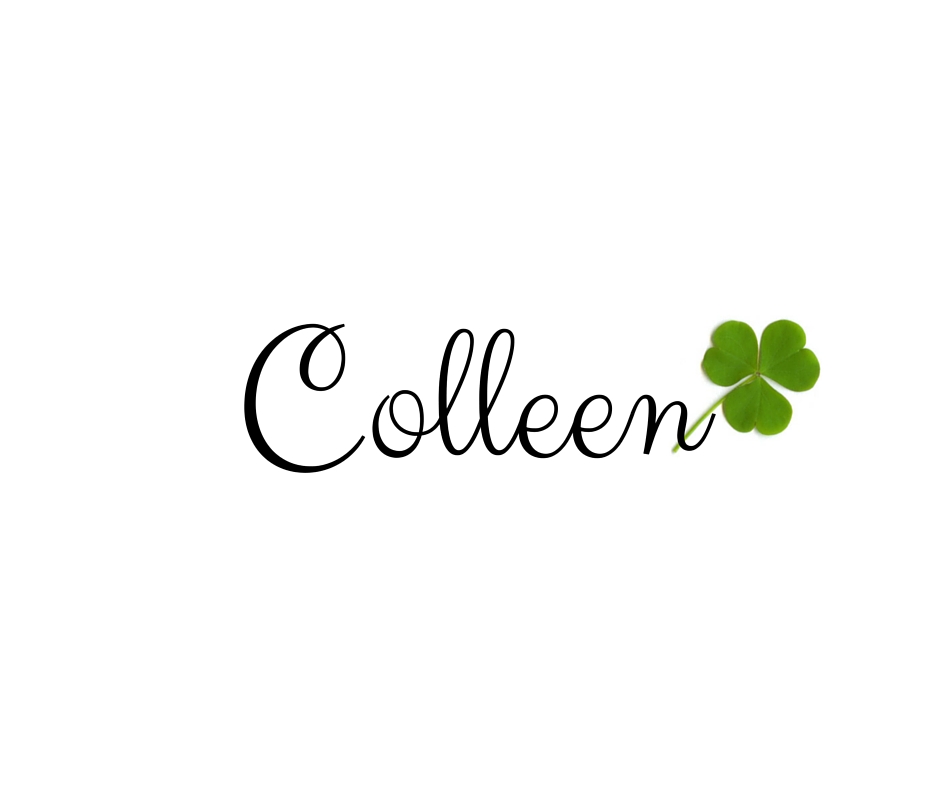 Linking to these great parties:  Inspiration Monday Between Naps On The Porch  The Dedicated House  Merry Monday Inspire Me Monday Create Link and Inspire Motivation Monday Inspire Me Tuesday  The Scoop  Tuesdays At Our Home From Dream To Reality Totally Terrific Tuesday  DYI BY DESIGN Fluster Creative Muster