Hey everyone. I am super excited today is the day! Our Master Bedroom reveal! It only took 6 years to complete. 🙂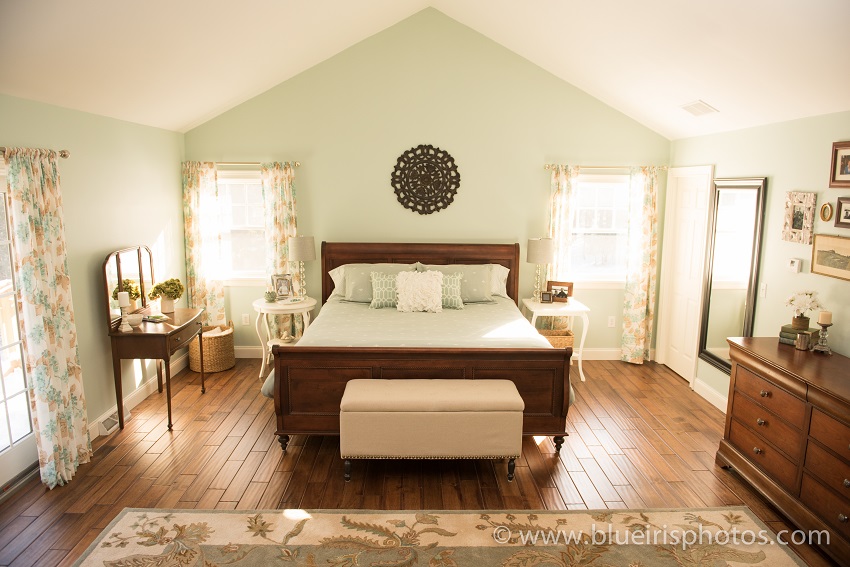 I truly believe that creating a room is like putting a puzzle together. It evolves over time as you find and add just the right pieces. This room has lots of old and new. The sleigh bed is something that we purchased about 12 years ago which you can see in the before picture.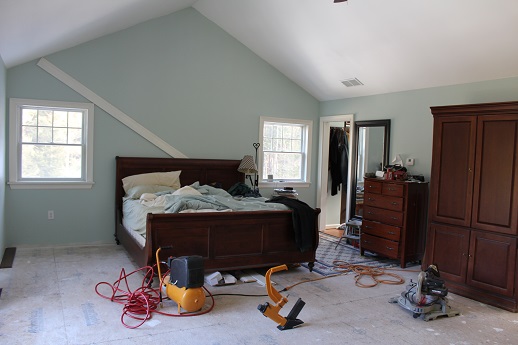 We needed more storage so we picked up the pretty armoire on craigslist for $100. It matches the bed almost perfectly! We also snagged the dresser on craigslist for $100…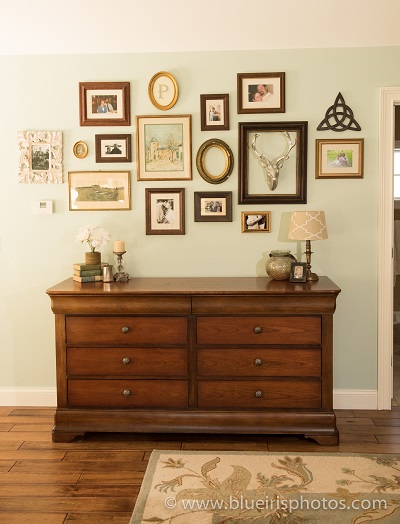 It is in beautiful shape! We just changed out the pulls to these really cool Irish Trinity symbol ones I got at Hobby Lobby for $2.50. (on sale, of course!)
Most of picture frames in the collage and in the room I picked up from thrift stores or garage sales here and there I buy them if they are a good deal and store them until they come in handy. Some where spray painted in Oil Rubbed Bronze but the others I kept the colors they were. I don't usually like to mix gold and silver but the deer head caught my eye at Marshalls and just worked out with everything else I had. The 2 pieces of art were $1 and $6 at a garage sale.
I also picked up the lamp at a thrift store for a couple of dollars. I spray painted it one of my new favorite colors, Flat Chestnut, which comes out goldish. I used it on the frame just above it, too, to tie it together
The vanity was handed down to me from my grandmother. A few years ago I had it refinished and changed out the pulls. It fits perfectly with the rest of the furniture in the Master bedroom.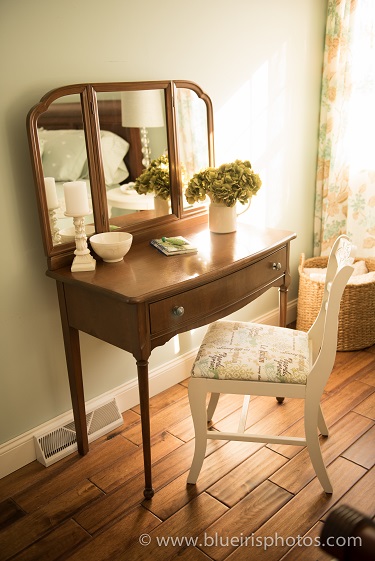 I picked 4 of these chairs up at thrift store for just $10 each. I was planning on painting them black and using them in the dining room but they were too short. One found a new home in my room, one in my daughters room and the others are still works in progress. It's amazing what a new coat of paint and some pretty fabric will do!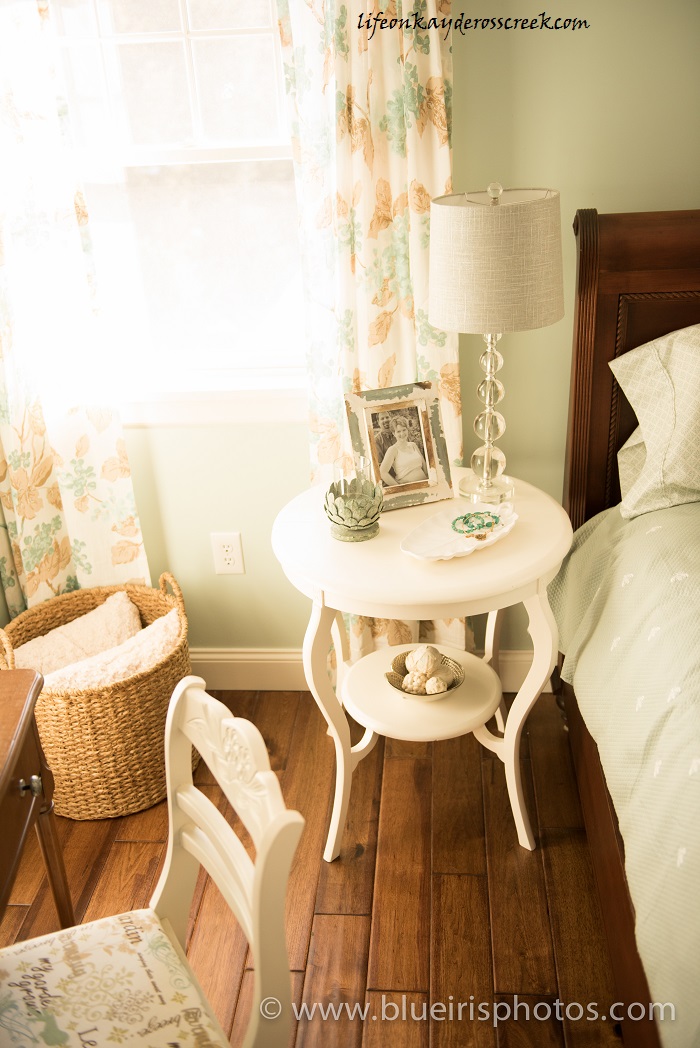 The night stands were mismatched tables from different sales. We just painted them white to tie them together. (table project) Each was $40.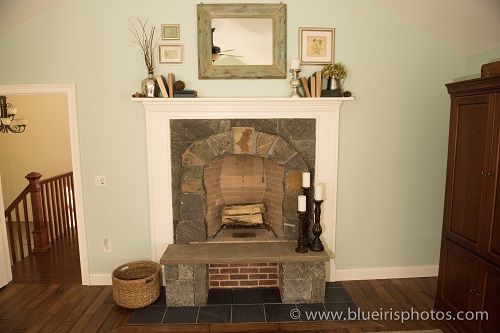 My husband faced the fireplace and build the mantle. I wish we had taken pictures while he was doing it so I could show you. The sides are just flat MDF boards wrapped in trim, pretty simple but very pretty.
The mirror was a great find at Hobby Lobby on clearance for $35 and the books are thrift store finds for next to nothing. One of my favorite finds ever is the 3 candlesticks on the hearth. I found those at the salvation army, all 3 for $15!!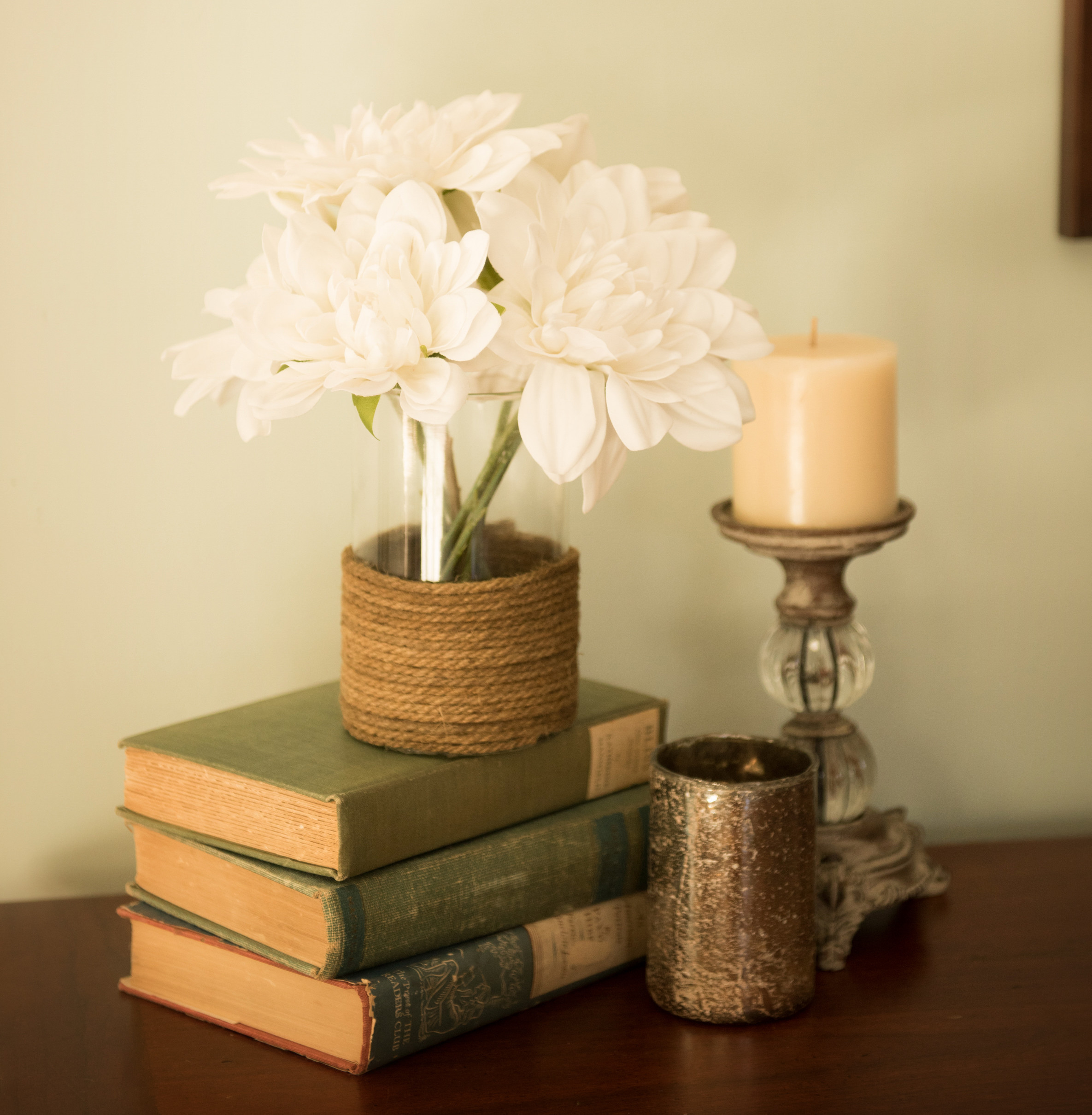 I LOVE the way all of these pieces of this puzzle fit together for this master bedroom and it didn't break the bank!
Happy DIY'ing!
Col
Sharing at these great parties… Inspiration Monday Between Naps On The Porch  The Dedicated House Merry Monday Inspire Me Monday Create Link and Inspire  Motivation Monday  Inspire Me Tuesday The Scoop  Brag About It  Totally Terrific Tuesday  Dream Create Inspire Wow Us Wendesdays
DYI BY DESIGN  Fluster Creative Muster Work It Wednesday Moonlight & Mason Jars The Creative Exchange