Hind site is 20/20, right? Of course it is! When we were designing our house I was 7 months pregnant with our daughter and working full time, trying to get our old house ready to put it on the market. (i.e. a little busy) During some key moments I may or may not have said yes to something on the plans that I may or may not have really thought through, so there are a few things that I would go back and change if there were "do overs". Wouldn't that be great?! One of those changes would be in our Mudroom…
So, long story short, there is no window in our mudroom. It is very dark in there without the light on and only one light switch on one side of the room. Who does that? Me apparently…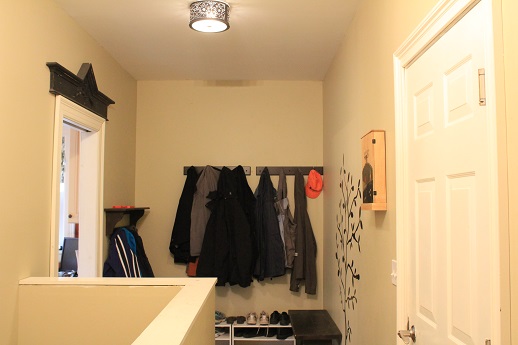 Oh, gosh, it looks even worse in a picture. In addition, it was never finished to include any real storage or organization. It's an awkward layout too, with the staircase that leads to our basement off to one side. There is a closet at the end of the hallway for the stuff we don't use that often but we need to add more hooks for the coats we use more frequently and raise the hooks up for the kids now that they are getting bigger. I threw the cheap shoe cubbies in and the small bench to make due until now.
So we'll put the window in, add some cool storage, new rugs and decor over the course of the next month or so. We have ordered the window which had to be just the right size so that we could still put the hooks high enough for longer coats to hang. We ended up choosing one that can open as well for when it gets a little well, shall we say, stuffy in there with all of the shoes.
So the window will go in in a few weeks once hubby has some time after he finishes the fireplace and in the mean time I will share some of the other little projects that will complete that space. The first is this cute metal arrow I picked up on sale at Hobby Lobby. I really like the industrial, raw feel of it and it's quirkiness.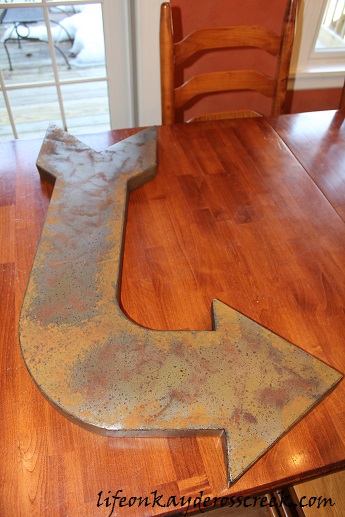 Hubby thought it looked a little plain so I decided to stencil the word EXIT on it. I think it looks really cute next to the door. I like that it's different and it will go really well with the rest of the industrial/rustic decor for the mudroom (hint).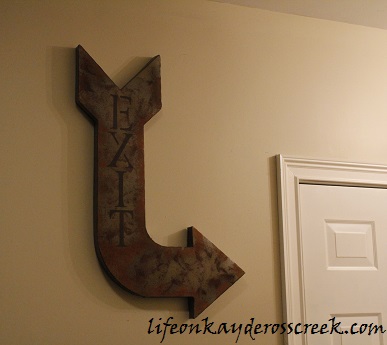 I hope you'll stay tuned for the next phase of the mudroom project!!
Happy DIYing
Col