What better way to kick off a new year than with a decorating challenge! How about a challenge to decorate a room for under $100?? The $100 Room Challenge started over at another blog called Lemons, Lavender and Laundry. She's got some super cute ideas so stop by for a visit if you have a chance. The challenge is for anyone who wants to update a space but is on a tight budget with the goal to really get creative and think outside the box. Bloggers and non-bloggers, too.
So friends, today I'm sharing a room in our home with you that you've never seen before. You'll understand why once you see it. 🙂
Ironically, it's the room we spend the most time in other than our kitchen. I think most people would call it the Family room. We call it the "TV room" for obvious reasons.  It's the perfect room for a $100 makeover.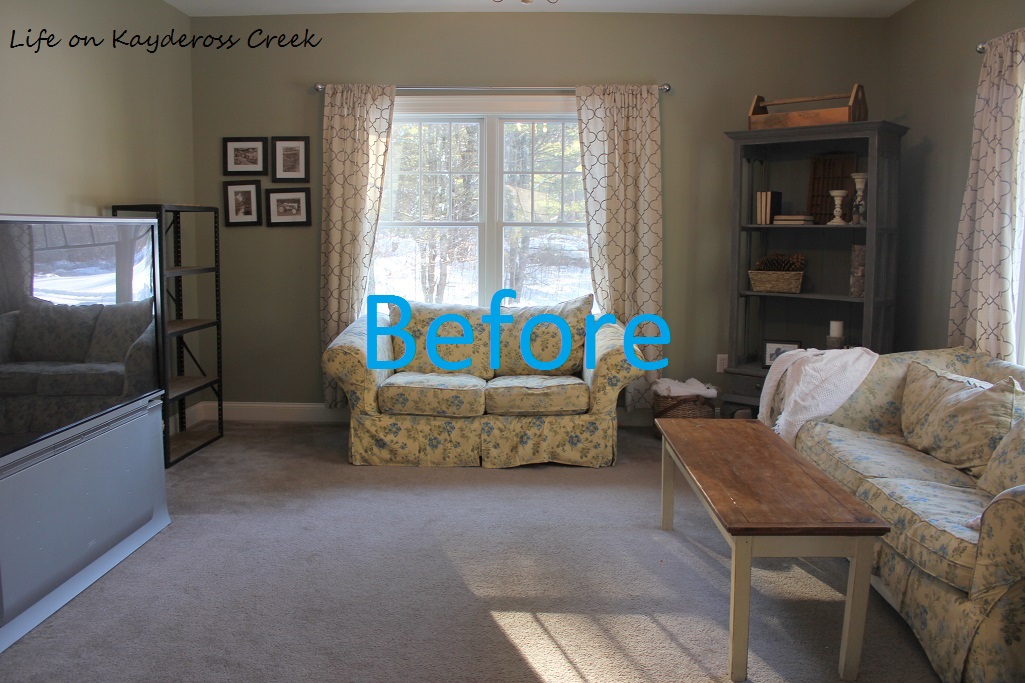 Let me start by saying this room is not horrible.  I love the wall color and it's a nice size with plenty of light but it's boring, outdated and nothing really "goes".  It's like the youngest child that gets all the hand-me-downs. It has all of the furniture that doesn't really fit anywhere else or some of the projects I've done like the antique cabinet in the corner that needs a permanent home. Or pieces like the coffee table we picked up for $10 when we first were married 20 years ago. It's kind of a hodge-podge.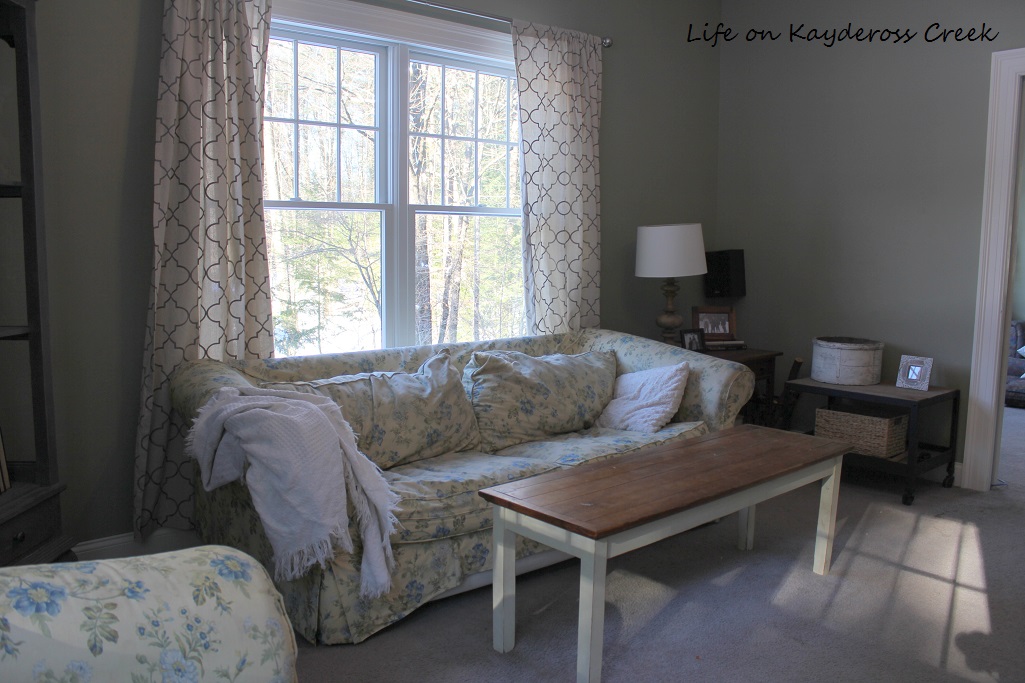 I know, 1995 called and it wants it's sofas back. 🙂
I have had those since 2002, well before children when I was into more of a country kinda cottage thing. They are way outdated, dingy and ripped in a few places but so darn comfortable! All 4 of us can still fit on the couch to watch TV together, although that won't last much longer. Not sure how far down the road we'll get new furniture, though.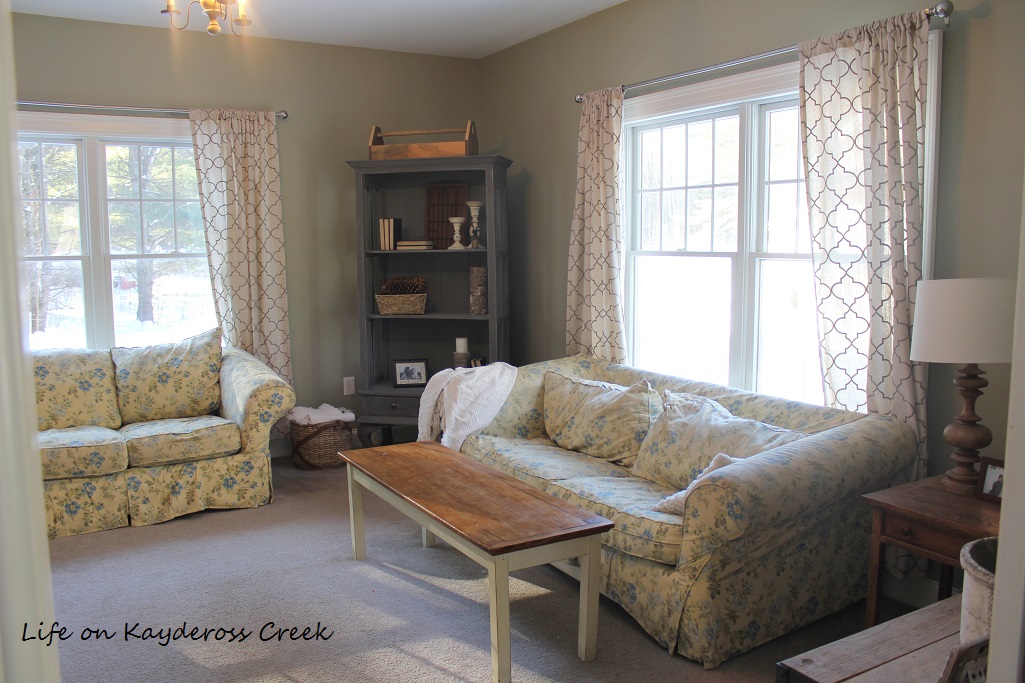 I know the TV is painful to look at, but again, it works really well and still has a great picture, at least to us. It's not quite as old as the sofas but close. Our friends teased us at our Christmas party that they knew we liked antiques but that was ridiculous. I said we don't need a new TV and they joked they were going to start a go-fund-me page so they could buy us one. Hilarious.
The TV has to stay, for now.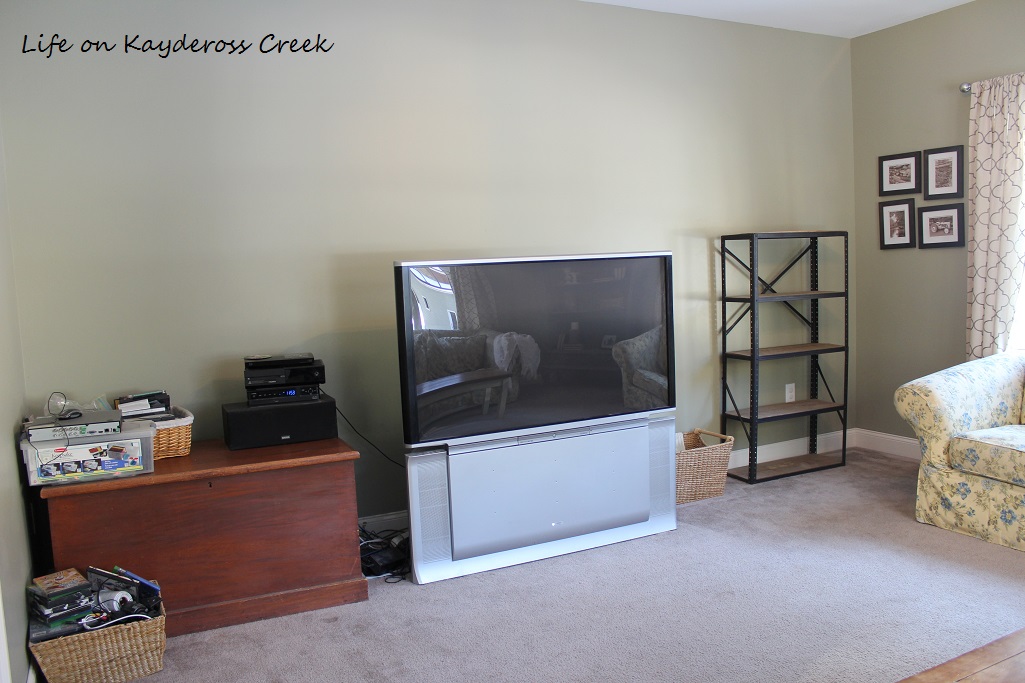 The room is usually more full of miscellaneous stuff than this but I cleaned it out after the holiday. The industrial shelf in the corner was a DIY you can see HERE and the wall art in the corner was too, which you can see HERE.
OK, so how am I going to pull all this together and transform this room with less than $100 you ask?  With a good cleaning, some re-purposing and definitely some creative DIY projects.
Here's the plan:
Clean up the TV area by creating better storage for the Blu-ray/DVD's and TV equipment and hide the cords.
Update the current sofas
Fill in some of the empty wall space with some fun farmhouse wall decor
Add a new light fixture
Add the right accessories
Create more of a cohesive color scheme and consistent overall look and farmhouse feel.
Fortunately, the curtains are fairly new because we finally decided to do something about the sun and glare on the TV this summer. Yes, they are hung a bit high because of the heating ducts.
This is a 5 week challenge so each week I will share one of my projects with you and I'll share the reveal and the breakdown of the budget the last week. I'm also going to share some decorating tips along the way.  This weeks tip is simple.
Tip #1:
It doesn't matter if it's a furniture makeover or a room makeover,  always start with a good cleaning. If you don't, it's like putting makeup on without washing your face or baking in a dirty pan. Ewww.
Coming up:
So between now and next week, I'll remove all the furniture, clean the carpet and wipe down all the trim and walls. I'll touch up any scuff marks with paint where necessary. That way, we can start with a good foundation. I'll also share the first of my DIY projects to spruce up this space and get organized.
If you want to see the type of projects I'm planning, I challenged myself to do this same thing with my laundry room a while back and you can see that transformation HERE.
One last look at the BEFORE…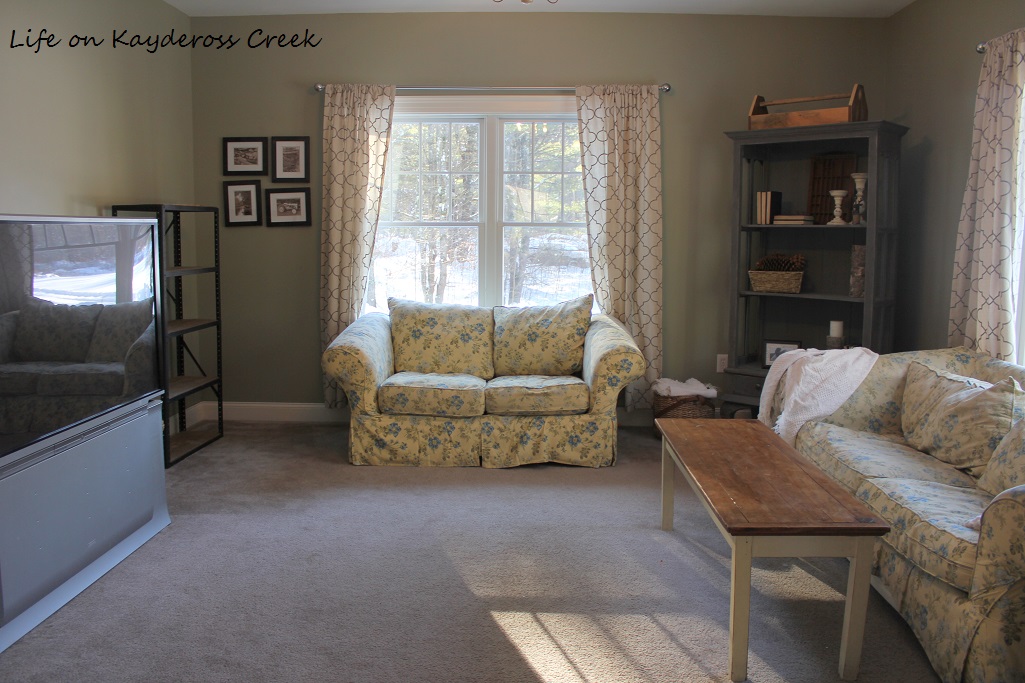 Do you have a space you'd like to makeover on a budget?  Comment which space you would like to do below or share on our new community board, DIY & Budget Friendly Decorating on Facebook.
Happy DIY'ing!
Col
Check out some of the other $100 Room Makovers: