Hey everyone! I'm soooo excited because today is the day we finally get to share our master bedroom closet makeover! We've been working on it slowly for a couple of months around other projects and, well, life.  It's been 8 long years living with these pieced together racks so it's time to get organized. I can't say that I'm not embarrassed to be showing you this but here's what needed to happen: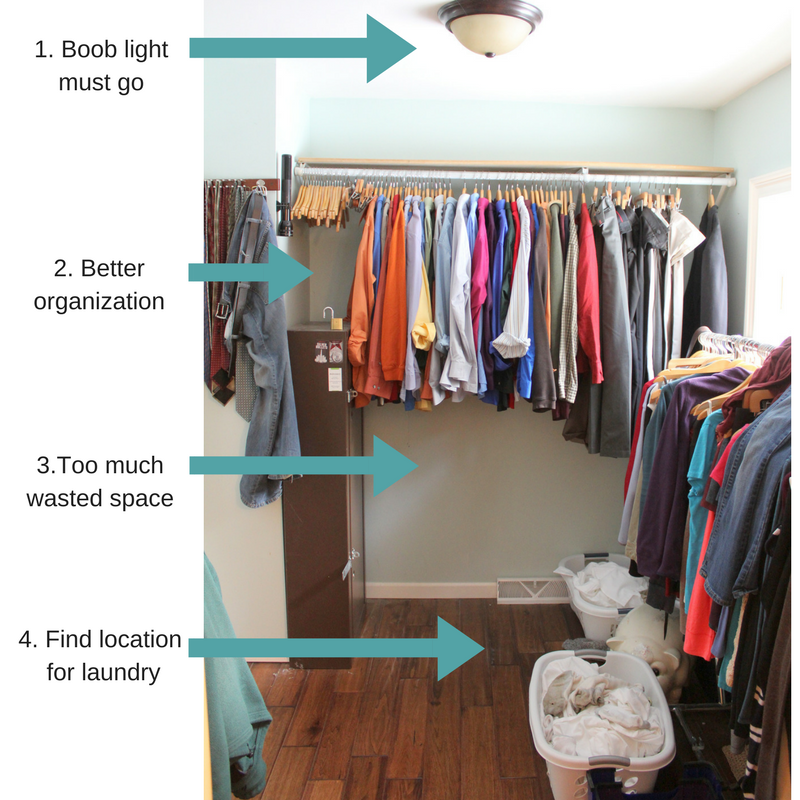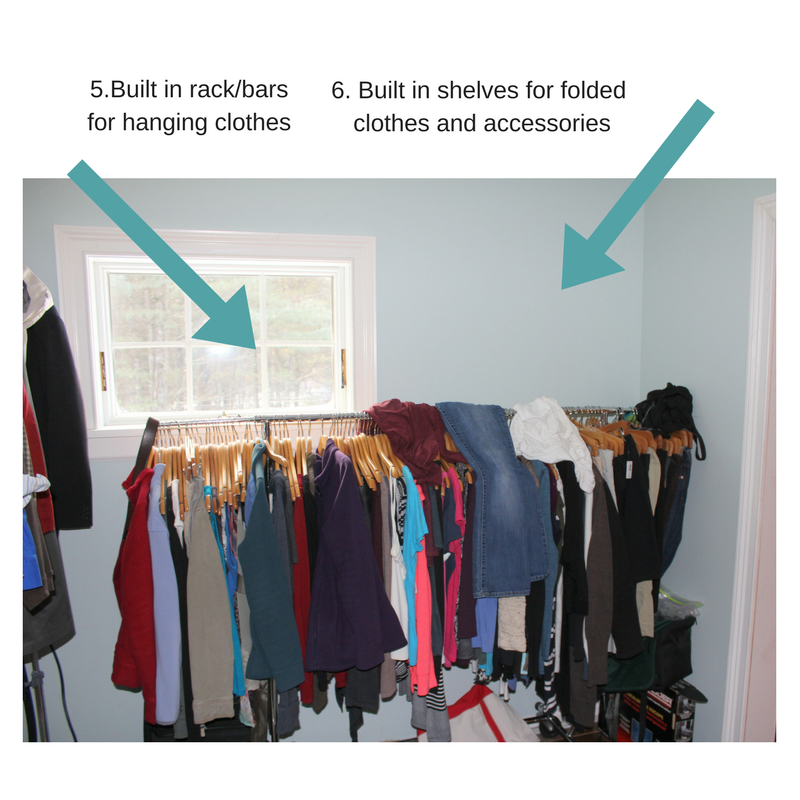 OUCH, holy cow, that hurt. So, here's what we did to make the most of the space we have. I started by measuring out how many inches of clothes we each have (tops and bottoms) and then added a few inches to be on the safe side. For example, I needed about 60″ of hanging space for my shirts.
We also had stuff in there that does not need to be like heavy fleece jackets that can go downstairs in the mudroom closet. This was also an excellent opportunity to purge the stuff that we don't wear anymore (let's be honest, none of us are getting any smaller around here 🙂 ) Once I knew exactly how much space we needed for hanging stuff and folded stuff, I made a plan on paper.  It's a bit crude, but it was definitely effective! Truth be told, I worked in retail for over 20 years so that may have had an impact on my design. 🙂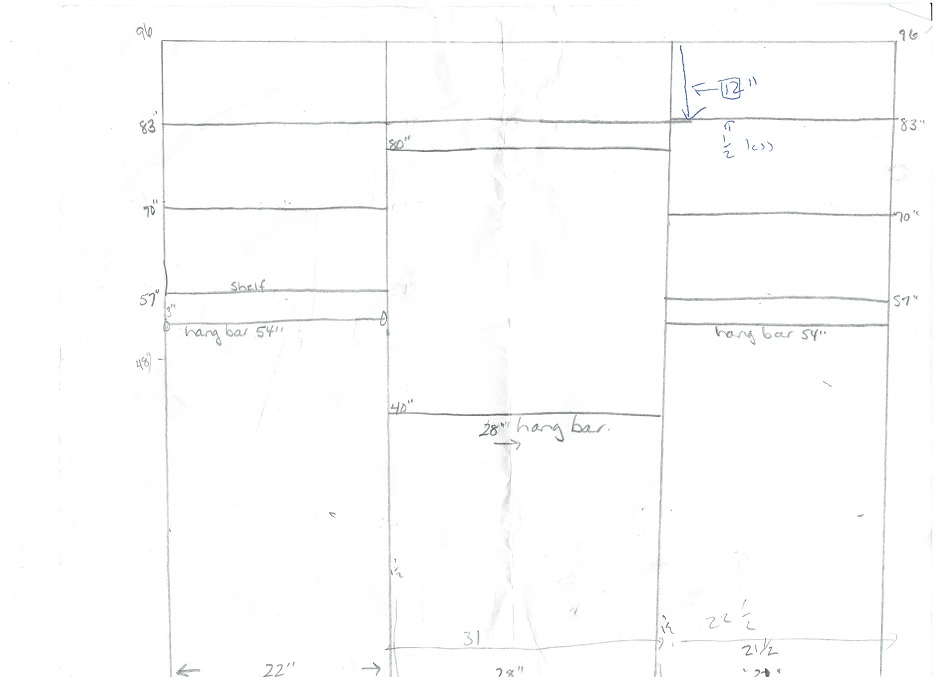 I also drew out plans for the other two corners of the closet but they are much more simple. My brother, Jamie, who is a builder, helped us get started and suggested we build  each section in a cubby or "box" and then attach them all together. We used birch plywood for the boxes, MDF for part of the base and pine for the rest of the trim.  The other thing he suggested was that we use a dado blade (a special blade for a circular saw) to make grooves in the plywood where the shelves would slide in and also connect the corners of the boxes more securely.  As the dado set spins, the two outside blades cut the dado walls (grooves) and the chippers remove the waste material in between and smooth the bottom of the dado (groove).
We wanted the boxes to be 20″ deep so we had someone at Home Depot cut the sheets of plywood that come in 48″ in half for us. That way they were easier to transport and to rip down (cut) at home to 20″. Then hubby measured and marked out where the grooves would need to be. One at the top to connect the pieces and one 12″ down for the top shelf.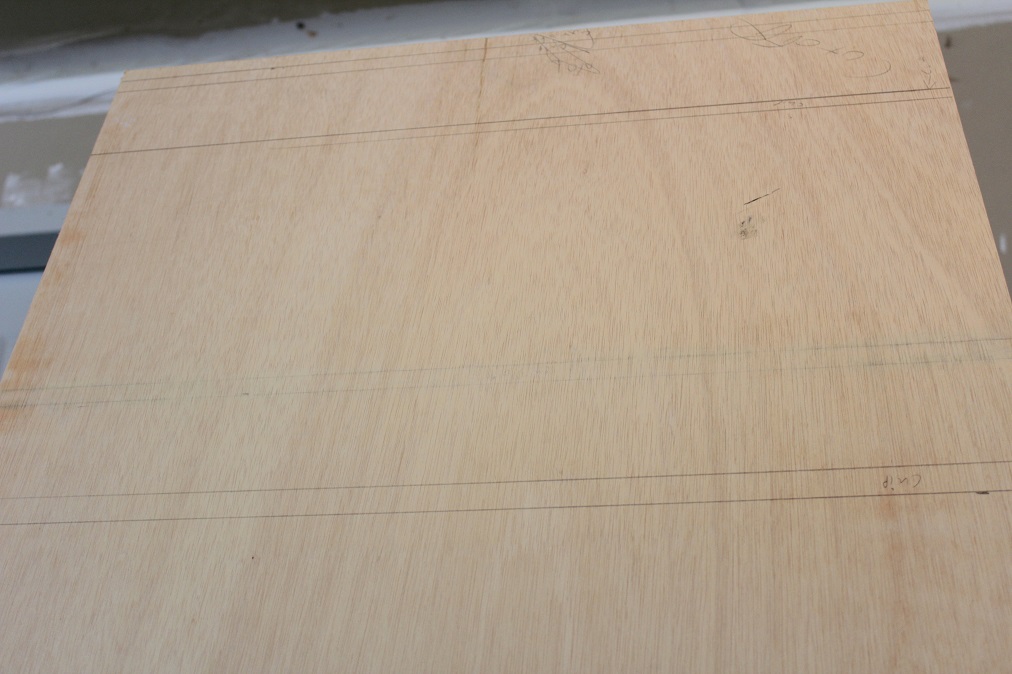 Once the pieces were cut we started assembling the first box. You can see the notch at the top where the other piece will fit and be glued and nailed together.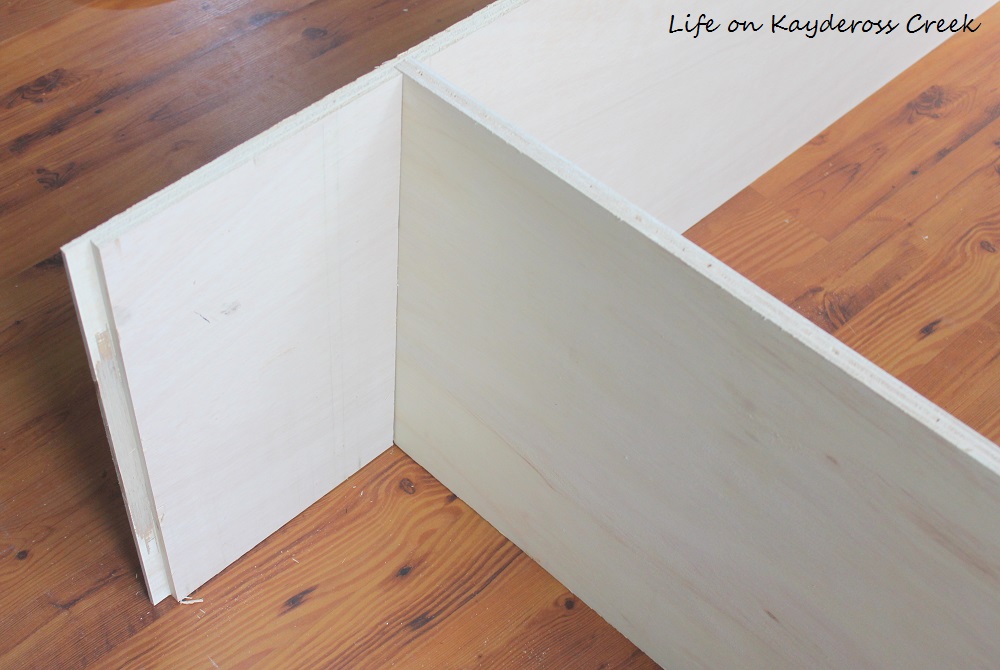 Here's the first box installed…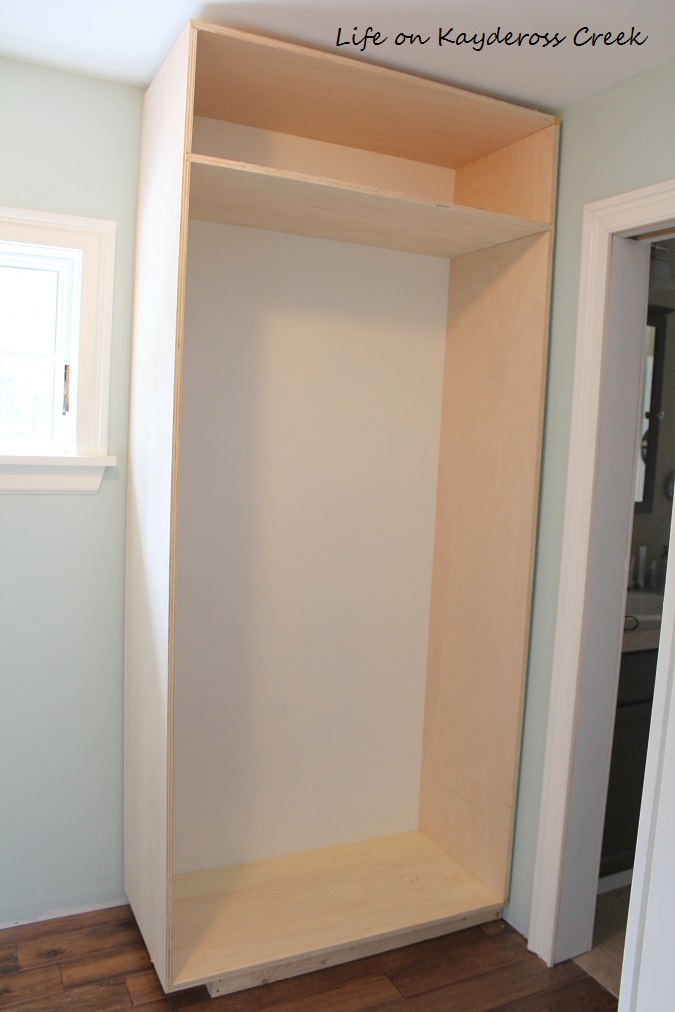 We learned a lesson with this one because we built it downstairs and then had to carry it up. Um, not smart. We decided to build the other three boxes upstairs. Here is the storm before the calm. Holy cow, what a mess!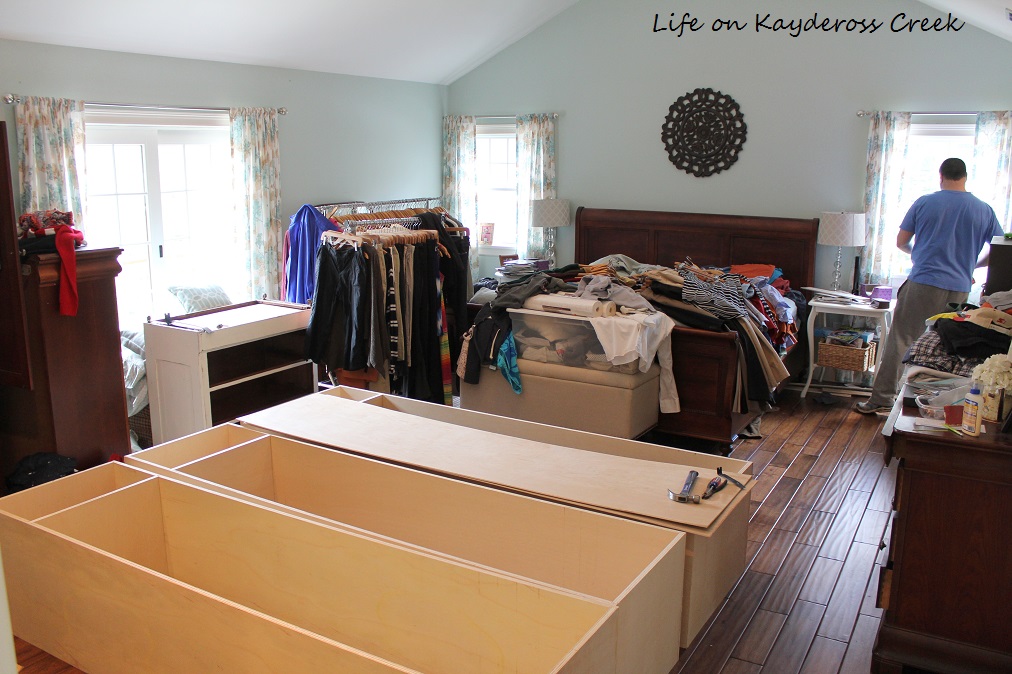 We added a few more shelves to two of the boxes and then started placing them in the closet. Hubby used 2×4's to attached them to the floor which also provided a bit of a toe kick.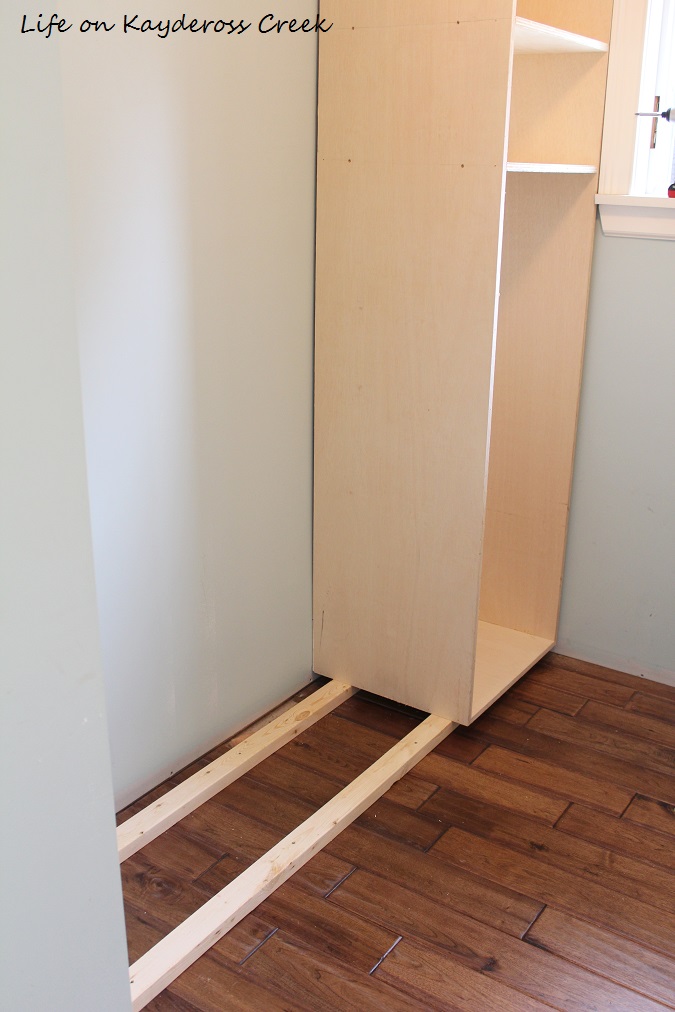 When all of the boxes were placed, he screwed them all together and to the walls. We're almost there with this master bedroom closet makeover!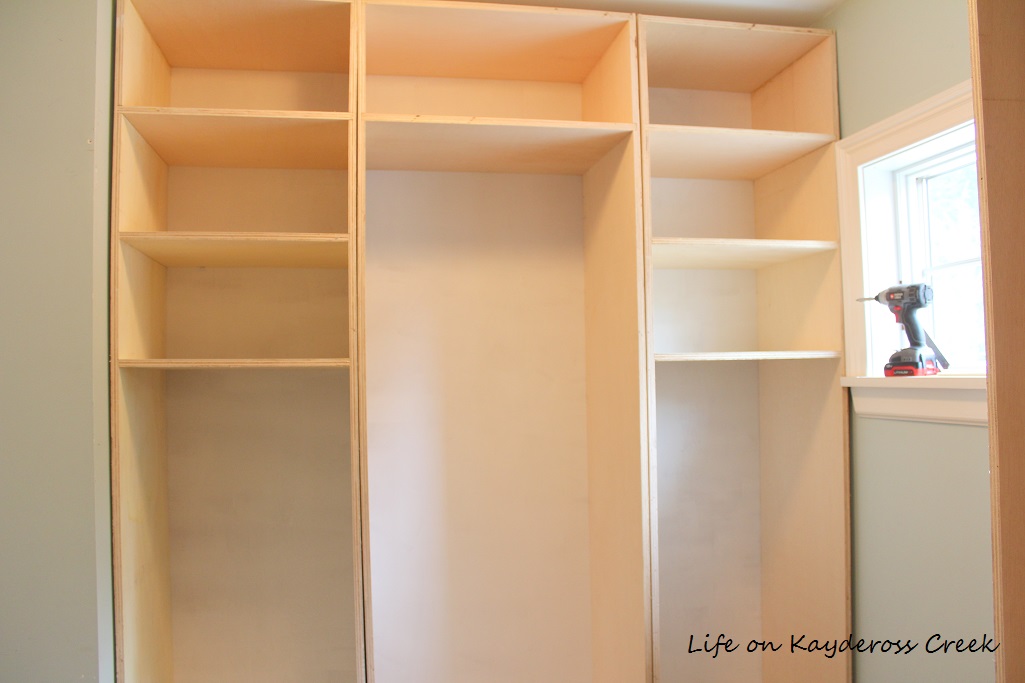 Then he added a 1.5 inch pine trim to the front and crown molding to the top. Let's just say I spent A LOT of time spackling all those nail holes and caulking the edges.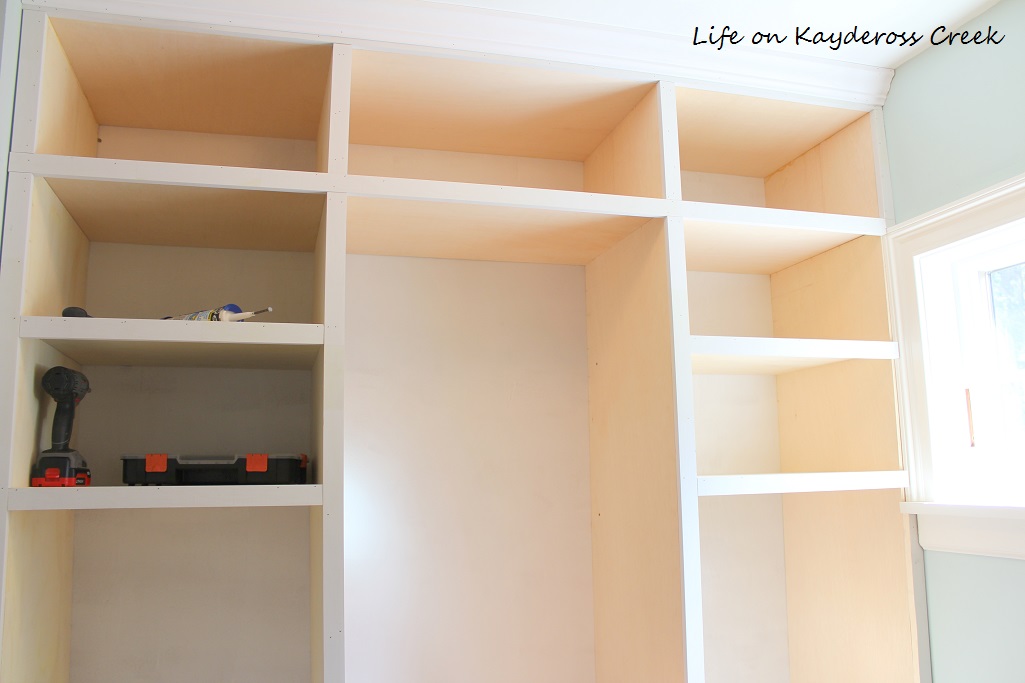 After it was primed and painted twice (I went through a gallon of paint just on the cubbies and trim and pretty much didn't leave the closet for what seemed like days) it was time to put the bars in. We bought a long metal bar and then cut it to the size we needed for each hanging section and then I spray painted the pieces to match the cubbies. They were installed with little metal cups.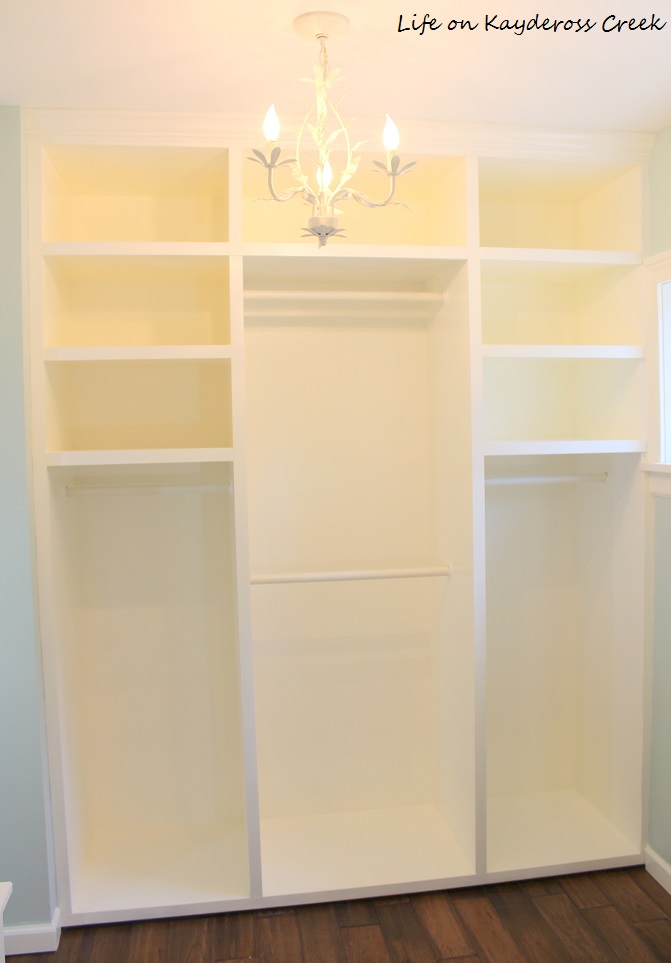 OK, so you can see the new light fixture in this picture. I really didn't want to spend any more money on this project and I had this old fixture in the basement which I had used in my store. It's the match to the one I used in my daughter's room.  I just needed to remove the "crystals" and give it a good coat of spray paint.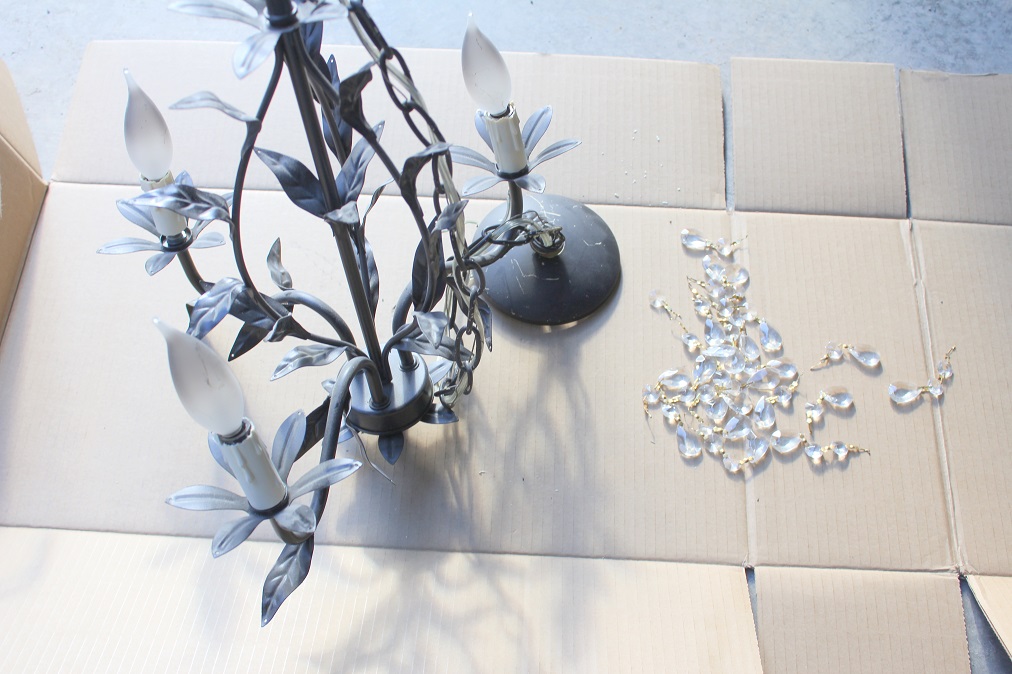 The last thing to address was more storage for linens and a place for the laundry. To make the best use of this space, I decided to go up. We picked up this old TV armoire at the Salvation Army for $20 some time ago.  I planned on using it for storage somewhere and then the closet project came up. I love using these old pieces for storage and you can see one of my other armoire transformations HERE.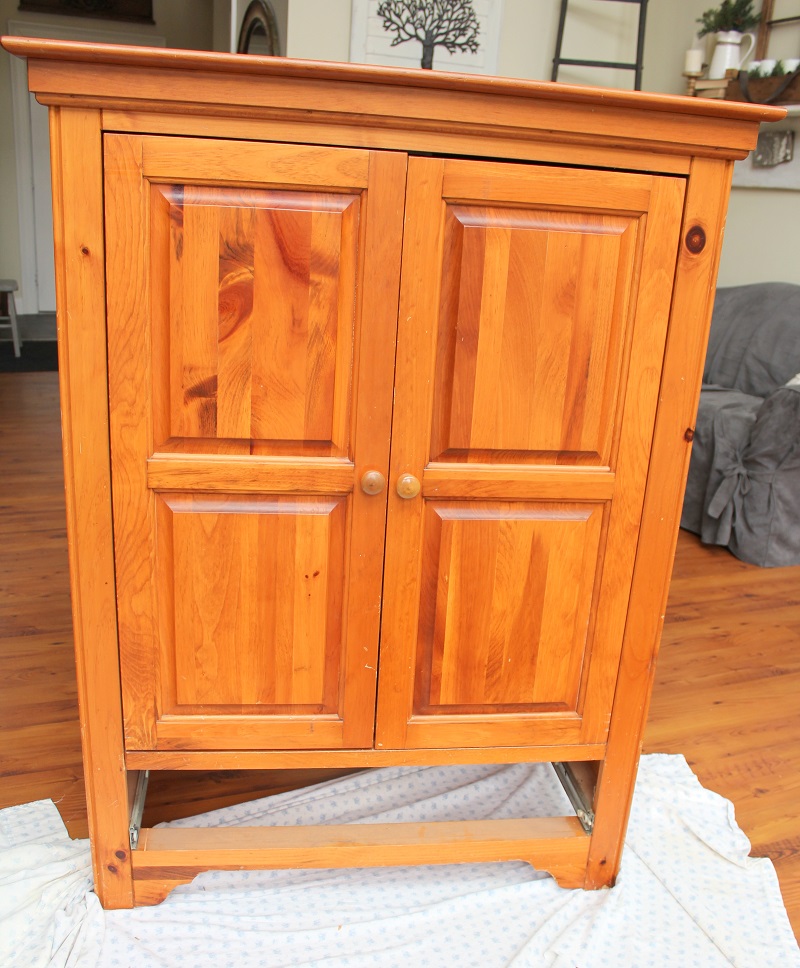 The problem was it was too short. We didn't need any more shelves so it would have been wasted space above it if we used it as is. Since we still needed a place for the laundry baskets we decided to build a base to put the armoire on top of. That way they are much more accessible on the bottom.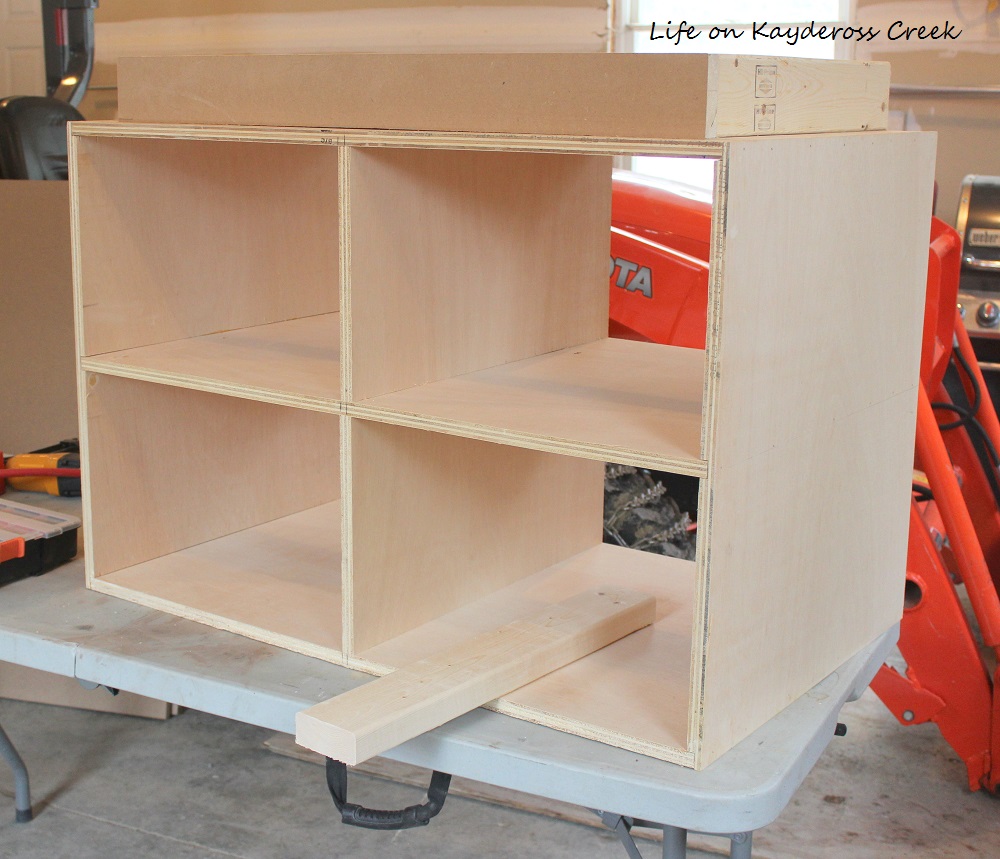 We made it out of the same birch plywood and trimmed it out with the 1.5″ pine trim to match the cubbies.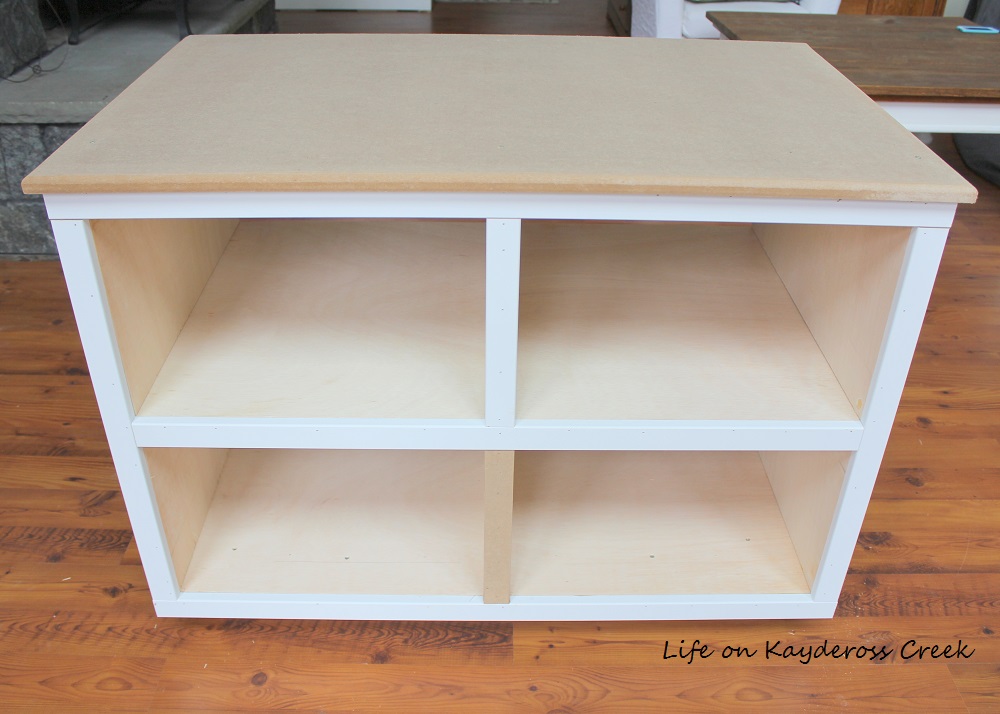 After giving the armoire a good sanding,  a couple of coats of paint and new glass knobs, here's what it looks like all assembled.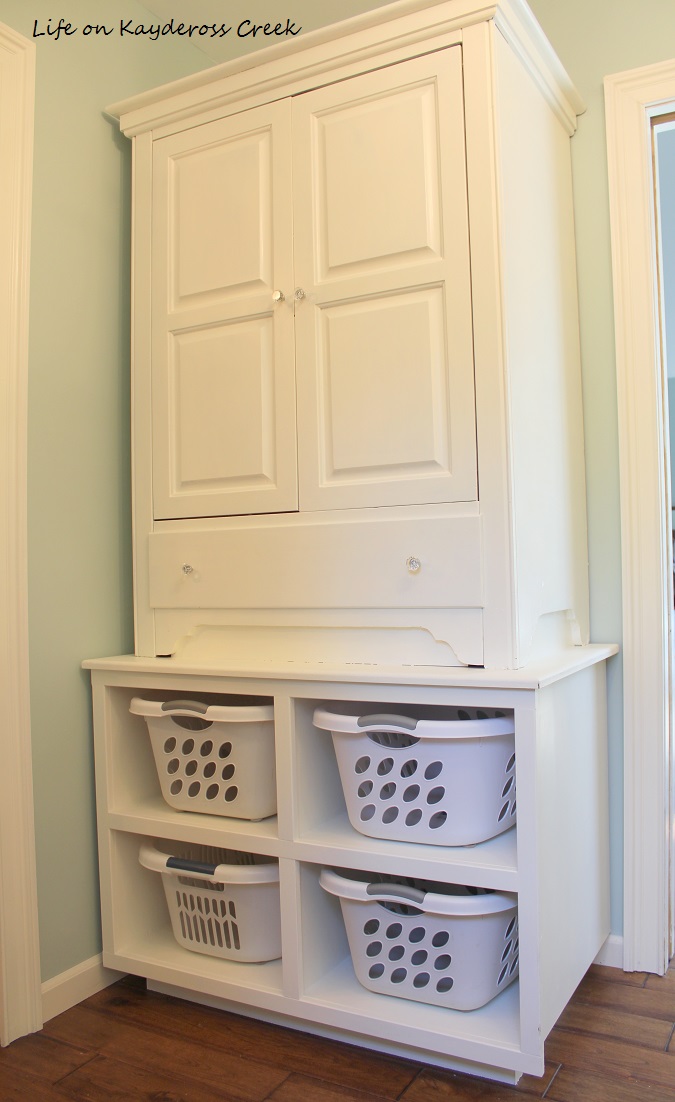 I know, right?!? I think it's my favorite part. 🙂
Here's the other opposite side.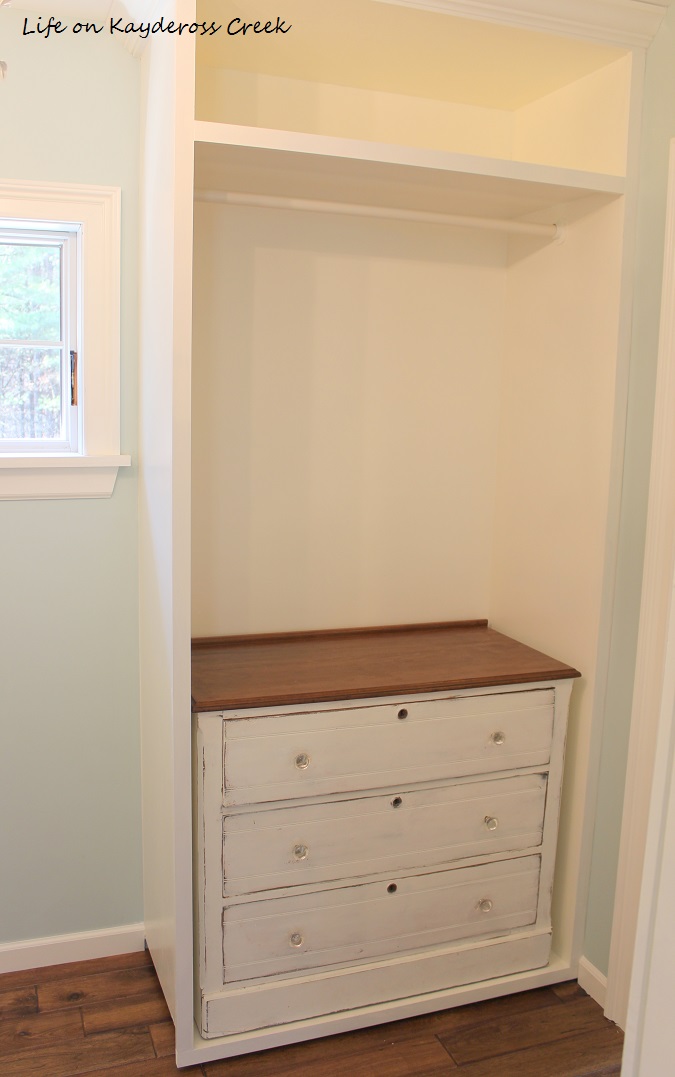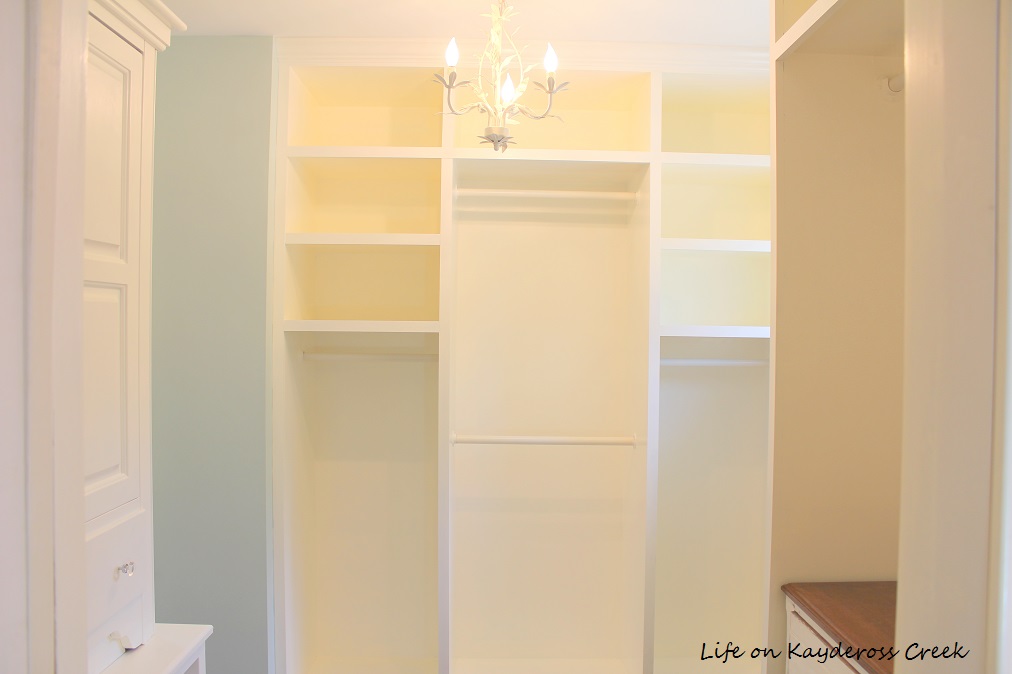 I. LOVE. IT! Here's the best part. We spent less than $500.
The birch plywood, trim, paint and bars/cups cost about $400. We spent $20 on the armoire and I had the dresser that we put in the side cubbie. You can see that project HERE. We also had to purchase the dado blade set which I think was about $55.
I have to admit it was A TON more work than I thought it would be but it was worth it!  I still have to add hooks to the wall for my scarves and a rug but it's so nice to walk in there and be able to actually find what I am looking for. Now let's just hope we can keep it neat.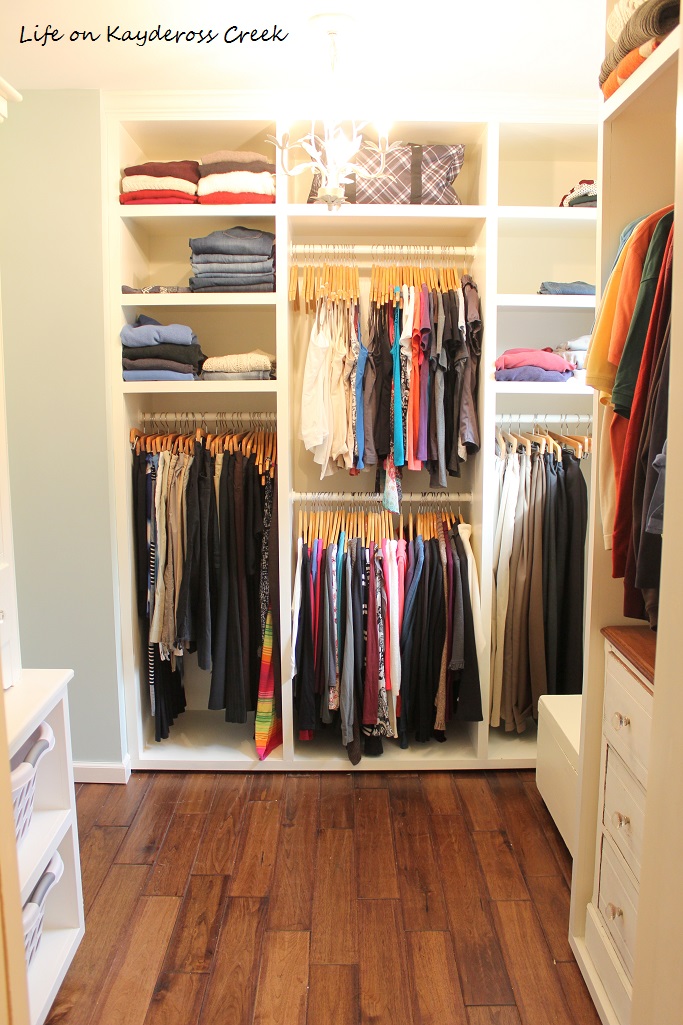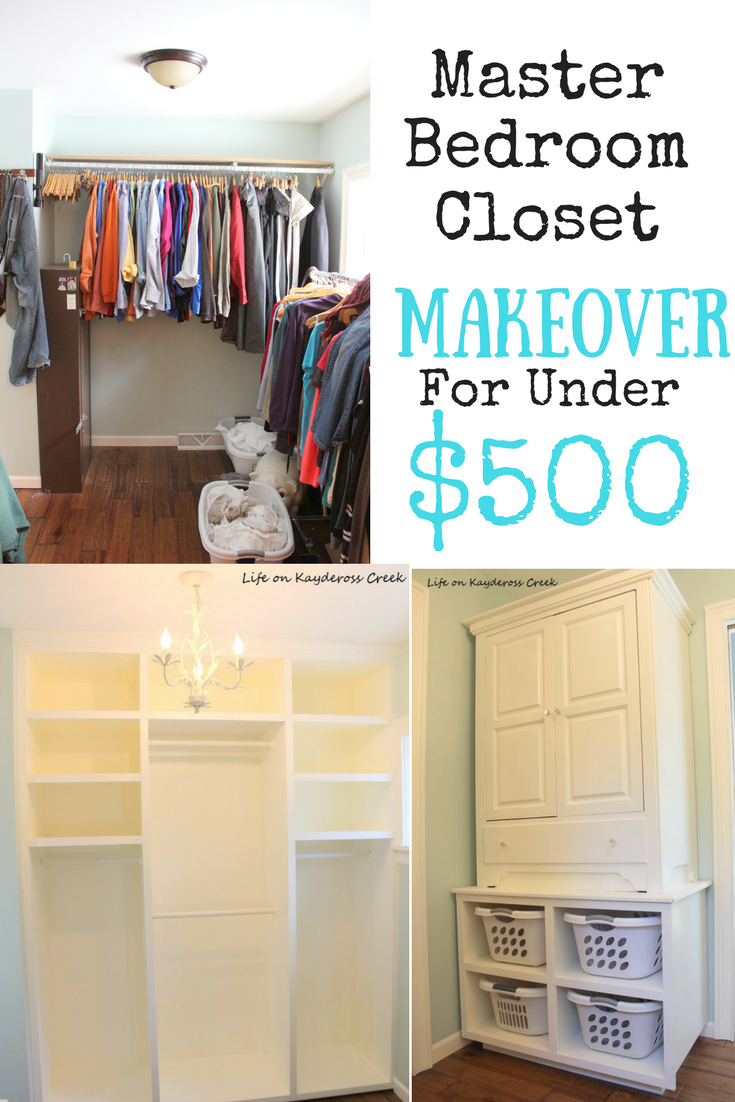 Not sure you want to build something but still want organization. Here are my Amazon picks to make the most out of your space:
Thank you so much for spending some of your time with me today! Do you have major project or mini projects in the works? I'd love to hear about them!
Happy DIY'ing!
Col