Hey everyone! I hope you're all having a fantastic week! I'm busy working on a bunch of projects thanks to a very successful trip to my favorite thrift stores last weekend. Sometimes you just hit it right and find things you didn't even know you needed. Has this ever happened to you? 🙂
This poor little kitchen table just seemed to speak to me. I took one look at it and I could see it all pretty again with a new coat of paint and fresh stain. So home it came and today, I'm sharing my thrift store table makeover with you.
Before…
Here she is before in a very dated and dull muted maple brown color. I know you're not going to believe this but I got her for, drum roll please, $15.  I think it was because one of the legs was coming off but it just needed to have the bolts put in correctly and tightened and she was as good as new. I love the fluted legs and side rails.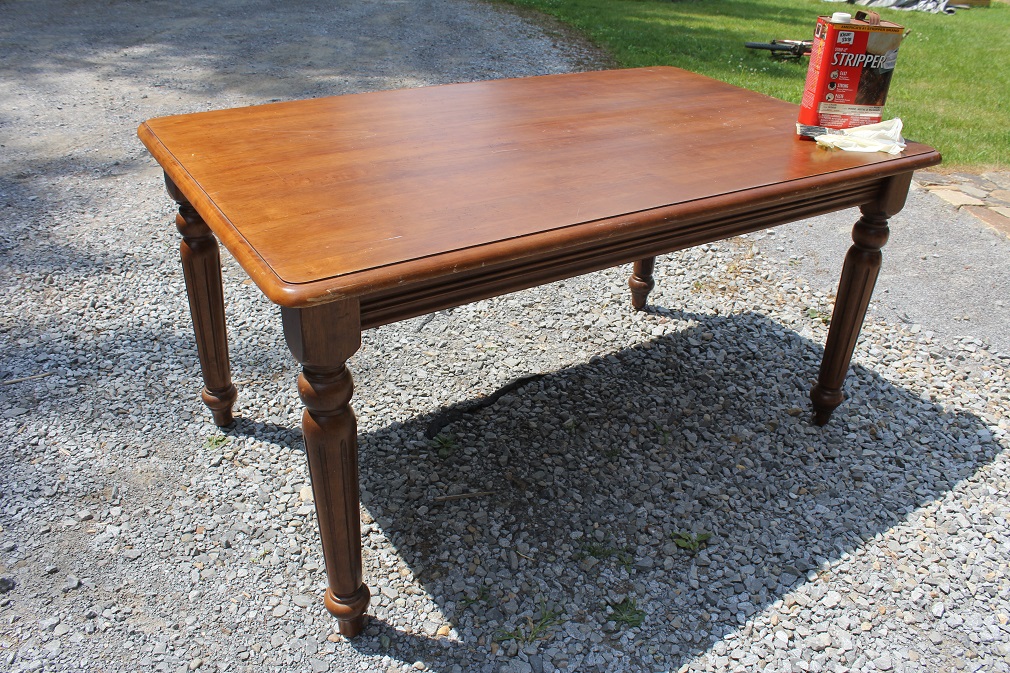 The Plan: New stain for the top and paint for the legs.
After a good cleaning, I stripped the old stain off of the top. This was quite the process because that stain was like baked on there. I had to apply the stripper 3 times and scrape like crazy. Then I sanded it for what seemed like hours with the palm sander. (realistically, it was probably 20 minutes 🙂 ) I got all of the chips and scratches out too. Finally, it was clean and ready to stain with a more modern color.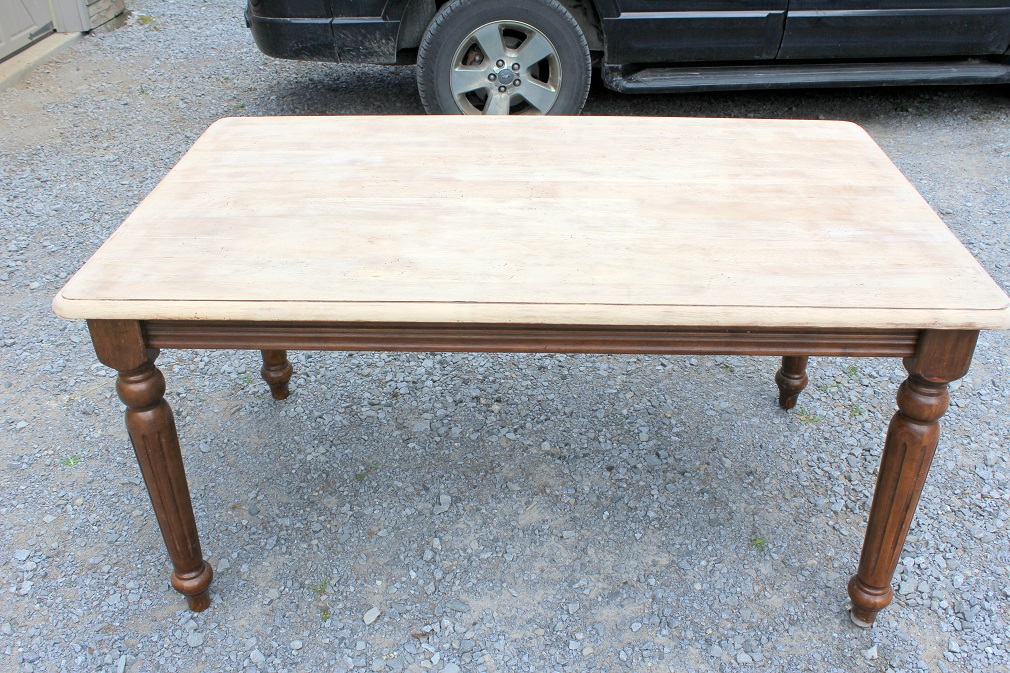 The new stain I chose was a bit darker but more translucent. I mixed some Watco Danish Oil in Dark Walnut with Ipswich Pine and came up with something I liked. It's a bit more fresh and I like the way you can see the wood grain through it. You can see the difference in color from the top and the legs.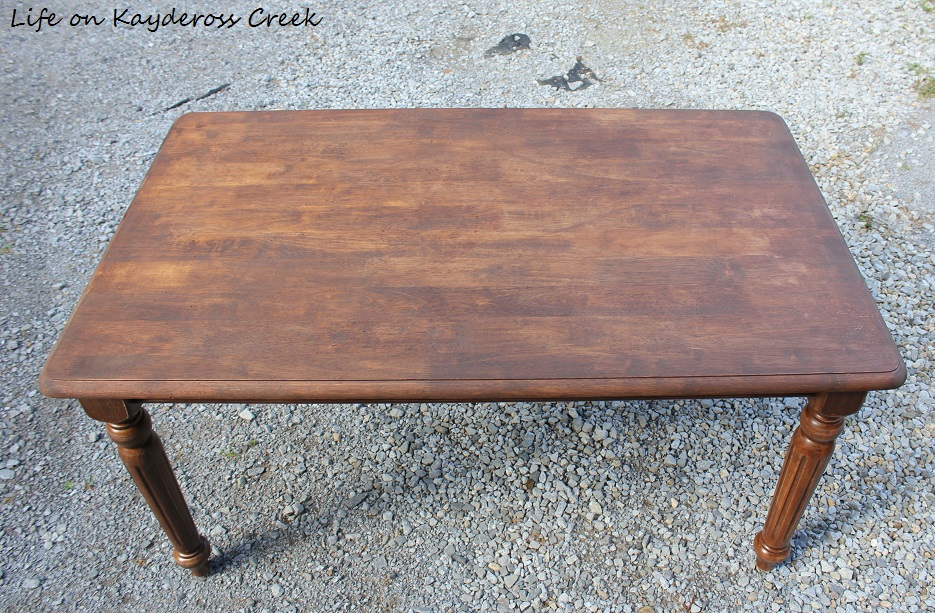 Once it was dry, I gave it 3 coats of poly to make was it durable. I love the way the top turned out!!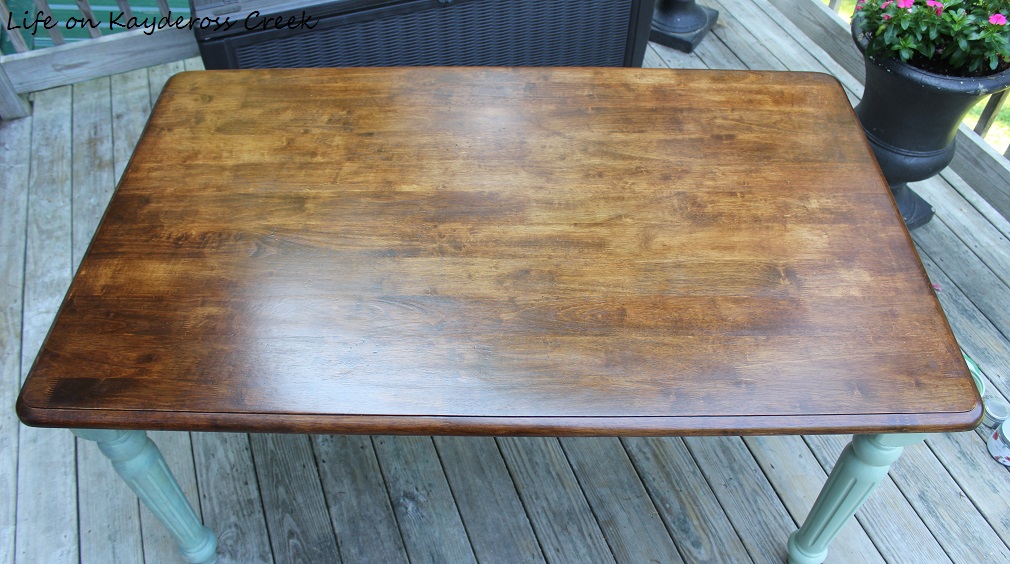 The Paint Technique:
This was one of those projects I could see completed in my head while I was buying the piece. I saw the colors mixed together and knew it had to be green and blue. I started by giving the bottom a coat of homemade chalk paint in a mix of sage green and cobblestone from Country Chic Paint that I had used on the Antique Cabinet Makeover. What I got was this nice gray/green.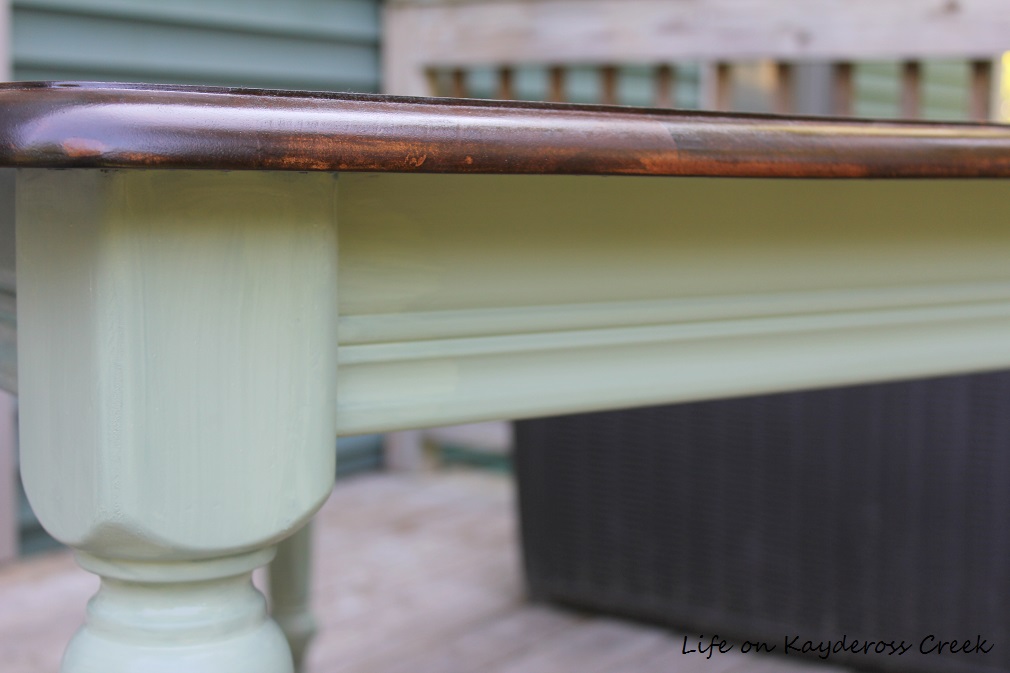 I wanted to "wash"  the blue on top of the green so it almost looked like a water color effect. To get the right blue I had in mind, I mixed navy blue from my son's room with a bit of craft paint in Island Blue. It was exactly what I wanted.
I mixed a half a cup of warm water with a quarter cup of plaster of Paris and then mixed it into about 3/4 cup of paint. I wanted it to be a bit runny so I could wipe it off easily.
I brushed just a bit of the paint on and then wiped it off with a dry cotton cloth. I kept a damp cloth near me in case the paint got too heavy on the surface and I cold wipe it off. I also kept the green paint handy if I needed to touch it up.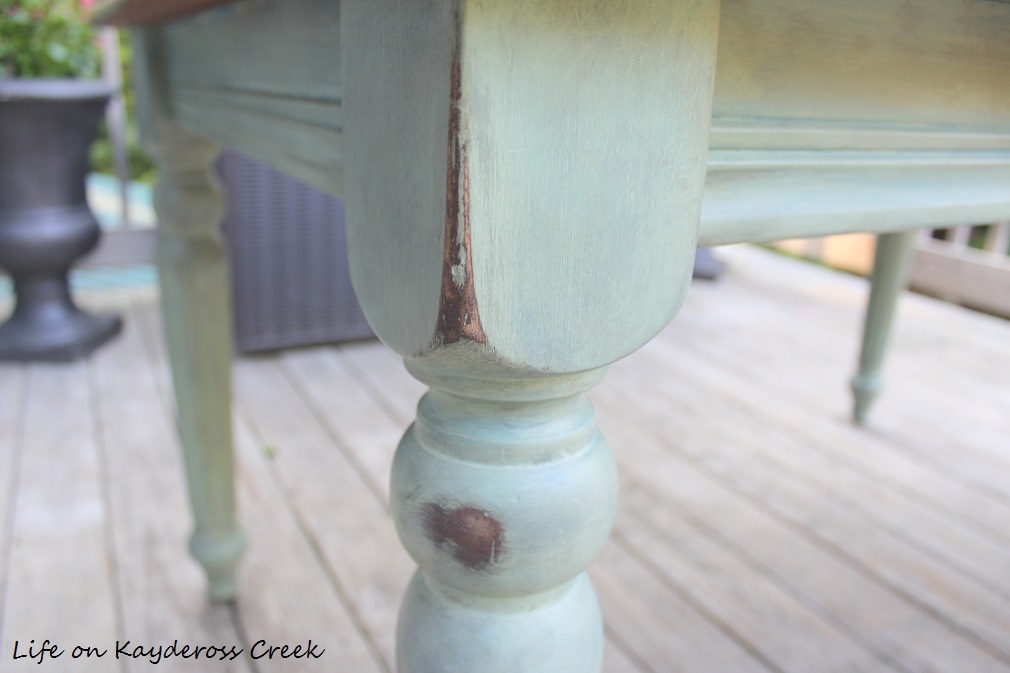 After I gave the entire piece the blue "wash" I sanded down the edges of the corners on the legs where it would wear down if someone rubbed against it over time. I used 120 grit sandpaper to bring out the wood underneath.
Then I used my favorite Country Chic Paint Antiquing Wax over the legs and sides to give it a more aged look.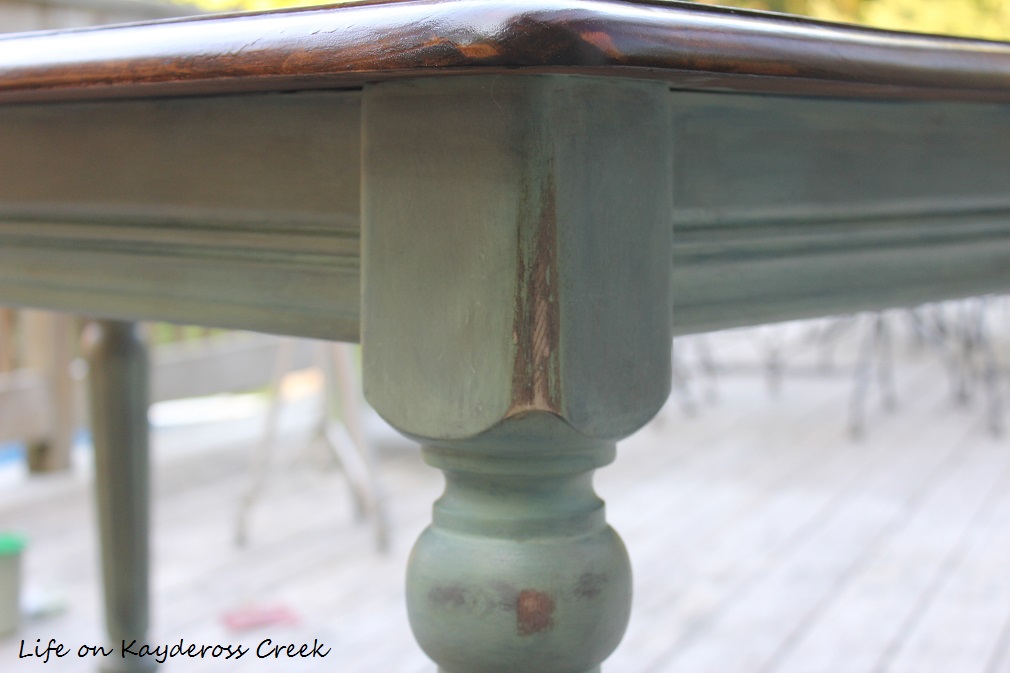 I love the way this table makeover came out! All of the layers of paint and stain give it such farmhouse character.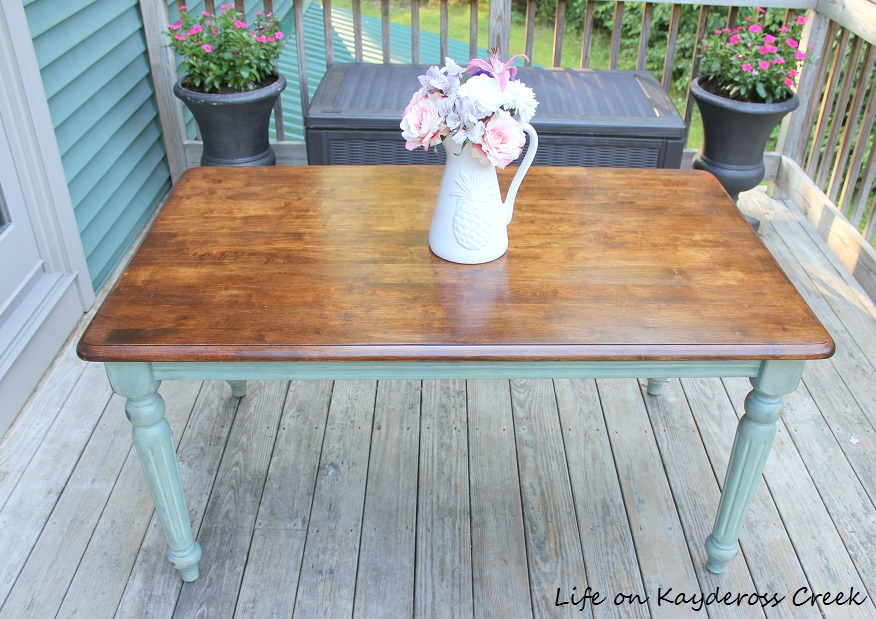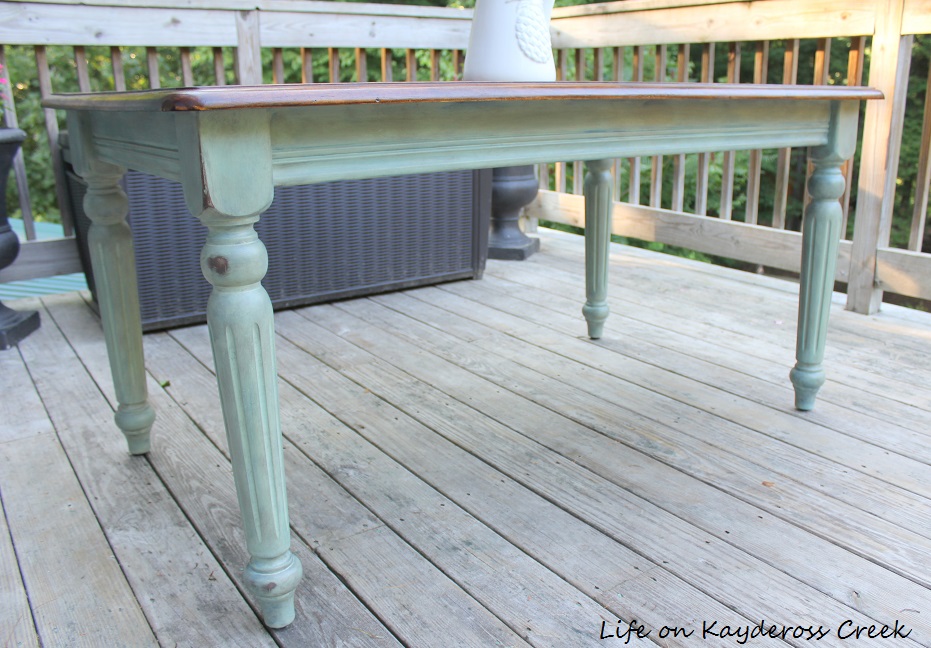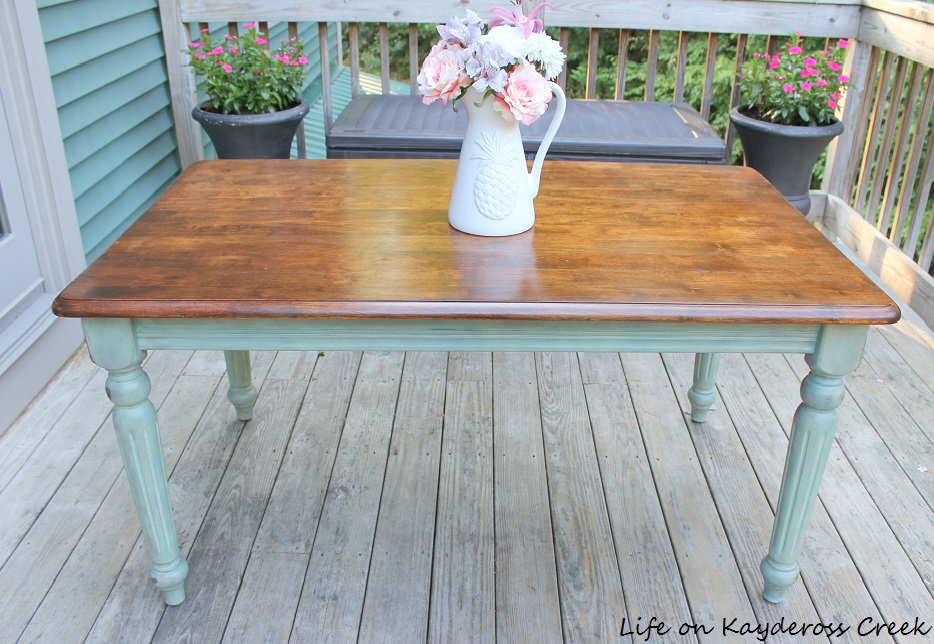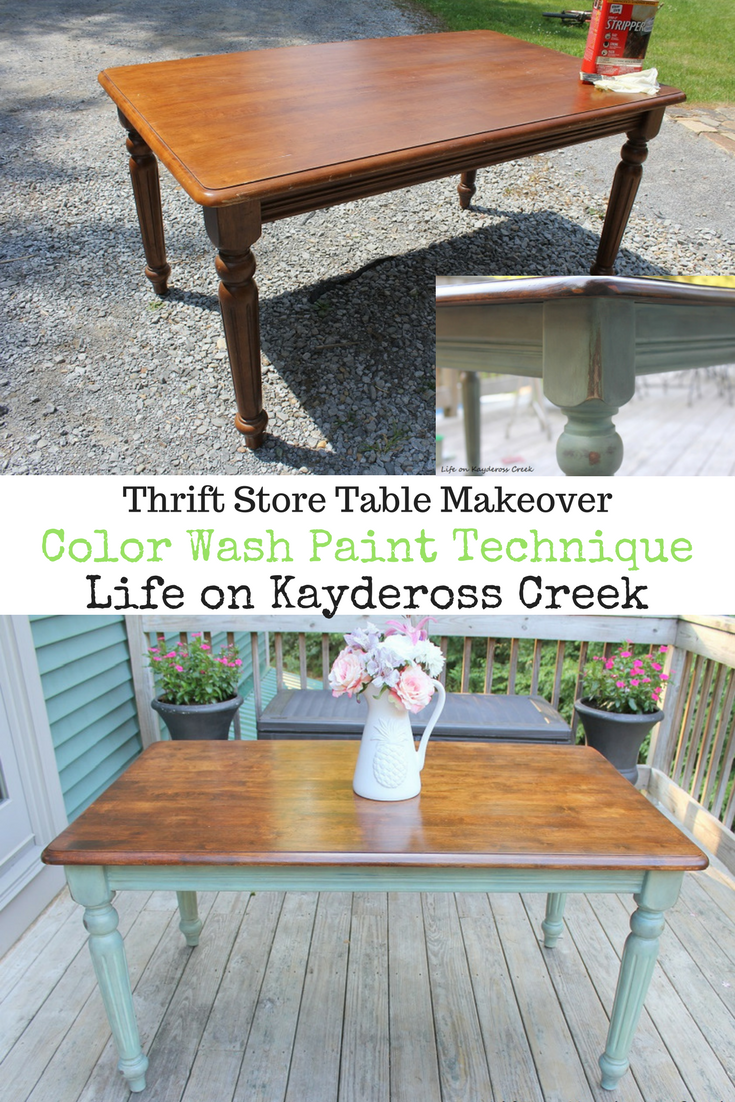 Why not create something completely unique for your home? The color combinations are endless. Do you have a piece of furniture you could try this with? If not, maybe you could head to your favorite thrift store and see what speaks to you. 🙂
I'd love to see your projects if you try this paint technique!
Happy DIY'ing!
Col