Hey everyone! Welcome to our 2017 Christmas Home Tour – part 1!  Vintage pieces and red and black accents are the inspiration for our Christmas decor this year. Come on in!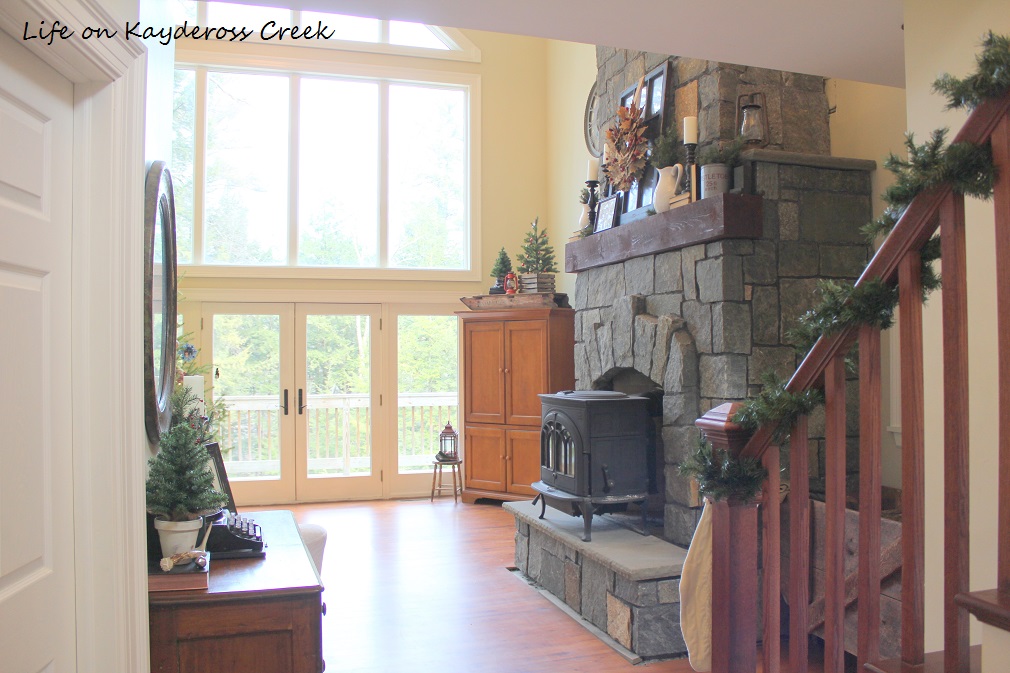 I love these mini Christmas trees! I bought the cute little wooden crate at Michaels on clearance. It was unfinished so I stained it with Minwax in Espresso.  I wrapped the base of the smaller tree in a sleeve from an old men's plaid shirt and I picked up the antique lantern at a shop over the summer. It's never too early to shop for Christmas.  One of my tips in 20 ways to decorate for Christmas on a budget.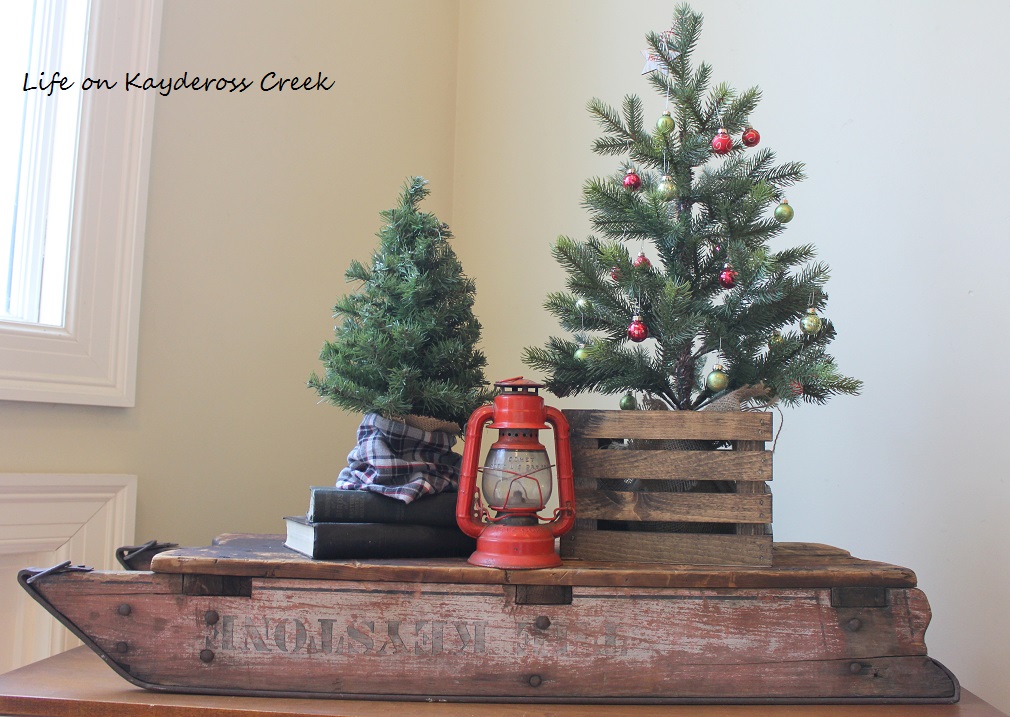 The antique sled was a sweet find at the Brimfield Antiques Show a couple of years ago.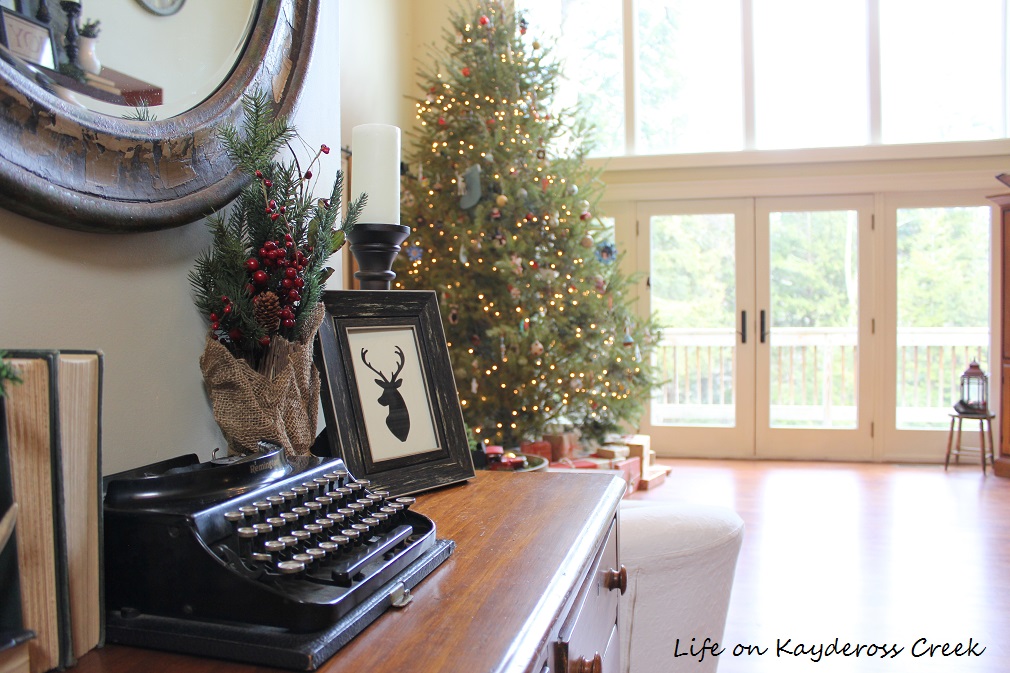 This antique typewriter was definitely inspiration for our Christmas decor.  I love the black and red together. The deer picture is simply a free printable I found on line and framed.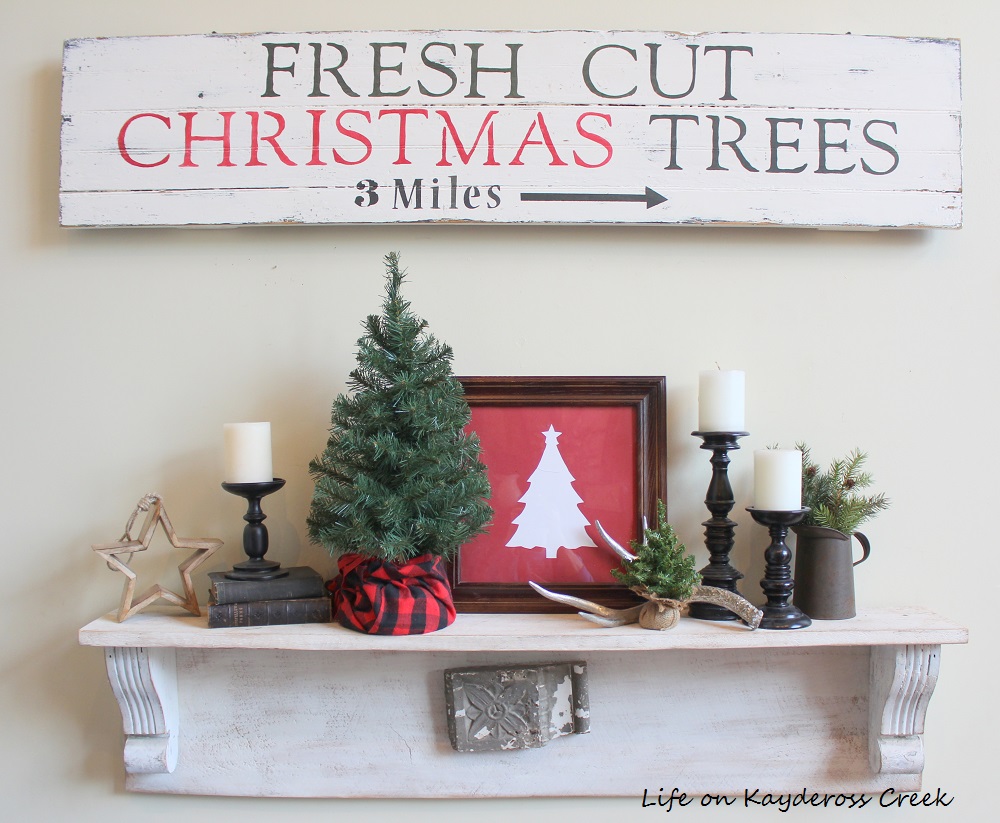 I made the Christmas tree sign last year from an old door. I used basic stencils and craft paint, nothing fancy. The plaid fabric around the mini tree is a gift bag from the Target Dollar Spot.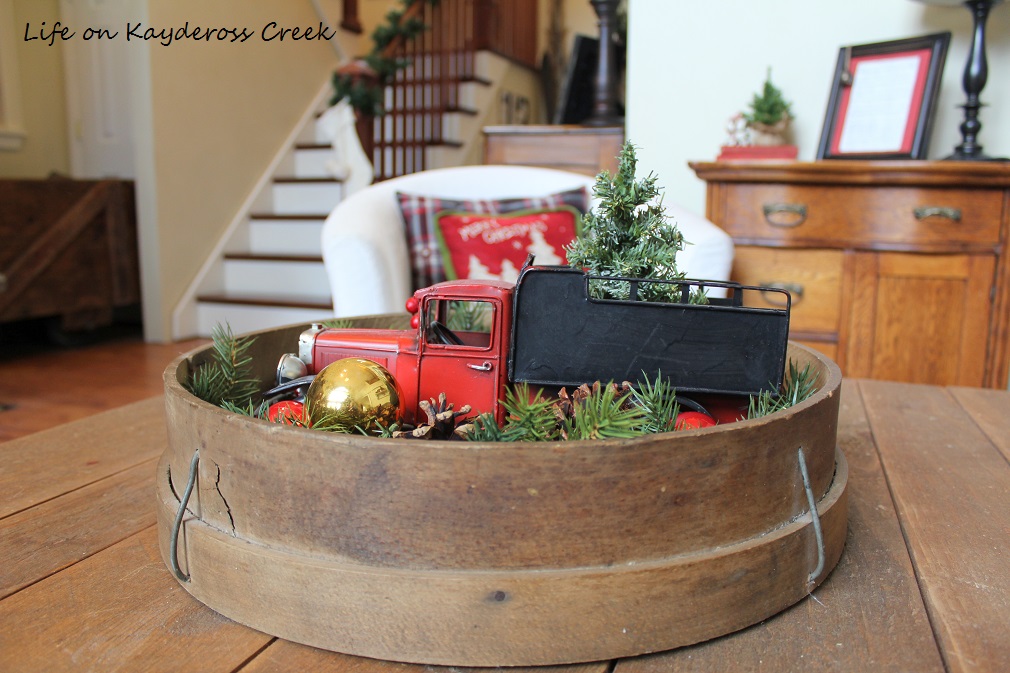 This sifter is from another Brimfield trip and the truck I picked up at HomeGoods a few years ago for my sons room. I borrow it for Christmas each year. 🙂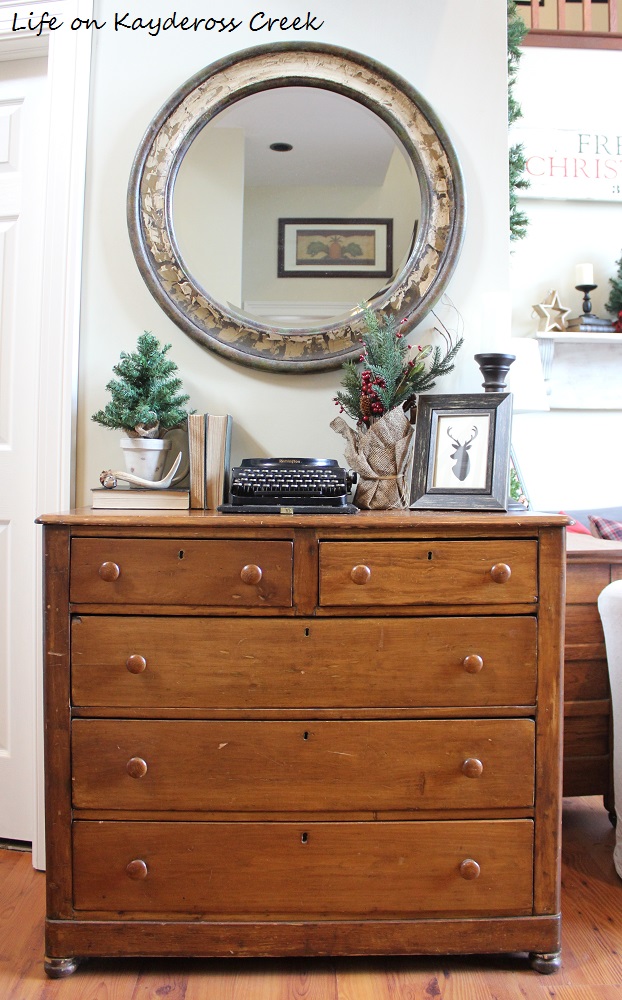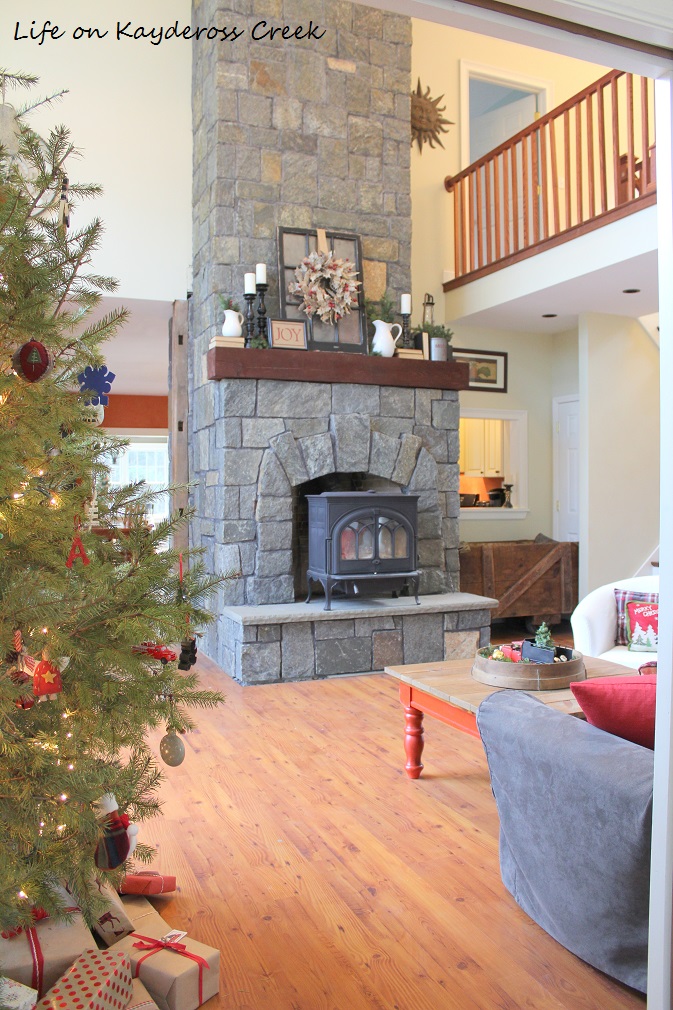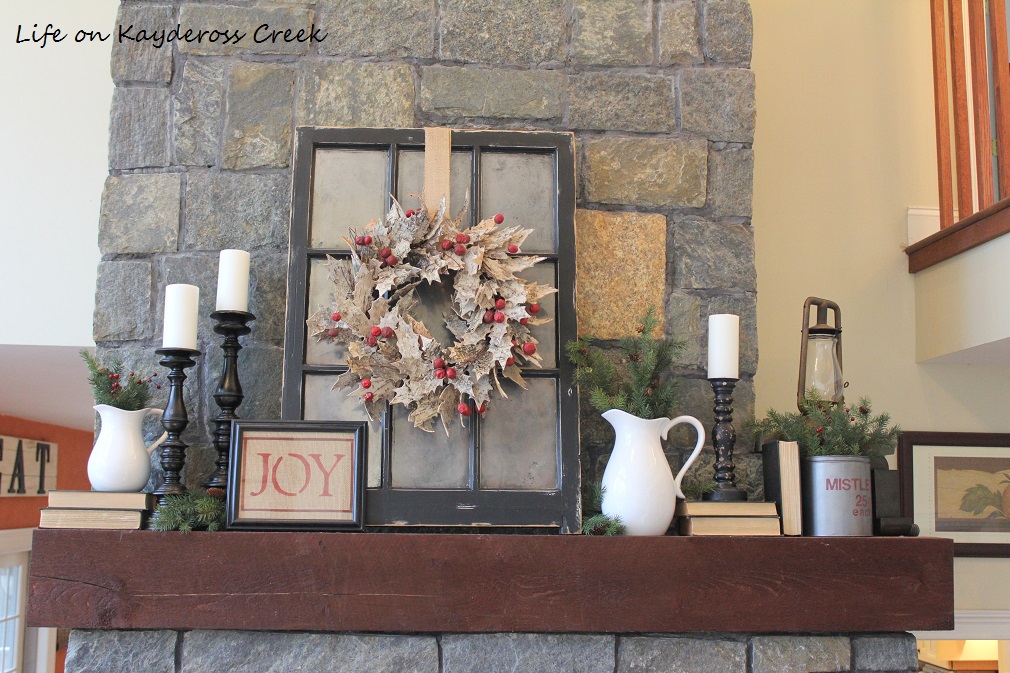 The mantel is always a layering process for me. I start with a main focal piece like the window.  (from my Christmas tour 2015) I purchased it at a garage sale, painted it black and used mirror effect spray paint (looking glass) on the glass.
Our new (old) wood box this year is an old grain cart. Hubby reinforced it to hold enough wood for a few days. We heat our house with the wood stove 24 hours a day so we can't really hang anything from the mantel.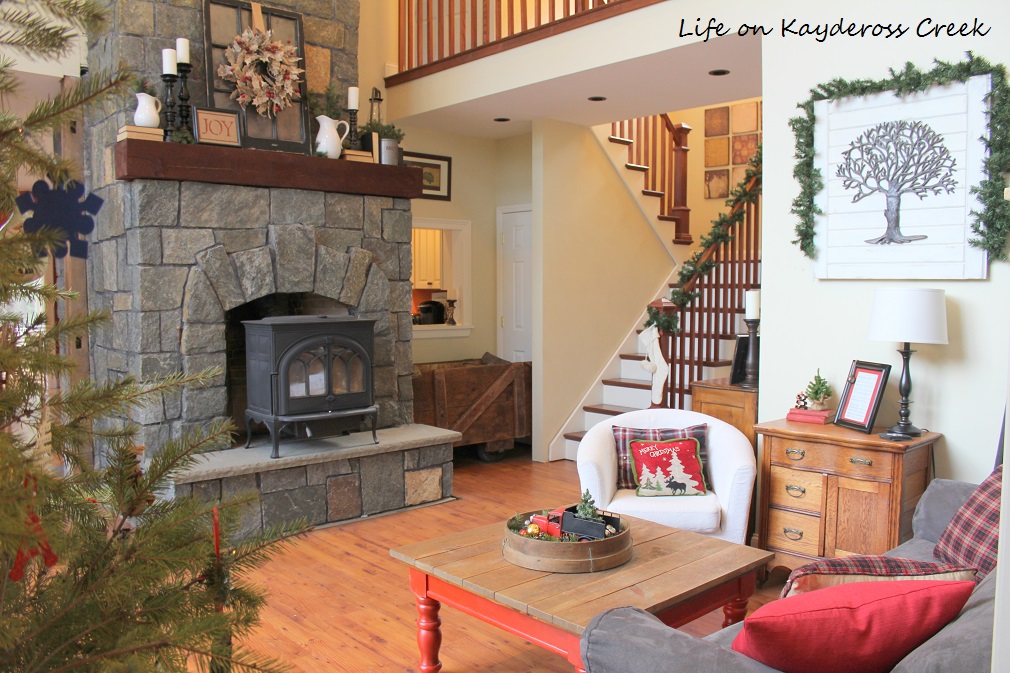 There's no rhyme or reason to decorating our tree. It's truly a family tradition where we open all of the boxes of ornaments and just start placing. No rules, all types of ornaments. Many of the ornaments are things we made or have collected over the years on vacations. There's even one my husband made with his cute little picture in it from when he was 6. 🙂
I picked up the wrapping paper at Michaels. I love the brown paper mixed with the red and the deer print mixed with the polka dots.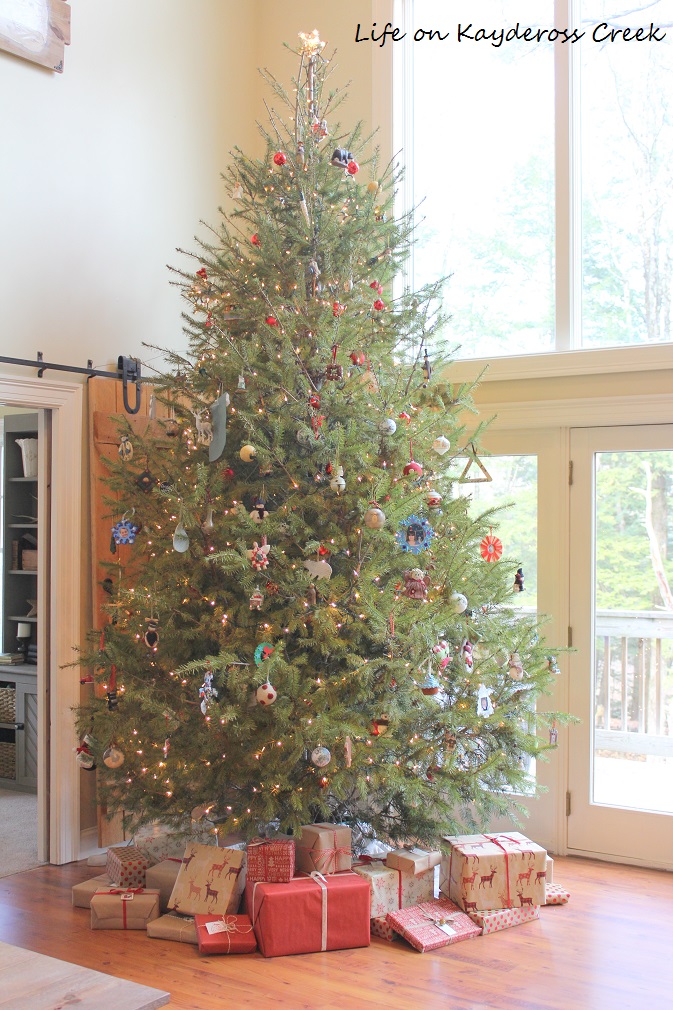 These cute cookie cutter ornaments were one of the DIY's I shared a couple of weeks ago in 3 Easy DIY Christmas decor projects.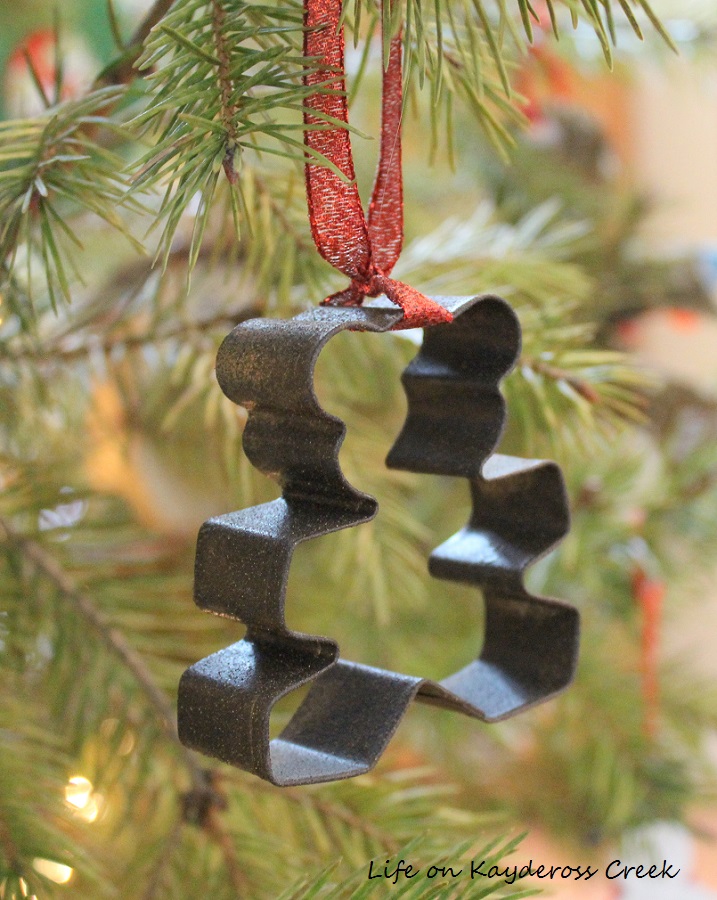 I love the "rusty" patina.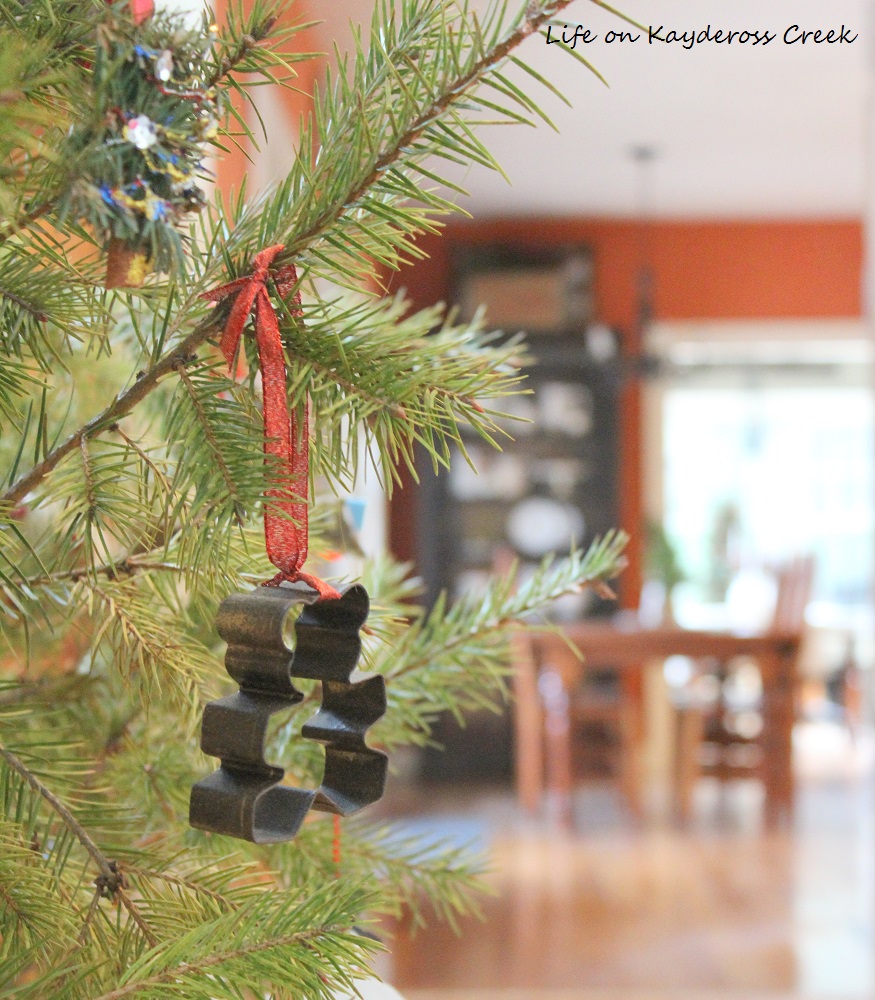 This is the view from the dining room into the kitchen and great room. You can see the black hutch makeover here. I'll share the kitchen, dining room and mudroom in a few days. 🙂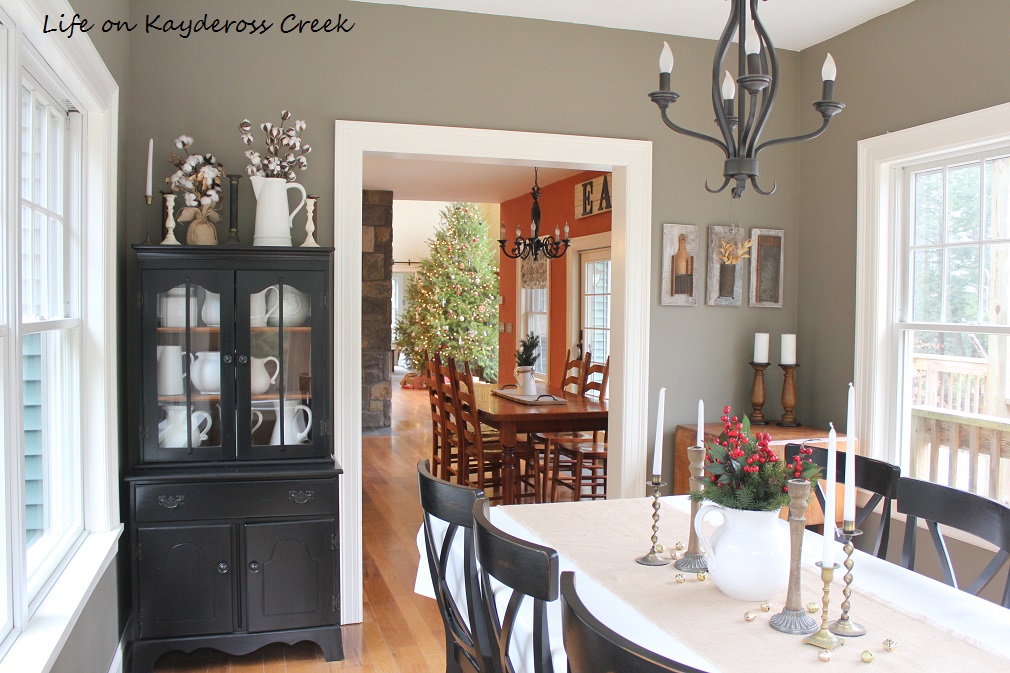 I added some black and red to the entry with the skis and skates and books are always a decor go to for me.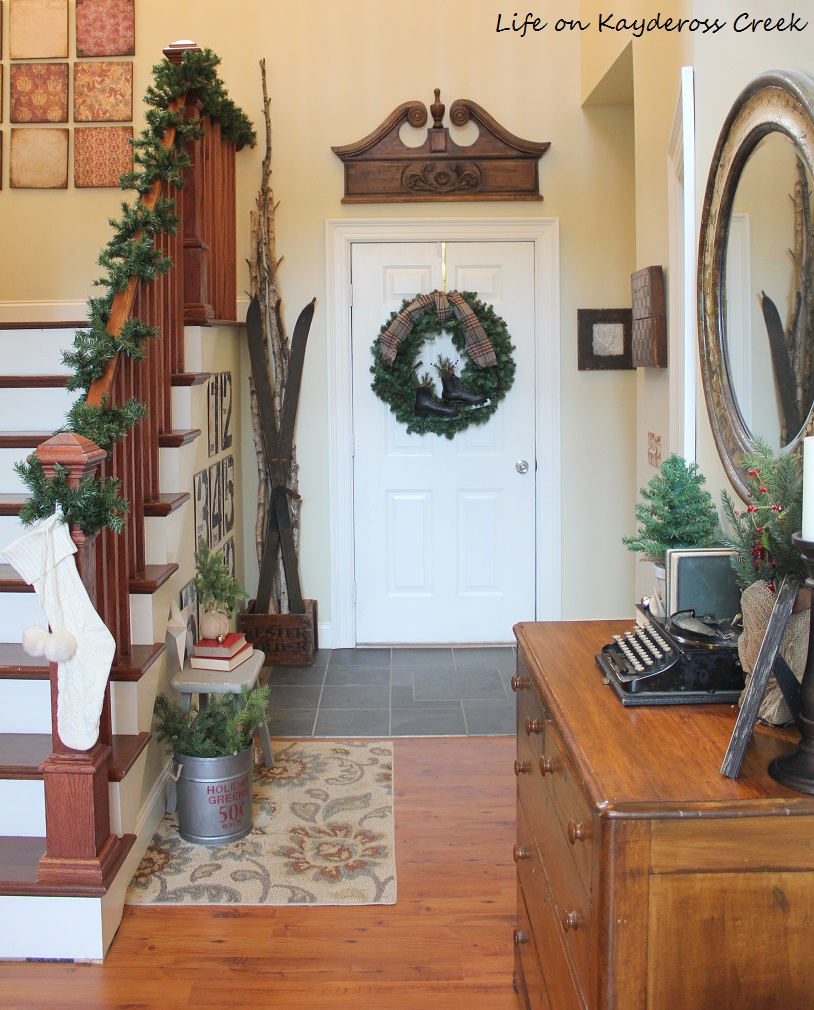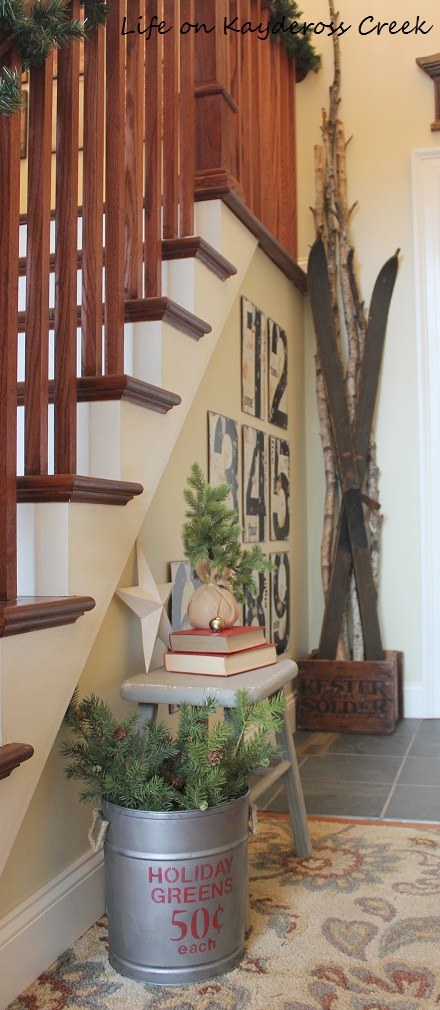 I made this wreath from a basic green wreath I picked up on sale at Hobby Lobby. I found the scarf, which I cut lengthwise in half to use as the "ribbon", and the skates at a thrift store for $4. I wired the skates on with floral wire and tucked some greenery and berries in.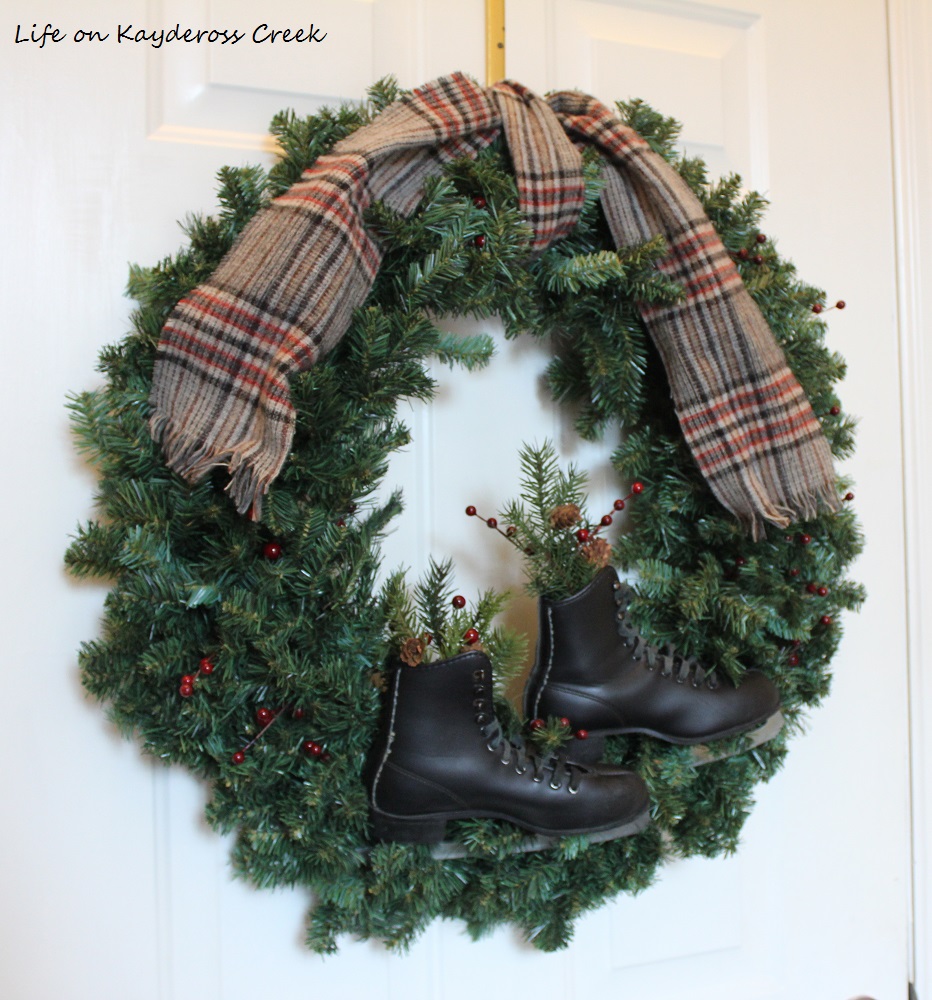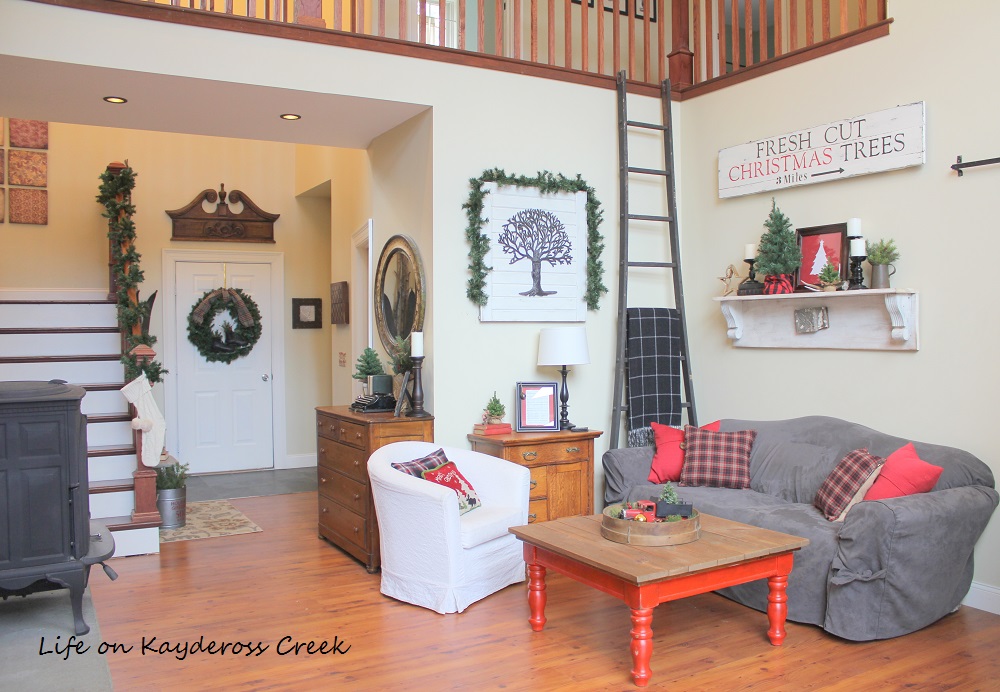 I love looking at Pinterest and other blogs at neutral Christmas decor and find it so pretty and calm. For me, though, I just love the pops of red, especially with the black accents.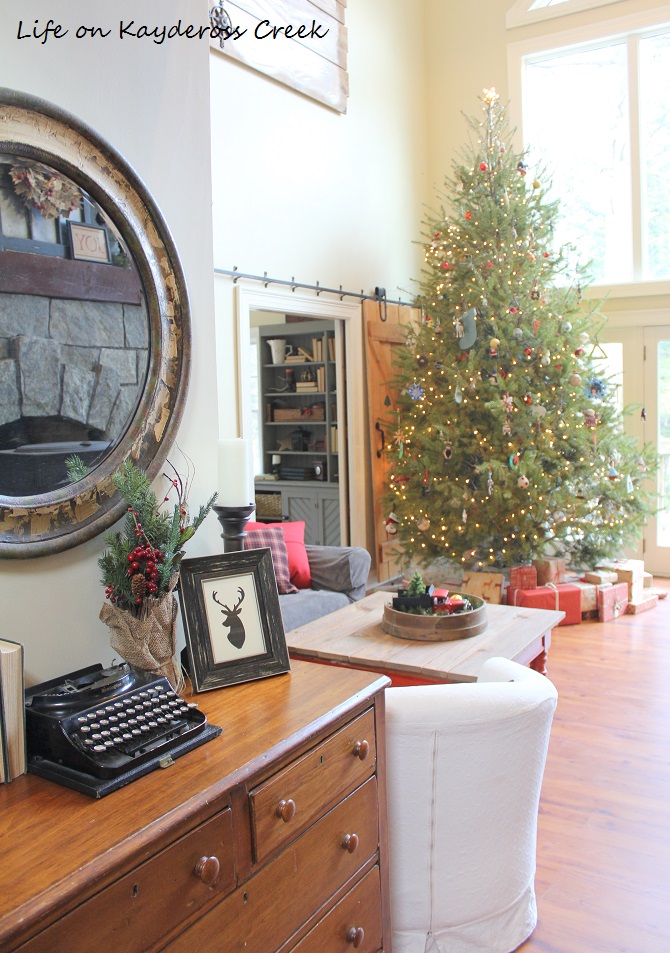 Thanks so much for stopping by today! I hope you enjoyed part one of our Classic Christmas Home Tour. Next time I'll share the kitchen, dining room and mudroom all decked out. I hope you'll check it out.
Happy DIY'ing!
Col