Hey everyone! Welcome to our Spring Home Tour! This winter has seemed like the longest winter evvvverrr up in here in the Northeast so it can be hard to find inspiration when you look out the window and still see snow at the end of March. I figured if I can't see it outside right now, I'll surround myself with it on the inside!  Come on in….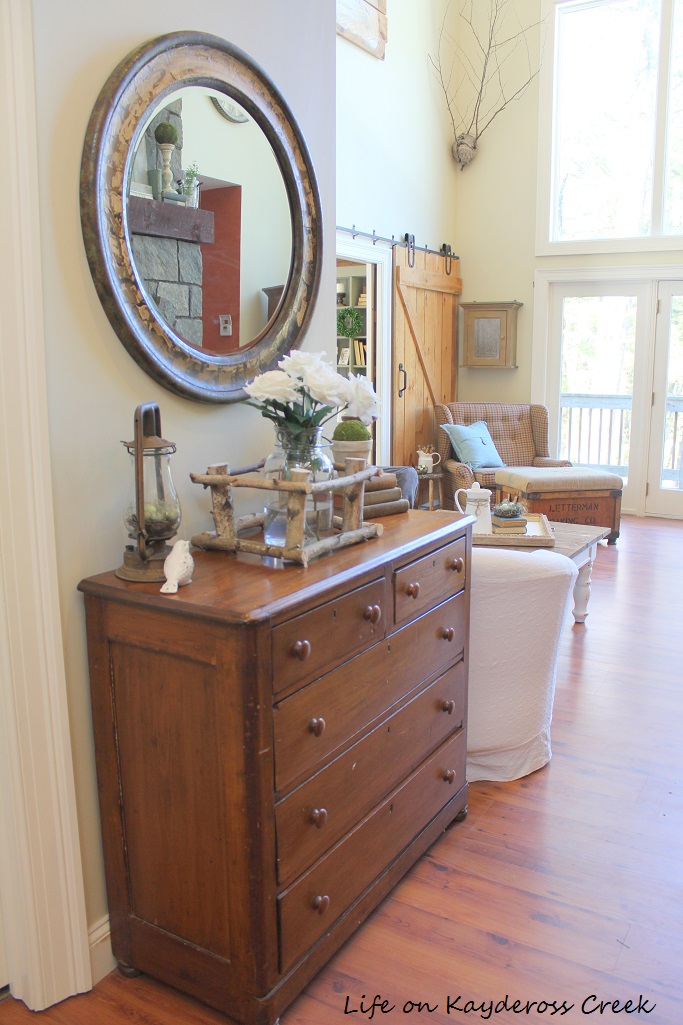 I started by adding some robin's egg blue here and there with pillows and then added a few other touches of spring like nests with eggs and, of course, flowers. I tried to keep it subtle and laid back.
This is the view when you enter our front door. I picked up this old dresser at the Salvation Army for $35. I'm still debating on whether or not to paint it. Would you?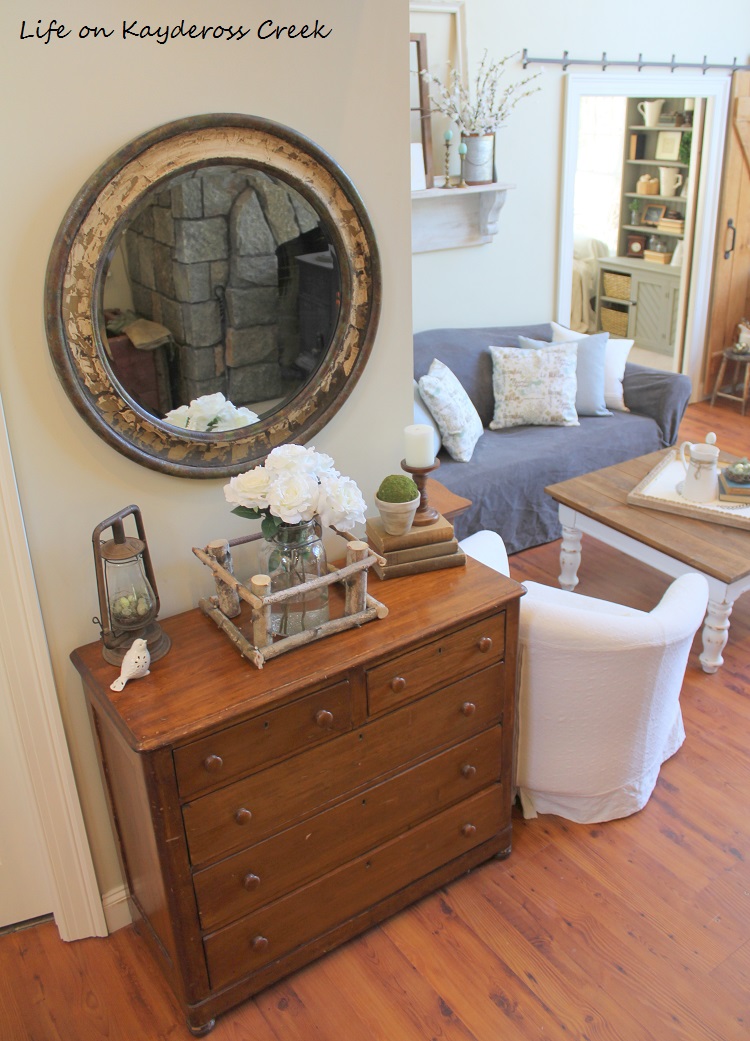 This "Adirondack crate" was a project we did last spring which you can see HERE.  I love the way it frames the giant mason jar and adds texture and a rustic feel.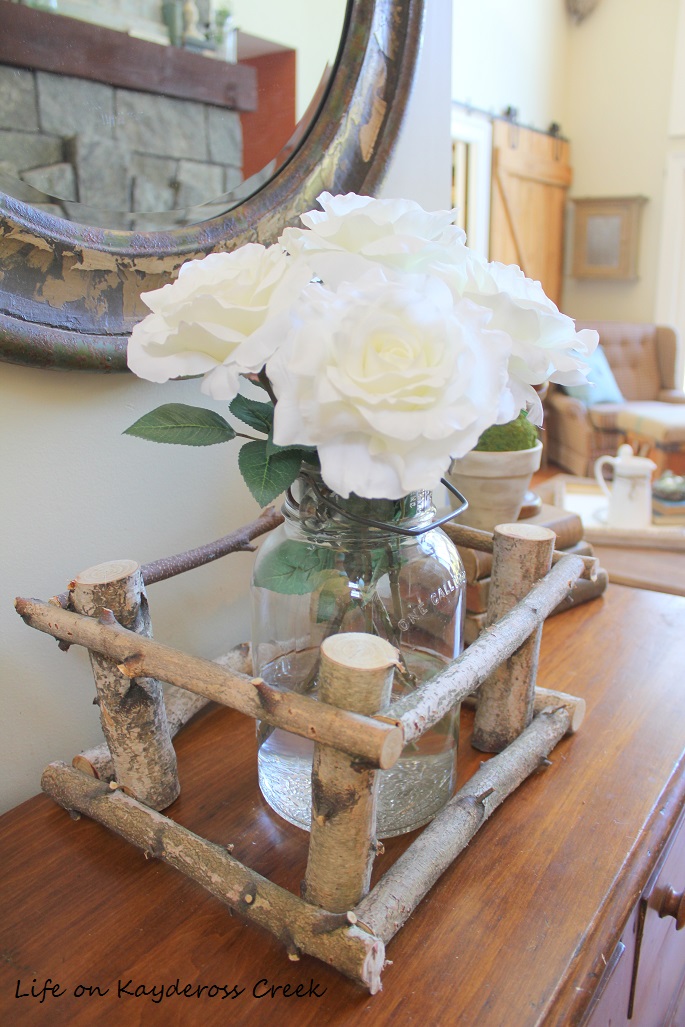 This is our family room where we play games at the table and hang out.  For those of you that have been here awhile, you'll notice that I painted the coffee table white. I have to be honest, I really miss the orange.  What do you think? You can see the table makeover HERE.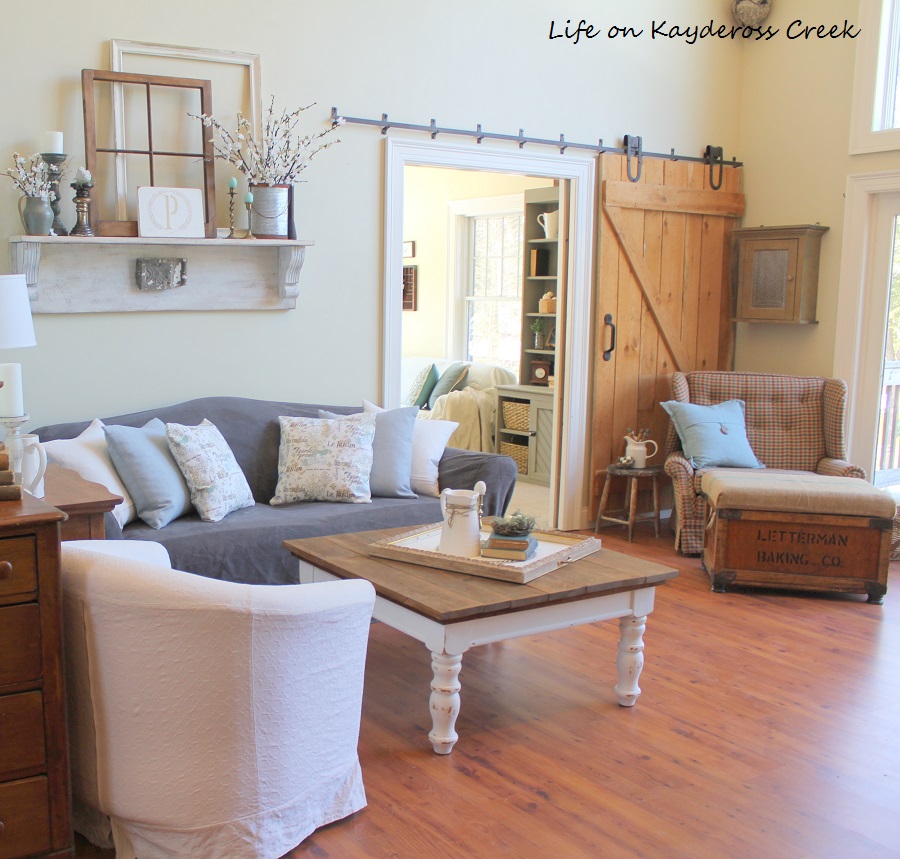 I talk a little bit about living in our "season of life" and ours now is with a 11 year old and an 8 year old who still likes to jump on the furniture.  Therefore, we hang on to the old furniture for a bit longer.  Sigh, maybe next year.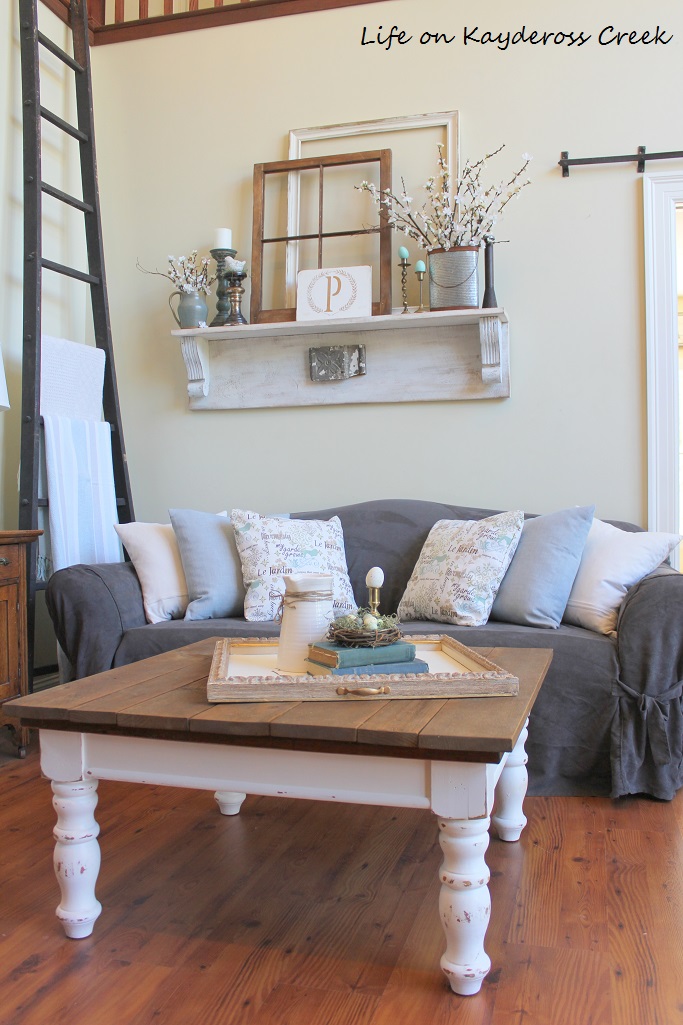 I picked up this great little corrugated metal container locally at a  cute little shop. I love the mixed metals and color it adds. You can find similar ones HERE.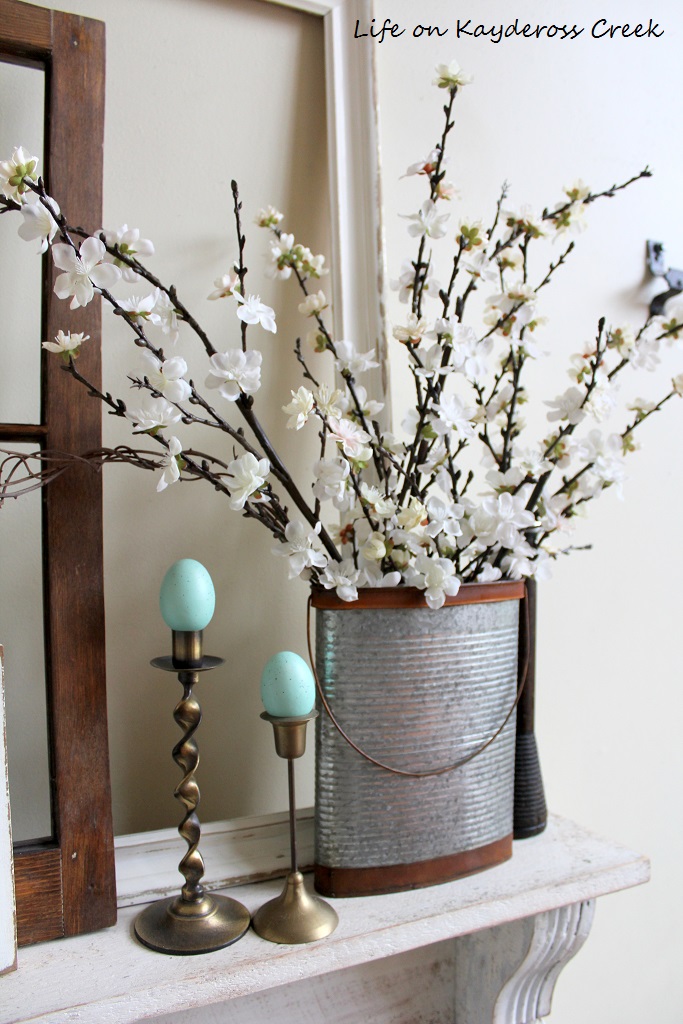 These flowering branches are from Michaels, the chunky candlestick holders are from Hobby Lobby and I picked up the gold ones from a thrift store.  I made the "P" sign out of leftover MDF we had from the laundry room project.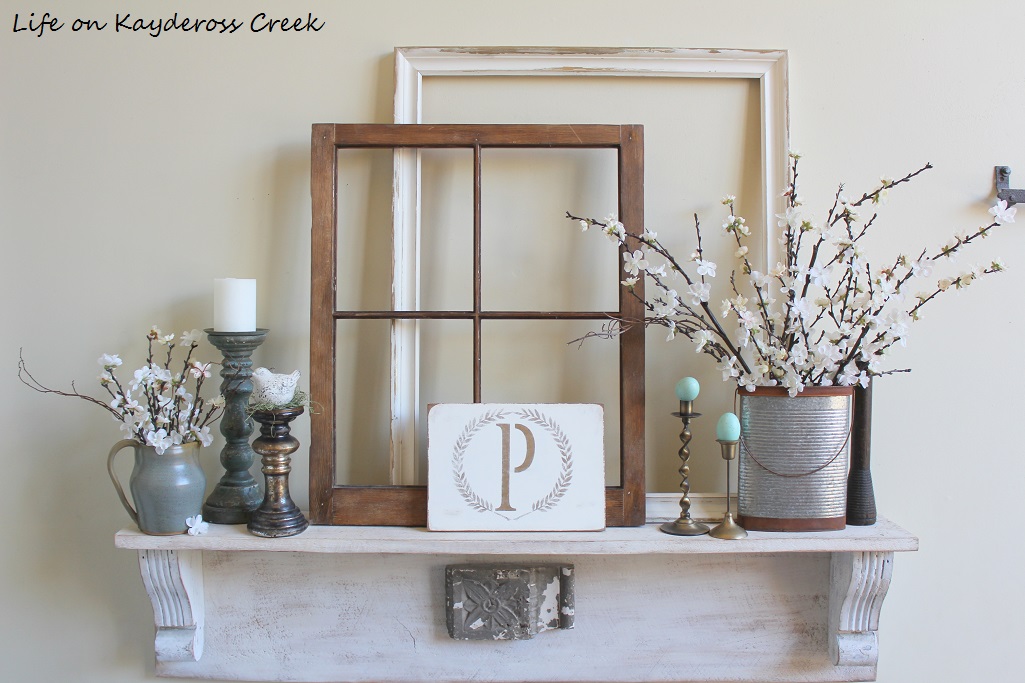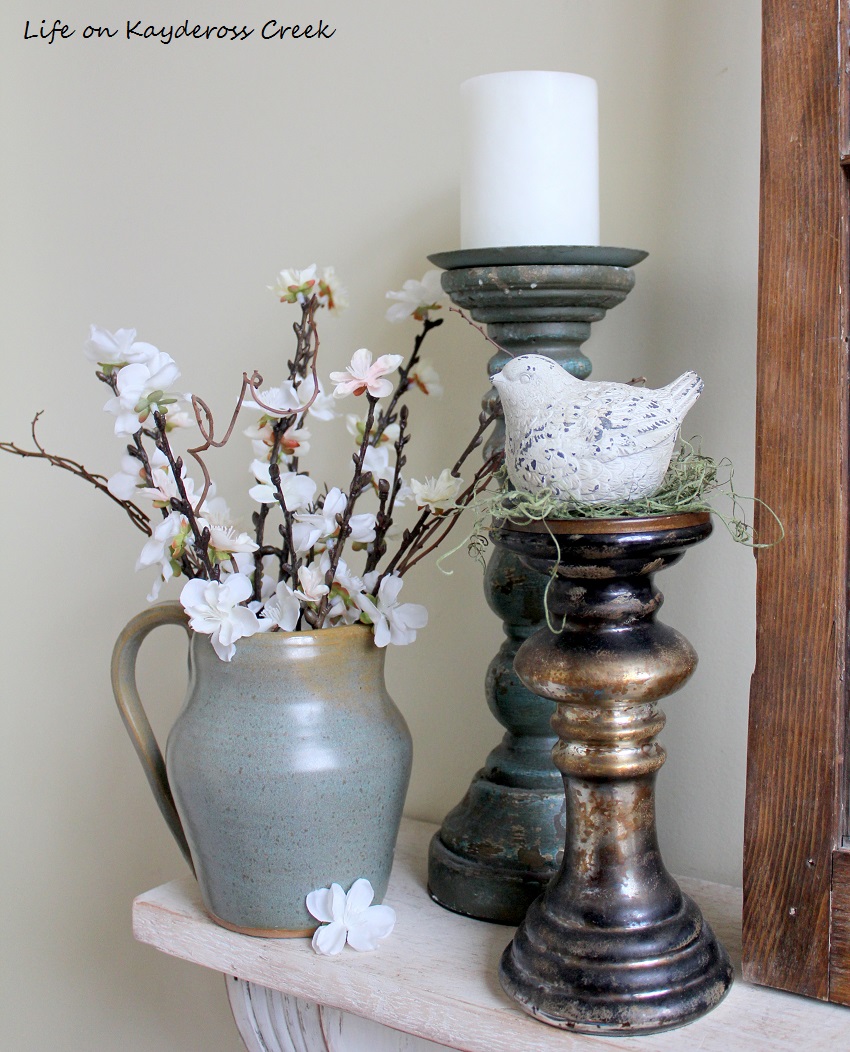 I used the same leaf stencil on the "P" sign as I did on this tray, which is made out of an old frame. It was one of my favorite projects and you can see how we did it HERE.  I couldn't find pillows that had a print I liked so I made these. I found the cute little bird fabric at Jo-Ann Fabric. The solid pillows are from Marshall's.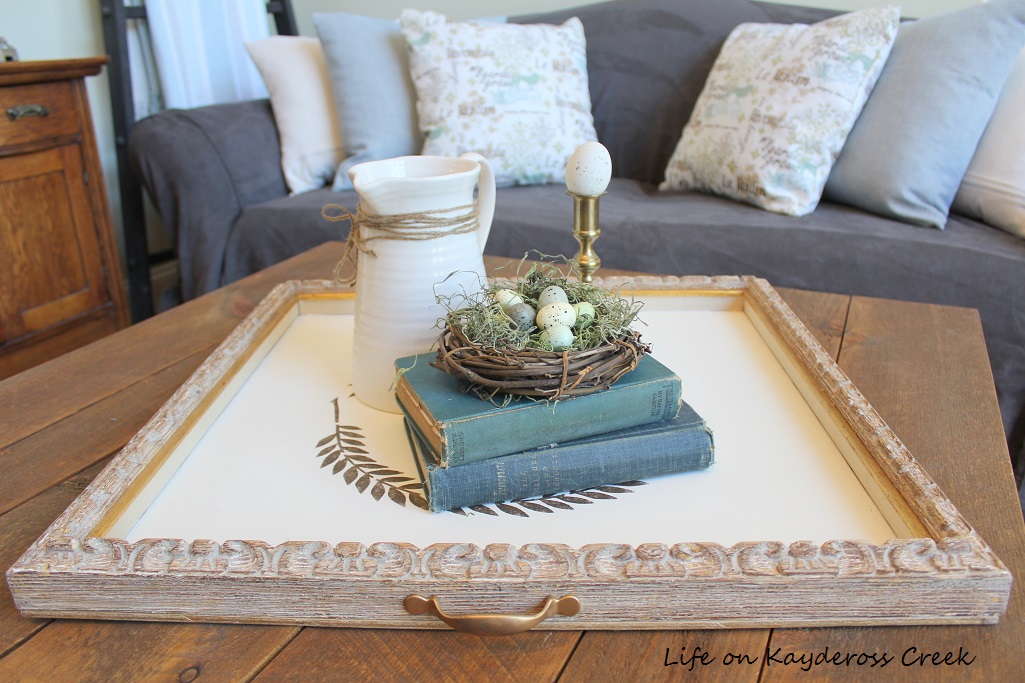 I love this corner. My husband made the barn door and we made the ottoman from an old crate. You can see that HERE.  I just recently re-covered it in a old burlap sack I picked up at a thrift store for $1 just in time for the Spring home tour.
Again, that's not my favorite fabric on the chair but that chair used to belong to my in-laws and hubby and I used to sit together in it back in High School. I don't know what's scarier, that it was that long ago or that we both could fit in it at the same time back then. 🙂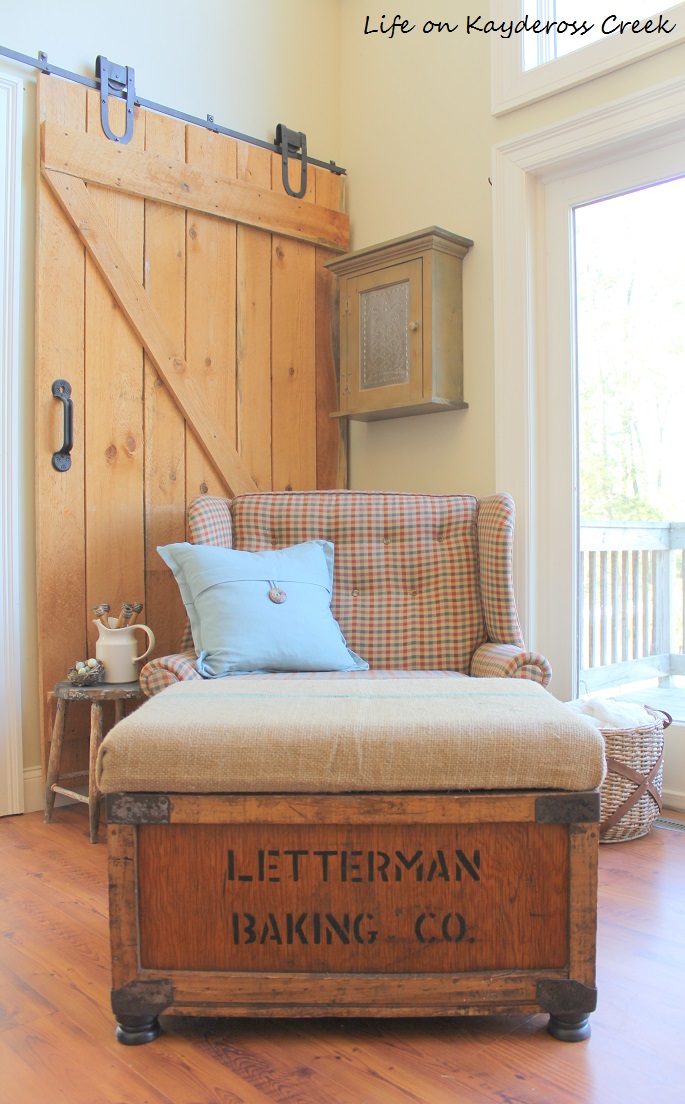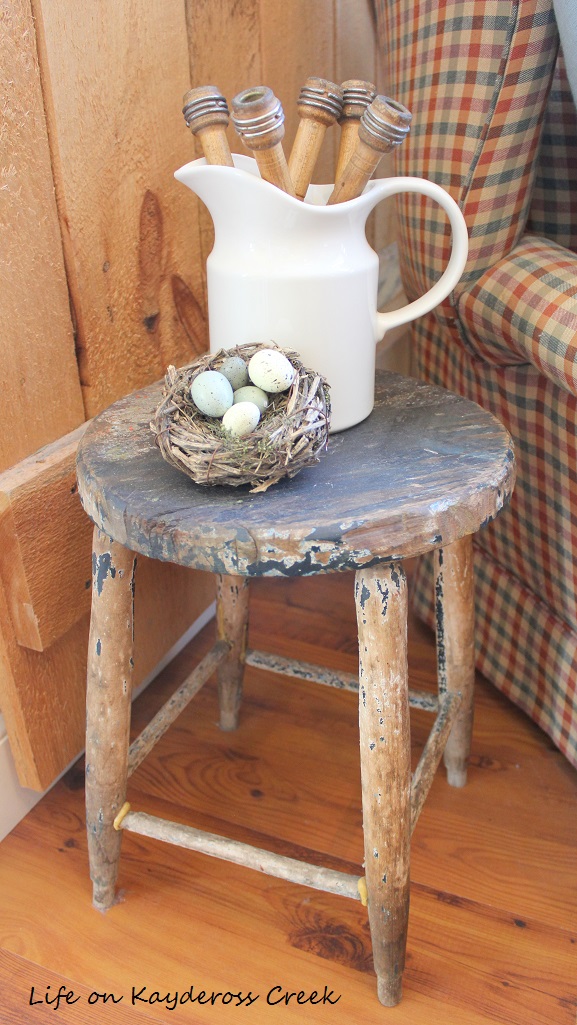 This room has just started to come together. I picked up the pillows at Pier One and the lamp is from Target. The screen shelf was a recent project and you can see that HERE. I haven't shared the Farmhouse sign project yet but stay tuned.   I got the coffee table at the Salvation Army for, wait for it, $40. Yes, $40.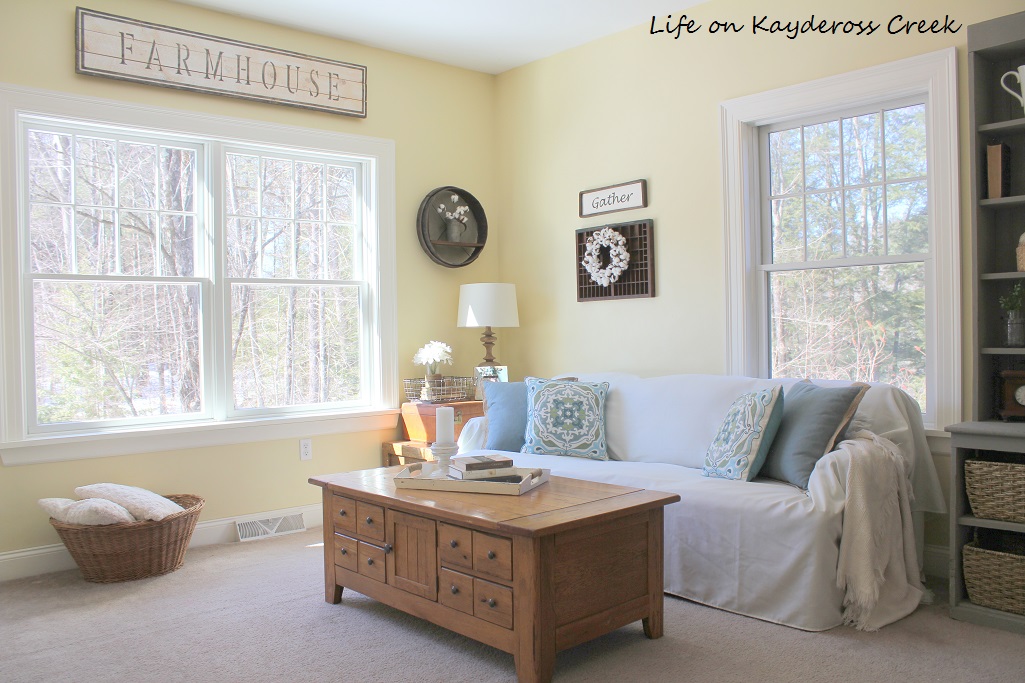 This painted antique hutch is one of my favorite pieces. You can see it's transformation HERE.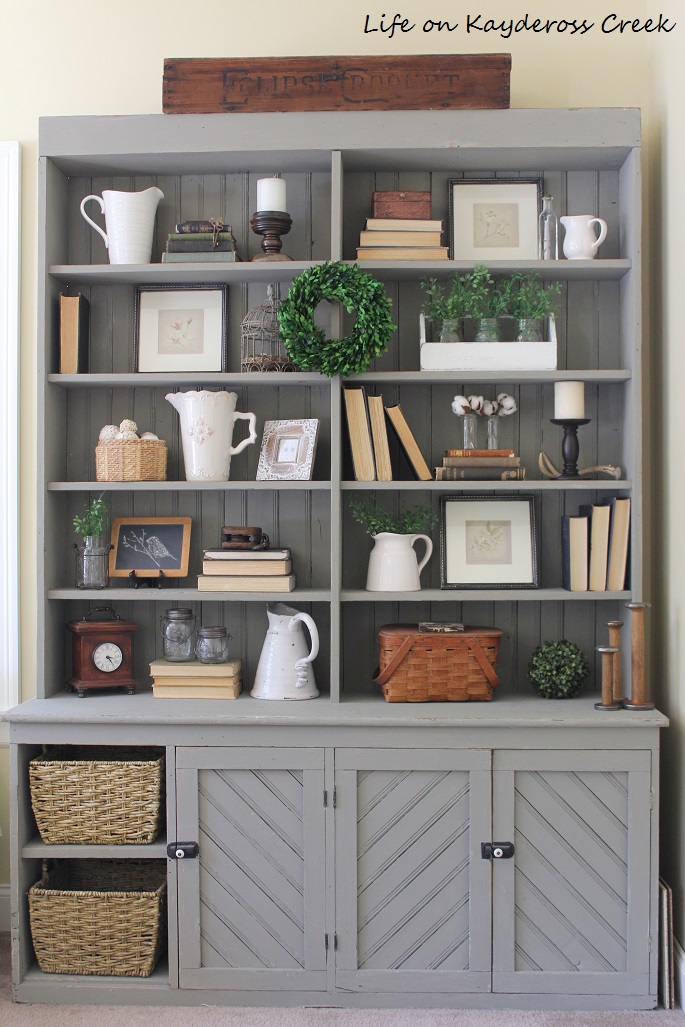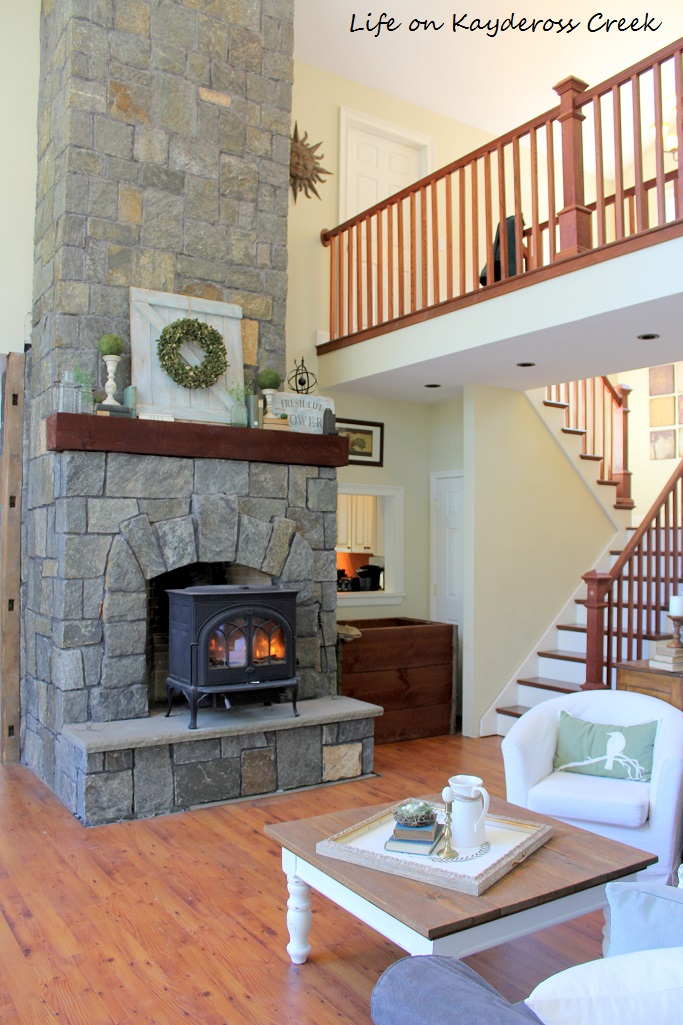 We made this mini barn door recently and you can see that project HERE. I love the light blue against the stone on the fireplace and the pops of green.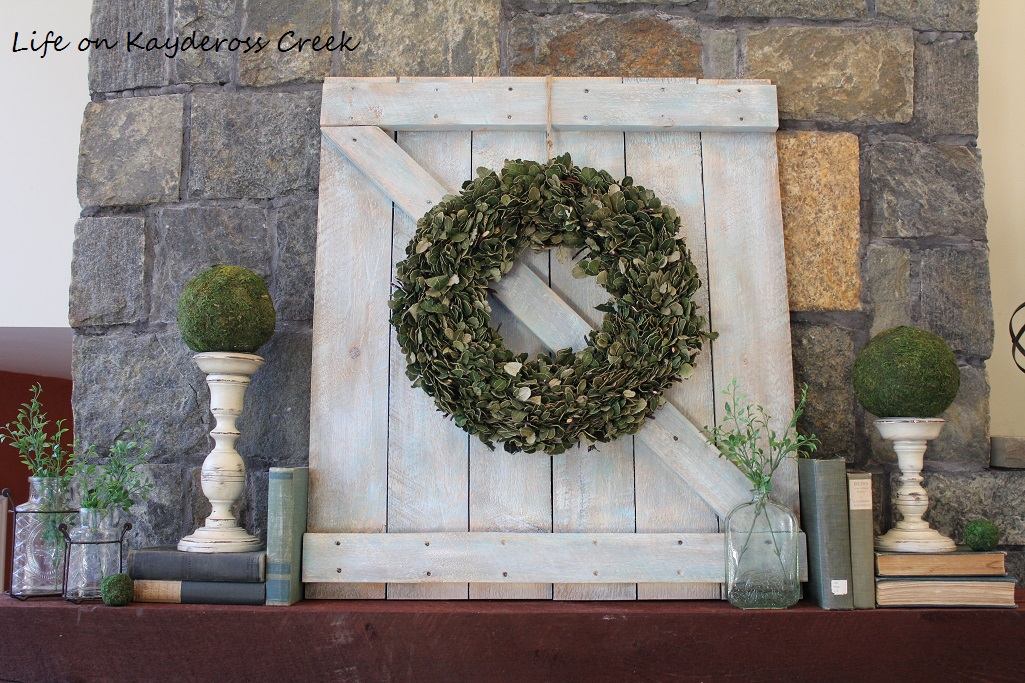 This is our foyer which I updated last spring and you can see that HERE.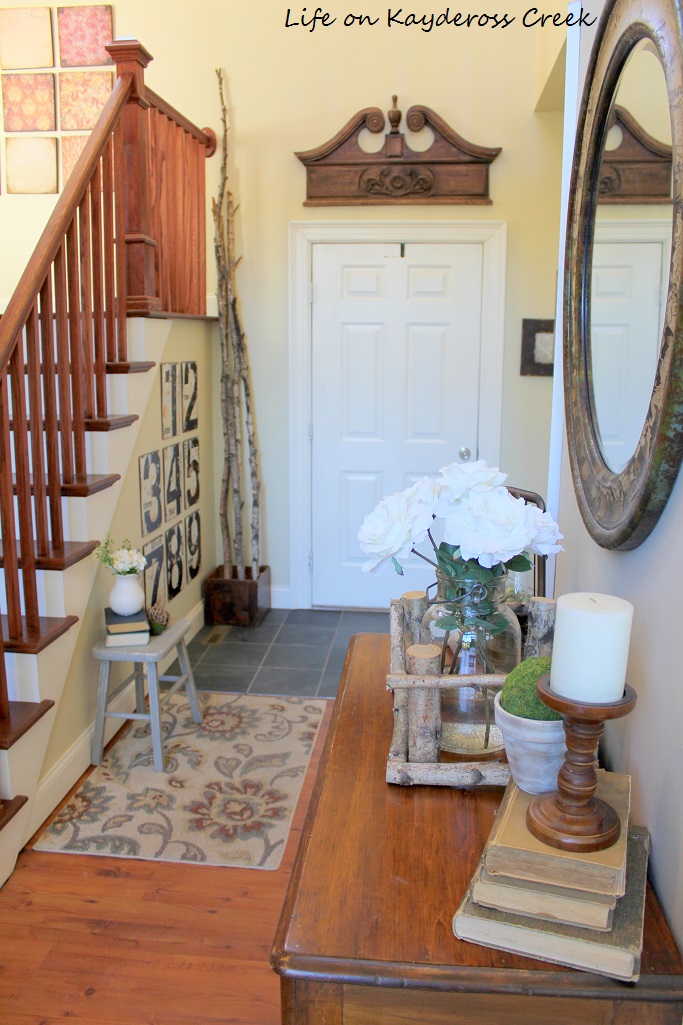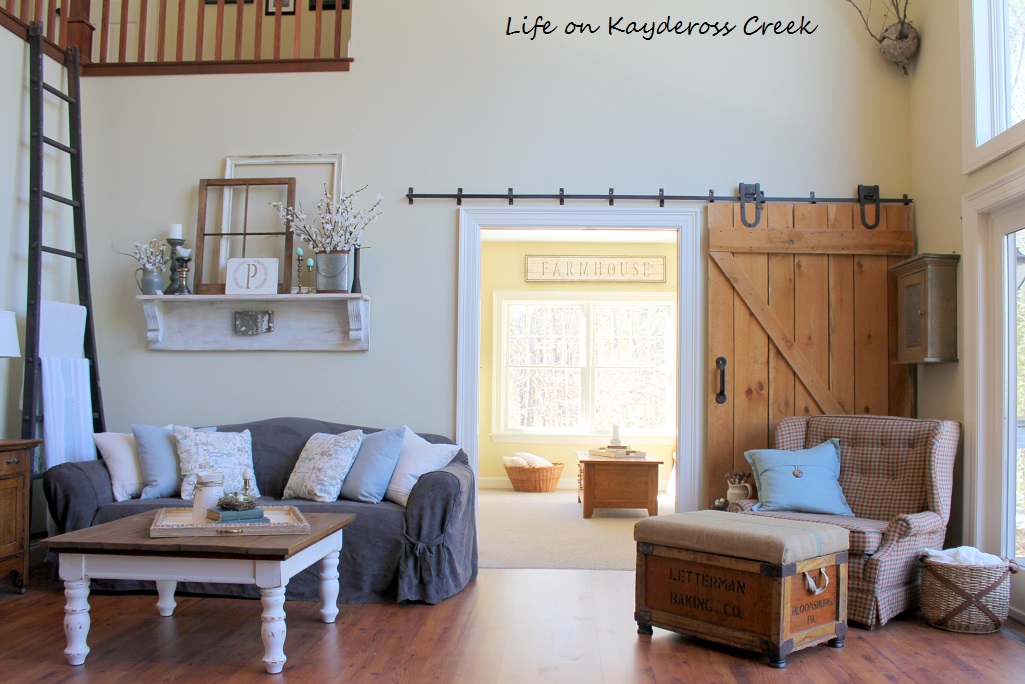 Here's a peak at the kitchen and dining room…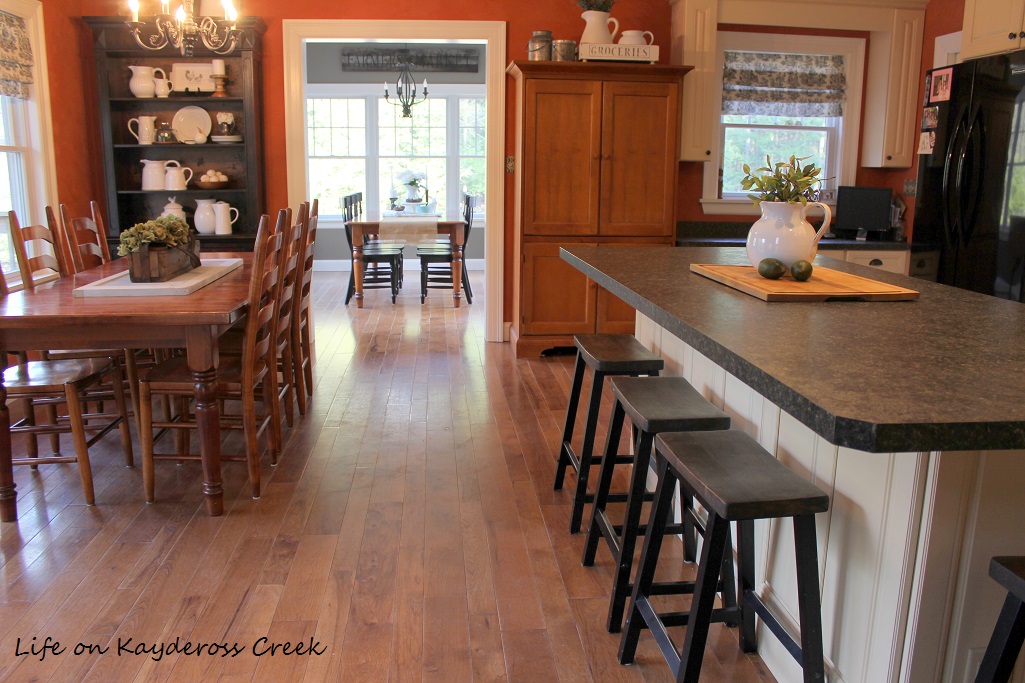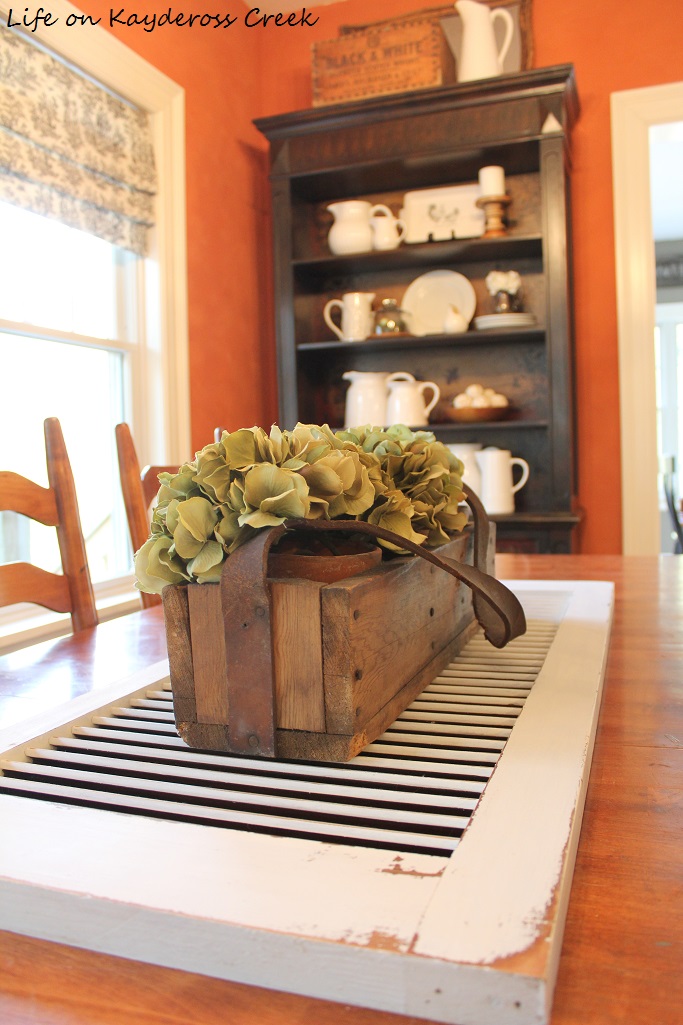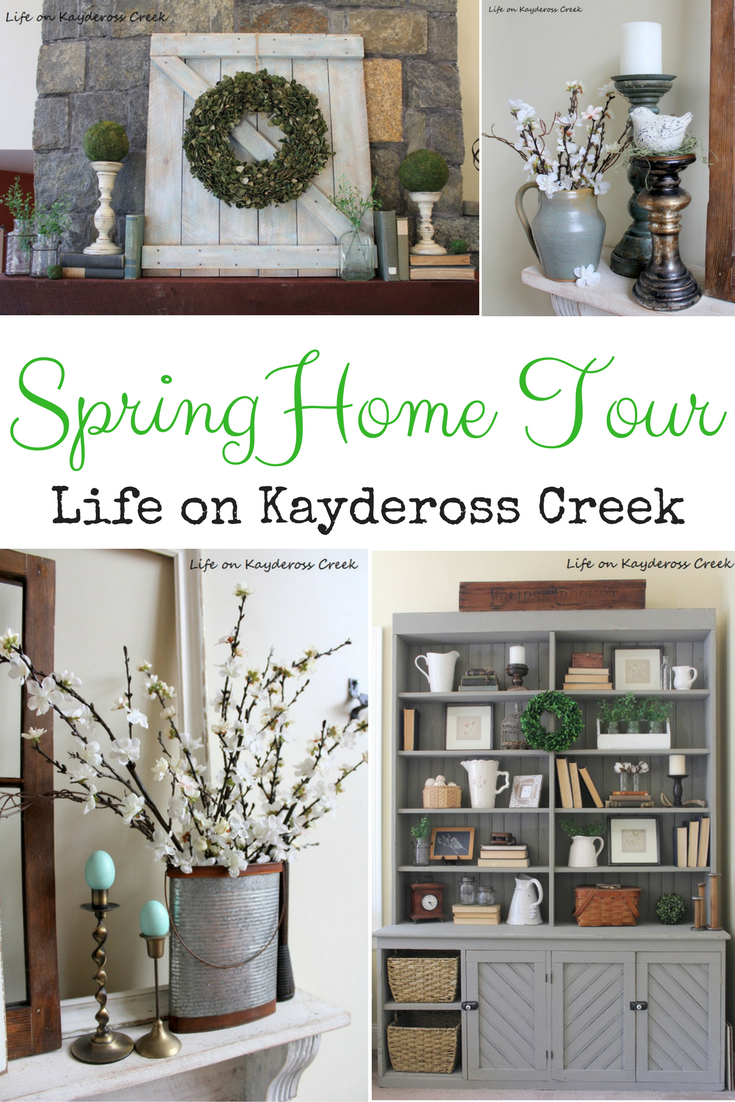 Thanks so much for stopping by today for our Spring Home Tour. Have you decorated for spring yet?  Do you have some DIY projects to get you started?
Happy DIY'ing!
Col