I'm back today with my favorite kind of project – thrift store finds transformed and this one is all about desk organization! I've paired up with a group of talented ladies to bring you a monthly Thrift Store Decor Upcycle Challenge. Each month we will create a new home decor piece from an item(s) we've found at a thrift store, yard sale, resale shop etc. There is no budget or specific theme so we are free to let our creativity run wild!
Amanda | The Kolb Corner     Chelc | Inside the Fox Den     Erlene | My Pinterventures
Kim | Made in a Day     Sara | Twelve on Main     Debra | Shoppe No. 5
Shirley | Intelligent Domestications     Marie | DIY Adulation     Lindsay | Crazy Organized
Michelle | Our Crafty Mom     Julie | Live From Julie's House     Colleen | Life on Kaydeross Creek
Maureen | Red Cottage Chronicles     Pili | Sweet Things     Sherry | Savvy Apron
Ann | Duct Tape and Denim     Dru | Polka Dot Poplars
Megan | C'mon Get Crafty     Jennifer | Hydrangea Hippo
You can also follow our board on Pinterest for more upcycled decor inspiration!
---
I have been thinking about updating my daughter's room a bit and part of that is trying to do something fun with her desk to help organize her art supplies. It just so happens that I came across these 2 quirky desk organizers at separate garage sales recently for a grand total of just $3.  Right idea, wrong decor style.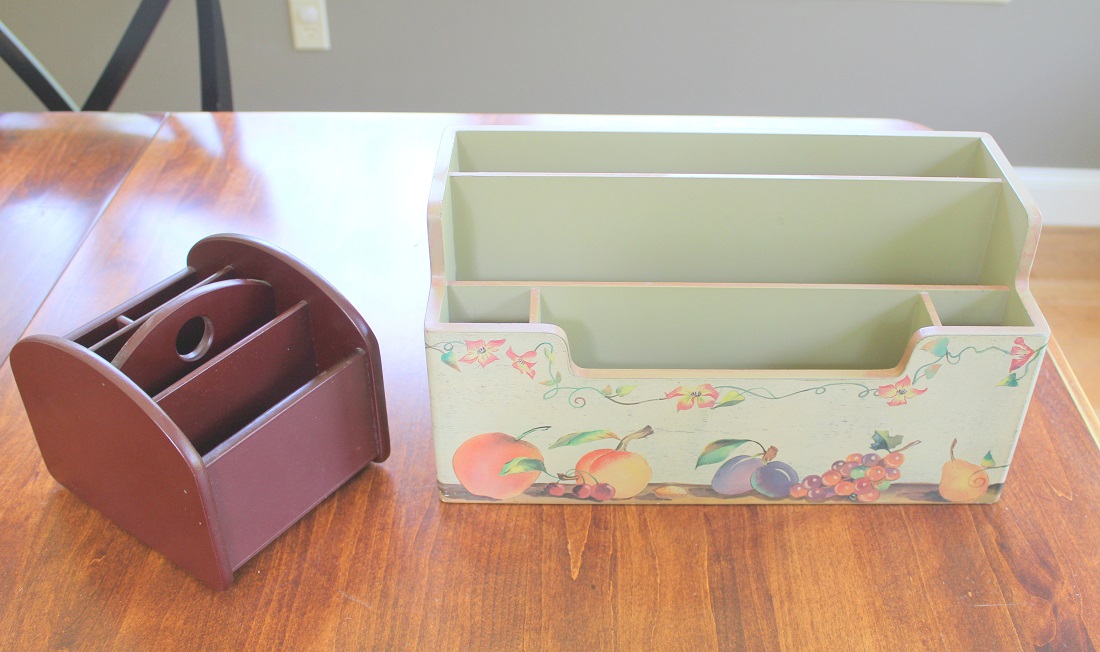 So the trick was to make them into something my daughter would like and that looked cute in the space. First order of business was to give them a good coat of paint. I planned on distressing them so I used brown satin spray paint first so that when I distressed the top coat, the brown would show through.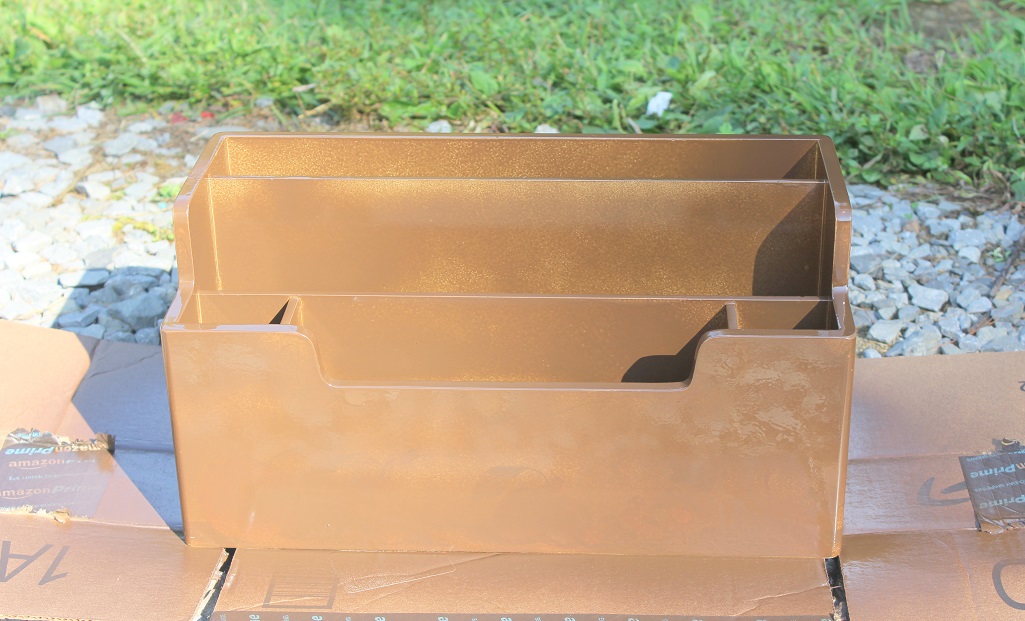 Next I gave them a coat of creamy white chalk paint made with plaster of Paris.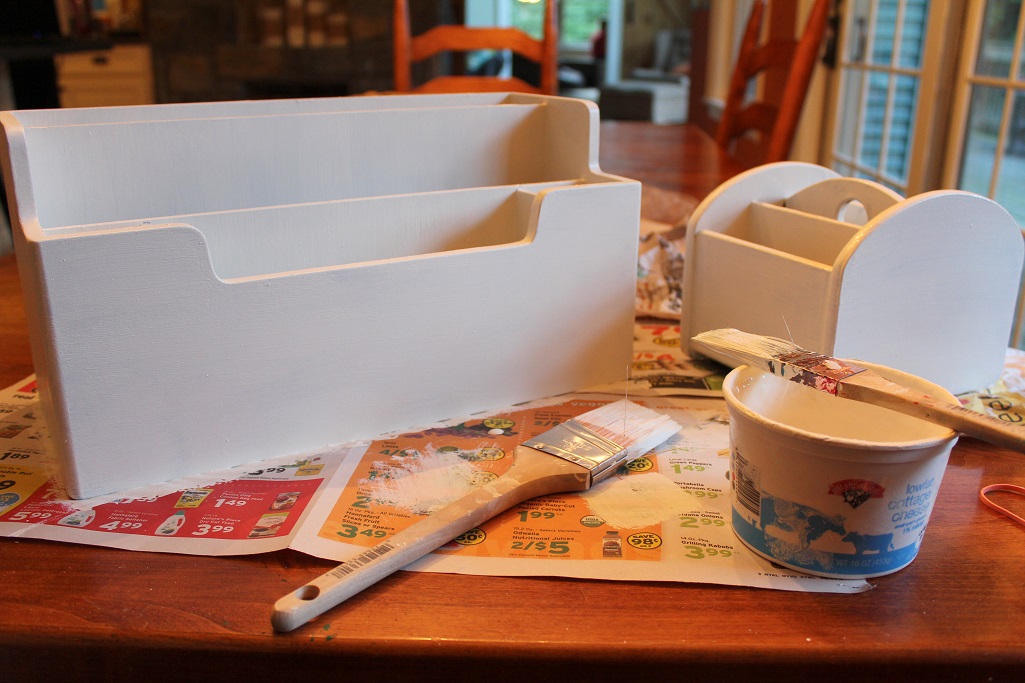 To get the farmhouse look I wanted I sanded down the edges and corners here there. I wanted to add a bit of her personality to each piece so I broke out a stencil I picked up at Michael's. It has all of these cute little sayings on it which were perfect. You can also buy it here.
I used craft paint for the stencils and mixed up a pretty blue to match her room. I randomly spaced the words out over the piece alternating shapes and sizes. With the little one I simply added her first initial. I love the way it came out!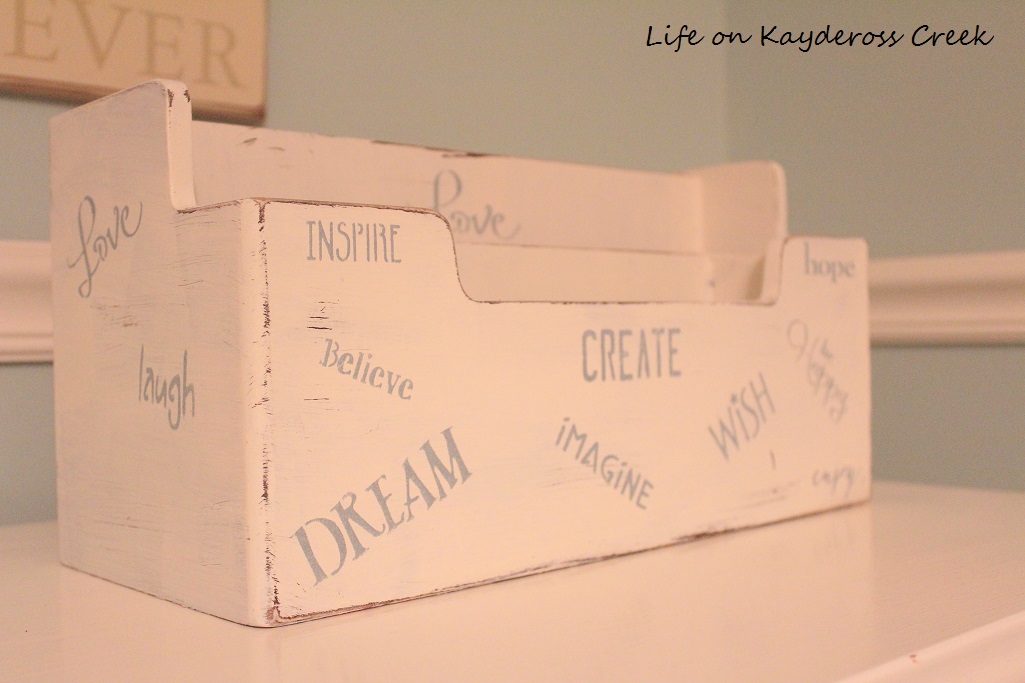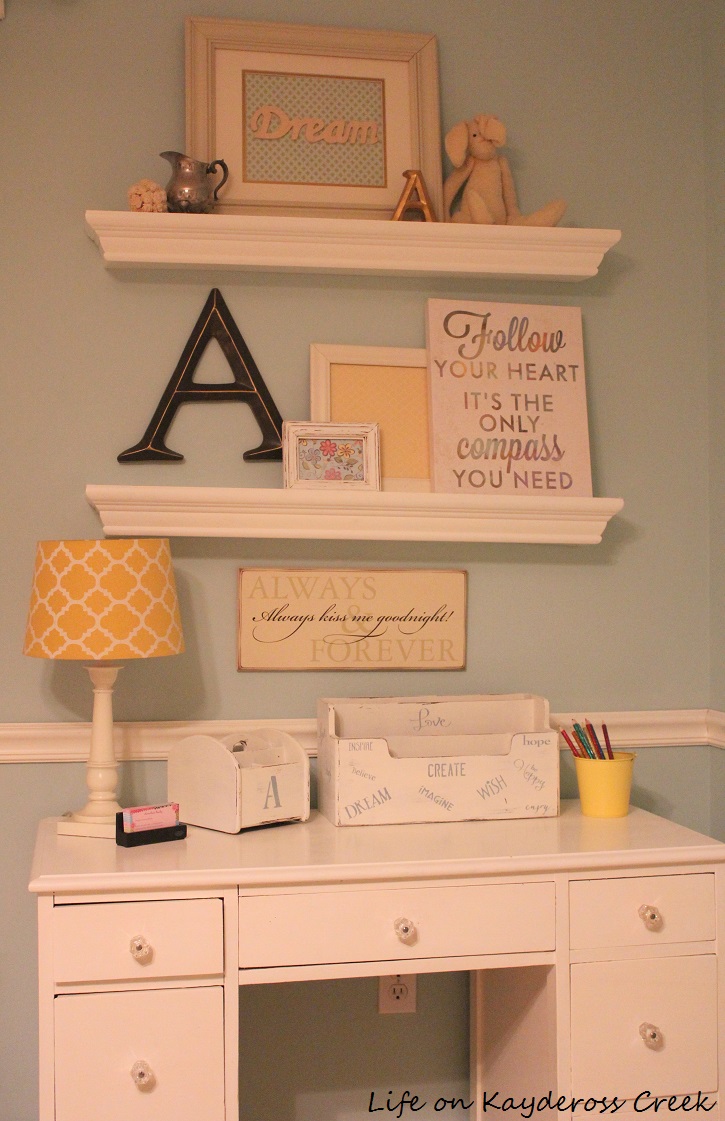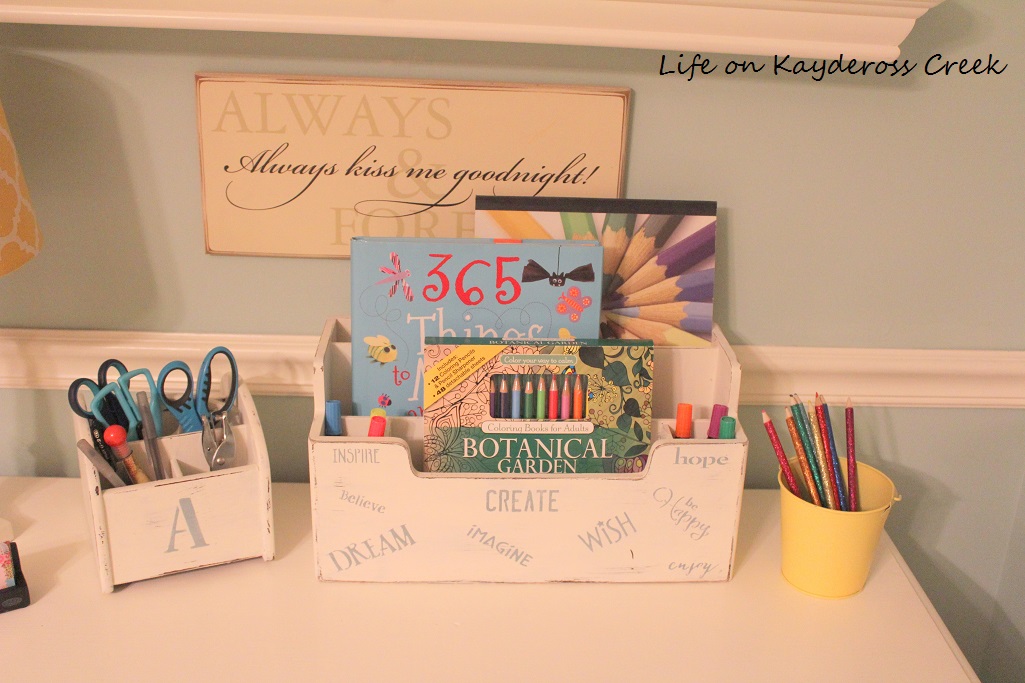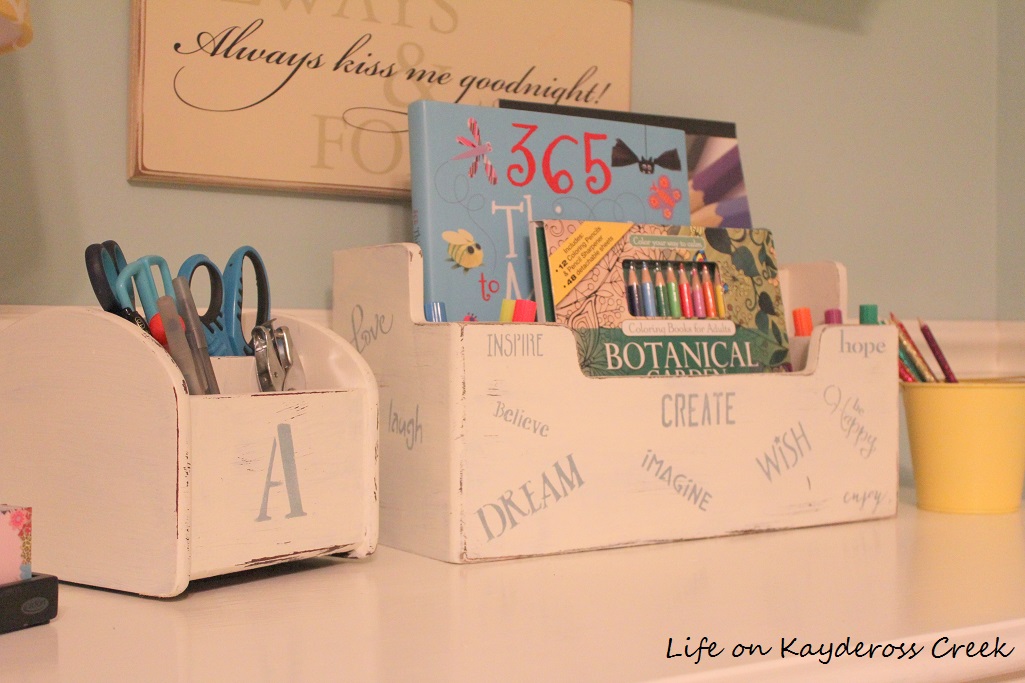 It's amazing how a coat of paint can tie two pieces together and create a quick and inexpensive project that adds some personality to my daughters room. I still need to update the collage and the shelves a bit so stay tuned for a few more projects!
Happy DIY'ing!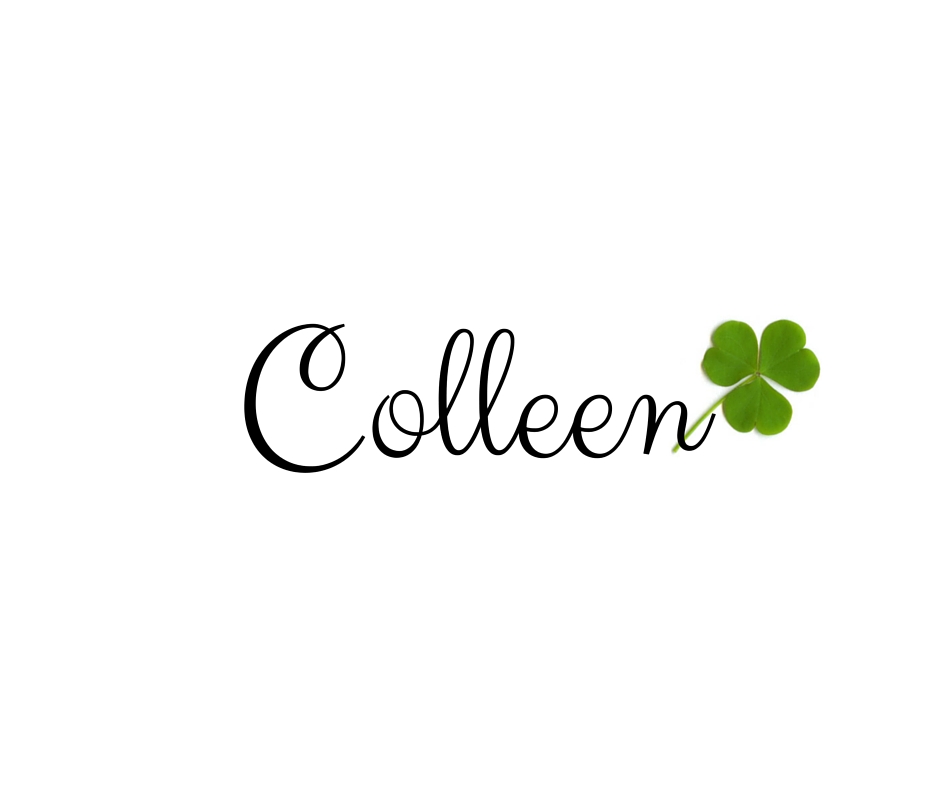 ---
Be sure to check out all of the other creative upcycle projects my fellow bloggers have come up with!