Today I'm sharing a fun thrift store upcycle project. It's a New Year and a new Thrift Store Decor Upcycle Challenge! We took a few months off for the holidays, but we are back to show you more creative ideas! This time we have joined forces with even more bloggers and have tons of thrifty upcycle ideas to get those wheels spinning.
This post contains affiliate links. See my full disclosure policy here. 
The Rules:
Upcycle an item(s) from a thrift store, resale store, or garage sale into a new piece of decor.
There's no monthly theme.
There's no budget to stick to.
Meet the Hosts
Amanda | The Kolb Corner    Maureen | Red Cottage Chronicles    Kim | Made in a Day
Dru | Polka Dot Poplars    Erlene | My Pinterventures    Colleen | Life on Kaydeross Creek    Pili | Sweet Things
Shirley | Intelligent Domestications    Ann | Duct Tape and Denim    Debra | Shoppe No. 5    Marie | DIY Adulation
Chelsea | The Johnsons Plus Dog    Jes | My DIY Envy     Lindsay | Crazy Organized
Molly | Just a Little Creativity    Ashley | 3 Little Greenwoods    Kimm | Reinvented    Michelle | Our Crafty Mom
    Ali | Home Crafts by Ali    Sue | A Purdy Little House   Sara | Twelve on Main
Claire | Pillar Box Blue     Chelc | Inside the Fox Den    Kim | Farmhouse Made       Victoria | Dazzle While Frazzled
Sherry | Savvy Apron    Jennifer and Vicki | 2 Bees in a Pod    Lora | Craftivity Designs    Megan | C'mon Get Crafty
Denise | My Thrifty House    Toni | Small Home Soul    Deborah | Salvage Sister and Mister
Make sure you follow our board on Pinterest for more upcycled decor inspiration!
On to the project!
Whenever I'm out at thrift stores or garage sales I'm always drawn to crates and wooden boxes. They're great for storage and I just love the warmth and character they add to a space. I came across this little gem one day for $5 and, although I had no idea what I would do with it, I scooped it up anyway.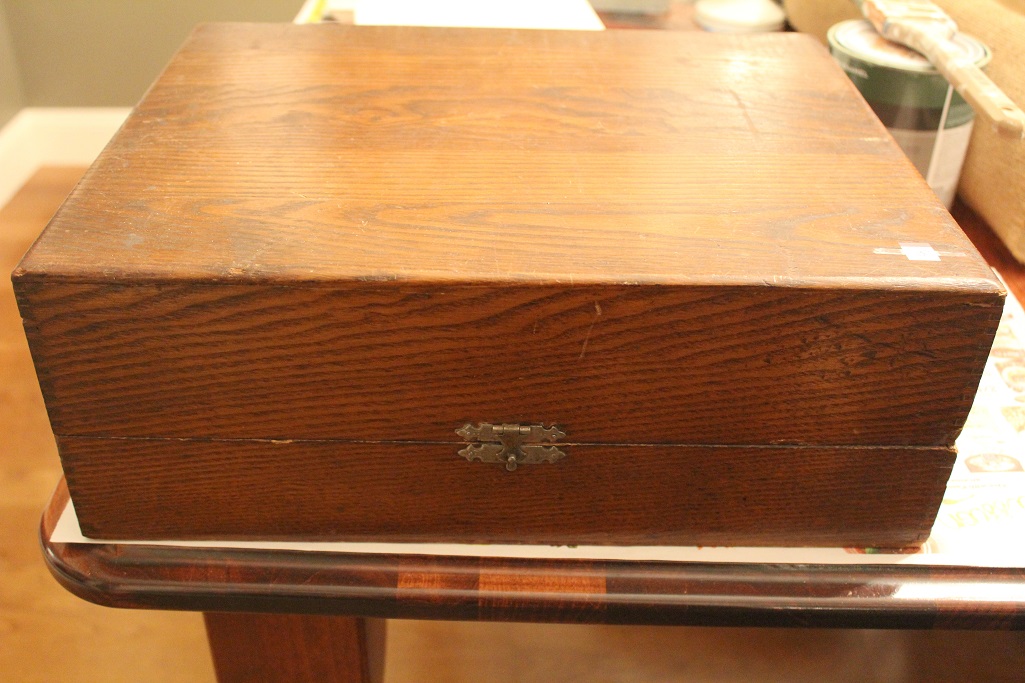 Fast forward 6 months and I spotted this cute little vintage suit case at Hobby Lobby. What a cute way to store things…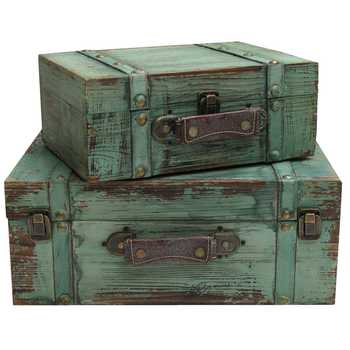 The set was $79.99 and it was on sale for %50 off but I thought, as many of us DIY'ers do, I can make that!!  Turns out, I had the perfect piece to use!  As soon as I got home I got the thrift store box out and started thinking about what I would need for this project including what materials I would use for the straps, rivets and a handle. Here's what I came up with:
Straps – 1″ black gross grain ribbon – perfect for the texture to show through
Rivets – upholstery tacks
Handle – old leather belt
Sand paper
I gathered all of my supplies for this thrift store upcycle and got going. First, I decided I wanted the box to be white so it would be more versatile. I gave it a couple of coats of creamy white chalk paint.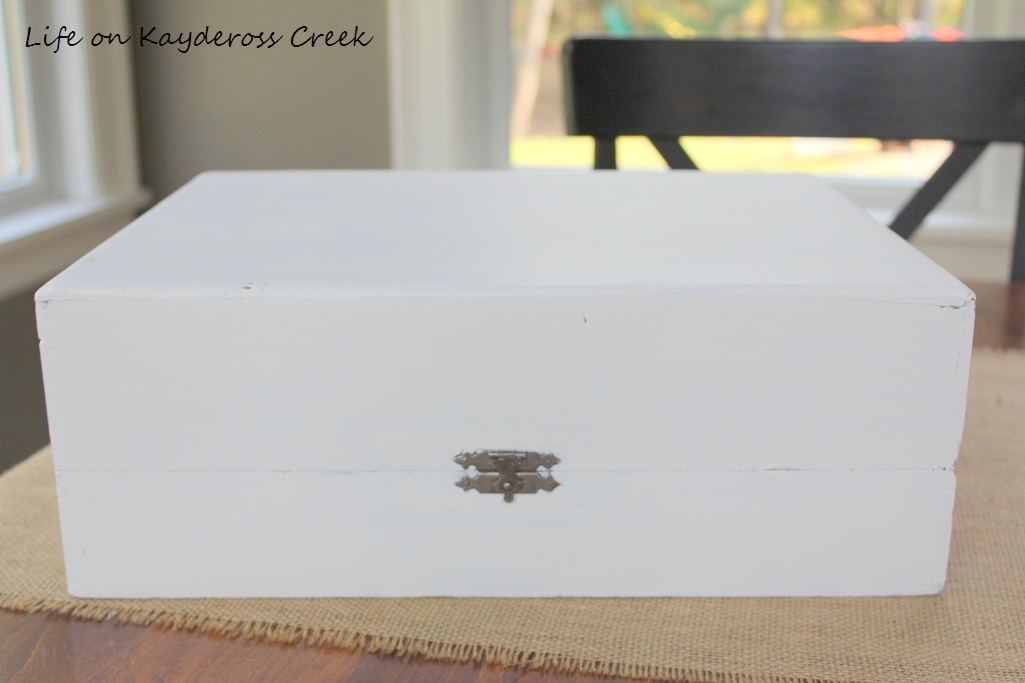 Now for the straps. I used a hot glue gun to attach pieces of ribbon where the straps would be, about 3 inches in from each side.

Then I added the "rivets" using a hammer.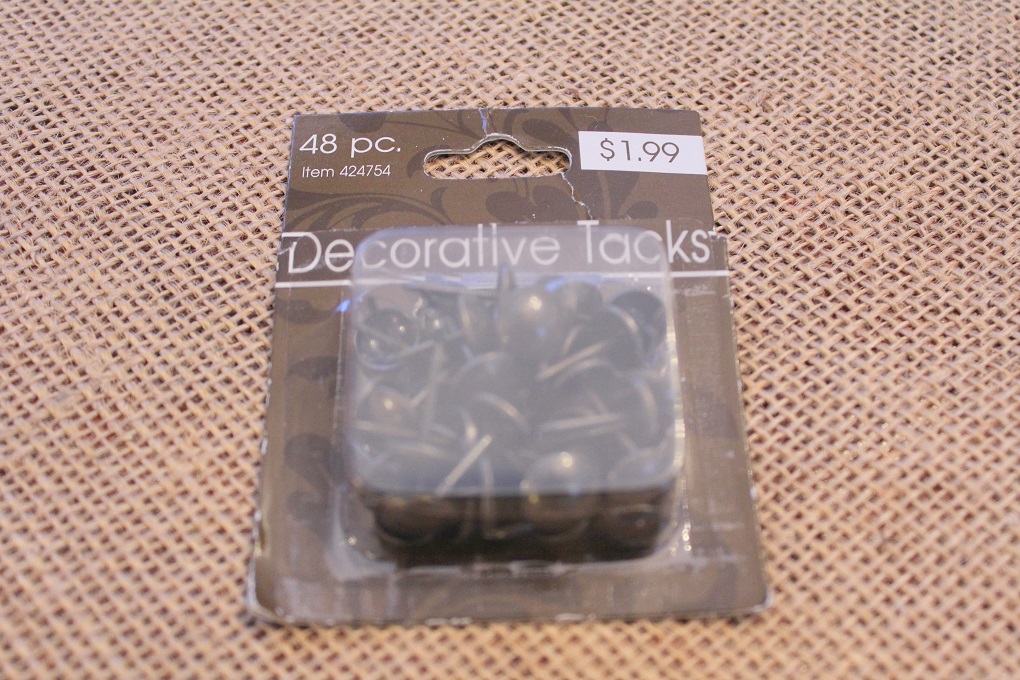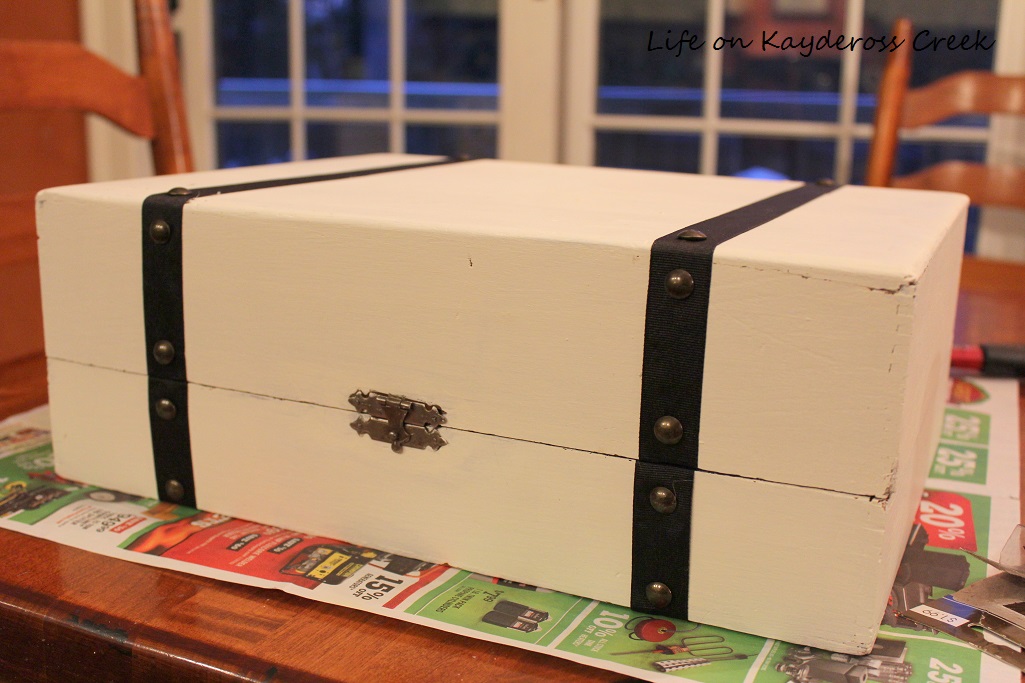 Somewhere along the lines I thought the black ribbon was too dark so I decided to paint it white to tone it down and match the color of the box. I wasn't crazy about it but went with it because I wanted to see what it looked like all put together so I moved on to the handle.
The old leather strap was easy to cut with scissors and was also attached with the tacks.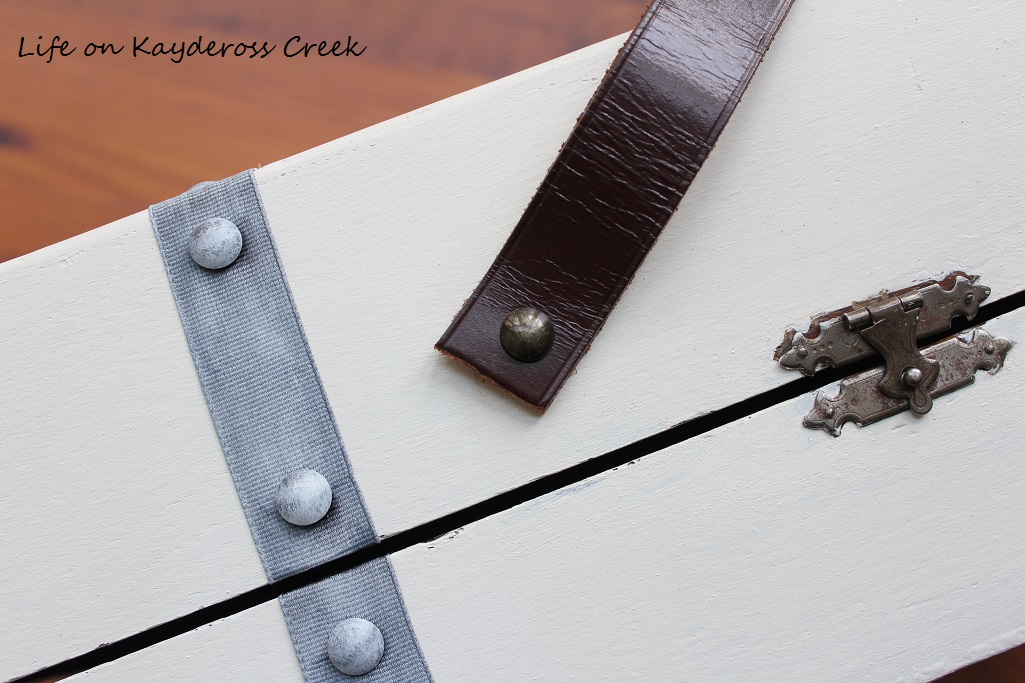 Once the handle was on I realized I definitely didn't like the white straps. It was just too plain so I painted them espresso brown. So much better! Not as dark as the black and matched the handle and the worn spots of the wood. It did look a bit too new, though, so I hit it with the sand paper in places it would "wear" and then with some Vintage Photo distress ink. It was exactly what I was looking for…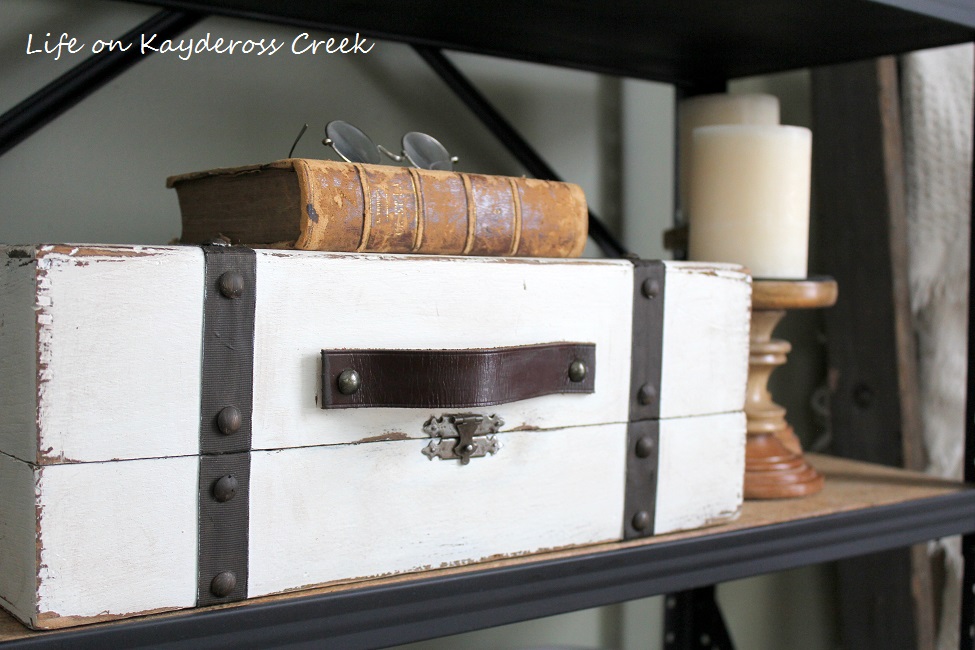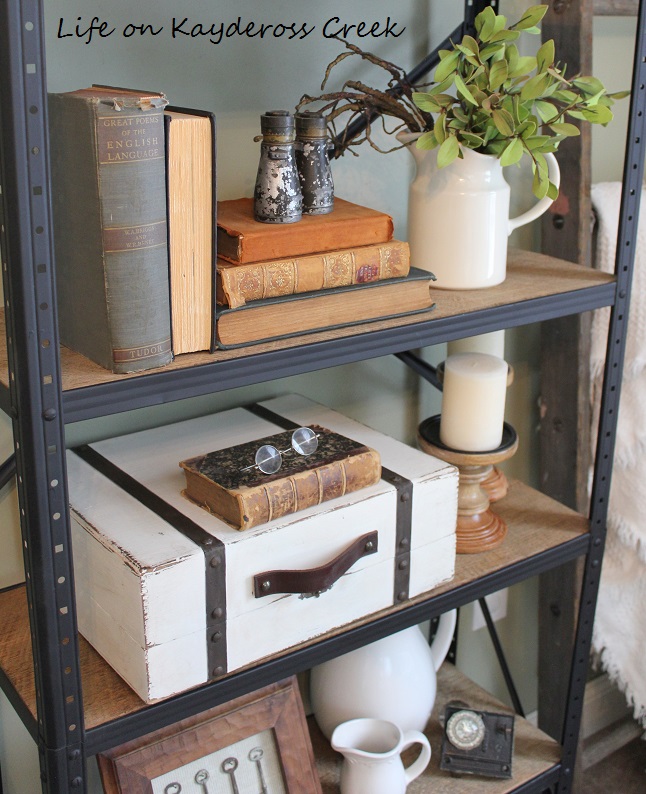 I love it mixed in with the globe, antique binoculars and old books. It's got a vintage travel feel.
The Pottery Barn Inspired Shelf that is sits on was also a project and you can see that here. The key art just below was another thrift store upcycle and you can see that here.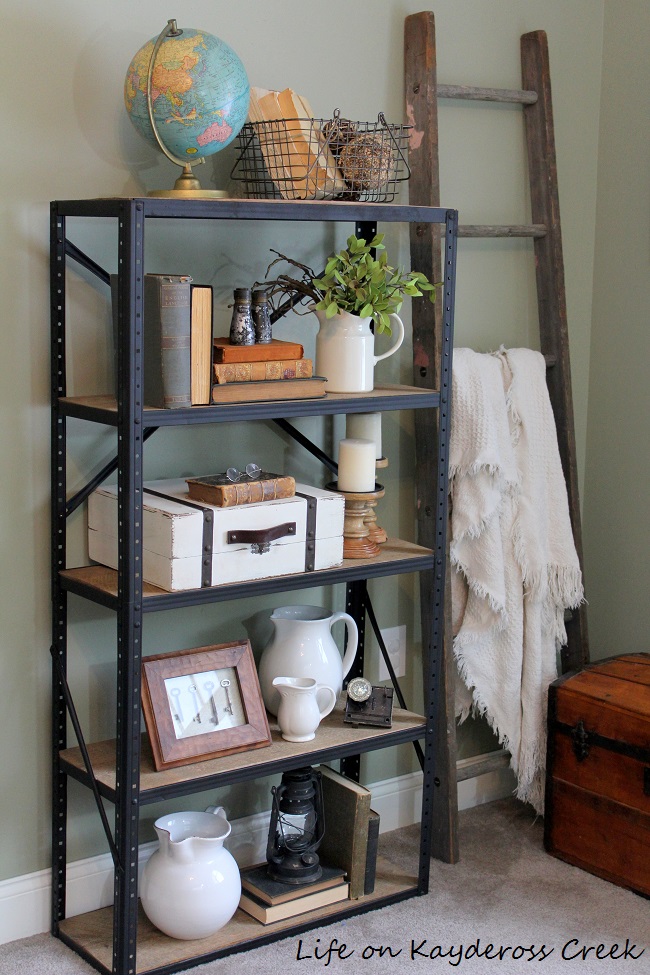 This thrift store upcycle went from an old wooden box that cost $5 to a faux vintage suit case. It adds personality to the space, is great for storing things and is versatile enough to be used in any season. I actually had the ribbon, the tacks and chalk paint on hand from other projects but it still would have been about $15 to make it if I had to buy everything. It's not exactly "theirs" but it's exactly what I wanted.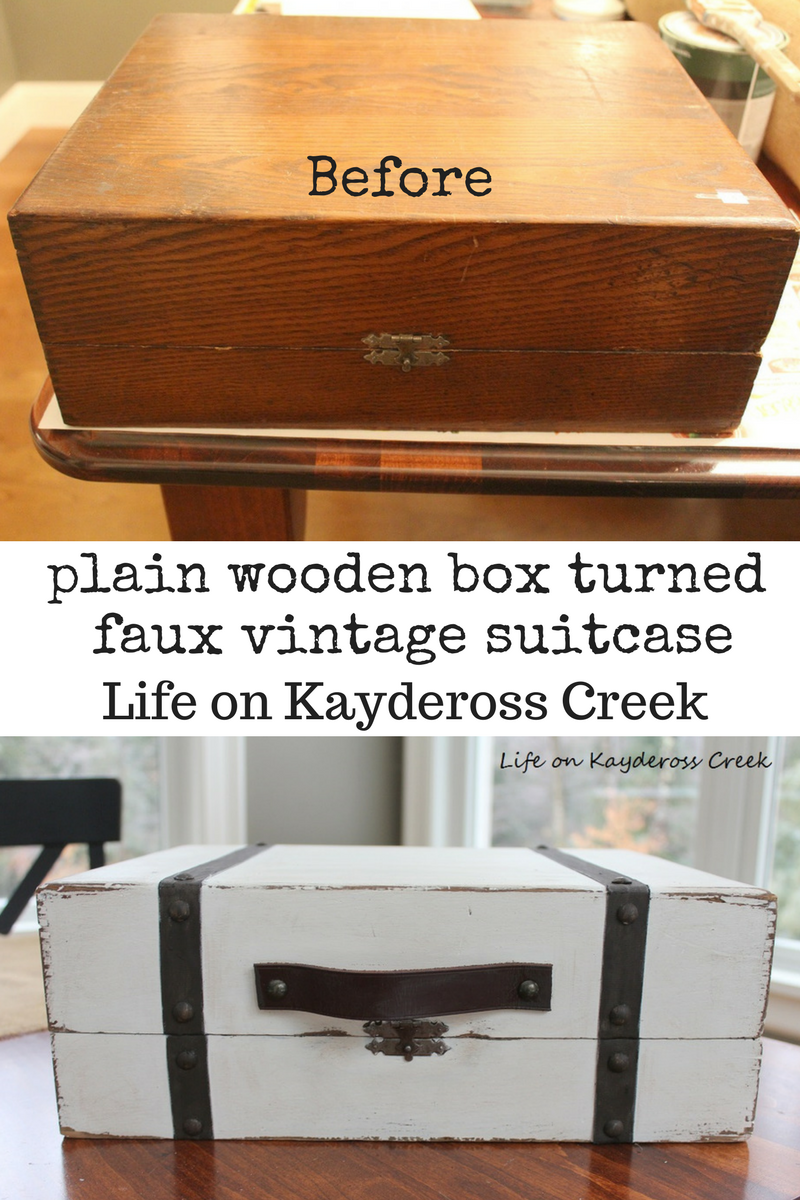 I hope this post gets your creative juices flowing! Do you see past what things are to what they could be? Do you have an upcycle project in mind? If so,
Happy DIY'ing!
Col
You may also like:
And now for more thrifty goodness! Check out what my fellow upcyclers created below!