Hey everyone! Today I am sharing a cool new project as part of the Thrift Store Decor Upcycle Challenge. I've teamed up with 20 other bloggers for this sweet blog hop. The rules were simple–take an item(s) from a thrift store, yard sale, resale shop etc. and transform it into a new piece of home decor. There was no set budget, or theme so we could picked whatever we wanted. I happened to find a couple of pieces to work on to create a farmhouse vignette that cost less than $5!  Check out the bottom of the page to visit the other lovely ladies projects too…
Meet the Hosts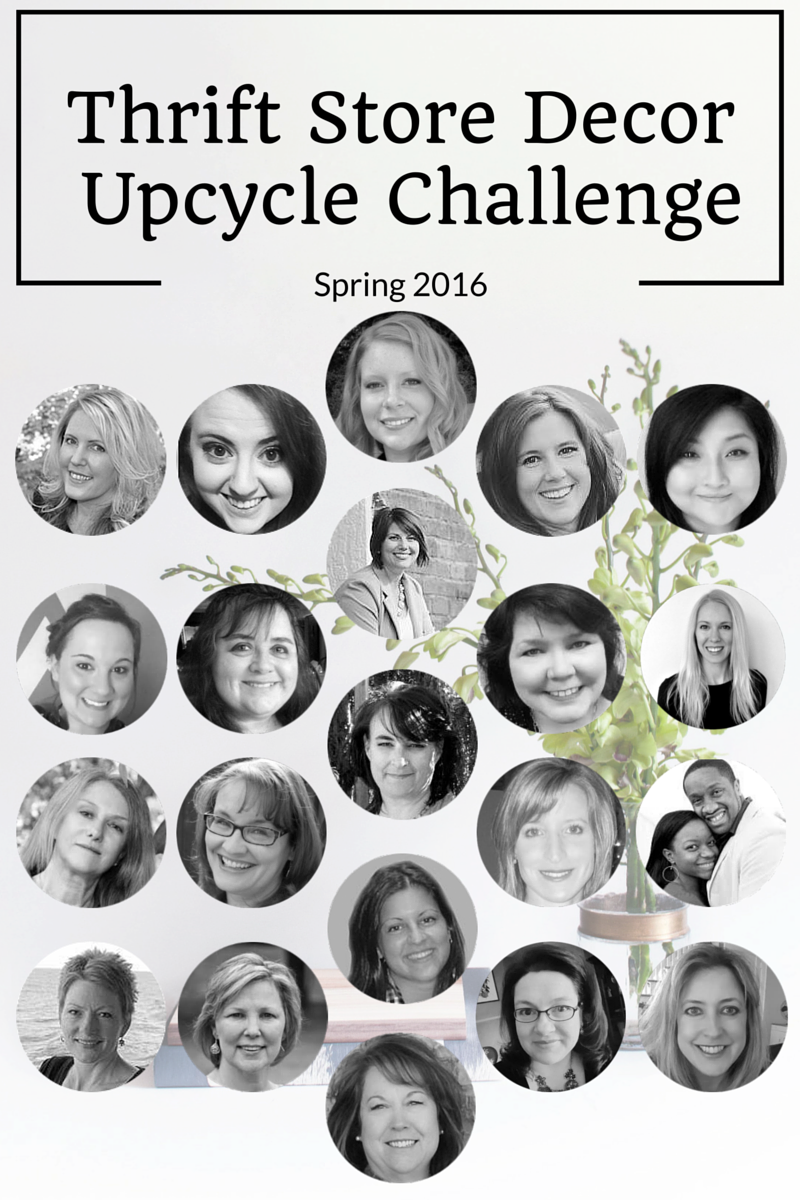 Amanda | The Kolb Corner      Chelc| Inside the Fox Den
Erlene | My Pinterventures     Kim | Made in a Day     Sara | Twelve on Main
Emily | Two Purple Couches     Shirley | Intelligent Domestications
Marie | DIY Adulation     Lindsay | Crazy Organized   Michelle | Our Crafty Mom
Julie | Live From Julie's House     Debra | Shoppe No. 5     Dru | Polka Dot Poplars
Maureen | Red Cottage Chronicles     Pili | Sweet Things     Channell | Hobnail House
Colleen | Life on Kaydeross Creek     Ann | Duct Tape and Denim
Paula | Virginia Sweet Pea     Sherry | Savvy Apron     Stacy | Anastasia Vintage
So for my project I started with this….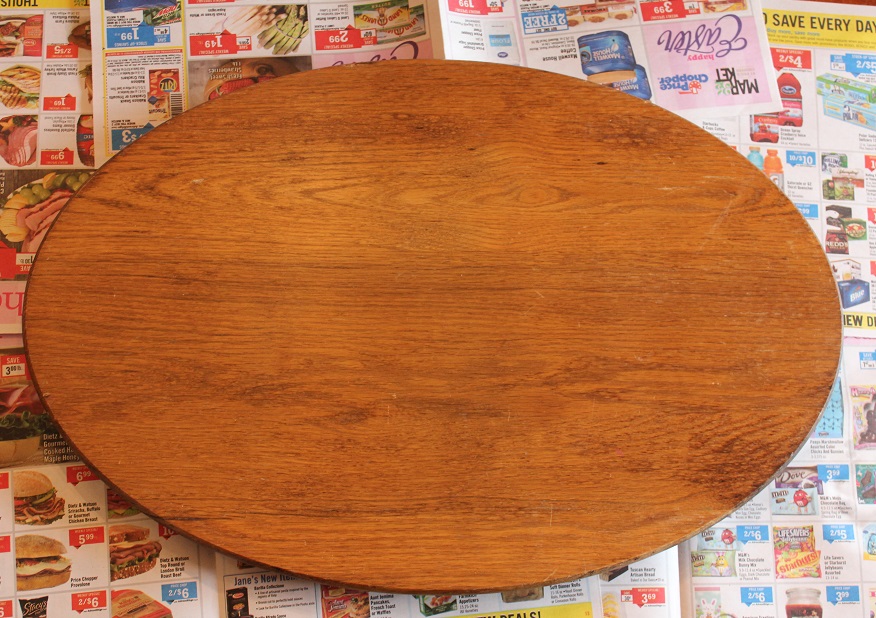 "What is that?" you're now saying to yourself. I think at one point it may have been a tray on a stand or something because it has metal bars on the bottom. I had picked it up at the Salvation Army for $3.69 and up until recently, I wasn't really sure what to do with it. I loved the size and shape and thought maybe I would make a sign. Turns out, for this project, I kinda did.
I started by giving it a good cleaning and sanding just a bit. Then a couple of coats of creamy white chalk paint. Tragic error here, I forgot to take a picture of it when it was just solid white so no in between, sorry. I wanted to do a farmhouse theme and I thought what's more farmhouse than chickens and their eggs, right?  I stenciled the words Farm Fresh Eggs along with little chickens on each side. When it was dry, I sanded the words down along with the edges to make it more worn.   So here's how it turned out.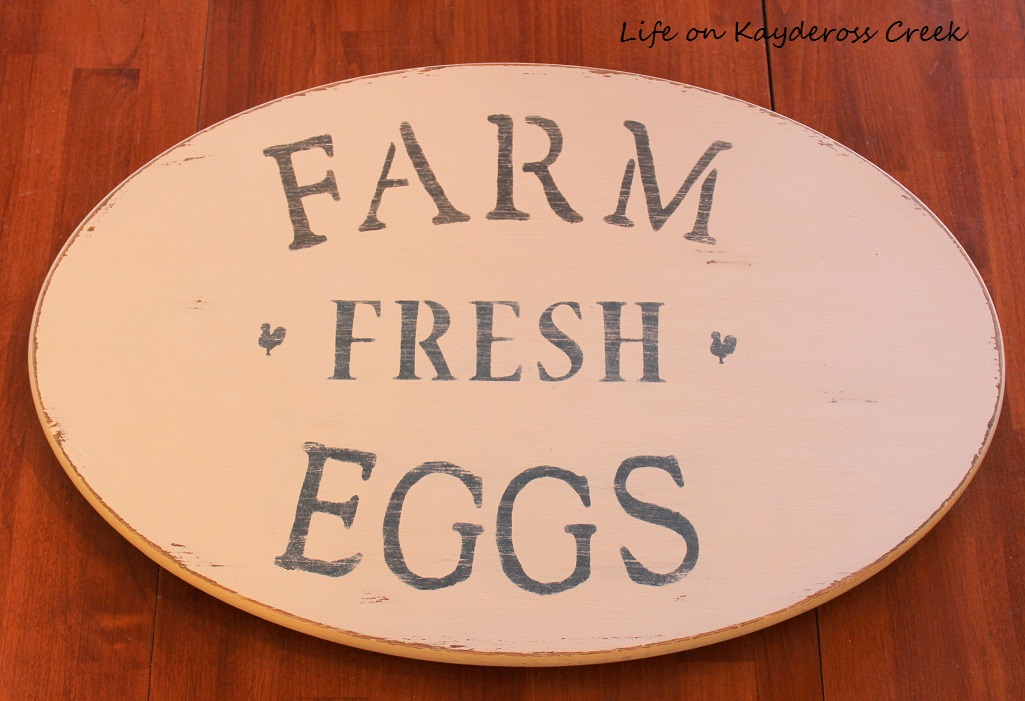 Pretty cute, I think 🙂 Since it has wooded brackets on the bottom they act like feet and bring the piece off the table a couple of inches and it acts like a tray. It's perfect for the kitchen table because I can move it quick for meals.
The second part of my Thrift Store Decor Vignette is a pitcher I picked up for just $1 at my favorite go to shop. I get great stuff there all the time including the piece from my recent Upcycled Tin Wall Vase project.   This pitcher had great lines and was a great size but was a funky color tan-ish yellow. It was fine, but I wanted something a bit cleaner. Easily fixed with a couple of coats of Heirloom White spray paint.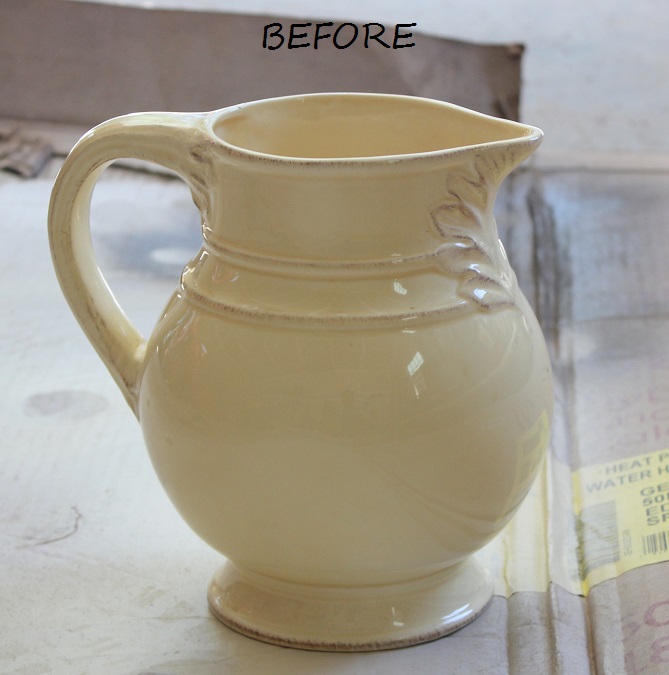 Getting ready to spray paint, there's my inspiration. They love hanin' out with me when I'm outside.  🙂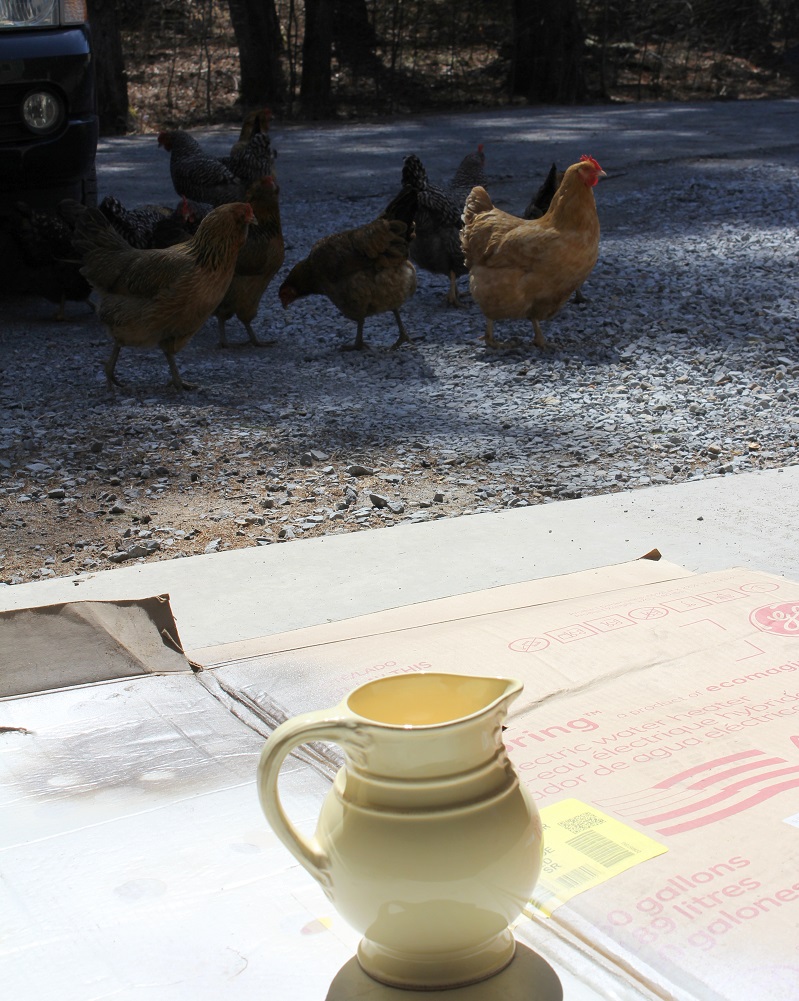 I really like the pitcher so much better creamy white but once it was dry, I wanted to give it just a bit more character for this project. I added the chicken "tag" I made out of a piece of tree branch my husband had cut for me which I used for place settings at Christmas.  I stenciled a chicken silhouette on it and tied it on with twine.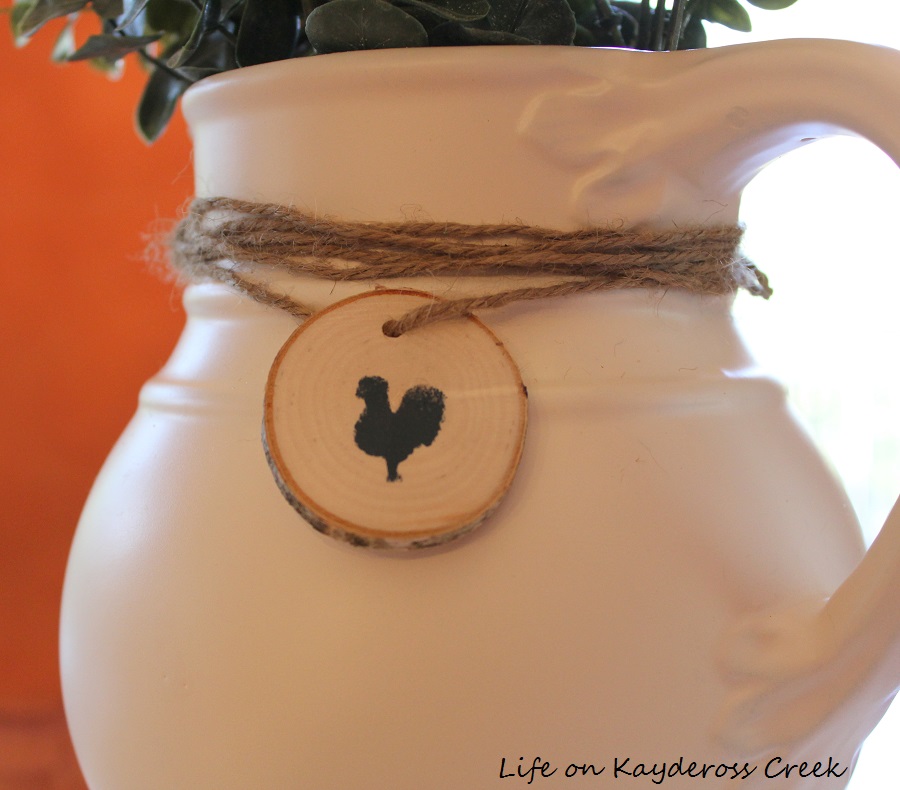 Once you combine the two pieces, along with fresh eggs from our chickens, you have this…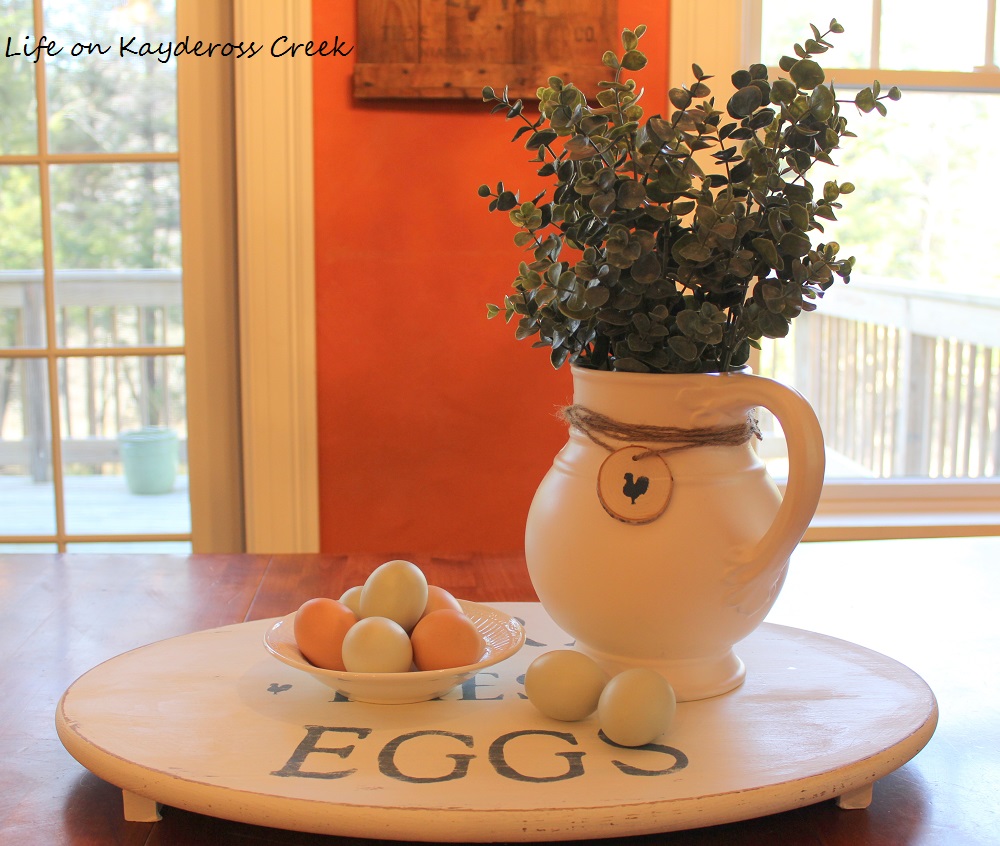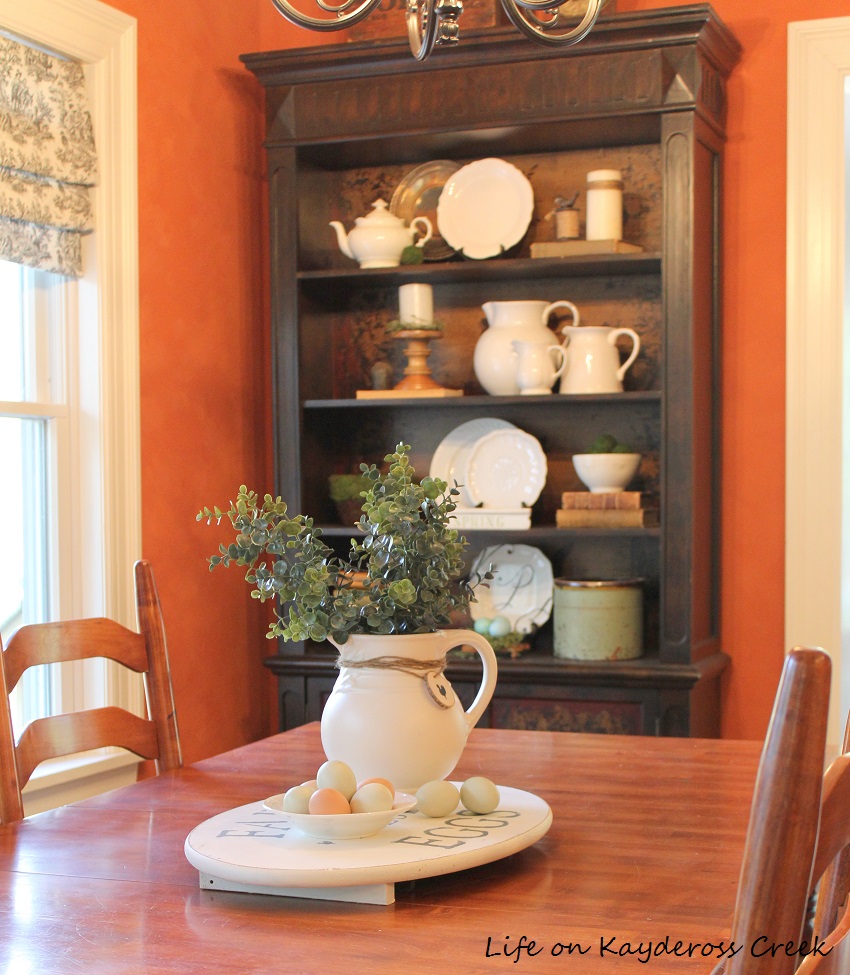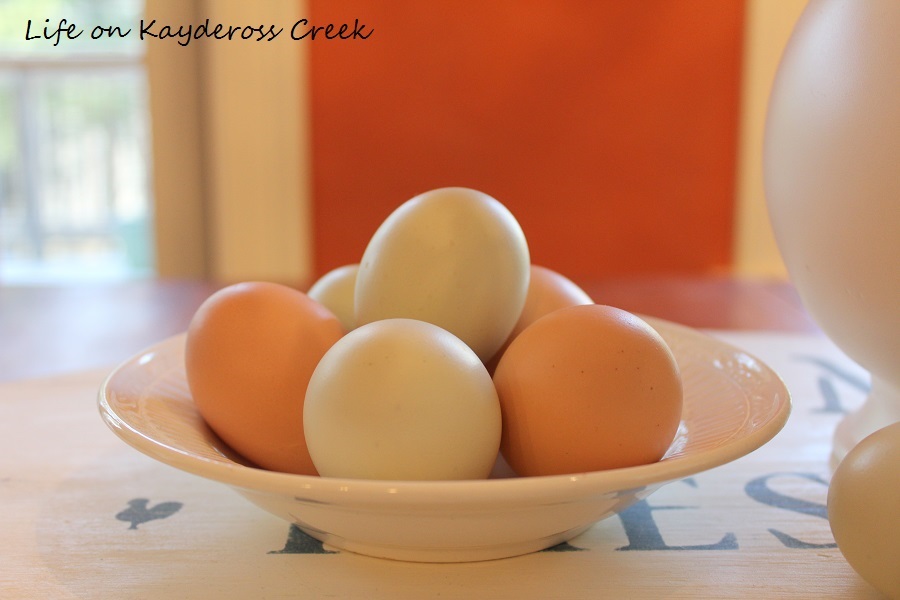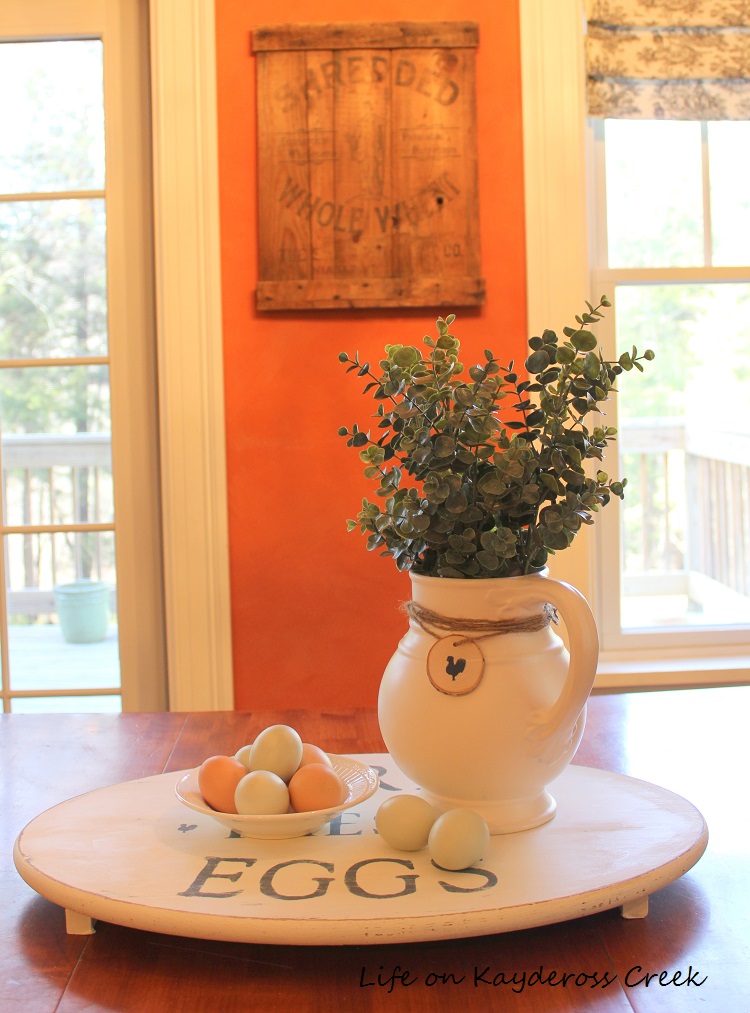 So for less than $5 I have a cute farmhouse vignette. It really pays to hit those thrift stores once a week because you never know what you'll find. How you found a great projects lately?  I can't wait to see what creative ideas the other ladies have come up with. Don't forget to check out their sites too!
---
http://mylifeonkayderosscreek.com/upcycled-table-riser/
---
Be sure to check out my fellow bloggers' projects too!
Happy DIY'ing!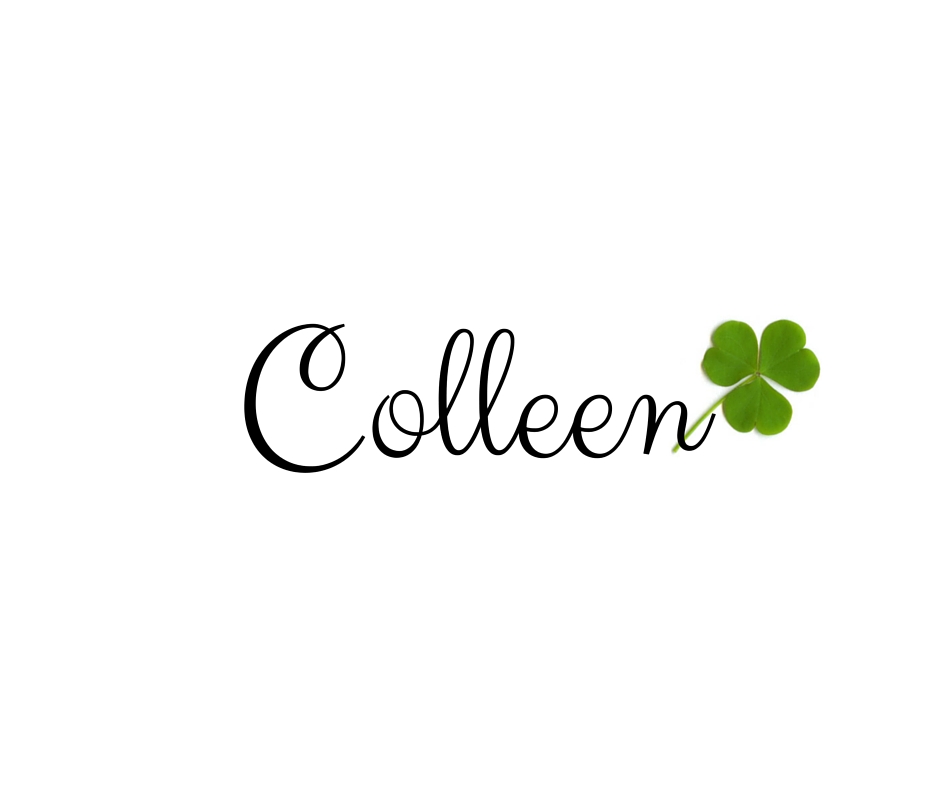 Linking up to these parties…