Hellloooo everyone and Happy New Year! I know it's a bit early, but I'm sharing my Valentine's Day project today.  While everyone is in the midst of cleaning and organizing, which I have also been doing and can't wait to share, I have been working on a few projects. I have joined the lovely ladies again for a Valentines Day blog hop! We will all share some lovely, get it, creative DIY projects with you to help celebrate and hopefully inspire you to create some of your own. Please check out their links below to see some of their mad skills.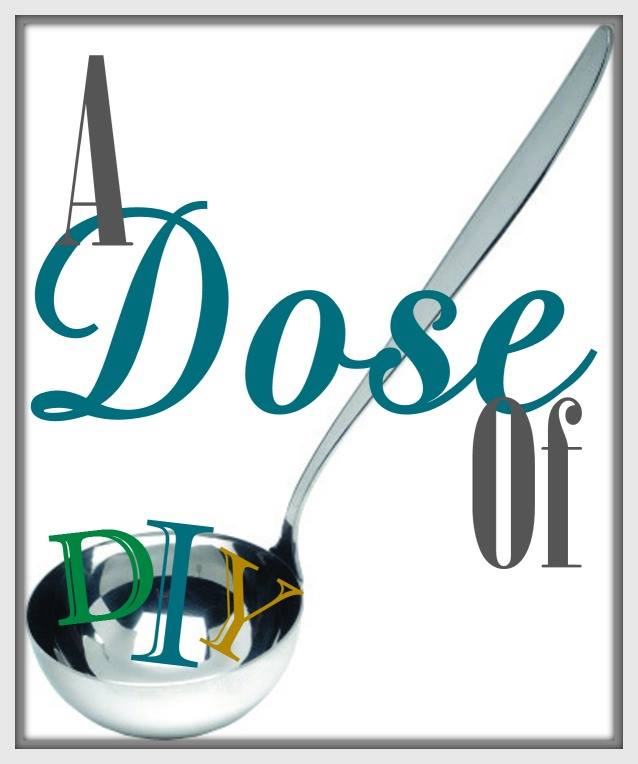 So, I like to think I'm somewhat of a treasure hunter. My idea of a great day is searching through garage sales or flea markets for cool stuff I can recreate in some way or just decorate my house so that it is unique, My favorite place to do this is Brimfield, MA at the Brimfield Antiques Show.  Last year I found a booth tucked way in the back of a field where the guy was practically giving stuff away. I got a whole box of frames for like $10 because you never know when you'll need some more frames, right?
Along side the box was this piece of oak cut in a half circle…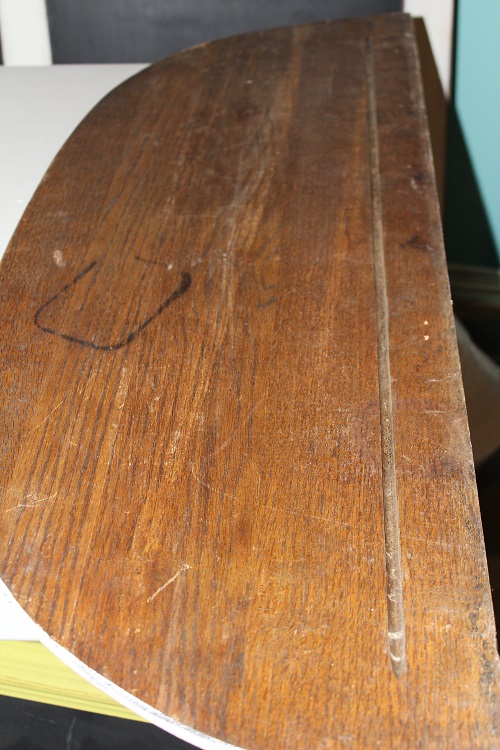 Not the best picture, I know. See, most people would have not even given it a second look but me, I saw treasure. Anyway, I got it for $5 and wasn't completely sure of what I would do with it. It all came together after I did the LOVE pictures with the kids and I had the left over letters they held to spell LOVE. Turns out they fit perfectly across the piece of wood.
To get started, I decided to paint the board white…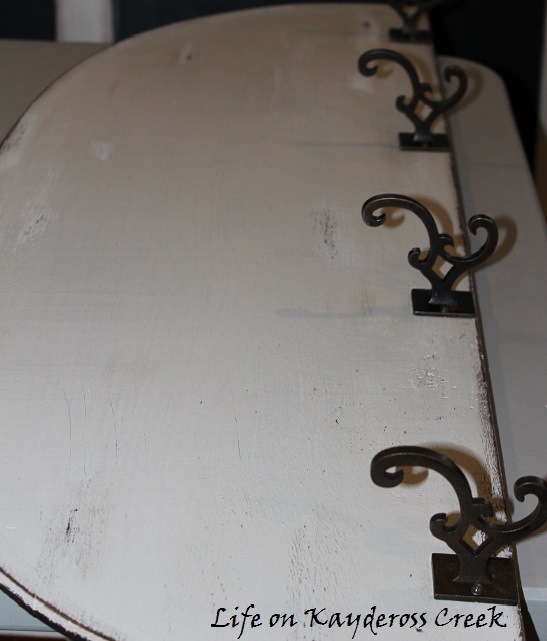 I used homemade chalk paint (paint, water and plaster of Paris) in a couple of coats to cover it and then distressed the edges and some spots in the middle with sand paper. I picked up these hooks at Hobby Lobby for $2 each on sale and spaced them out along the bottom.
For the letters, I had painted them almost black to make them stand out in the pictures with the kids but I wanted them to blend in with this piece so I painted them with the same chalk paint I used on the wood.  They are made of cardboard so I was able to sand them down and get the same antiqued look as with the wood but I had to use a bit of antique ink around the edges.
Then a little hot glue and they were set…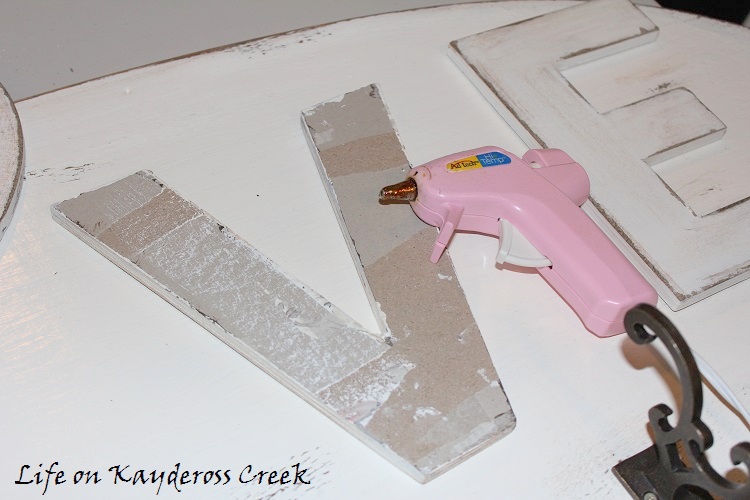 So the finished product turned out super cute. I have no idea where I am going to put it at this point. I have this habit of making coat racks and how many do you really need??  It may actually be a gift for my Mom, but don't tell her.  🙂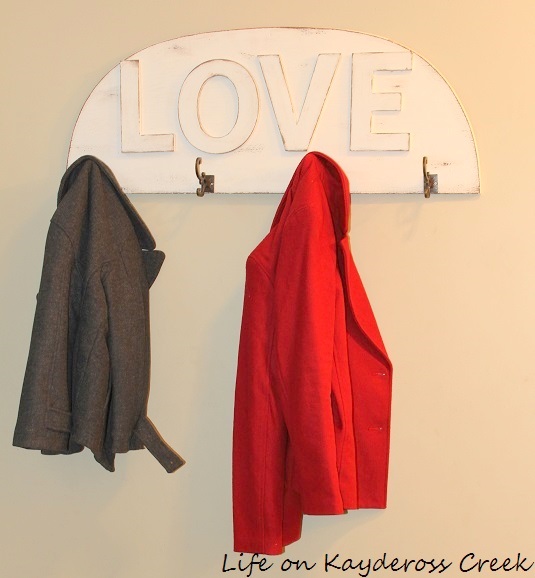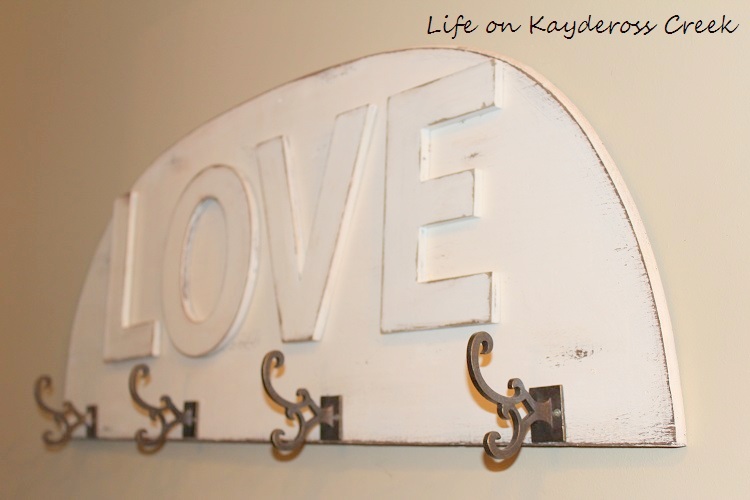 Thanks for stopping by. Please check out the other blogs and their cool Valentine's Day projects and ideas with the links below.
You can also see some of my other Love inspired projects:
Creating LOVE photos with my kids                         Making a LOVE Sign out of scrap wood
I also have a few more Valentine's Day inspiration ideas coming  so check back soon Or sign up for my emails and never miss a post! 🙂
Happy DIY'ing! and Happy Valentine's Day!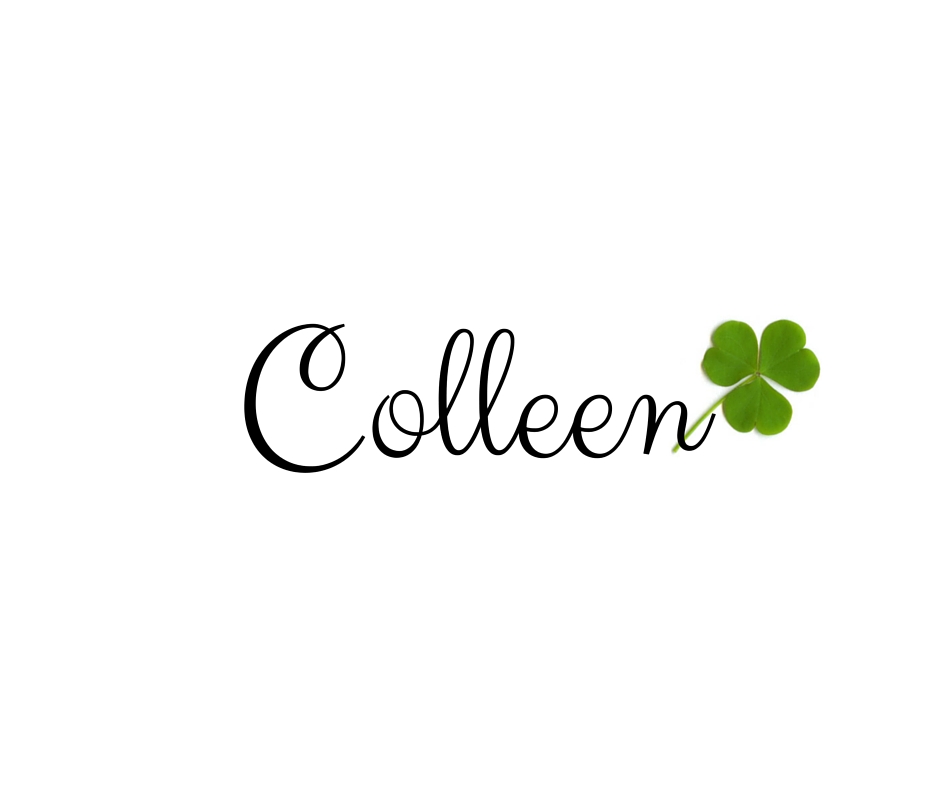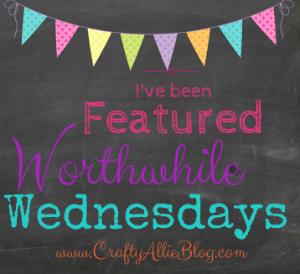 Loading InLinkz ...