We are almost there! Hey Friends, it's week 4 of the $100 Room Challenge! So far we tackled storage in week two and wall decor in week three  and today we're working on budget friendly lighting. Lighting can really make a statement but, unfortunately, this fixture is not sayin' much. It's pretty but it's just too small.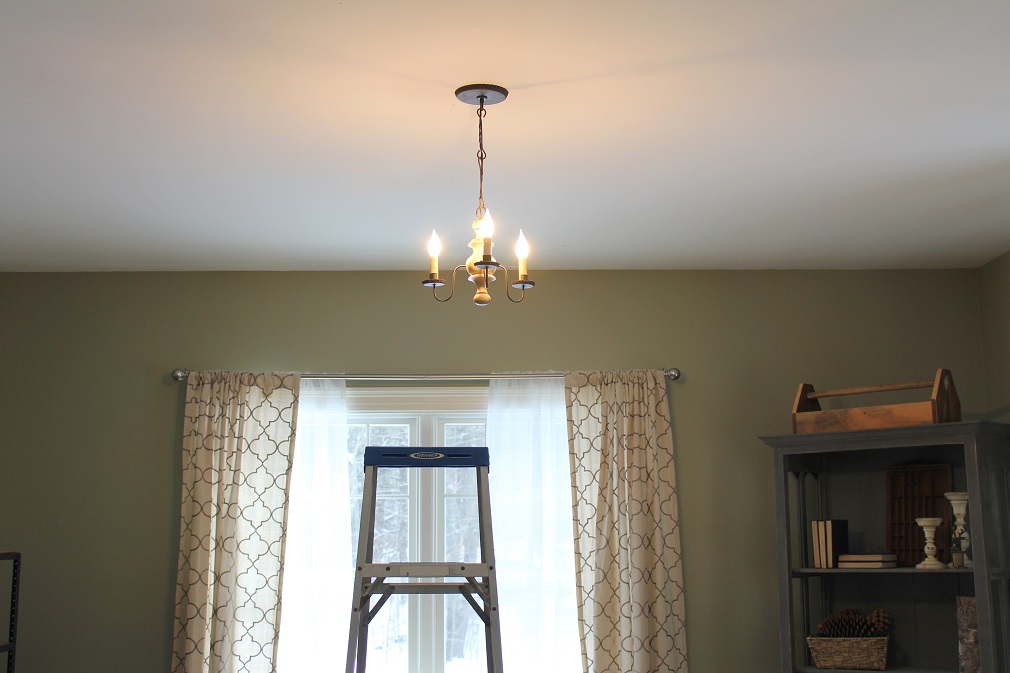 So clearly we needed something a bit bigger and with the whole matte black thing goin' on, I thought why not black (or something close)? Where did I turn to find such a thing, my stash of course. I know you're not going to believe this but I picked this old wrought iron chandelier up at a garage sale about 3 years ago for $5. The woman who sold it to me said she was selling it for her nephew and thought that the wiring didn't work. He wasn't there to ask but I got it anyway because I planned on putting it out on our deck with candles so it would have been perfect.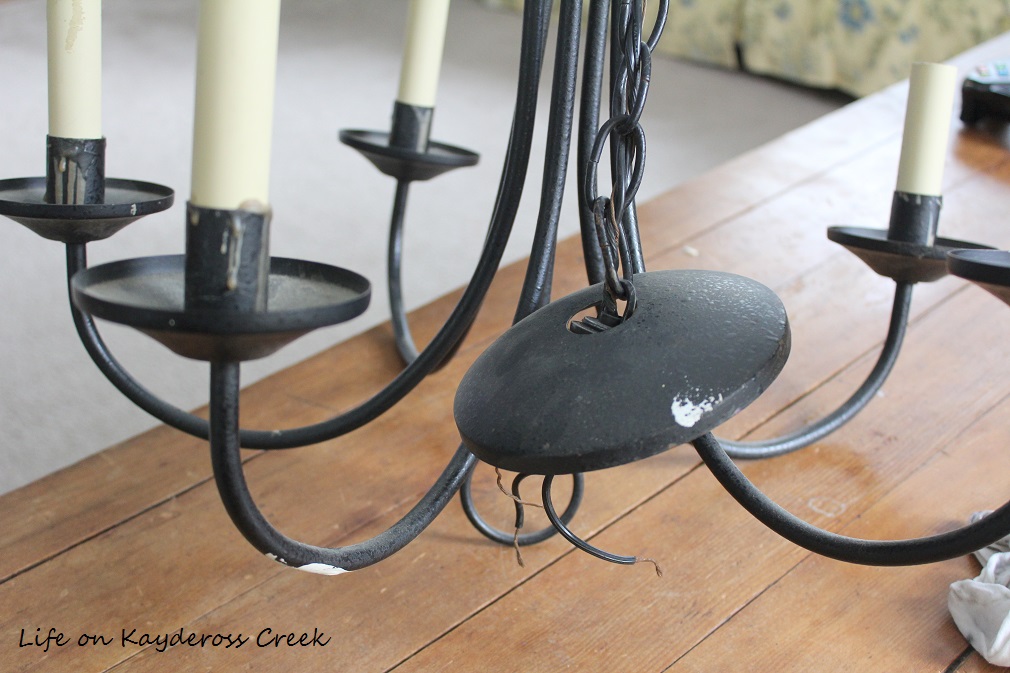 Fast forward to the $100 room challenge and I remembered I had it stuck in the basement. I dug it out and asked my husband to see if he could re-wire it and how much it would cost if he could. (gotta stay on budget!) He said, are you sure it doesn't work?  Hmmm, no, I'm not sure.
So he hooked it up to this tester thing I had never seen before and, lo and behold, it actually worked. Lucky me!!!!  The only problem was that it looked like someone had the same idea with the candles and each light socket had wax in it.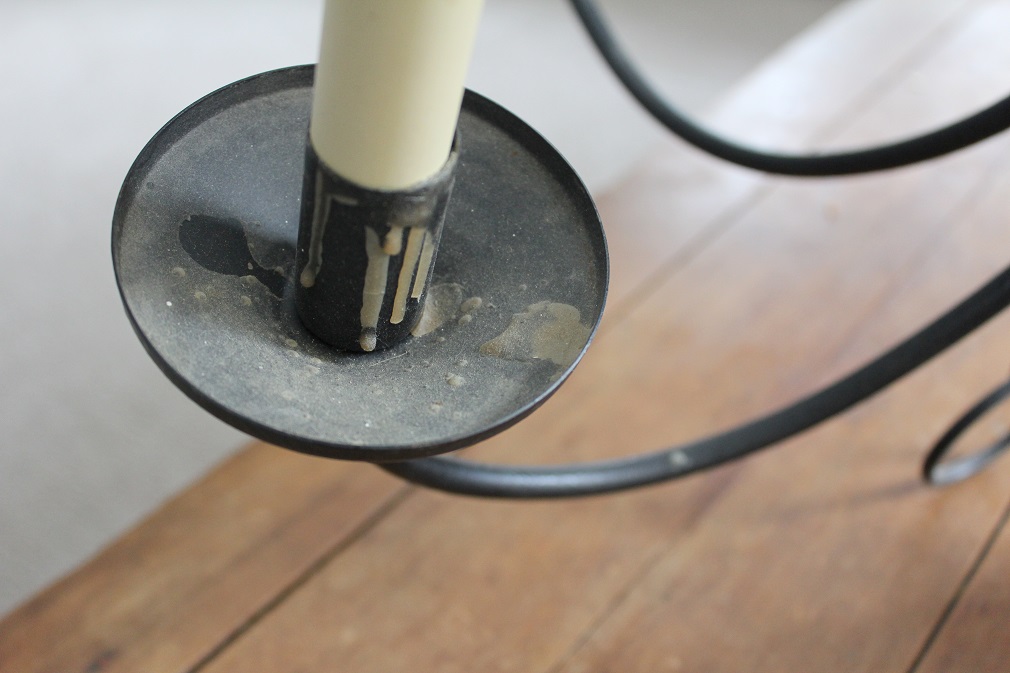 I took the caps off each socket and dug all of the wax out with a small screw driver.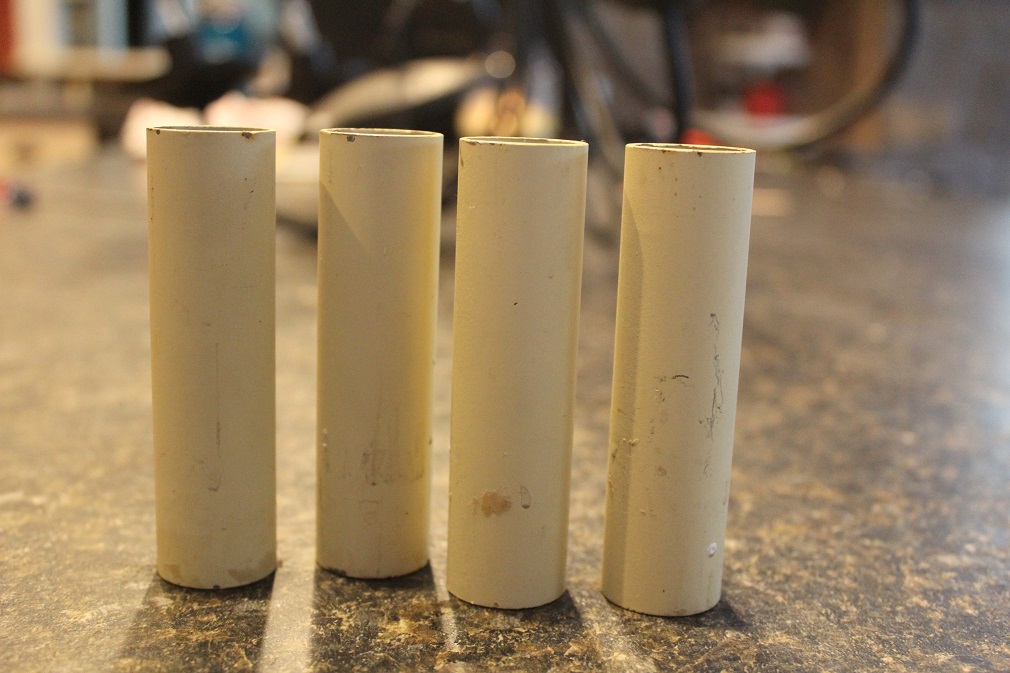 Once it was all out, I scrubbed the whole thing down including the caps above, yuck! It took almost 45 minutes just to clean the thing up.  Then I gave it a coat of my go to spray paint, Oil Rubbed Bronze, which is just about black. I used it on the light fixture in our dinging room, too.
So, I love it! The size is much better and the color is perfect and pulls everything together.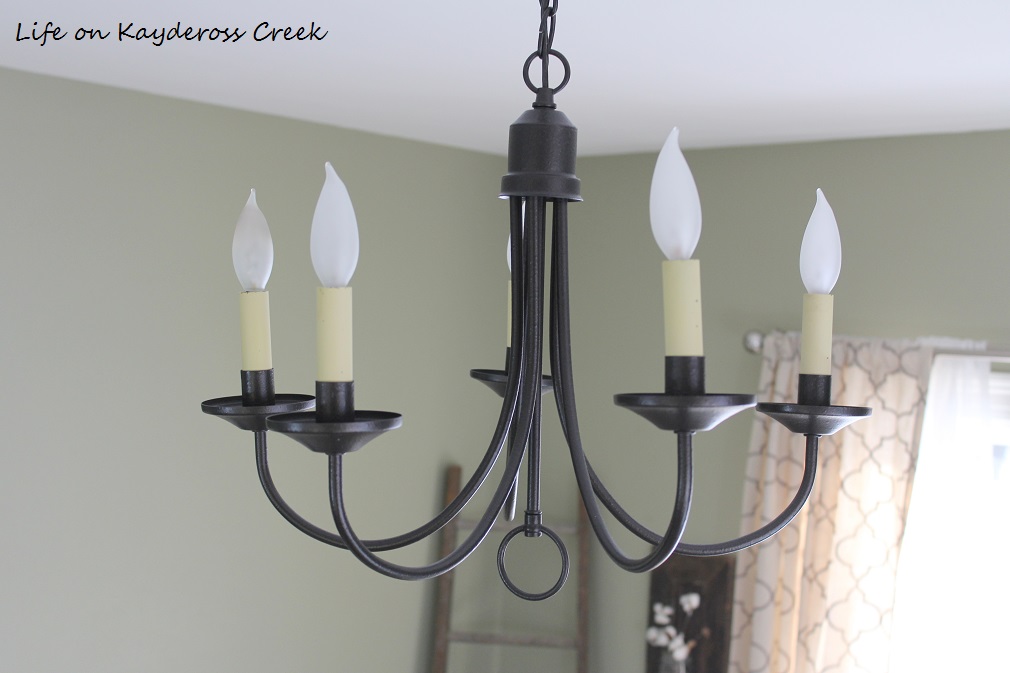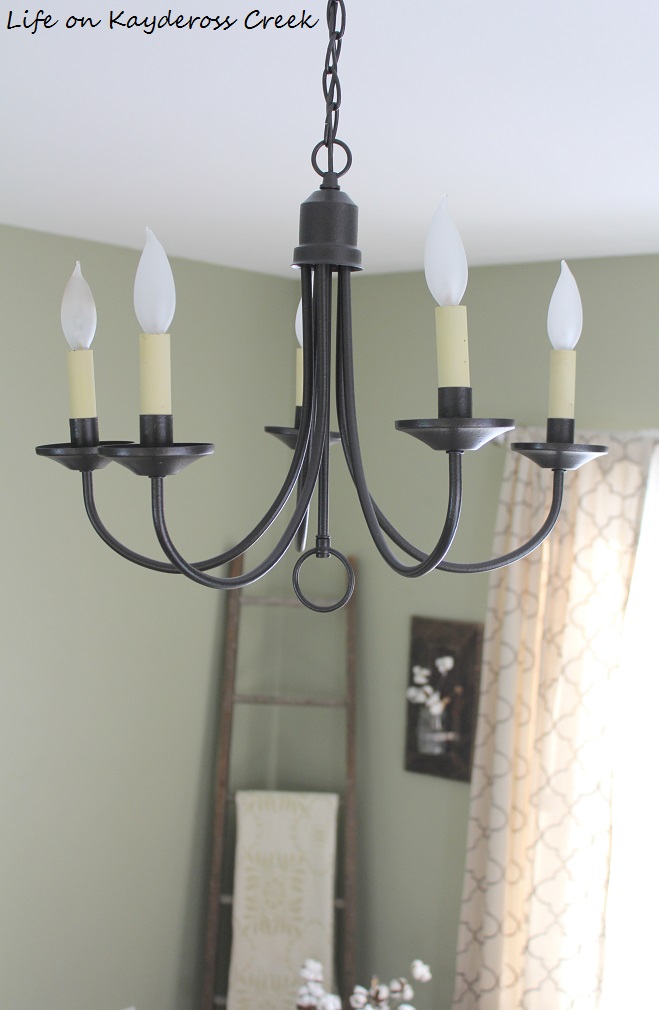 In addition to the chandelier, I added this dark lamp I got at a thrift store for $4. I was using it in our great room throughout the holidays but I moved it to the family room because I like the addition of the dark base against the wooden table. The white shade was a bit boring so I added a simple black ribbon to it on the top and bottom.
Tip: I simply used  tape to hold the ribbon in place just in case I want to go with a different color or just remove it down the road.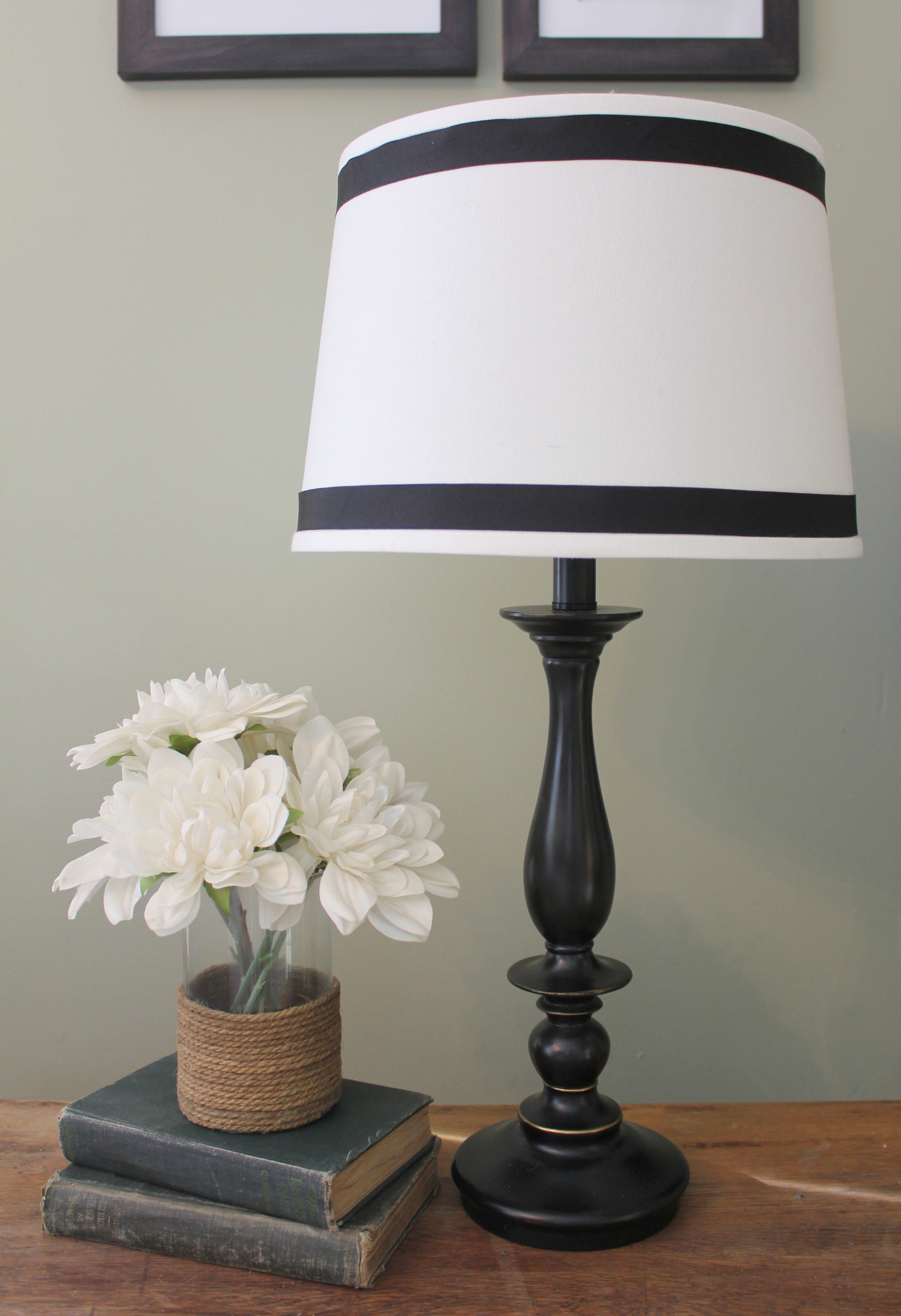 Here's the corner before: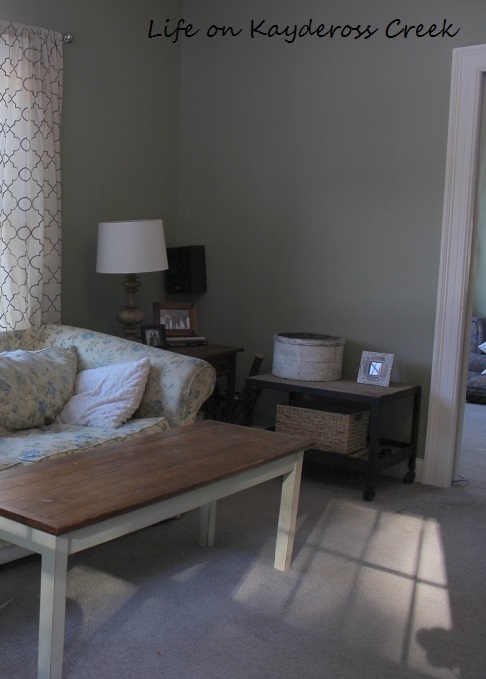 Here's the after…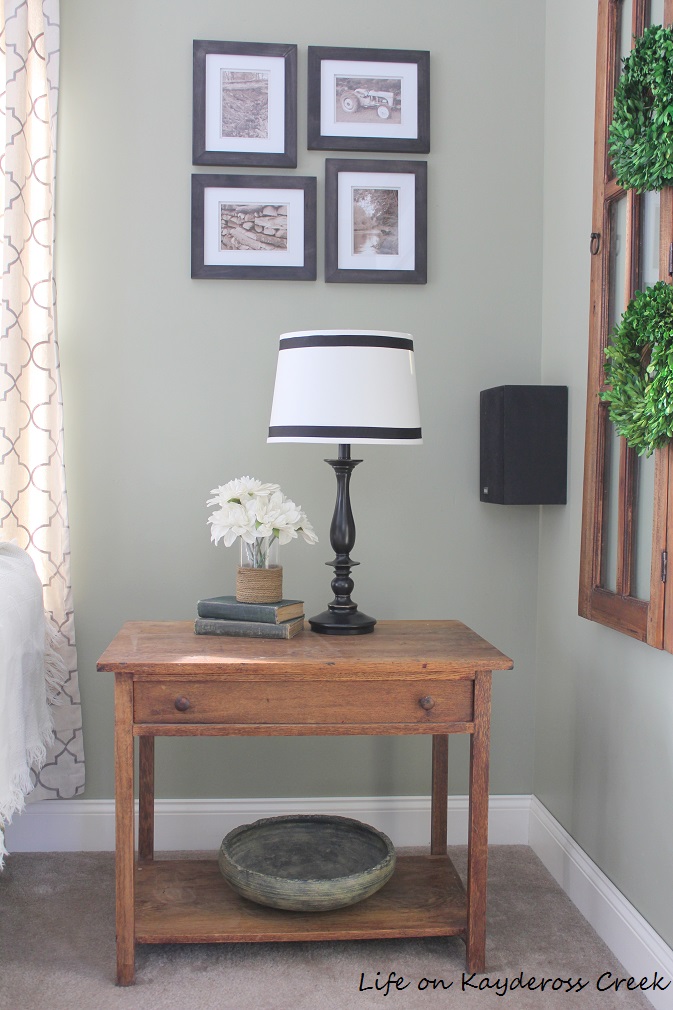 I picked up this little wooden table several years ago at a garage sale for $10. The pictures above were a project last year. You can see that HERE.
One last addition is the sheers on the windows. We don't need curtains out where we are in the woods for privacy but I added the curtains to prevent the glare on the TV and the sheers just add a soft touch.
It really does pay to "shop" around your house to see if you can swap or move things to different rooms. Your pieces may have a much bigger impact in a different space. Also, don't forget you can paint pretty much anything so if it's not the right color, you can always change that. 🙂
The budget this week:
Garage sale light fixture $5
Sheer curtains $29.00 on sale at Target
Black ribbon – already had it
Oil rubbed bronze spray paint – already had it
Lamp – already had it
So far so good. I'm super excited to finish up and share the completed room with you next week.  Just a few more details and it'll be ready!
Do you have a favorite light fixture or some creative lighting going on in your home? Please share in the comments below or on our group Facebook page. DIY & Budget Friendly Decorating.
Happy DIYing!
Col
Lets see what everyone else has been up to this week: