Today I'm sharing 20 ways to Decorate for Christmas on a Budget. If you've been to my blog before, you know that I'm all about saving money on my projects for my home and it's the same when it comes to decorating for Christmas, or any holiday. The thing is, and I can't stress this enough, is that it's a marathon, not a sprint. You have to build your holiday decor stash and it takes some time, energy and planning. Here's how to do it without spending a fortune…
Start shopping early. When I say early, I mean early, like the day/week after Christmas early. There are tons of sales out there but it will take some effort to dig through the messy piles of what is left over and the crowds of people. Look for things that have good bones and that go with your color scheme (more on that later). Don't buy stuff that is so different from what you already have because no matter how cheap it is, you may not use it if it throws off your entire groove.                                                                                                                          What I mean is, if your decor is all red and green and has a woodland theme, don't buy a blue metallic candlestick holder just because oh, it's so shiny and pretty and it's only a couple of bucks. Unless you are prepared to switch gears and go that route, put the candlestick holder down, walk away or it will end up shoved in the back of a shelf in the basement and money wasted.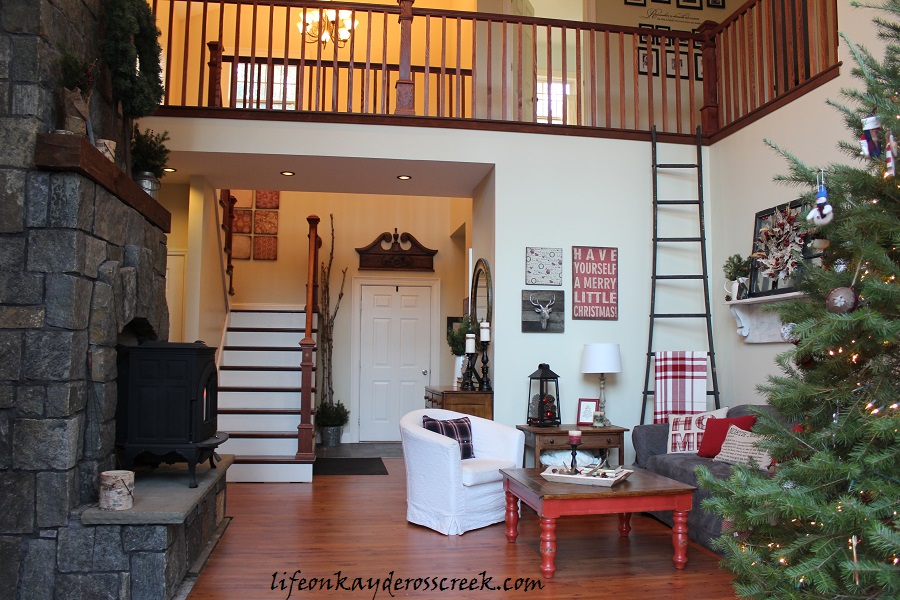 This post contains affiliate links. See my full disclosure here. 
2. Shop early some more. Shop garage sales in the summer.  Keep your head in the game even if the game isn't for another 5 months. I've found some great stuff at garage sales including faux trees, ornaments, wreaths, leftover bows/wrapping paper, dishes, you name it. Don't just look for Christmas specifically. look for other things you could use for Christmas decor like candlestick holders, lanterns and trays. Imagine if they were updated with paint or other embellishments for Christmas.  You can see more of my money saving garage sale tips here.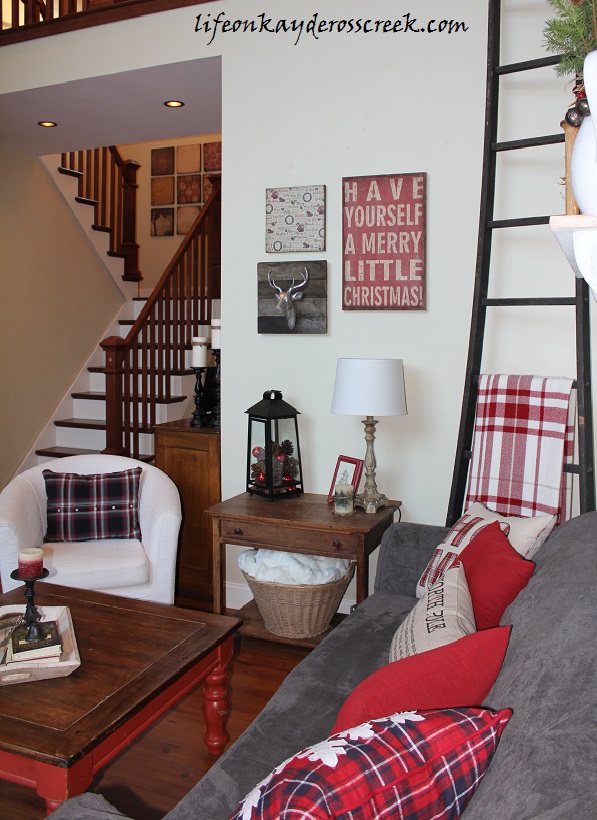 3. Shop thrift stores.  Remember to shop often for the best deals because you don't know what will be there from one day to the next. Keep an open mind, too. For example, if you see a grapevine wreath, it may not be a "Christmas" wreath necessarily but if you added some greens and pine cones from your yard, it would be. How about ornaments that you could paint or add stickers to or ribbon? How about solid red dishes, silver trays or white candles? These things aren't specifically Christmas but can be used to create a cohesive Holiday look. How about white dishes?? Here is a great project with white plates from Thistlewood Farm.  Add a stencil and some hangers and you're good to go…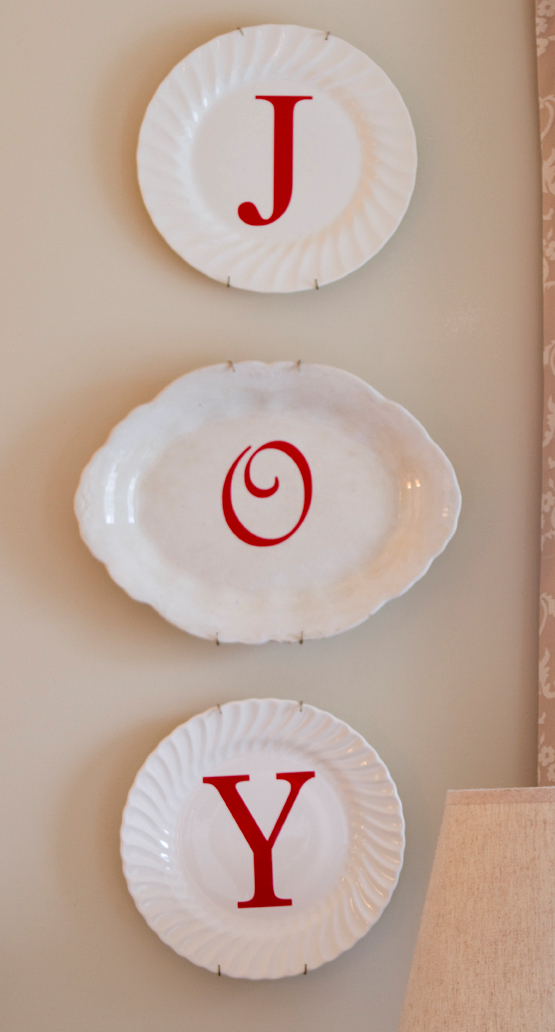 4. Utilize old decorations you may have outgrown.  Don't throw it out, upcycle it. You have an old centerpiece that just isn't you anymore. Take out the pieces you do like from it and combine them with that grapevine wreath I mentioned above for a new piece.  Or you have a small piece of ribbon left over that's too small to wrap a gift. Why not wrap it around a white candle or mason jar for something new? Take out your stuff and re-think the way you have used it before or create something new from it.
5. Shop at Discount stores.  There's always HomeGoods and TJ Maxx but Walmart and Target both have great stuff, too. Try to wait for a sale.  You can save even more money with Target's Cartwheel discount app and also %5 off with their debit card program. Sign up for emails to get a heads up on sales so you can plan ahead. Don't forget the Dollar Store!   Check out some of these Christmas decor projects from Dollar Store finds here.
6. Use coupons. I rarely ever buy anything full price. Micheals, Hobby Lobby and AC Moore. always have sales and/or coupons and have great rewards programs as well.  Sign up for emails and they'll also send you coupons. I just scored huge at Hobby Lobby with 80% off Fall/Halloween decor this week and 50% off Christmas stuff.
7. Bring the outdoors in. Comb through your yard for pine branches, pine cones, acorns (make sure you prepare these to get the bugs out. You can see how to do that here.) etc. If you don't have any in your yard, as a friend, neighbor or relative.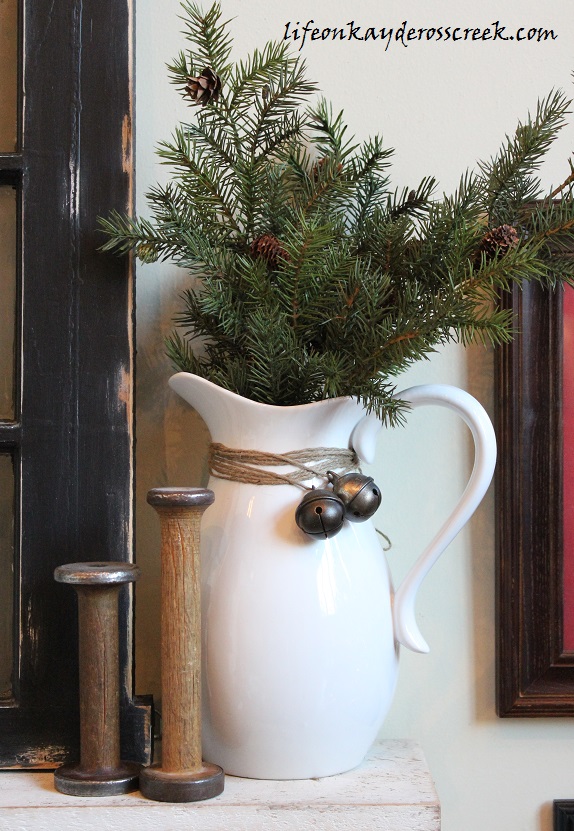 8. Keep your color scheme simple and stick to it. Choose 2-3 colors and it makes it easier to mix and match from room to room and year to year. You'll also always know what to look for when you are on your "hunts".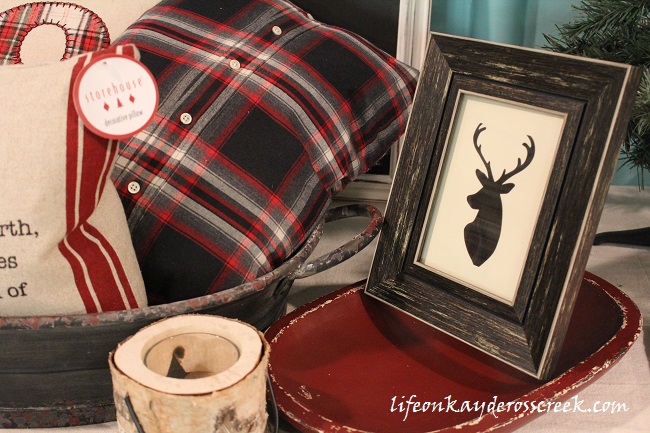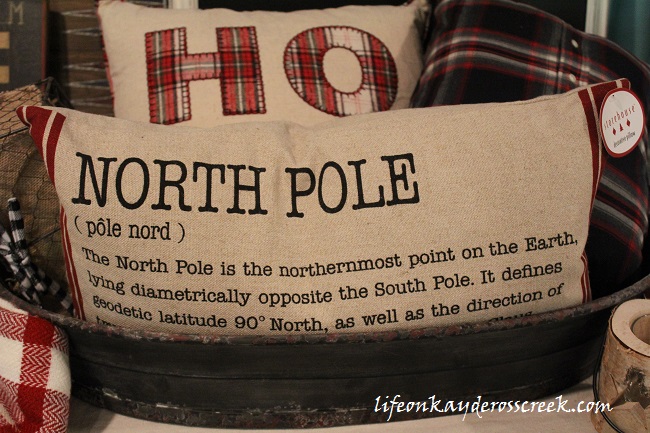 Here's a good post on how to decorate with red and white for Christmas.
9. Use your everyday things. White dishes mixed with a few red ornaments goes a long way. Put some faux greens in a crock on top of a cutting board for an easy vignette. "Shop" the other rooms in your home and see what you have that may work with your color scheme.
10. Get back to basics – Simple popcorn strings or round paper chains, popsicle stick ornaments,  Vintage and "old fashioned" are back! Get the kids involved and make it a family project.
11. Craft-o-maniac. Make it yourself. – There are thousands of things on Pinterest that you can make yourself.  You just have to be careful not to take on too much and that the cost of the supplies is not more than what you can buy it for. 🙂
You can see one of my favorite projects, framed Jingle, Bells lyrics here.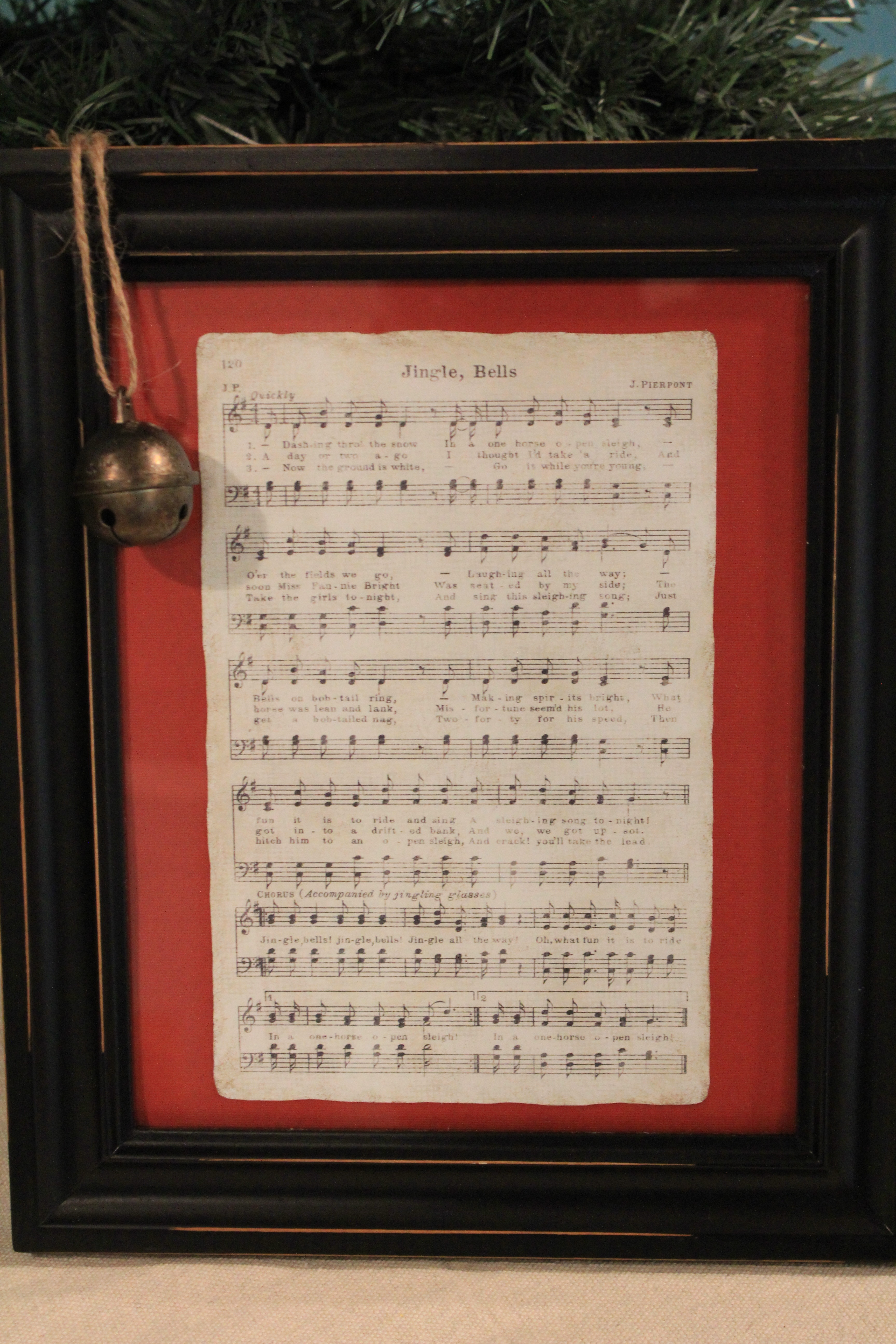 *You can find some great posts on Christmas crafts here.
12. Free Printables.  This one's my favorite! There are so many of these out there now and they are just so darn cute. Simply print and frame in an inexpensive frame. (which you should also look for at those garage sales)  Here is a link to some really cute & free printables from Country Living.
I printed these two from on line and put them in inexpensive frames: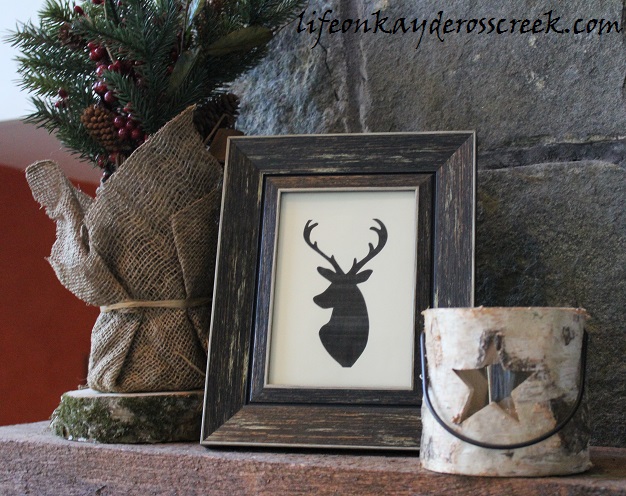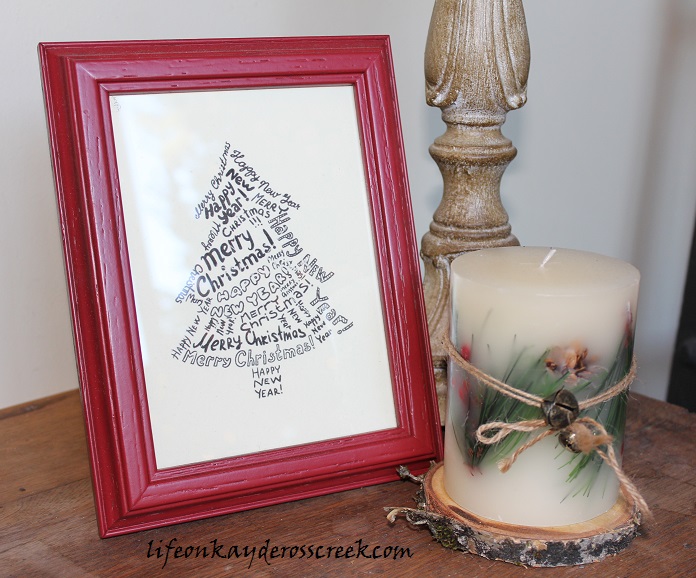 *You can also frame pretty scrapbook paper, pieces of leftover fabric, wrapping paper and the front of cards you received last year. 
13. Paint it. Have some old candlestick holders you've outgrown? Grab a $3.50 can of (red, green, gold, silver etc. ) spray paint and give them a Christmas makeover. Add some ribbon and your set. You could also use that same can of spray paint on an old cookie tin or an old tray or even one from the dollar store. Always think beyond what it is to what it could be.  Here is a great post from Listotic.com on how to spray paint all different kinds of things and transform them into something different.
14. Make your own throw pillows. I've made a few of these out of shirts I have picked up at the Salvation Army. I've also seen them made from kitchen towels or old sweaters. Don't worry, no sewing necessary. Use fabric glue.  You can see my post here.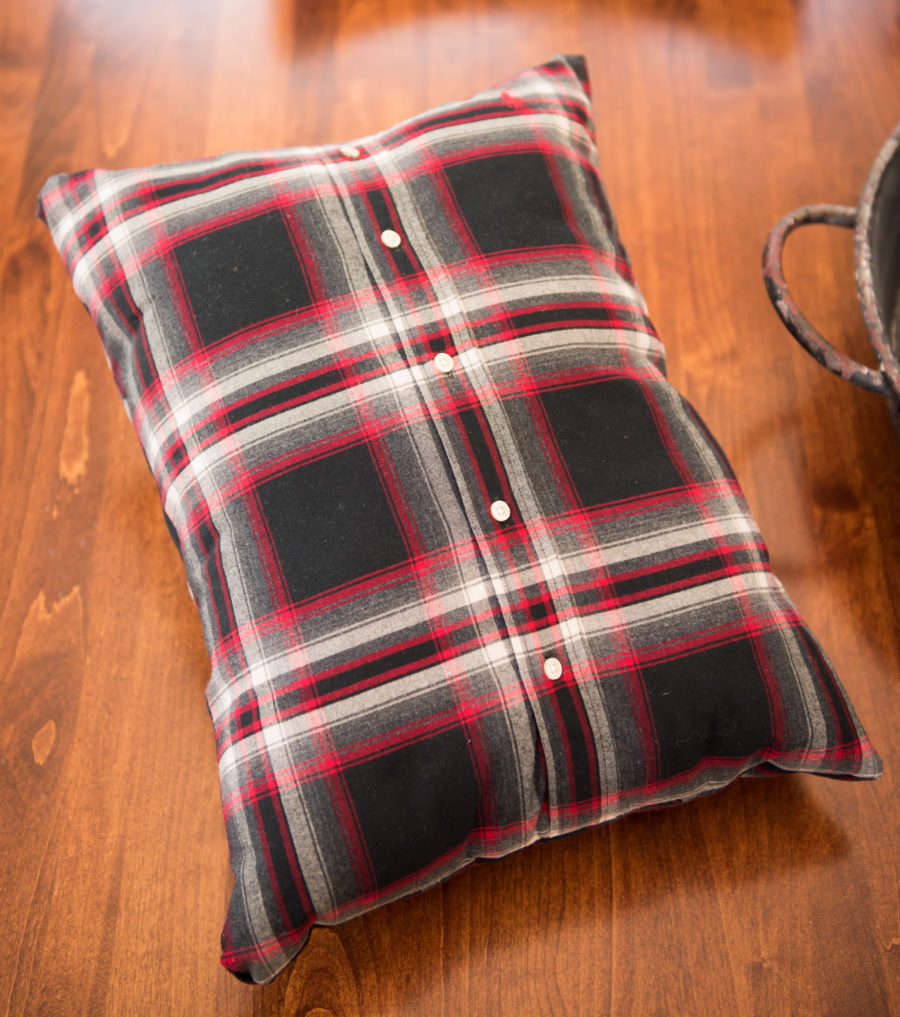 15. Use extra mini white lights – These can be purchase at Walmart for less than $5 for a strand and are another great bang for your buck. Use them on a your mantle, on shelf, in a crate, in a bowl or tray for a centerpiece. The soft light just adds something magical to the holidays and is a great way to decorate for Christmas on a budget.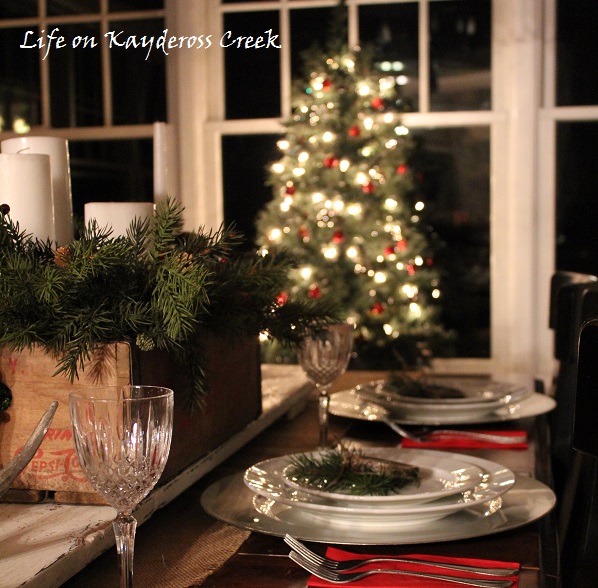 16. Use candles. These can be picked up at discount stores and even at thrift stores. It's a great bang for your buck because not only do candles add so much warmth and feeling to a room, they can add color and texture, too especially when you use them in groups. Don't forget about that wonderful scent, too. Check out Hometalk for some great ideas on how to update candles.  I wrapped the candles in the picture below with scrapbook paper that had Christmas music lyrics on it.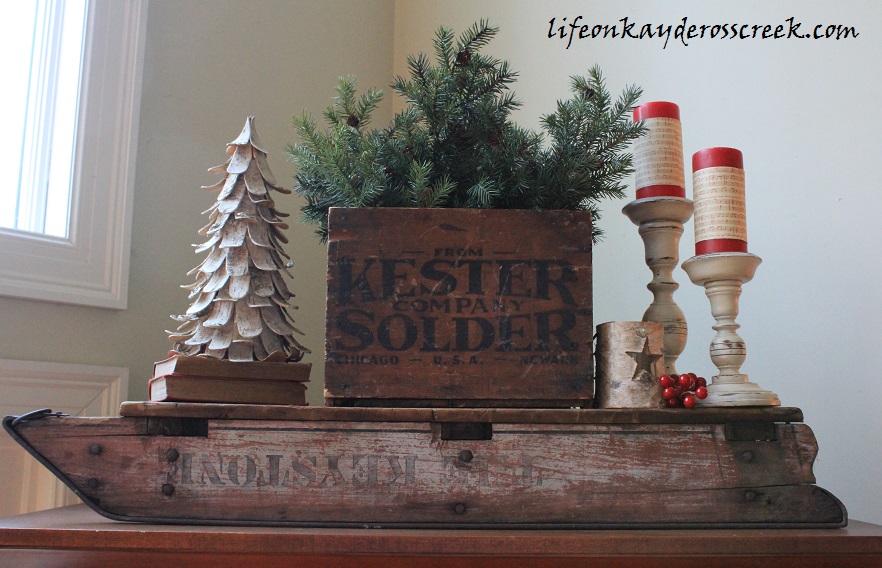 17. Use Chalkboards – these are great because you probably already have one and use it everyday. Use it to decorate for Christmas (Christmas- ify it) just by changing up the picture you draw on it to a tree or wreath and hanging some ribbon or some greens around the corners.  Here are some great examples from Clean & Scentsible.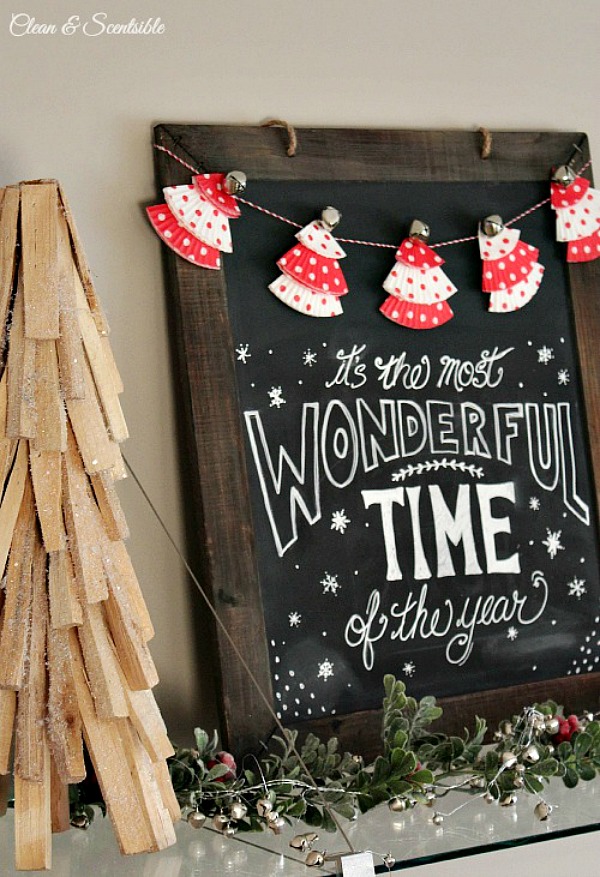 18. Decorate with books and book pages.  You may have an old box of books in your basement or you can find inexpensive books at thrift stores and garage sales (add that to your hunt list) Here are some great ways to utilize the books and/or their pages from BookBub Blog.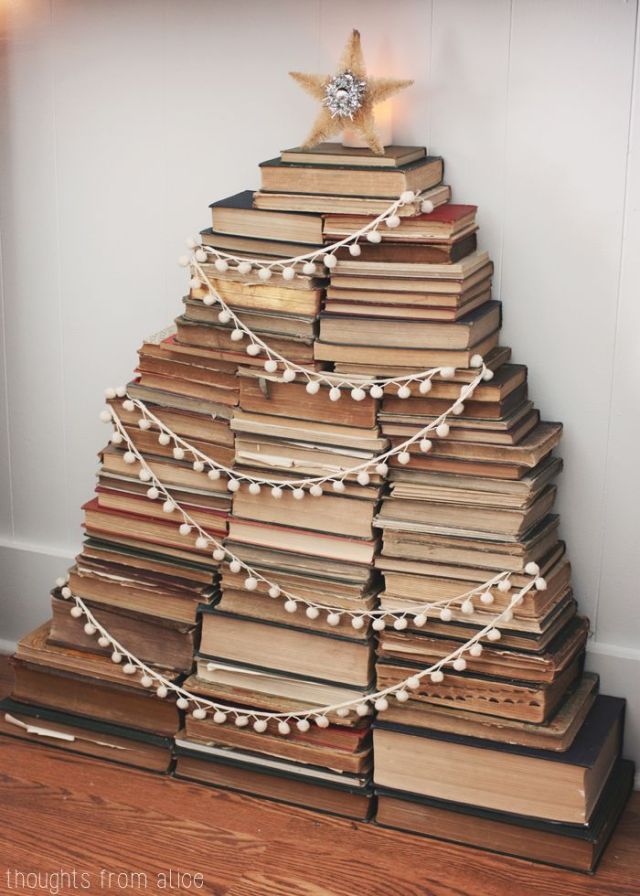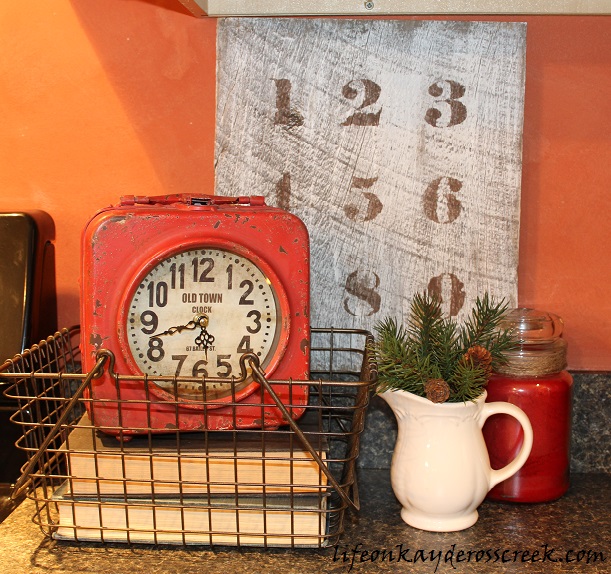 19. Swap items with friends. Maybe your not into that gold wreath anymore but your friend is or you have too many red ornaments and she has too many green. Work something out to swap some stuff and you both can breath new life into your collection.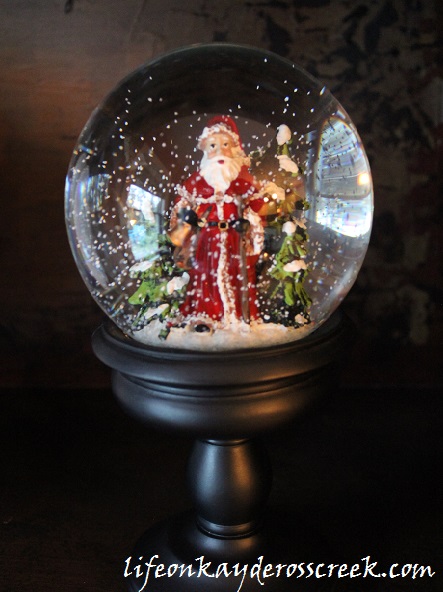 20. Take care of what you do have. Keep your stuff stored carefully in the off season.  Wrap delicate items in paper. I re-use the plastic bags from the grocery store to cushion the bottom of the plastic bin . It's a great way to recycle them and helps keep breakables safe. I label each bin on the outside by taping a plastic sleeve to it and inserting a piece of paper with what is inside so I can find things easier when I go to decorate next time.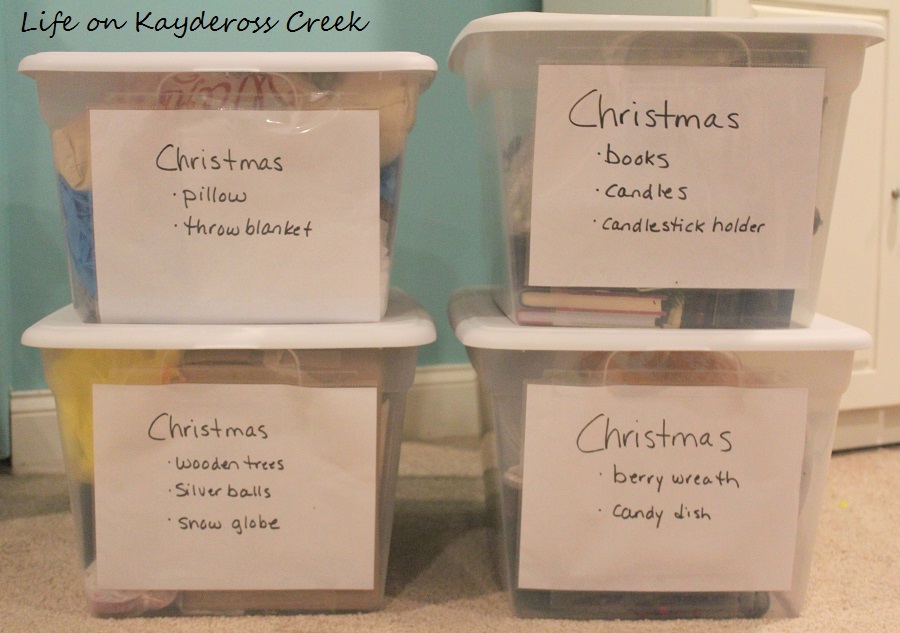 So there you have it. Start early, make a plan and stick to it and you'll have a beautifully decorated home for the Holidays that doesn't break the bank. Thanks so much for stopping by today!  I hope you'll visit again  to check out my full Christmas home tour coming in a couple of weeks where I'll share some of the ways I use these ideas to decorate my home.
You can find my Christmas Home Tours from last year HERE and HERE.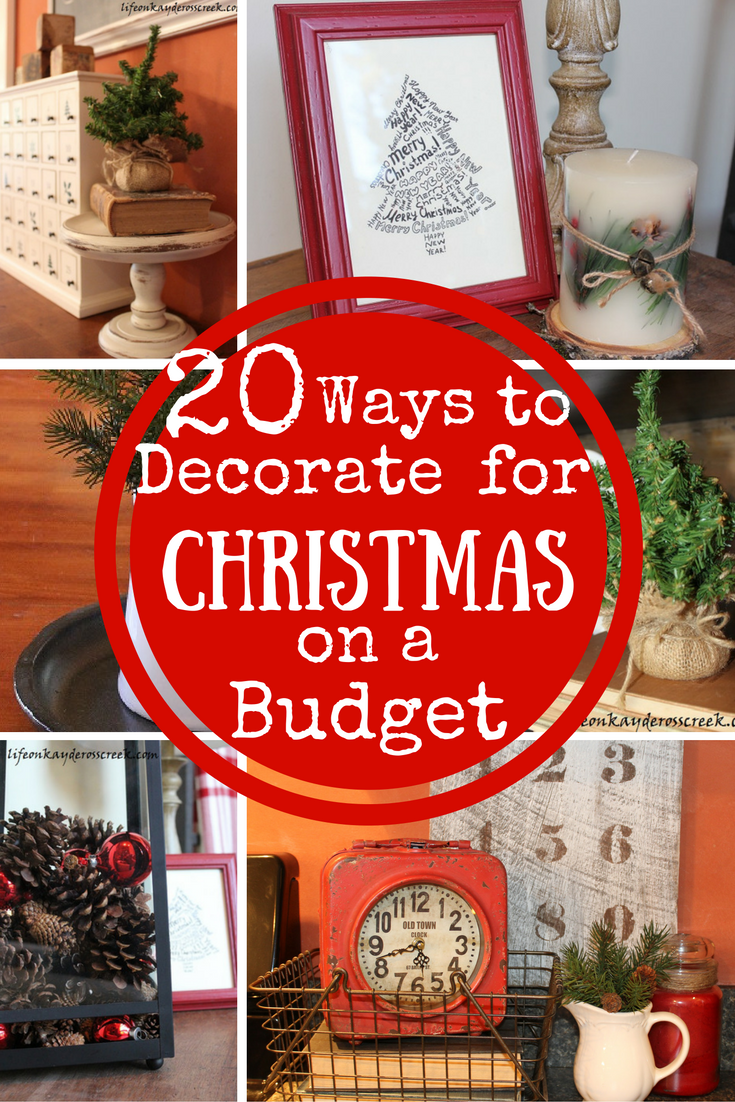 Happy decorating DIY'ing!
Col
More Christmas posts you might like: