So I have such a cute project to share with you today! I purchased this three tiered table about 8 years ago for the little shop I used to own. I put cute little accessories on it in the front window. When I ended up closing the shop, I didn't think I would ever use it as furniture in my house but it ended up getting shoved in the back of the basement anyway. Then it came with us to the new house and got shoved to the back of the basement again. I even tried to put it on craigslist but no takers. As it turned out, that was fortunate for me because it became a sweet cupcake stand…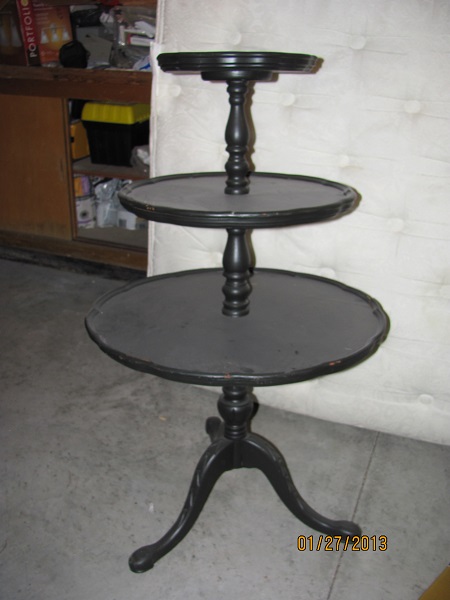 One day I was rummaging around in the basement when I saw the little stand and a light bulb went off. I didn't have to use it as one piece, what if I took it apart? So out came the hammer.
As I separated the pieces, I knew that I could use the bottom piece as a tray (future project and post) and the upper two pieces as a sweet cupcake stand (or hors d'oeuvres , or fruit, or pastries – you get the idea 🙂 ). Here is the top before…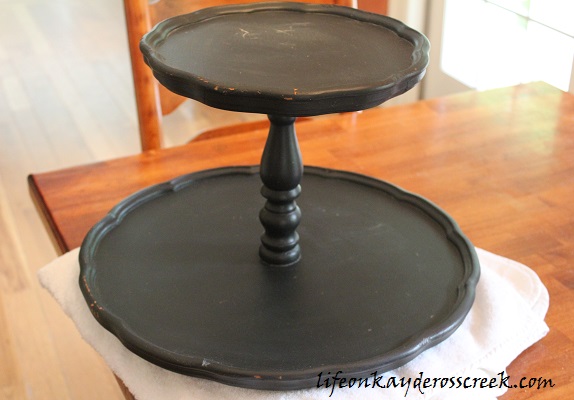 I had painted it black for the shop but knew that I wanted to paint it white for it's new life. That way it would be more versatile for different holidays/functions. I used homemade chalk paint made with plaster of Paris which helped give it a softer look. The piece had some digs and scratches on it from getting moved around so many times so it needed a little prep work. It got some spackle and some glue and it was ready to go.
I also thought it needed to have a little height off of the table so I added these cute little bun feet. I think it adds a bit more purpose to the piece and makes it look like something new and not an old part of something else.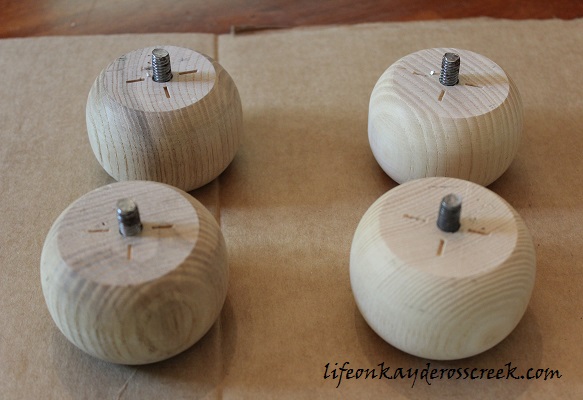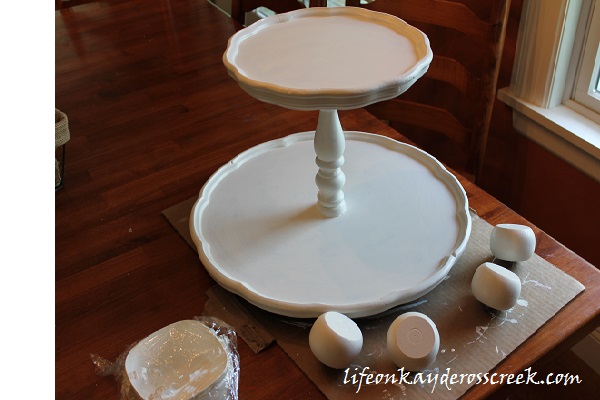 I love the way this sweet cupcake stand turned out. It is so versatile and SO pretty. What a nice way to re-purpose something that otherwise would have sat in my basement.
*See what happened to the bottom part here.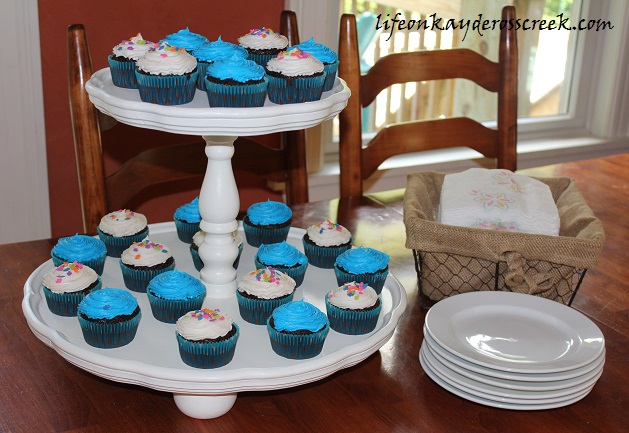 So do you have something that you have stored away and may need to look at with a fresh set of eyes? If you take a minute to look at it a bit closer, you may just see it in a new light and discover it's new purpose.
Happy DIY'ing!
Col
Linking to these great parties…     Inspiration Monday  Project Inspired Link Party  Between Naps On The Porch The Dedicated House  Merry Monday
Dwellings The Heart Of Your Home  Motivation Monday  Create Link and Inspire  Tutorials & Tips Linky Party  Inspire Me Tuesday The Scoop
Brag About It Tuesdays At Our Home Tweak It Tuesday /From Dream To Reality Totally Terrific Tuesday  Be Inspired Link Party Dream Create Inspire
Two Uses Tuesday  Wow Us Wendesdays DYI BY DESIGN /  Fluster Creative Muster Work It Wednesday Creative Ways  Share Your Style Moonlight & Mason Jars  Whimsy Wednesday The Creative Exchange Making Broken Beautiful  Craft Frenzy Friday Friday Feature Linky Party