I'd like to share one of my favorite projects, scrapbook paper wall art, with you today. I first saw this idea on one of my favorite blogs, Thrifty Decor Chic. It's such an inexpensive and easy project and a great way to add some personality and color to any room. I wanted to tweak it a little more to my decor so here's what I did for the landing on the stairs by creating scrapbook paper wall art…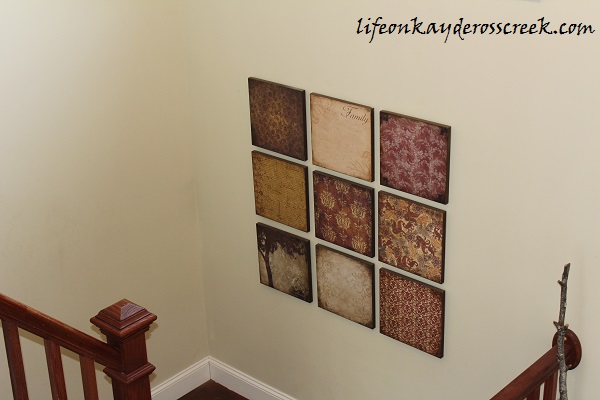 Here is the set I made for the office…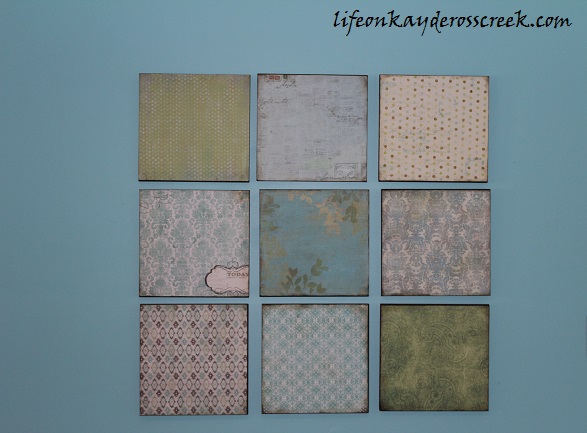 What you'll need:
scrapbook paper
spray adhesive
craft or latex pain
12 x 12 wood or MDF
Distress Ink
Cotton cloth
Wall hanging hooks
I went to Hobby Lobby and Michaels to look for scrapbook paper that would match my decor. I would choose the paper in the same color family and then lay them out on the floor at the store to make sure the patterns and colors complimented each other (I got some strange looks) 🙂 I found a group of 9 that I liked but you can also do a set of 3 or even one by itself. I purchased a 1x 2 x 4 MDF at Home Depot where they were nice enough to cut it for me into 12 x 12 pieces (not all of them will do this). I have since found that they sell half inch pieces which work so much better as they are way lighter and easier to hang.
I painted each piece brown with a paint I had from another project. You don't have to be very precise as you don't really see much of it, just the edges.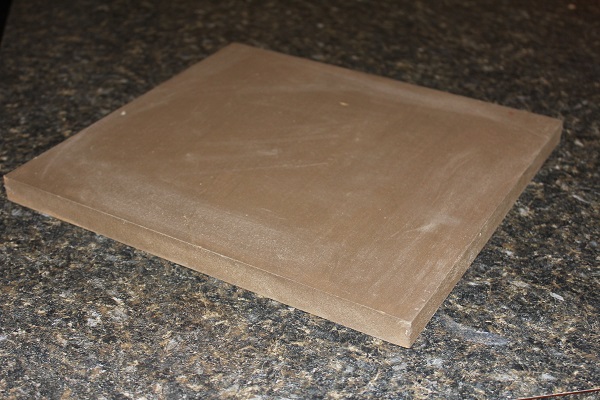 To apply the paper, I used a spray adhesive. I had tried glue and a little bit of water but the paper bubbled as it started to dry. It is really important once you spray the adhesive onto the piece of wood that you center the paper and then start in the top with your hands and smooth out any bubbles. I usually turn them upside down and let the weight of the wood help the adhesive stick.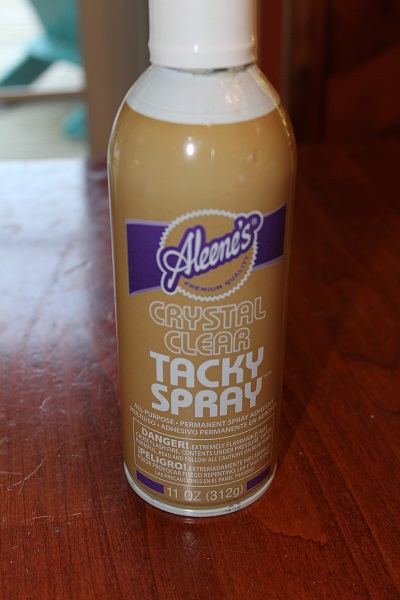 Once the paper has dried completely, I sand the edges of the wood AND paper together to rough up the paper and pull some of the original wood through. Then I applied some of the antiquing ink in a darker color to those sanded edges with a cotton rag to make it look warn. I love that old, distressed look!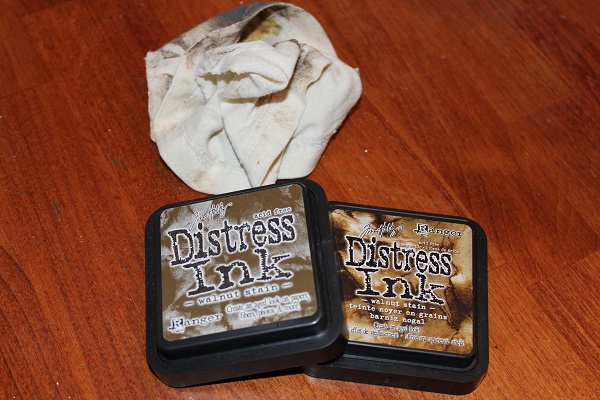 I hung them using simple saw tooth hangers nailed into the back. Pretty simple. I really like the way they came out. The possibilities are endless when it comes to scrapbook paper. I used smaller squares to make cute little ones too.
The best part is the price! I got some of these pieces of scrapbook paper on sale for $.25 and the pieces of MDF run about $11 so you can make a set of 9 for under $20!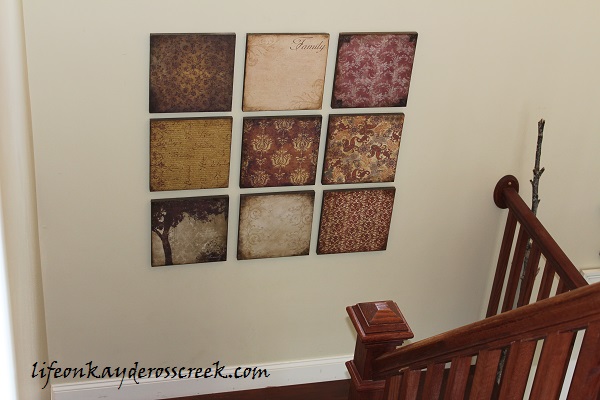 I love an easy project that only looks expensive! Creating scrapbook paper art is a great way to add personality to your space. Do you have a favorite project that you would love to share?
Happy DIY'ing!
Col