It's time for a Dining Room Refresh! Call it winter boredom setting in (not like I don't have anything else to do), but I was looking around my dining room the other day and I thought this room needs a little somethin'. Nothing too big or expensive, just a quick update. Maybe I can use what I already have, switch some things around, or make something myself?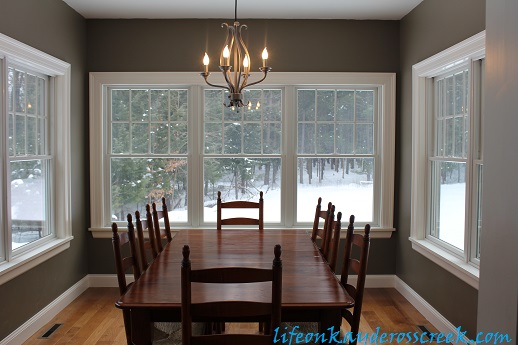 So after clearing everything but the table and chairs from the room, here is the before, I know, pretty boring right??…
Our house is surrounded by woods so when we built the house we knew we wanted lots of big windows to focus on the view. We also chose not to add curtains so I will leave the windows as is.
We had this table and chairs from the old house.  In order to stay within budget, and for this simple update, the table stays. Besides, it is still extremely sturdy and the perfect size for big family get-togethers.  I sold 6 of our old chairs on craigslist and bought these for exactly what I sold the old ones for so I broke even. 🙂
The chairs before were obviously pre-children. You wouldn't believe the food that gets stuck in those seats!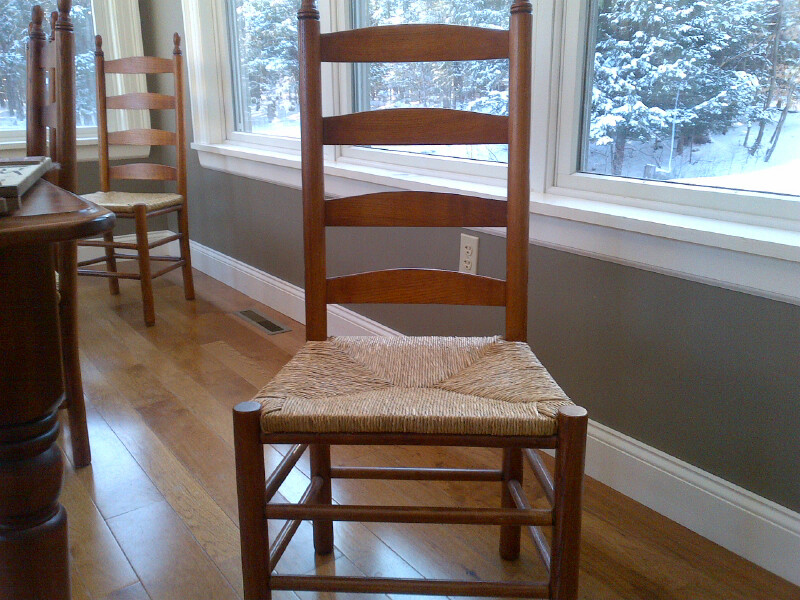 So to give the room a more updated look, we opted to change out the chairs and add black ones instead.  Are you ready for this? I got these farmhouse style chairs at Walmart! They have a slightly distressed look which I really like and they are rustic yet modern.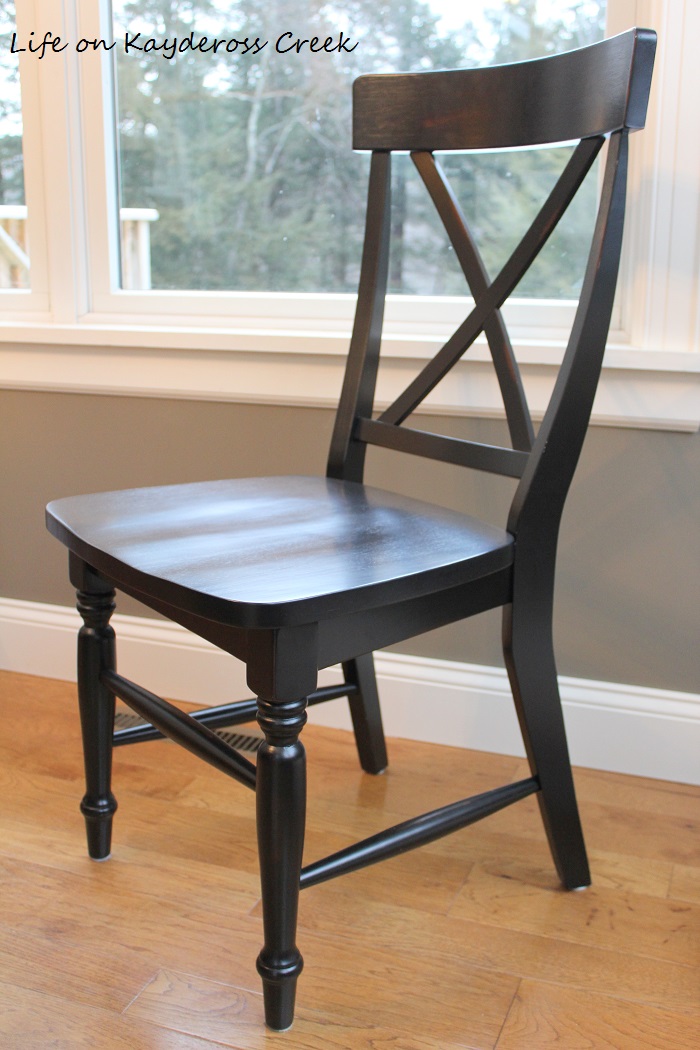 We were on a crazy tight budget when we first moved in. Kevin found this light fixture on clearance at Home Depot for $22. What a bargain!!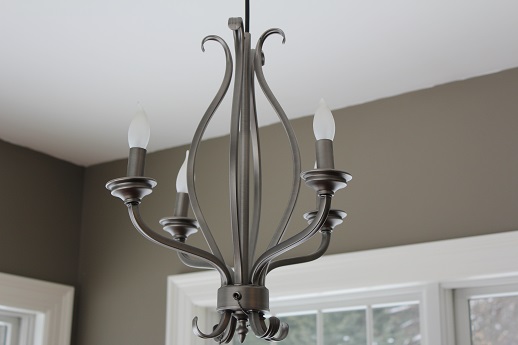 To update it, we spray painted it Oil Rubbed Bronze (my favorite go-to color) which is almost black but not so severe. It goes really well with the chairs. This cost next to nothing as I already had the paint from another project. I LOVE spray paint!!
So here is the after….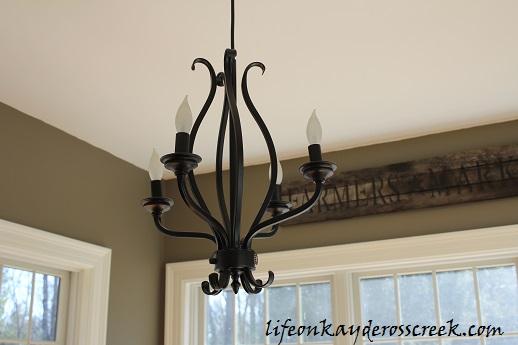 I made the Farmers Market sign out of some old tongue and groove flooring my Dad took out of his shed. (I never throw anything away, especially wood or boards as you can always use it for some type of project – another post to follow on this :). It has an amazing, yummy patina and is perfectly scuffed and scraped after having been walked on and having paint spilled on it for so many years.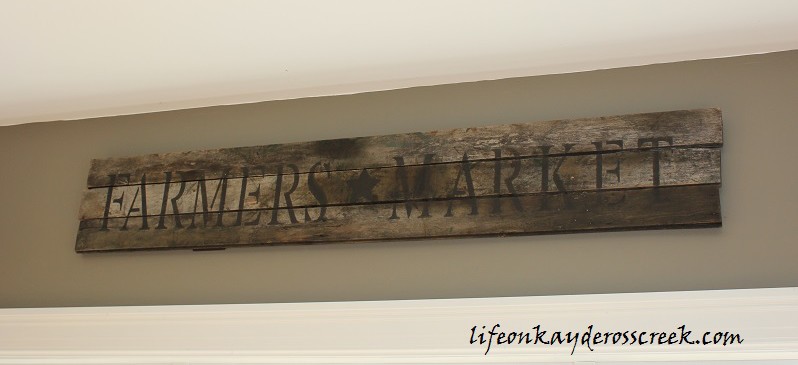 I did splurge a little bit for the tray on the table. You can find it at Antique Farm House and I absolutely LOVE it!! I love how it is worn and industrial and how it adds more character to the dining room.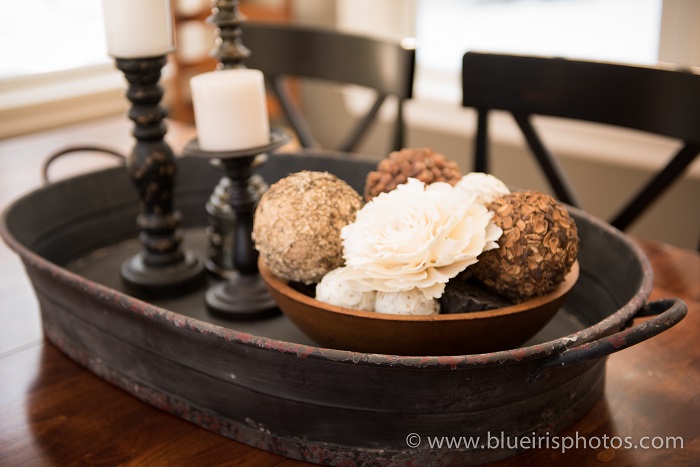 So this is it for now. Small changes but a big impact. I still need to paint my wash stands (not shown here, on opposite walls)  but haven't decided on the color yet. I am leaning toward black. I am also thinking about something new so I'll keep checking Craigslist for a new project. I'll update you soon!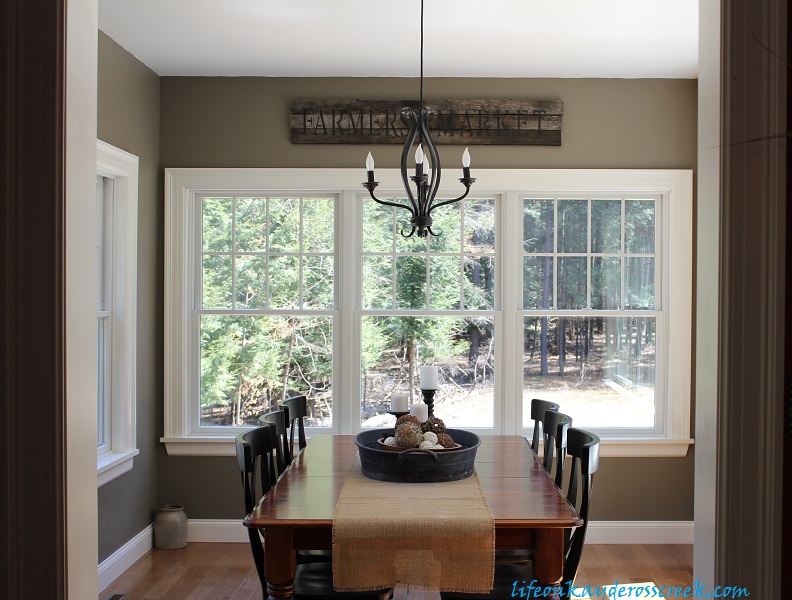 Happy DIY'ing!
Col