Hello my friends and welcome to the 2016 Very Farmhouse Christmas Home Tour! I"m so thrilled to be joining 15 other lovely bloggers for a wonderful collection of Christmas home tours and beautiful decor inspiration shared over 4 days this week.  Thank you to Christina from Christina's Adventures for organizing the tour this year.  She shared her space yesterday so stop on over and say Hi! Here is a sneak peak of all of the tours. The links are at the bottom of this post so inspiration is just a click away. Enjoy 🙂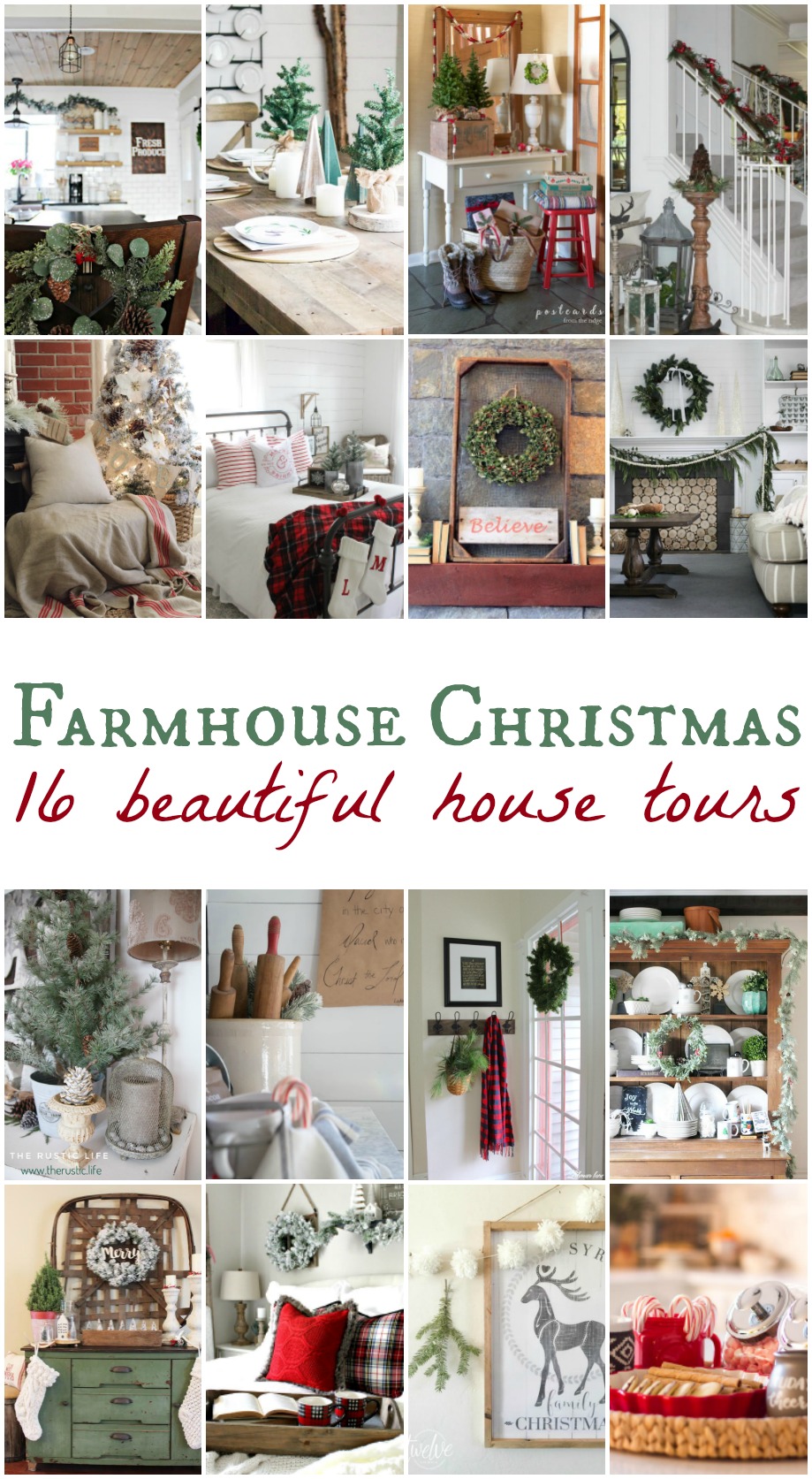 This post contains affiliate links. See my full disclosure here. 
If this is your first time visiting me on Life on Kaydeross Creek, Welcome!!  I'm so glad you're here and hope you'll find some inspiration for some new projects. You can get to know me a little by checking our our story here.
So let's get started on this Farmhouse Christmas Home tour, shall we? I'll start with our family room. It's my favorite room in the house and also the center of our home. We live close to the Adirondacks so the style influences my decor throughout the year and there are touches of it everywhere including the faux deer heads and antlers. I love the mix of different plaids and the warmth of the red and black scattered with the greens of the mini trees and faux branches. I used some of the same elements from last year and you can see that tour here.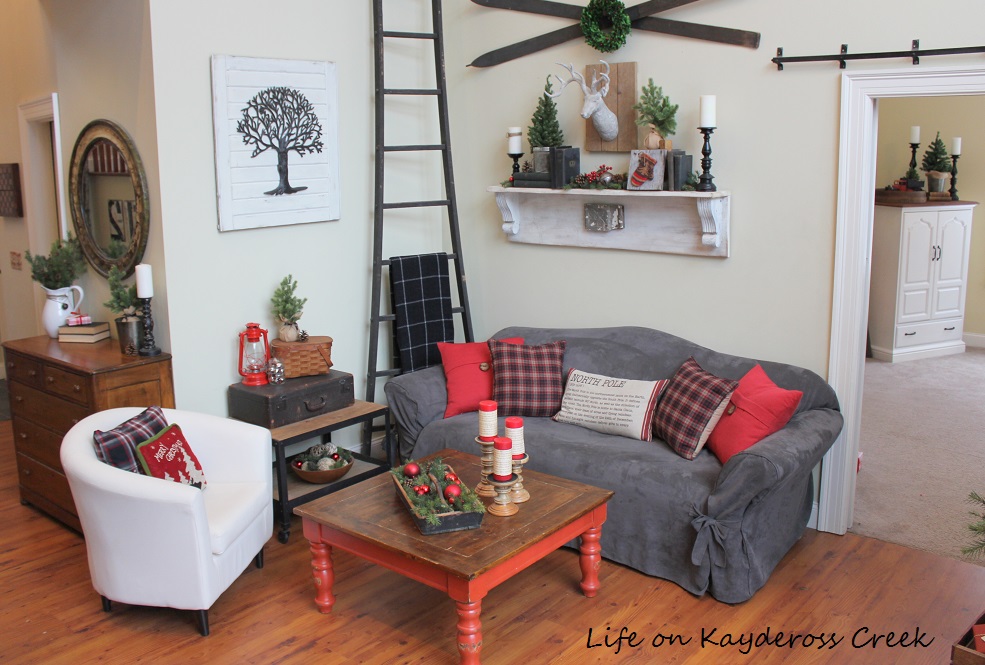 I always leave the task of choosing our tree to my husband because he has a great eye for it. He did a great job as always this year. 🙂  The ornaments are a mis-matched bunch of handmade pieces made by our kids and lovingly given to each of us as gifts or things we have collected on family vacations. I love that each one has meaning.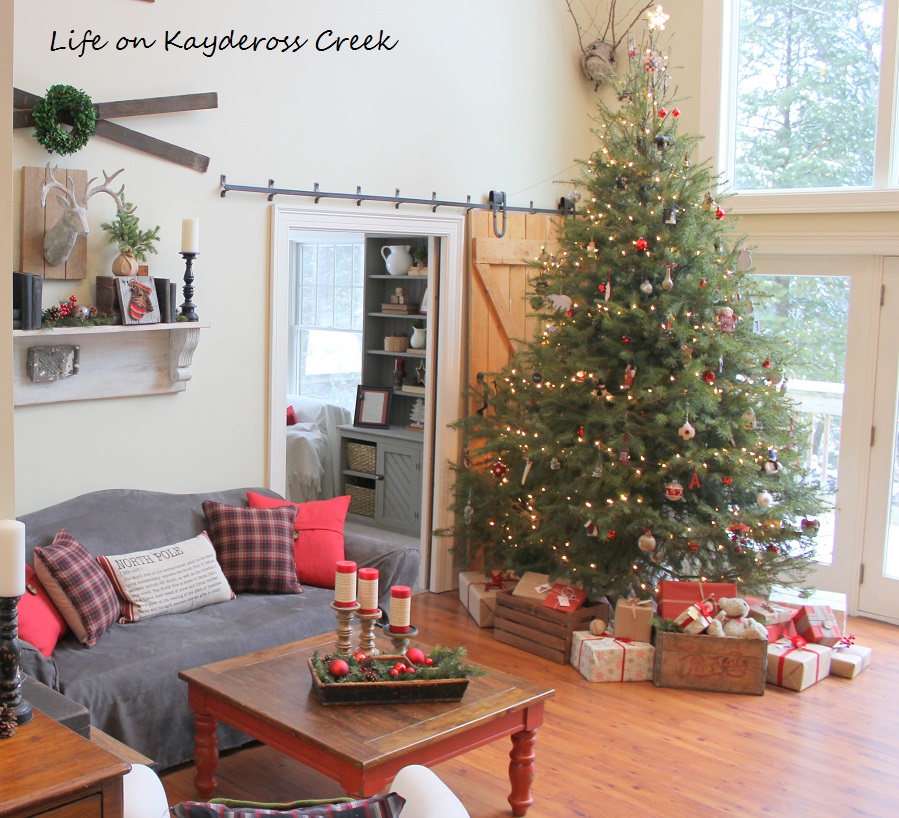 The shelf in the family room is something we made from 2 corbels and barn wood years ago. The ski's I picked up in Brimfield. You can see one of those trips here.  The wreath is from Target but you can find one here. The deer head and smaller mini tree are from Michaels and the rest is garage sale or thrift store finds.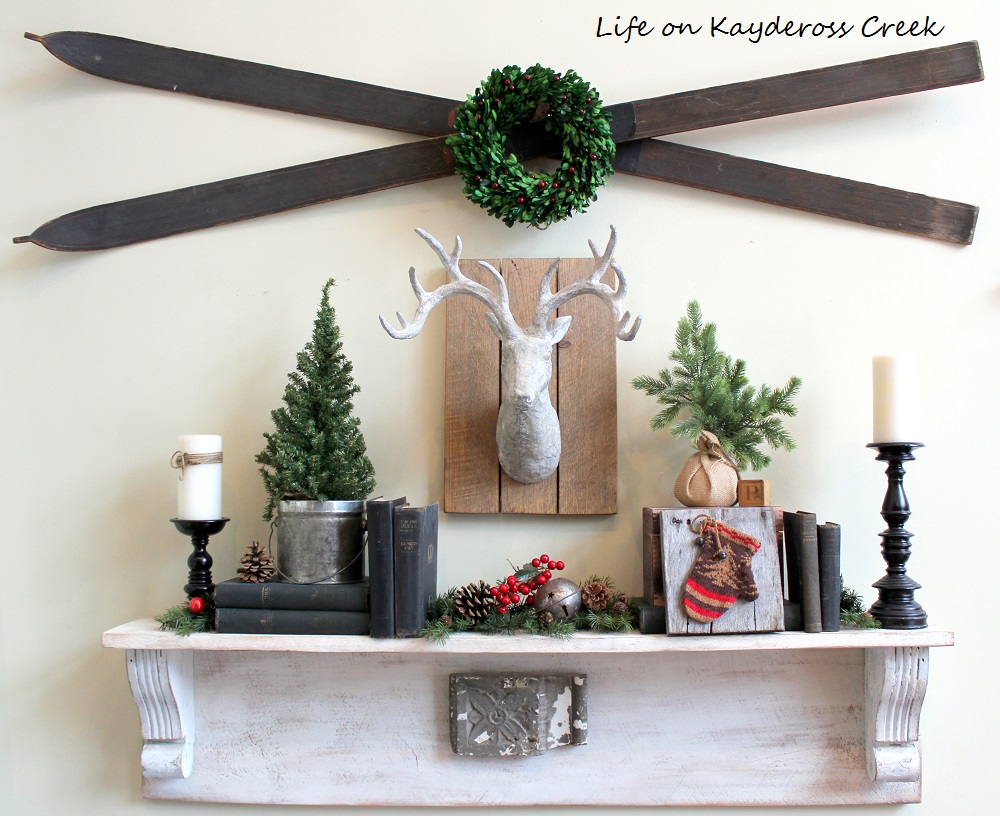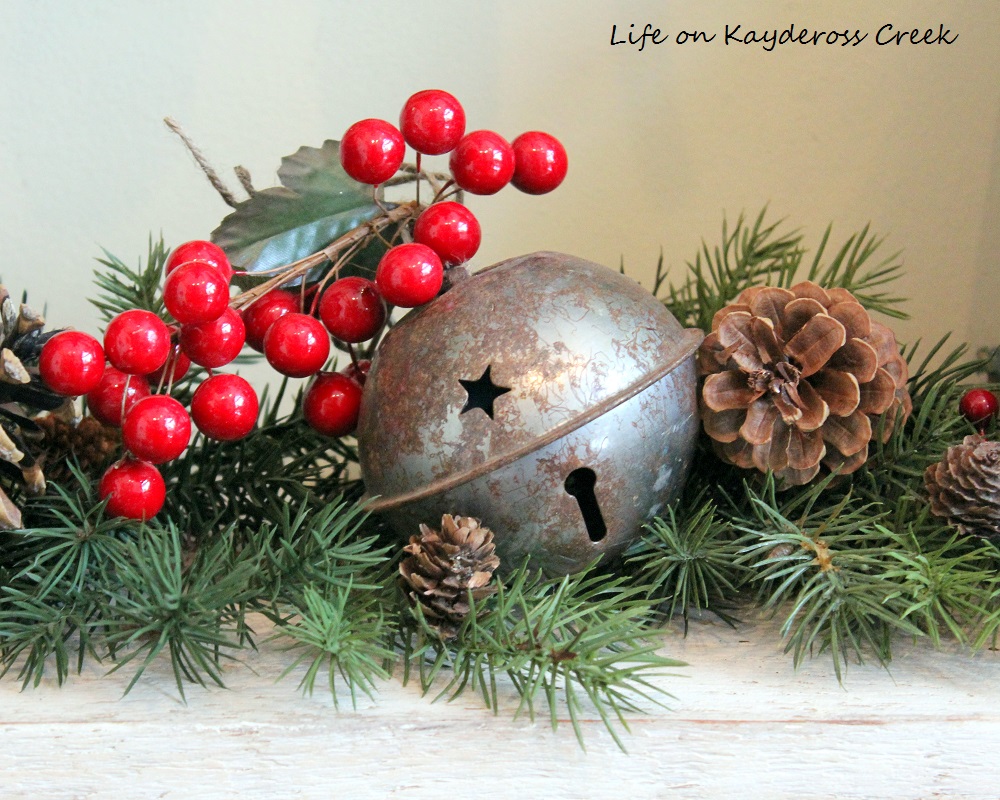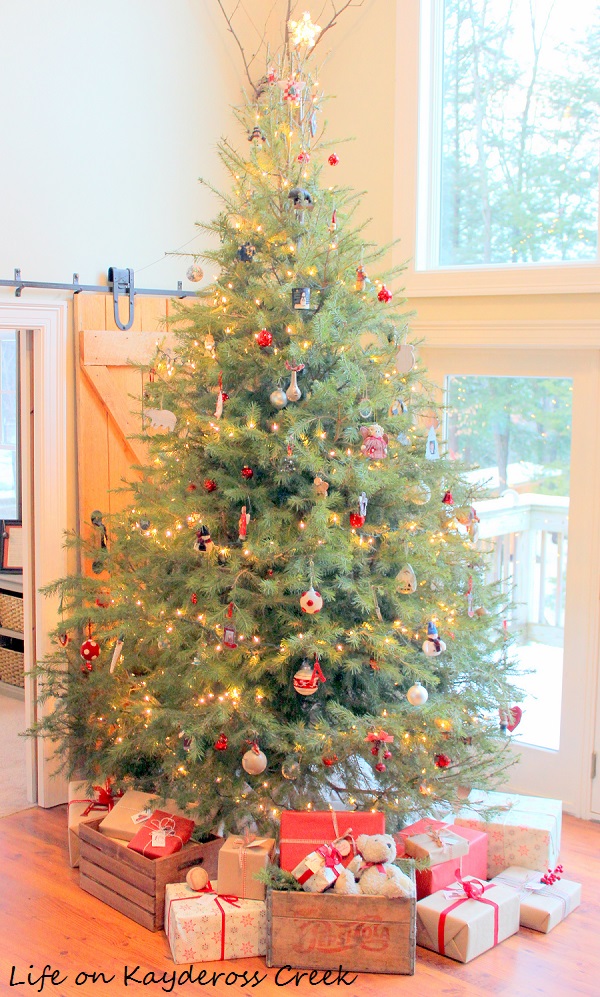 I made all of the gift tags this year from simple white tags, Chrismtas stamps/ink and scrapbook paper all from Michaels.  The matching ribbon and twine are from Micheals as well.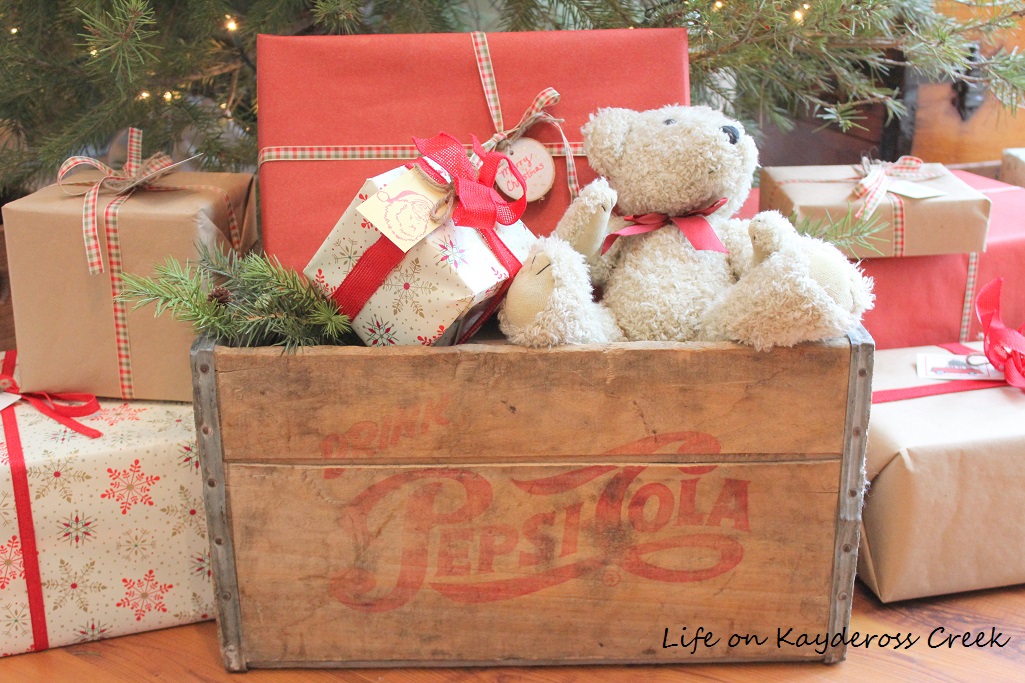 These tags are just made from small cut out sections of a piece of scrapbook paper outlined with a fine tip paint pen from Michaels.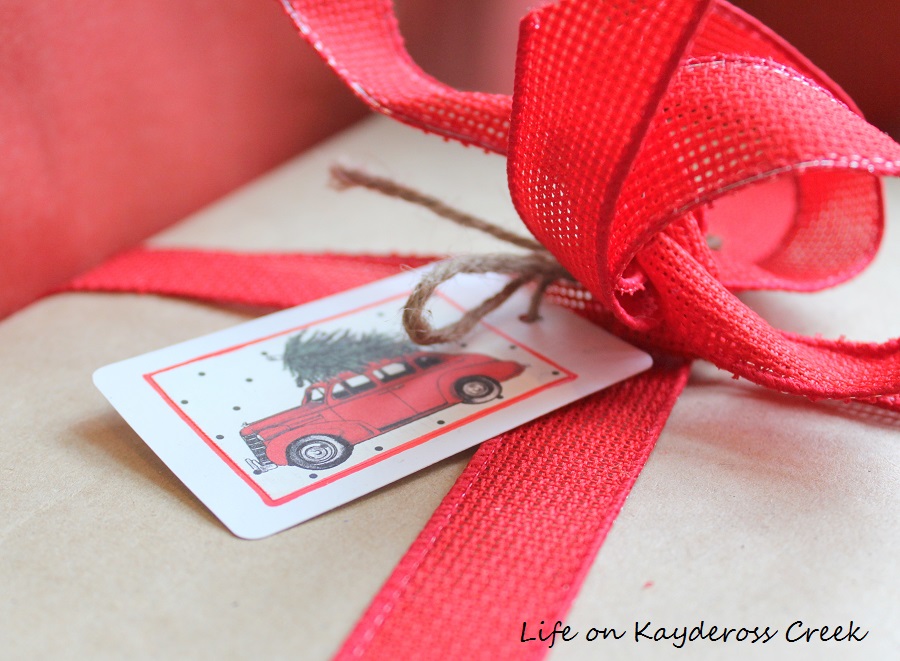 The other tags are simple wooden slices my husband cut for me from small branches. I used the same fine tip paint pen to write Merry Christmas and then a larger tip gold paint pen for the dots.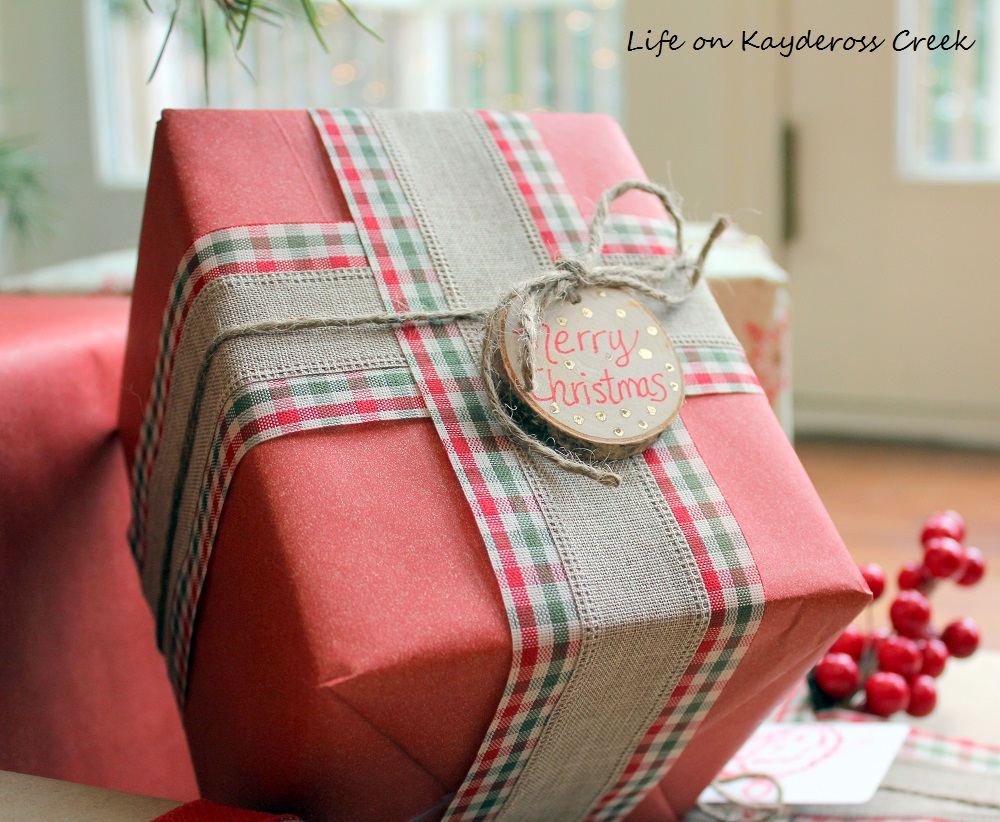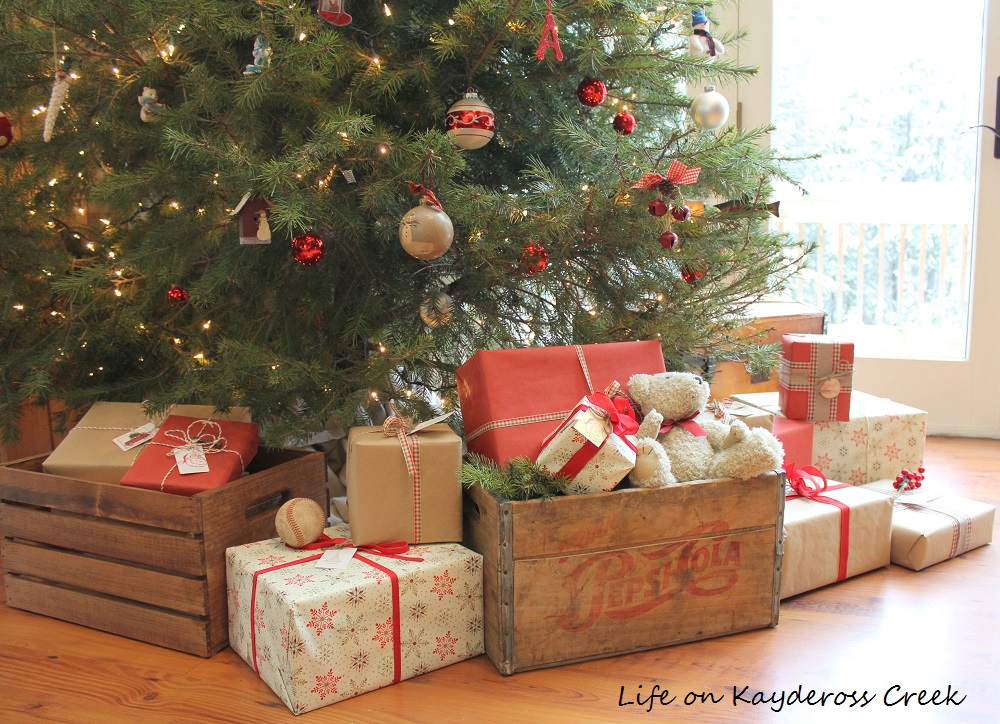 Across from the tree is our fireplace. You can see where we completed that last summer here.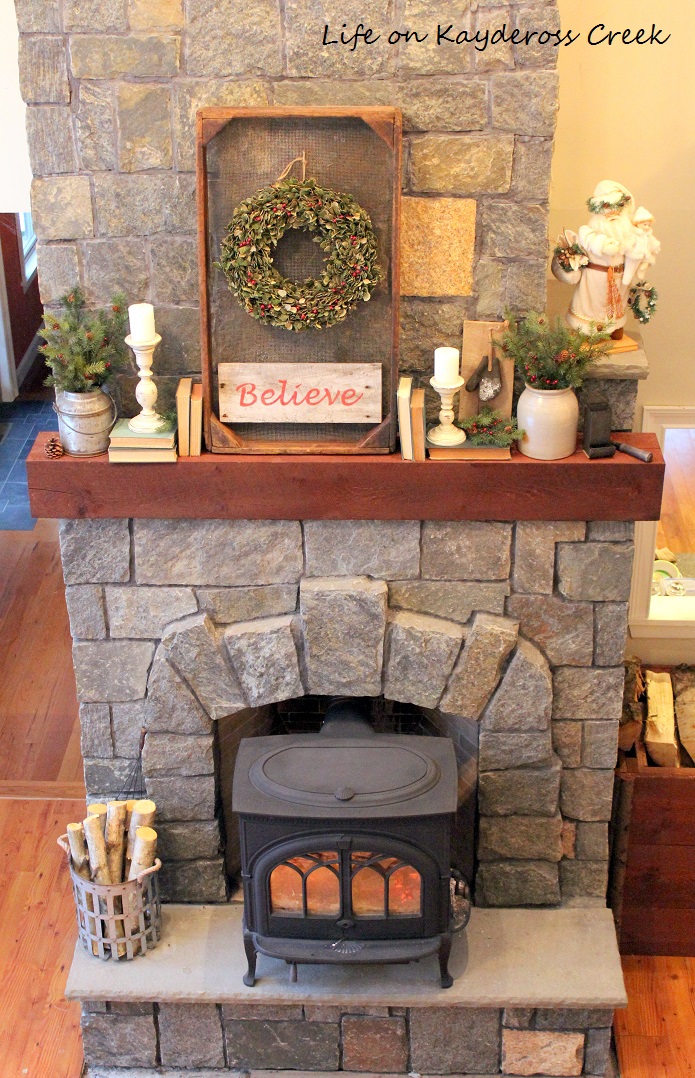 The decorations on the mantel are a collection of things from thrift stores and fleamarkets. The screen and metal milk can I picked up in Brimfield this year. The Santa I got at the Salvation Army and the crock I have had for years. I love the way the silver, white and green play off of the blues and browns of the stone. I made the Believe sign from a an old piece of barnwood and a homemade stencil. I share that project soon.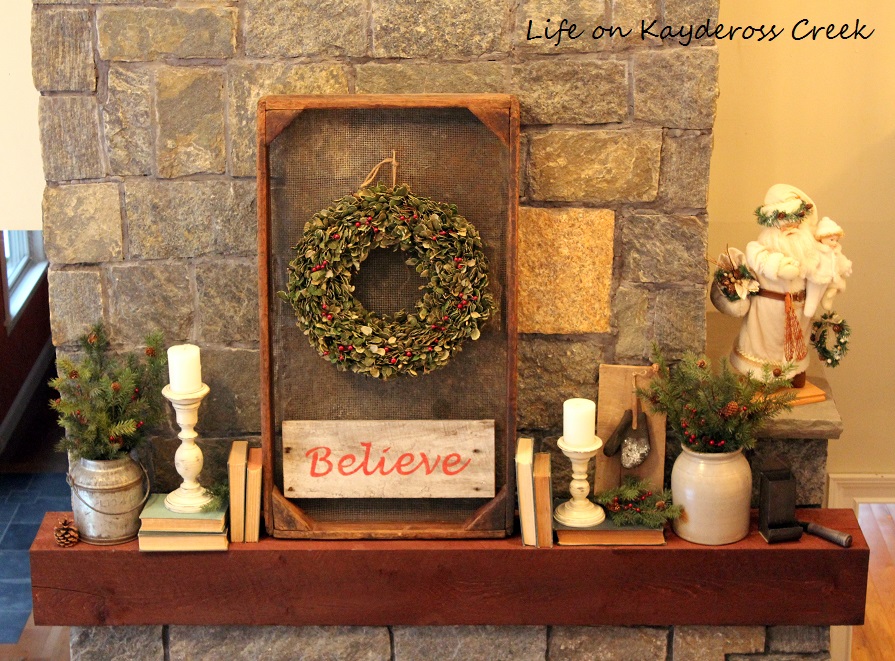 This old tool caddy we found out in the barn at our old house over 20 years ago. What better way to display candles and greens for a Farmhouse Christmas Home tour? 🙂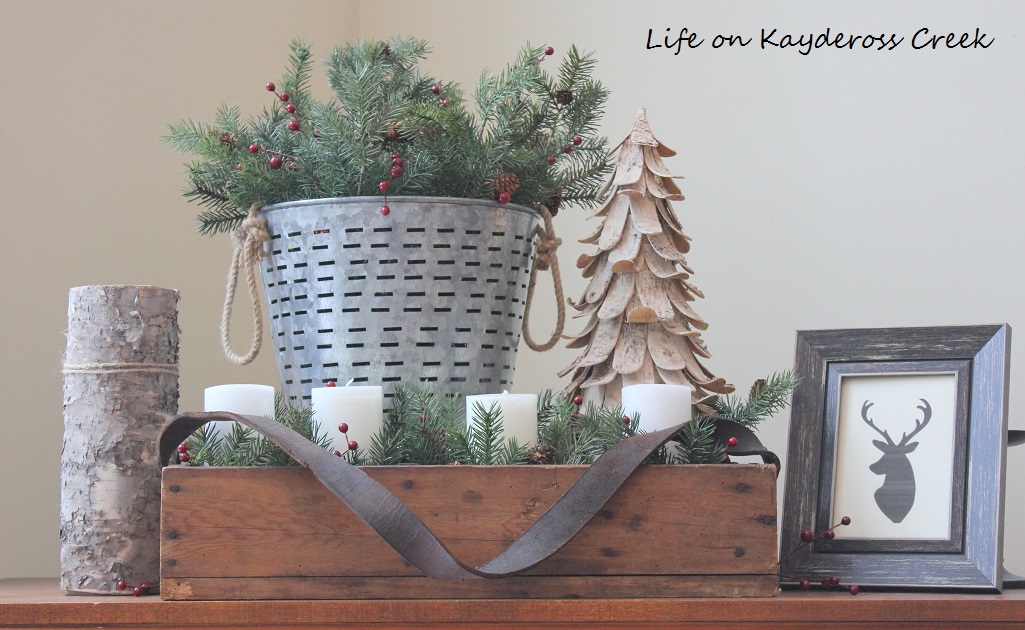 Just past the Christmas tree is our play/kids TV room…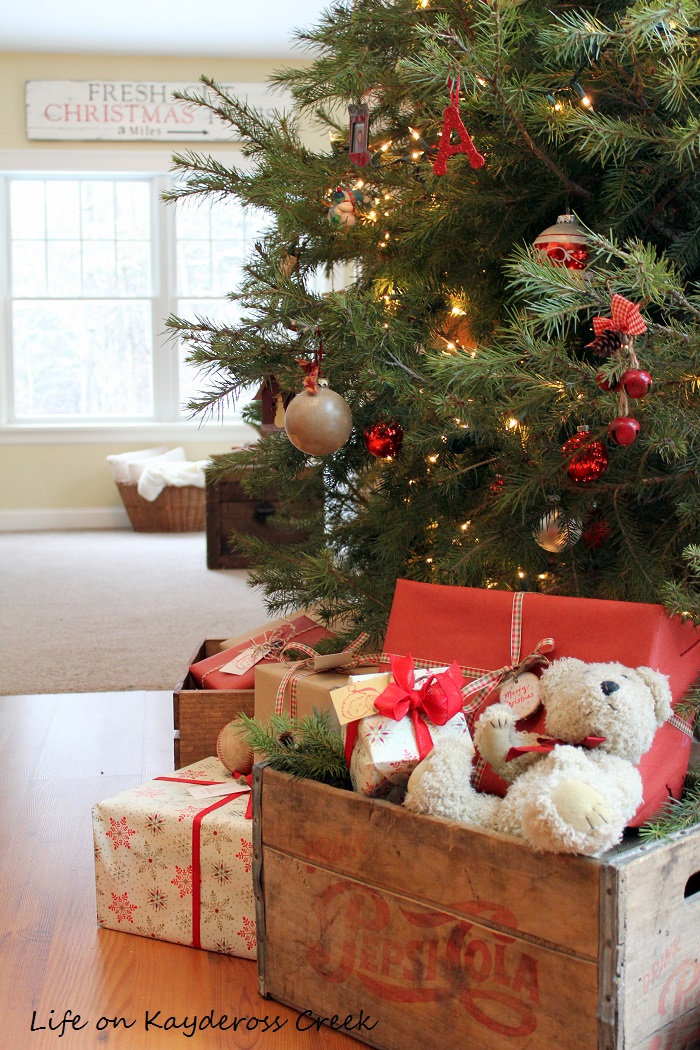 I made this sign from an old cabinet door and stencils.

This sled is one of my favorite things. There's a great story behind it and you can read about that here.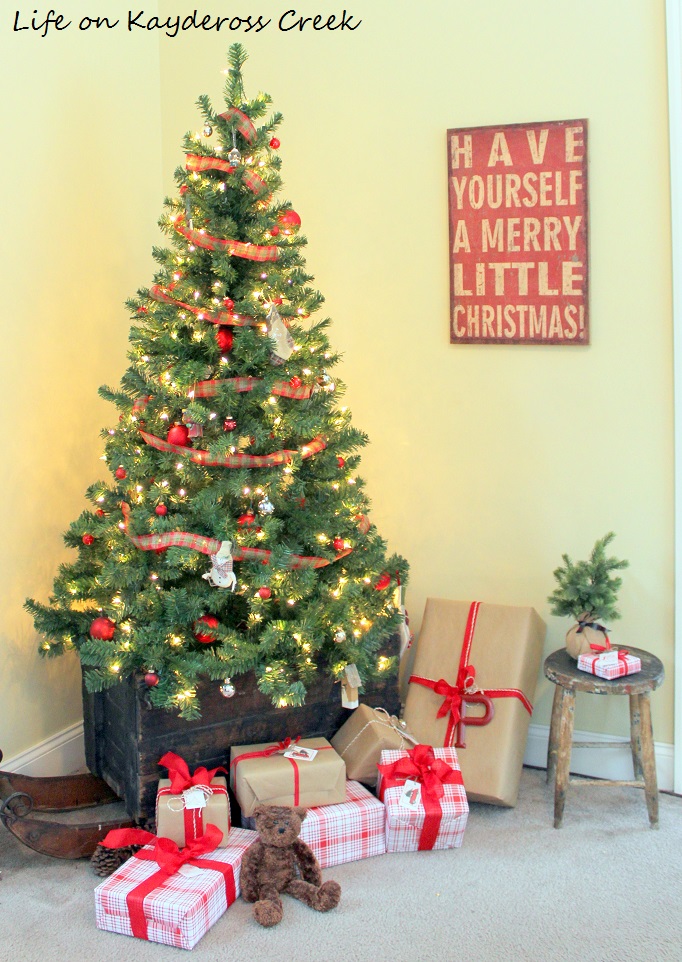 This hutch was a project from this summer. You can see that transformation here.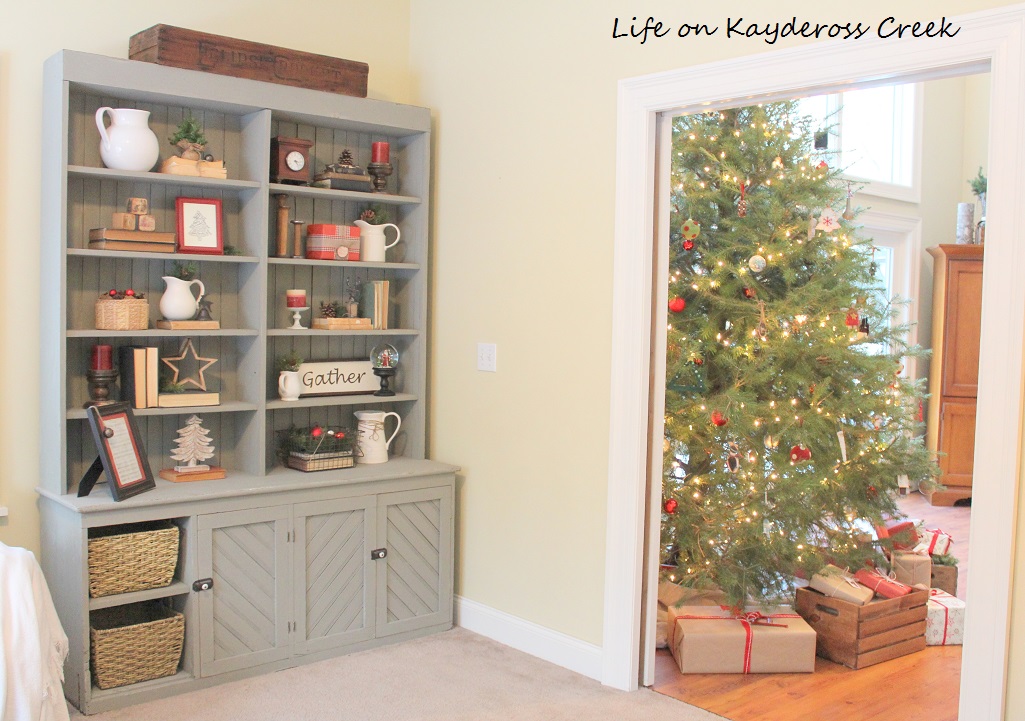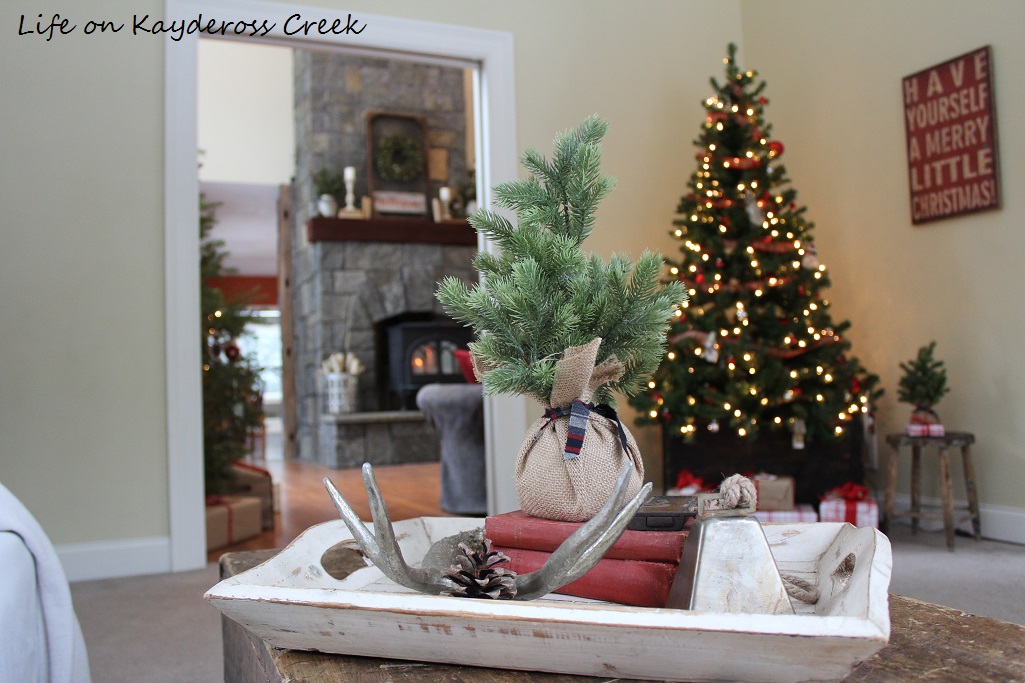 Many of the things I have decorated with have come from thrift store or garage sales or I have made it myself.  It doesn't have to cost a fortune to look beautiful. I recently shared 20 Ways to Decorate for Christmas on a Budget and you can read that here.  Next up I'll be sharing the Christmas Tour of my Kitchen, Dining room and Mudroom so stay tuned!!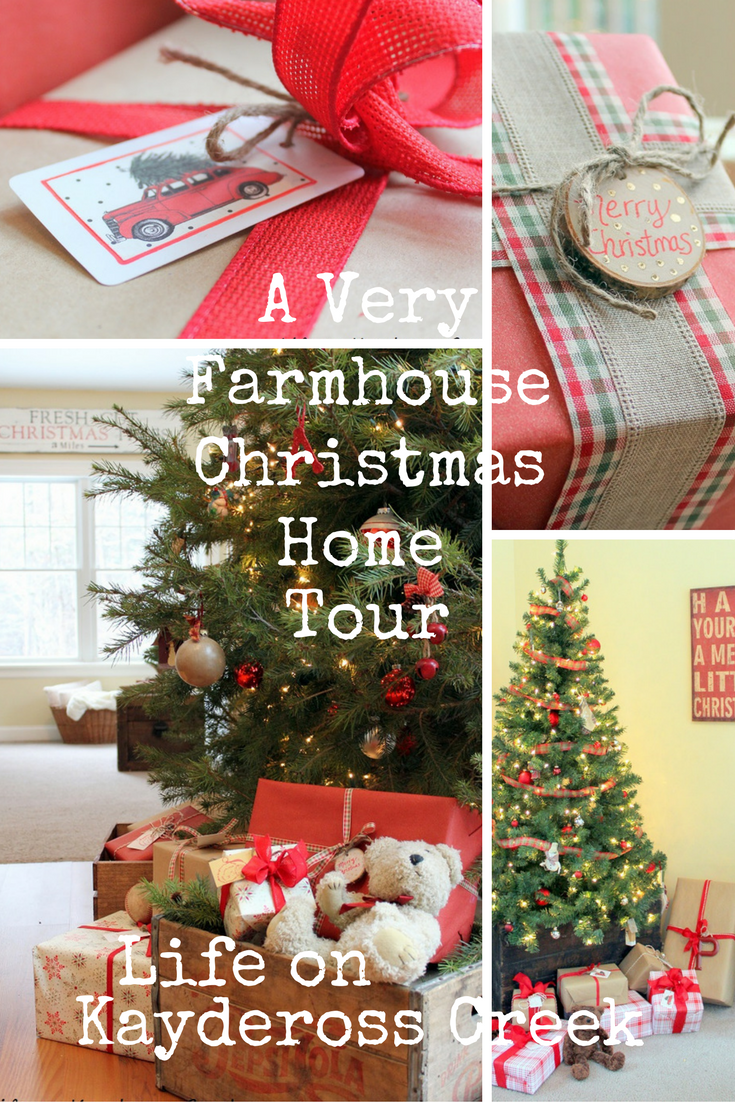 Now that you've seen my house, continue on to Unexpected Elegance's blog to see their beautiful Christmas house tour!
Monday
Tuesday
Wednesday
Thursday
Thank you so much for sharing some of your time with me this busy Holiday season. I hope you found some inspiration and that you have a wonderful Christmas with your friends and family!
Happy DIY'ing!
Col
You may also like:
Linking to Finding Silver Pennies