Today I'm sharing my DIY Art made with antique keys. One of my very favorite things to do is to go to big flea markets and antique shows. The vendors have the coolest stuff and it really is about the thrill of the hunt for not only unique pieces but then to haggle and get the best price. Don't get me wrong, I love a good garage sale too, but there is just something about going to a big show. My husband and I make a day of it (or better yet and overnight). It's kinda our thing.
🙂 The most recent one we went to happens to be one of the largest in the country, the Brimfield Antiques Show in Brimfield, MA. You can see some of our trip and our cool finds HERE. We found some really cool stuff and one of the things I had my eye out for was some old skeleton keys.
So for this project I decided to frame the keys. I had thought about it for awhile as I had seen and then purchased something similar at Michaels. I wanted it to be more authentic and rustic. I started out with 4 different keys, a piece of scrapbook paper for the background and a simple frame…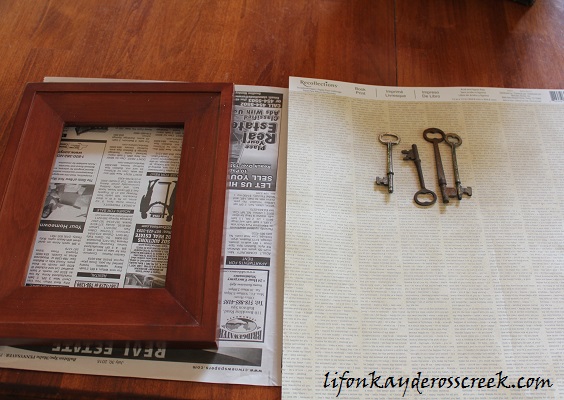 This post contains affiliate links for your convenience. See my full disclosure here. 
I wanted it to look kind of like a shadow box without actually using one since I already had this frame. The trick was getting the glass in with the backing far enough away so that the keys had enough room to hang freely. I ended up using an extra piece of cardboard to create enough space.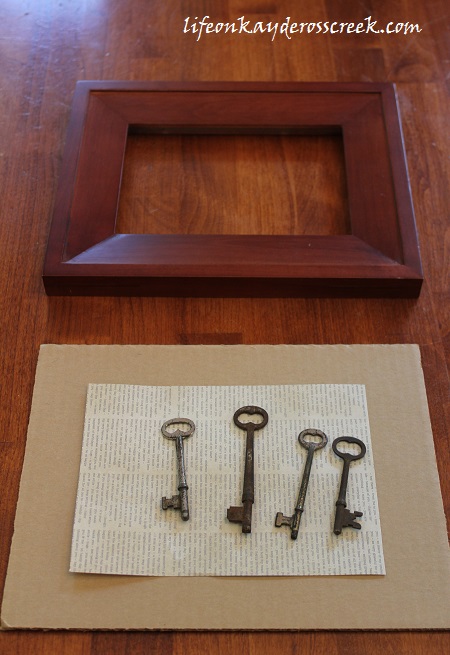 I cut the scrapbook paper just a bit bigger than the frame opening and then glued it to the cardboard. In order to get the keys to hang I used tiny nails which I had to paint brown so that you wouldn't notice them.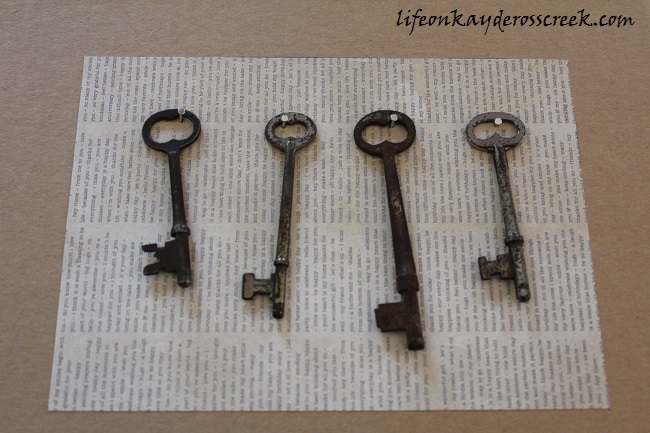 So I used a hot glue gun to glue the keys in place and then to glue the cardboard to the back of the frame. I also had to use hot glue to put the original backing on the cardboard so that I could either hang it or stand it up like a regular picture.
I ended up using a different frame than in the first picture because the original one just looked a bit to small and I like the more aged look of this one. I think this DIY art came out super cute and I like that fact that it is something original. It's also pretty versatile throughout the seasons.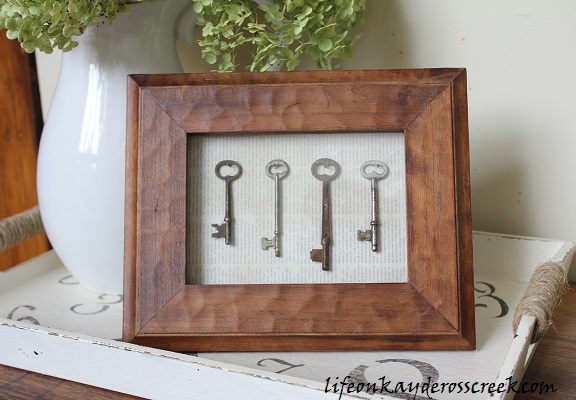 To see more upcycle projects from my Brimfield finds, visit: Industrial Style End Table, DIY Rustic Wall Art, Antique Sewing Table Makeover.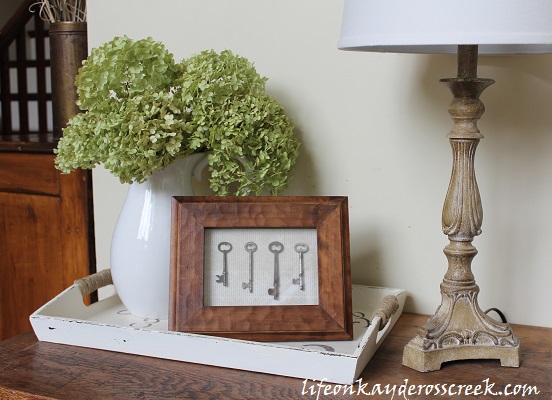 So there you have it, my DIY art and antique key project. A product of my trip to Brimfield. I can't wait to go again next year and see what cool stuff we find and new projects we can do. Whatever it is, you know I'll share 🙂
Happy DIY'ing!!
Col