Today I'm sharing our long overdue laundry room organization for, believe it or not, under $100! When we were building the house almost 10 years ago, a huge beautiful laundry room just wasn't in the budget. It's more of a laundry closet really. Regardless, I still spend quite a bit of my time in that space so why not have it be enjoyable, am I right? So after looking at a not-so-inspirational space for so long, it was time.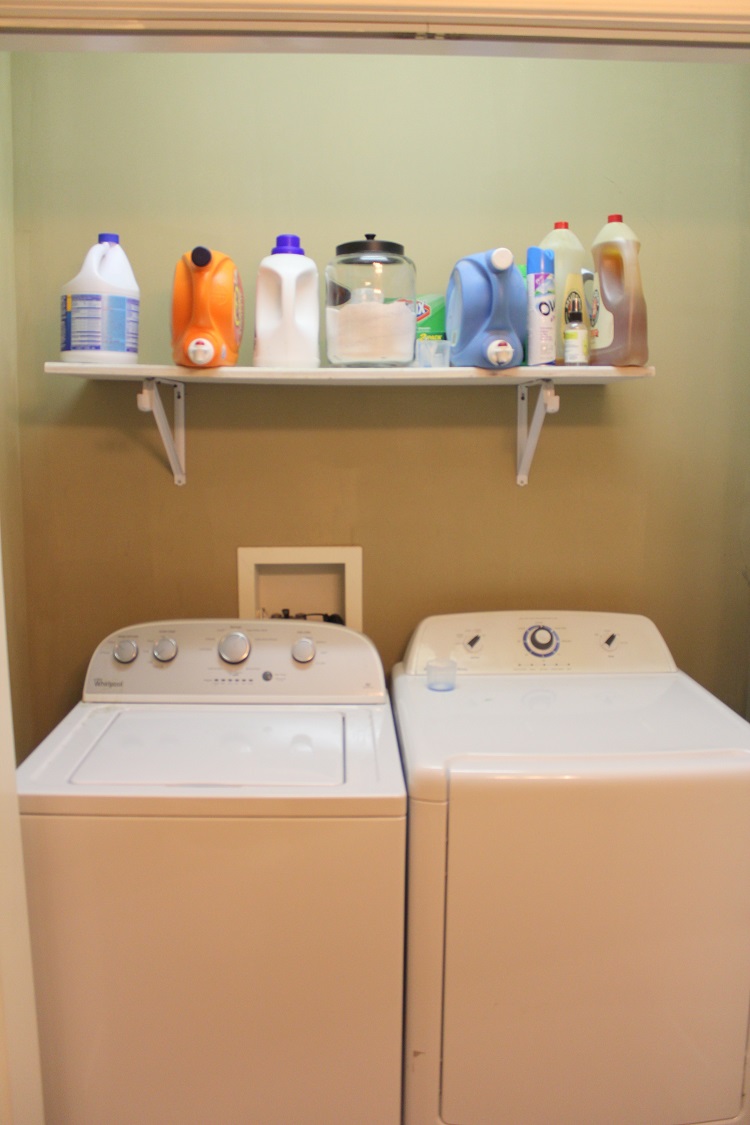 Eeekk. So not only was it a bit dreary and boring but it was also not the best use of space. Here's what we did to make it crazy functional and much more interesting. First things first, a new coat of paint.  I had this paint left over from a project we had done a few years ago. I think it's called Embarcadero by Valspar.  It was just what the space needed to brighten it up. It looks a bit purple-y in this picture but it's really like a cement block gray.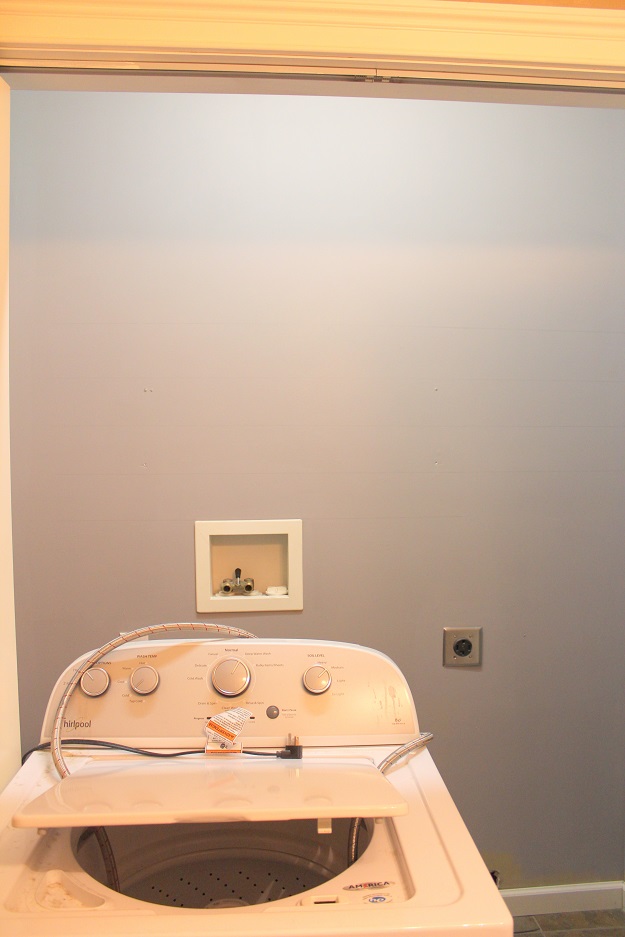 To add a bit more personality and interest, I decided on stripes. I used a 4 foot level and a ruler to outline 8 inch stripes in pencil on the wall and then used painters tape to mark off the lines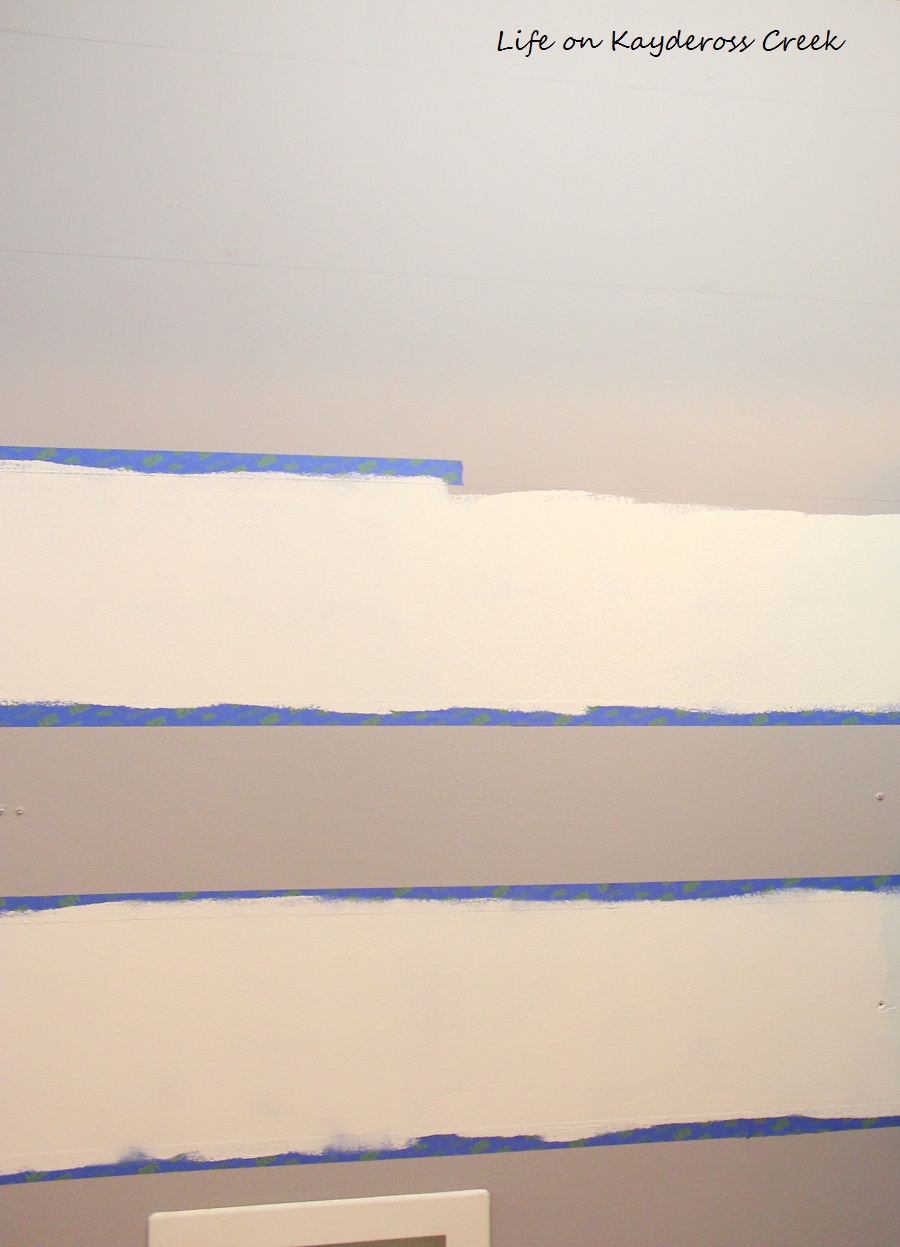 Truth be told, I ran out of painters tape and had to free hand some of the stripes. That is when a really good quality brush comes in handy 🙂  This shade of white is called Creamy White by Behr and it is the trim color you see throughout our house.
Here are the completed stripes. Crazy better, right?!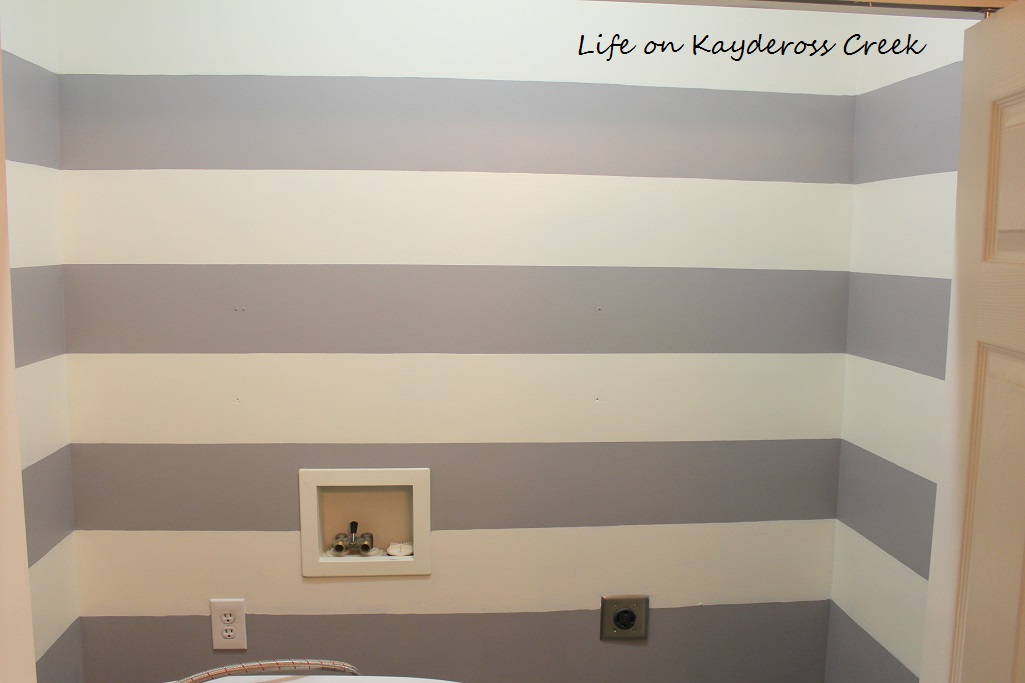 So to make better use of the space we wanted to take advantage of the height and added more shelves. We used MDF which comes pre-cut in 12″ x 8′ boards from Home Depot. I think they are in the closet section. We've used MDF on prior projects like our Mudroom. Now, the thing about MDF is it bubbles when it gets really wet so I gave the boards a thick coat of primer and then 2 coats of the Creamy White paint just in case the laundry detergent leaks or something.
For the shelf brackets, I picked up these inexpensive white ones at Home Depot and spray painted them Oil Rubbed Bronze for some contrast.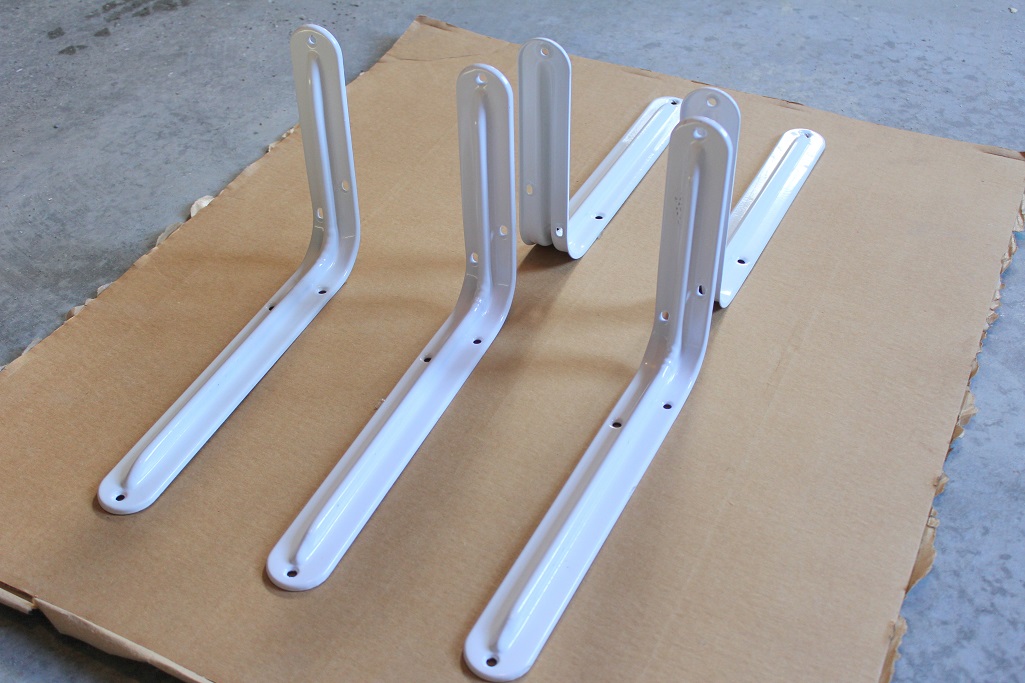 Here they are spray painted…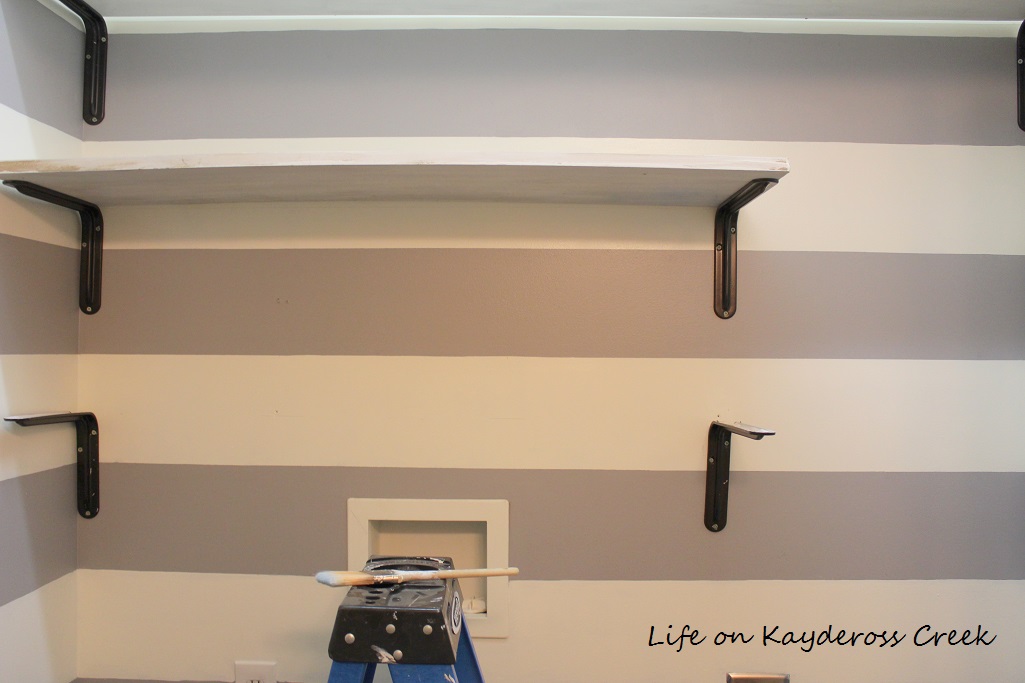 I also wanted to add a space to hang shirts straight from the dryer so I used an inexpensive wooden towel bar I picked up at Walmart mounted upside down on the top shelf. It was a bit too long at 18″ so we cut it down to fit the space and then I painted it to match the stripes/shelves.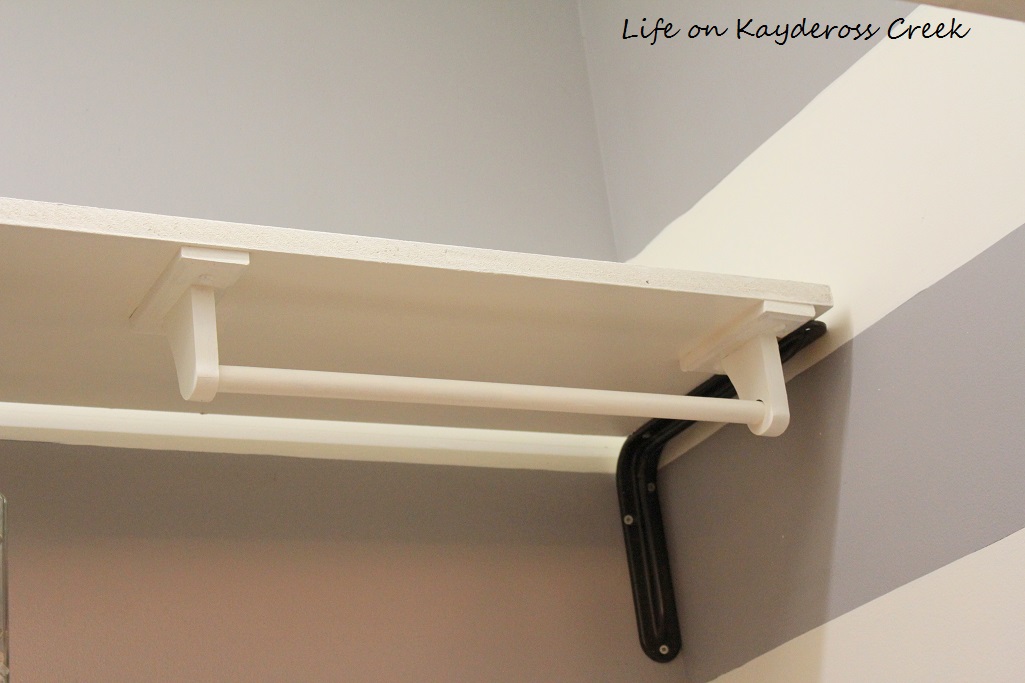 The space would not be complete without a DIY sign so I made this cute little sign out of an old piece of wood and some stencils. I always write it out on paper before I paint so that I can make sure it will fit and the spacing is correct.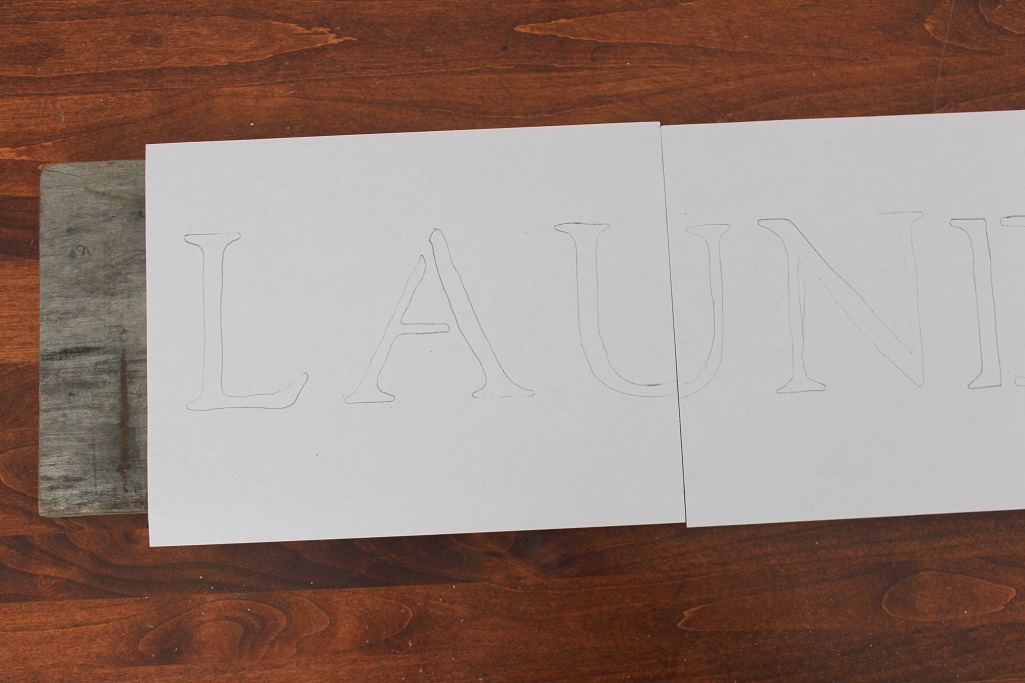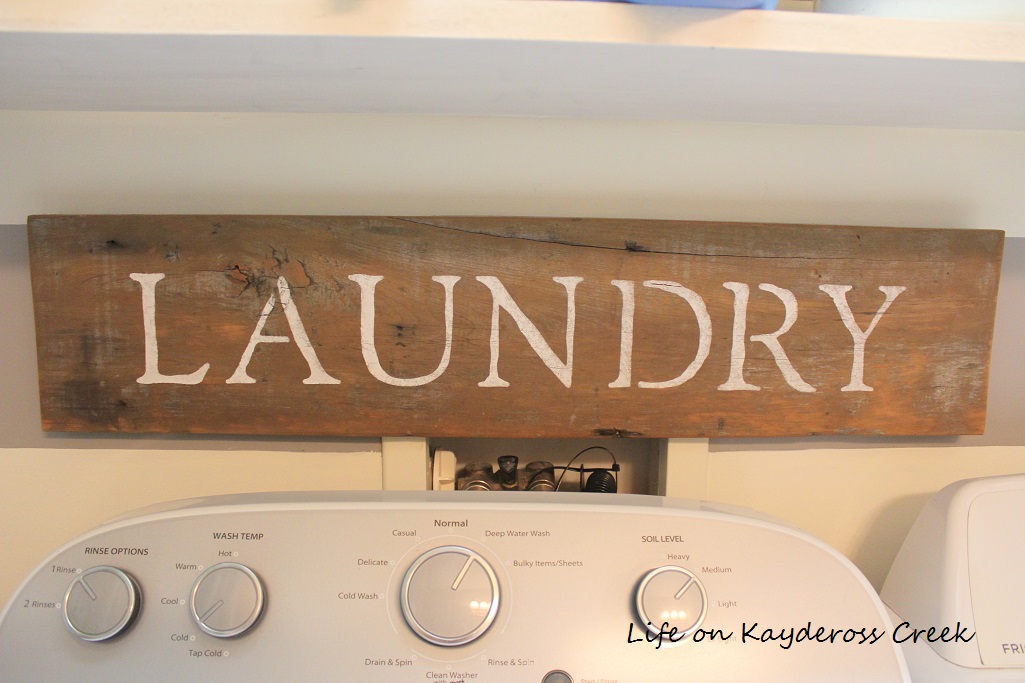 Another key element of good laundry room organization is storage so I added some baskets for storing cleaning supplies. I threw in something pretty for a pop of color and with everything installed, here's the final product…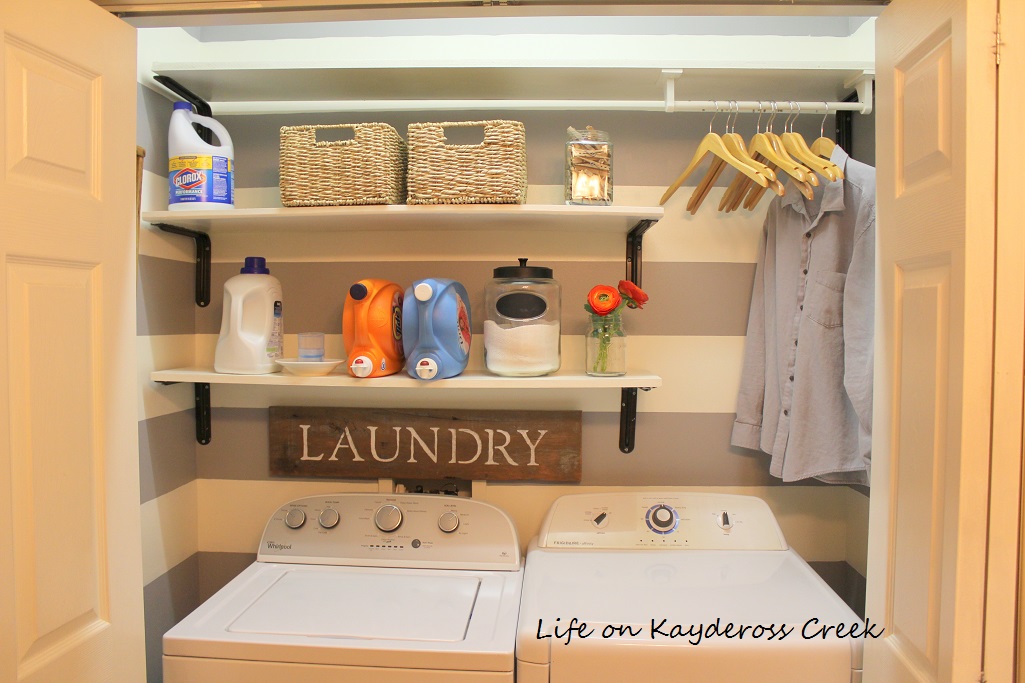 So much nicer to open the doors and see a bright cheery space when you have to do a chore. I thought about adding cute beverage dispensers with the little spout for the detergent but, honestly, I have read that they just get clogged and I really didn't want to spend the money. Here is the breakdown of what this update cost:
(2) 8′ MDF boards – $22  (I already had the short one)
(6) metal shelf bracket $24
Wooden towel rack $10
Paint – Free – had it
DIY Laundry Sign – Free
Washboard – Free
Baskets – already had these but if you had to purchase them at Michaels you can get them at 50% off for like $10.
Glass jar with chalkboard label – had it but if you had to purchase it you could find it here.
So even if I had to buy the baskets, the entire project would have cost $76. What it really cost me was time. It took about 12 hours to complete but it was worth every minute. 🙂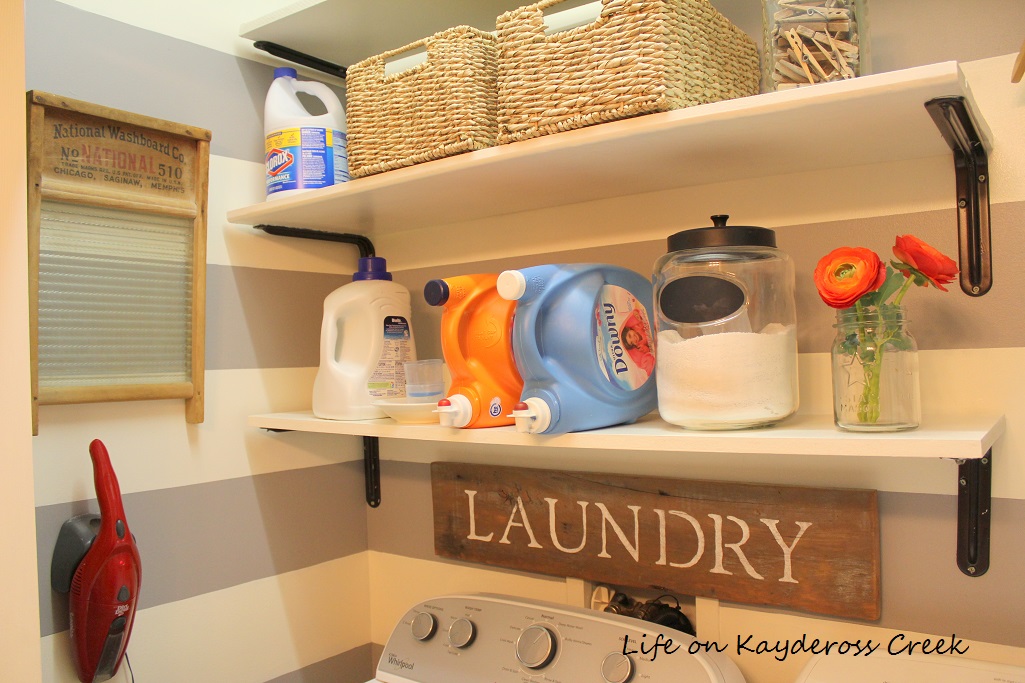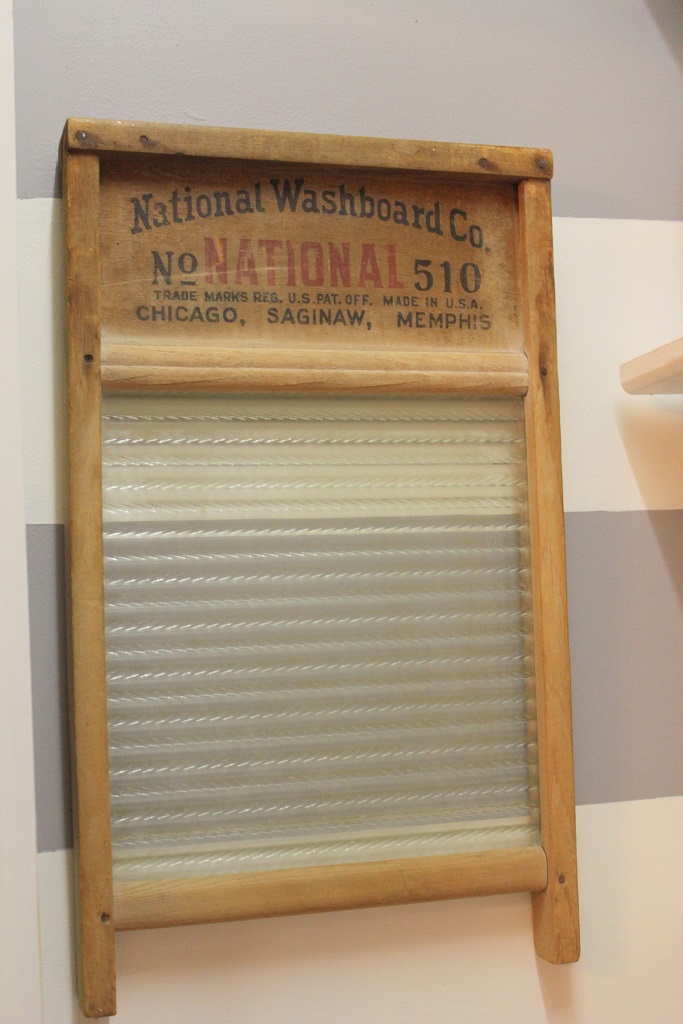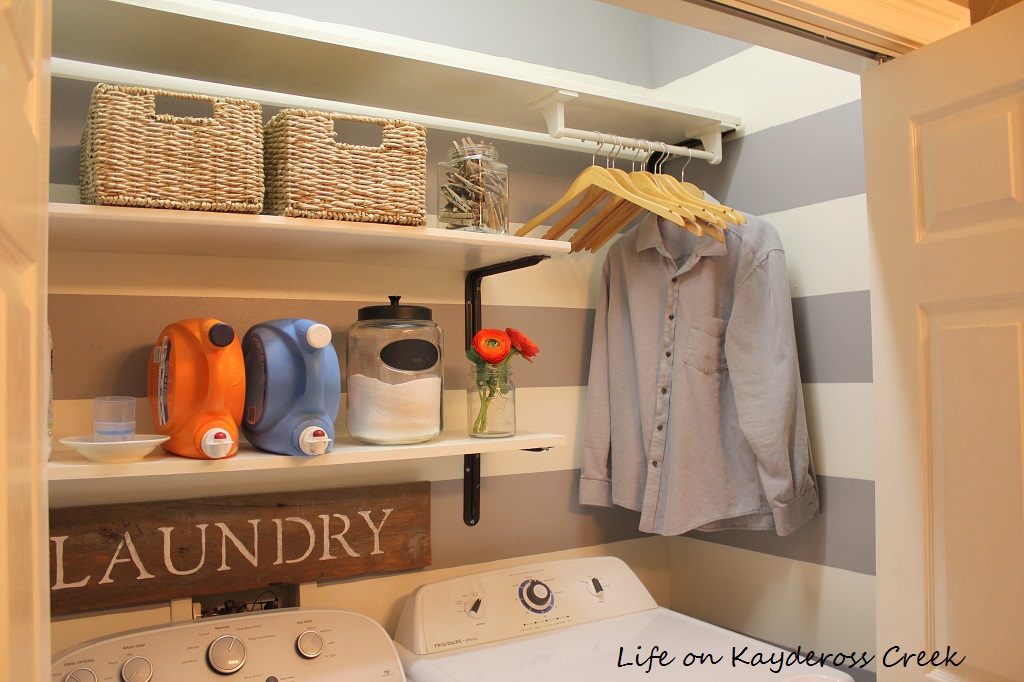 Laundry Room Organization for Under $100!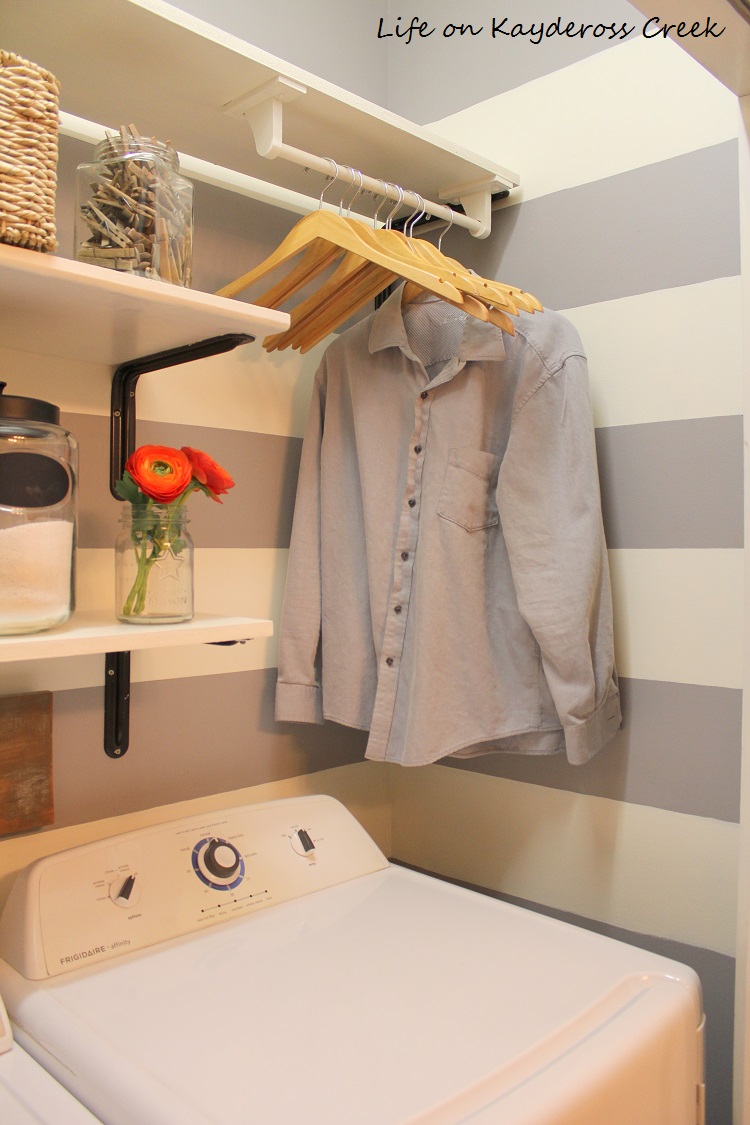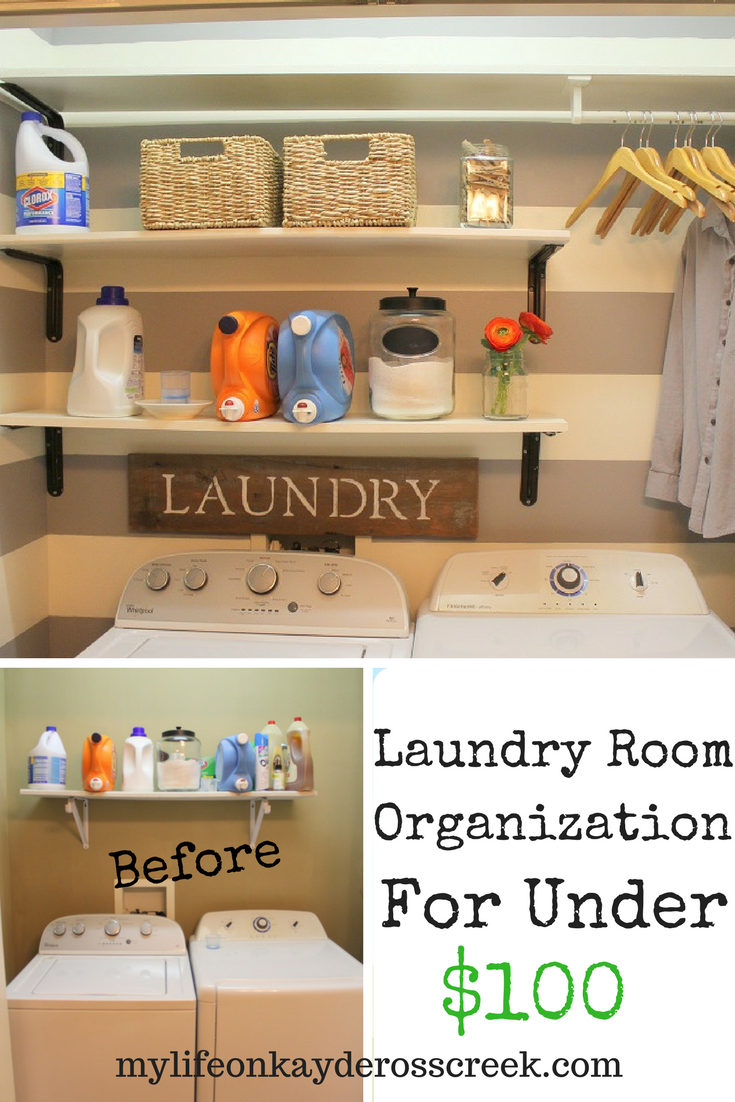 Thanks so much for stopping by today. Do you have any room updates on a budget in your future? How do you save money on your projects?
Happy DIY'ing!
Col
Linking to: Welcome Home Wednesdays