So I know it's a bit early but I wanted to share the cutest little spring decor project with you. Partly because I'm so excited about it and partly because we could all use a bit of spring now, right?  If you're at all like me you spend a bit of time on Pinterest looking for inspiration. Well not that long ago I found this…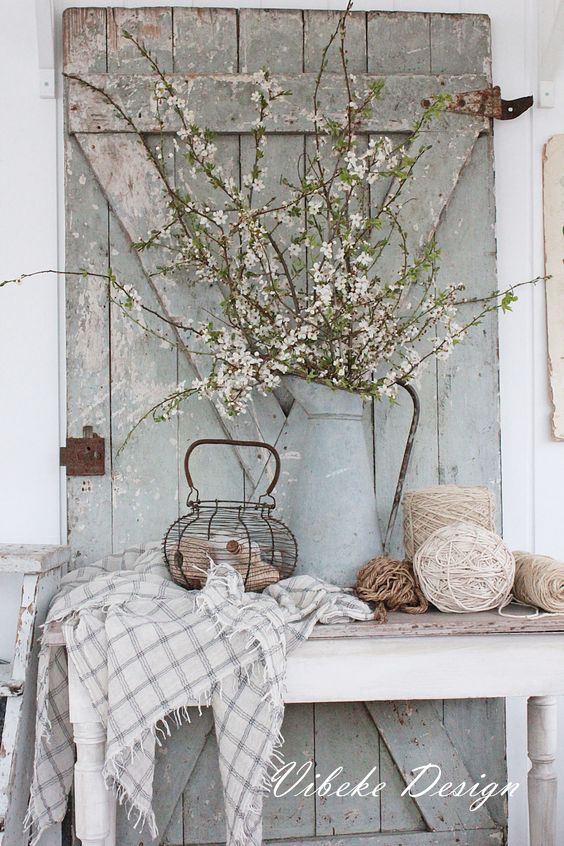 Ohhhmmmmmggggg swoon! I just love it but then again what's not to love?? Amazing paint color, chippy peally goodness, the pitcher with flowers, those hinges?? Right, so naturally I said to my hubby, can we make it (or a version of it anyway)? Of course he said "sure".
This post contains affiliate links for your convenience. See my full disclosure here. 
My version is a DIY mini barn door.
I wanted it just the right size to fit on my mantel so that I could use it to decorate for spring.  Anyone who has a chop saw/miter saw and a drill can make this project.  I measured out exactly what size would be a perfect fit or in this case 34″high and 30″ wide.
We picked up the wood at our local mill and cut it down ourselves but you could buy pre-cut boards at any home improvement store in whatever size you want. The board we got cost us $4 and was 9′ x 10 x 1. We cut it in thirds and then each piece in half so we ended up with (6) 5″ boards which we used for the back.  We love working with this rough saw pine and have used it for book shelves, end tables and furniture makeovers.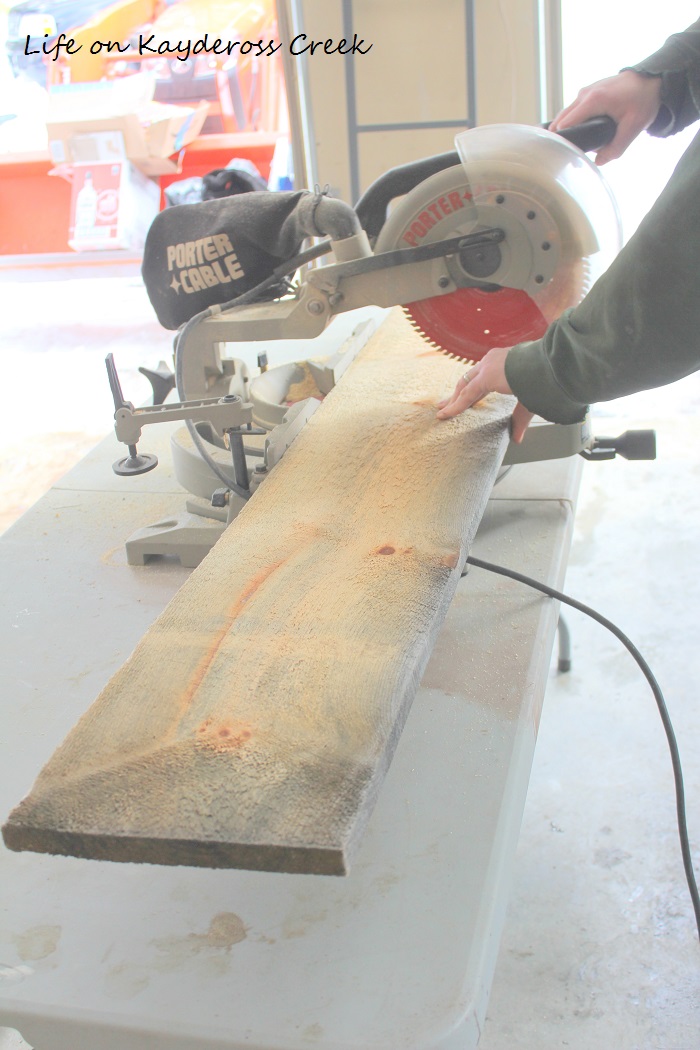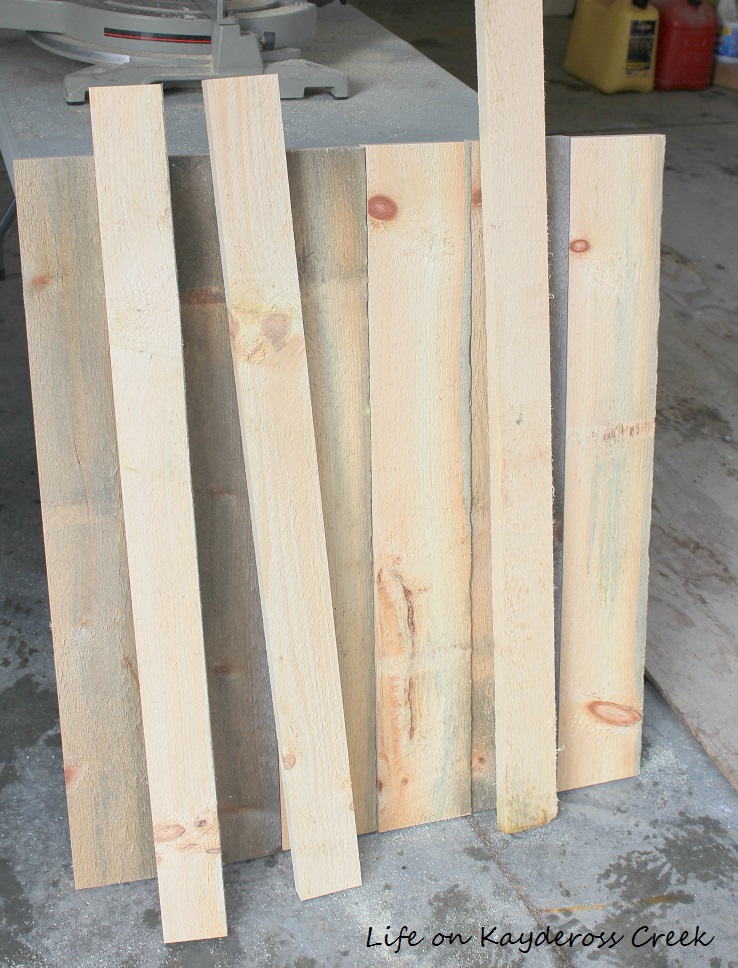 The other pieces which we used for the "Z" to hold it together were left over from other projects. He took all of the pieces and laid them out.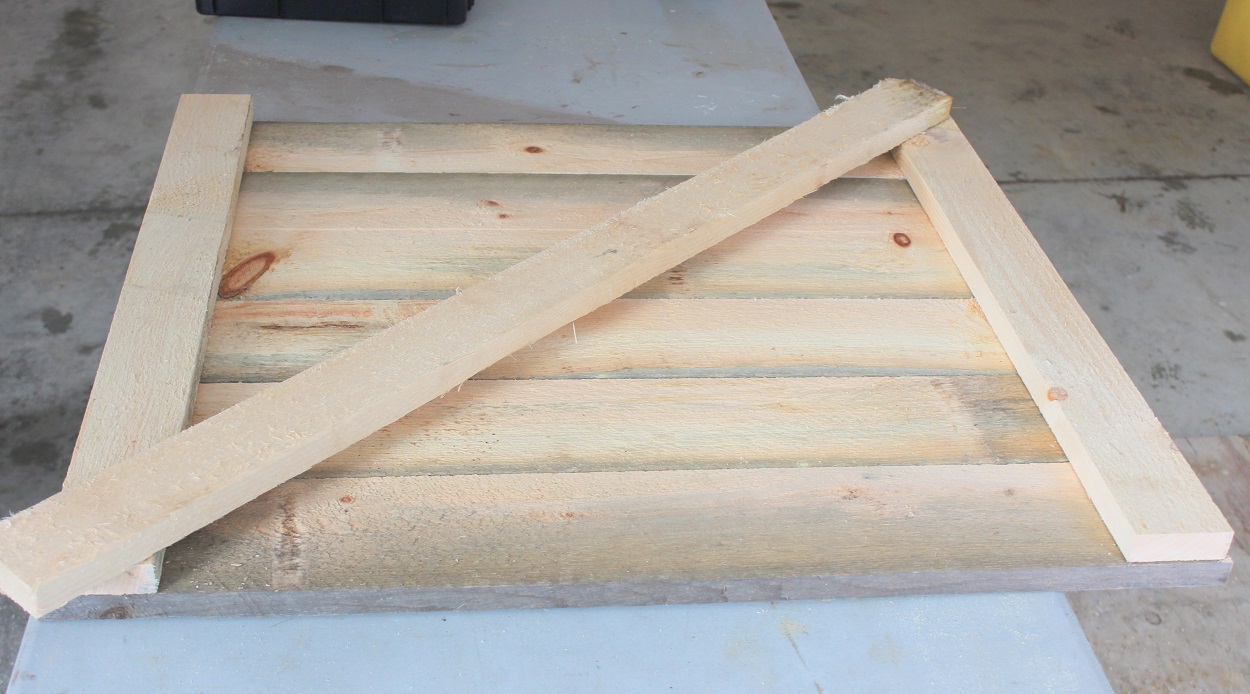 Hubby used drywall screws to fasten it all together. He attached the top and bottom pieces first. Then he took the longer board for the middle of the "z" and marked it with a pencil where it would need to be cut so that it would fit between the two other boards diagonally.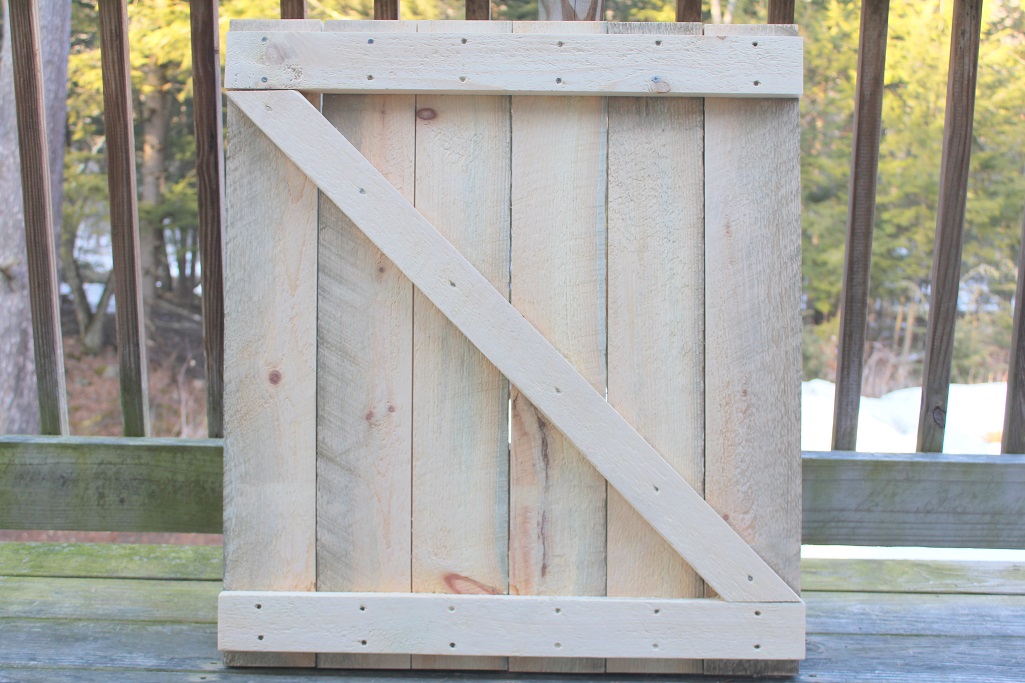 Now it's time to add the color.  We're pretty high tech around here so here's what I used. Craft paint. Hard to believe, right? I just mixed until I got the colors I like.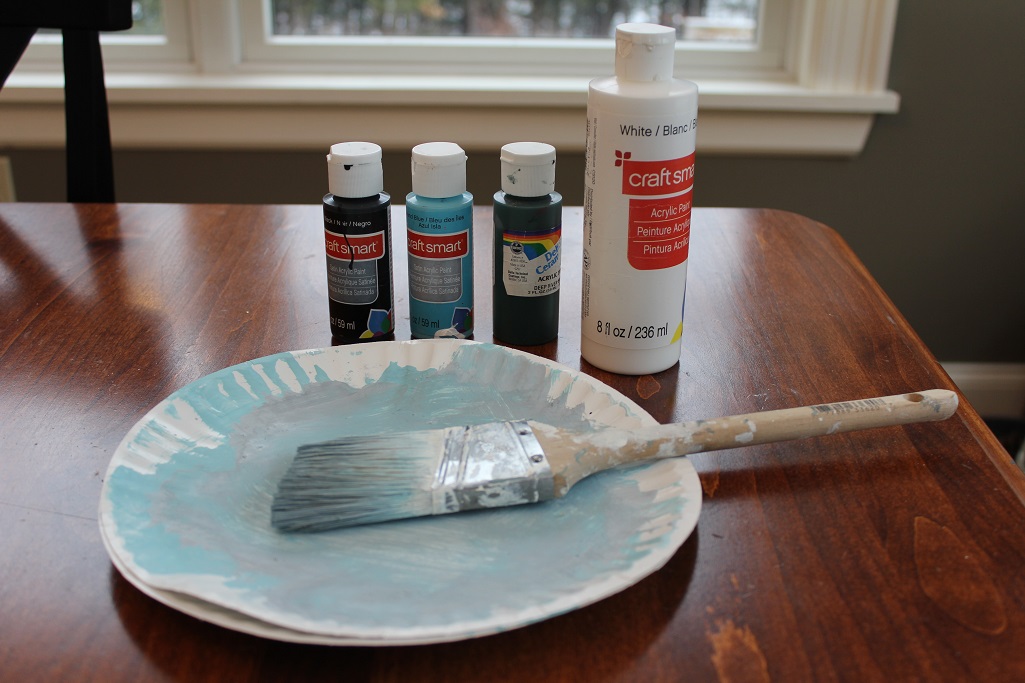 I was trying to get a kind of blueish grayish with a bit of brown here and there. To start, I used a dry brush with creamy white for a base. By dry brushing I mean you put a very little bit of paint on the end of your brush because your intention is not to soak the pint into the wood to cover it but to just get a bit of color on the wood here and there.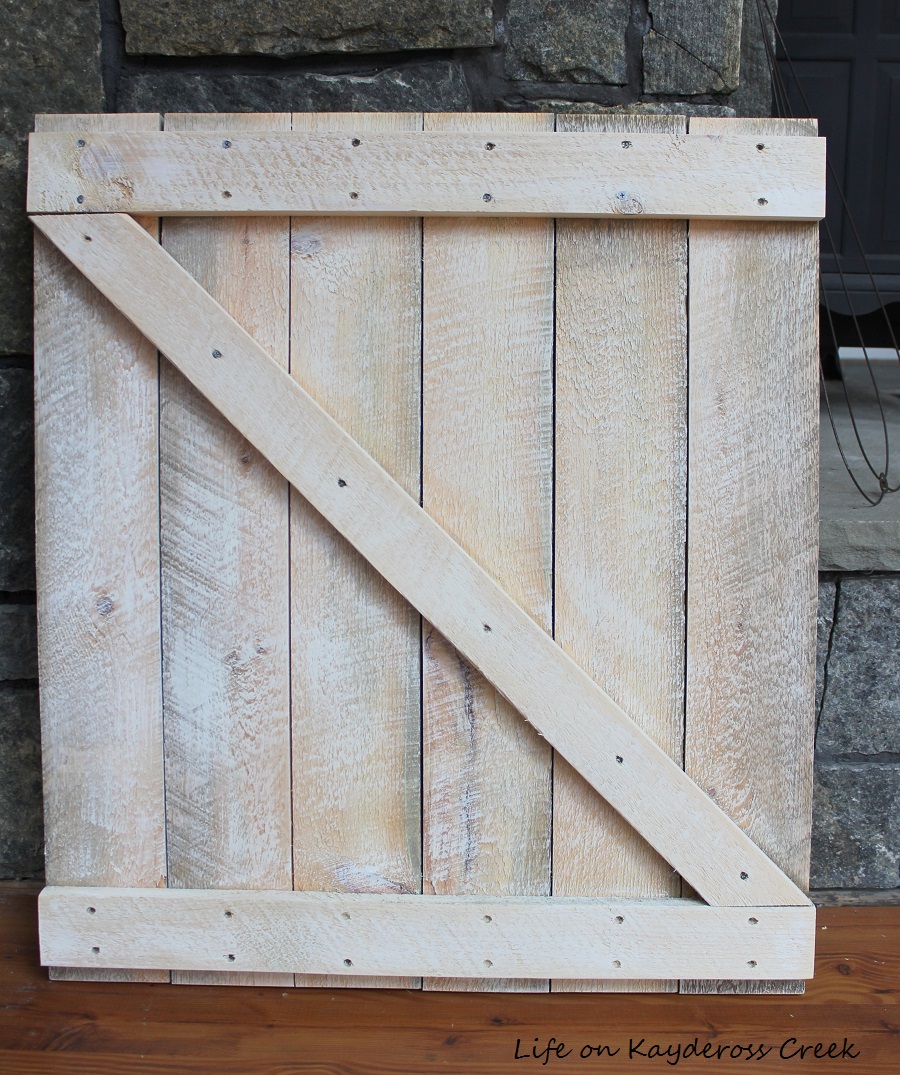 Then I dry brushed on a coat of a color of blue I made by mixing up the craft paints.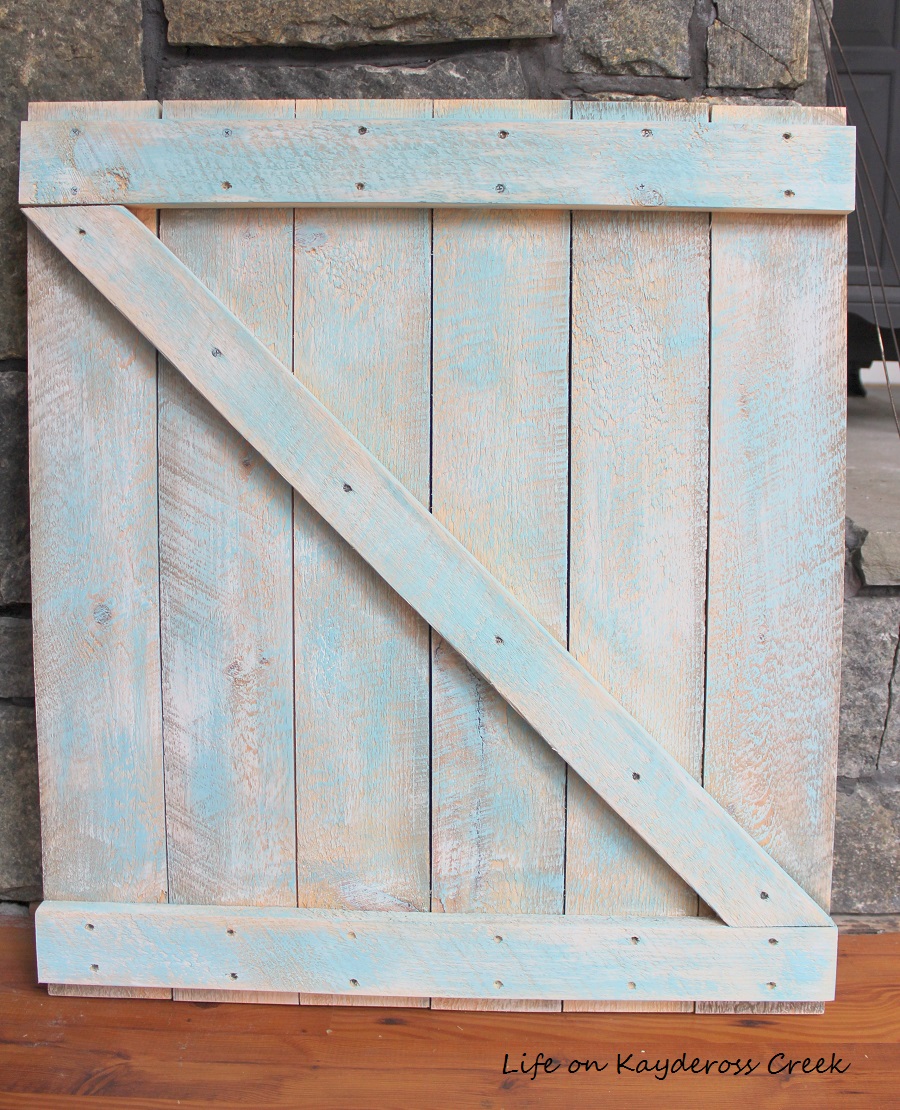 Then I added the gray…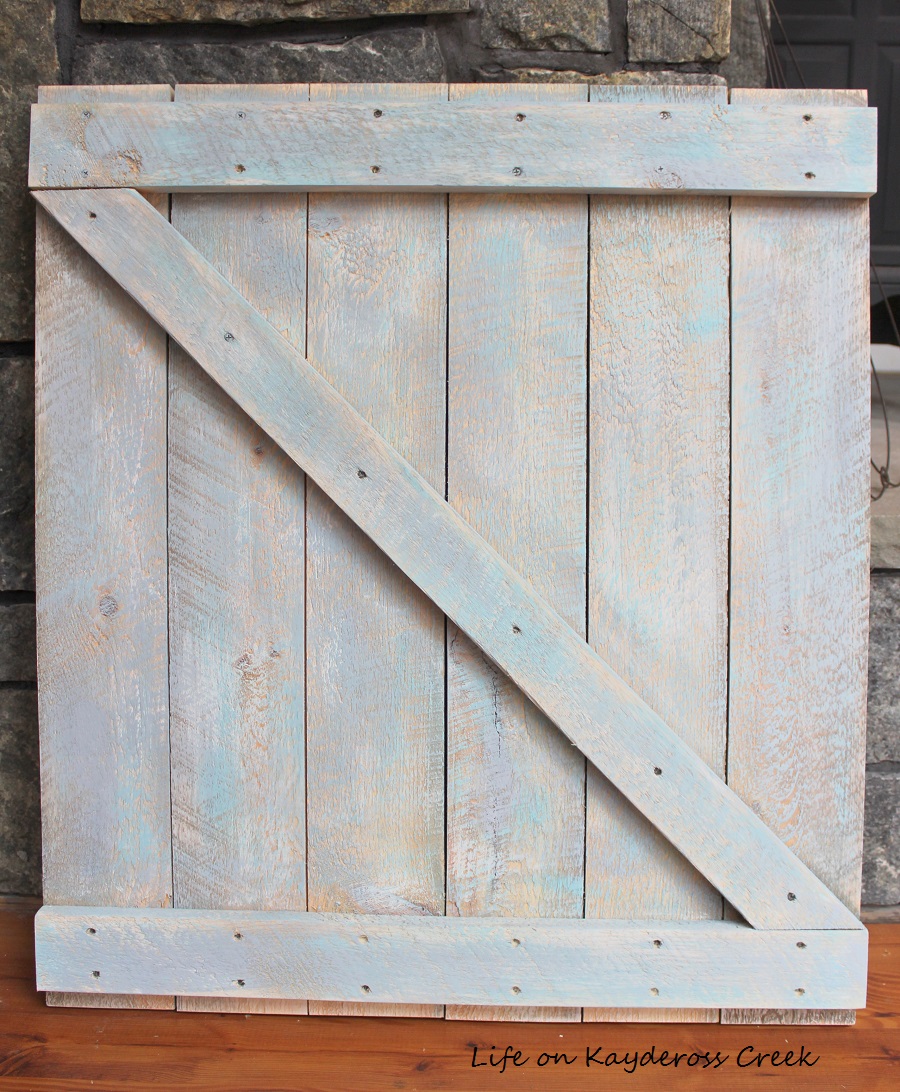 It was a bit too bright so I kept repeating the layers and then added some distress ink here and there by rubbing it on with a cotton cloth It helped to tone it down a bit and here's the result.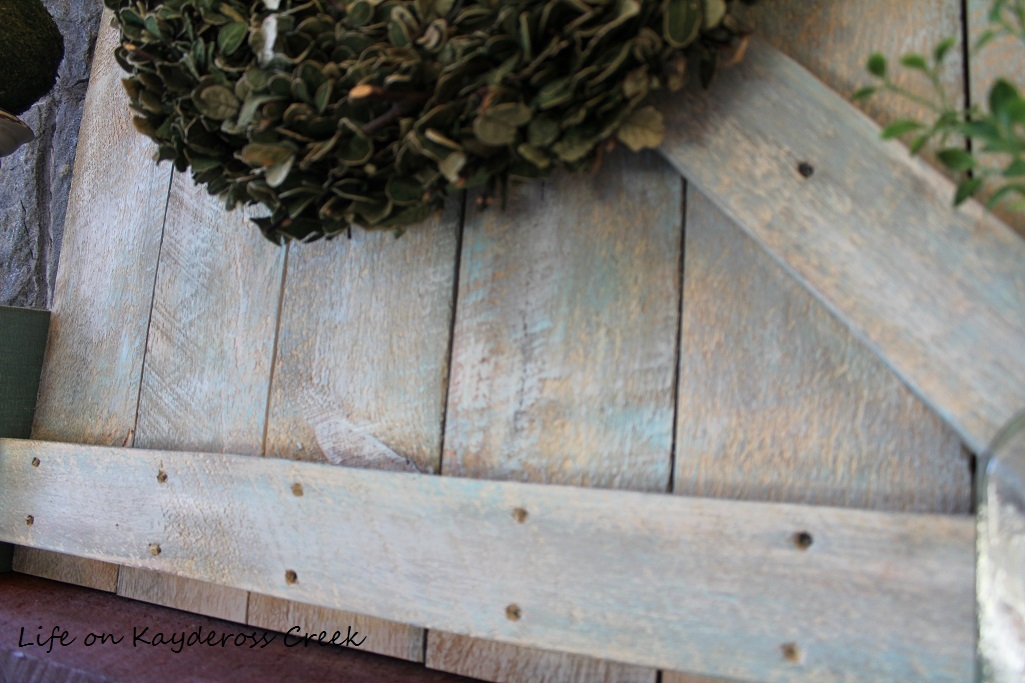 I love the way this DIY mini barn door turned out! I still have to add the hinges and after it's been up there awhile and I get used to it, I may add some more brown but I really like the character it adds to the room. The nice part is it took about 30 minutes to build and about 45 minutes to paint with a little drying between coats. Easy and inexpensive 🙂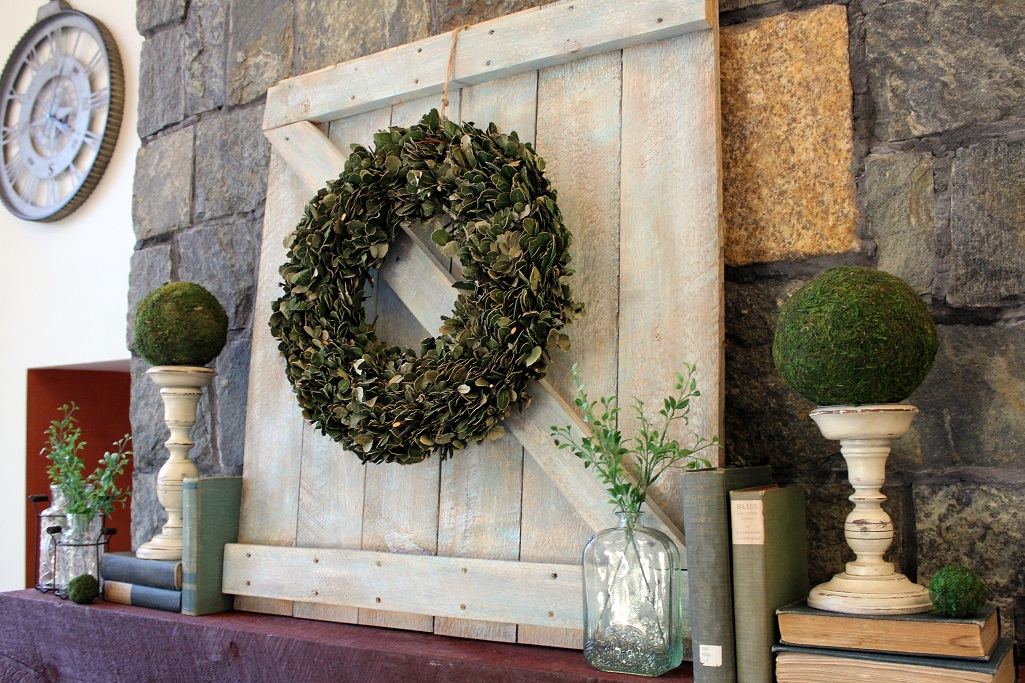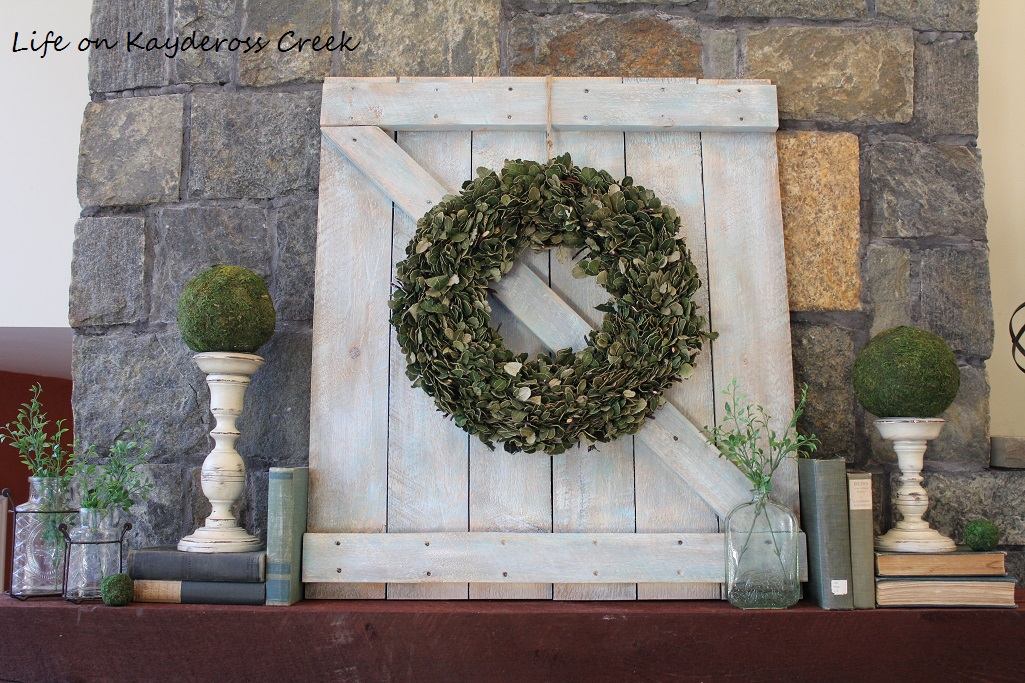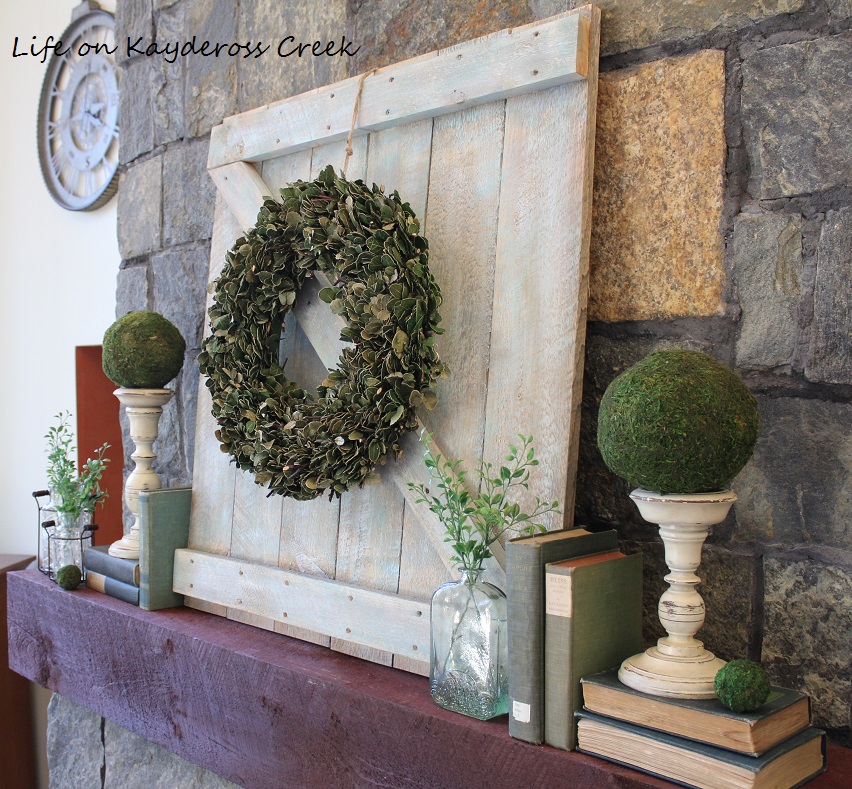 The nice part too is that we can use the back side for the fall. It has a naturally rich tan color that would be a great backdrop for a cotton wreath or maybe a great sign. It's a 2 in one project 🙂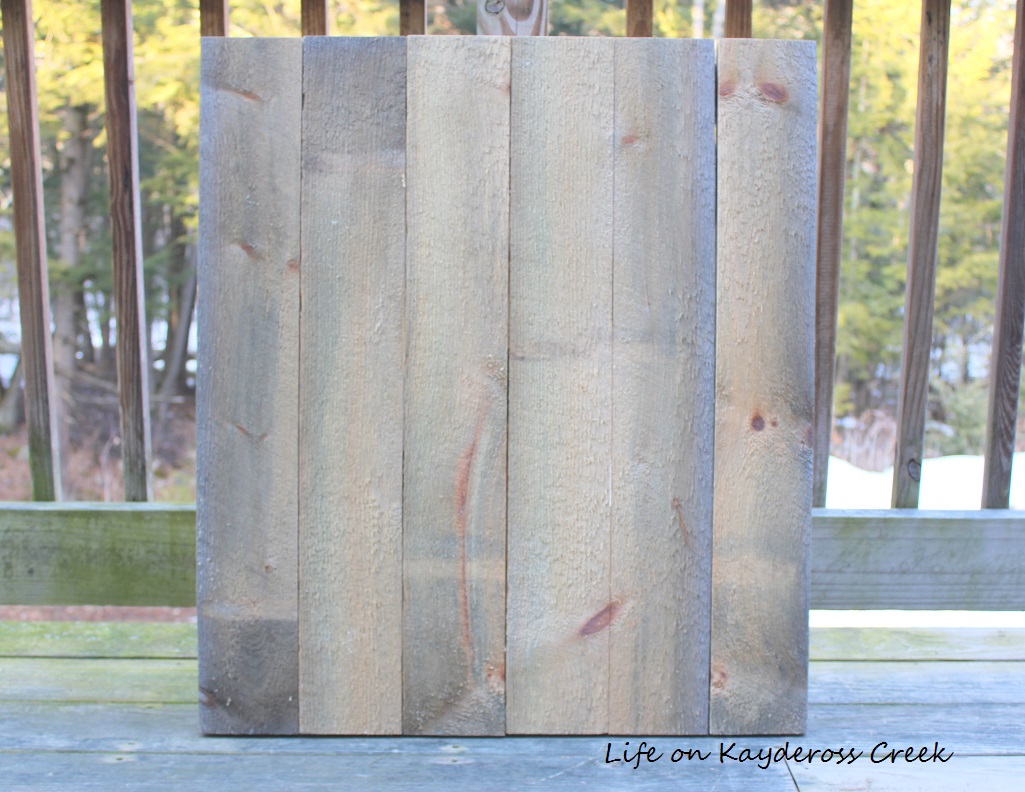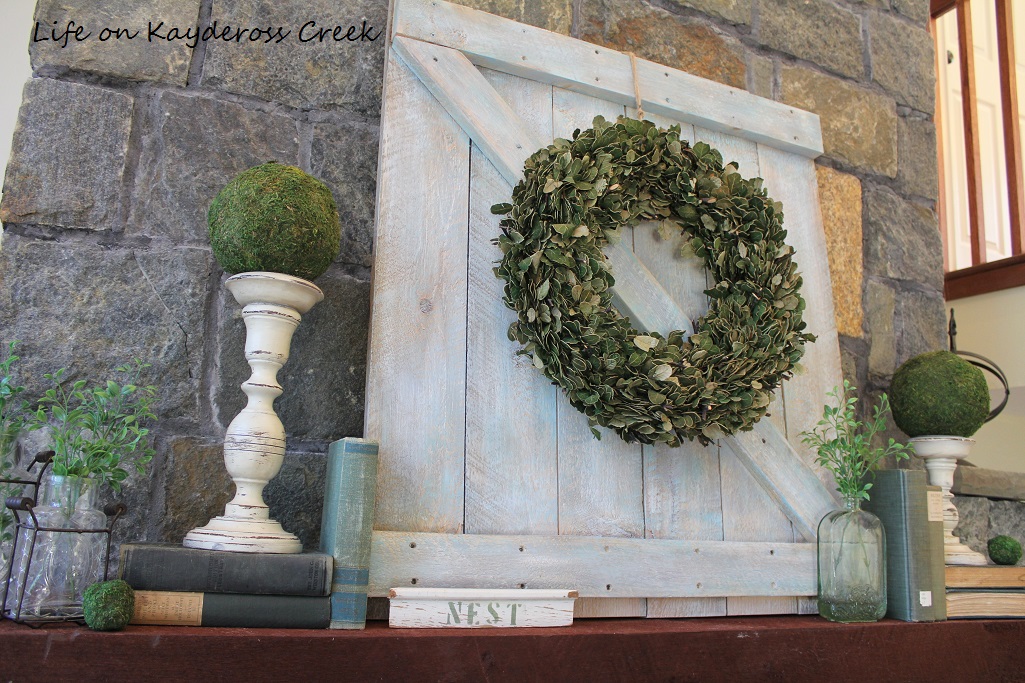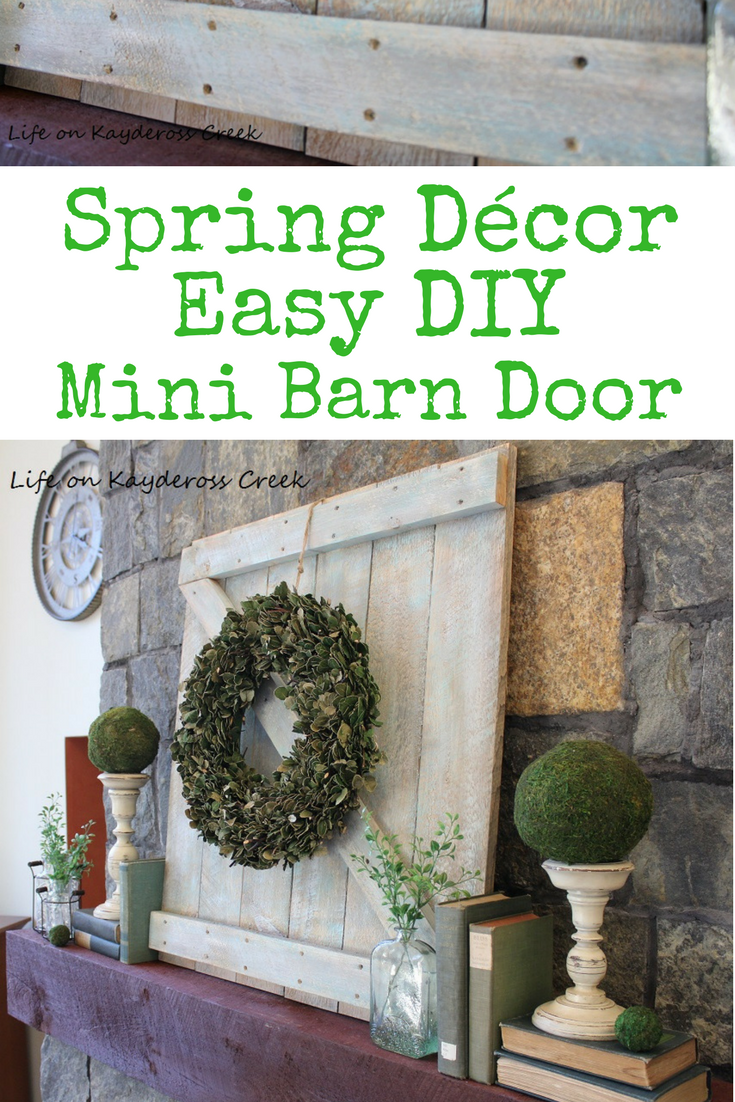 So super easy and budget friendly. I love all of the blues and greens and can't wait to get the rest of the house decked out for spring now. Stay tuned for a few more spring projects and then a full house tour. In the mean time, check out last year's Spring Home Tour and projects. Do you have any spring projects on your to DIY list?
Happy DIY'ing!
Col