Hi everyone! Today I'm sharing the unbelievable makeover of an antique cabinet I picked up at a garage sale for just $40. It was tired and old and in major need of some TLC. It was also one of those things where I didn't need a cabinet in this shape or size but it just spoke to me and said "Colleen, please take me home and make me pretty again". Fortunately, I love painted furniture so I listened.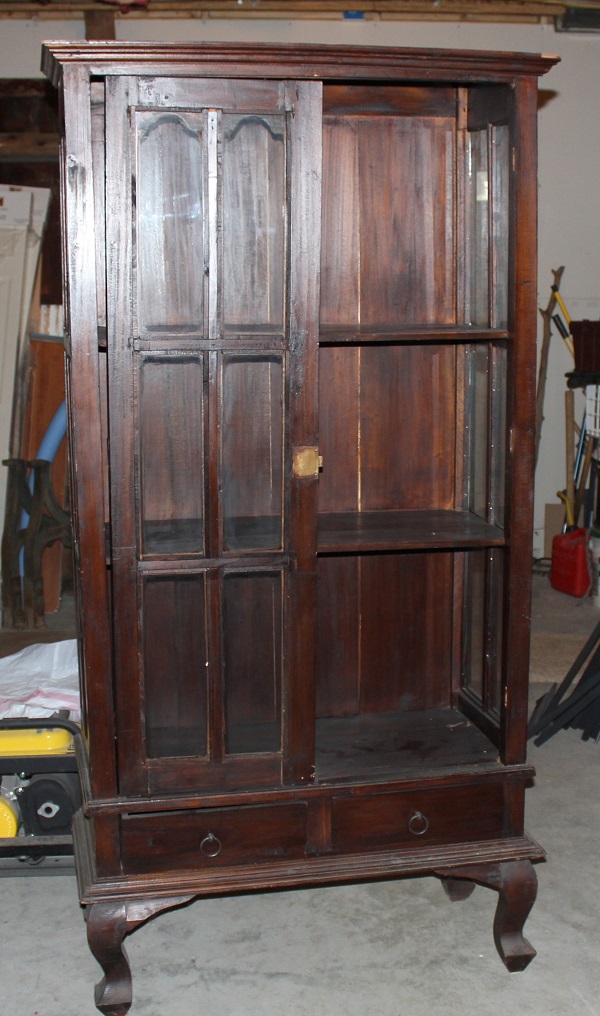 This post contains affiliate links and is a review of Country Chic Paint. All opinions are 100% my own, as always, pinkie swear. 
I fell in love…
with the curves of the legs and the glass doors and side panels. Unfortunately, the doors were falling off a bit and the trim at the top was broken and needed to be replaced. We removed the doors (to be saved for another project) and the broken trim, gave it a good cleaning and sanded it down.  I kind of liked the rustic/industrial feel of it so we used it like that for a awhile just to see if it was  a good fit.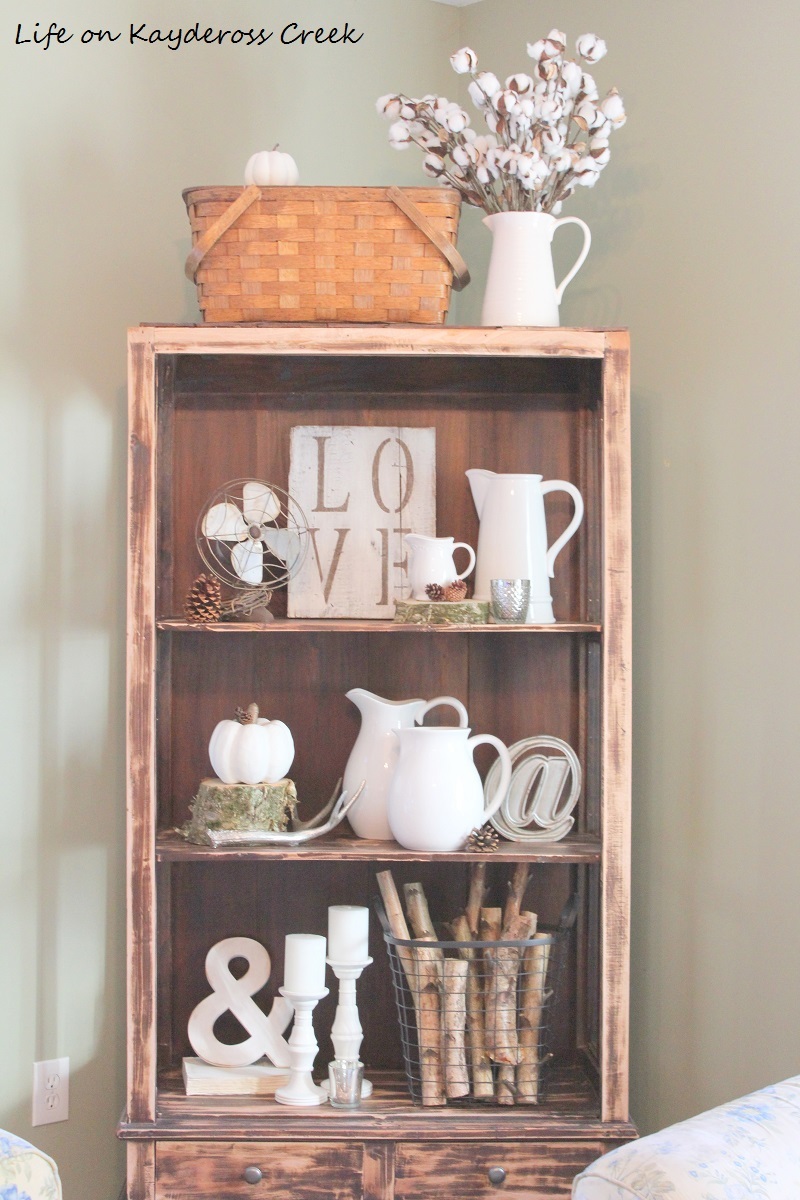 This picture is from a post I did on making a simple sign from scrap wood and you can see that here.  I liked it but recently decided that it needed a good coat of paint.
It's amazing what a good coat of paint can do, am I right? If I had a dollar for every time I said that 🙂
I had seen Country Chic Paint on some of my favorite blogs and on line (I love their tutorials on paint techniques) so I decided to give it a try along with their wax. I'm so glad I did. 🙂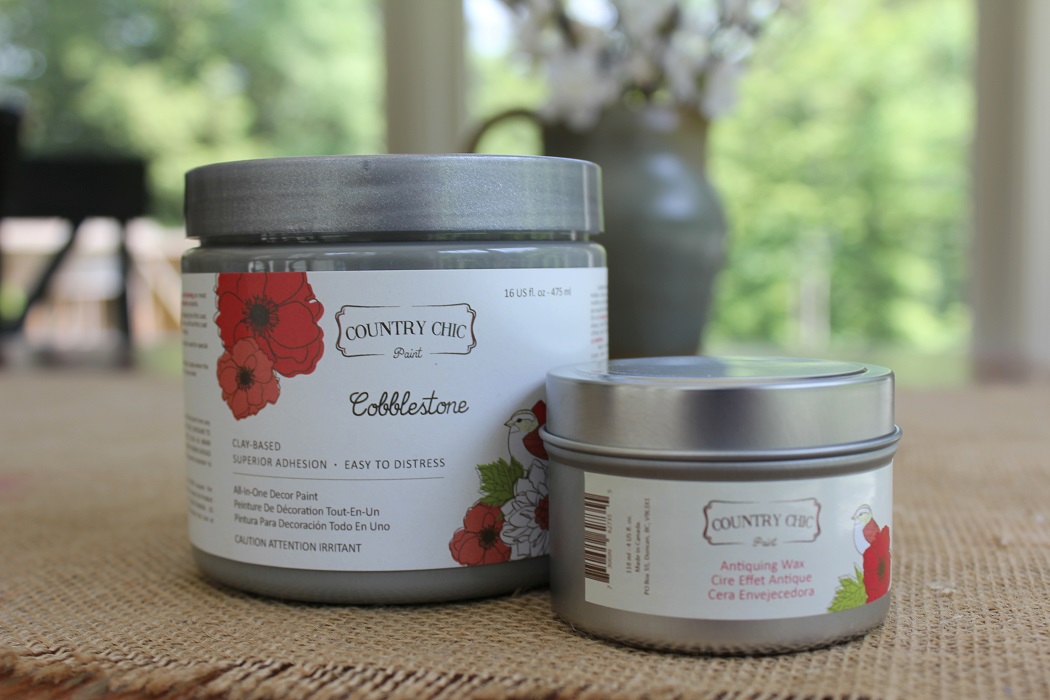 Since we had already sanded the cabinet down a bit, I didn't really have much prep work to do other than to give it a good cleaning.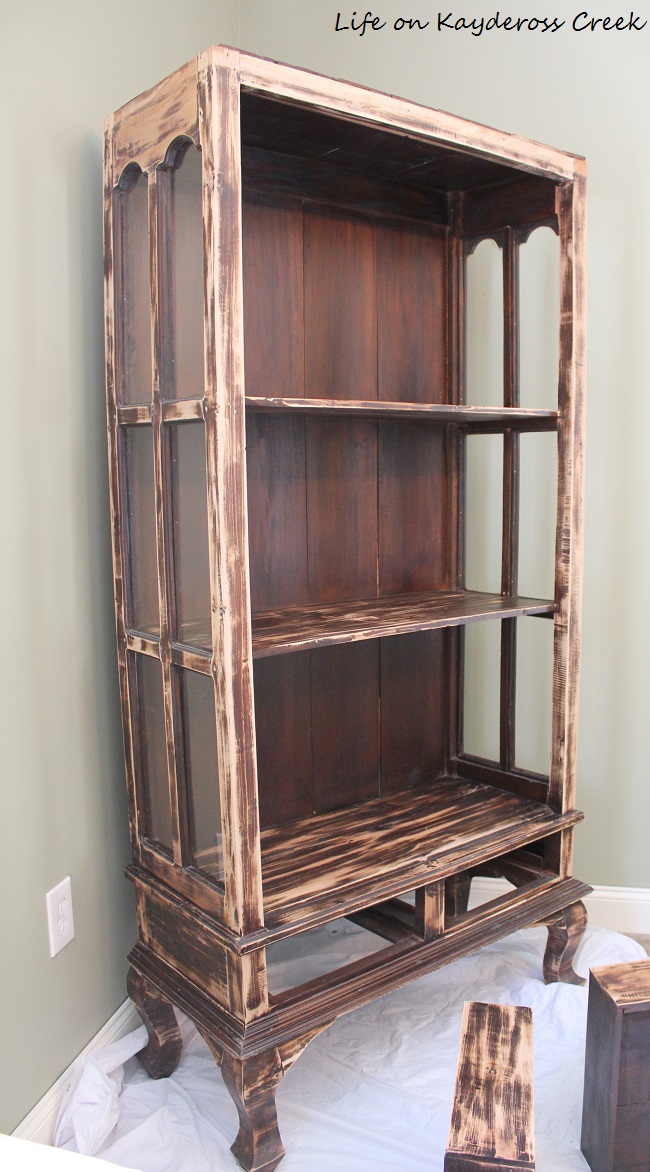 This was my first time using the Country Chic Paint so I wasn't familiar with how it would cover, (plus, I wasn't sure how the dark stain left on the piece would darken the paint color) so I primed it first. Call me old school.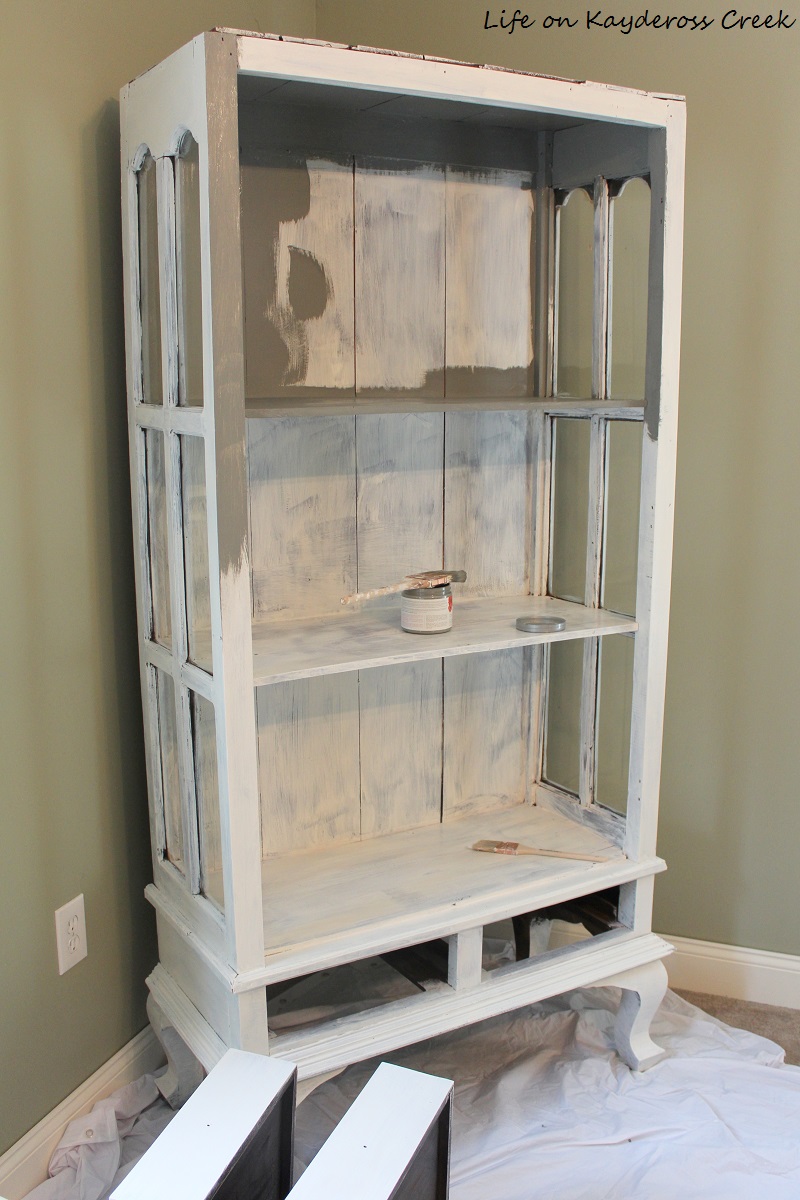 So different already! Then I gave it a coat of the Country Chic Paint in the color Cobblestone. They have a ton of colors to choose from which you can see here.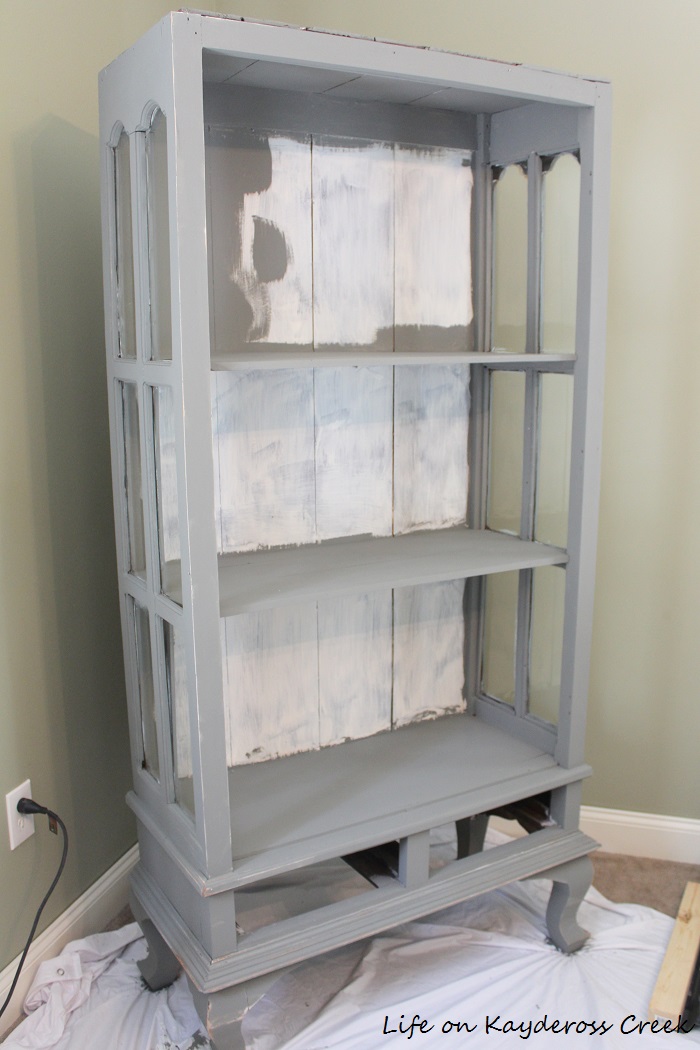 The paint went on really easily and dried so quickly in a nice soft finish. I left the back white initially because I had thought about applying shelf liner or wall paper for a different look. Then I decided that the antique look I was going for didn't really go with that so I painted the whole thing. I had to touch up here and there but I was really surprised that the container covered the entire piece.
After it had dried completely, I broke out the palm sander and went over the edges to "rough it up" a bit.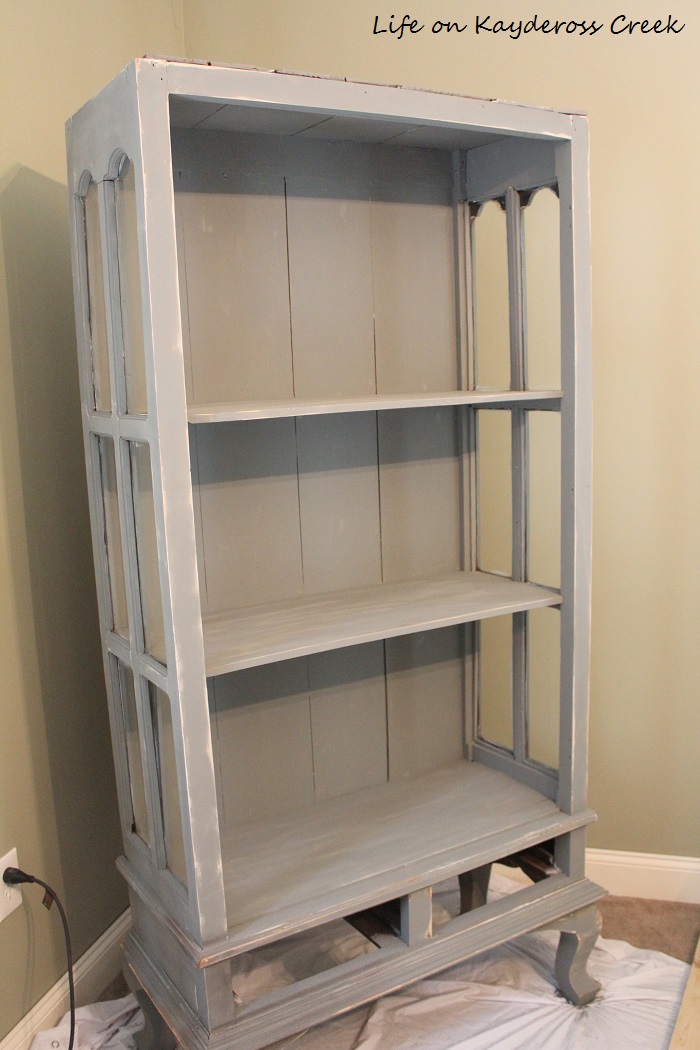 You can see where the sander opened up the wood and brought the white paint out a bit too .
Now to apply the wax…
I love this part! This is one of the drawers before wax with the Cobblestone.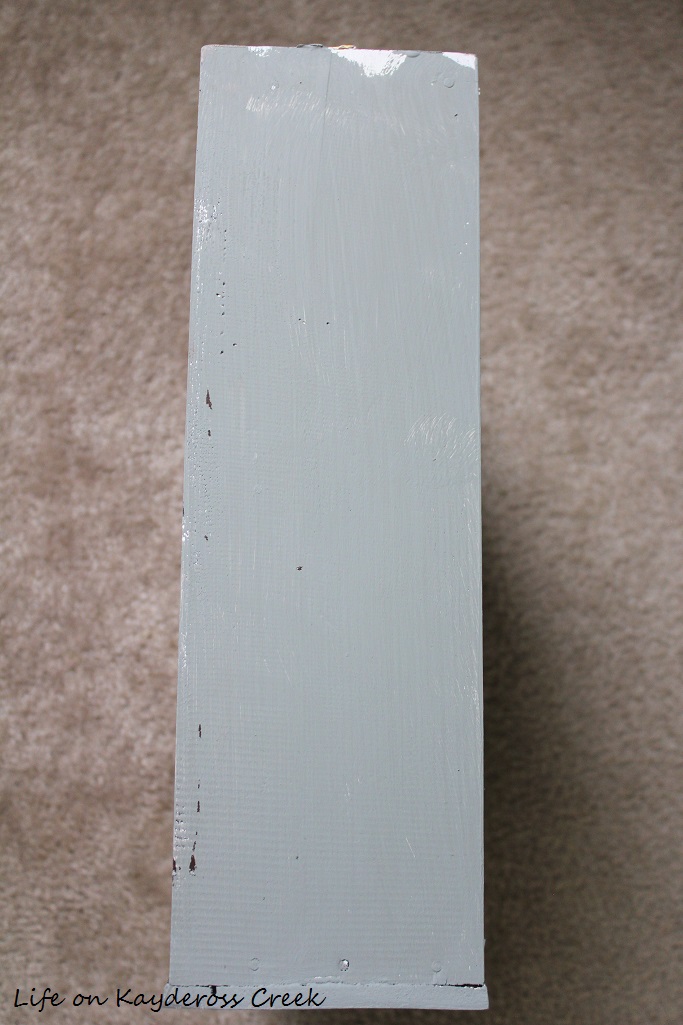 I used an old paint brush to apply the wax. I dipped it into the container and swirled it around a bit to work it into the brush.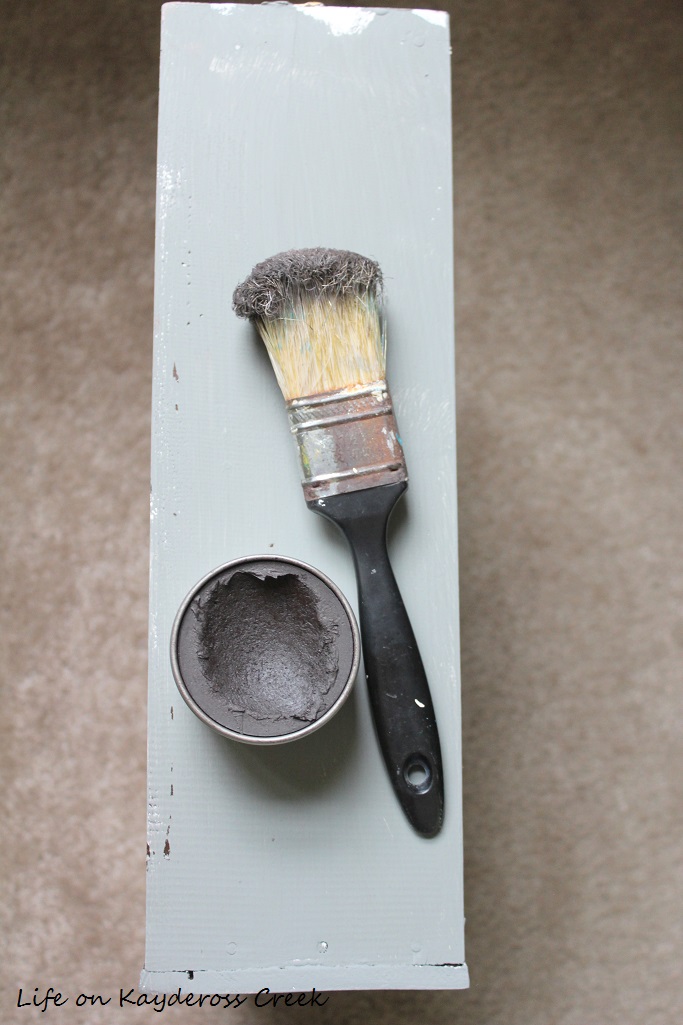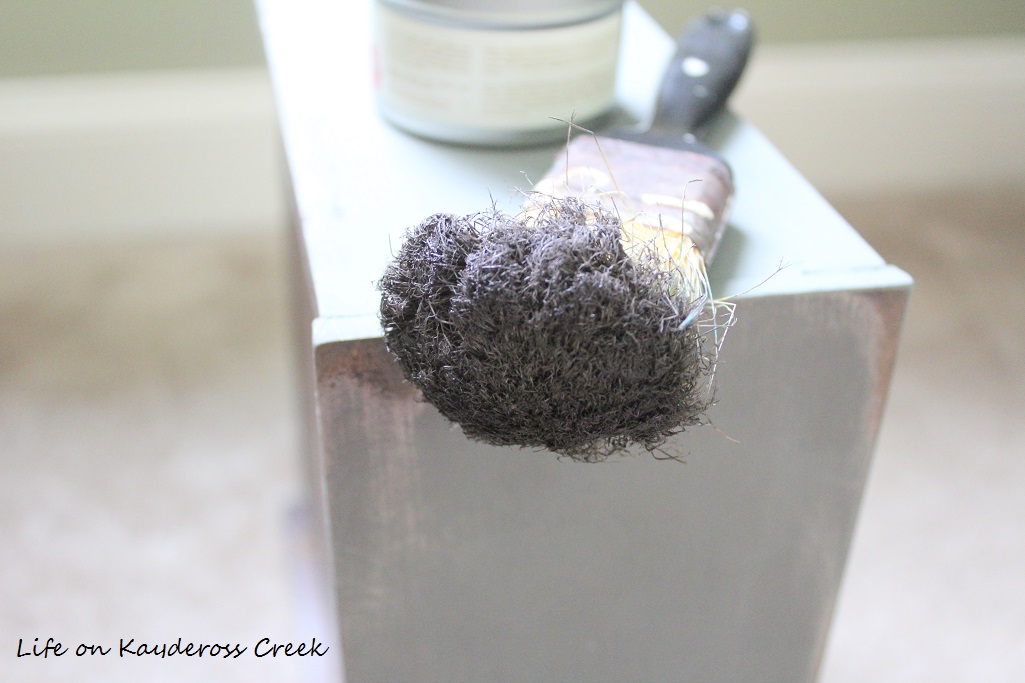 I like to do an "X" pattern and circle motion with the brush so there are no lines and it's more random.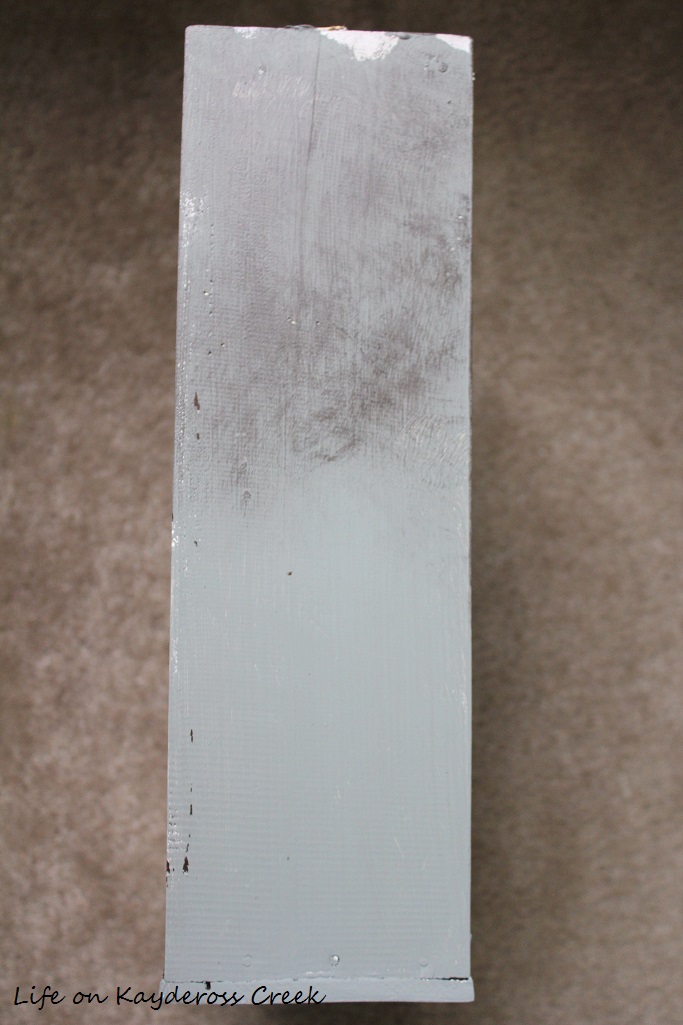 And then wipe/rub it in really well with a cotton rag.  See the difference in the color from the top to the bottom?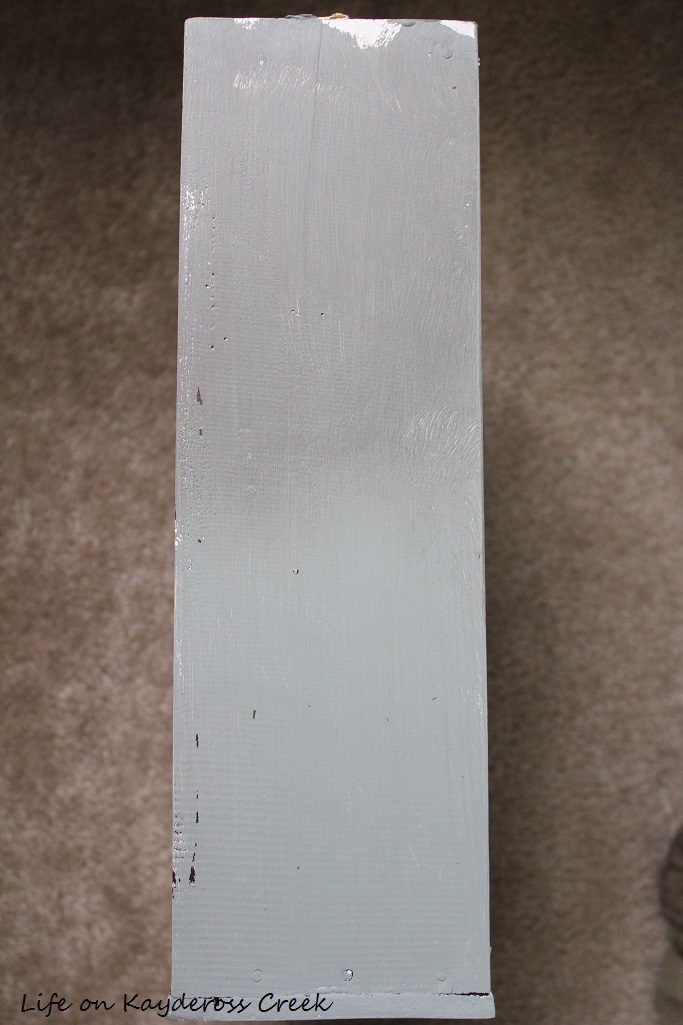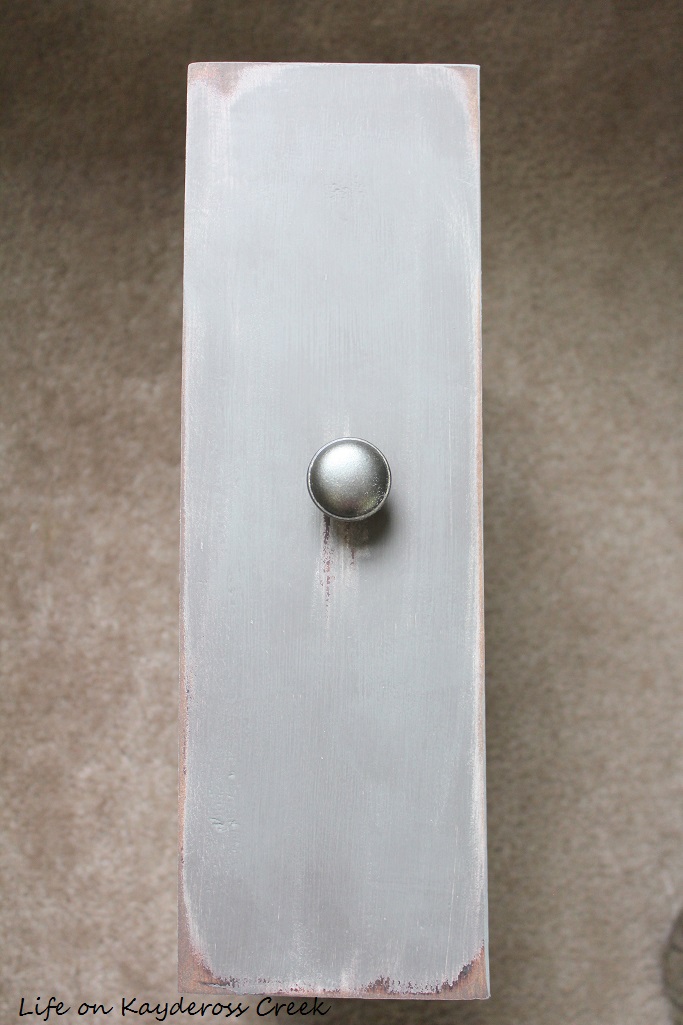 By sanding the piece, the wax gets worked into the grooves of the raw wood on the painted furniture, brings out the dark tone and "ages" the piece.  It's really noticeable in the details and the trim. Yummy, rustic, farmhouse, aged goodness. 🙂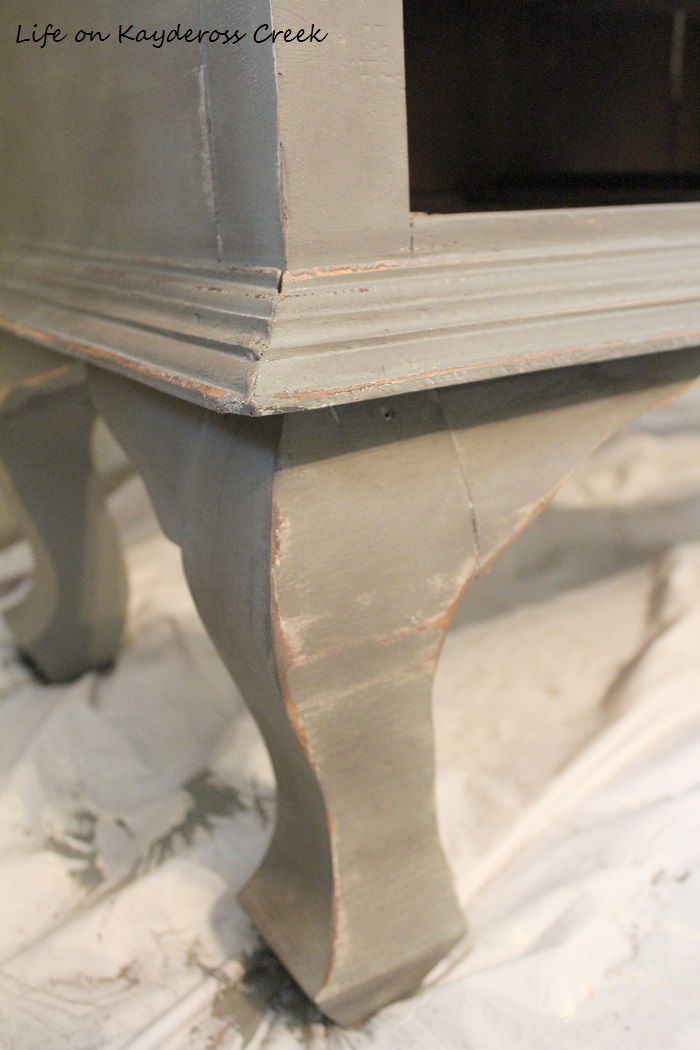 The wax was really easy to use and had no odor at all. I absolutely love the color it gave the piece and the antiqued look.
One more detail…
To finish off the top, we added a piece of moulding. I couldn't really find exactly what I wanted, one with more detail, but this piece worked well. I'm not gonna lie, it was a bear to cut the angles because it had been so long and we had a bit of a problem with one of the corners. Nothing a little spackle can't fix. 🙂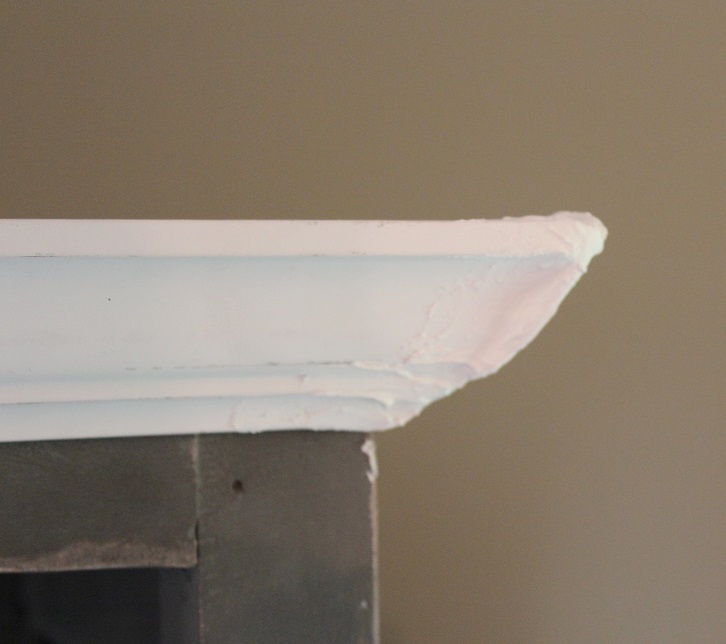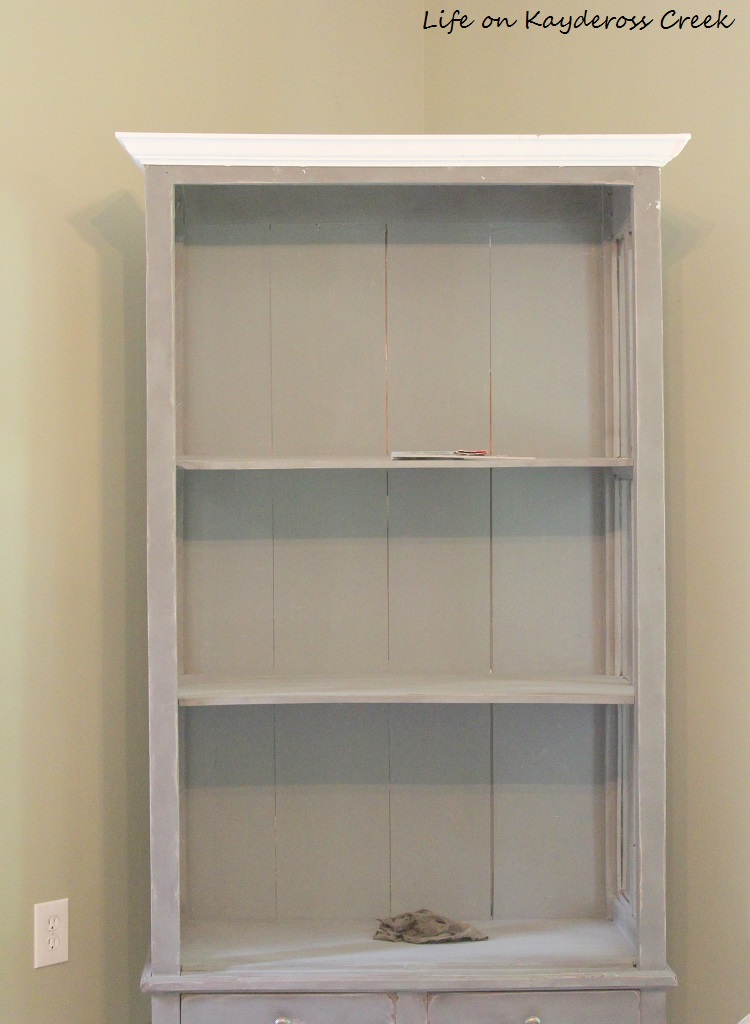 I could only get the trim piece in white so I had to improvise when it came to the color. I wanted the new piece to blend in like it was always there. You're gonna think I'm crazy but I used brown craft paint as a base for my Cobblestone color so that when I sanded it down a bit the brown would show through.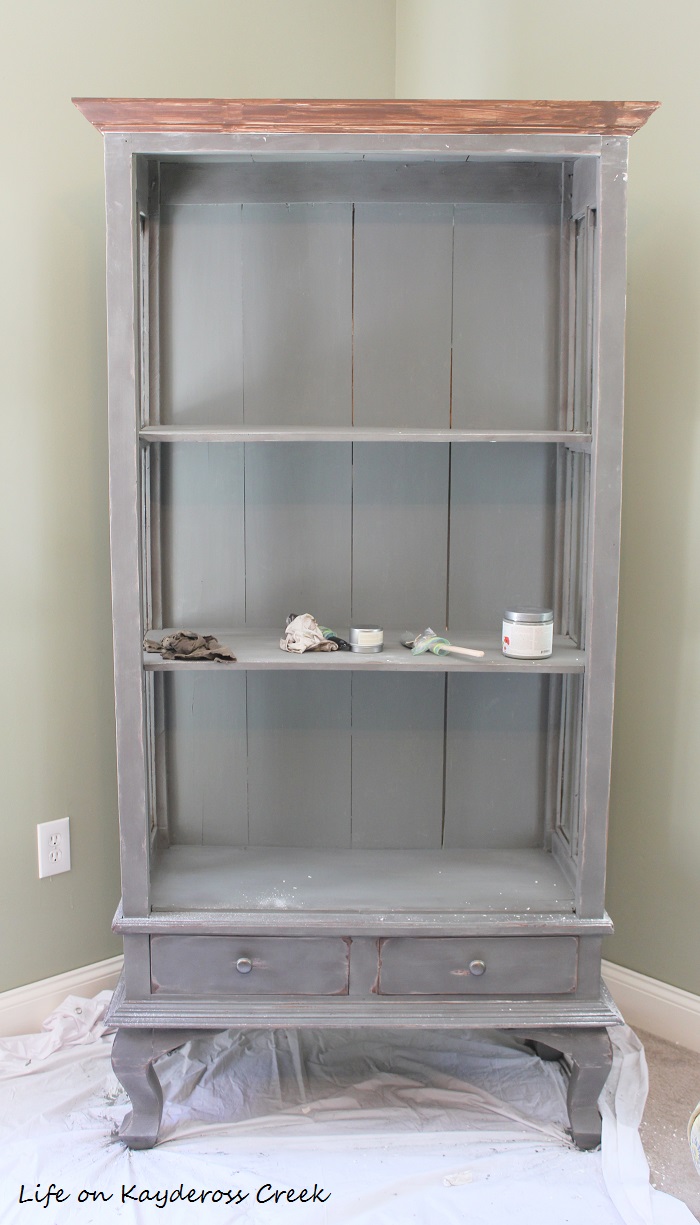 I even went back over after the paint and wax just to make it all look seamless. It worked like a charm. What do you think?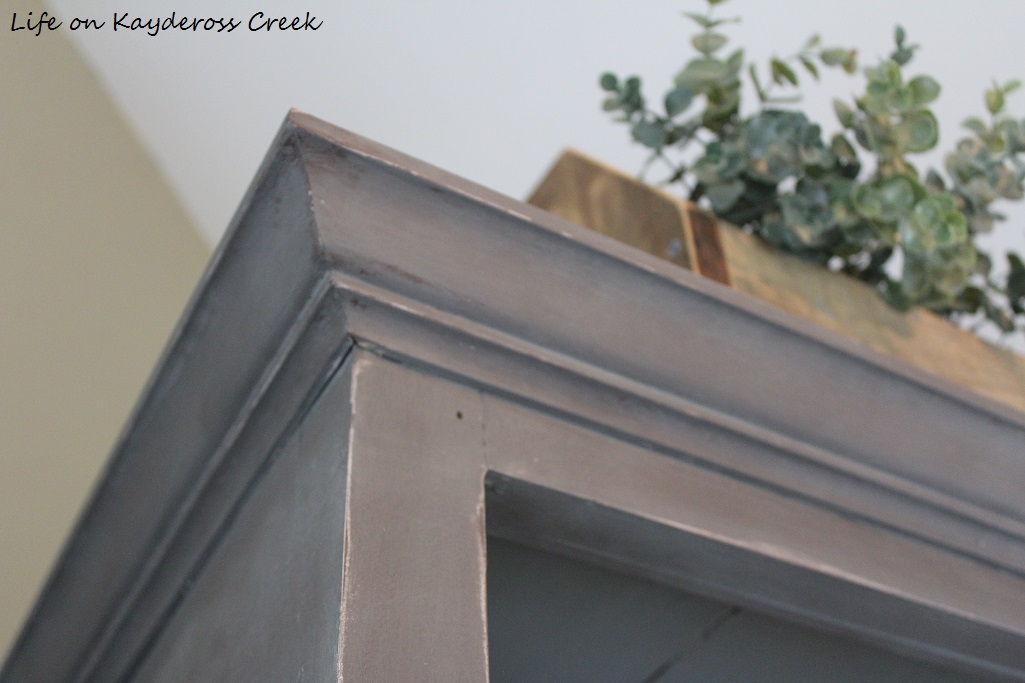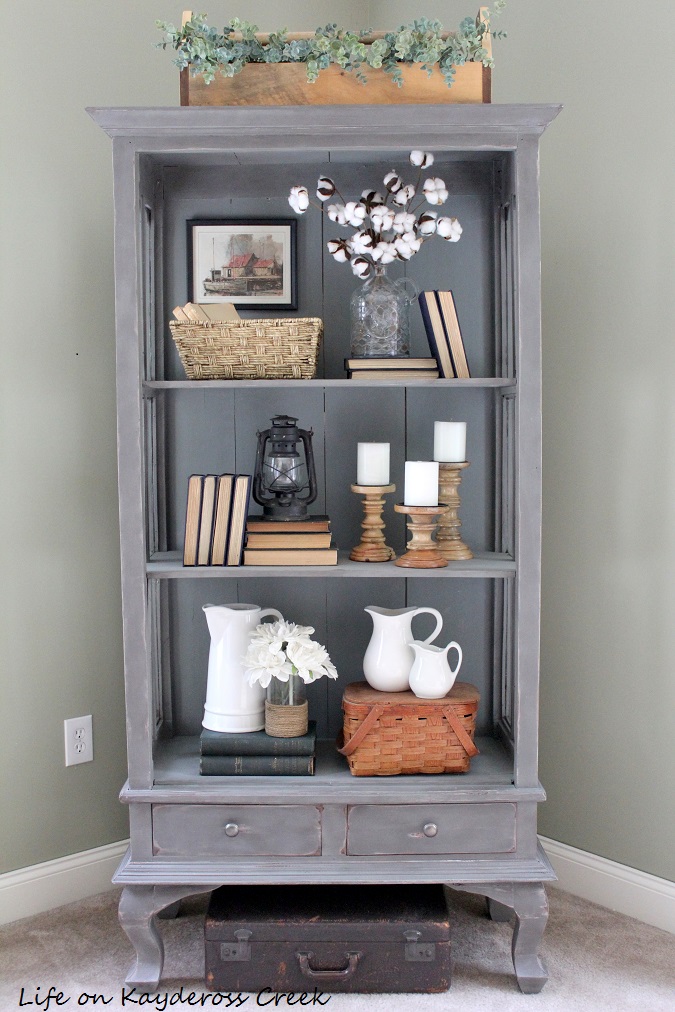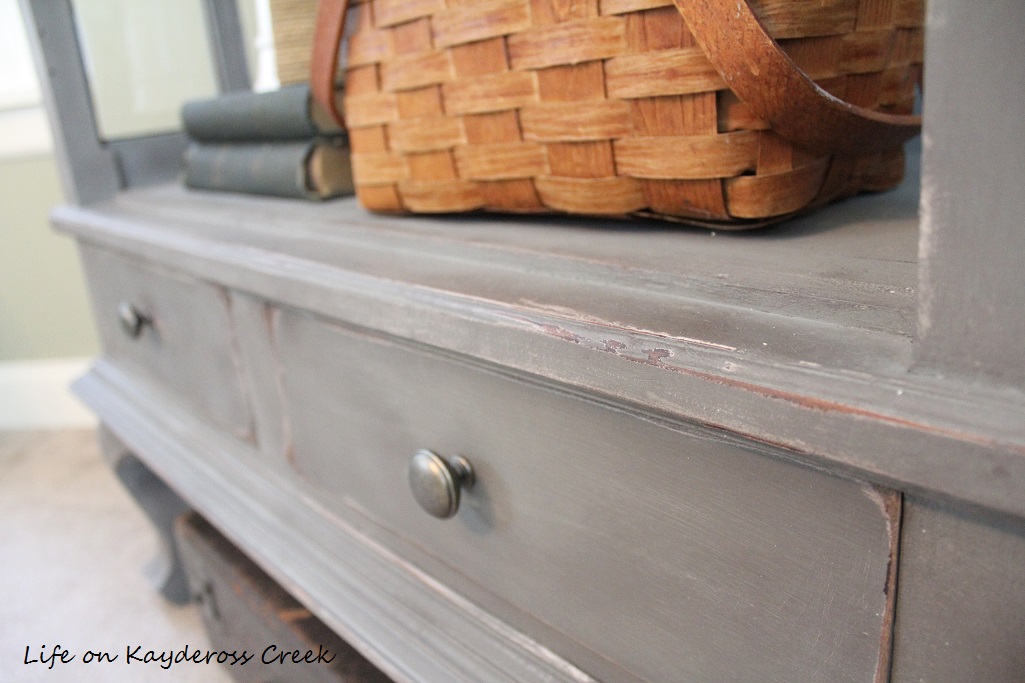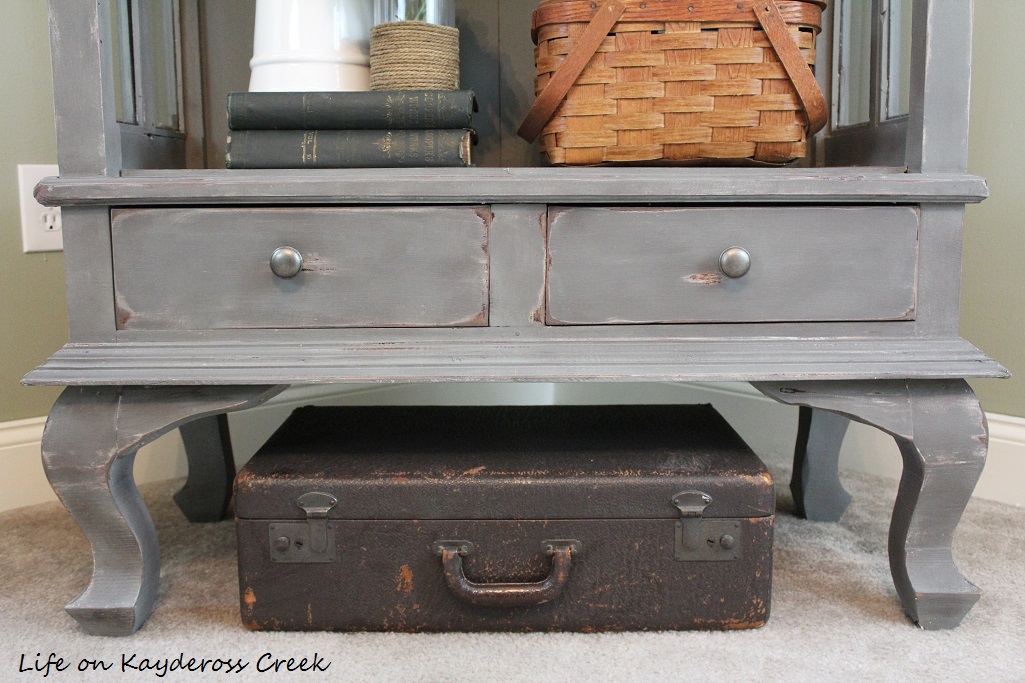 I love, love, love the way this piece came out!  I also loved working with the Country Chic Paint and the wax is just awesome sauce. A little goes such a long way and really brings out extra character in painted furniture. I have already used it again on another project which I will share with you soon. I'll also share a quick new video on how to use the wax as well.
PIN IT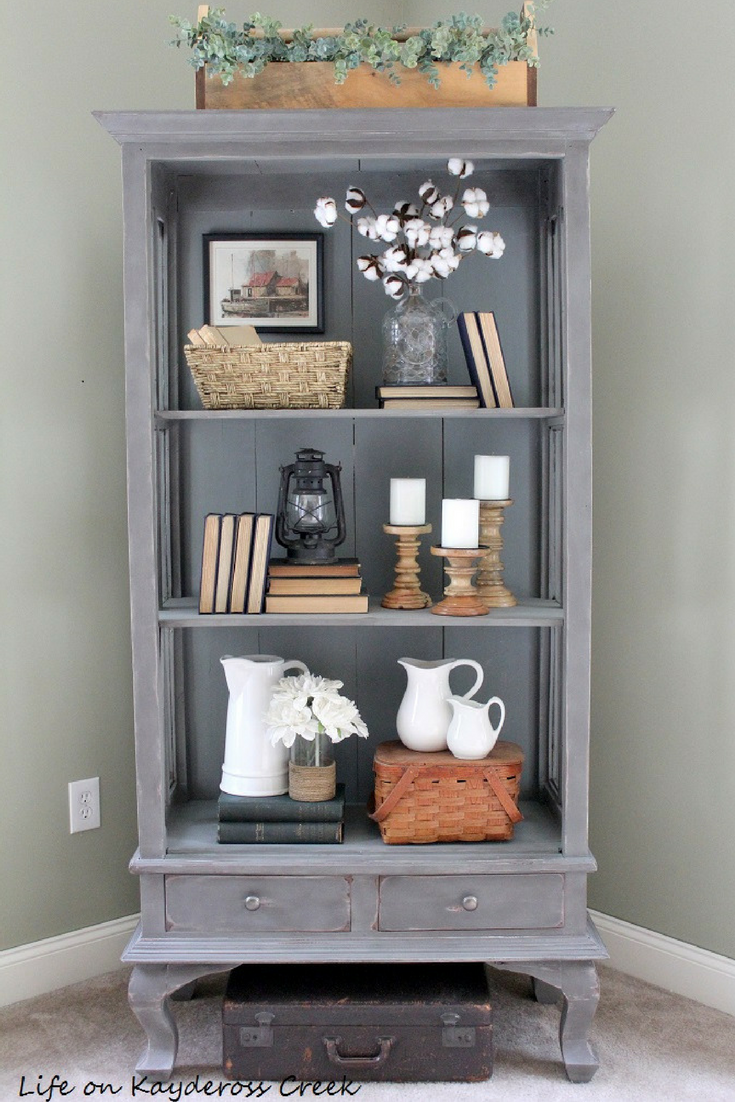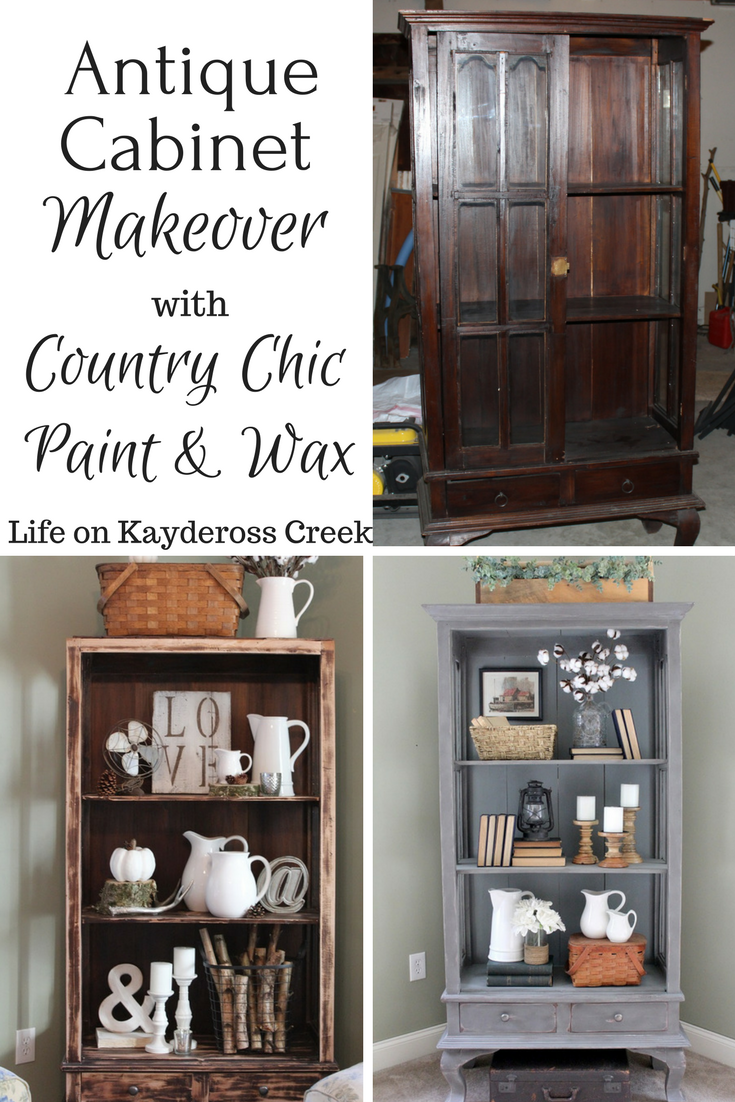 Do you have a piece that could use a little love? Keep your ears open next time you're at a garage sale or flea market and you just might find one speaking to you.
Happy DIY'ing!
Col
linking at The Pin Junkie  Unique Junktique The Creative Gallery