Hey there! I can't tell you how glad I am to be sharing this post with you today!! A long time comin' is an understatement with this one for a couple of reasons. First, the mudroom has been the bane of my existence from the moment we moved in to this house because it was never really planned out. In a hurry to move in = mudroom not really on the top of the "list" and stuff just gets thrown in there.  Second because we actually started it like 11 months ago. Does that ever happen to you?? You know, good intentions, then life happens and…BAM, it's almost a year later???
Anyhoo, here is the before. Sad, right?? I first introduced the space here.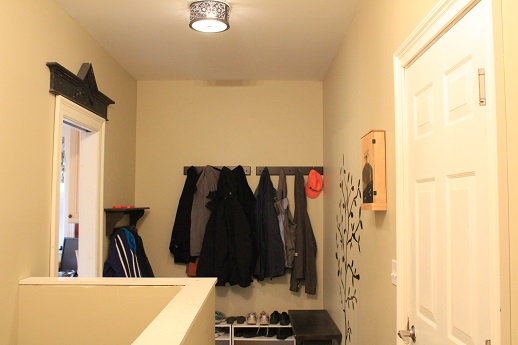 First things first, we needed more light in the mudroom so we added a window. This was no small task because the heating duct to our upstairs closet needed to be re-routed. Let's just say a few "special" words were used during this phase of the project  🙂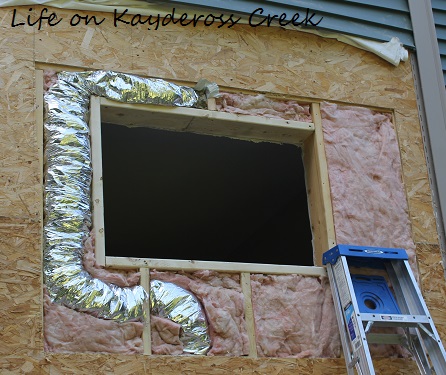 It was sooo worth it though, because it makes a huge difference.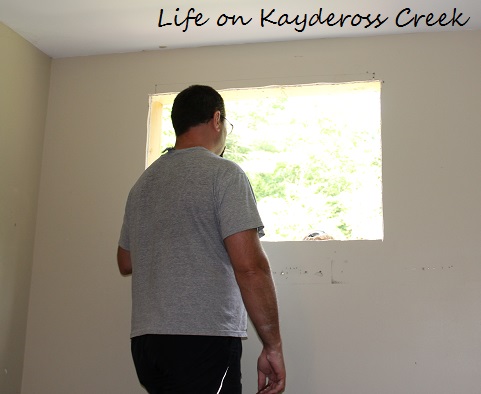 Second, we needed more organized storage and we needed to just make better use of the space. We thought we could do this best by adding cubbies. That way everyone could have their own space.  We started by using MDF to build a bench.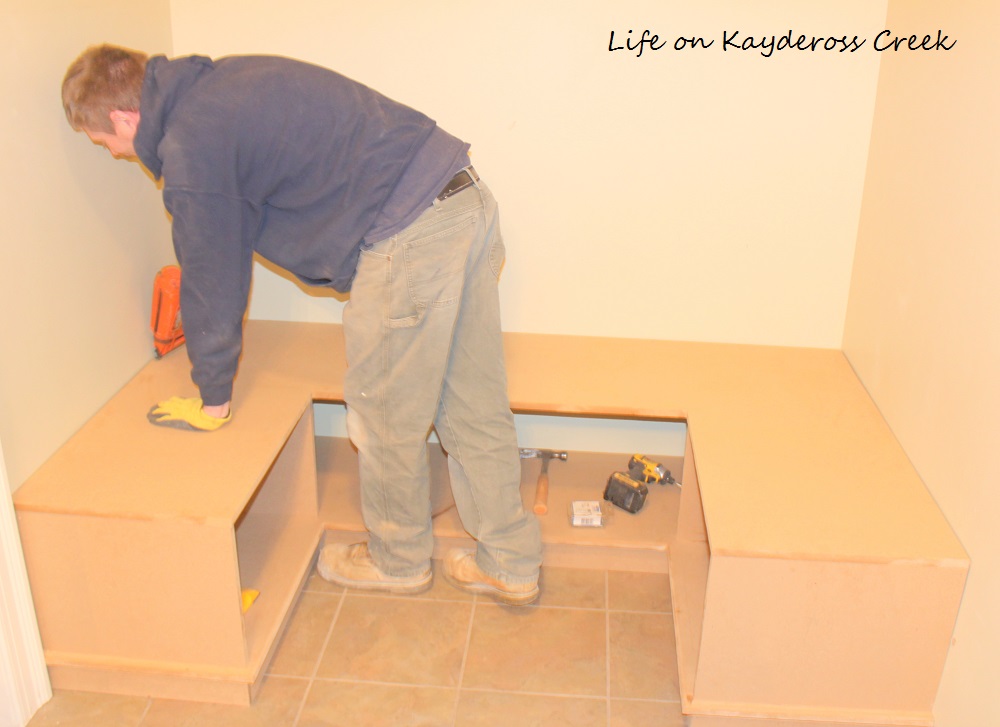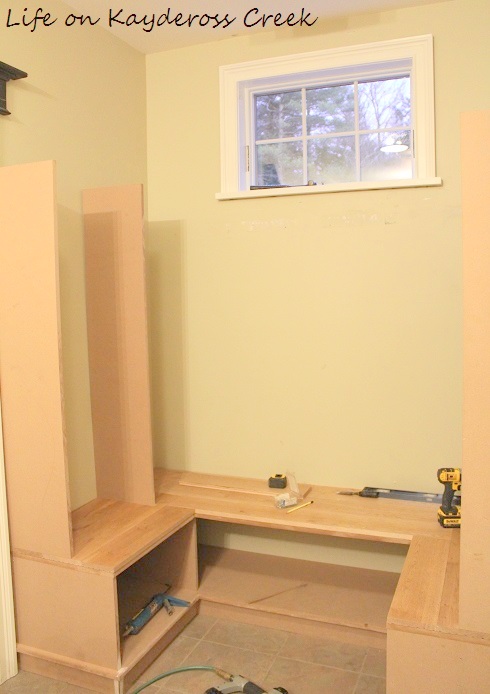 Someone gave us some pieces of tongue and groove flooring they had leftover from a project they had done so we used it for the top of the bench and inside the cubbies. It's great because it has a coat of sealer on it so a wet coat won't hurt it.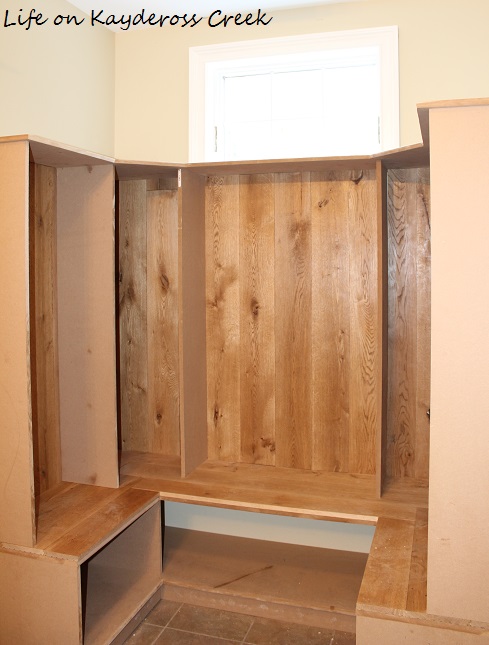 So far, so good.   🙂  I primed the MDF and then gave it a couple of coats of paint. The first color was way to bright green. I went with this greenish/gray but may change it to gray by the time we are done.
To make a space for hats, gloves etc we added shelves to the corner sections. Now to add the hooks for coats.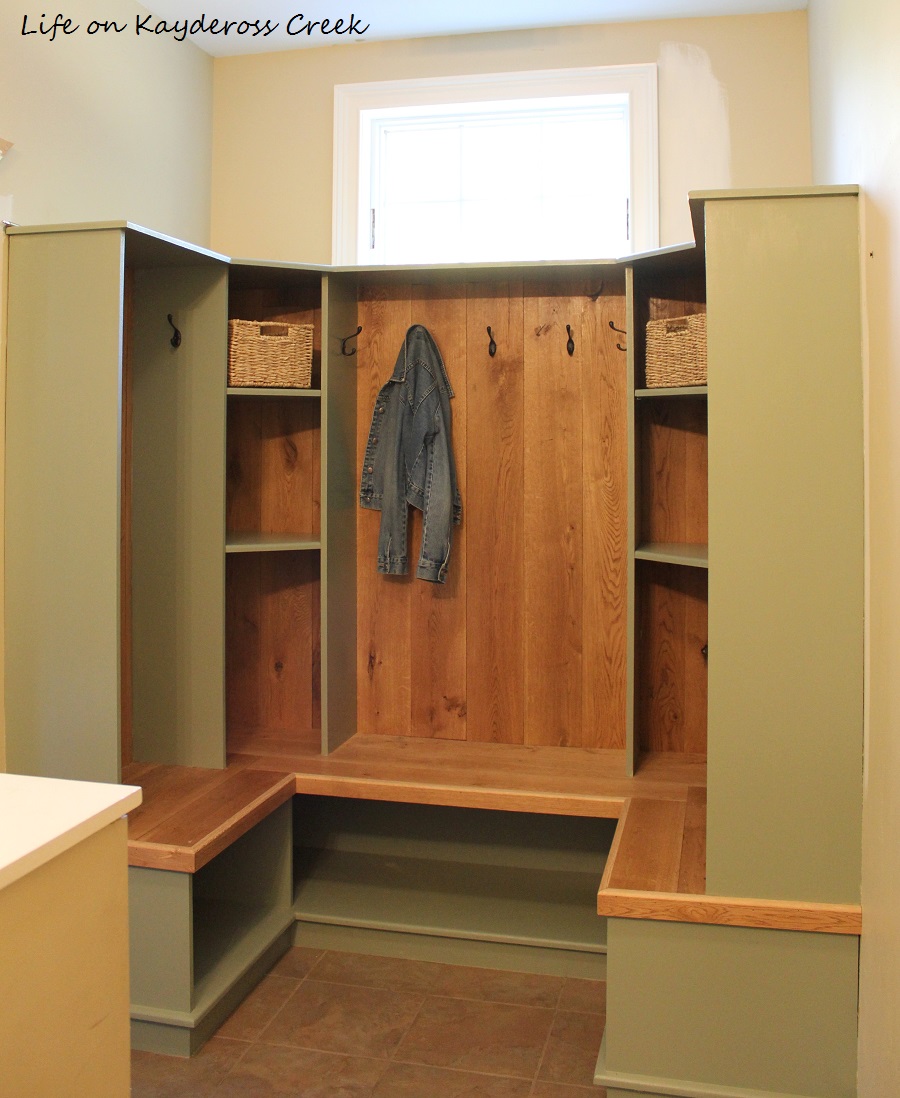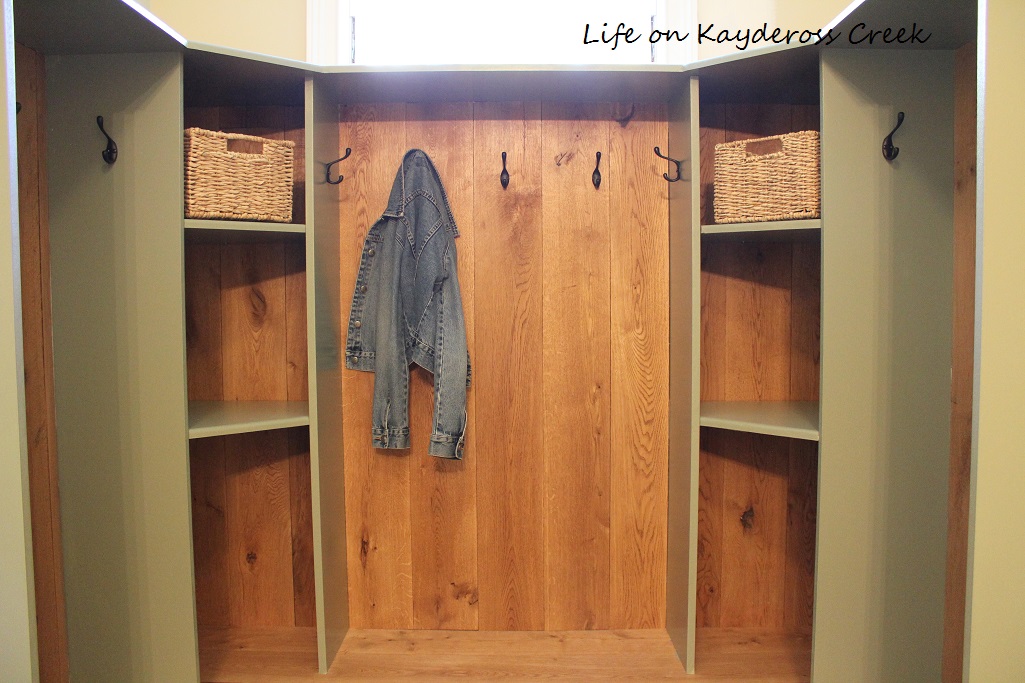 From this…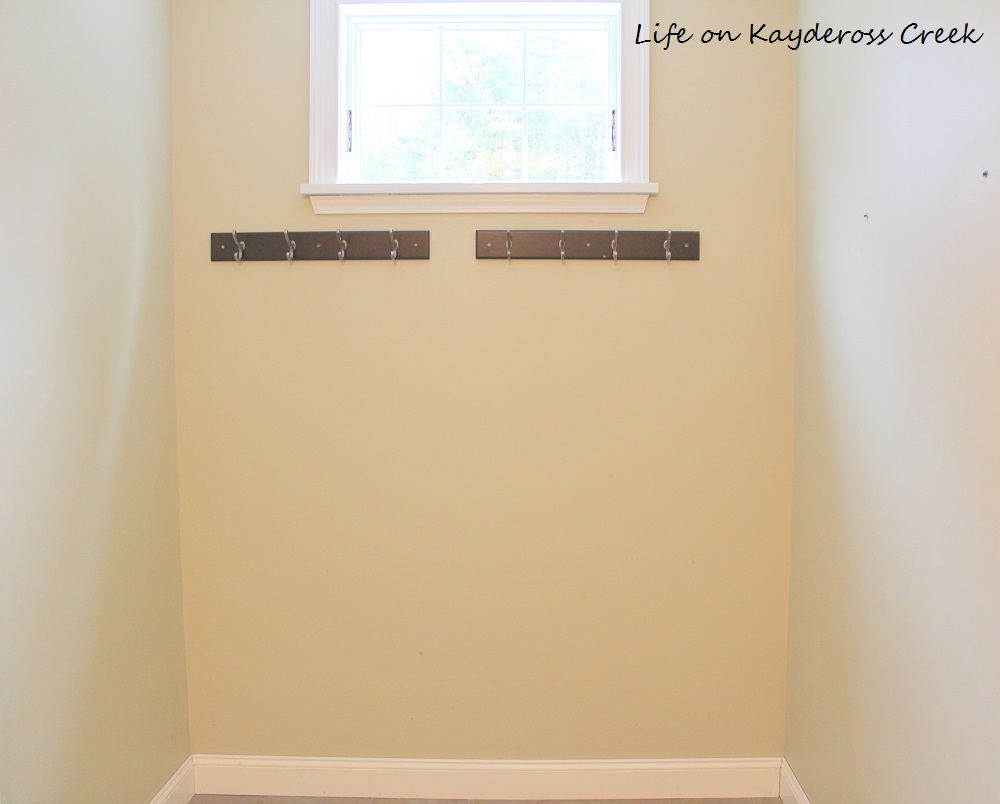 To this…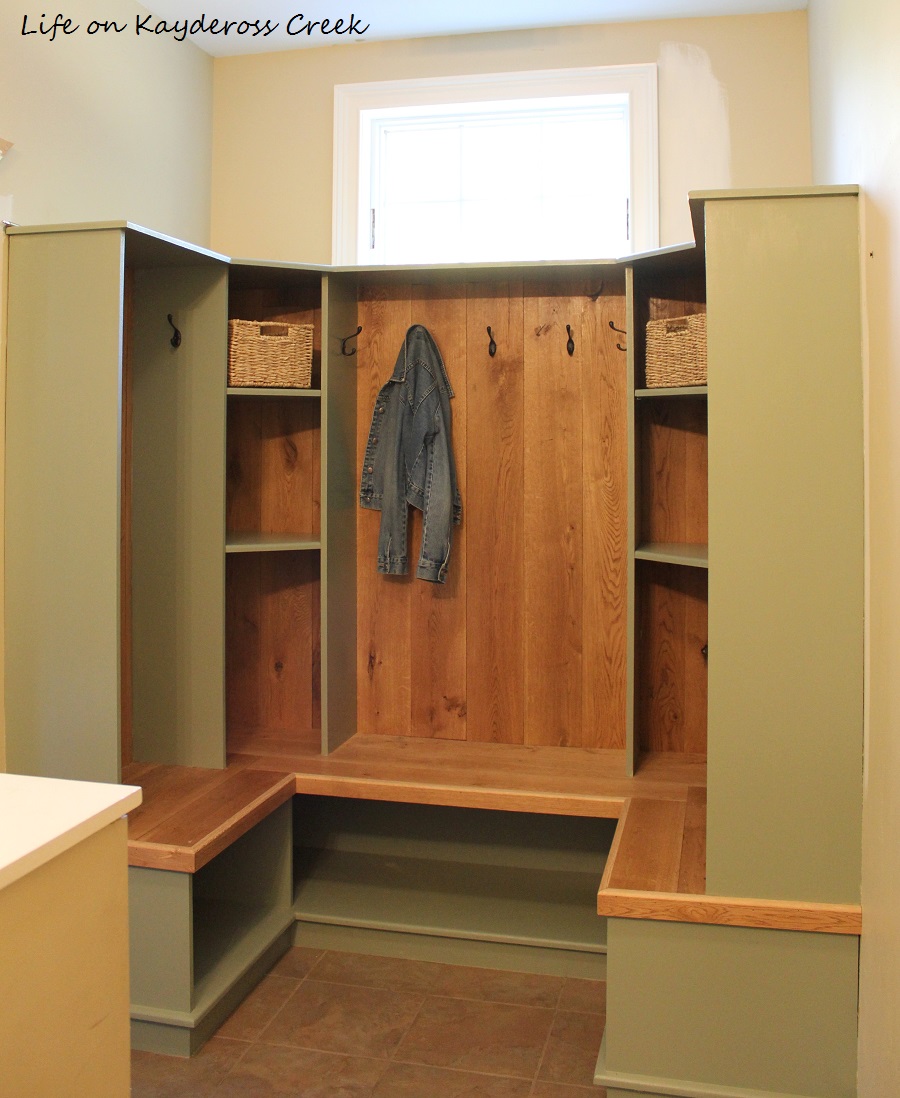 It turned out exactly like I had hoped and works really well for us! We each have our space and now the kiddos know where their stuff belongs and, more importantly, where to find it when they are looking for it.
So now it's just finding paint for the walls, a new light fixture, rug and a couple more baskets.  Final reveal coming soon. Hopefully, it will not take almost an entire year to get it finally finished.
Do you have a project that you have been working on that seems to be taking forever?  Here's to gettin' it done!
Happy DIY'ing!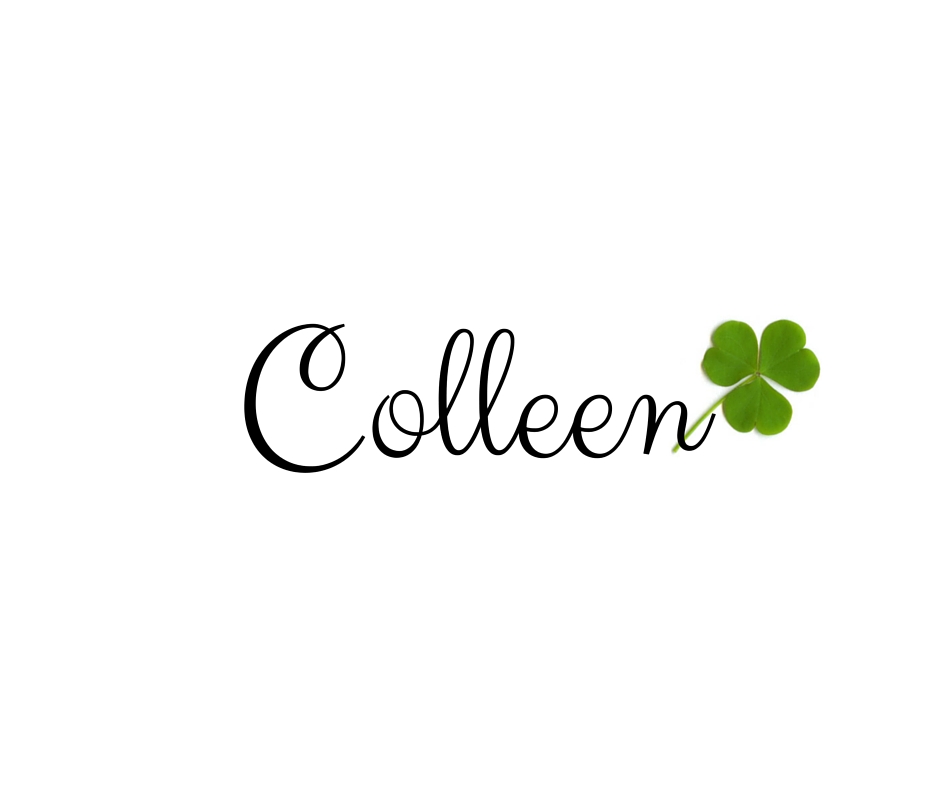 UPDATE: See the completed Mudroom Here.
Linking to these parties: Inspiration Monday   Inspire Me Monday  The Scoop    Inspire Me Tuesday  Create Link and Inspire   Brag About It  Tweak It Tuesday
Totally Terrific Tuesday  Be Inspired Link Party Dream Create Inspire  Wow Us Wendesdays  Fluster Creative Muster   Work It Wednesday
Whimsy Wednesday /  Pin Worthy Wednesday  The Creative Exchange  Home & Garden Thursday  Feathered Nest Friday Home Sweet Home
Craft Frenzy Friday  Link Party PALOOZA