Spring is right around the corner and even though I heard there is a slight chance we may be getting a bit of snow next week, I'm still in Spring mode. There is nothin' stoppin' me now. I've already pulled out all the spring decor and have finished most of the house. I gave you a bit of a peak last time when I revealed a spring wreath I made and I will definitely share more next time.  Today is all about decorating a Spring mantel on a budget! Farmhouse style that is 🙂
My feeling is there's no reason to spend a ton of money on any decor really. Sure, there are times I may splurge on something I really want but generally I like the challenge of making it look good on the cheap, so here goes..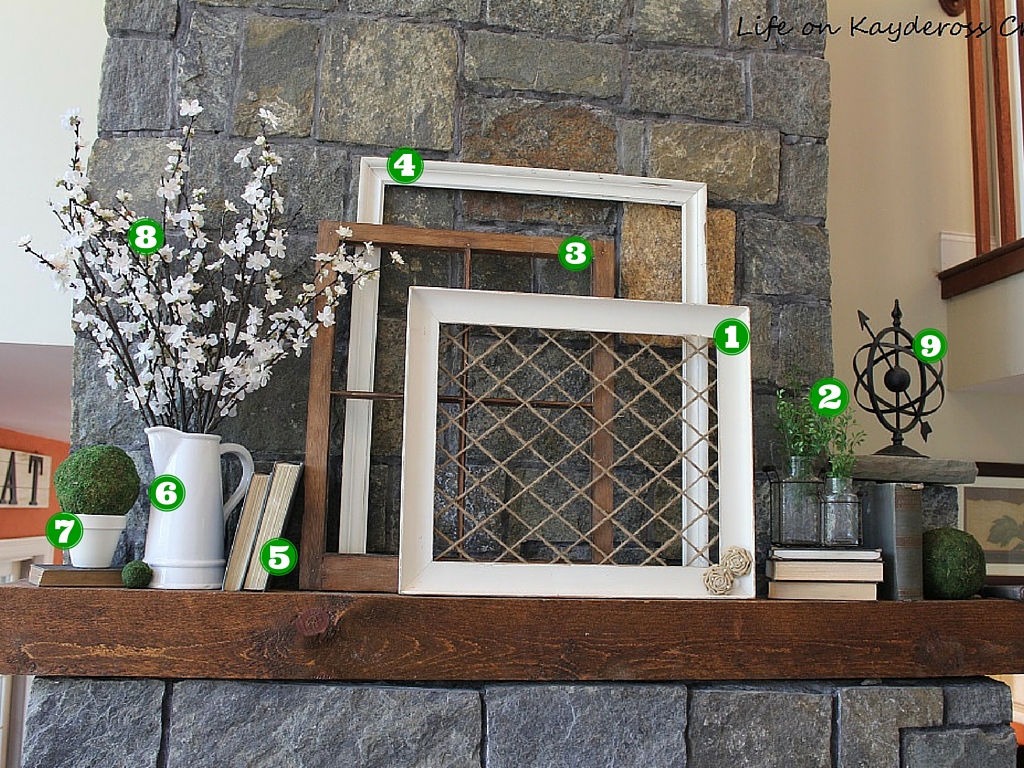 By the way, I've also included affiliate links to places you can find similar things for your convenience if you like what you see. See my full disclosure here.
1. Twine Memory Board – about $2 – I made this out of a frame I picked up at a thrift store for $1 and some twine. It was really simple to do by cris-crossing the twine and then securing with a staple gun. I also added the little burlap flowers to the bottom corner.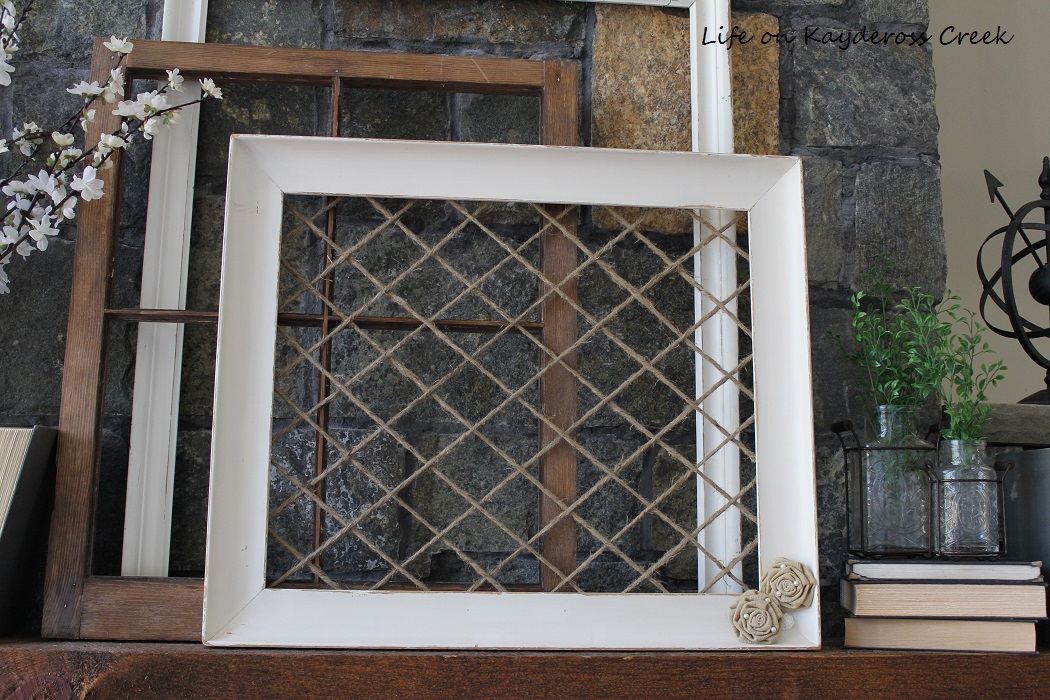 2. Glass vases in metal holders – these were a steal!!! I scooped them up at a thrift store for $1 for the small one and $2 for the bigger one. The cool part, I already had a large one at home which I got for $4.  You can find something similar here.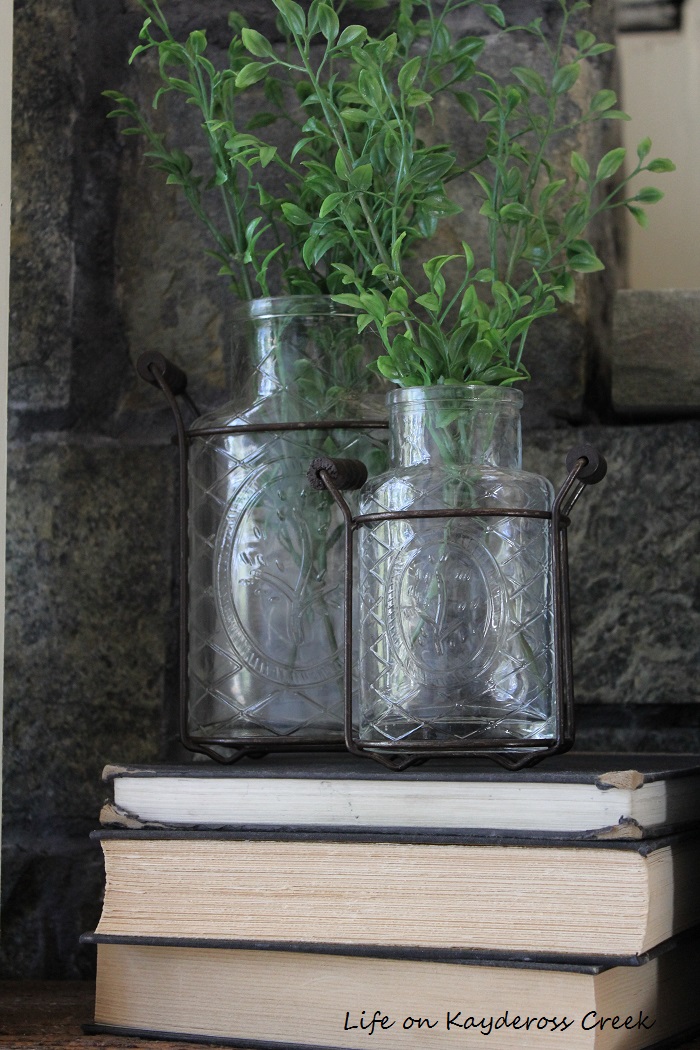 3. Brown 4 pane window frame – was a gift from my awesome brother. (thanks Jamie!) One of the pieces of glass had fallen out so I just removed them all. I actually like it better that way!
4. Big white-washed frame – this I picked up for $5 at a thrift store – the same one I got the bottles at. That's more than I usually spend but it's pretty big so it was worth it.
5. Books – Again, I got these from my favorite thrift spot for $.50 each. I love decorating with books because they add height and can add color and texture as well. They can also be a great conversation piece.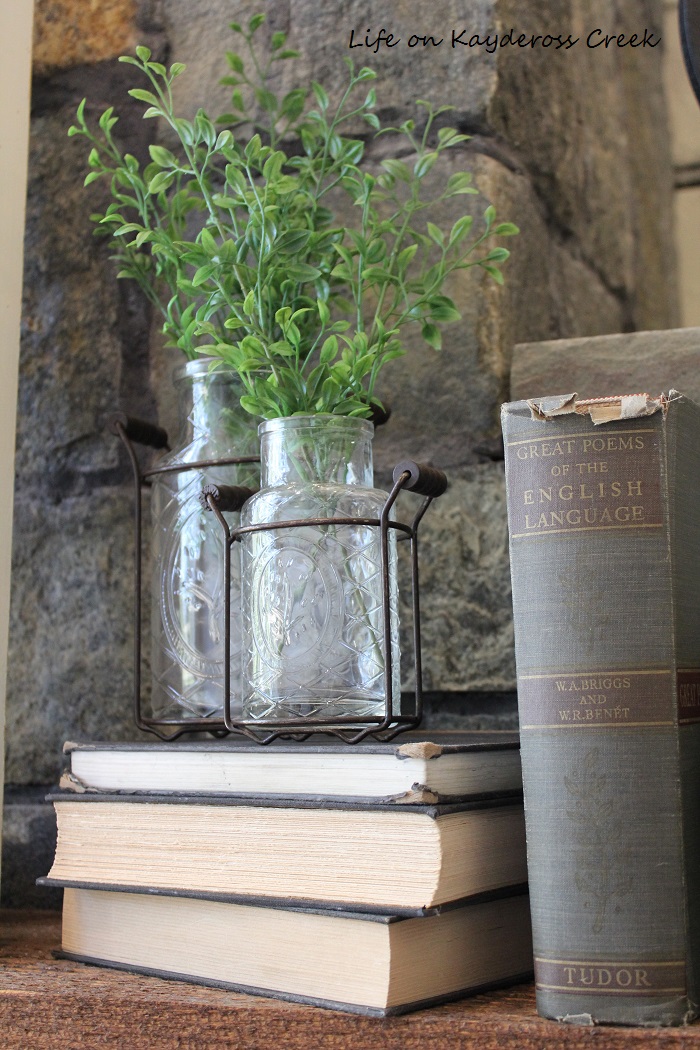 6. White vase – I've said it before and I'll say it again, I love, love, love white vases. Pretty, versatile, functional. I picked this one up at HomeGoods for 12.99 and use it ALL the time!
7.  White flower pot – I bought these to make a silverware caddy last summer and had a few left over. They were .50 each. It was your basic terracotta pot that I spray painted white and added a moss ball I've had to the top, So easy.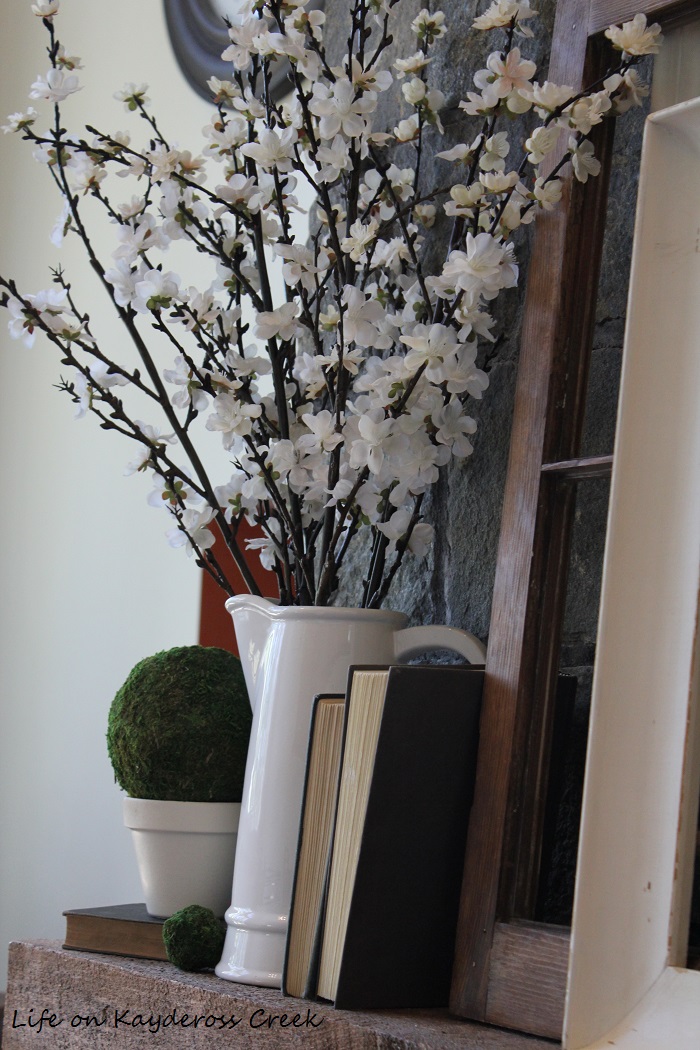 8. This was probably my biggest splurge. These faux flower branches came from Michaels and are so realistic. Of course, I used a coupon or bought them on sale so they were 4.99 each. I couldn't find them on line but you can find similar ones here.
9. Metal Armillary sphere – No, I did not know what it was called before now (I had to look it up). I just knew that I liked it.  Hobby Lobby, 9.99.  Not necessarily spring-y but I like that it's open and airy.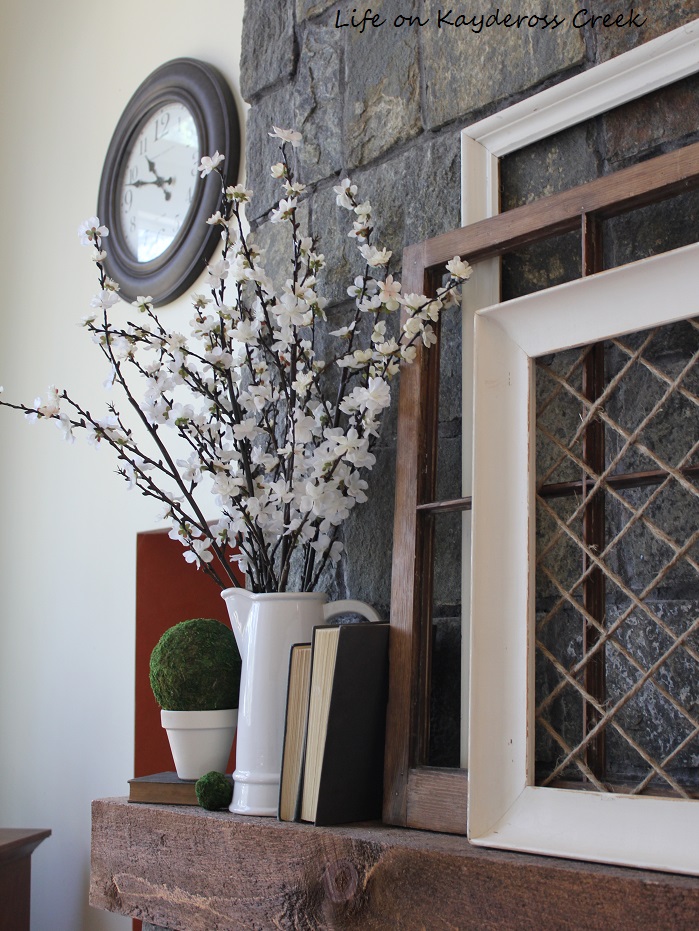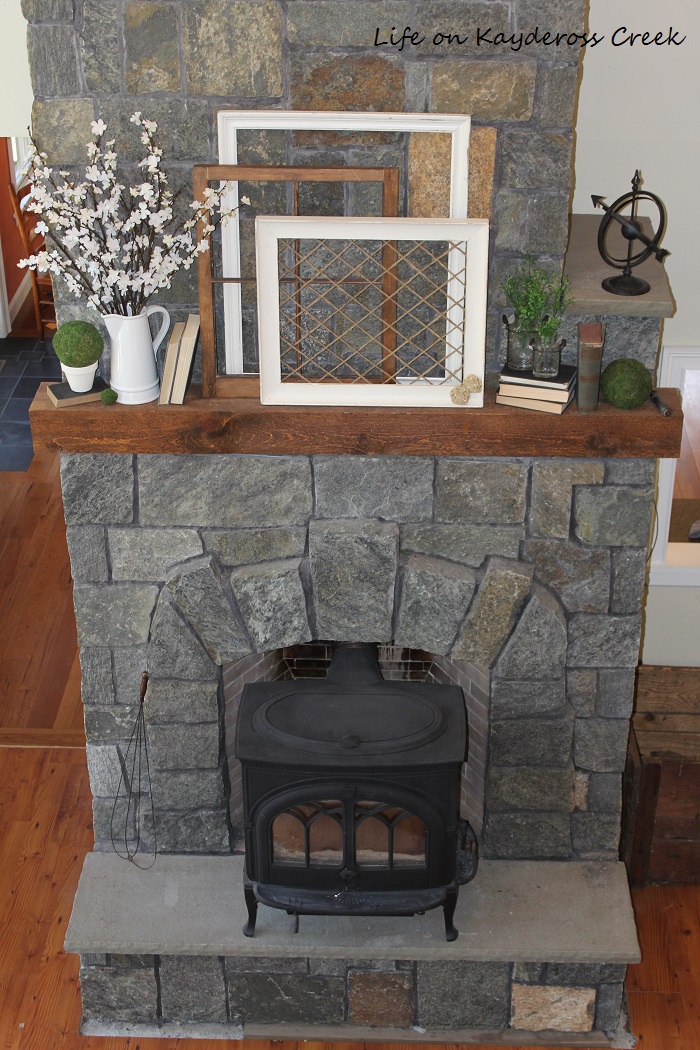 You can find the 6″ moss covered balls at Micheals.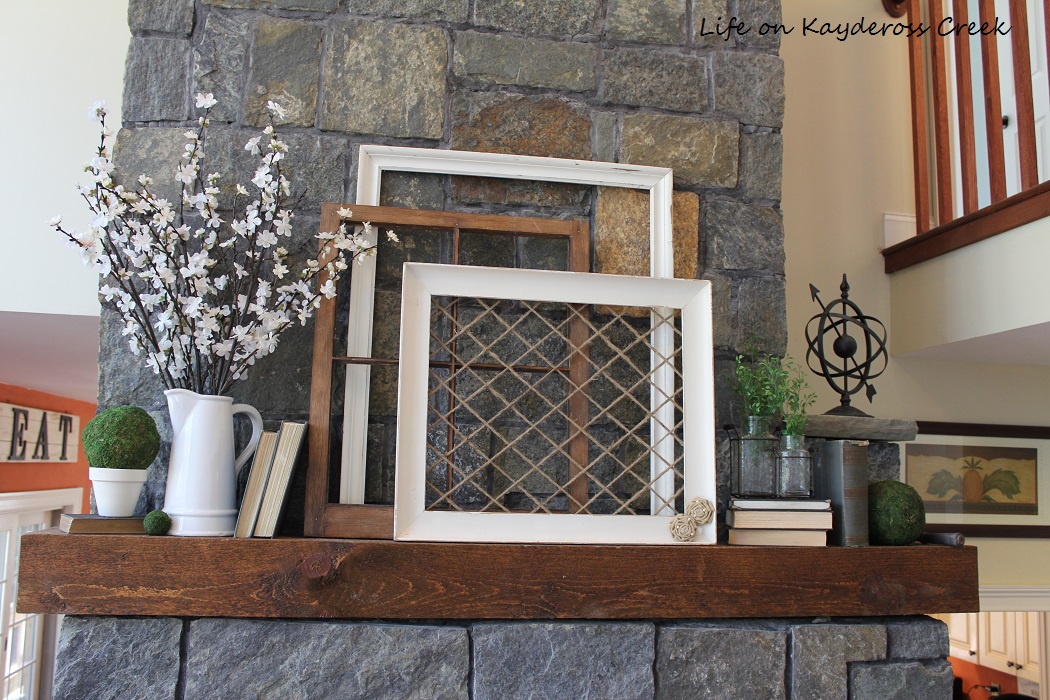 I like that it's really simple and the main pieces are versatile for any season. Has spring fever set in at your home yet? Are you all decked out for the season? If not,
Happy DIY'ing!!
Col
You may also like: