Hey everyone! Today I'm sharing some tips on how to create a unique gallery wall without breaking the bank. I love the way a gallery wall adds tons of character to a space. There are no rules when it comes to creating one so go beyond photos and think about the many combinations of elements you can use. The one I'm creating today is for my daughter's room and started out like this…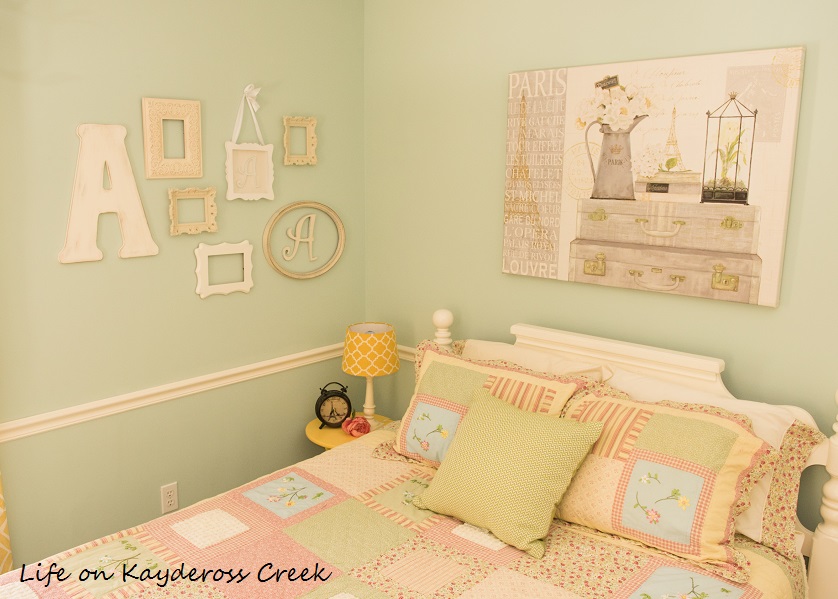 Pretty basic, I know. When we did this makeover a few years ago, I was running out of time (energy, honestly) and wanted something simple so I added this small, monochromatic gallery. My daughter is a tween now (Lord, help me) so I want to update it and add some color to this space to go along with her colorful personality. 🙂
When I create a gallery, I start by finding inspiration from colors in the room.  In this case, I pulled out several colors in her quilt including green, pink and blue.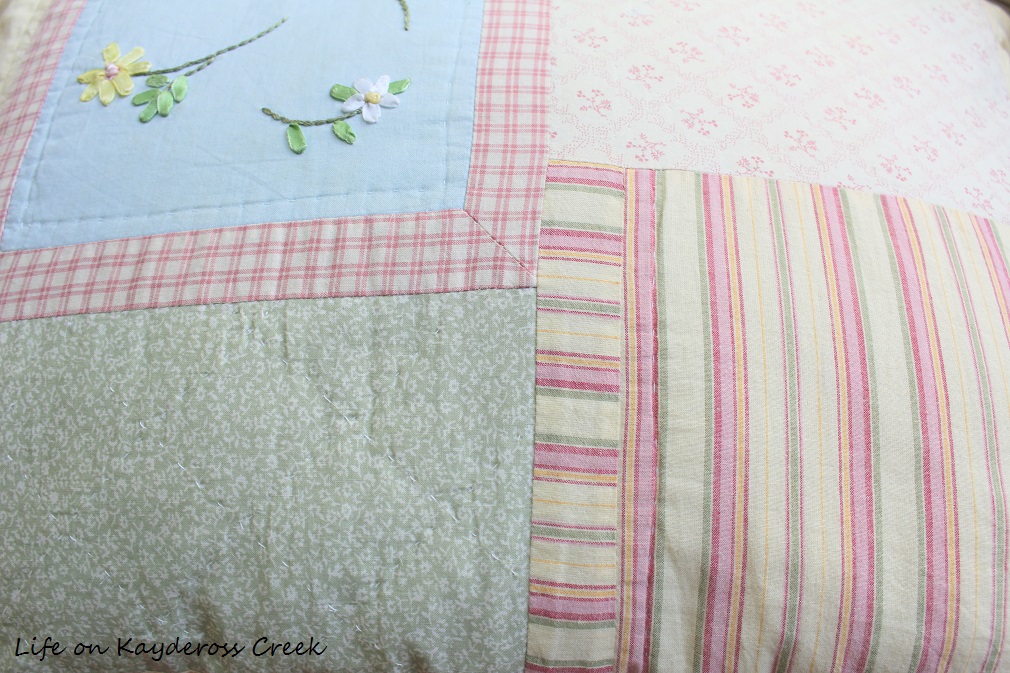 I picked out this pretty scrapbook paper in those colors.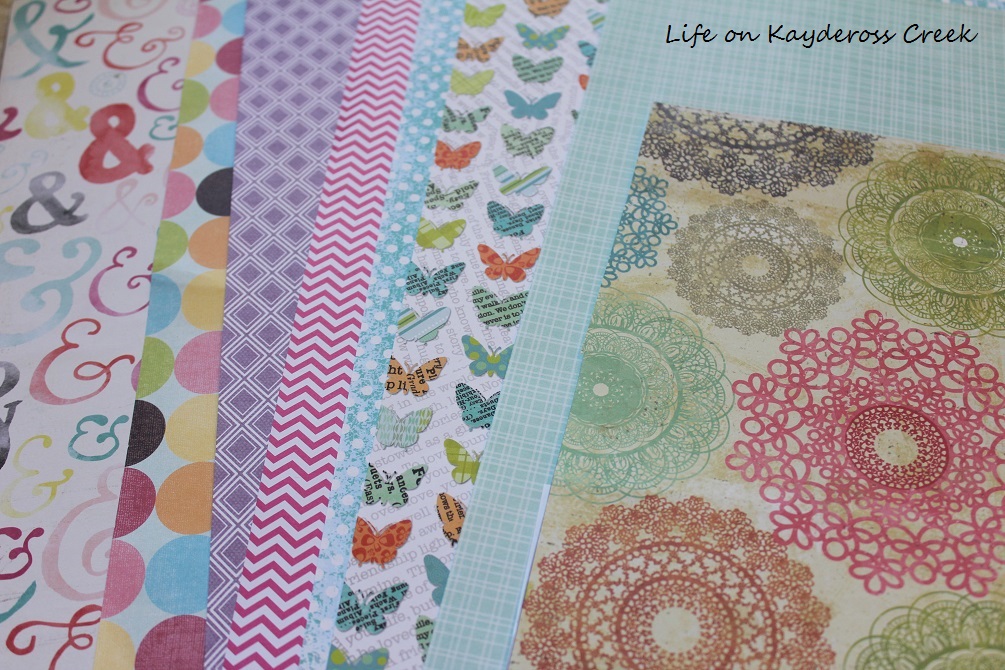 To get the look I was going for and to stay on budget, I mixed some old pieces I had with some some new things.
MATERIALS FOR THE GALLERY WALL:
thrift store frames and store bought frames
scrapbook paper
craft paint
wooden craft letters
Scrap wood
stencils
stencil brush
saw tooth hangers
THE PROCESS:
I started by taking down the old gallery, spackling the nail holes and touching up the paint so I could start fresh. To make sure I spaced everything out correctly, I measured the wall space I wanted to fill (42 x 54) and taped out that dimension on the floor.
Then I gathered those pieces I had originally used, my frames, some plain craft letters and the scrapbook paper. I love using scrapbook paper for decor. See how I used it to make art HERE.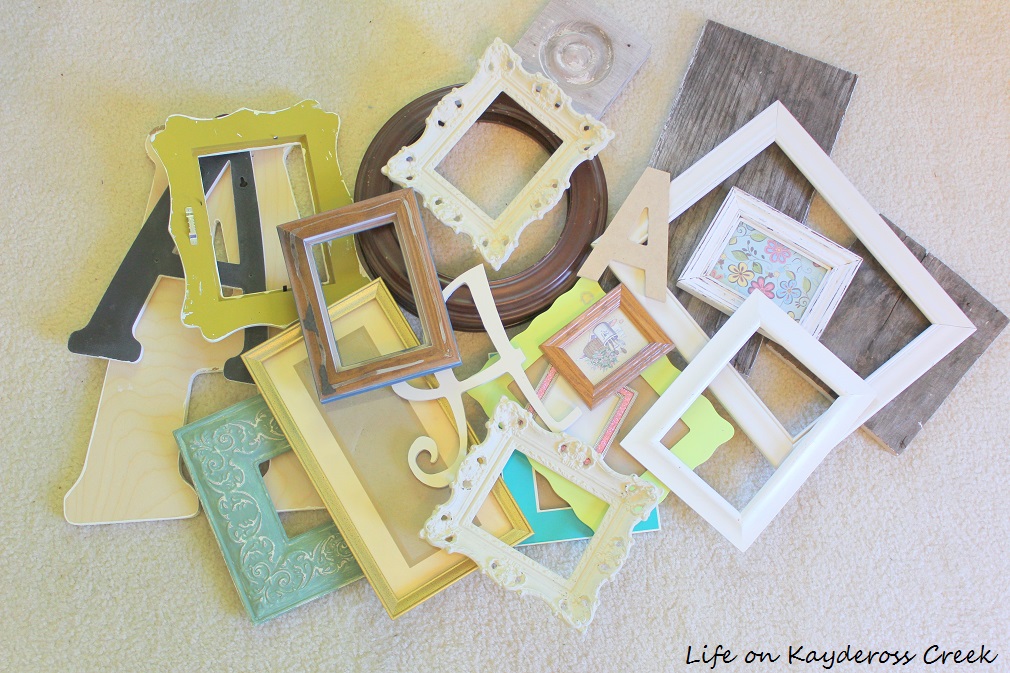 Then I started placing different pieces in the space, playing around with size an shape.  I started with the bigger pieces first and laid out my design. The trick is to have different size pieces, different textures and colors and different types of materials. It's important to get size and shape placed first because if the color isn't right, you can always break out the craft paint or spray paint, which I have to do here. I tried a few different combinations until I got what I wanted.
ONE OPTION…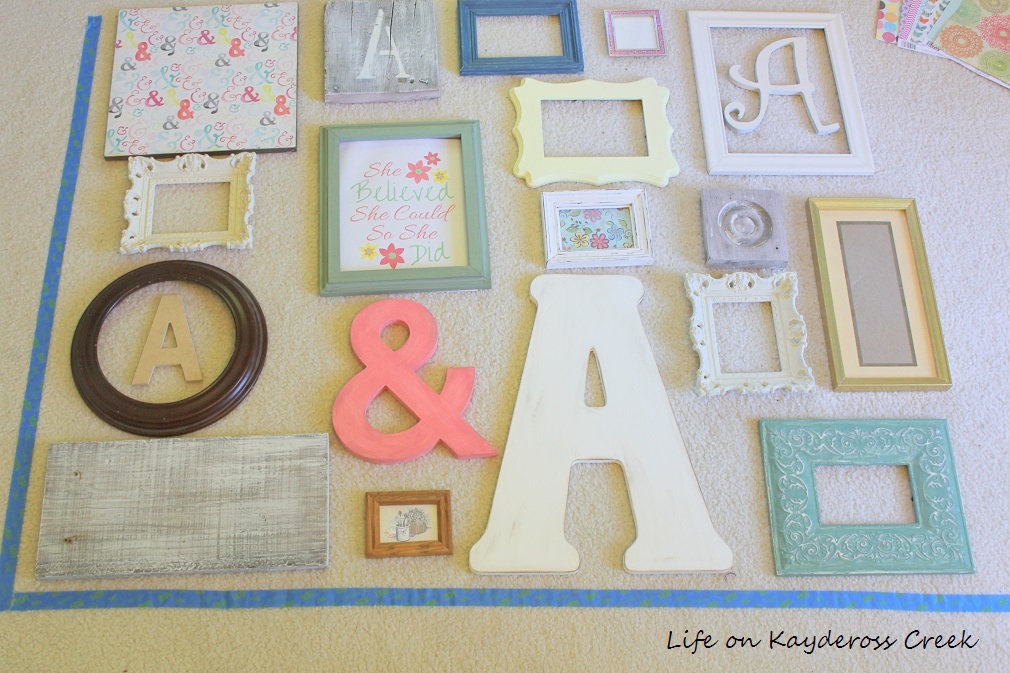 Here is the layout I finally decided on. I like how the shapes are spaced out. The materials. including the wooden elements, seem balanced but I'm ready for some color. Here's how I'll add color to the layout: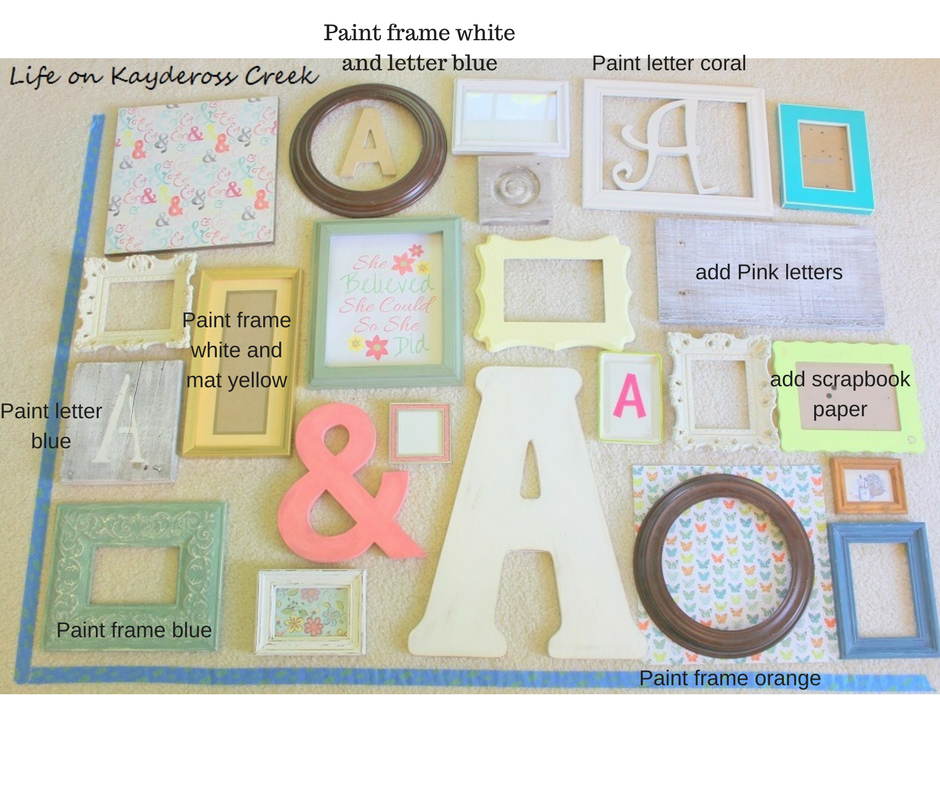 One of the pieces I wanted to use was this "She BELIEVED she could so she did" printable that I made using a free program called Canva. I made it using the same colors I pulled from the quilt.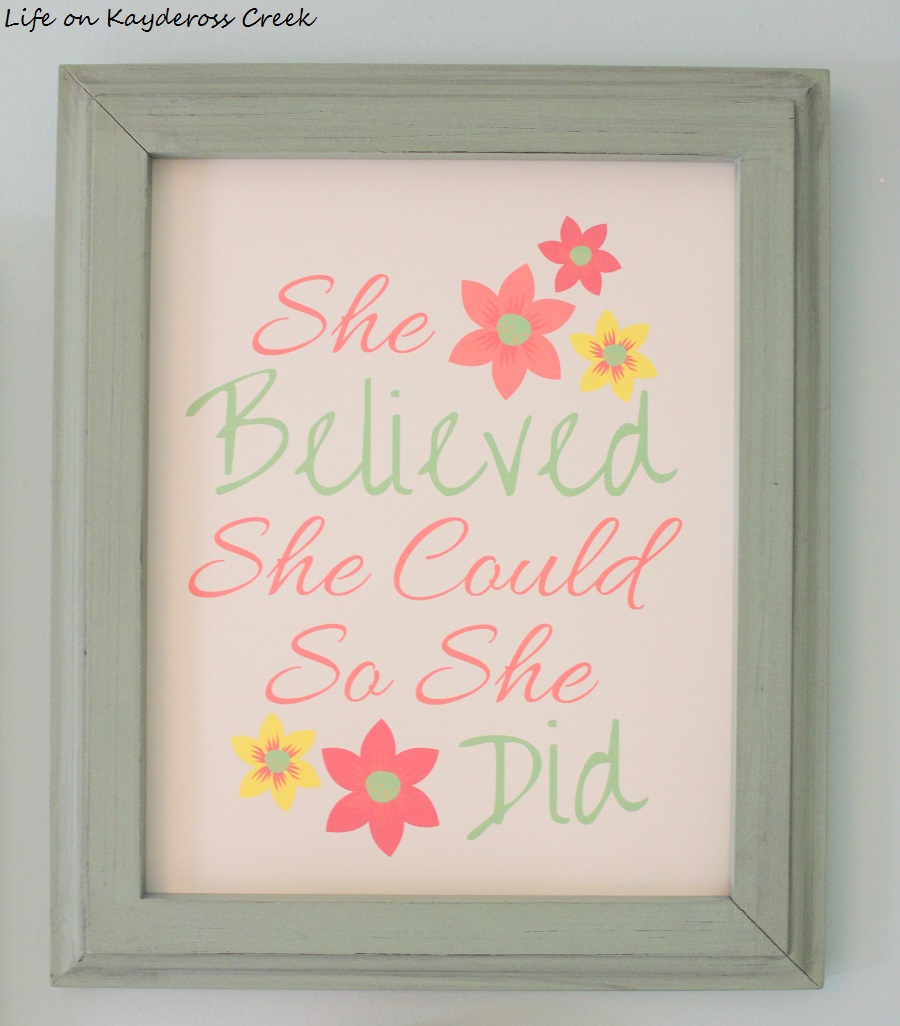 After painting the pieces as labeled above and adding the scrapbook paper to a few of the frames I started hanging the pieces on the wall. I started with the largest piece and then worked out from there.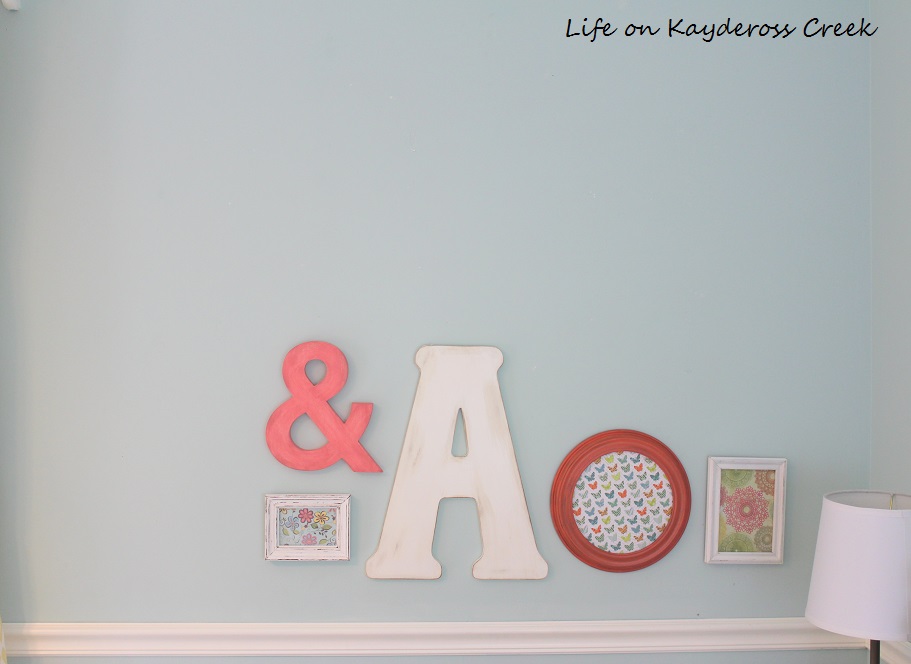 Then build up and out.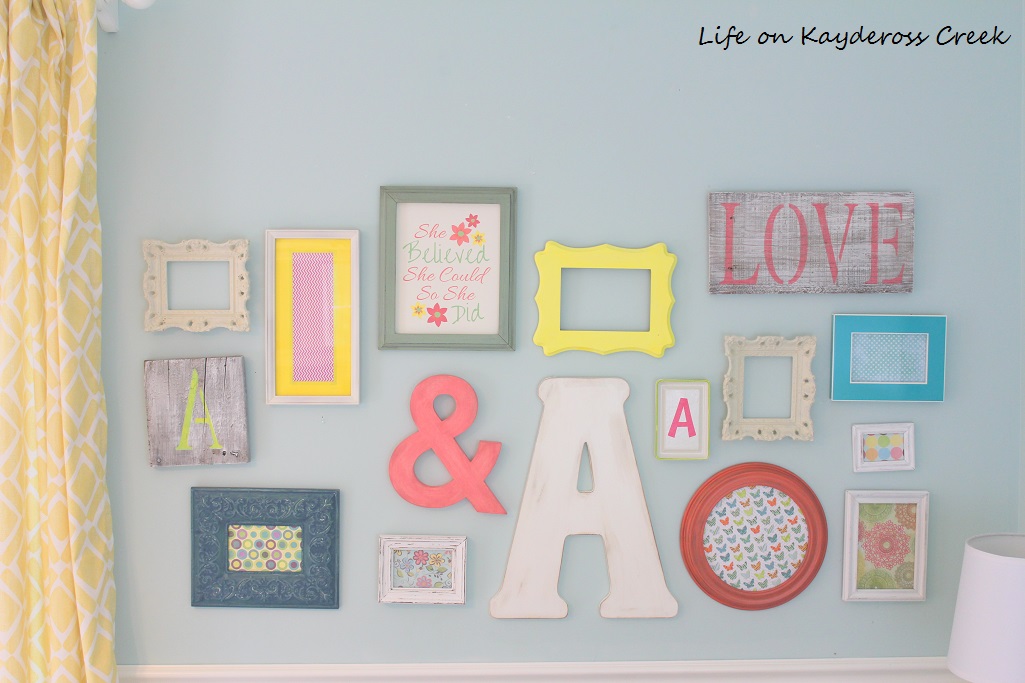 Add character to your space with a unique gallery wall by mixing different colors, shapes and textures.
Click To Tweet
I ended up moving things slightly and adjusting a bit as I went (I'm not gonna lie, there are a few more holes in the wall than I would like)
THE FINAL PRODUCT: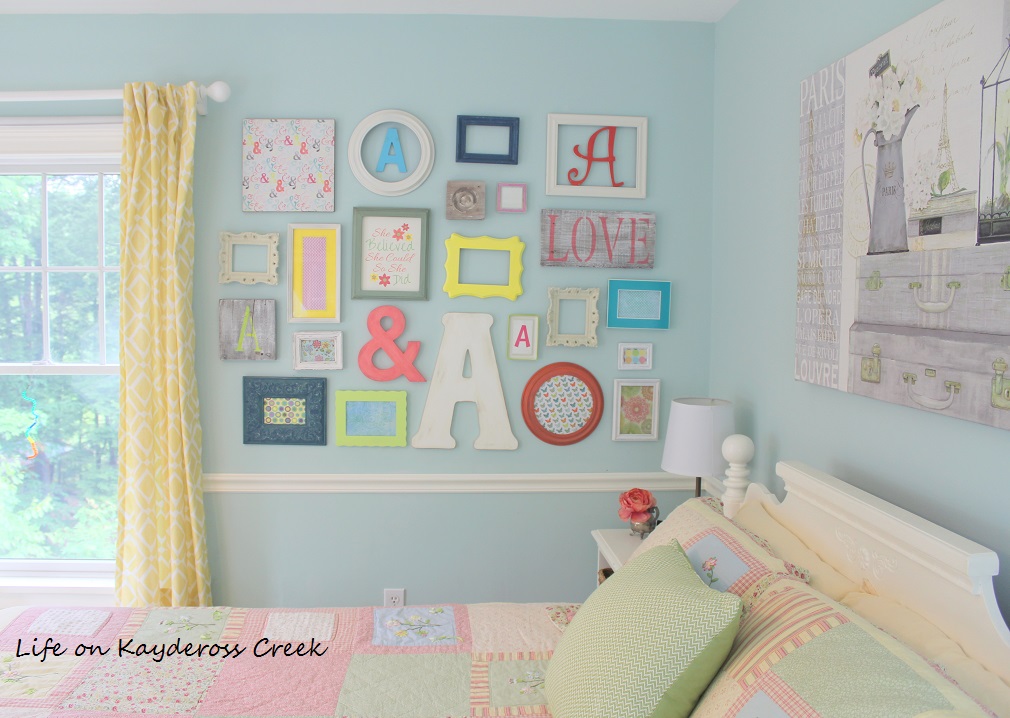 I love all of the bright colors and how happy they make the room feel. Much more personality, right??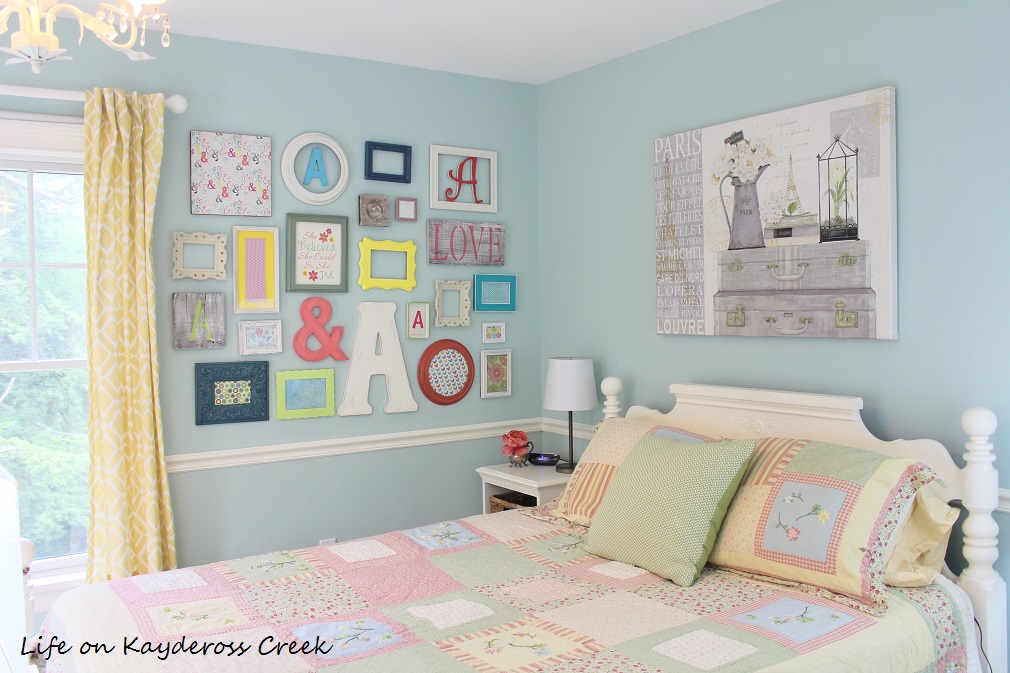 Here are a few other gallery walls I have created. In my Master Bedroom, you can see where I mixed in prints, textured frames and different colors using a few gold frames as well as brown to tie in the dresser. I picked these frames up at different thrift stores and garage sales and then used spray paint to tie them all together.  I also painted the lamp to match.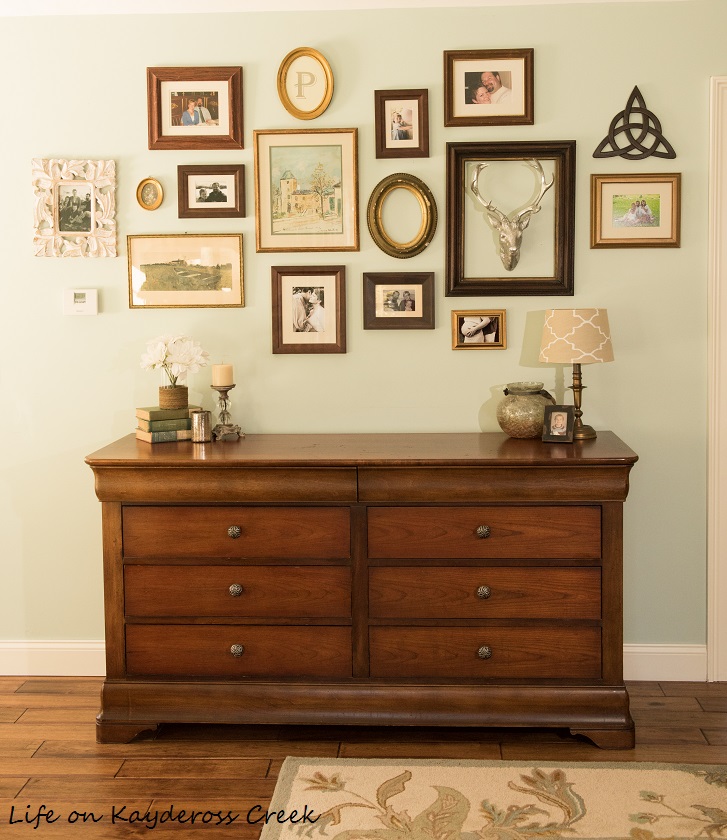 Here is one I did for a client in her living room. We mixed in frames, family photos, their initial from their last name in different colors and sizes and their favorite saying. This gallery not only helps tie the colors of the room together but has special meaning for this family.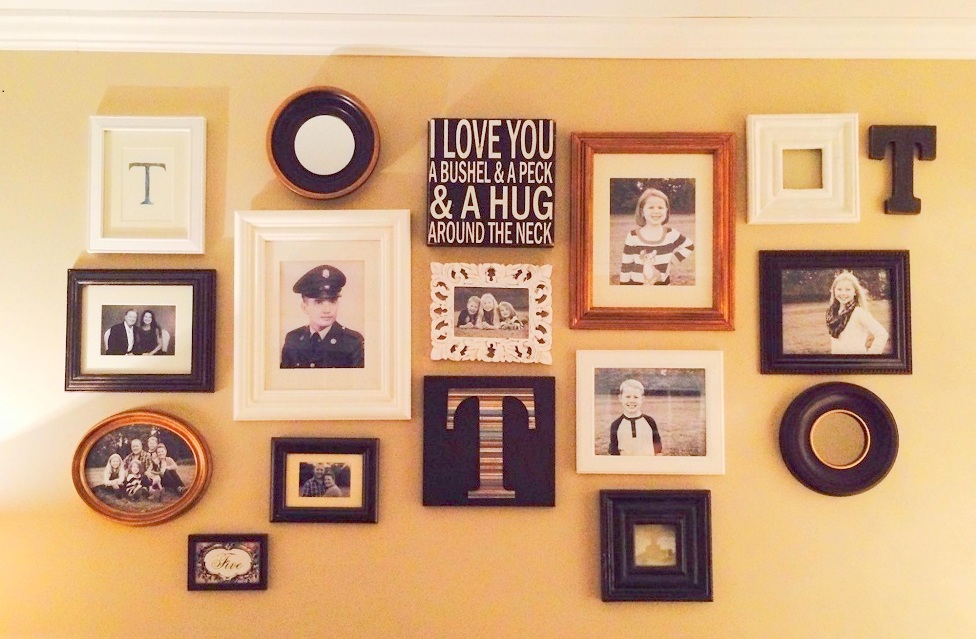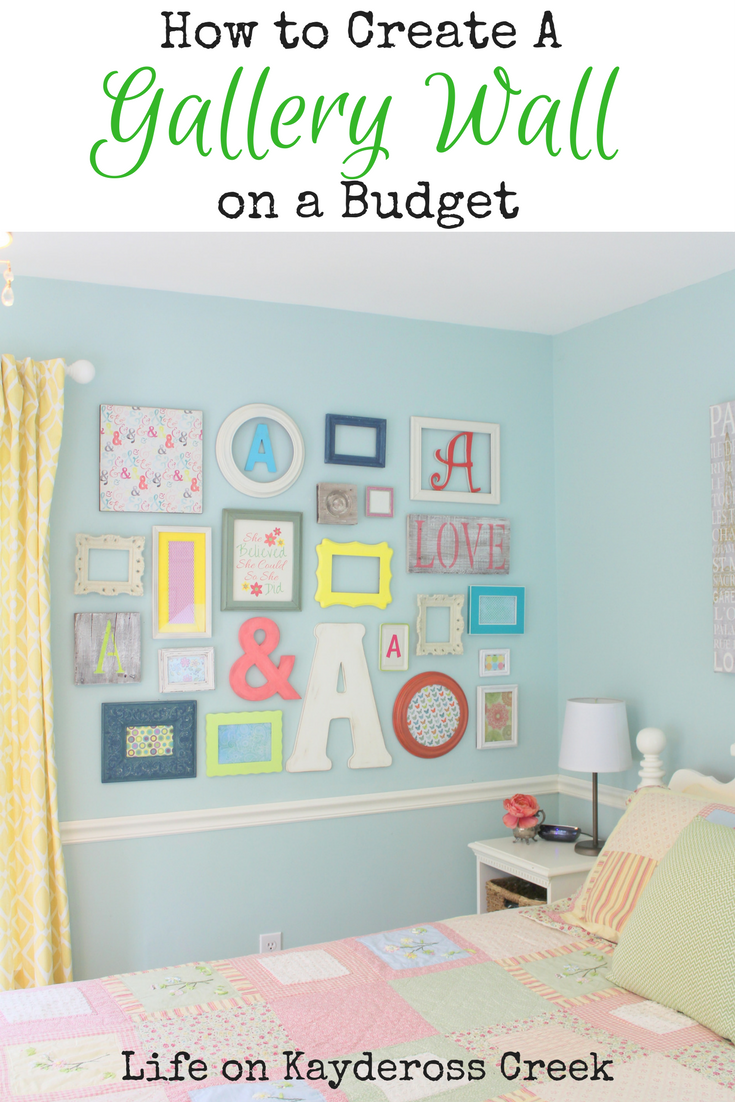 Whether it's monochromatic, perfectly spaced or random, creating a wall gallery is a great way to add personality to your home. The possibilities are endless and creating one of these gallery walls does not have to break the bank. Thrift store frames combined with some DIY craft projects and garage sale prints or a piece of art found at Target or on Amazon can create something completely unique for your home.  What kind of gallery wall would you create?
Happy DIY'ing!
Col