So I recently got my hair cut and said to the girl, I'm going to a Christmas party. I'm pretty sure what she heard me say was I'm going into the military! It's sooooo short! It's my own fault  because I wear it short anyway and I said it grows so fast so she thought, well OK, we can take care of that. It's fine, it's only hair, it will grow back and I will go back to her again.
There is a point to this, I promise, and here it is….. Things don't always turn out how you think they are going to. This goes for a lot of things including decorating and DIY projects. So today I thought I would share a few of the projects, my DIY Fails, that didn't make it even into the blog.  Drum roll please….
#1. I bought a cute little stool for $3 at my favorite go to thrift store and thought I would be clever and use a piece of drop cloth to cover it. I tried using paint to create ticking stripes. Not so much…
The stripes were awful and I didn't use enough fabric medium mixed in with the paint so it was crunchy. FAIL! I bought fabric (several times, actually) and finally ended up with this…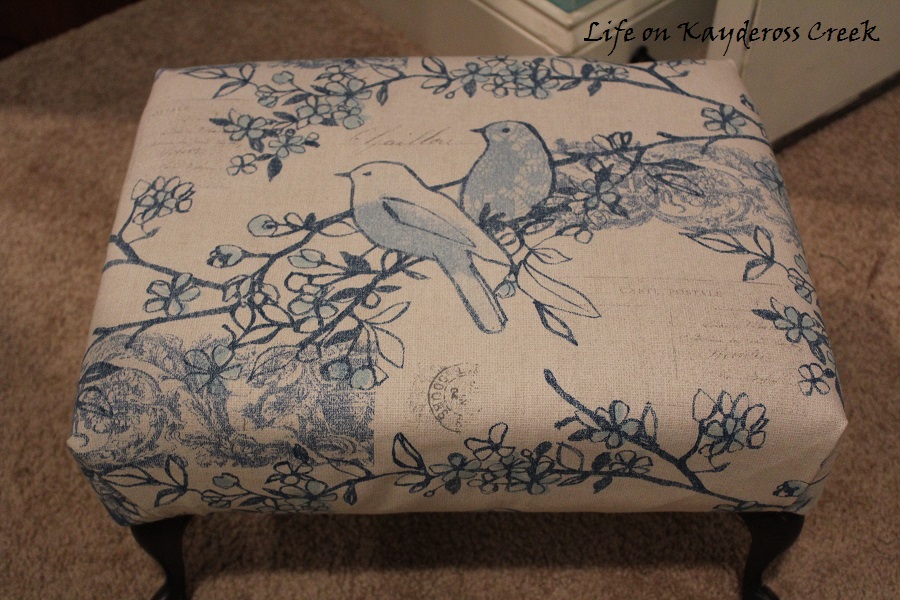 In the end it turned out OK but what started out as a simple inexpensive project took forever and cost more than I wanted. It's pretty but all I see when I look at it is frustration.
#2 – The almost too awful to share DIY fail, word Christmas tree.  The thought was I would use dictionary pages with the words that represented Christmas like Jesus, celebrate, family, peace, etc. and make a tree shape and then decorate it with cute little cut outs of ornaments and twine for garland. No, just no. Are you ready?
I still think the idea is there with the book pages. Maybe someday I'll find it.
#3 The wooden disc wreath. I have seen these on Pinterest on some of the blogs I follow and thought. How hard can that be? Apparently harder than it looks. I can't seem to get the pieces in the right spots or maybe I don't have the right size pieces. Not sure but I had step back from this one for now.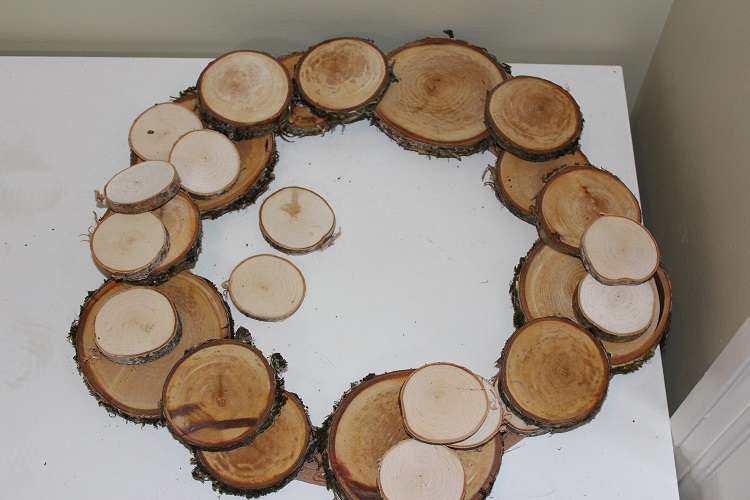 There are other DIY Fails but I won't share them all. I will say this though, I can't tell you how many times I used the wrong color, bought the wrong size, the print didn't work, the glue didn't stick, I cut it too small, or it wasn't level. I was in a hurry to get it done and didn't take my time.
The thing is, I learned something with each project.  Try and try again; new colors, new prints, new paint techniques, new ideas. Decorating and DIY is trial and error and I will try these things again at some point and when I do, you can be sure I will share it with you!
Happy DIY'ing (wins and fails alike), 🙂
Col