You may have noticed I have been off the grid for awhile.  I think I just needed a breather, you know. Some time to gain a bit of perspective and re-charge my creativity. So the good news is I have some really cool projects to share with you starting with today's reveal of a $5 garage sale find I turned into an Industrial  Bookshelf (and you can too!)  I've paired up with 19 other talented ladies to bring you a monthly Thrift Store Decor Upcycle Challenge. Each month we will create a new home decor piece from an item(s) we've found at a thrift store, yard sale, resale shop etc. There is no budget or specific theme so we are free to let our creativity run wild!
Meet the Hosts
Amanda | The Kolb Corner      Chelc| Inside the Fox Den
Erlene | My Pinterventures     Kim | Made in a Day     Sara | Twelve on Main
Debra | Shoppe No. 5      Shirley | Intelligent Domestications
Marie | DIY Adulation     Lindsay | Crazy Organized   Michelle | Our Crafty Mom
Julie | Live From Julie's House     Dru | Polka Dot Poplars
Maureen | Red Cottage Chronicles     Pili | Sweet Things     Channell | Hobnail House
Colleen | Life on Kaydeross Creek     Ann | Duct Tape and Denim
Paula | Virginia Sweet Pea     Sherry | Savvy Apron     Stacy | Anastasia Vintage
You can also follow our board on Pinterest for more upcycled decor inspiration!
---
*this post contains affiliate links for your convenience, please see my full disclosure here.
Every June my little town has a community wide garage sale. It happened to be last weekend and we had no plans. That, like never happens. I took the kids and we made a thing out of it. You know your kids have been bitten with the DIY bug when your 7 year old son says to you "Mom, come look at this board. I think I can make a table out of it." Or when my daughter said "Mom, I think that metal basket would make a good light fixture. " No joke. Yeah, their mine  and I could not be more proud 🙂
Anyhoo, on our adventure we found some really cool stuff. In particular this $5 metal shelf. It was dusty and rusty but was callin' my name. I recently upcycled a metal cart into an end table and knew this would be a great match.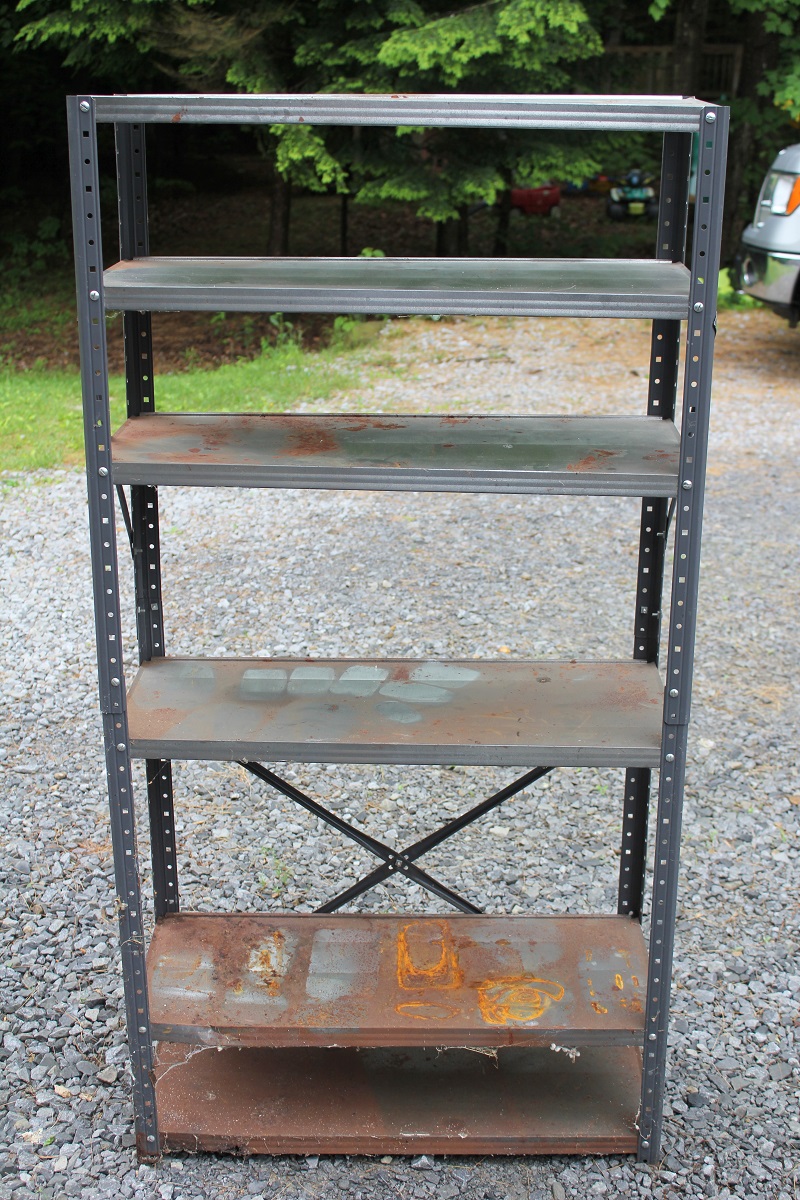 So sad, right?  If you look passed all the rust and grime and cobwebs, you'll see some great bones.  Once it was all cleaned up, scrubbed down and rinsed off, here's what you have…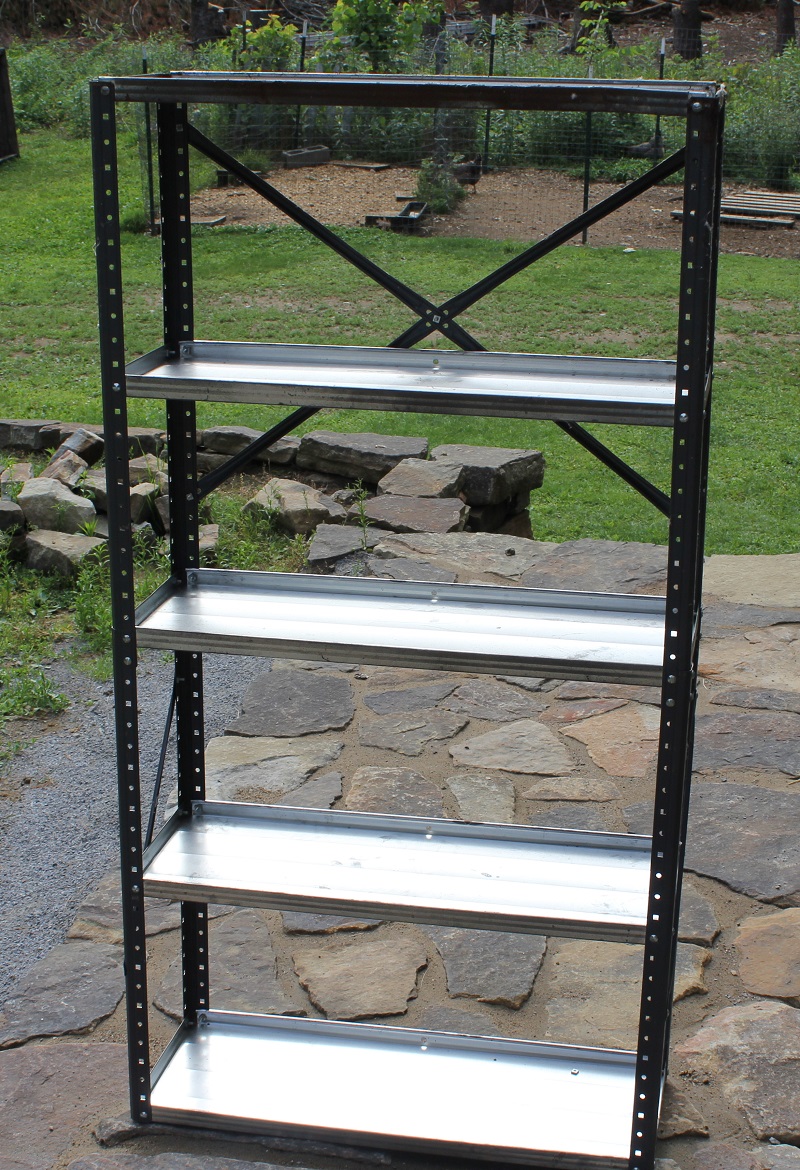 Not sure you can tell but it's actually upside down here. The reason we did this is so that we can set the boards to make the shelves right inside the current shelves.  From here we gave it a couple of coats of flat black spray paint.  I didn't paint inside where the shelves are going to go because you won't see it anyway…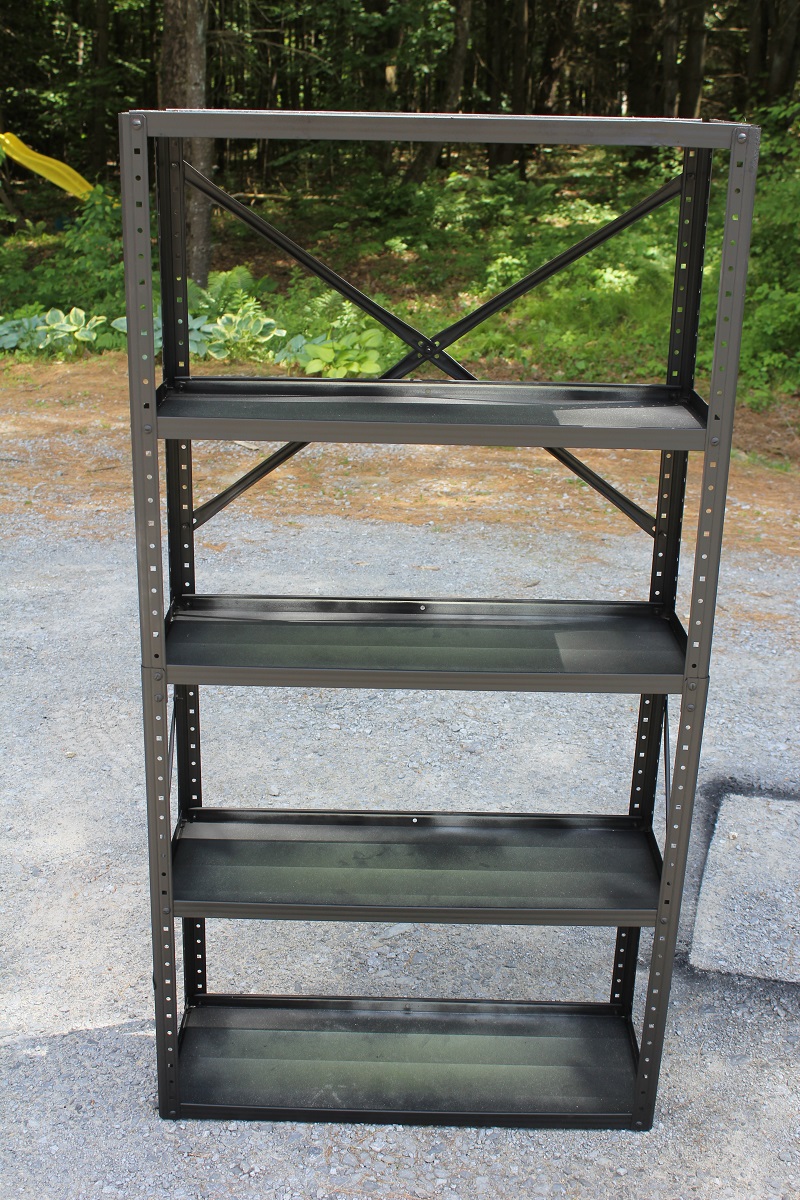 For the shelves we used the same rough saw pine that we used for the metal cart end table. We are fortunate to have a saw mill just a few miles away. We got a 12 x 12 board and cut it down and it only cost us $8.00. If you don't have a mill near you, you can get pine boards from a local home improvement store but keep in mind that they would probably sit down just a bit from the lip of the shelf as the cut boards we get are a true 1″.  You could always add a 1/4 inch plywood on first to bring the boards up to the height of the metal shelf.
I like the roughness of the wood which I think adds character but we (hubby) sanded them down just a bit with the palm sander…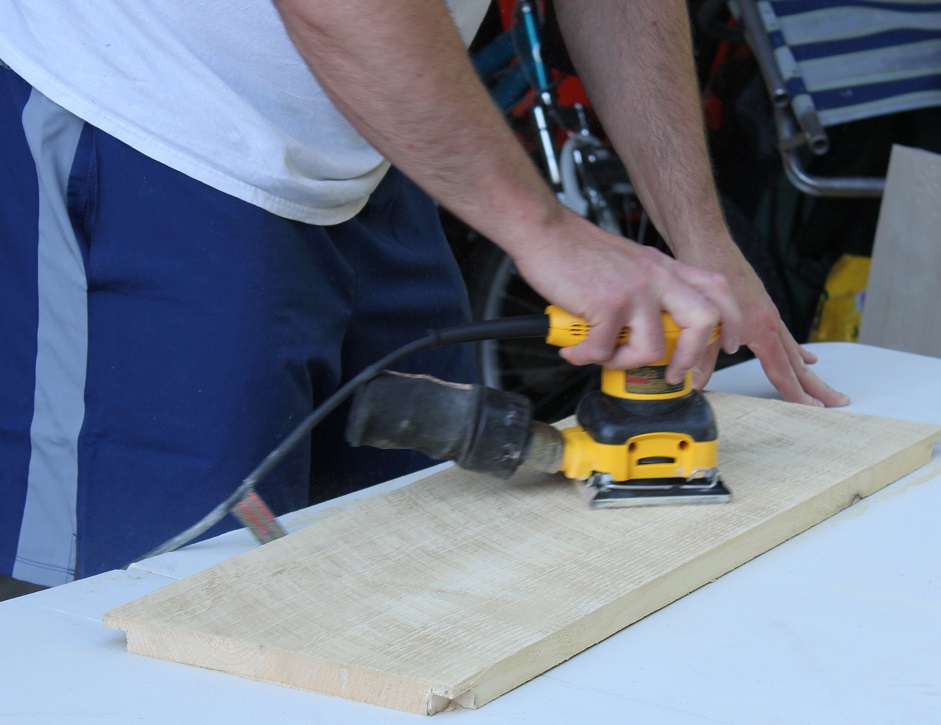 We also used the same stain, as before – Rust-Oleum Watco Dark Walnut Danish Oil finish. The color is so rich and pretty.  You can find it here.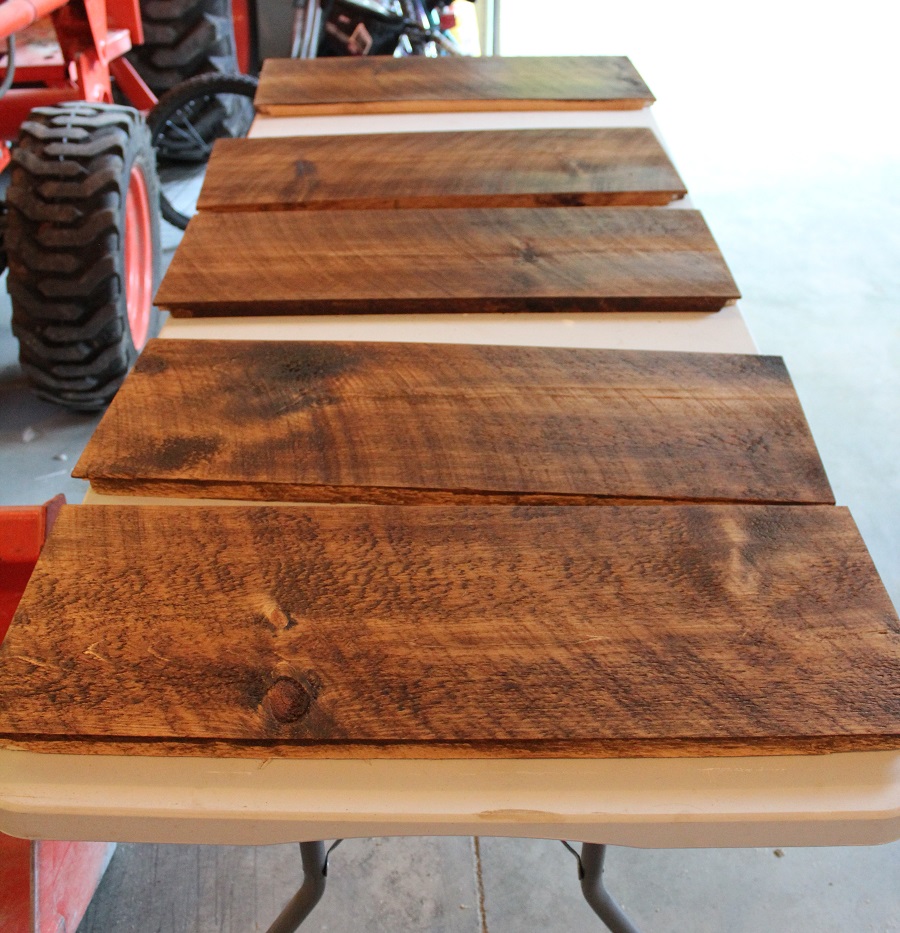 Here it is all put together…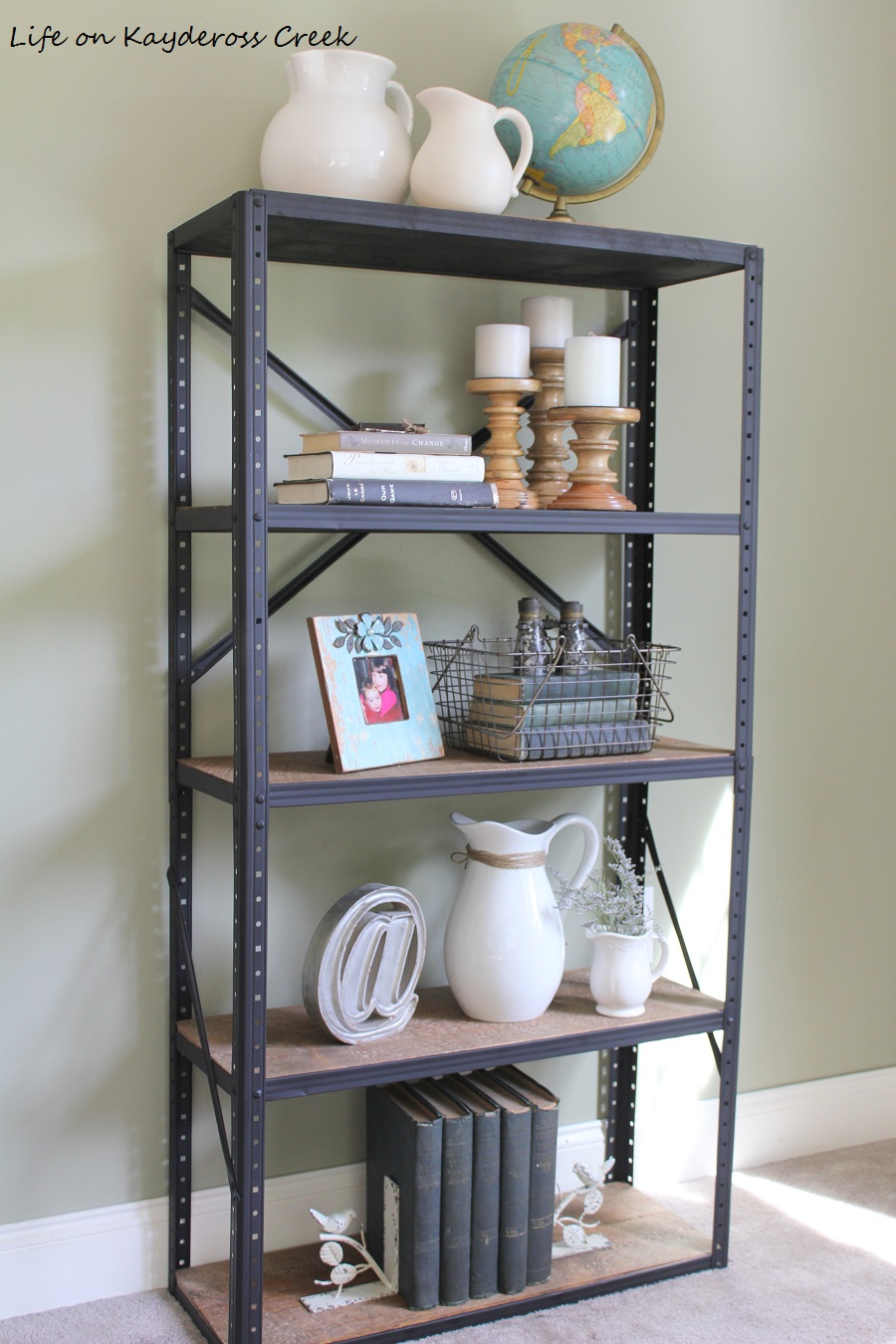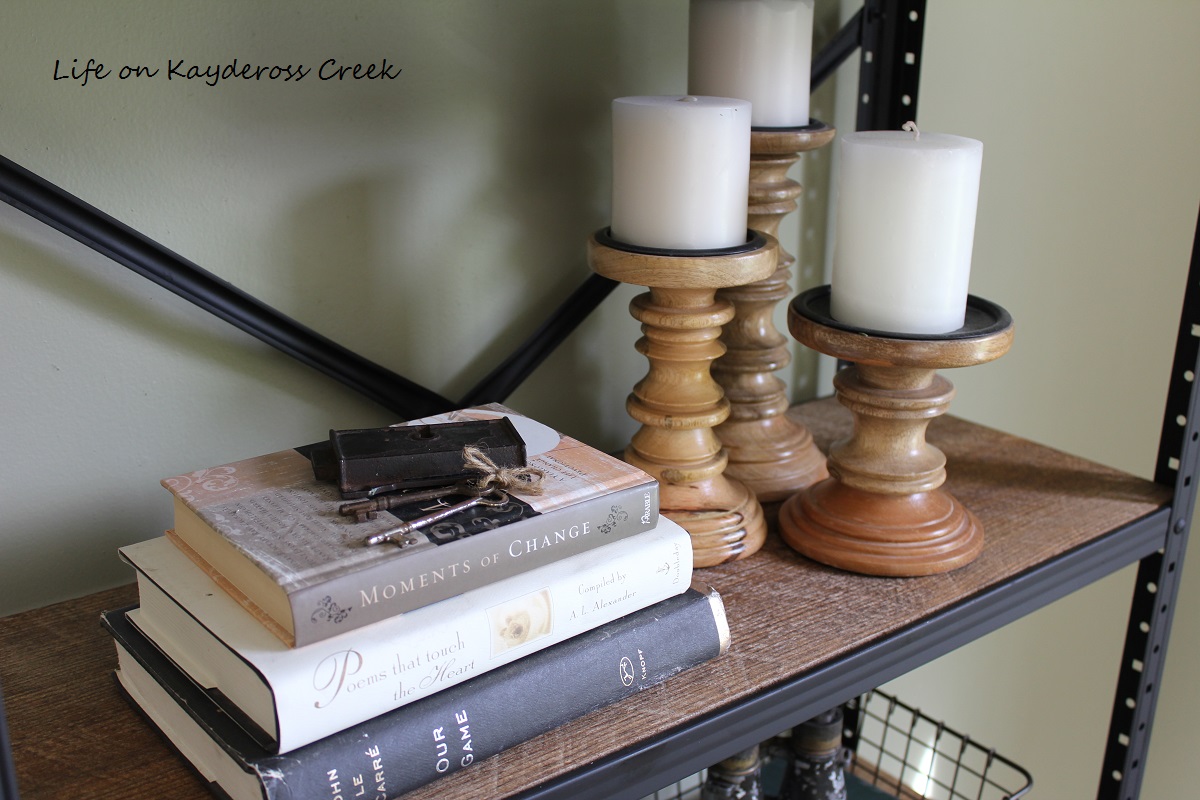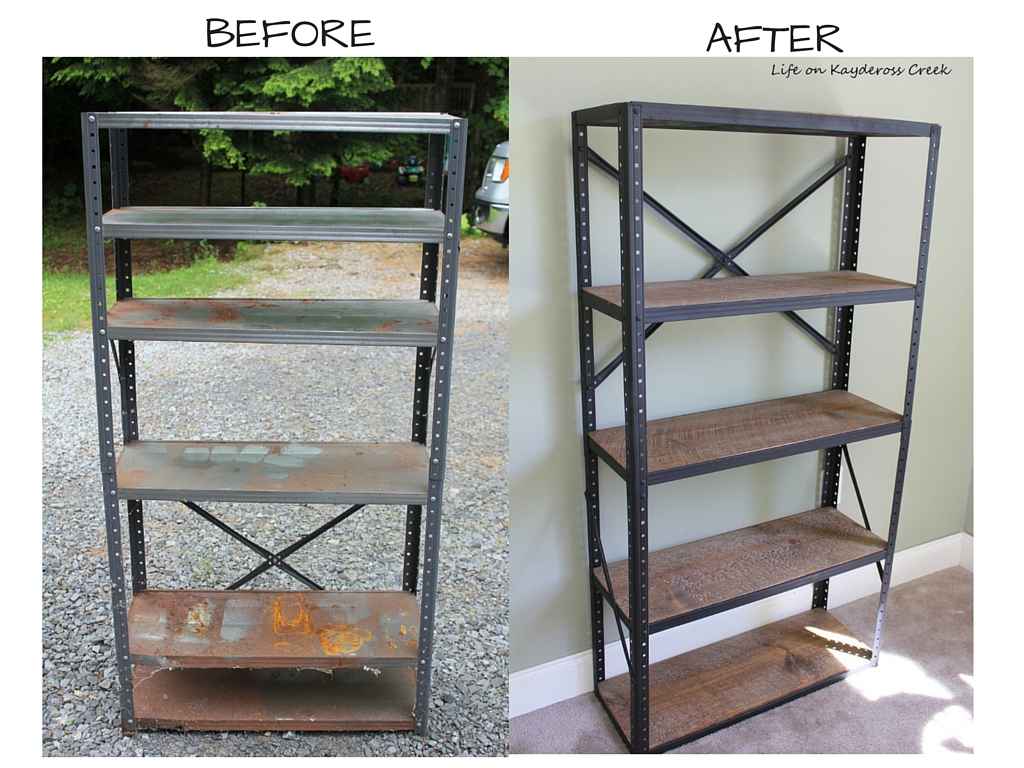 Since we already had the stain, the whole thing cost us $17 ($5 for the shelf, $8 for the wood and $4 for the spray paint). If you're thinking about making one but don't have an old one laying around, you can pick up one of these shelving units for about $26 here.
But if you'd like to give it a try…PIN IT…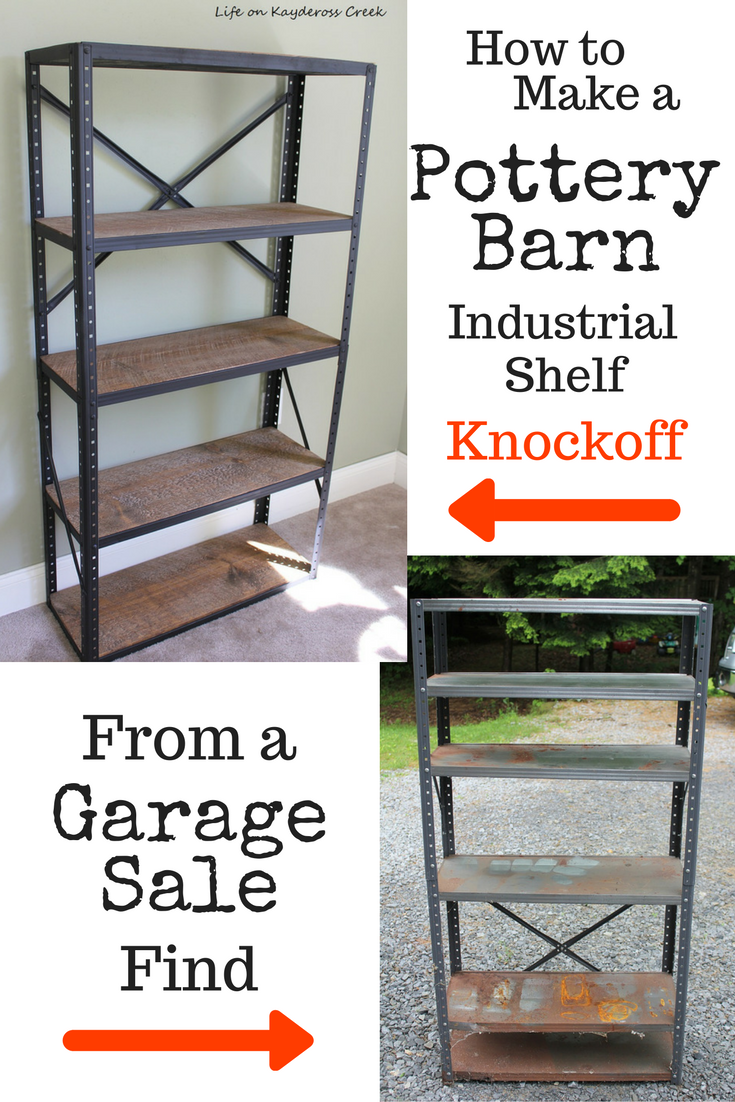 I love the way it turned out!  Of course, now it's making me want to completely re-do our entire family room. Not happenin' any time soon.
Upcycle projects are my favorite.  Be sure to check out all of the other creative upcycle projects my fellow bloggers have come up with!  You can also see some of my other projects and DIY ideas here.