Hey everyone! I hope you a great weekend! Today I want to share a couple of really simple and inexpensive Valentine's Day projects and my Valentine's Day vignette. My favorite project is the banner which is so crazy simple and you could apply to any holiday or party. Everyone has cardboard boxes in their house from cereal, rice, crackers etc. Well, this is a great way to recycle some of that material.
What you need:
a couple of cardboard cereal boxes (or more, depending on how long you want your banner)
scrapbook paper
Stencils of whatever size letter and font you like
spray adhesive
scissors
pencil
ruler
I started out by breaking down the boxes so they were flat and then I cut them apart into sheets. I drew out a pattern on what was the inside of the box with a ruler. It was a shape I liked in a size I thought I wanted.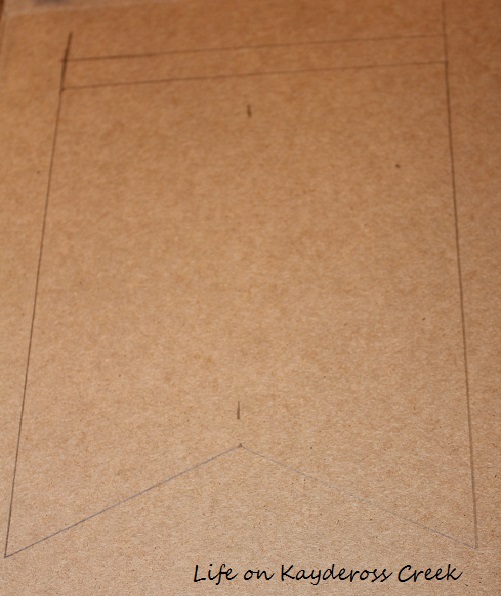 Then I cut the shape out and copied it on to 3 more sections of cardboard so that I had 4 pieces exactly the same size to spell out LOVE.
I'm not a huge fan of bright red, in your face, Valentine's decorations so I had picked out some neutral scrapbook paper to use for this project…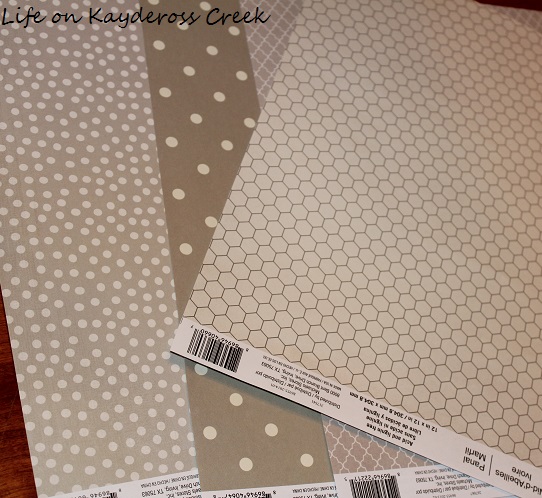 I flipped the paper over to the back and traced the cardboard template out…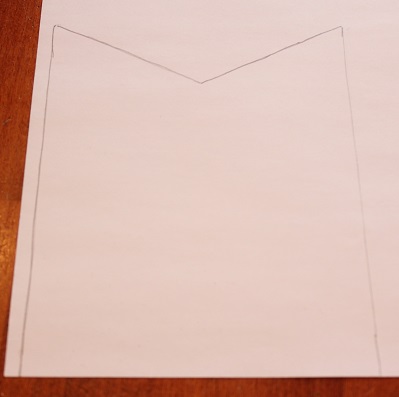 I cut out the scrapbook paper in the shape of the cardboard and then used the spray adhesive to adhere it directly on to the cardboard.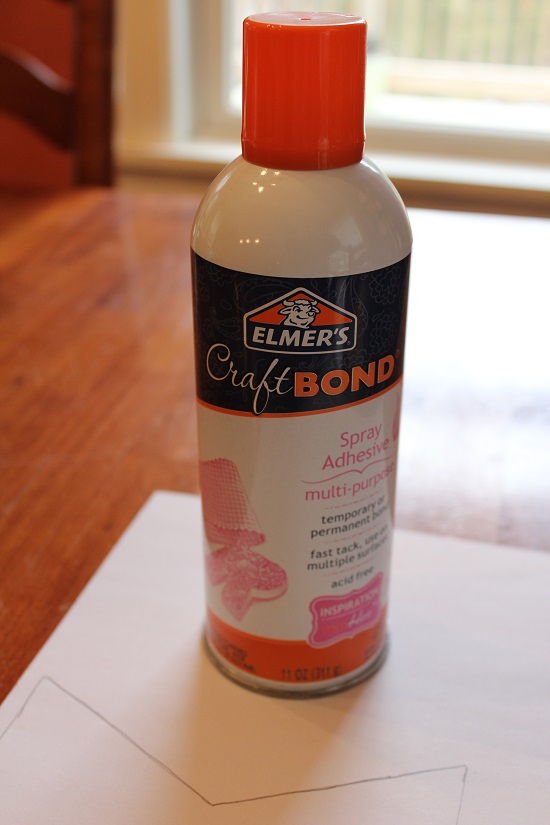 I left about 1/4 of an inch at the top so that I could bend it over to hold the twine I was going to use to hang the banner. I arranged the pieces in the order I wanted the colors and then I began to stencil. I mixed some different paint colors together until I found something I liked….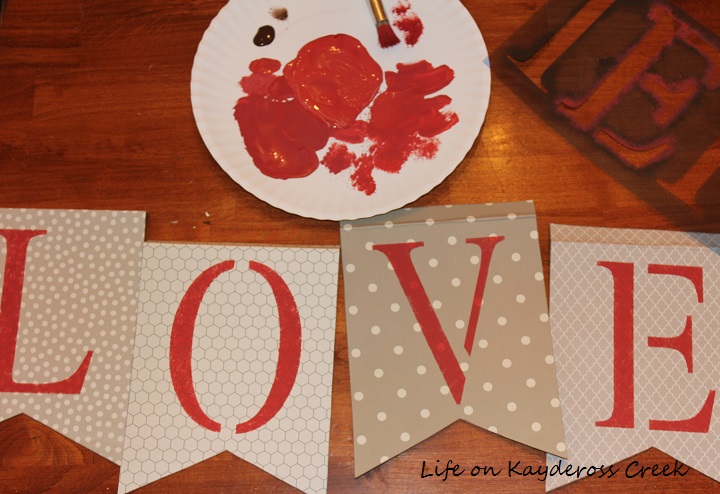 I used a regular glue stick on the top of each piece and bent it over with the twine behind it. I used clothes pins along the edge overnight to help it stick.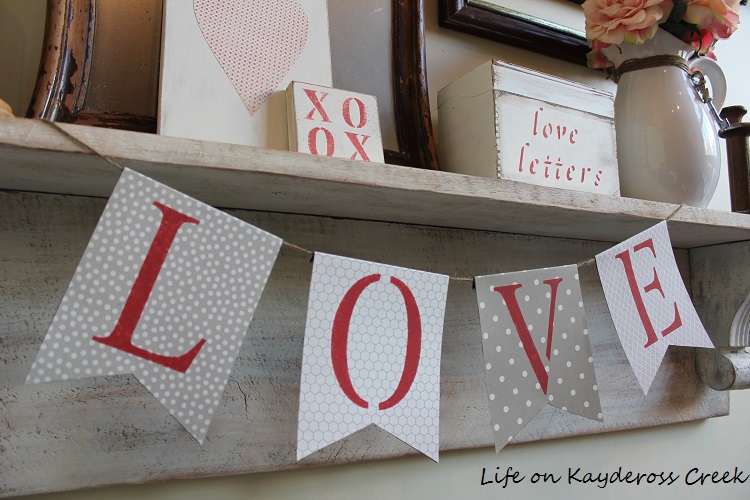 This was such an easy project and cost only $2.50 to make (basically the cost of the scrapbook paper) I love that it's not too over the top Valentine's Day. I just think it looks HAPPY!
The rest of the vignette was also quick projects. These wooden signs were made from pieces of left over MDF I had from another project.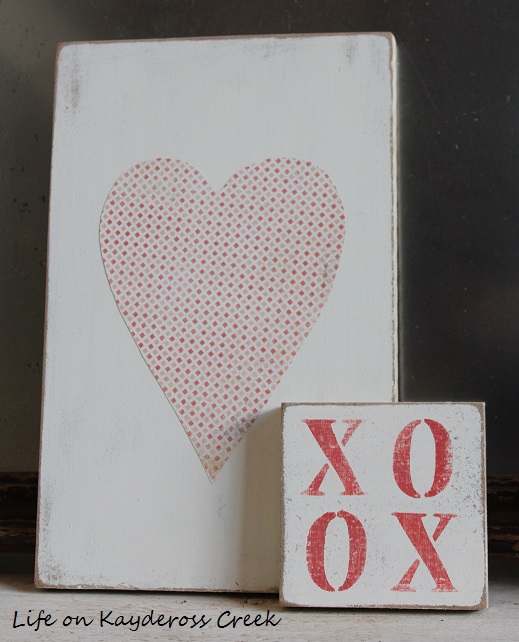 I simply painted the wood, sanded down the edges and stenciled the letters. The heart I cut out of scrapbook paper.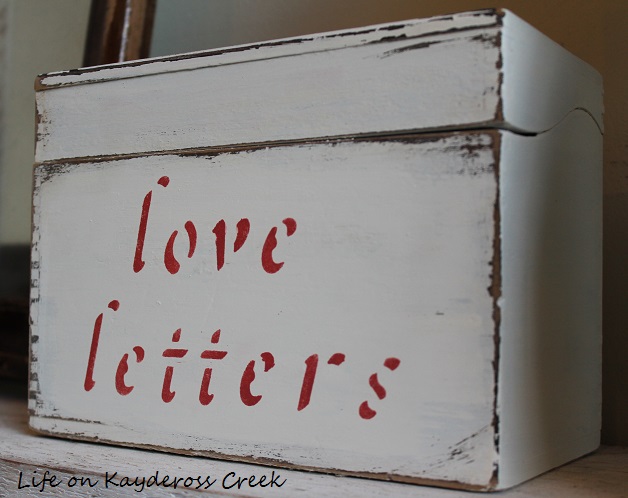 I purchased this box for $4 at a thrift store.  It was a kind of gross brown when I got it but add some chalk paint and stenciled letters and it becomes a cute Valentine's Day letters box.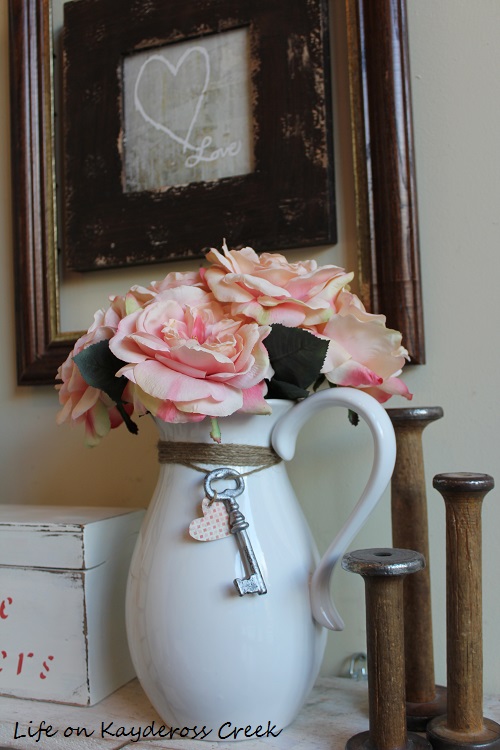 I love the pitcher with the pretty pink flowers. I added the key and scrapbook paper heart.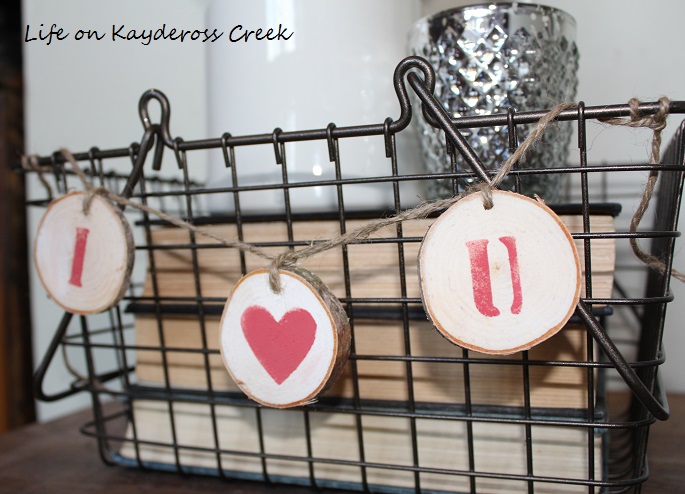 This wooden pennant I made from wood chips my husband cut from a log. I tied everything together with the same color reddish pink.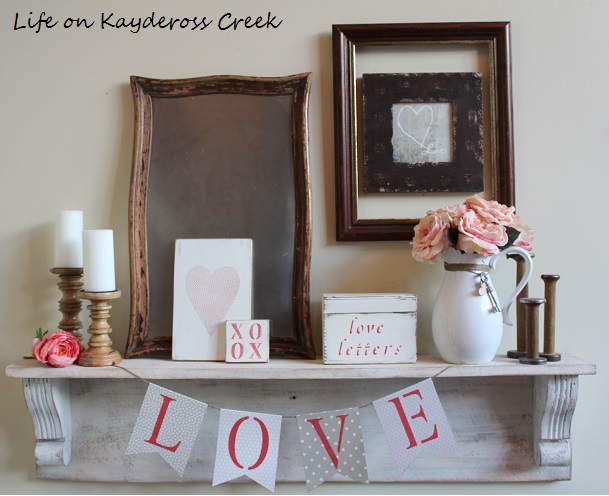 I really like the way it turned out! Super easy and inexpensive! Do you have some Valentine's Day projects planned??
Happy DIY'ing!!