Hey everyone! I recently posted a picture on Facebook of a cabinet that I had painted and a few people asked about the way I styled the shelves.  It can be frustrating if you're not sure where to start and it's one of those things that takes some practice and a lot of trial and error.  So today I'm sharing 10 tips for decorating shelves (or a mantel) like a pro. Let me actually take a step back and say too, that beauty is in the eye of the beholder and you need to like how you decorate first and foremost.  After all, you are creating your beyoutiful home. 🙂
Affiliate links are included. See my full disclosure here.
Here are 10 tips and things that I do when styling a shelf or my mantel:
Start by clearing off the shelf or shelves and grouping all of your things together. Pick a theme (seasonal, beach-y, woodland, etc) and have enough things on hand to choose from to be creative. Don't bring everything but the kitchen sink, though because then you will have too many choices and will over think it.
Have a color scheme planned out – too many colors can overwhelm the eye so keep it to 1-2 and neutrals. What is your inspiration piece for the room? Here I used the small art pieces on this hutch to pull out the orange, reds and browns for fall.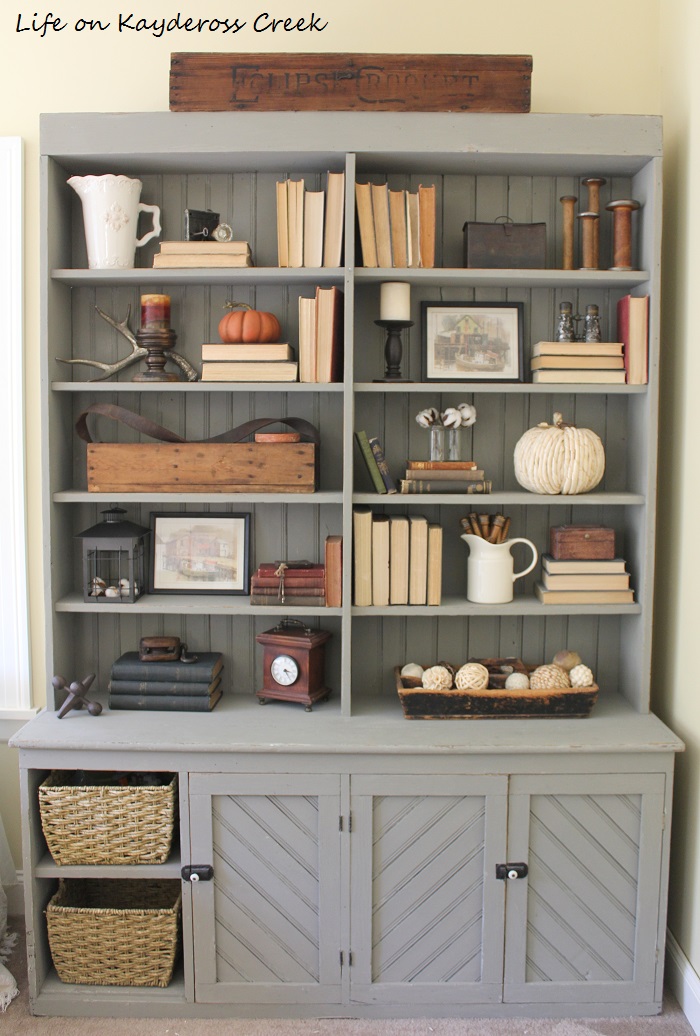 3. Place larger items first and then fill in with smaller pieces.  Don't crowd the space – you need to give the eye a rest as it moves from one thing to another. You can also give your eye a break with one large item. If you are doing just one shelf, start with an anchor piece and although I like to center it most of the time, it doesn't necessarily have to be in the middle. You can see this project here.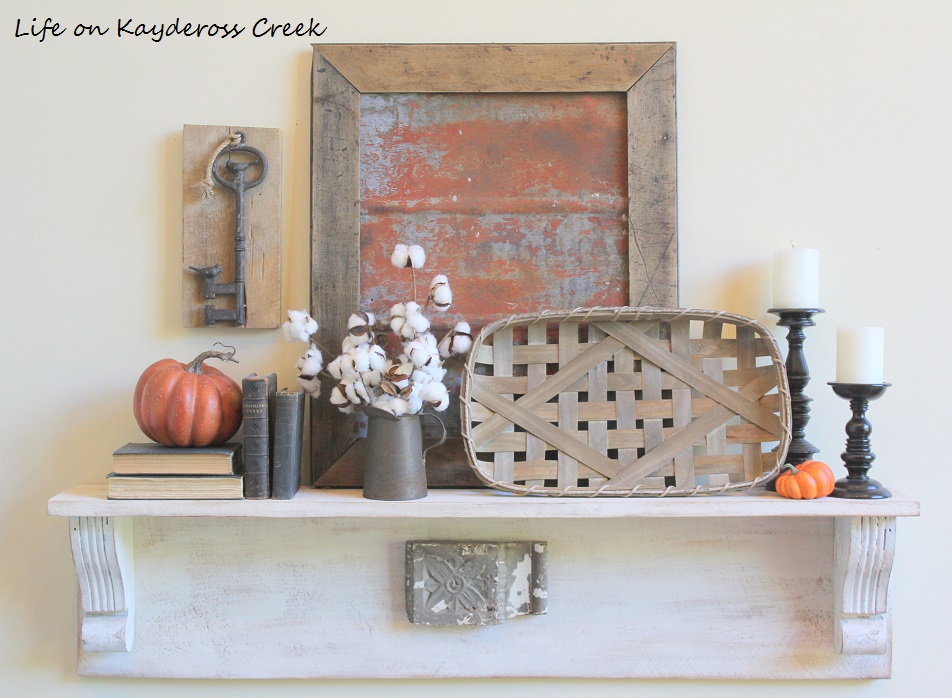 Or here…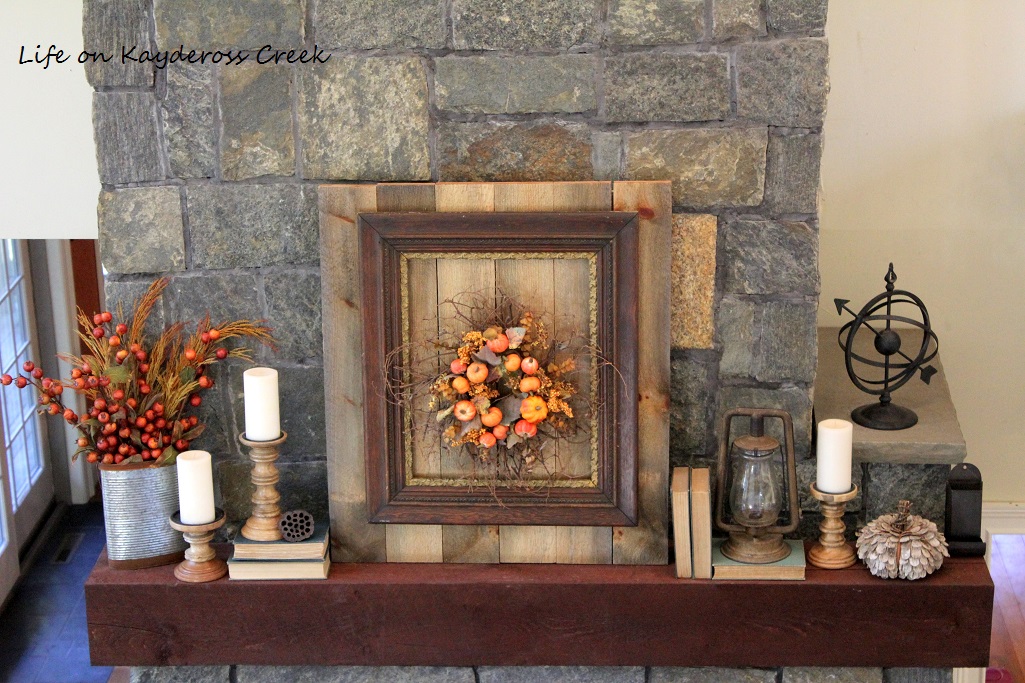 4. Vary heights and sizes and layer pieces front to back.  Use the triangle approach – don't have everything the same height in one line across on a shelf.  When you vary the heights, your eye has something to bounce around to.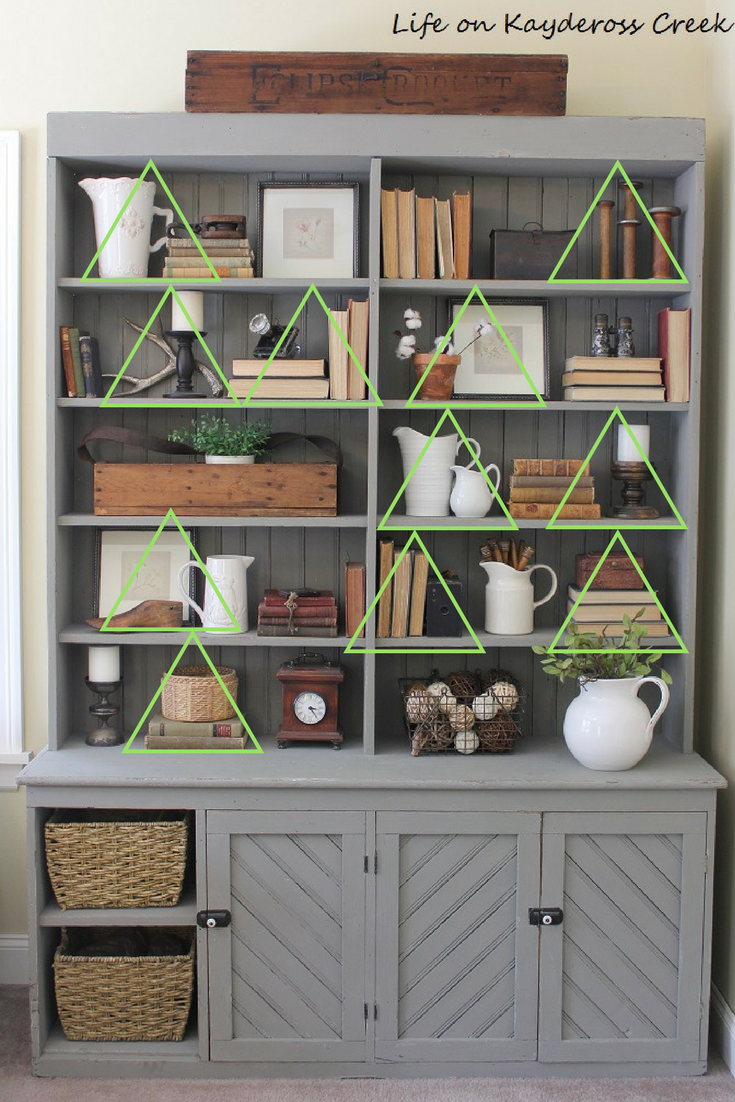 5. Group similar items together. I chose to use all white pitchers in this hutch for a clean look.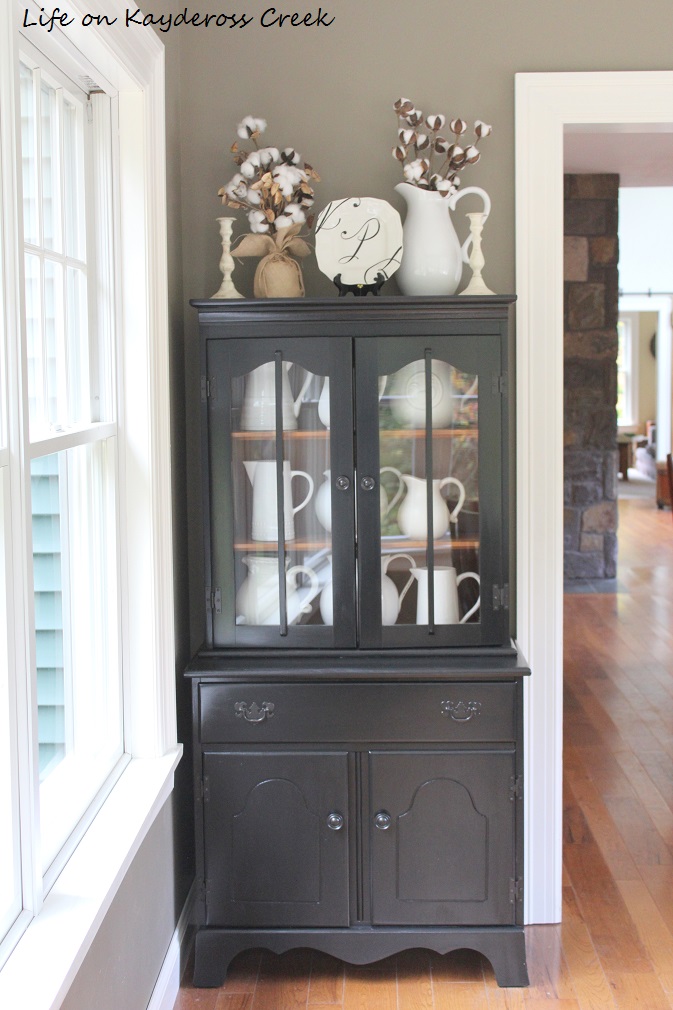 6. Use pieces in odd numbers. It helps with the triangle and, for some reason, always seems to look better.
7.  Mix in textures.  I mixed in the floral prints here and used greens and the basket and rope for texture.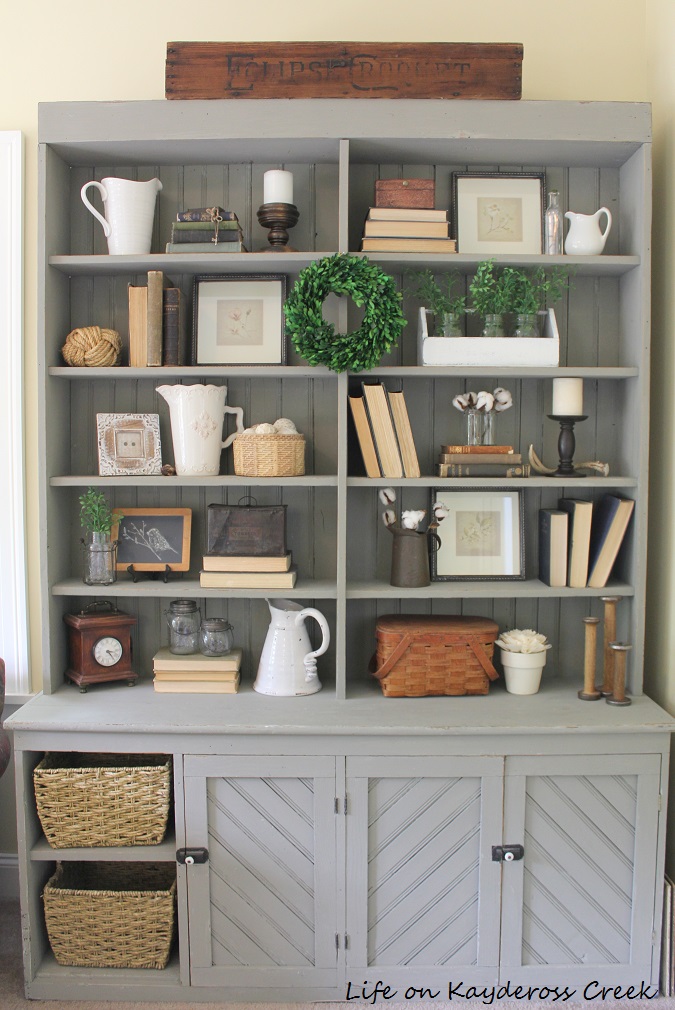 8. Use books for height. Here I also used them for a site line to draw your eye around.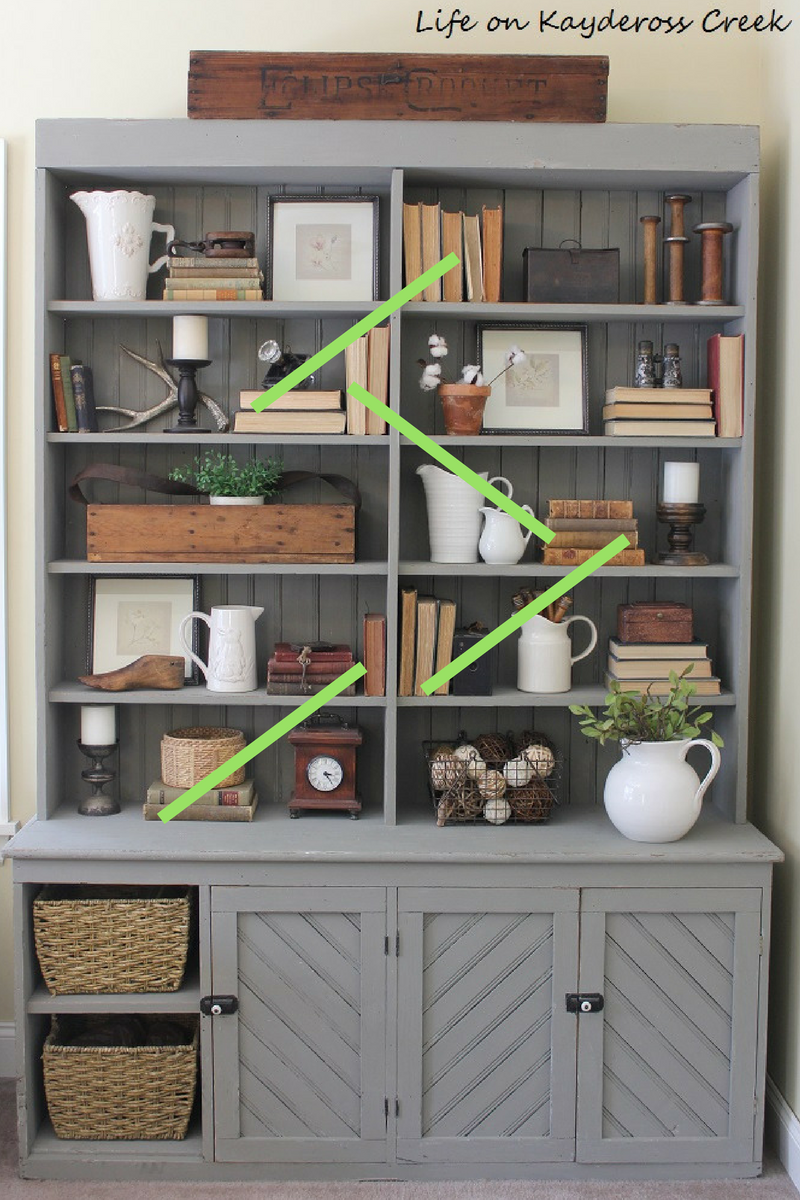 9. Add in artwork or family photos. Why not hang a picture on the back of the cabinet or book shelf?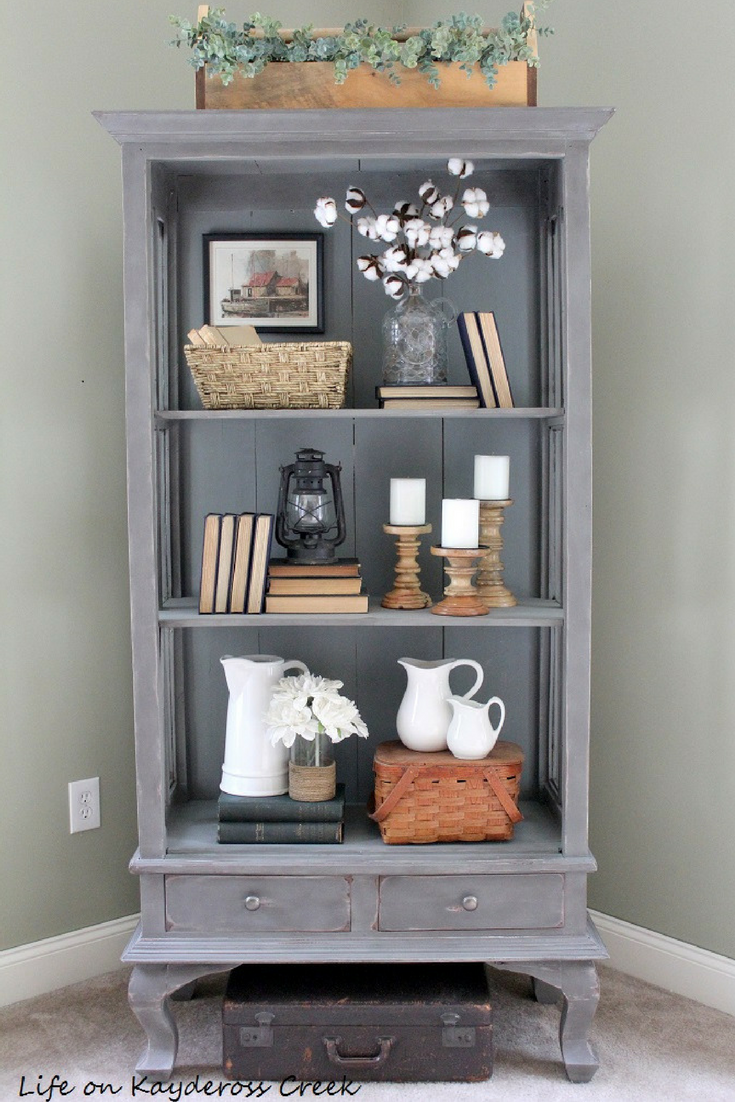 10. Be sure to use a "personality piece" or something with meaning. Think of it as a conversation piece. I love these binoculars or the door handle on this industrial shelf.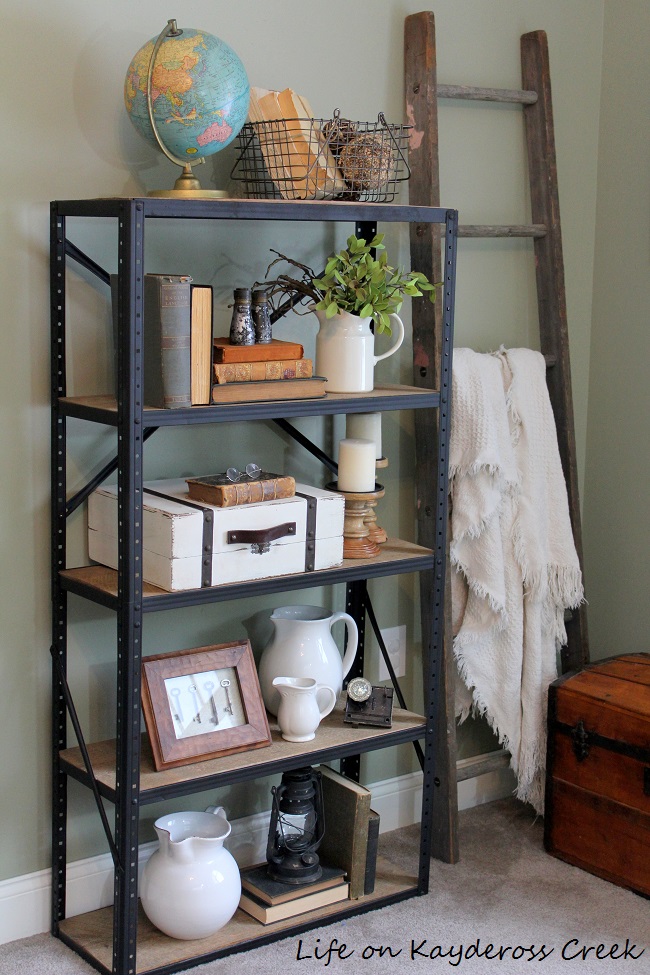 So there are 10 tips for decorating shelves like a pro. Take a step back every now and then and look and see how everything comes together.  You'll discover that you will find your own groove and eventually your "style" or look. Remember, it should be what you like and you need to create your own "younique" space.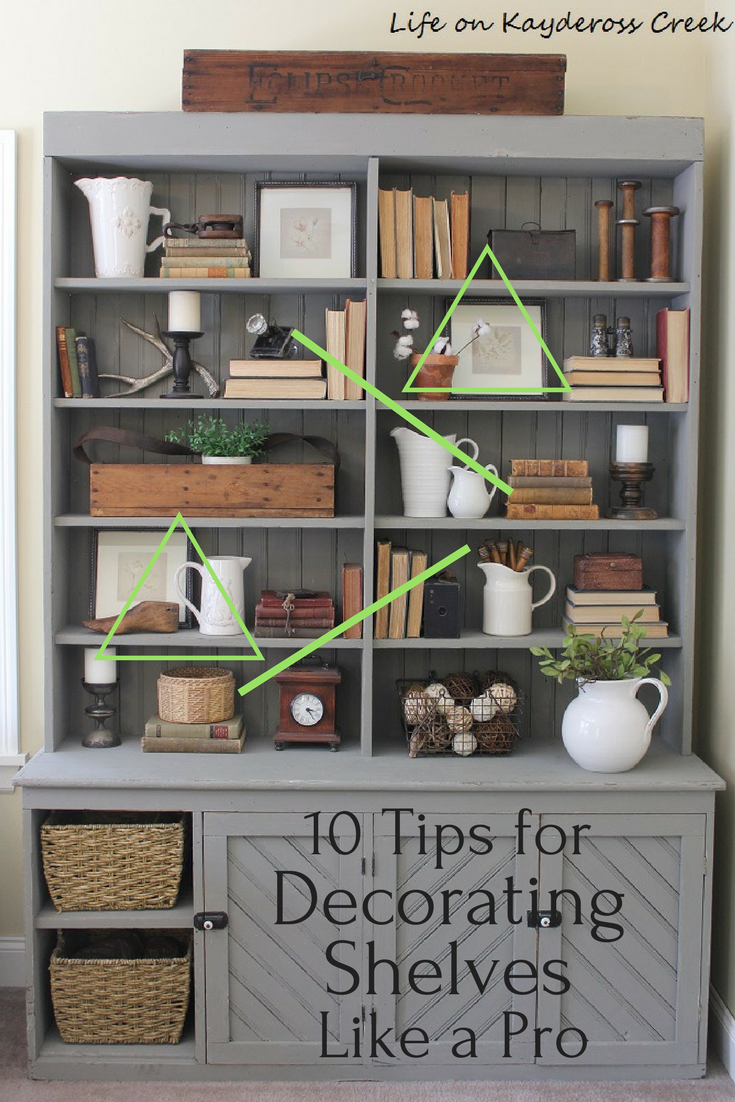 Do you have a specific way you decorate your shelves or a go to method? How do you make it your own?
Happy DIY'ing!
Col
Follow along here:    Facebook    Twitter   Pinterest   Instagram